Disclosure: This article may contain affiliate links. We will make a small commission from these links if you order something at no additional cost to you.
When you're traveling through some of the more rural parts of Pennsylvania, there is often a dearth of good craft breweries. However, there are some nice breweries to check out in these areas if you know where to look. One such spot is Endless Brewing.
Endless Brewing is located in northern Susquehanna County about halfway between Montrose and the New York border and takes its name from the Endless Mountains in which is it located. The brewery is only about a mile from the fantastic Salt Springs State Park, making it a great spot to visit after exploring the park's waterfalls.
This brewery opened in 2012 and still occupies the small metal barn that it has for many years. In fact, this is definitely among the smallest breweries in terms of physical size that I've visited in Pennsylvania.
That being said, if you are traveling through the area, this is a great spot to check out.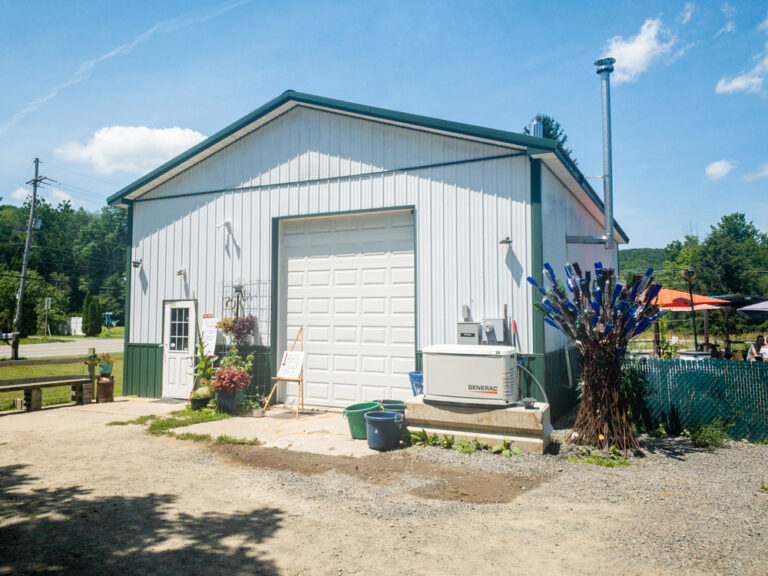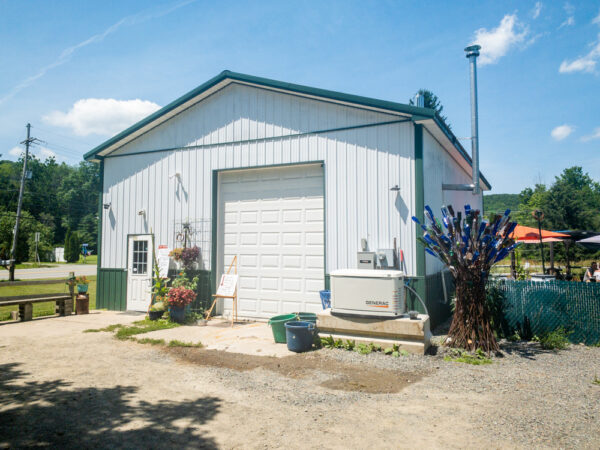 Endless Brewing had long been on my list of places to visit, and I finally had a chance to check it out on a beautiful summer day in 2020.
When you pull up, you'll instantly notice that Endless Brewing doesn't look like most craft breweries. There are no large windows giving way to a bright and airy taproom or restaurant. Instead, the brewery is located within a white and green metal barn.
Adjacent to the barn is a dirt parking area and an outdoor area with tables and chairs for patrons.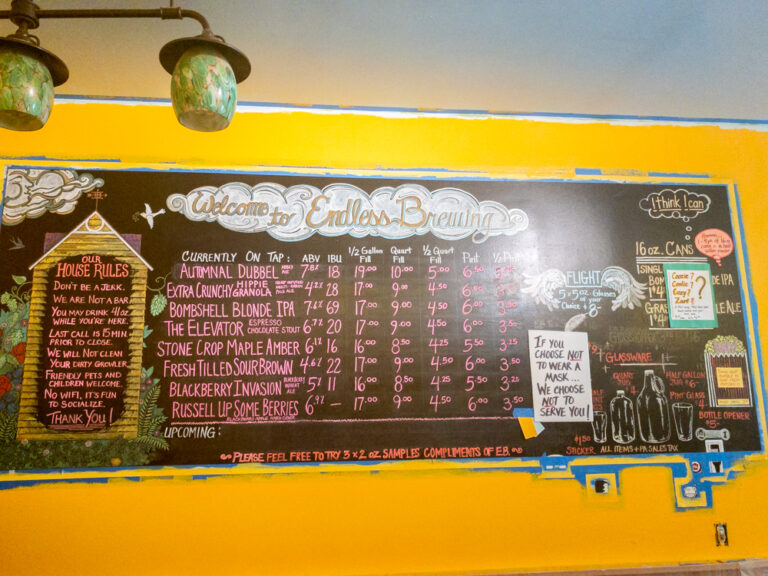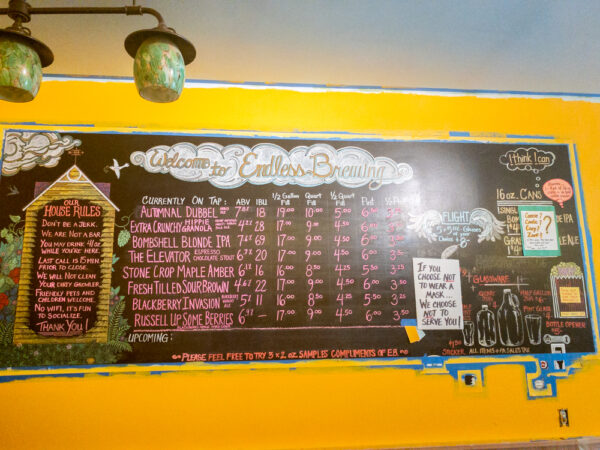 Inside the main tasting room is a small room adjacent to the brewery itself. In the space, there is a long bar and a couple of tables, but quarters are definitely on the tight side. That being said, it's nicely decorated with an inviting feel that also pays homage to its rural setting.
Endless Brewing prides itself on offering a wide mix of beers, and I definitely took note of that when I visited. There were seven different beers on draft representing seven different beer styles. These ranged from an IPA and a pale ale to a stout and a sour.
Interesting, Endless Brewing also makes cider, and one of their ciders was on draft, making for a total of eight different house-made beverages to pick from.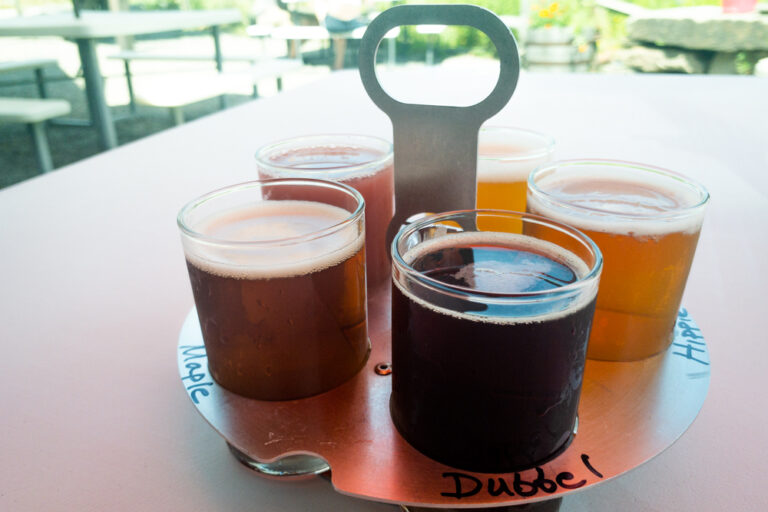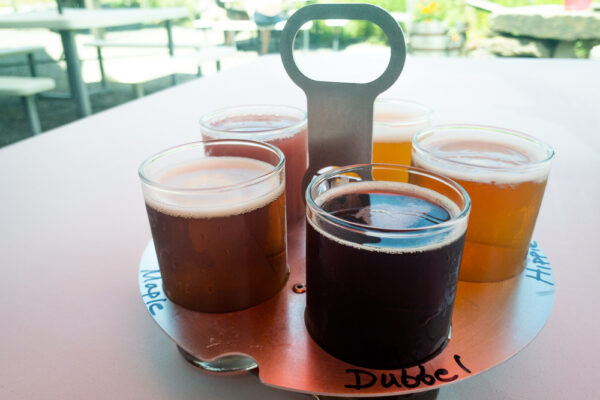 Wanting to try as many beers as possible, I opted for a flight, which included five beers for a very reasonable price of $8 (Note that prices can change).
Since things were tight inside, and it was a nice day, I grabbed my flight and headed for one of the tables outside. The outdoor area here is fairly basic but does feature a mix of different types of tables and chairs and has a nice view of the northern PA countryside.
In my flight of five beers, I got the Bombshell Blonde IPA, Autumnal Dubbel Abbey Ale, Extra Crunchy Hippie Granola Pale Ale, Stone Crab Maple Amber, and the Russell Up Some Berries Blackberry Apple Hard Cider.
Of the five, my favorite was the Bombshell Blonde IPA. Endless Brewing considers this beer to be their flagship beer, and it was a solid IPA. The beer was slightly hoppy and dry, but not overly so, making it a great beer for summertime if you love hops.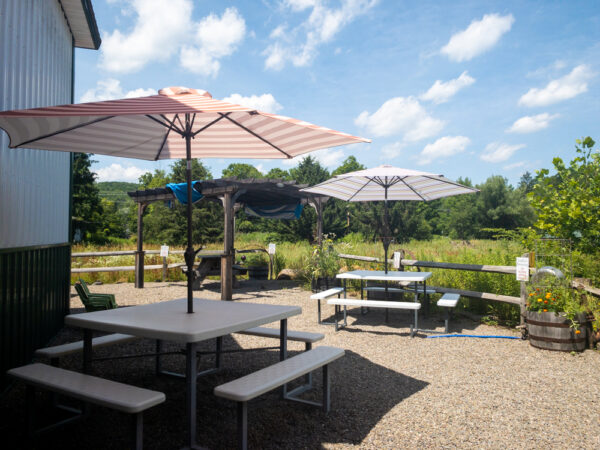 The Extra Crunchy Hippie Pale Ale was interesting as it was a "hemp-infused multi-grain pale ale". This was definitely the most interesting of the beers that I had at Endless Brewing and was also one of my favorites. While it has a unique taste that might not be for everyone, I quite enjoyed it.
The other two beers and the cider I tried were also good, though I would rate as only average quality overall. Regardless, they were all nice representatives of the styles, and I doubt you would be disappointed ordering them if you were a fan of those types of beers.
Overall, I wouldn't consider Endless Brewing the type of brewery that is worth going far out of your way to try. However, if you are exploring nearby Salt Springs State Park, looking for a break while traveling I-81, or simply find yourself in Susquehanna County, this is a nice spot to visit to try some locally-made craft beer in a relaxing setting.
Looking for more places to visit nearby? Check out the Susquehanna County Historical Society Museum, Lost Falls, and the Tunkhannock Viaduct.
If you're heading north, Beer Tree Brewing near Binghamton, New York is another great spot to visit.
---
Endless Brewing
See map below for other area attractions.
---