Disclosure: This article may contain affiliate links. We will make a small commission from these links if you order something at no additional cost to you.
One of the things I love about the back roads of Pennsylvania is how many great things you can see within feet of your car. My travels around Pennsylvania have taken me past breathtaking roadside overlooks, humorous roadside oddities, and beautiful roadside waterfalls.
One of these beautiful roadside waterfalls can be found in eastern Luzerne County, near Bear Creek Village, Pennsylvania. Known as Buttermilk Falls (one of at least half a dozen in the state with that name), this waterfall sits next to a busy two-lane road just south of the historic borough of Bear Creek Village and on the edges of Natural Lands' Bear Creek Preserve.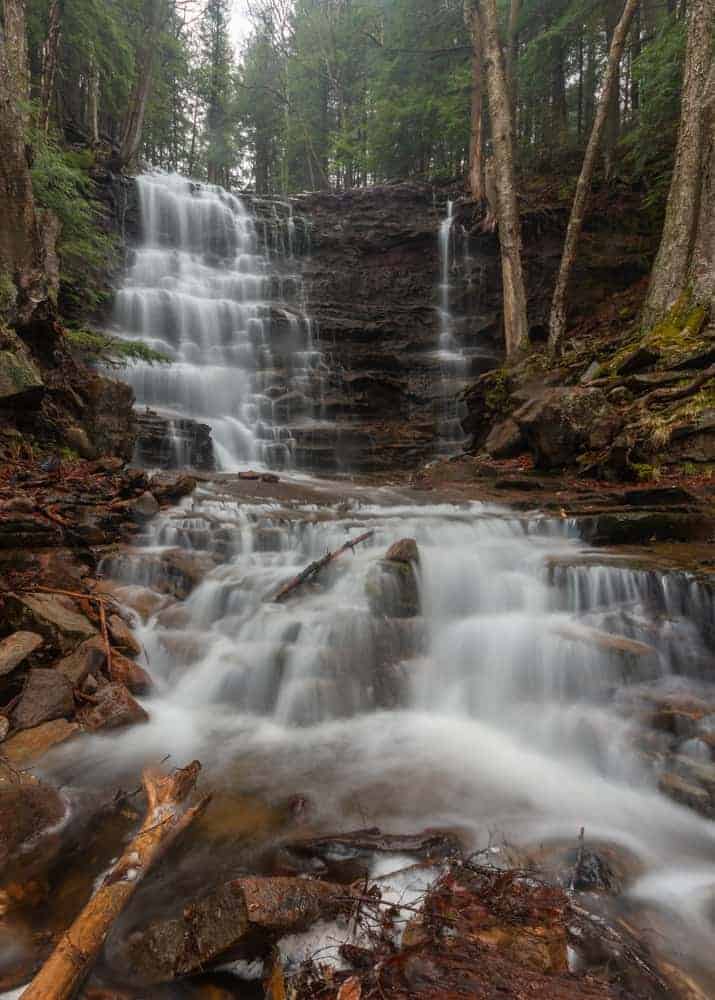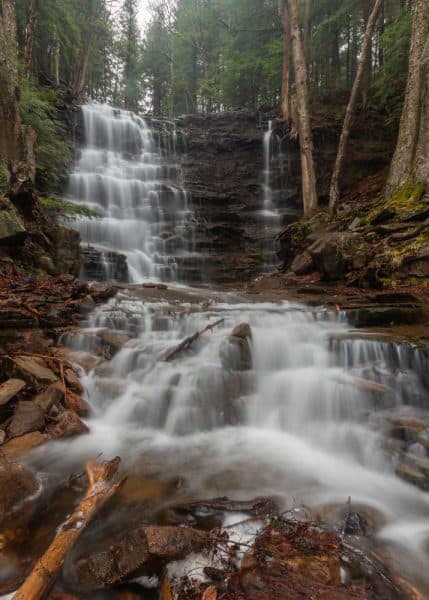 Depending on the season, it may or may not be possible to catch more than a brief glimpse of this waterfall when passing by. However, the waterfall sits less than 200 feet from the roadway and is located adjacent to a nice size pull-off, making parking quite easy.
Luzerne County's Buttermilk Falls is roughly 30-35 feet tall and is very impressive when it is flowing. Unfortunately, this waterfall can often be just a trickle, especially during the summer months, so if you want to see it as it appears in these photographs, make sure to visit on a day during the spring thaw or shortly after a heavy rainfall.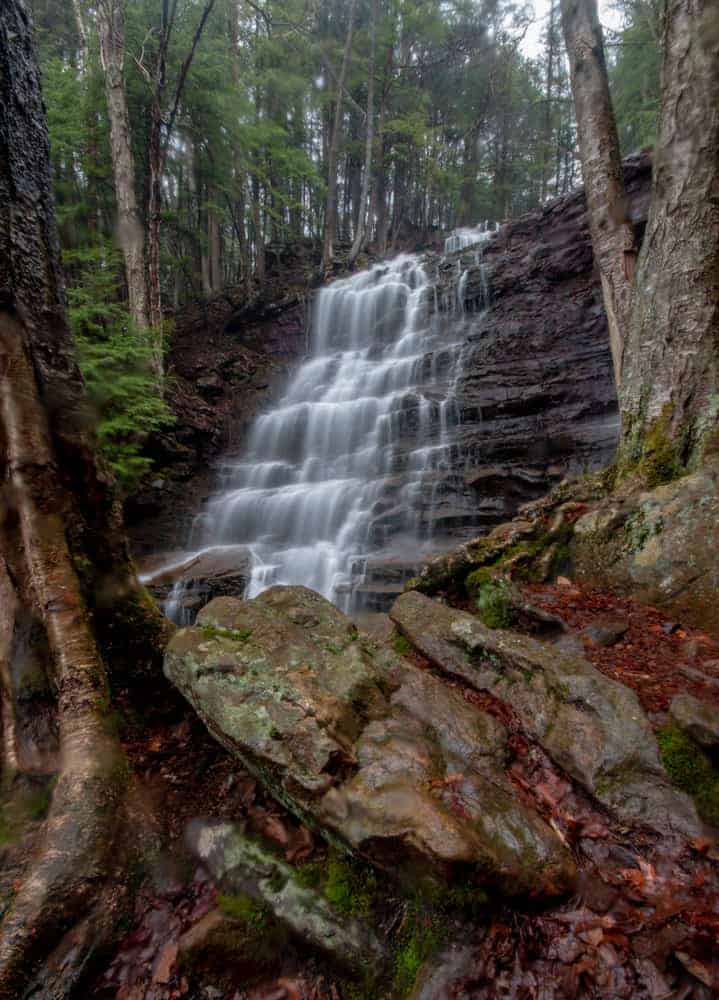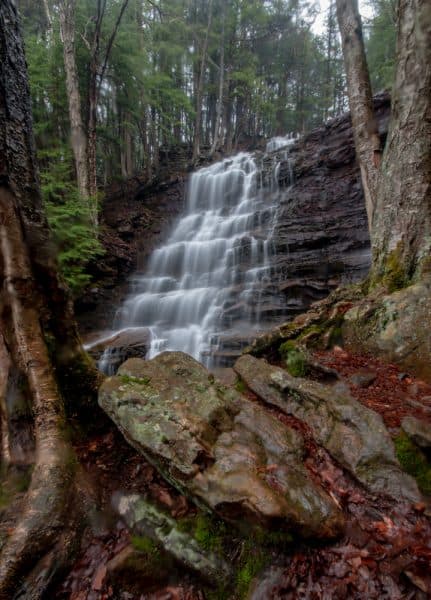 I've also seen reference to this waterfall with the name Bear Creek Falls. I'm not sure if that derives from the township name or from Bear Creek, which is a larger body of water just downstream from Buttermilk Falls. Nevertheless, if you hear that name, it is likely that people are referring to this waterfall.
As best as I can tell from looking at topography maps, the creek that this waterfall sits on is unnamed (if you know otherwise, please let me know the creek's name). Buttermilk Falls sits on the edge of Natural Land Trust's Bear Creek Preserve, which offers some additional hiking opportunities in the area. According to their map, there are also a few waterfalls on this land, but I haven't had a chance to explore them yet.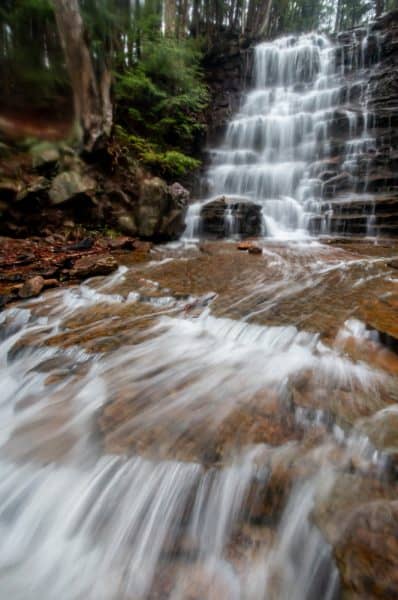 If you're looking for a waterfall that is accessible to nearly everyone and is easy to reach, you can't do much better than Buttermilk Falls in Luzerne County, Pennsylvania. If you have the opportunity to visit it when the water is flowing well, this is definitely one not to miss.
How to Get to Buttermilk Falls in Luzerne County
Luzerne County's Buttermilk Falls is located one mile south of Bear Creak Village, Pennsylvania, along White Haven Road. There is a dirt pull-off large enough for several cars that is located at the following coordinates: 41.166849, -75.743285.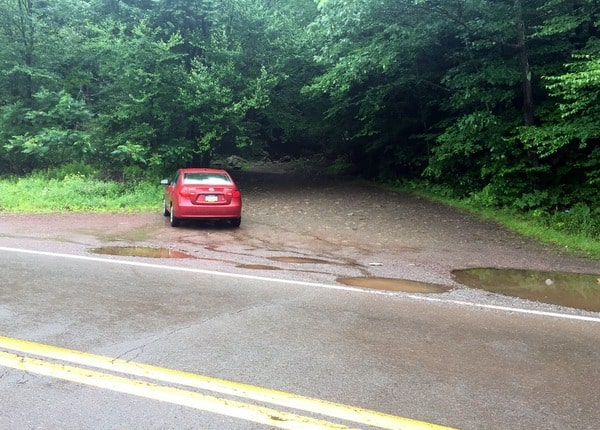 If you drive to the back of the dirt area, it's possible to see Buttermilk Falls without even leaving your car. Of course, if you can, getting out and exploring the base of the waterfall is a lot of fun.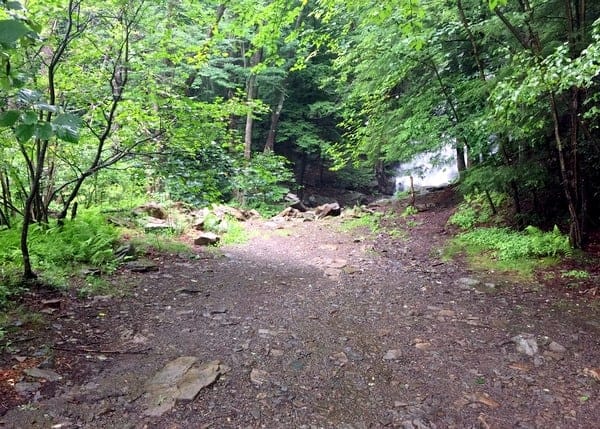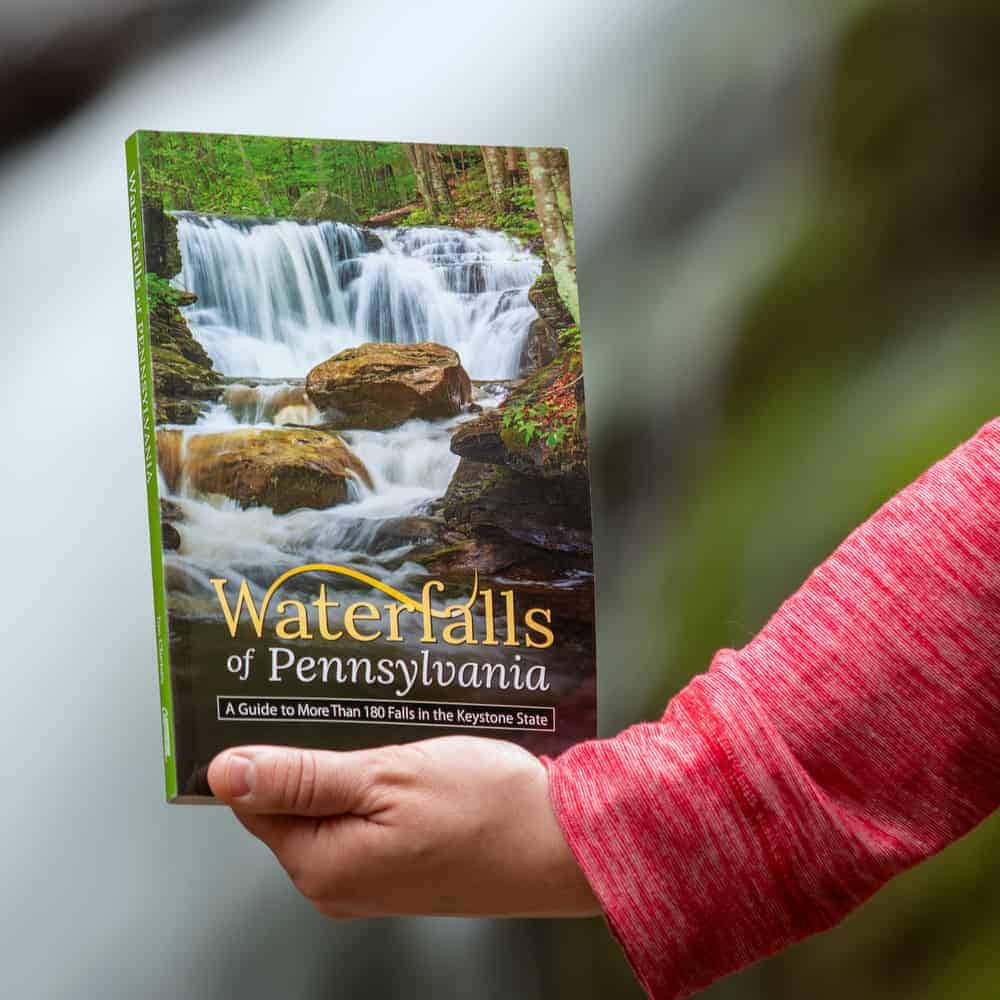 "Waterfalls of Pennsylvania" by Jim Cheney
If you love PA waterfalls, you won't want to miss this waterfall book from Jim Cheney, author of Uncovering PA, featuring more than 180 great waterfalls. Order it now on Bookshop.org or Amazon.
Note that this dirt parking area is not plowed during the winter months, and with narrow shoulders along White Haven Road, parking is quite tricky here during the colder months of the year.
If driving here from I-81 and Wilkes-Barre, don't miss Seven Tubs Natural Area which also contains several scenic waterfalls.
[Click here for information on how to use the coordinates in this article to find your destination.]
Want to see more of Pennsylvania's best waterfalls? Check out our Pennsylvania Waterfalls page!
See map for other area attractions.