Disclosure: This article may contain affiliate links. We will make a small commission from these links if you order something at no additional cost to you.
You might think that you have to travel Route 66 through the western states to see giant roadside oddities. However, I've logged thousands of miles traveling all over the state, and I can assure you that there are some crazy things sitting along the state's roadways.
And, while there are dozens of other strange roadside attractions in PA that I have yet to visit, I thought I'd take a minute and share the 10 strangest that I've come across so far. As I continue my travels, I'm sure I'll pull over for many, many more great roadside oddities in Pennsylvania. So, look for a future update to this list!
For now, here are the 10 strangest Pennsylvania roadside oddities I've come across so far:
The Haines Shoe House in York County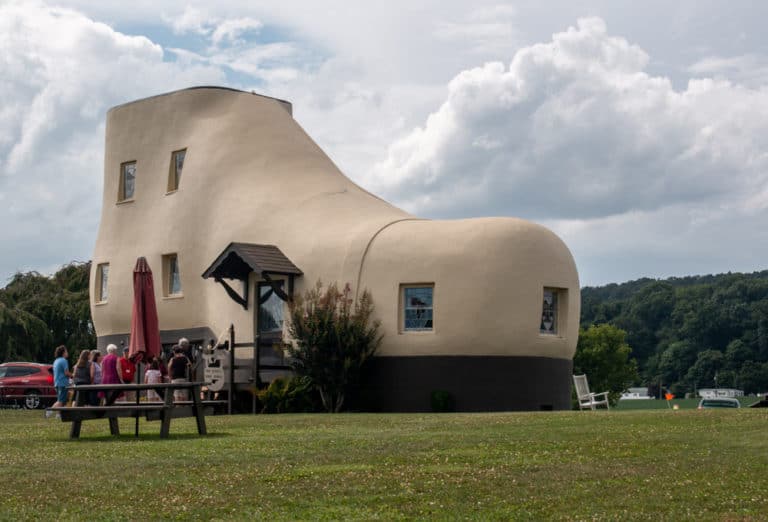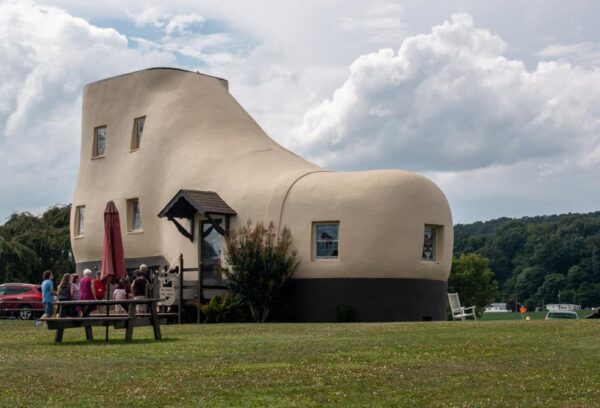 Without a doubt, one of the strangest and most popular roadside attractions in PA has to be the Haines Shoe House. Located along Route 30 west of York, the Shoe House has been drawing curious stares since it was completed in 1949.
The Shoe House was built as an advertisement for a local shoe company and never served as more than a temporary residence.
Today, it is open for tours, which offer the chance to learn more about this amazing oddity.
Flying Saucer in Butler County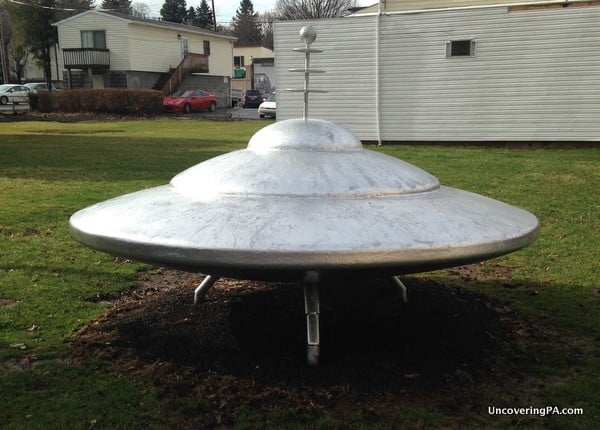 A miniature flying saucer might seem out of place in western Pennsylvania, but when the town's name is Mars, it almost seems logical. That's right, in a small park in the center of Mars, Pennsylvania, is a small UFO statue.
The flying saucer stands three feet tall and is six feet around. But what it lacks in imposing height or intergalactic history, it certainly makes up for in humorous curiosity.
While visiting the town, take a few minutes to walk around and notice some of the humorous Mars stores, such as "Mars Travel" or "Mars National Bank."
The Flying Saucer in Mars, Pennsylvania, is located at 100 Pittsburgh St., Mars, PA 16046.
The Reading Pagoda in Berks County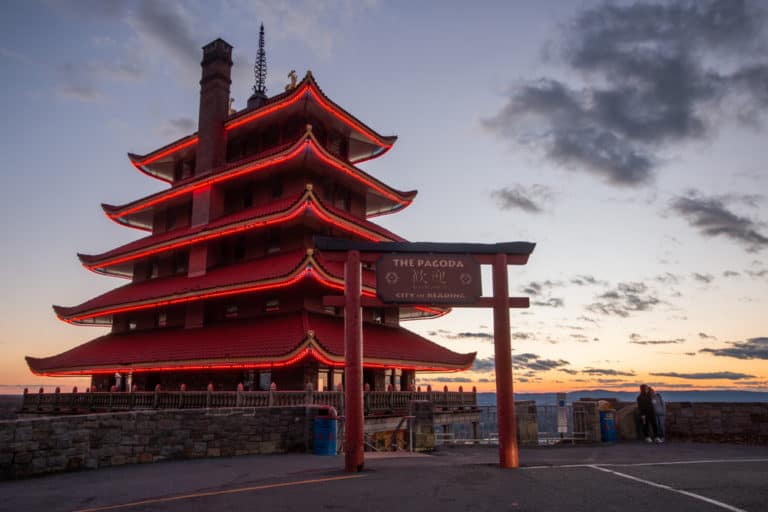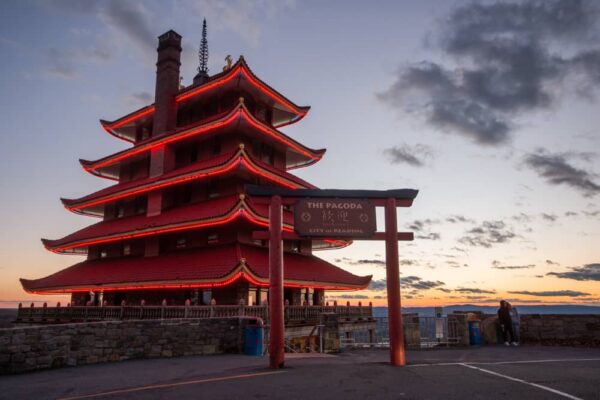 Located high atop a hillside above Reading, Pennsylvania is a curious sight. The Reading Pagoda is a Japanese-style pagoda that was built at the beginning of the 20th century and was planned to be one part of a resort that would site on the top of Mount Penn. However, the rest of the resort never came to be.
While the Reading Pagoda can be seen from throughout the valley below, you can also drive right up to it and enjoy breathtaking views of the surrounding area.
Visiting in the evening offers the chance to see this amazing spot lit up at night.
Sherman Memorial Lighthouse in Forest County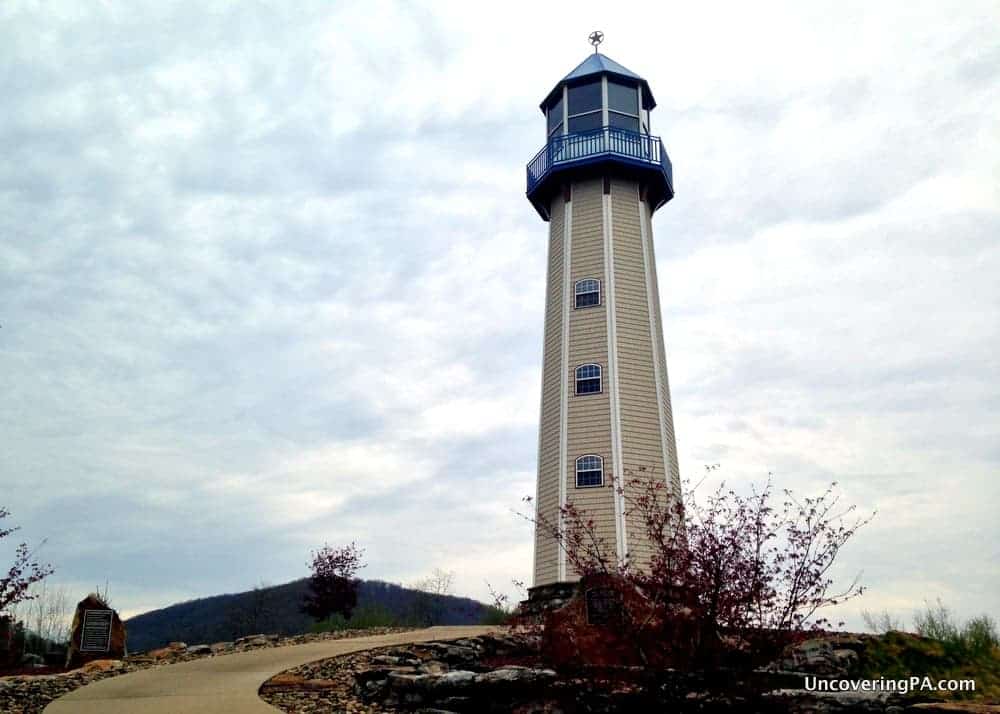 Located in the middle of Forest County, is one of Pennsylvania's most unusual roadside buildings: the Sherman Memorial Lighthouse. Its location along the Allegheny River might give you the impression that it serves a purpose, but it doesn't. In fact, the lighthouse is located roughly 60 miles from the closest navigable body of water, Lake Erie.
The 75-foot tall lighthouse was completed in 2004 and was built by local Jack Sherman as a memorial to his family and to hold his large collection of miniature lighthouses.
The lighthouse is open to visitors several times a year, and, I've been told that the view from the top is fantastic.
Fiberglass Punxsutawney Phils in Jefferson County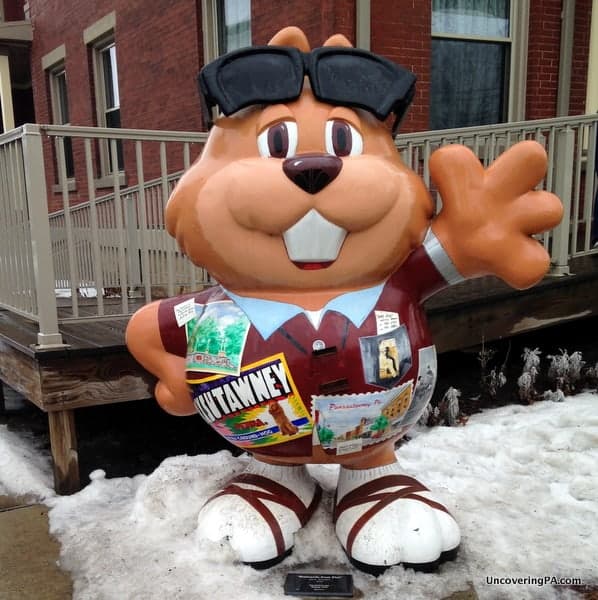 Punxsutawney, Pennsylvania, is known worldwide for its fantastic Groundhog Day celebration. To celebrate this heritage, the borough commissioned 32 larger-than-life Punxsutawney Phils to be painted by local artists and placed around town.
The statues range from comical to serious, but each shows off an aspect of Punxsutawney's heritage. While in town, don't miss Phil's home, which is located next to the library.
The Punxsutawney Phil statues are located all around the borough. Visit their website for information on the location of all 32.
The Statue of Liberty in Dauphin County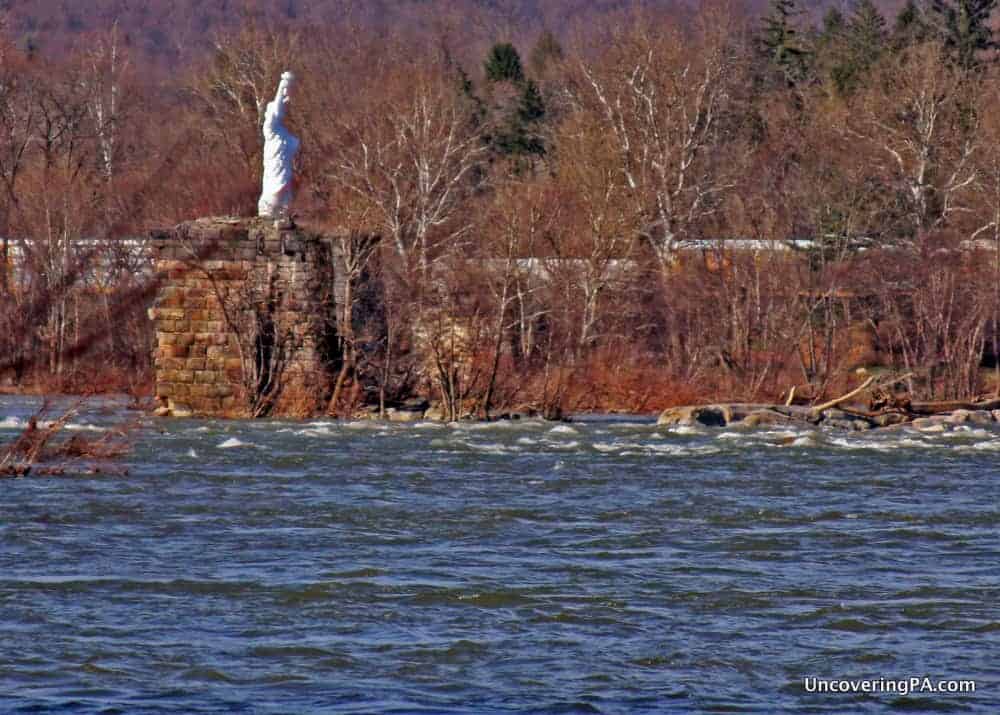 This replica of the Statue of Liberty sits in the middle of the Susquehanna River, just north of Harrisburg, along route 322/22 (It is also visible from Route 11/15 on the western shore of the river). The fact that it doesn't cause daily accidents along this busy highway is quite remarkable, as it seems more drivers look at it than the road while passing by.
The statue is actually the second one at that location. The first was made of plywood and Venetian blinds and was put in place in 1986 by a secretive group of local citizens. After it was washed away by a flood six years later, the second, larger, statue was put in place in 1997.
Giant Zippo Lighter in McKean County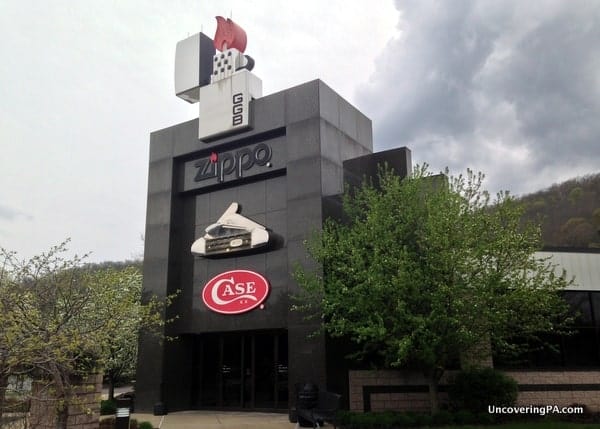 Until I visited the area, I had no idea that Zippo Lighters are made in Bradford, Pennsylvania. And, even though I've never owned one, I took the time to visit their museum on the outskirts of town.
However, what's atop their building is nearly as interesting as what's inside. You see, atop the entrance to the Zippo museum and gift shop is a giant Zippo lighter.
While I couldn't find any information about the history of the giant Zippo lighter, it's worth seeing, as is the free museum inside. The lighter is located at 1932 Zippo Drive, Bradford, PA 16701.
Fireman's Drinking Fountain in Lehigh County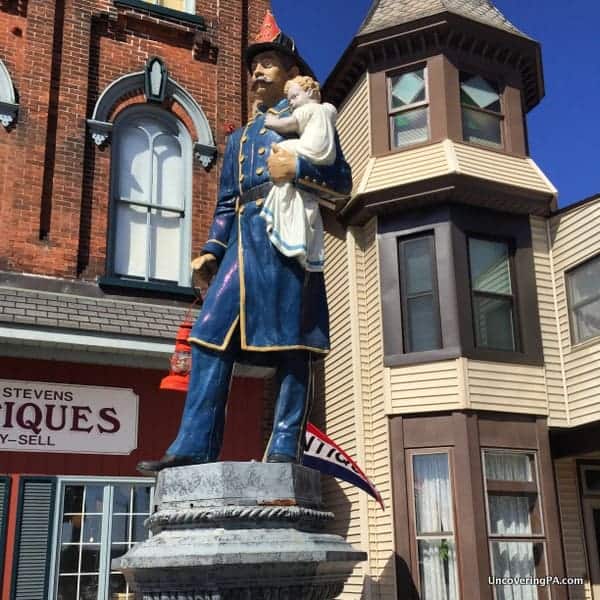 Located in the town of Slatington, a few miles north of Allentown, PA, is one of the coolest statues I've ever come across. Had the Fireman's Drinking Fountain been a normal statue, it wouldn't draw much attention; however, the bright paint color makes this statue very unique. Of course, as the name implies, it also isn't just a statue.
When it was built in 1909 it was designed to recognize the volunteer firefighters of the town. The 12-foot tall statue was placed atop a drinking fountain that provided water for the community in later years.
The Fireman's Drinking Fountain can be found at 560 Main Street, Slatington, PA 18080.
Decker Chapel in Elk County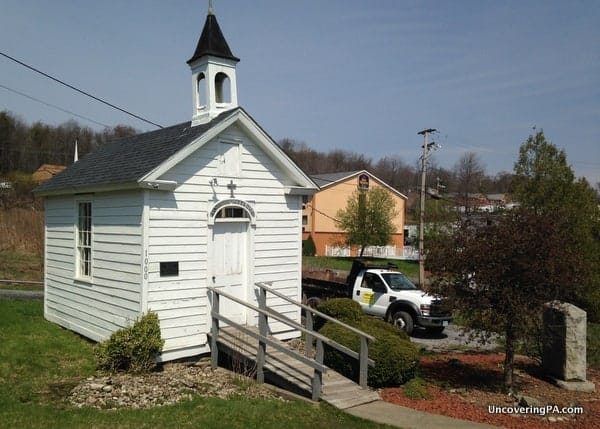 Located on the outskirts of Saint Marys, Pennsylvania, Decker Chapel bills itself as the smallest church in America. Whether this is true or not, I have no idea. However, at 12 feet by 18 feet, the chapel is quite small. Inside, there is a small altar, but little else, which isn't exactly surprising given the size.
Decker Chapel was built in 1856 by Michael Decker and is listed on the National Register of Historic Places. It is located on Million Dollar Highway at the following coordinates: 41.400856, -78.560403.
Stinson the Dinosaur in Carbon County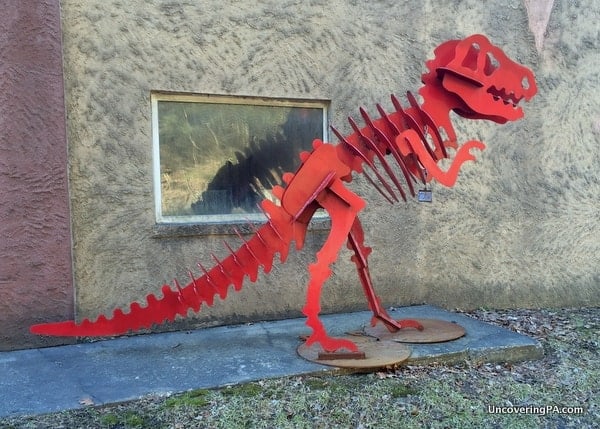 Located outside an old warehouse on a backroad in Carbon County is Stinson the Dinosaur. At 9 feet tall and 15 feet long, Stinson isn't the biggest roadside oddity on the list. However, what he lacks in size, he makes up for in purpose. You see, Stinson was created to raise awareness and money for strokes (as well as small business awareness for some reason).
Stinson's bright red color stands out from the grey building behind it, making it a must-see roadside oddity when in Carbon County.
Stinson even has his own website, where you can find out more about him and buy your own mini Stinson the Dinosaur.
Stinson the Dinosaur is located at 2525 Interchange Road, Lehighton, PA 18235, or you can find him online at StinsonTheDinosaur.com
Do you have a favorite roadside oddity in Pennsylvania? Let me know in the comments below!
Willing to get out of the car? Experience other PA oddities such as Fonthill Castle, Gravity Hill, Columcille Megalith Park, and Ringing Rocks County Park.