Disclosure: This article may contain affiliate links. We will make a small commission from these links if you order something at no additional cost to you.
You might think that you have to travel Route 66 through the western states to see interesting roadside oddities. However, I've logged tens of thousands of miles on more than 300 days of traveling all over the state, and I can assure you that there are some crazy things sitting along the state's roadways.
And, while there are dozens of other strange roadside attractions in PA that I have yet to visit, I thought I'd take a minute and share a few of the strangest that I've come across so far.
As I continue my travels, I'm sure I'll pull over for many, many more great roadside oddities in Pennsylvania. So, look for a future update to this list!
For now, here are some of the strangest roadside oddities in Pennsylvania I've come across so far:
The Haines Shoe House in York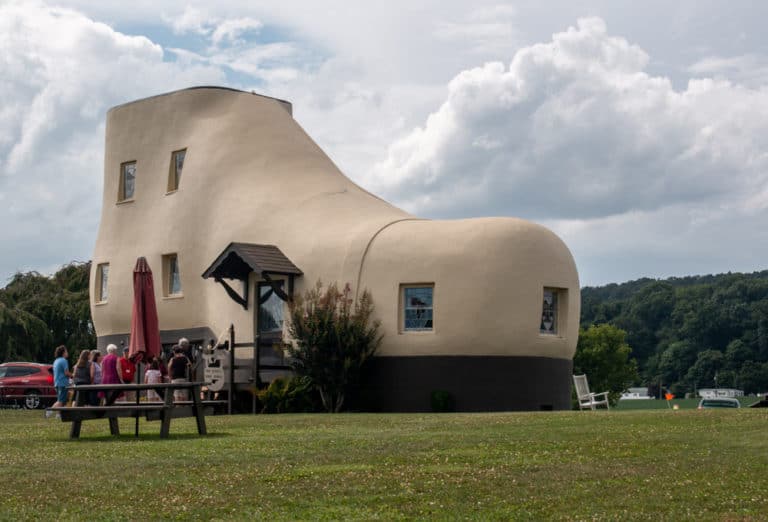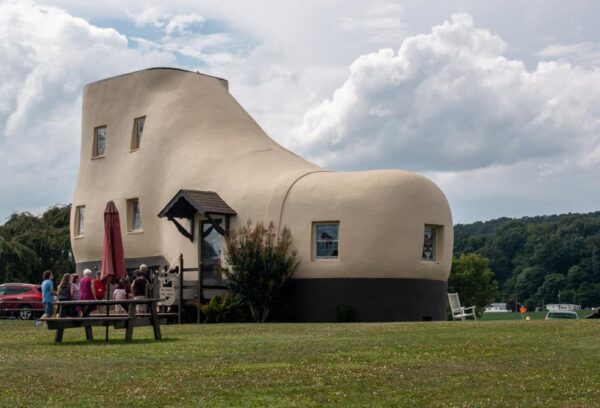 Without a doubt, one of the strangest and most popular roadside attractions in PA has to be the Haines Shoe House. Located along Route 30 east of York, the Shoe House has been drawing curious stares since it was completed in 1949.
The Shoe House was built as an advertisement for a local shoe company and never served as more than a temporary residence.
While the shoe house is no longer open for tours, it's still an interesting spot to gawk out in southeastern PA.
Whistler's Mother Statue in Ashland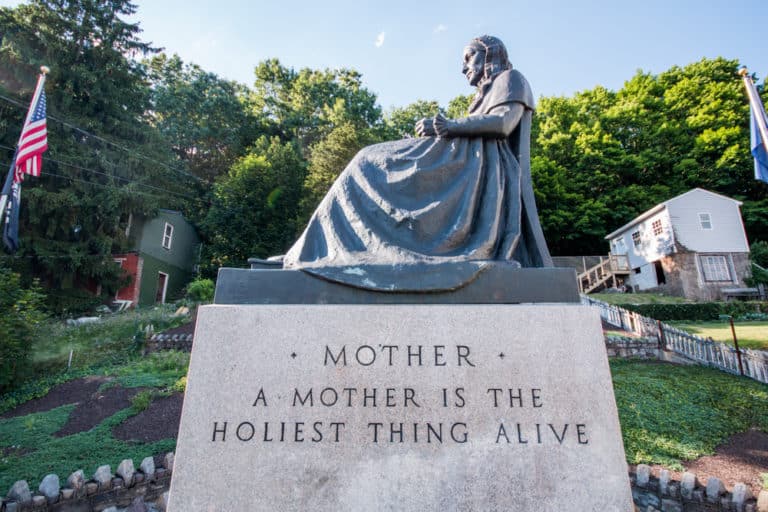 Located in Ashland, PA, which is better known as the gateway to Centralia and the home of the Pioneer Coal Mine Tour, the Whistler's Mother Statue is well worth a quick stop.
Known officially as the Mother's Memorial, it was designed to appear like the 1871 painting "Arrangement in Grey and Black: Portrait of the Painter's Mother" by artist James McNeil Whistler. The statue was completed in 1938 by the Ashland Boys Association to honor the mothers of the world.
The statue is very stark and appears rather humorless and severe, which is quite different from how we typically picture mothers today. The phrase "A mother is the holiest living thing" appears on the statue. It claims to be the only statue dedicated to all mothers in the country.
It can be found on the eastern end of Ashland at the end of North Hoffman Avenue at the following coordinates: 40.783825, -76.337238.
Flying Saucer in Mars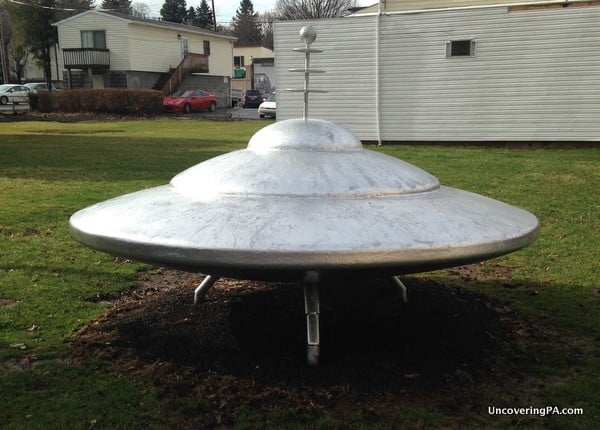 A miniature flying saucer might seem out of place in western Pennsylvania, but when the town's name is Mars, it almost seems logical. That's right, in a small park in the center of Mars, Pennsylvania, is a small UFO statue.
The flying saucer stands three feet tall and is six feet around. But what it lacks in imposing height or intergalactic history, it certainly makes up for in humorous curiosity.
While visiting the town, take a few minutes to walk around and notice some of the humorous Mars stores, such as "Mars Travel" or "Mars National Bank."
The Flying Saucer in Mars, Pennsylvania, is located at 100 Pittsburgh St., Mars, PA 16046.
The Reading Pagoda in Reading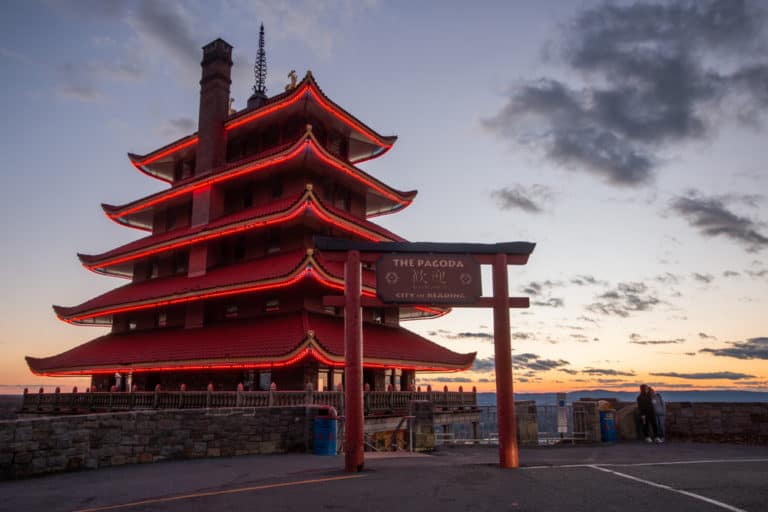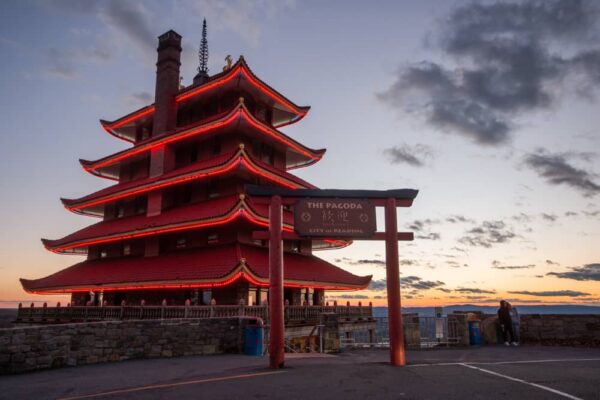 Located high atop a hillside above Reading, Pennsylvania is a curious sight. The Reading Pagoda is a Japanese-style pagoda that was built at the beginning of the 20th century and was planned to be one part of a resort that would site on the top of Mount Penn. However, the rest of the resort never came to be.
While the Reading Pagoda can be seen from throughout the valley below, you can also drive right up to it and enjoy breathtaking views of the surrounding area.
Visiting in the evening offers the chance to see this amazing spot lit up at night.
Sherman Memorial Lighthouse in Tionesta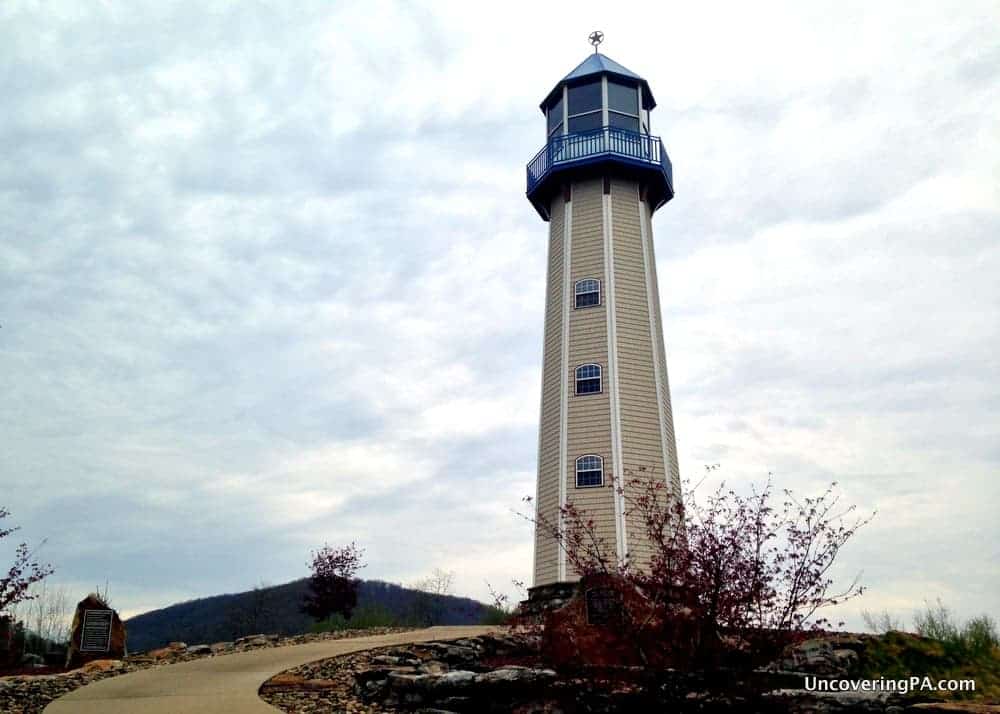 Located in the middle of Forest County, is one of Pennsylvania's most unusual roadside buildings: the Sherman Memorial Lighthouse.
Its location along the Allegheny River might give you the impression that it serves a purpose, but it doesn't. In fact, the lighthouse is located roughly 60 miles from the closest navigable body of water, Lake Erie (which is home to three working lighthouses).
The 75-foot tall lighthouse was completed in 2004 and was built by local Jack Sherman as a memorial to his family and to hold his large collection of miniature lighthouses.
The lighthouse is open to visitors several times a year, and, I've been told that the view from the top is fantastic.
Koontz Coffee Pot in Bedford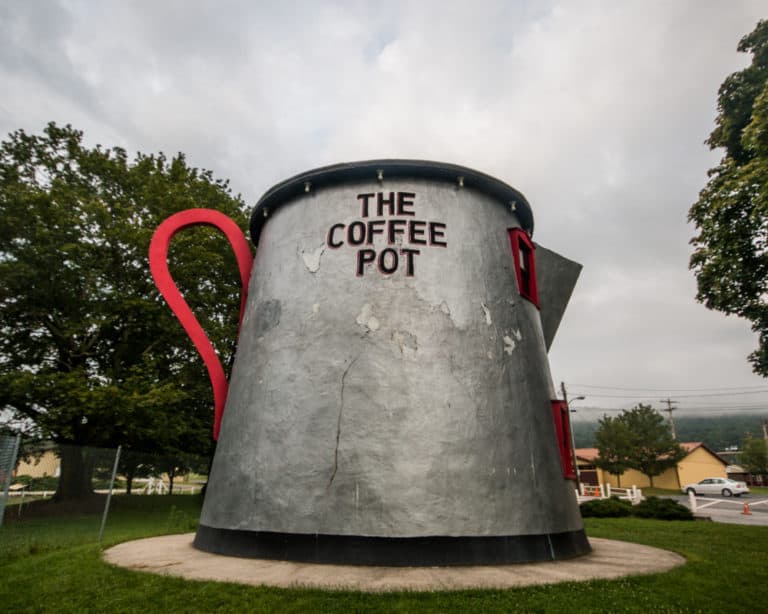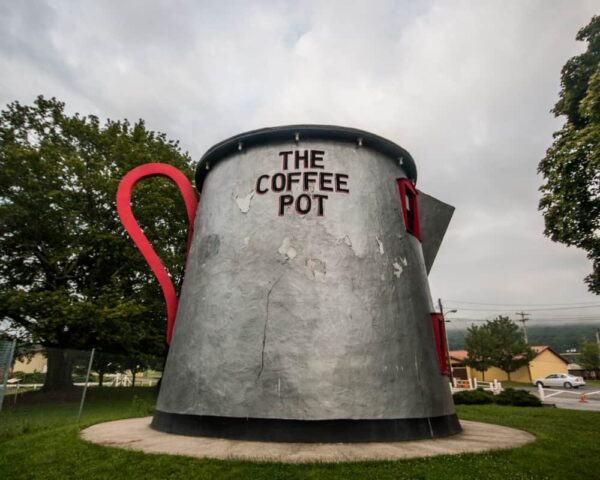 The Koontz Coffee Pot is the type of roadside oddity you'd expect to find along Route 66. Instead, it's located along the historic Lincoln Highway just west of Bedford, PA.
This 18-foot tall and 22-foot wide coffee pot was built in 1927 by David Koontz. Originally, it served as a lunch spot adjacent to Koontz's gas station. Over the years, it became a bar that was attached to a hotel, and even a bus station. Interestingly, it never served as an actual coffee shop.
After being abandoned for over a decade, the Koontz Coffee Pot was moved across the street to the Bedford County Fairgrounds and preserved.
Today, visitors can walk around this unique site and marvel at its size. Inside, visitors will find a small gift shop that is open periodically.
The Coffee Pot can be found at 108 Telegraph Rd, Bedford, PA 15522. Note that it is no longer along the main Route 30 as the road was rerouted around town years ago.
PennDOT Road Sign Sculpture Garden in Meadville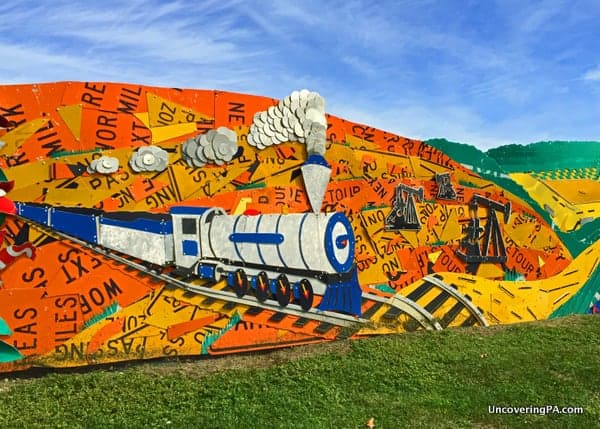 Pennsylvania is home to thousands of pieces of public art, but few are as unique as the PennDOT Road Sign Sculpture Garden in Meadville.
Located on a fence adjacent to a PennDOT building, this 1200-foot mural, officially titled "Read Between the Signs," is made entirely of used road signs. Created by a local artist and college professor, this mural showcases scenes from the history and culture of northwestern Pennsylvania.
The PennDOT Road Sign Sculpture Garden can be found at the following address: 18492 Smock Hwy, Meadville, PA 16335.
Giant Cowboy in Kittanning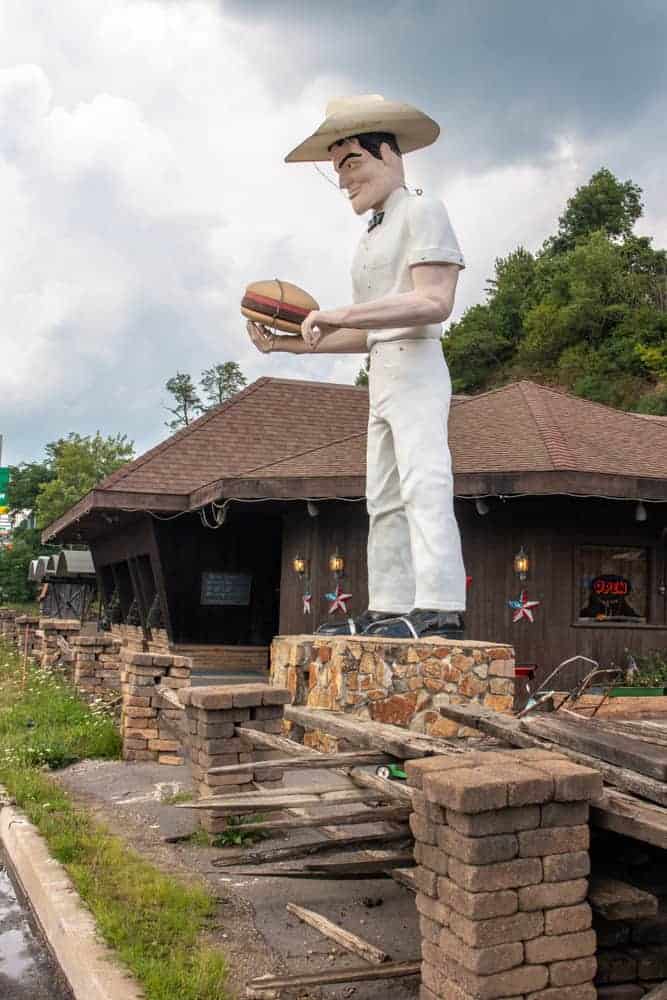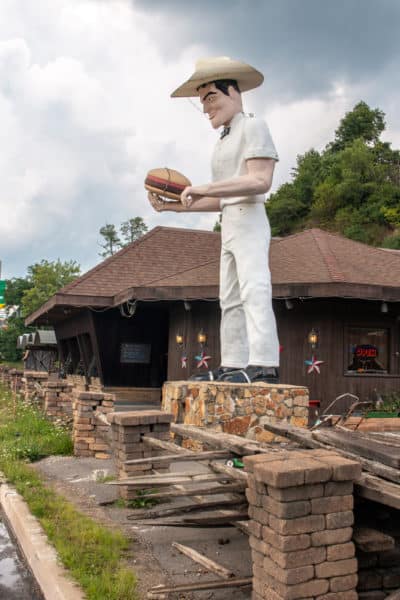 If you are driving along Route 422 just east of Kittanning, you can't miss one of the most unusual roadside oddities in Pennsylvania: the Giant Cowboy.
Located outside of the Cadet Restaurant since 1962, this 30-foot cowboy known as Sam welcomes guests with a giant hamburger in his right hand.
Interestingly, Sam was one of many characters made from the same mold in the 1960s. The first was a Paul Bunyan statue that was placed in Flagstaff, Arizona. The statues would be commonly seen outside of car shops holding a muffler and became known as a "Muffler Man."
The Giant Cowboy can be found outside the Cadet Restaurant at the following address: 13514 US-422, Kittanning, PA 16201.
Gravity Hills Around PA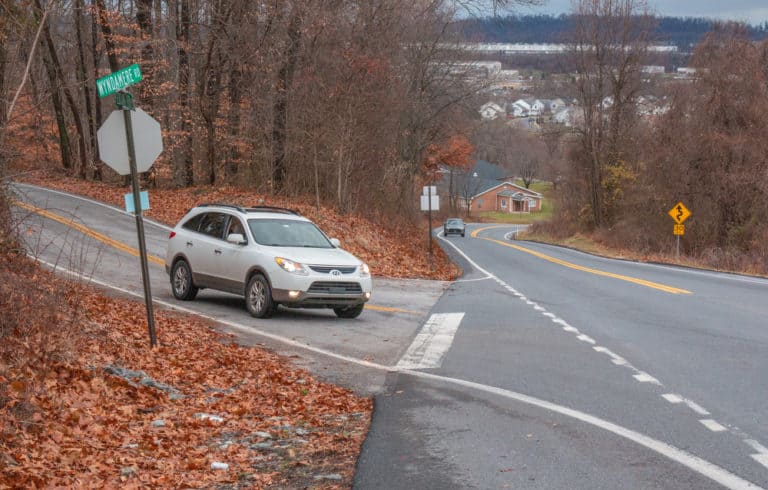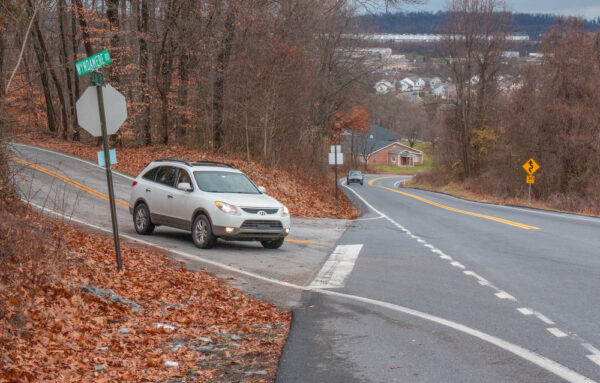 While it might not be a traditional roadside oddity, there are few things more strange than the ability to roll uphill in your car.
While it's an optical illusion, there are several places in Pennsylvania that will allow you to appear to do just that. And trust me, even if you know it's an optical illusion, it's still really, really strange.
While there may be more of them around the state, the three most popular can be found in Pittsburgh's North Park, Bedford County, and south of Harrisburg.
Schaefer's Auto Art in Erie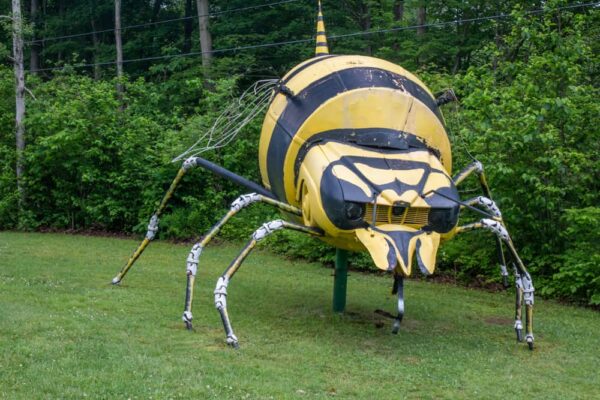 Schaefer's Auto Art is located a few minutes south of downtown Erie and is the work of local artist Richard Schaefer. Schaefer uses old cars to create interesting sculptures that are well worth taking the time to see.
In the front yard of his house, visitors can see everything from a giant bumblebee to a rocket and a two-headed dinosaur. Visitors are welcome to park and walk amongst these strange, but quite awesome creations.
Schaefer's Auto Art is located at 3705 Hershey Rd, Erie, PA 16506.
Statue of Hooded Man on Gallows in Mahanoy City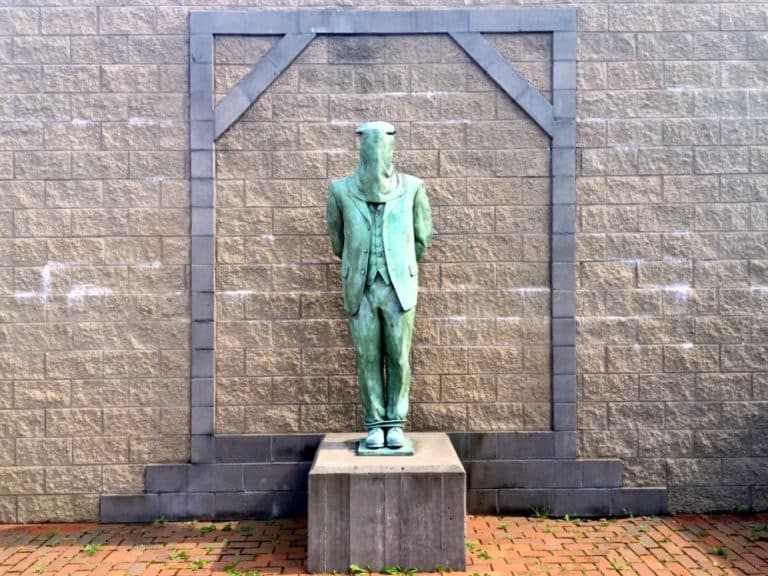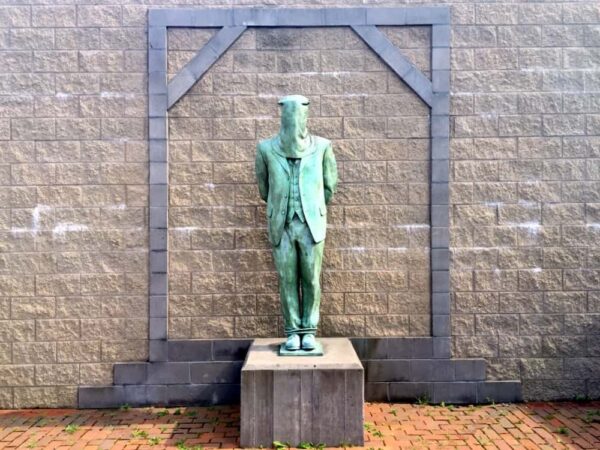 The Statue of a Hooded Man on the Gallows is located in the heart of Mahanoy City and pays tribute to the Molly Maguires.
The Molly Maguires were comprised of Irish immigrants that worked in the anthracite coal mines in northeastern PA. In the 1870s, there are labor issues in the mines that threatened to upend the systems that had been created.
Whether the Molly Maguires were a real secret society or more of a boogeyman, at least 20 miners were hung in Schuylkill County between 1877 and 1879 for crimes associated with the group.
This statue, which is somewhat hidden behind a stone wall (presumably because of the subject matter), is a sad reminder of this history.
The statue can be seen at 212 W Centre St, Mahanoy City, PA 17948.
Fiberglass Punxsutawney Phils in Punxsutawney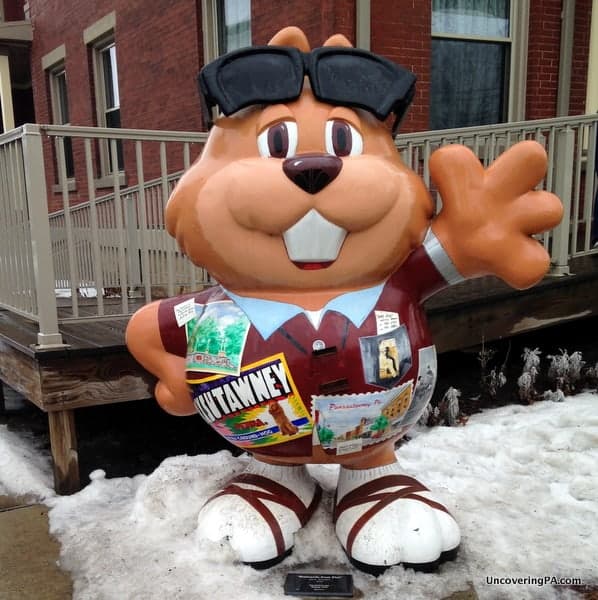 Punxsutawney, Pennsylvania, is known worldwide for its fantastic Groundhog Day celebration. To celebrate this heritage, the borough commissioned 32 larger-than-life Punxsutawney Phils to be painted by local artists and placed around town.
The statues range from comical to serious, but each shows off an aspect of Punxsutawney's heritage. While in town, don't miss Phil's home, which is located next to the library.
The Punxsutawney Phil statues are located all around the borough. Visit their website for information on the location of all 32.
The Statue of Liberty near Harrisburg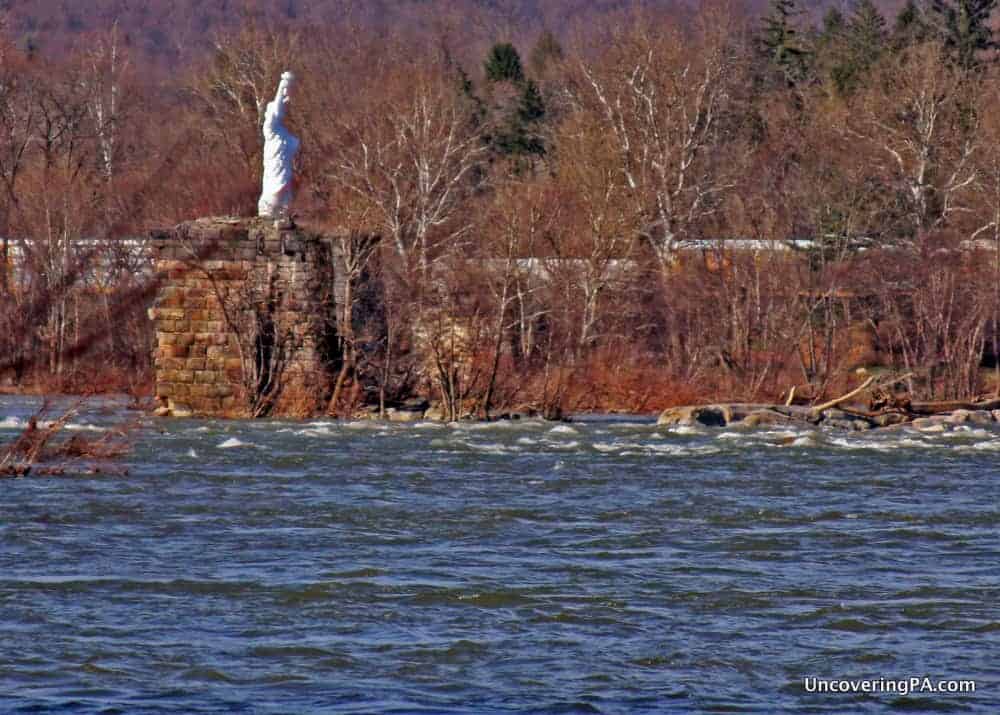 This replica of the Statue of Liberty sits in the middle of the Susquehanna River, just north of Harrisburg, along route 322/22 (It is also visible from Route 11/15 on the western shore of the river). The fact that it doesn't cause daily accidents along this busy highway is quite remarkable, as it seems more drivers look at it than the road while passing by.
The statue is actually the second one at that location. The first was made of plywood and Venetian blinds and was put in place in 1986 by a secretive group of local citizens. After it was washed away by a flood six years later, the second, larger, statue was put in place in 1997.
In recent years, the statue's sash has been painted pink which makes it even easier to spot amongst the river's rocks.
The Fountain of Youth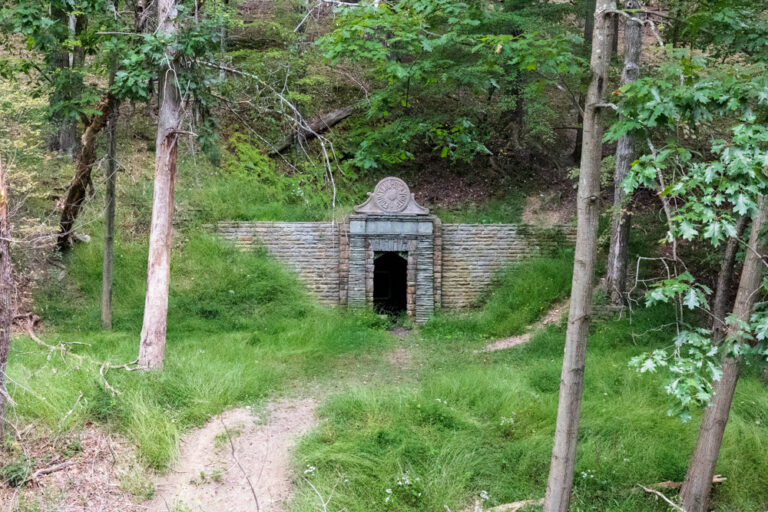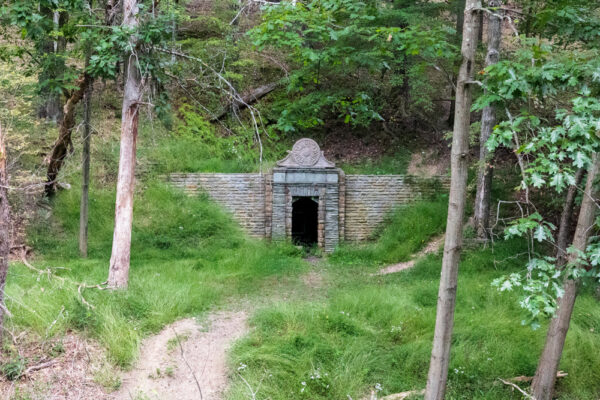 The Fountain of Youth might be one of the oldest roadside oddities in Pennsylvania, having been constructed in the 1930s. However, this roadside oddity in Allegheny County's North Park is still definitely worth seeing.
It seems unclear why this spot was chosen to be called the Fountain of Youth and encased in stonework designed to look like a Roman grotto, but it's nevertheless quite a beautiful little springhouse.
Water no longer flows here, but since it's in a park, you can walk the short distance from the road to have a look inside if you so choose.
Giant Zippo Lighter in Bradford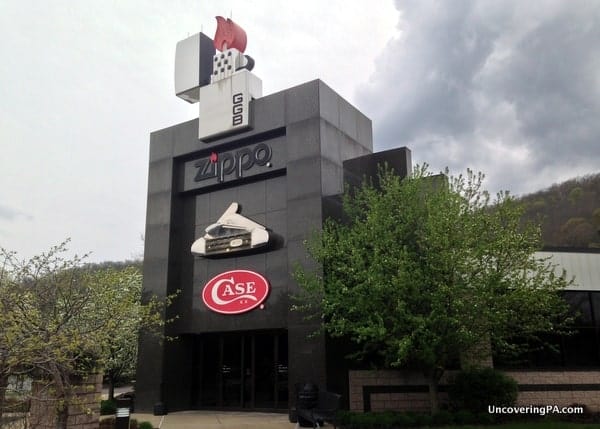 Until I visited the area, I had no idea that Zippo Lighters are made in Bradford, Pennsylvania. And, even though I've never owned one, I took the time to visit their museum on the outskirts of town.
However, what's atop their building is nearly as interesting as what's inside. You see, atop the entrance to the Zippo museum and gift shop is a giant Zippo lighter.
While I couldn't find any information about the history of the giant Zippo lighter, it's worth seeing, as is the free museum inside. The lighter is located at 1932 Zippo Drive, Bradford, PA 16701.
Pioneer Woman and Child Statue in Frackville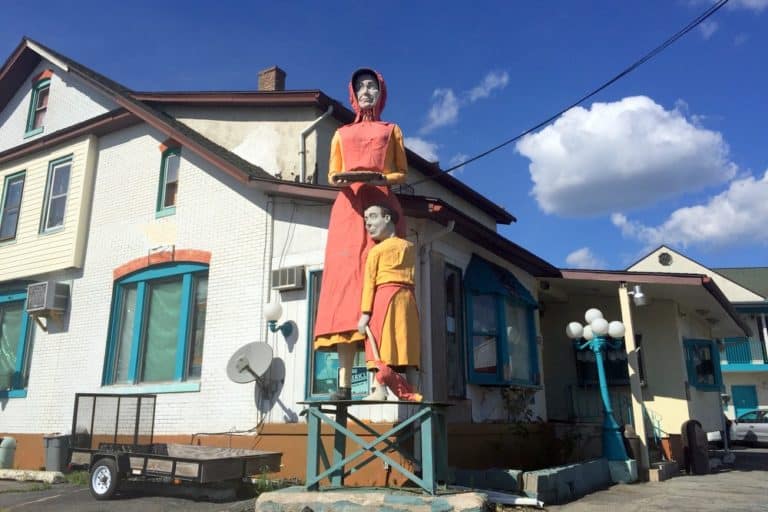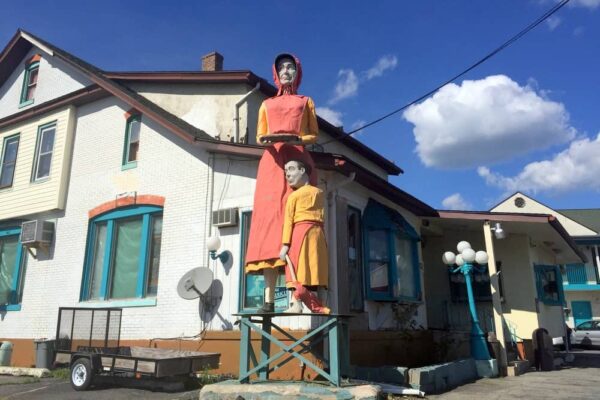 Sadly, the Pioneer Woman and Child Statue seems to no longer be standing. However, I'll leave it here for historic purposes.
Without a doubt, the Pioneer Woman and Child Statue in Frackville is one of the strangest roadside oddities in Pennsylvania.
Located just off of I-81 in Frackville, the statue consists of a 15-foot tall mom in pioneer clothing being clutched by her daughter. While the subject is certainly nice, the actual statue is somewhat disturbing.
The large mom is clutching a pie and has a rather odd look on her face. No matter how strange she is, however, it's nothing compared to her daughter.
Standing about half as tall as the mother statue, the daughter is clutching her mother's leg and holding a giant decapitated doll. The strangest part, however, is the daughter's head, which would be more appropriate looking on the statue of a middle-aged man.
This is simply an odd statue that seems totally out of place in the middle of Pennsylvania's coal country.
Big Mac Museum in North Huntingdon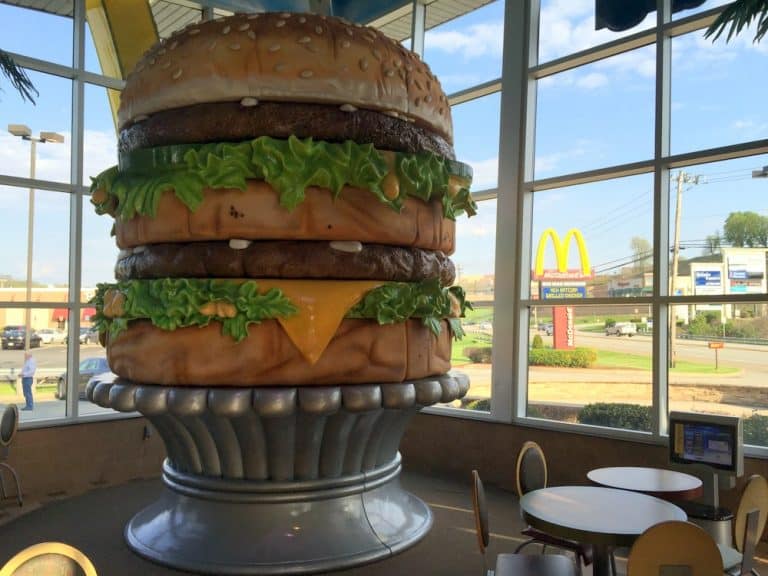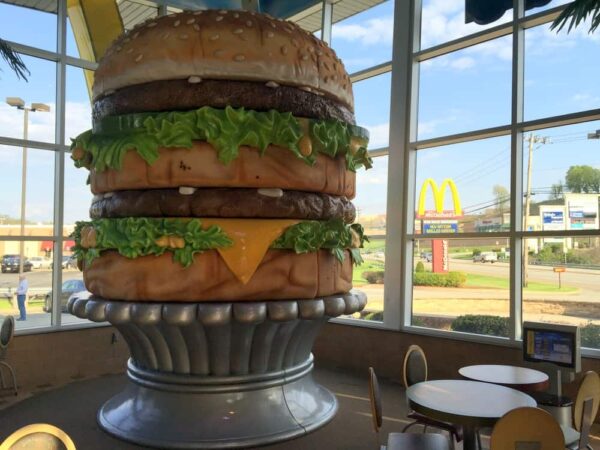 One of the tastiest Pennsylvania facts that I've come across in my travels around PA is that the Big Mac was created in southwestern PA.
To honor this legacy, you can visit the Big Mac Museum inside a McDonald's restaurant in North Huntingdon, PA, just east of Pittsburgh.
While this is a normal restaurant, there are several display cases set up inside that tell the story of the Big Mac and feature collectibles related to the sandwich. Of interest to this list, however, is the giant fiberglass Big Mac that is located inside the restaurant.
If you've always wanted to stand next to a Big Mac that's bigger than you are, this is where you'll want to head.
The Big Mac Museum can be found at the following address: 9061 US-30, Irwin, PA 15642.
Brooklyn Bridge Replica in Saxonburg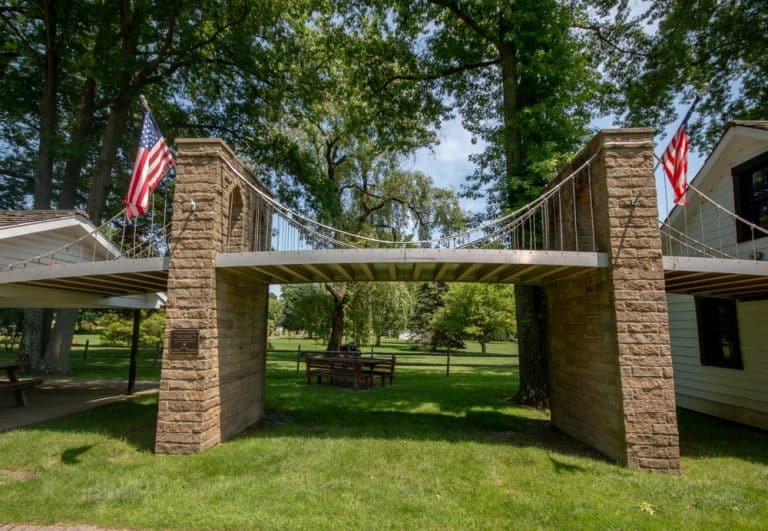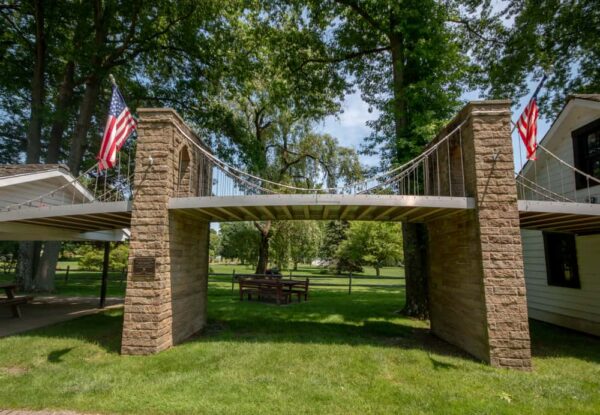 The Brooklyn Bridge is one of the world's most famous bridges, and it's designer, John Roebling, came up with the concept for suspension bridges in his workshop in Saxonburg, PA.
Today, the Saxonburg Museum tells the story of the community, which includes a large section about Roebling and his life in the area. In addition to the interior displays, the museum is also home to Roebling's workshop, as well as a large replica of the Brooklyn Bridge.
This replica was originally built for a float in a local parade and got a second life in the park adjacent to the museum.
The Brooklyn Bridge replica can be found adjacent to the Saxonburg Museum at the following address: 199 N Rebecca St, Saxonburg, PA 16056.
Fireman's Drinking Fountain in Slatington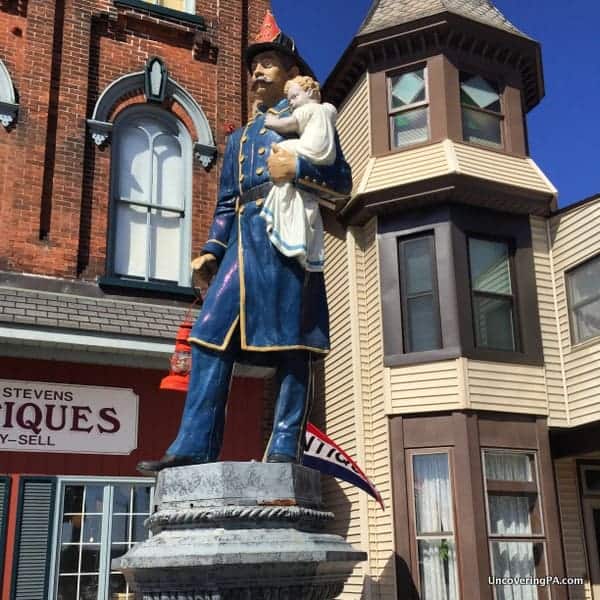 Located in the town of Slatington, a few miles north of Allentown, PA, is one of the coolest statues I've ever come across.
Had the Fireman's Drinking Fountain been a normal statue, it wouldn't draw much attention; however, the bright paint color makes this statue very unique. Of course, as the name implies, it also isn't just a statue.
When it was built in 1909 it was designed to recognize the volunteer firefighters of the town. The 12-foot tall statue was placed atop a drinking fountain that provided water for the community in later years.
The Fireman's Drinking Fountain can be found at 560 Main Street, Slatington, PA 18080.
Giant Car Mechanic Statue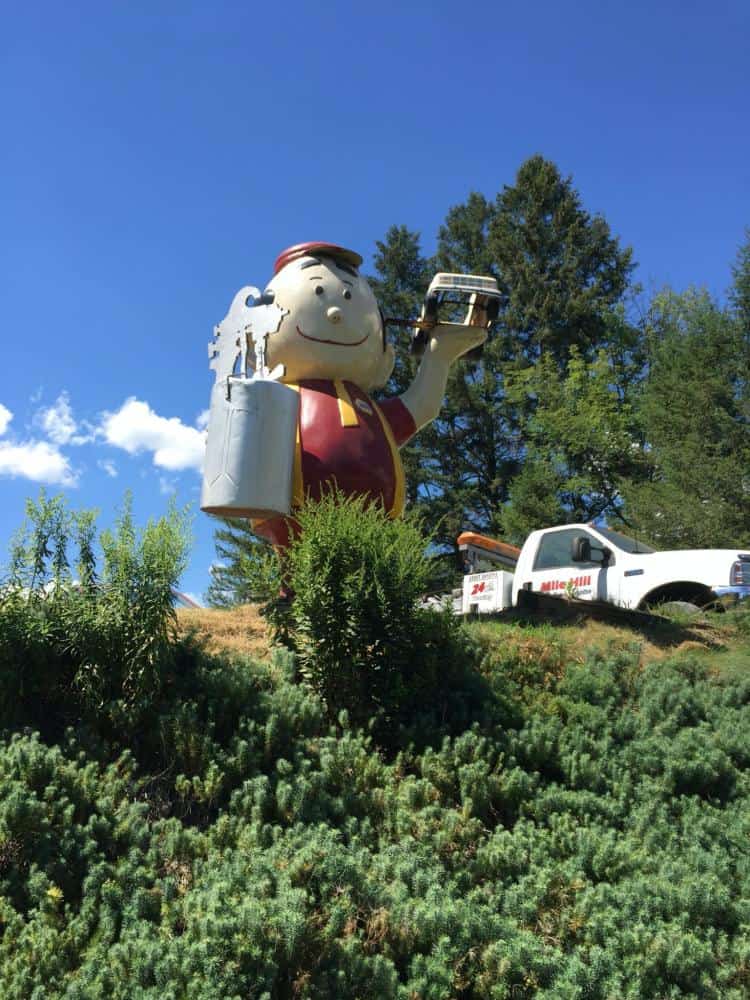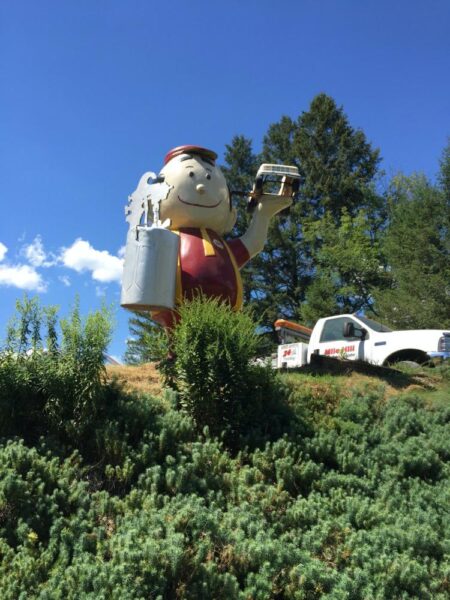 Located outside of a towing company along Route 6 near Tunkhannock you'll find one of my favorite roadside oddities in PA.
This is actually an old A&W Restaurant Papa Burger statue that has been repurposed into a car mechanic. He stands along the road holding an oil can and a car where he once held a glass of root beer and a hamburger.
The Giant Car Mechanic Statue can be seen outside of Mile Hill Collision Service at 5231 US-6, Tunkhannock, PA 18657.
Westinghouse Atom Smasher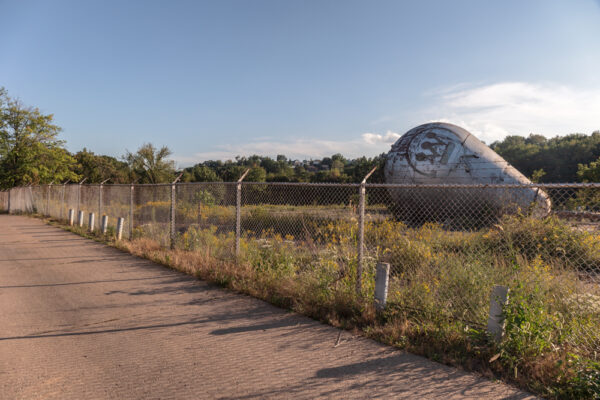 The Westinghouse Atom Smasher was the world's first industrial particle accelerator and was in service from 1937 until 1958. While this is an incredibly historic piece of America's nuclear energy history, I'd say that it also qualifies as a roadside oddity today.
That's because, in 2015, the building that supported the atom smasher was torn down. Today, the 60-foot tall and 30-foot diameter Westinghouse Atom Smasher lies abandoned amid piles of rubble in an industrial site.
In its current state, it looks like a giant silver lightbulb sitting only a few feet from a chainlink fence.
Decker Chapel in St. Marys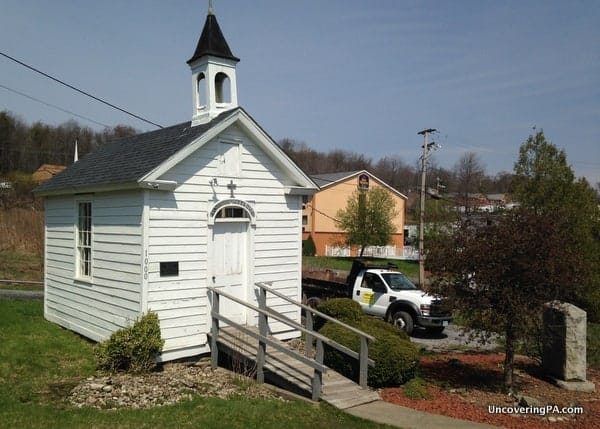 Located on the outskirts of Saint Marys, Pennsylvania, Decker Chapel bills itself as the smallest church in America. Whether this is true or not, I have no idea. However, at 12 feet by 18 feet, the chapel is quite small.
Inside, there is a small altar, but little else, which isn't exactly surprising given the size.
Decker Chapel was built in 1856 by Michael Decker and is listed on the National Register of Historic Places.
It is located on Million Dollar Highway at the following coordinates: 41.400856, -78.560403.
Space Acorn in Kecksburg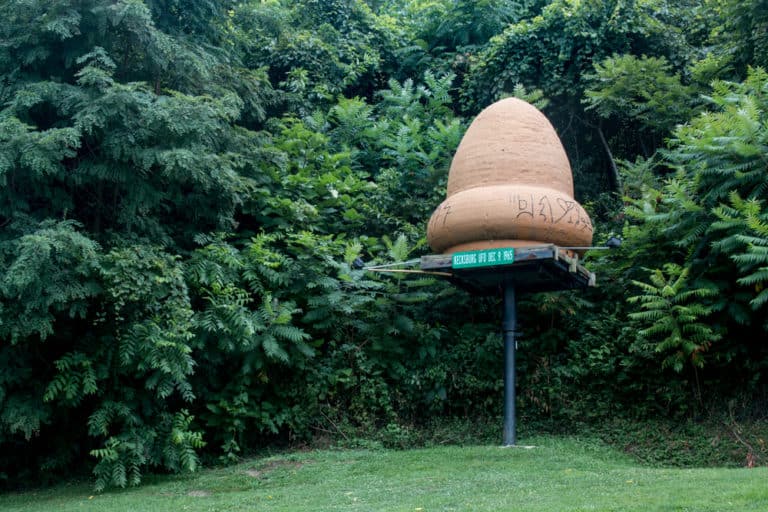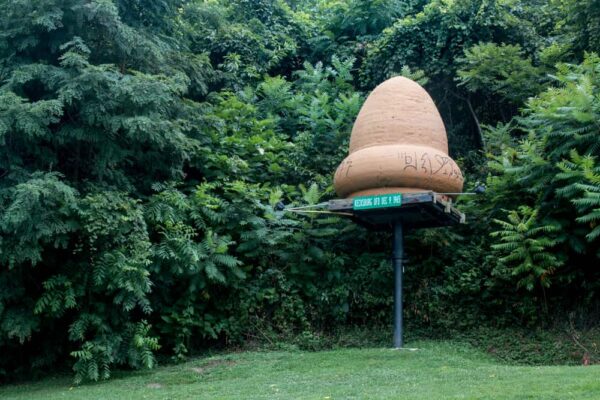 According to western PA folklore, on December 9, 1965, the community of Kecksburg in Westmoreland County was visited by a UFO. On that evening, a giant fireball was seen across the sky in six different states, and, according to locals, something crash-landed in the community.
The area was quickly closed off and the military searched the area. While the military's official report stated that it was a meteor that landed in Kecksburg, many locals still have their doubts.
In a 1990 episode of the TV show Unsolved Mysteries (which you can see here), locals talked about finding a strange object that had landed in the woods.
They claim that it was shaped like an acorn and about the size of a VW Beetle. They also said that it had markings on the outside that resembled Egyptian hieroglyphics.
Today, the mock-up of the UFO that was used in the show is on display next to the Kecksburg fire station. It can be found at the following address: 5128 Water St, Mt Pleasant, PA 15666.
Fork in the Road in Centerport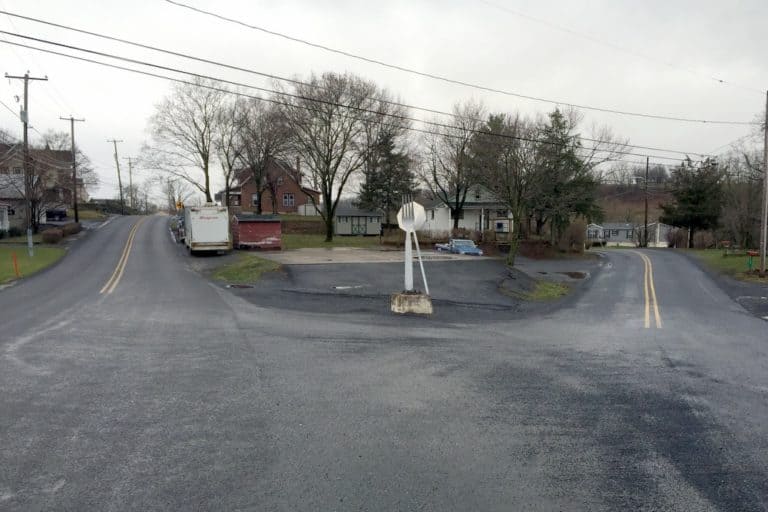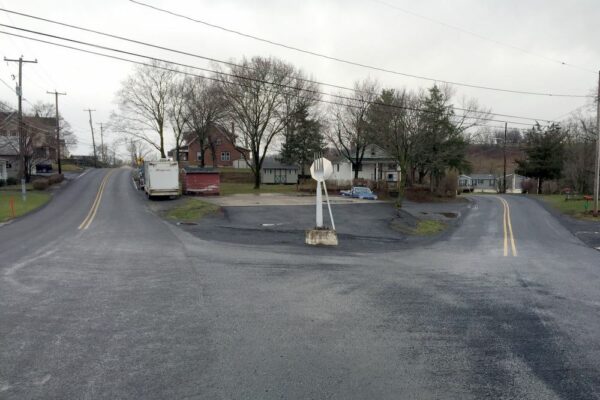 In the 1979 film "The Muppet Movie" there is a humorous scene where Fozzy Bear and Kermit the Frog are driving in a car and come to a literal fork in the road.
If you too want to see a literal fork in the road, head to Centerport in Berks County, PA. Here, at the fork of Centerport Road and Main Street on the southern end of town, you'll find a giant silver fork.
This 8-foot fork just randomly appeared one day in 2004 and has been a local oddity ever sense. It was built by the landowner to help bring attention to the short concrete pillar on which it sits.
While it might have had a practical purpose, it's definitely a humorous spot to see while driving through eastern PA.
The Fork in the Road can be found at 304 Centerport Rd, Mohrsville, PA 19541.
Stinson the Dinosaur in Lehighton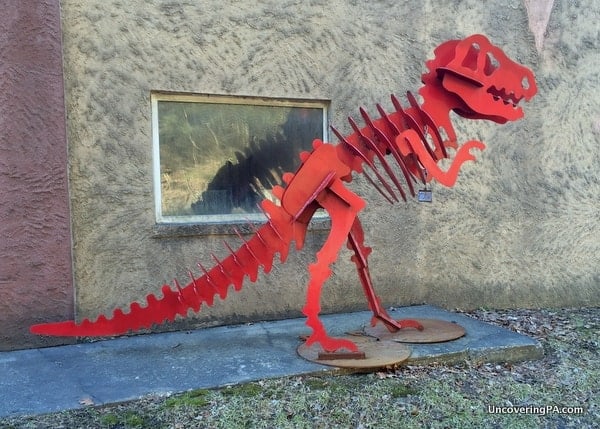 Located outside an old warehouse on a backroad in Carbon County is Stinson the Dinosaur.
At 9 feet tall and 15 feet long, Stinson isn't the biggest roadside oddity on the list. However, what he lacks in size, he makes up for in purpose. You see, Stinson was created to raise awareness and money for strokes (as well as small business awareness for some reason).
Stinson's bright red color stands out from the grey building behind it, making it a must-see roadside oddity when in Carbon County.
Stinson the Dinosaur is located at 2525 Interchange Road, Lehighton, PA 18235.
Randyland in Pittsburgh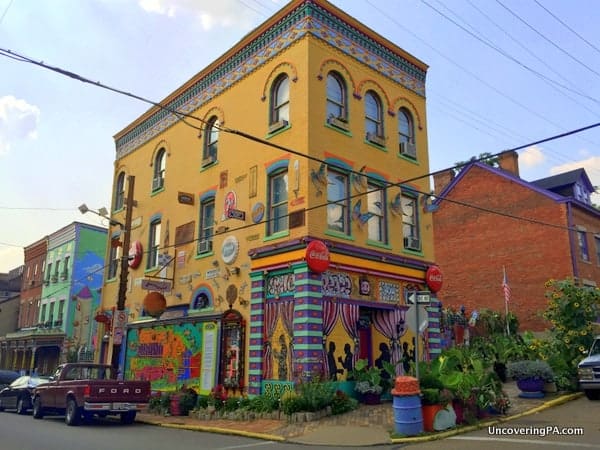 Located in Pittsburgh's Mexican War Street neighborhood is Randyland, one of the most colorful and happy places in all of PA.
Created by local artist Randy Gilson, this home and the surrounding yard have been transformed by beautiful colors and locally-found trash into an incredibly whimsical world. Stop by to view this incredible spot and have a chat with Randy, who can often be found in his domain.
Randyland can be found at 1501 Arch St, Pittsburgh, PA 15212.
Pied Piper of Storyland in Schellsburg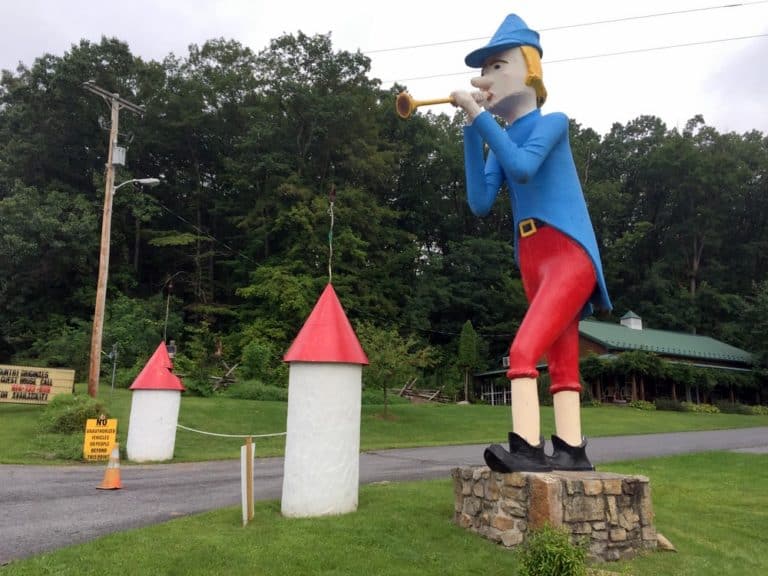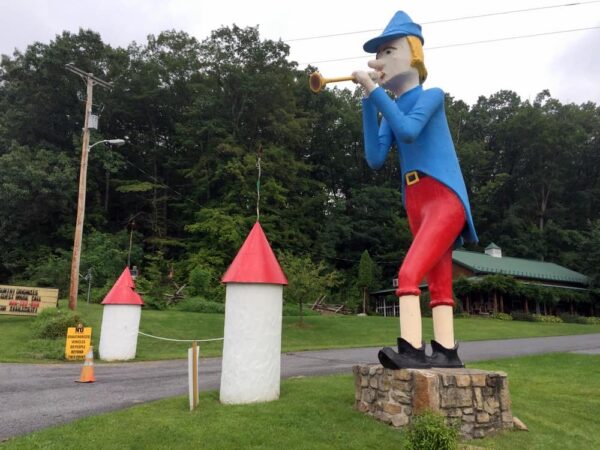 From the 1950s to the 1980s, Storyland was a popular family amusement park near Schellsburg, PA. However, like many of these parks, it eventually faded into obscurity. Fortunately, though, not all of it has been lost.
In fact, as you are driving along Route 30 through Bedford County, you can't help but notice the 18-foot Pied Piper statue that still sits at what was the park's entrance. While it no longer signals an entrance to the park, it's still a great oddity to check out while driving through southern Pennsylvania.
The Pied Piper of Storyland can be found at the following coordinates: 40.048972, -78.650175.
Giant Paint Can in Shippensburg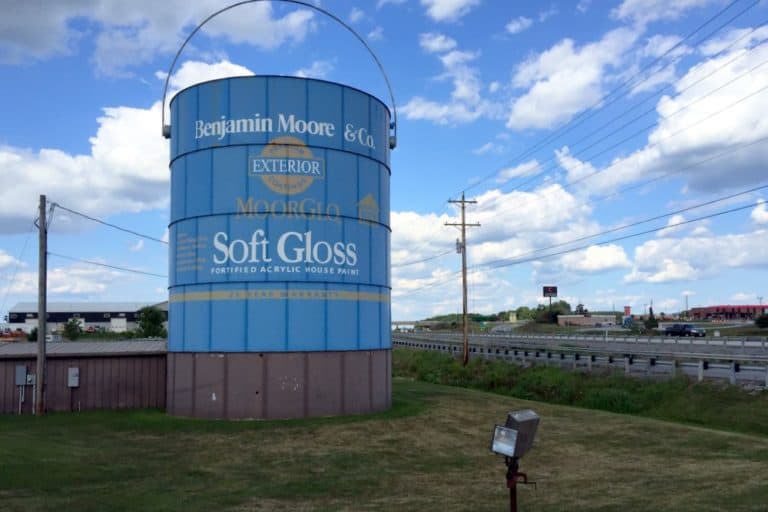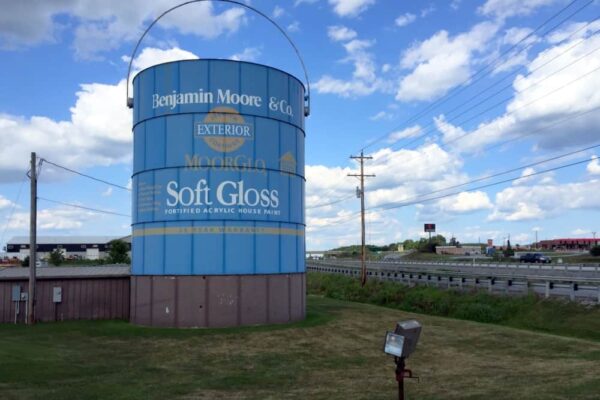 If you are driving along I-81 in southern PA, you can't help but notice the giant paint can near Shippensburg.
The can, which is easily visible from the highway but also can be easily seen from the side road, is 35 feet tall and is said to be the largest can of paint in the world. It is located adjacent to a Benjamin Moore Paint store and is painted to look like a can of their paint.
This PA roadside oddity didn't actually start its life as an oddity. It was originally just a water storage tank before being turned into a giant paint can.
Fun fact: If the giant paint can is 35 feet tall and has the same dimensions as a normal can of paint, it could hold over 178,000 gallons of paint!
The Giant Paint Can is located at 1000 Mt Rock Rd, Shippensburg, PA 17257, or look for it near Exit 24 on I-81.
McClintock Well #1 in Oil City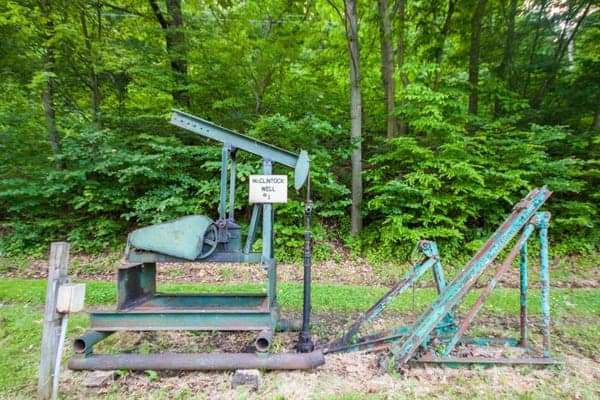 Believe it or not, northwestern Pennsylvania was the birthplace of the oil industry. It was here, near Titusville, PA, that the first purposely-dug oil well was drilled in 1859.
Just south of this original well sits McClintock Well #1. Dug in August 1861 on the Hamilton McClintock Farm, the well struck oil more than 600 feet below the surface.
Initially, the well produced 175 barrels of oil a day. However, like all oil wells, it eventually began to dry up. By 1920, it was producing only half a barrel of oil per day.
What makes this spot unique is that it continued to produce oil since then which makes it the world's oldest, continually-producing oil well.
Today, the well doesn't run every day but is run regularly throughout the year. The oil produced is sold to help with the costs of preserving the site.
The McClintock Well #1 can be found at the following coordinates: 41.460031, -79.691479.
Purple Dragon near Duncannon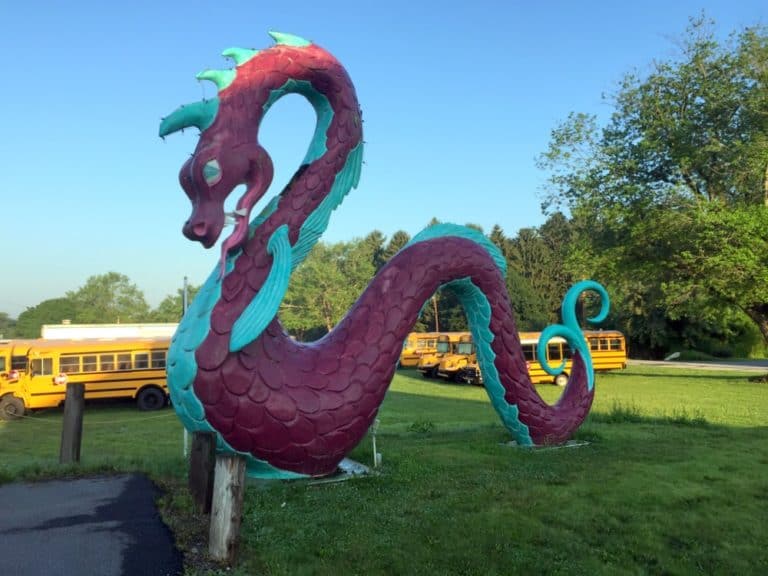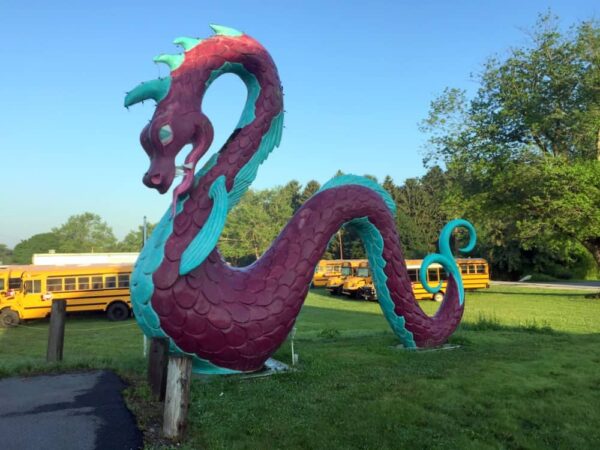 Located along Route 11/15 north of Harrisburg is a giant purple and green dragon. The dragon sits outside of Lumberjack's Kitchen right along the road and is 15-20 feet tall.
From doing a little research, it seems that no one is quite sure why the dragon was placed there, though it does appear to have been constructed sometime in the early 21st century.
Regardless, it's a neat spot to check out while traveling north of the city.
The Purple Dragon can be found at the following address: 3200 Susquehanna Trail, Duncannon, PA 17020.
Do you have a favorite roadside oddity in Pennsylvania? Let me know in the comments below!
You can also check out our favorite roadside waterfalls in Pennsylvania!
Willing to get out of the car? Experience other PA oddities such as Fonthill Castle, Columcille Megalith Park, Daffin's Chocolate Kingdom, and Ringing Rocks County Park.