Disclosure: This article may contain affiliate links. We will make a small commission from these links if you order something at no additional cost to you.
There are several famous cemeteries in Philadelphia (Christ Church Cemetery and Mount Moriah to name two). However, the most well-known graveyard in the city might be Laurel Hill Cemetery.
Founded in 1836, the cemetery was designed to provide a quiet retreat several miles from the city center so that Philadelphians no longer had to be buried in the city center. In the age before public parks, Laurel Hill became so popular that tickets were required for entry and, in 1848, 30,000 people came to the cemetery to stroll through its peaceful grounds.
When it was founded, Laurel Hill Cemetery was 32 acres in size. In order to increase its appeal, the founders had several well-known Philadelphians disinterred and moved to the cemetery, including Thomas McKean, a signer of the Declaration of Independence, and David Rittenhouse, the first director of the US Mint.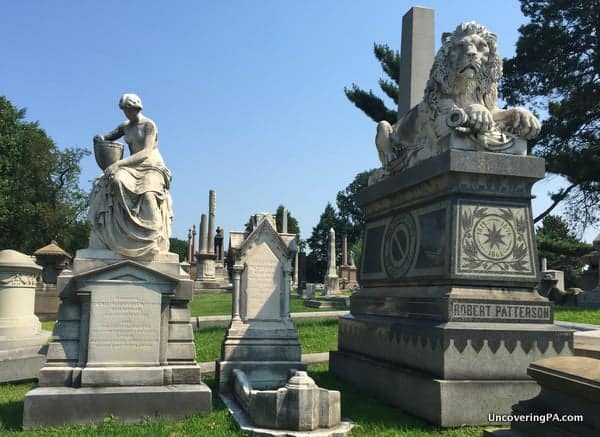 Since its opening in the 1830s, tens of thousands have been buried in the cemetery and more than 30,000 plots have been erected. The cemetery has also more than doubled in size from 32 acres to 78 acres.
However, even as the city has expanded and grown to surround Laurel Hill Cemetery, it has still retained much of the park-like atmosphere that it has always enjoyed. A walk or drive through the grounds are truly a relaxing and enjoyable experience.
For those visiting today, the cemetery provides not only a peaceful atmosphere, but also a myriad of artistic gravestones and the chance to see the grave of several well-known historical figures. The graves at Laurel Hill Cemetery span from Civil War generals to famous sports broadcasters and even survivors of the Titanic.
Many of the most well-known burials are located on the self-guided Laurel Hill Cemetery cell phone tour. Maps are provided near the gate and small markers denote the starting point for each part of this tour.
The audio tour will take you by the grave of Thomas McKean, a signer of the Declaration of Independence as a delegate from Delaware. McKean also signed the Articles of Confederation and served as the President of Congress, Governor of Pennsylvania, and as the Chief Justice of the Pennsylvania Supreme Court. He is also the namesake of McKean County, Pennsylvania.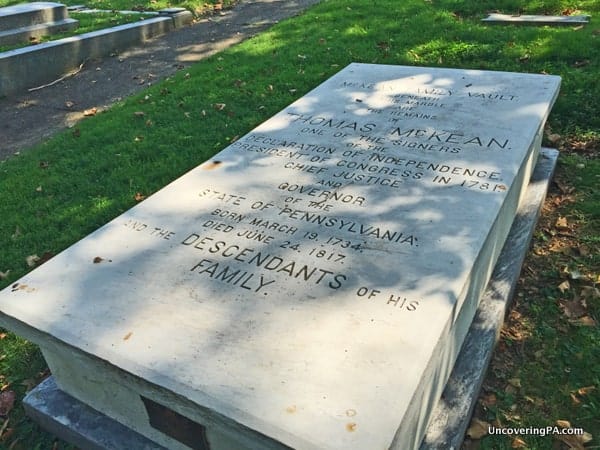 Another famous grave on the self-guided audio tour is that of General George Meade. General Meade was in charge of the Army of the Potomac when it defeated the Confederates at Gettysburg. He is one of 40 Civil War-era generals buried in Laurel Hill Cemetery.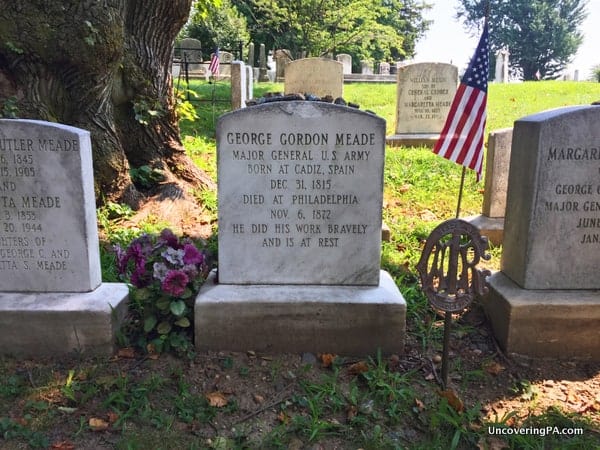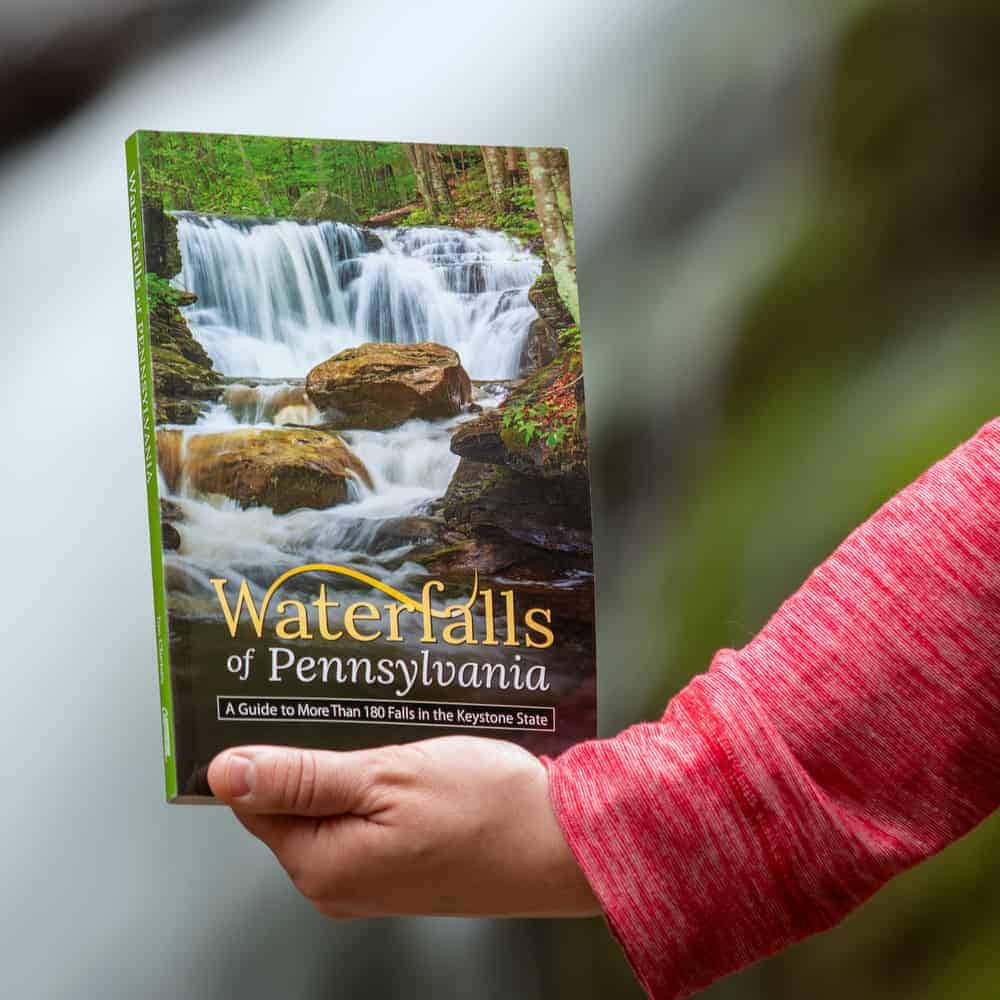 "Waterfalls of Pennsylvania" by Jim Cheney
If you love PA waterfalls, you won't want to miss this brand-new waterfall book from Jim Cheney, author of Uncovering PA, featuring more than 180 great waterfalls. Order it now on Bookshop.org or Amazon.
Another grave of more modern interest is that of Harry Kalas, long-time broadcaster for the Philadelphia Phillies. Kalas passed away in 2009 and was buried on the edges of the cemetery close to the Schuylkill River. His grave site is unique both for the marble microphone that sits above it and for the pairs of seats from Veterans Stadium that flank the gravesite. The cemetery's audio tour features a clip of Kalas calling a game for the Phillies.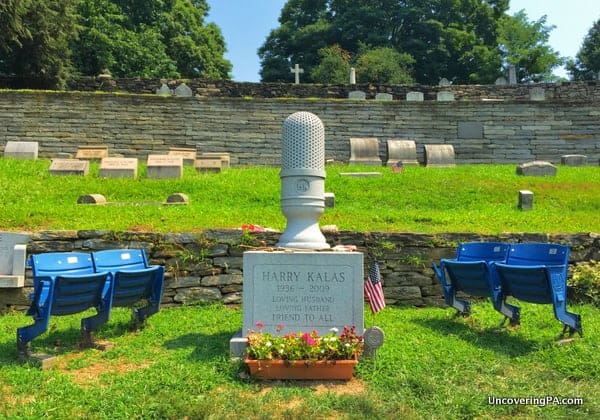 In addition to seeing the graves of its famous interments, the highlight of Laurel Hill Cemetery is simply walking or driving through this beautiful graveyard and looking at the amazing monuments that have been erected. Laurel Hill Cemetery is one of the few cemeteries in America that has been declared a National Historic Site, and it's no wonder considering its history and beauty.
Laurel Hill Cemetery may be set in a busy part of north Philadelphia today, but it remains a tranquil place for visitors to explore the city's past and the people who helped make it great.
---
Laurel Hill Cemetery
Hours: Open 365 days a year

From May 1 to October 31: 7am to 7pm

From November 1 to April 30: 7am to 5pm

Cost: Free

Website: TheLaurelHillCemetery.org

Address: 3822 Ridge Avenue
Philadelphia, PA 19132
See map below for other area attractions.
---