Disclosure: This article may contain affiliate links. We will make a small commission from these links if you order something at no additional cost to you.
Located in Philadelphia's Old City, near Independence Hall, is a beautiful, but unassuming church. Unlike more modern churches, like the Cathedral Basilica of Saints Peter and Paul, this church doesn't have beautiful stained glass windows or other awe-inspiring adornments. Instead, this church relies on its simple beauty and immense history to draw in visitors.
Built between 1727 and 1744 to replace a much smaller building built in the late 17th century, Christ Church was at the center of life in downtown Philadelphia. Many of the city's most famous residents were members at the church, including Benjamin Franklin. In fact, it was Franklin who organized a lottery to pay for the church's steeple, which was added in 1754. This steeple made Christ Church the tallest building in America until 1810 (when it was surpassed by Park Street Church in Boston).
During the continental conventions, nearly all of the delegates worshipped at Christ Church every Sunday, ensuring that the building was filled with the most influential men in the new country. Of the 56 men that signed the Declaration of Independence, 15 were members at the church at some point in their lives. Of those men, Benjamin Franklin and six others are buried in one of the church's two graveyards.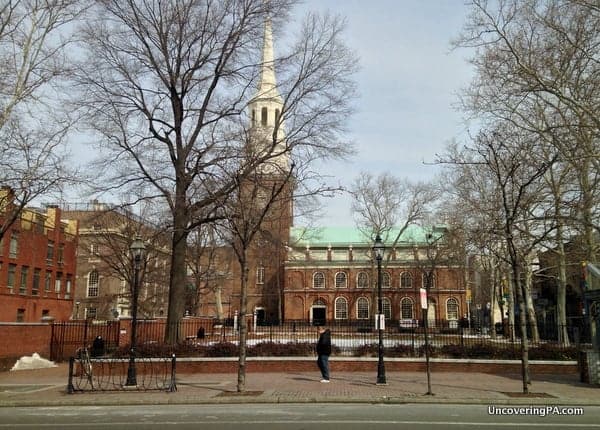 All this history makes Christ Church one of the most historic buildings in all of the city, if not the entire country.
Walking into this still active church, the first Episcopalian congregation in America, feels like stepping back in time. The church still retains much of its 18th-century look and feel, though it has undergone several refurbishments in that time.
Despite the church's history, little signage exists in the church to tell you want you are looking at. However, volunteers are often present to give you a bit of history about the church. While visiting, make sure to find the pew with a gold marker. This is where George Washington sat while President of the United States.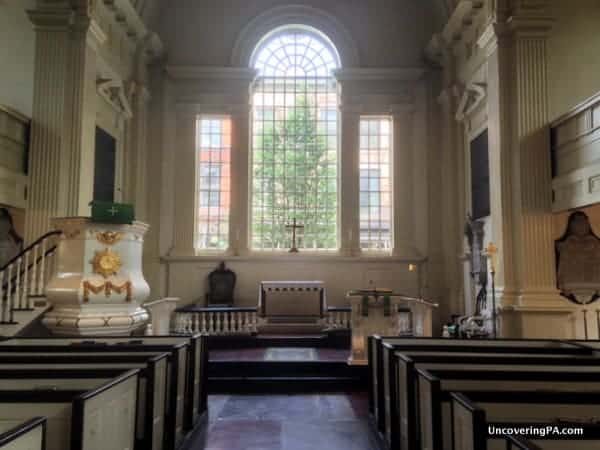 Another feature to look for is the church's baptismal font, which typically sits in the aisle near the rear of the church. While the wooden parts only date back to the mid-17th century, the stone font is from the late 14th century and was the exact font that was used to baptize Pennsylvania's founder, William Penn.
Outside the church is one of their two burial grounds. In this cemetery, two signers of the Declaration of Independence are buried, as well as many other people who helped establish America. Small printed maps are available inside the church that tell you where people of note are buried in the graveyard.
Three blocks away is Christ Church's other burial ground. Significantly larger than the one surrounding the church, this burial ground is the final resting place of more than 4,000 people. Among the many prominent people buried here are five signers of the Declaration of Independence, including Benjamin Franklin.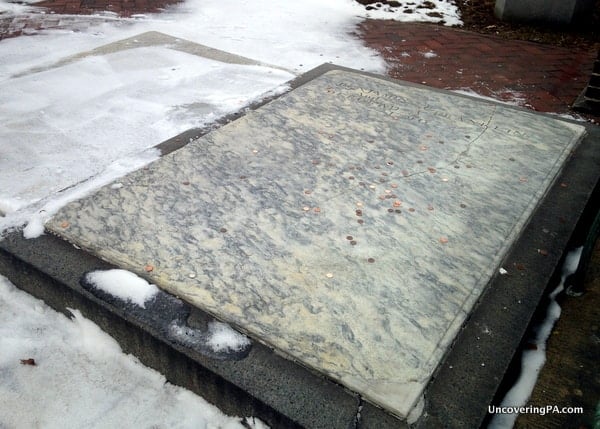 The graveyard is open March to November, and charges a small admission fee. However, if you are simply interested in seeing Benjamin Franklin's grave, head to the corner of Arch St. and 5th St., where a gated portion of the brick fence allows visitors a close up look at his grave. Somewhat ironically, visitors often throw pennies on top of Franklin's grave in homage of his famous quote, "A penny saved is a penny earned."
Overall, I would say that a visit to Christ Church and its graveyard is a must for anyone exploring Philly's Old City. After all, there are few buildings in America that have as much historical significance as this unassuming church in Philadelphia.
---
Christ Church
Tour Hours: Wednesday-Sunday: 10am-4pm

Cost: Guided Tours: Adults: $8, Kids: $3
Christ Church or Graveyard Admission: Adults: $5, Kids: $2

Website: ChristChurchPhila.org

Address: 20-38 North 2nd St
Philadelphia, PA 19106
See map for other area attractions.
---