Disclosure: This article may contain affiliate links. We will make a small commission from these links if you order something at no additional cost to you.
Philly is known for many things, but few seem to know that it's home to the largest, functional pipe organ in the world. And while you would expect this to be in a beautiful, large cathedral, like the Cathedral Basilica of Saints Peter and Paul for example, you'd never expect it to be located where it is. In fact, if you didn't know where to look, you could walk right by the building every day of your life and never know it was there.
That's because this beautiful instrument is located in the center court of a downtown department store.
That's right, the Wanamaker Organ is located inside of the Wanamaker building across the street from Philadelphia's City Hall. While this building was once home to the Wanamaker Department Store, it is now home to Macy's Center City.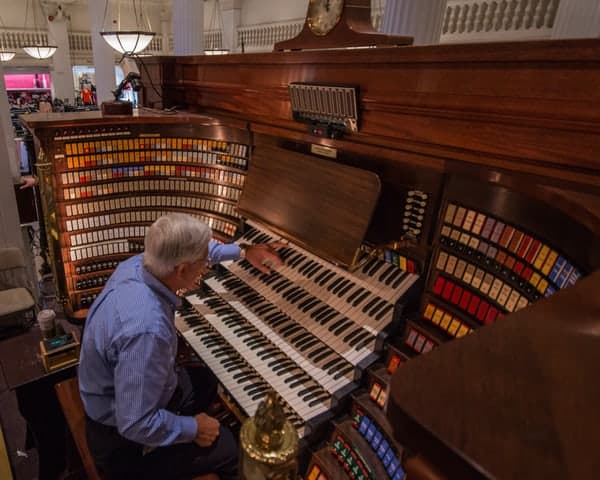 The organ was built for the 1904 Saint Louis World's Fair and was the largest organ ever built at the time. After the fair was over, several deals fell through for the organ. However, in 1909, John Wanamaker purchased it for his new department store in downtown Philadelphia.
After purchasing the organ, it took two years to install in the building. However, once installed, Wanamaker decided that the organ was too small, and started on an ambitious project to enlarge the organ, which included him building an on-site pipe factory.
By 1930, the organ had been expanded from its original 10,000 pipes to more than 28,000.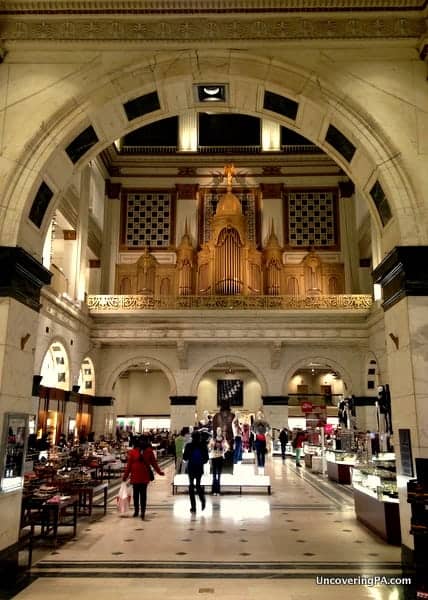 Standing on the ground-level atrium of the Wanamaker Building, the Wanamaker organ and its massive pipes are an incredibly impressive sight. However, listening to it play is something that has to be heard in person to be believed. I'm personally not a huge fan of organ music; however, the sound of the Wanamaker Organ is breathtaking.
Concerts are held from Monday to Saturday at noon. There is also a second concert at 5:30 pm. No concerts are done on Sundays.
These 45-minute concerts feature a wide variety of music, all performed on one of the most beautiful-sounding instruments in the world. Truthfully, it's a bit awkward to stand in the middle of a department store, the Wanamaker Organ location, while listening to a concert, but it's worth it without a doubt.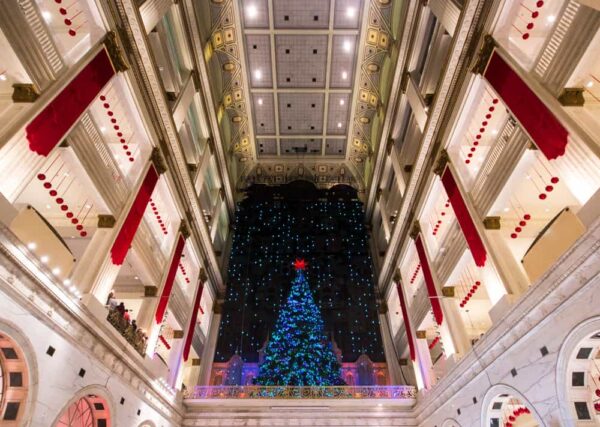 Wanamaker Organ tours are also available by appointment.
The most popular time to visit the Wanamaker Organ is between Thanksgiving and New Year's Day.
During the holiday season, Macy's puts on its Christmas Light Show from the day after Thanksgiving through December 31. While the show doesn't seem to have changed much since it was introduced in 1956, the quaintness of the show is charming. Sure, it might not be as high-tech and flashy as the nearby Comcast Holiday Spectacular, but it's still worth checking out the holiday show.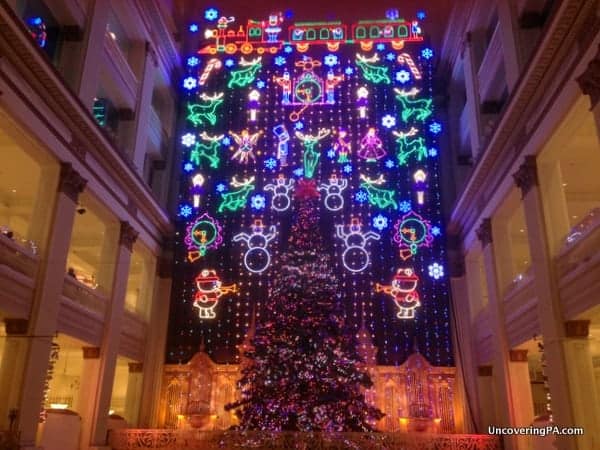 In 2022, the show will be held at 4pm and 6pm Monday-Thursday. It will also be held at 10am, 12pm, 2pm, 4pm, and 6pm on Fridays and Saturdays and at 10am, 12pm, and 2pm on Sundays. However, if you can, visit during the noon or 6pm shows (except on Sundays), as they are immediately followed by a live concert featuring Christmas music performed live on the organ. When I visited, the powerful reverberation of the organ during "Oh Come All Ye Faithful" was especially beautiful.
No matter what season, though, the Wanamaker Organ is a Philadelphia icon worth experiencing. So, the next time you are in Philly, pop into Macy's Department Store, not to shop, but to listen to the beautiful sounds of one of the world's premier instruments.
---
Wanamaker Organ
Concerts: See schedule in article.

Cost: Free

Website: WanamakerOrgan.org

Address: 1300 Market Street
Philadelphia, PA 19107
See map for other area attractions.
---