Disclosure: This article may contain affiliate links. We will make a small commission from these links if you order something at no additional cost to you.
I love
Christmas in Philadelphia
because there are so many fun things to do. During the month of December, the city is filled with holiday cheer and lights decorate many of the buildings as shoppers rush by beautifully decorated shop windows while doing their holiday shopping,
For those looking for a bit of festive fun, I decided to put together things list of the best things to do during Christmas in Philly, based on my many visits to the city during the holiday season.
I've already shared my favorite places to get Christmas cheer in Pennsylvania, the best things to do at Christmas in Harrisburg and Hershey, great Christmas lights in downtown Pittsburgh, and the best things to do in Bethlehem during Christmas, but if you are planning on visiting the City of Brotherly Love this holiday season, here are 11 things to do during Christmas in Philadelphia that are sure to leave you humming your favorite holiday jingles.
Note: Article updated October 29, 2022 for the 2022 holiday season.
Philly's Christmas Village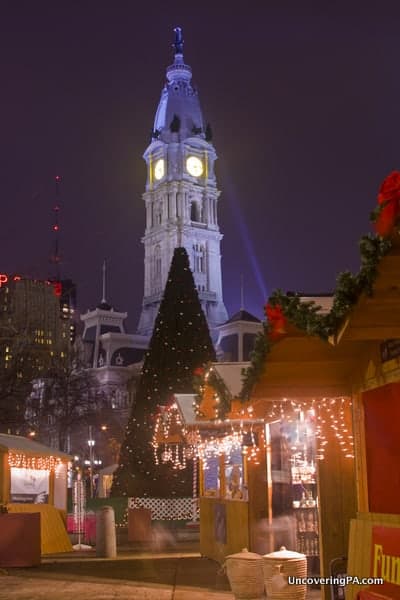 I've been to several different German Christmas markets throughout the state. All claim to be "authentic," but some struggle to achieve it. However, the Christmas Village in Philly's Love Park is simply awesome.
Walking amongst the market's 70+ wooden stalls, I was impressed by the market's authentic touches. In fact, I really felt like I had been transported to Germany for one of their famous Christkindlmarkts.
This, of course, isn't an accident. Believe it or not, Philly's Christmas Village is actually run by a group of Germans who base the market on the one in Nuremberg, one of the largest and most famous Christmas markets in the world.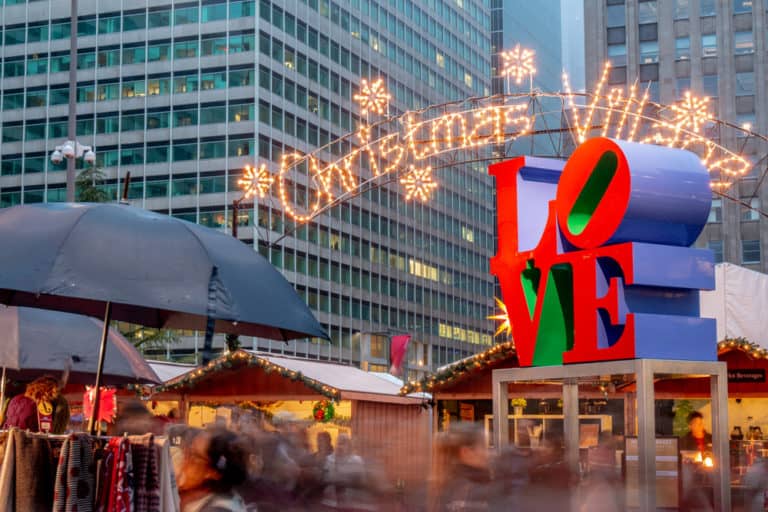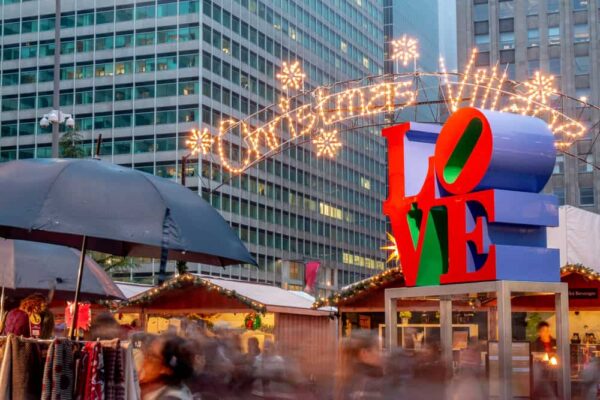 While walking around, don't miss the stand from Chaddsford Winery, which sells Glühwein, a type of mulled red wine that is a must while browsing the grounds of this awesome market. For those that want something different, the hot chocolate sold at the village is also amazingly delicious.
In 2022, the Christmas Village is open daily from 11 am – 7 pm (8 pm on Fridays and Saturdays) from November 29 – December 24 in Love Park. They are open on Thanksgiving Day from 9 am – 5 pm and Christmas Eve from 11 am – 5 pm.
Dilworth Park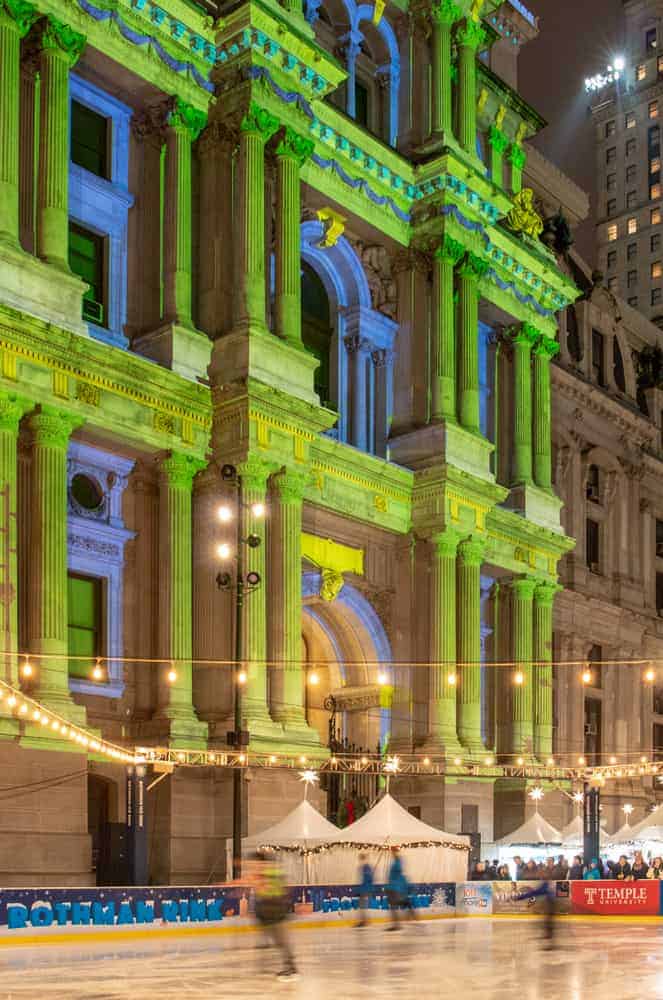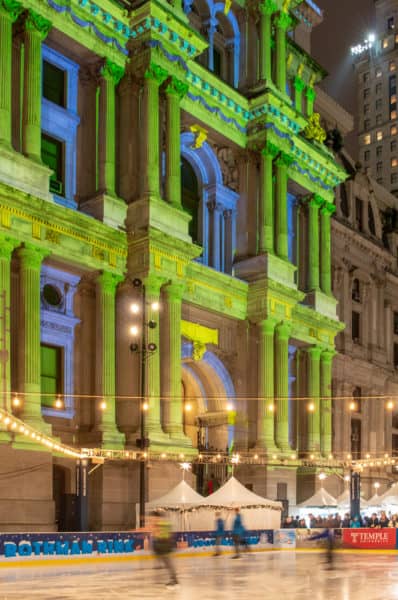 Located around City Hall, Dilworth Park comes alive during the holiday season and features many great things to do during Christmas in Philly.
The Made in Philadelphia Holiday Market features almost four dozen vendors from the city selling a variety of handmade goods and delicious foods. This sister market to the Christmas Village offers more great shopping during the holiday season.
The Deck the Hall Light Show is shown on the facade of City Hall multiple times every night from late November through New Year's Day. This impressive light show combines great holiday music with some amazingly artistic lights to create one of the best shows during the holiday season in Philadelphia.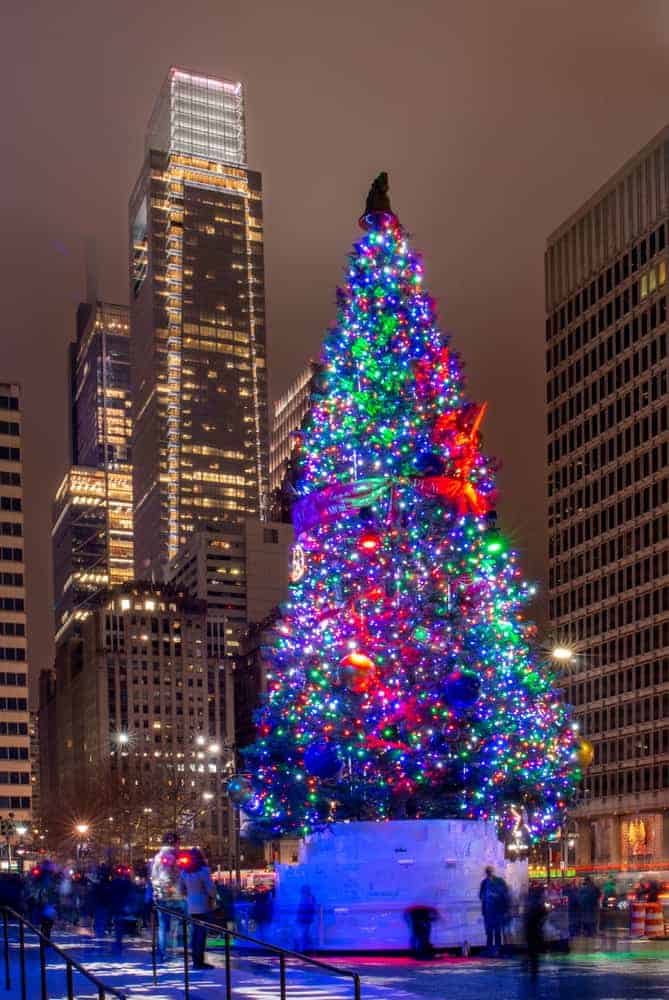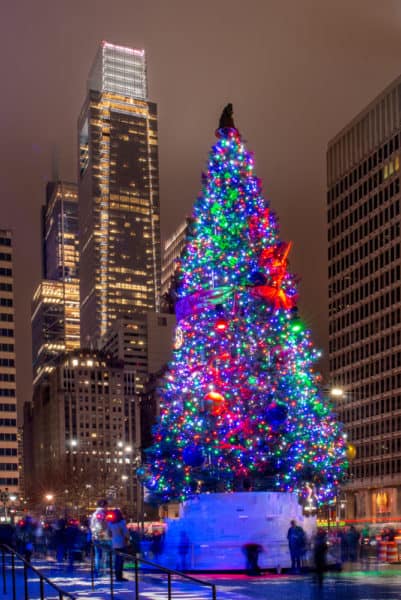 Also in Dilworth Park is a fantastic ice skating rink, carousel, and winter garden. While there, don't miss City Hall's Christmas tree, which is beautifully decorated and is well-worth enjoying for a few minutes.
All attractions in Dilworth Park ran daily through January 1, except for the Ice Rink which was open through late February 2022.
The Miracle on South 13th Street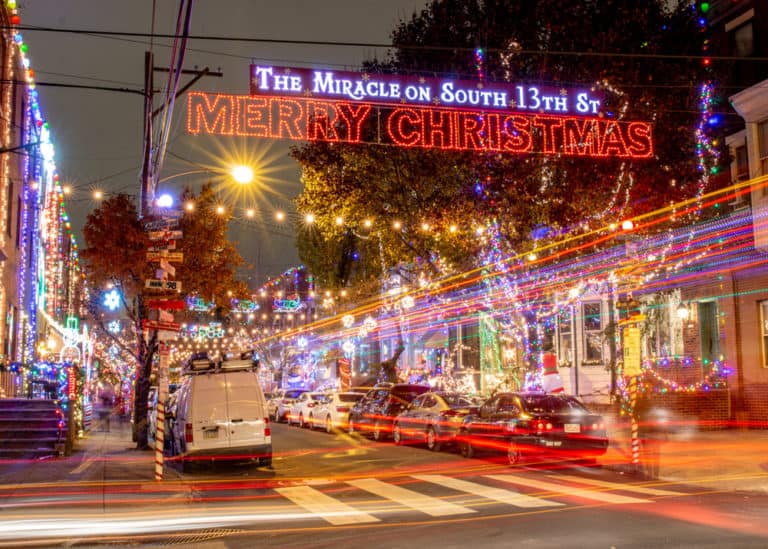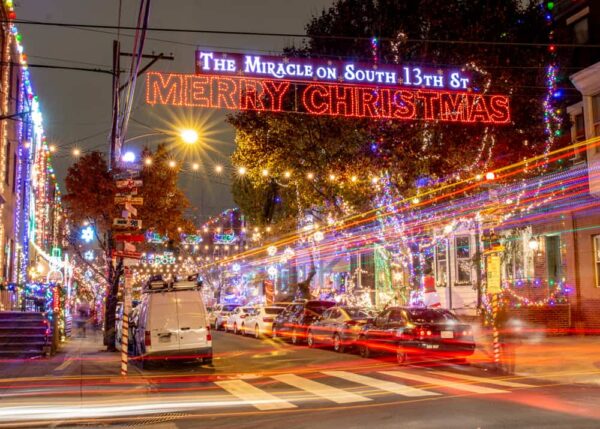 The Miracle on South 13th Street is one of the most impressive displays of Christmas lights in Philadelphia. Occupying the 1600 block of South 13th Street in South Philly, this display features more lights than you'll find in most neighborhoods.
Drive down the street, or better yet walk, to see the beautiful lights here. There are even occasional visits from Santa and singing groups.
The Miracle on South 13th Street can be seen daily from 5pm to midnight from the Saturday after Thanksgiving through the end of the year.
Christmas at the Wanamaker Building
The Wanamaker Building in downtown Philadelphia has been running Christmas shows for nearly 100 years, and the Macy's Department Store that now occupies the lower floors continues that tradition in grand style.
Even before entering the building, you'll be delighted by the festive window decorations that showcase both well-known Christmas scenes and some local Christmas flair.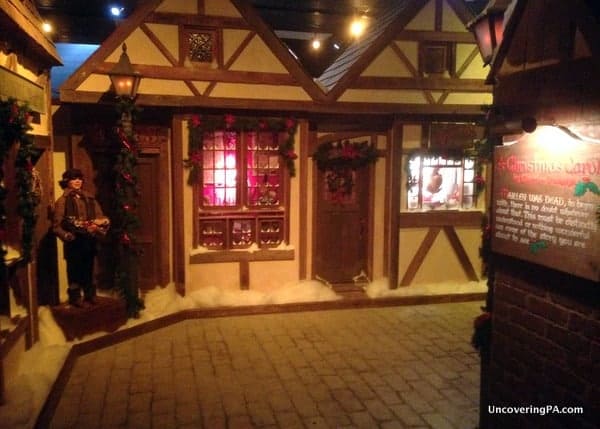 The third floor of the building is home to the fantastic Dicken's Village. This recreates a Victorian village straight out of "A Christmas Carol" and features visits with Santa Claus. To visit in 2022, you'll need to make a free reservation to visit on their website.
The Christmas Light Show in the center court will be returning in 2021 but will only be shown once each day (at 10:30a from December 1-24 and at 11:30a from December 26-31).
Started in 1956, over 1,000,000 LED lights combine together with voiceovers by Julie Andrews to create a festive holiday show. While it might be a little outdated, the show still has a festive charm that's worth seeing and is a Philadelphia Christmas tradition.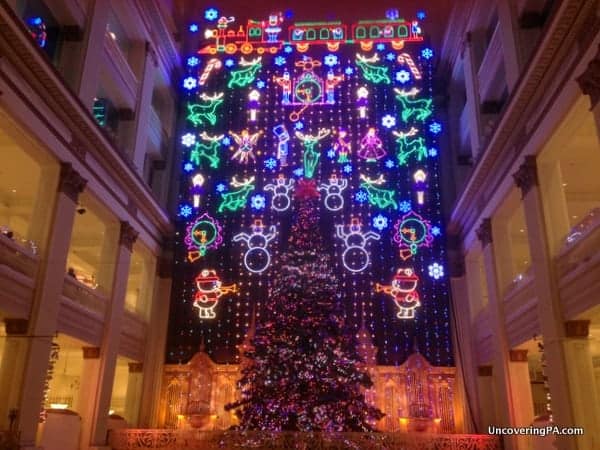 During these shows, you'll be treated to a live performance on the world's largest, functional pipe organ at the show's conclusion. You can also watch these concerts live online. No reservations are needed to take in the light and organ show.
Shows will also be available online for the first time ever, along with many other holiday attractions at Macys.com/SantaLand.
LumiNature at the Philadelphia Zoo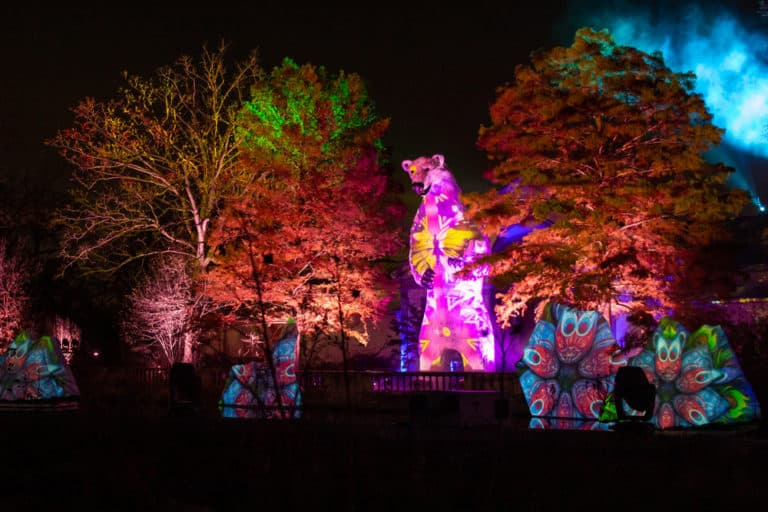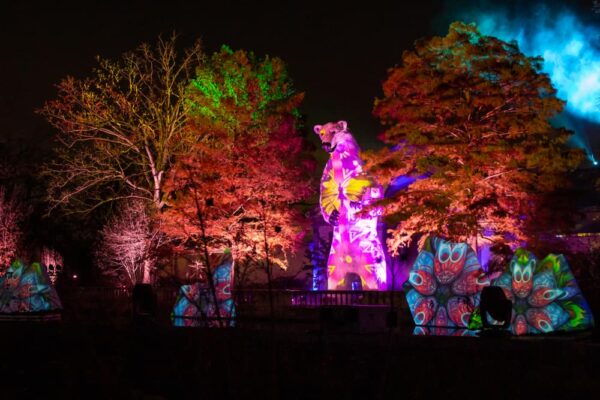 LumiNature at the Philadelphia Zoo is one of the most beautiful and unique Christmas light displays in Pennsylvania.
Now in its third year (after taking 2020 off), Luminature features a variety of light displays stationed throughout the Philadelphia Zoo. All told, there are hundreds of thousands of lights that can be found twinkling throughout the space.
The displays are set up in different zones, each of which offers a unique take on a holiday or a nature-related theme. There are even light shows offered each night.
In 2022, LumiNature will run from mid-November through early January. It's worth noting that the zoo's animals are not on display during the event.
RiverRink Winterfest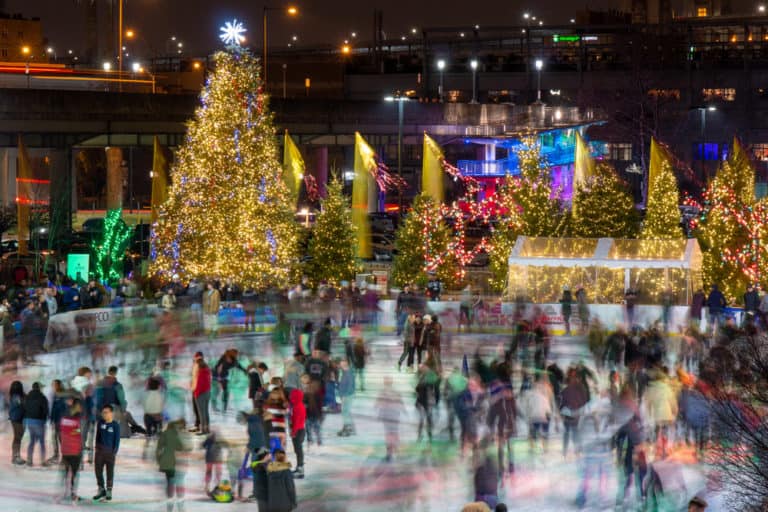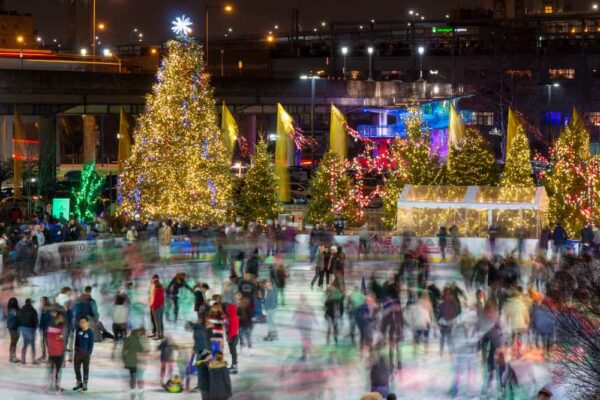 Located along the Delaware Riverfront, RiverRink Winterfest is one of my favorite Christmas things to do in Philadelphia.
The highlight of the RiverRink Winterfest is a large ice skating rink where both experts and newbies can spend time enjoying being on the ice.
In addition to ice skating, Winterfest also features a miniature train for kids, delicious food from local restaurants, a beer garden, an arcade, and beautiful holiday lights.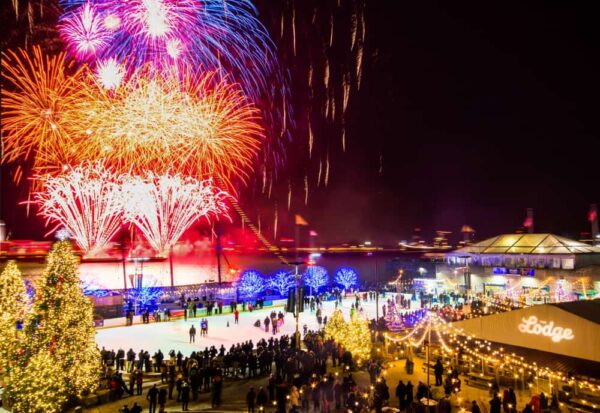 For those looking for somewhere to see Philadelphia's New Year's Eve fireworks, the area around RiverRink Winterfest is a great choice.
RiverRink Winterfest will be open from November 25, 2022, through early March 2023.
Reading Terminal Market Holiday Railroad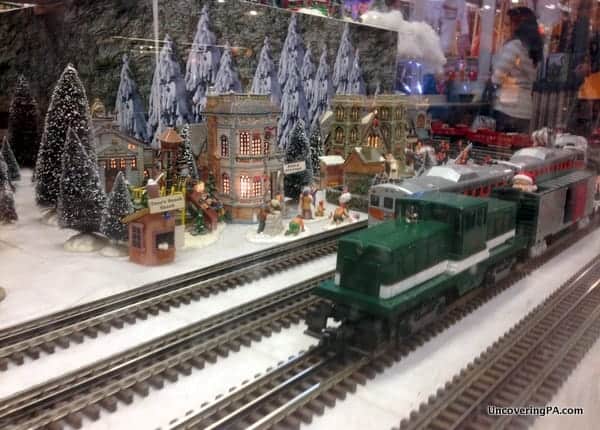 Tucked into a corner of the frenzy of Reading Terminal Market is their annual holiday railroad display. As the former terminus for the Reading Railroad, the market is the perfect place for a model train display.
Located in the Piano Court, this 500-square foot display features 14 different model trains running through a beautifully decorated Christmas village. While it might not be the most exciting thing on the list, kids and anyone who loves trains should really enjoy this display.
Plus, since you're in Reading Terminal Market already, you can take a few minutes to do some holiday shopping or get a fantastic lunch.
The Comcast Holiday Spectacular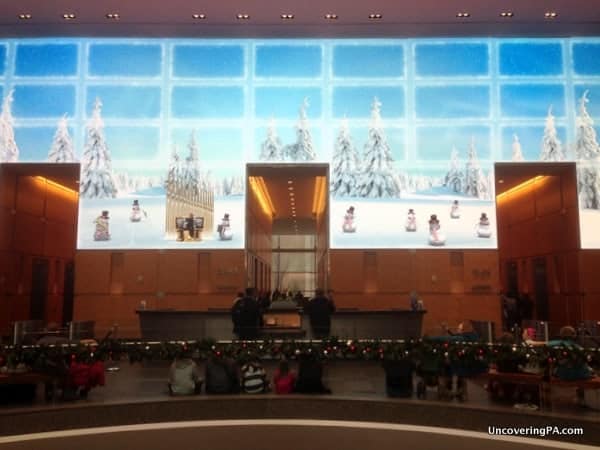 If the Macy's Christmas Light Show isn't high-tech enough for you, head over to the Comcast Building for the Comcast Holiday Spectacular.
The HD screen measures 83 feet wide by 25 feet tall, and features one of the highest resolutions of any screen in the world, making the pictures ridiculously clear.
The Comcast Holiday Spectacular lasts 15 minutes and features a wide variety of music on the screen. Scenes range from the heartwarming to the comical and feature a wide variety of characters on the screen.
This fun show is so festive that even the Grinch would be singing along by the end.
The Comcast Holiday Spectacular runs every hour on the hour from 10 am – 8 pm (except 5 pm) from Thanksgiving through January 1.
The Franklin Square Holiday Festival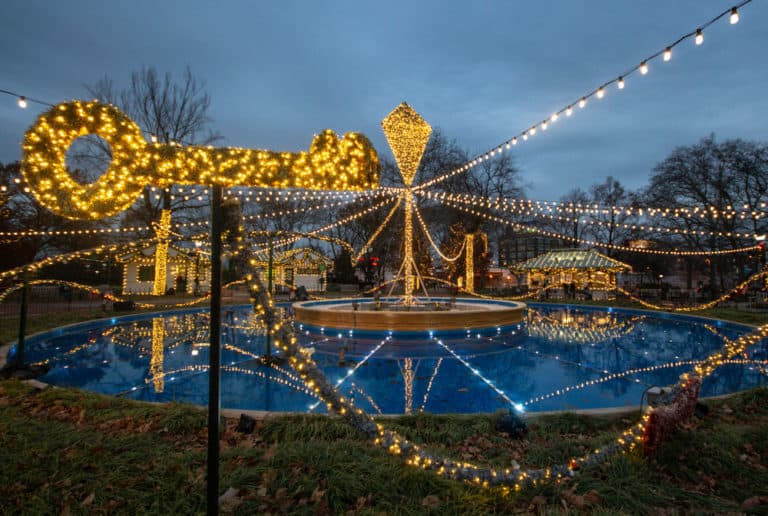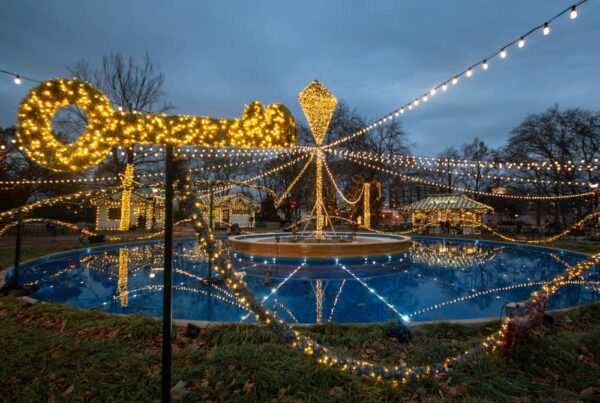 While it might not be as exciting as the Christmas Village in Love Park or the Miracle on South 13th Street, the Holiday Festival in Franklin Square is definitely worth checking out when experiencing Christmas in Philadelphia.
The highlight of the festival is a light show at the square's fountain. During the show, 50,000 lights dance as Christmas music is played over the loudspeaker. While the show only lasts about 5-10 minutes, there is a lot more to see in Franklin Square.
Other activities include riding the carousel, playing putt-putt golf through a variety of Philadelphia landmarks, and enjoying some food and beverages at a food tent/beer garden housed in the middle of Franklin Square.
The Franklin Square Holiday Festival is open from 5-9 pm (until 10 pm on Fridays and Saturdays) from November 16 through February 26, 2023.
Franklin Square is also home to great events throughout the year including the Philadelphia Chinese Lantern Festival in May and June.
Rittenhouse Square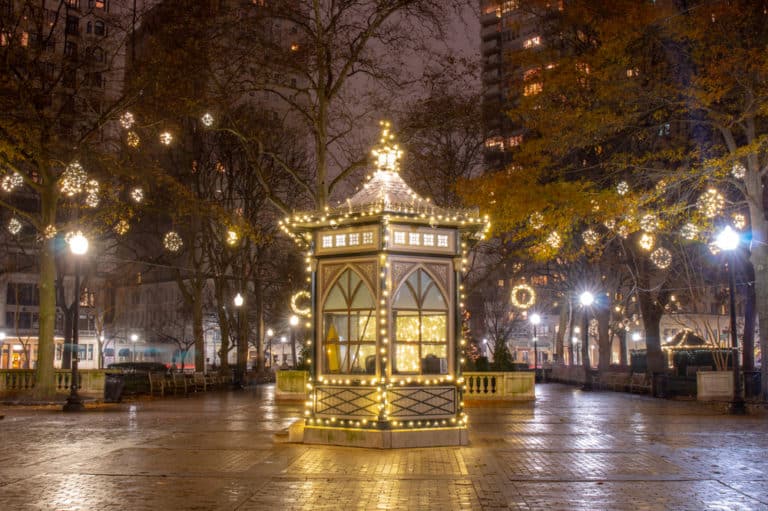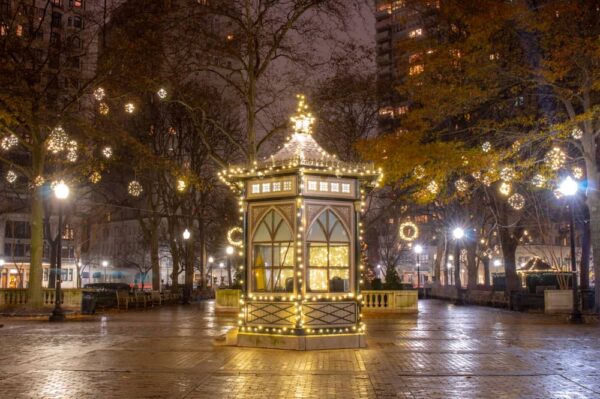 Rittenhouse Square is one of Philadelphia's original squares and is beautiful anytime during the year. However, the square is especially picturesque during the holiday season.
Take a stroll through this historic square and enjoy the lights strung from the trees and the around the impressive sculptures in the park.
Christmas at Longwood Gardens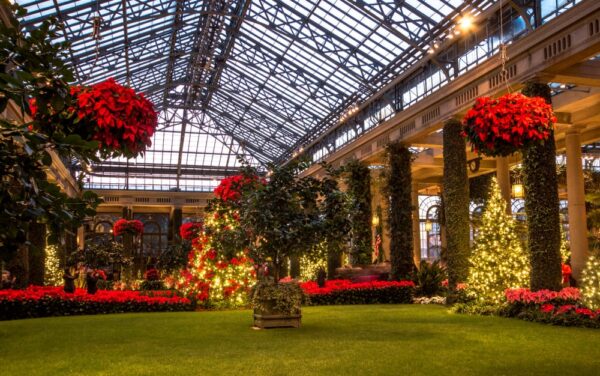 There are many great Christmas attractions in the Philadelphia suburbs, but if you only make the drive to one, head to Longwood Gardens in Chester County.
During the holiday season, Longwood Gardens bursts with color and festive charm. Spaces both inside and outside are decorated within a yearly theme that always delights.
In addition to traditional decorations and beautiful plants, Longwood Garden features carolers, pipe organ performances, fountains, light shows, and more during their holiday event.
Longwood Garden's holiday display is open from mid-November through early January each year.
Tinsel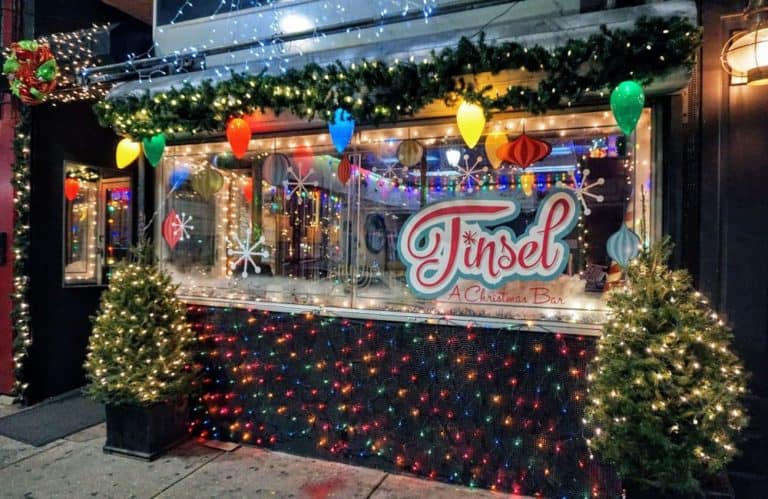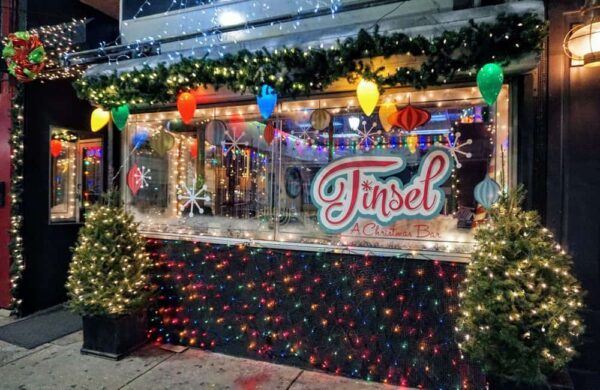 If exploring all of these great Christmas things to do in Philadelphia makes you thirsty, head over to the most festive bar in the city: Tinsel. Located on South 12th Street in Center City, Tinsel looks a bit like your grandmother's decorations threw up all over an old jewelry store (in the best possible way, of course).
Tinsel not only features festive decorations and seasonal music, but they also feature some unique holiday cocktails.
Tinsel is open daily from late November through December 31.
Bonus: New Year's Eve and The Mummers Parade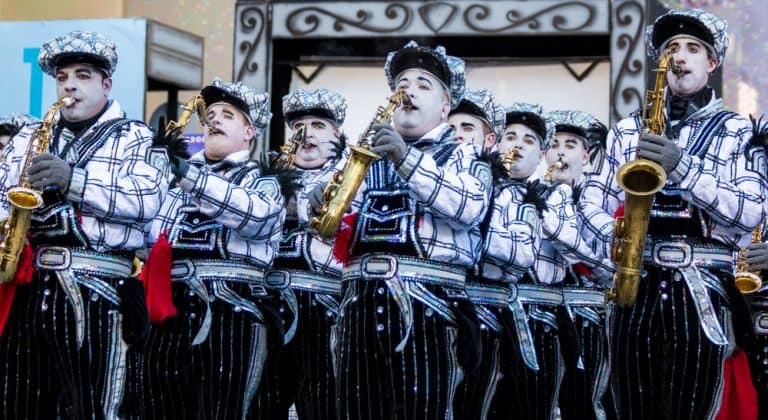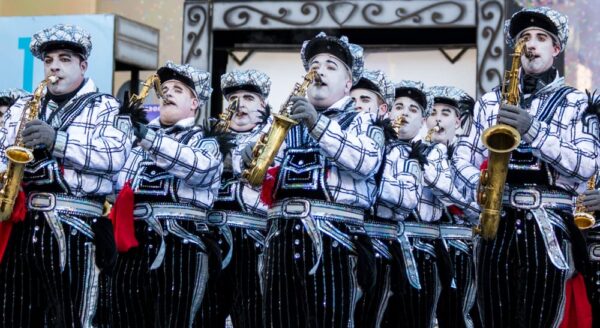 The holiday season ends with two great events in the city.
During Philadelphia's New Year's Eve celebrations, you can see two great fireworks shows, enjoy family-friendly activities, and much more.
On New Year's Day, the Mummers Parade is an amazing mix of artistry, pageantry, and craziness. Mummers parade through the streets on Philly acting out skits, playing music, and just having a great time.
For more information on this fantastic tradition, check out our guide to the Mummers Day Parade.
Do you have a favorite thing to do during Christmas in Philadelphia that didn't make my list? Let me know in the comments section below.
Looking for even more holiday attractions near Philly? Check out the Holiday Light Show at Shady Brook Farm, Koziar's Christmas Village, and the Herr's Holiday Lights.
Article updated October 20212, to reflect operating dates for the 2022 holiday season. We have done our best to ensure the accuracy of this article, but it's best to double-check before leaving home.
---
See map for other area attractions.