Disclosure: This article may contain affiliate links. We will make a small commission from these links if you order something at no additional cost to you.
Of all the trails I've hiked in Pennsylvania, I don't think there's anywhere better than the Falls Trail in Ricketts Glen State Park. And, if I had to pick a favorite area of that trail, it's the 1.1-mile hike along Ganoga Glen.
In this part of the park, towering waterfalls come right after each other. In fact, the 10 waterfalls together total up to more than 350 feet of falling water, ranging in height from 11-feet to 94-feet tall. While hiking in this glen, you actually have to walk directly next to many of the walls, hugging the rock walls along the trail. This is in contrast to the other waterfalls in the park, which you typically view at a bit more of a distance.
Unlike the other areas of the park, all of the waterfalls in Ganoga Glen except for one are named after Native American tribes that once lived near Ricketts Glen State Park. The exception, Ganoga Falls, is named in a native language.
As you hike along the Falls Trail, you'll notice that each waterfall is named with a small wooden sign somewhere near it. These signs can be very easy to miss, but do help with keeping track of which waterfall is which.
If you read my post with tips for hiking the Falls Trail in Ricketts Glen, you'll know that my recommendation is the hike down Ganoga Glen, but many hike up instead. My personal feeling is that, given how often I stopped during the hike, I'd rather hike up the shorter, but somewhat steeper Glen Leigh than up the switchbacks at Ganoga Falls.
Because of this, I've listed the waterfalls below in order from top to bottom. However, know that if you are hiking up Ganoga Glen, the waterfalls will be in the opposite order listed.
Mohawk Falls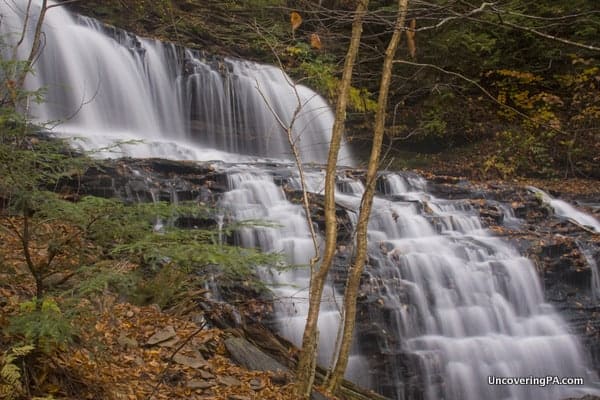 If you're coming from Glen Leigh or the Lake Rose Parking Area, Mohawk Falls will be the first waterfall you come to in Ganoga Glen.
This 37-foot waterfall is divided into two parts. The top part is a roughly 10-foot drop, while the rest of the waterfall cascades over the rocks. This unique double feature gives this waterfall a lot of character and gives you a great introduction to the wonder that lies before you in Ganoga Glen.
The waterfall is named for the Mohawk Indian tribe that lived primarily in what is now eastern New York State.
Oneida Falls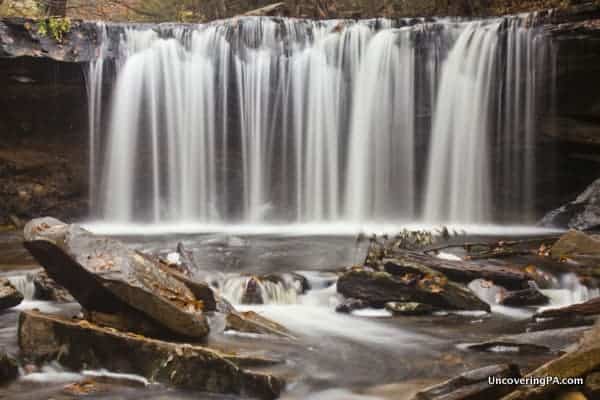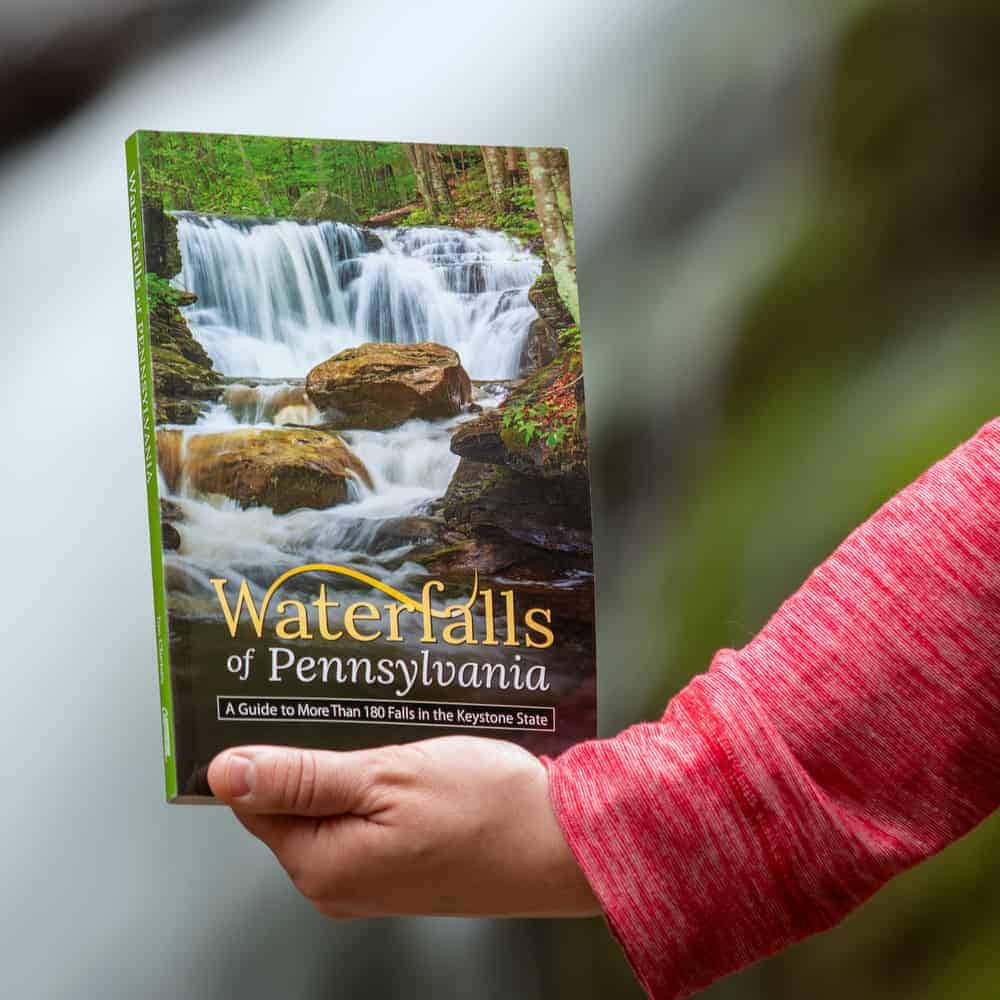 "Waterfalls of Pennsylvania" by Jim Cheney
If you love PA waterfalls, you won't want to miss this waterfall book from Jim Cheney, author of Uncovering PA, featuring more than 180 great waterfalls. Order it now on Bookshop.org or Amazon.
At only 13-feet tall, Oneida Falls is one of the smallest waterfalls in the park. However, I think it's also one of the most beautiful.
The water here falls from a curved overhang. Below the waterfall is a series of nice cascades that make this one of the most photogenic waterfalls in Ricketts Glen.
Oneida Falls is named for a tribe from the Iroquois Confederacy that once inhabited central New York. The Oneida Tribe was one of the few that supported the Americans during the Revolutionary War.
Cayuga Falls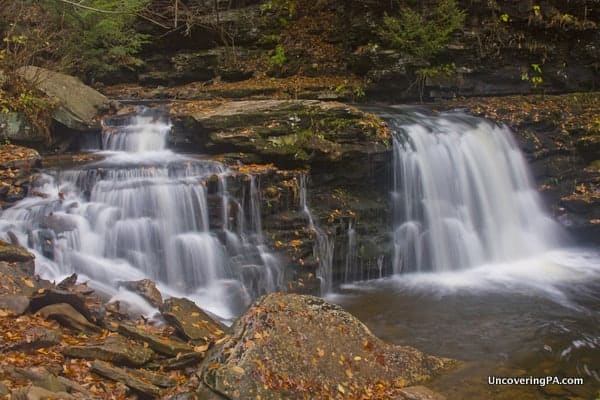 There are two waterfalls in Ricketts Glen State Park that aren't overly scenic, and Cayuga is one of them. That's not to say Cayuga Falls isn't beautiful, because it is. In fact, if Cayuga Falls was located somewhere else, it would probably be a hiking destination.
All that being said, you will walk past the waterfall, so definitely take a minute to enjoy the beauty of the water here.
At 11-feet high, Cayuga Falls is the shortest waterfall in Ganoga Glen, and the second shortest waterfall in the park. The waterfall is comprised of two side-by-side waterfalls that are certainly unique, even if it isn't overly photogenic.
Cayuga Falls is named for a tribe in the Iroquois Confederation.
Ganoga Falls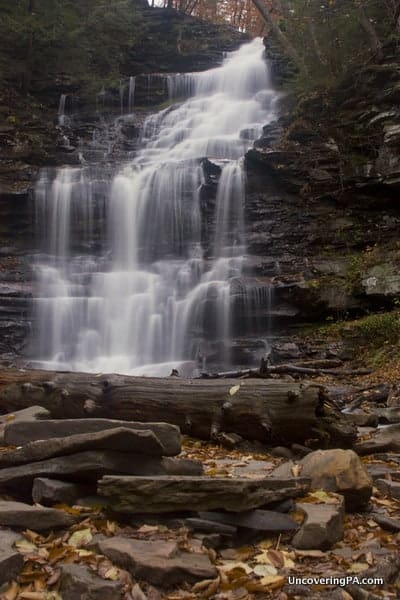 Approaching Ganoga Falls is a real treat. It's rare in Pennsylvania that you can get this close to such a tall waterfall. Ganoga Falls stands 94-feet tall and is easily the most impressive waterfall in the park to view.
Looking up at it, the stream above seems impossibly small compared to the giant waterfall towering above you. There is a small path that leads from the Falls Trail to the base of Ganoga Falls, which I encourage you to take (There is also a trail to the top of the waterfall that I can't recommend. Falling from the top of this waterfall is unfortunately not all that uncommon).
When R. Bruce Ricketts was naming the waterfalls, he named Ganoga Falls after a word in the Seneca language that meant "water on the mountain." However, it now appears that Ganoga is actually a word in the Cayuga language that means "place of floating oil."
In addition to the falls and the glen, there is also a Ganoga Lake, which is the source for Kitchen Creek, the creek that runs through the glen. The lake is just outside of the park's boundaries and mostly surrounded by private property.
Seneca Falls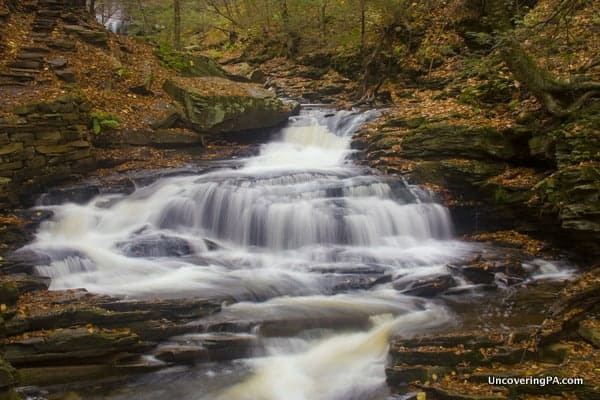 At 12-feet tall, Seneca Falls is the second smallest waterfall in Ganoga Glen, and the third smallest in the park. In many ways, this waterfall is more of steep cascade than a traditional waterfall. Because of this, it can be easy to miss, especially at times of higher water.
However, just because it's not super tall and can be easy to miss, that doesn't mean that it isn't beautiful. I especially like how Seneca Falls seamlessly flows into Delaware Falls, making them almost seem like one big waterfall instead of two smaller ones.
Seneca Falls is named for the western-most tribe of the Iroquois Confederation. While the Seneca primarily lived in present-day New York, they would often come into Pennsylvania to hunt. Some of the land given to them by the US government was flooded with the building of Kinzua Dam in the Pennsylvania Wilds.
Delaware Falls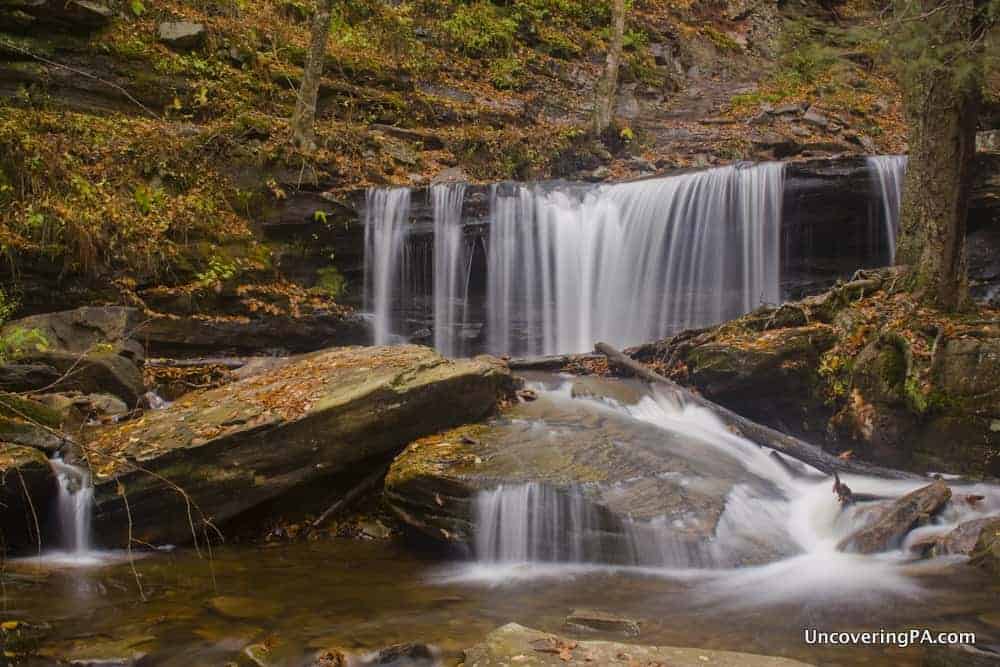 For some reason, and I'm not entirely sure why, Delaware Falls is one of my favorite waterfalls in Ricketts Glen State Park.
What I do know is that this 37-foot tall waterfall is one of the most interesting in the park because of how it cascades in several different areas, darting around trees and small islands, especially during higher water.
Delaware Falls is named for the Delaware Indians, also known as the Lanape. They lived in the Delaware River Valley, near present-day Philadelphia. They were one of the first tribes to work with European settlers, including William Penn.
Mohican Falls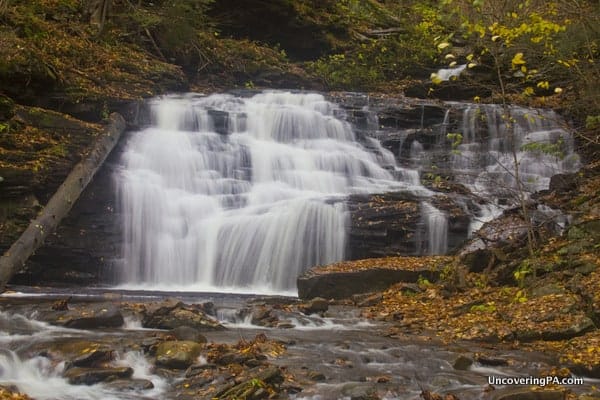 At 37-feet tall, Mohican Falls should be much more impressive than it is, but this sliding waterfall isn't as impressive as some of the others in the area. Of course, with such a tall waterfall, Mohican Falls would be a highlight worth the trek by itself. However, with so many other amazing waterfalls around, Mohican Falls just doesn't stand out very much.
Mohican Falls was named after the Mohican Tribe, who spoke Algonquian. They had a major war with the Mohawks, which they lost, forcing some of them to move into Pennsylvania from the Hudson River Valley. If the waterfalls are any indication, the Mohawks got the better end of the stick at Ricketts Glen as well.
Conestoga Falls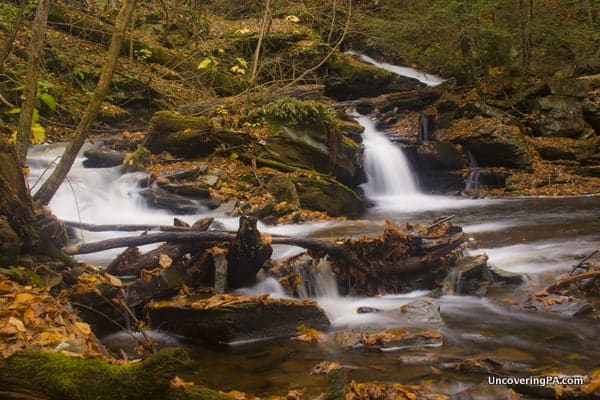 Of all the waterfalls in Ricketts Glen State Park, Conestoga Falls is one of the hardest to photograph, and the hardest to distinguish from the other waterfalls. This is because much of it is tucked behind a group of rocks, a bit further off the path than the other waterfalls. In fact, I almost walked by Conestoga Falls without even realizing it was there.
The waterfall is 17-feet high, but since it falls in several different tiers, it appears shorter than Oneida and even Cayuga Falls. Even in a beauty pageant, someone has to be the least attractive, and at the Ricketts Glen beauty pageant, that's Conestoga Falls.
When I visited Ricketts Glen, I assumed that Conestoga Falls was named after the Conestoga wagon, but I was wrong. Instead, like the other waterfalls in Ganoga Glen, Conestoga Falls is named after the Conestoga tribe, which was also known as the Susquehannocks. These Indians lived in the Susquehanna Valley of Pennsylvania, and even as far west as Washington County, before being defeated by the Iroquois and assimilated into other tribes.
Tuscarora Falls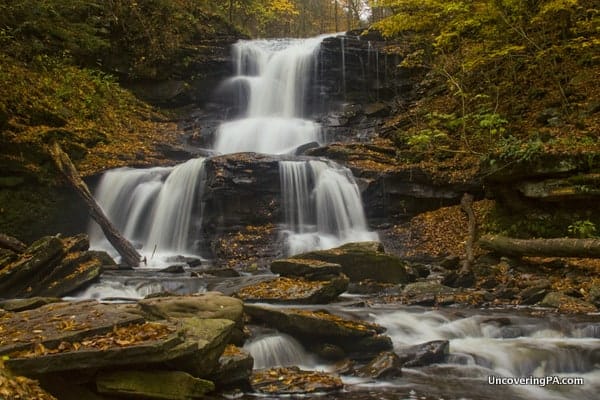 Tuscarora Falls is one of the coolest waterfalls in Ricketts Glen State Park in my opinion. I love how this 47-foot tall waterfall cascades down the mountain before splitting into two smaller waterfalls. I'd definitely say that Tuscarora Falls is one of my favorites in Ganoga Glen.
Tuscarora Falls was named after the Tuscarora Indians, the last nation to join the Iroquois Confederation. They, along with the Oneida tribe, fought on the side of the Americans in the Revolutionary War.
Erie Falls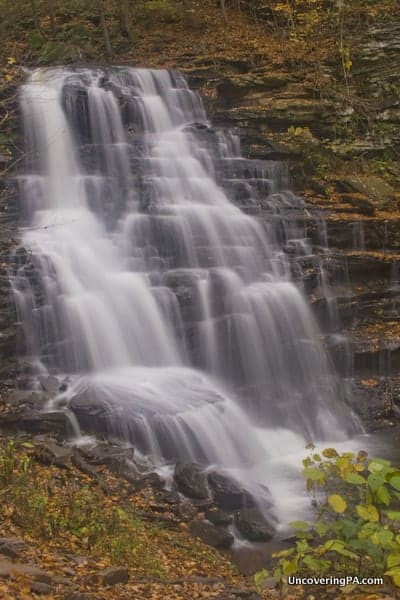 The last waterfall in Ganoga Glen (or first if you are going up the glen) is Erie Falls. At 47 feet this waterfall is just as tall as Tuscarora Falls, but since it falls in one drop, it seems much larger.
Once you hike the 0.1 mile to Waters Meet, you can look back up Ganoga Glen and see Erie Falls from a distance, which is quite a beautiful view.
As with Lake Erie and the city of Erie, Pennsylvania, Erie Falls is named after the Erie tribe. They lived on the shores of Lake Erie in Pennsylvania, New York, and Ohio. They lost a war with Seneca in 1656 and were absorbed into other Indian nations.
What to Do Next
From the bottom of Ganoga Glen, you can go in two different directions. Heading to your left and crossing the small bridge over Kitchen Creek will take you up Glen Leigh to see its eight waterfalls.
Going straight and following Kitchen Creek downstream will take you past three more very impressive waterfalls in the first half mile. If you continue for 1.3 miles past those waterfalls, you'll reach the parking area on Route 118 and Adams Falls.
If you've parked at the top in the Lake Rose Trailhead, as I suggested, I'd recommend hiking the half mile further down to see the waterfalls below Waters Meet. Once you've seen them all, head back up and over to Glen Leigh.
Want to check out even more waterfalls? Check out our PA Waterfalls page with tons more!
Need a hotel near Ricketts Glen?

Here are a few great options:
See map for other area attractions.