Please do your best to limit your travels around PA during this time. If you decide to travel, please check the status of the places you are going. Some places around the state are temporarily closed or have changed their hours. We will not be updating individual articles to note these changes. Stay safe and wear a mask!


Back in the fall, I was researching things to do in the Endless Mountains, and specifically looking for waterfalls to visit. I came across a listing for a small, very unknown waterfall on State Game Lands 66 in Sullivan County. The listing on PAWaterfalls.com (a great resource, especially for waterfalls in the northeastern part of the state) said that the waterfall was on an unnamed tributary of Smith Cabin Run on the edges of the State Game Lands.
It went on to say that this waterfall needs a lot of rain to be anything worth seeing, but since it was only a few minutes drive from the cabin I was staying at, I decided to check it out anyway. Fortunately, the day I visited was a cold, rainy October day, and the recent rains and the cloudy sky made it a perfect day to track down a hidden waterfall.
From the State Game Lands parking area, I headed into the forest and quickly found the stream. The stream had a bit of water in it, but I was doubtful that the waterfall would be flowing. However, I'd already entered the woods, so I headed upstream to find it.
Disclosure: This article may contain affiliate links. We will make a small commission from these links if you order something at no additional cost to you.
The hike to the waterfall is really quite short, only about 200 yards. However, the banks of the stream are a bit steep and bushwhacking your way up the stream is a bit of a challenge, especially after periods of heavy rain when the banks are quite slippery. Because of this, I wouldn't recommend this hike for beginners.
Finally, the falls came into view. I would estimate that the waterfall is about 20-feet tall, give or take a few feet. Unfortunately, on the day I visited, despite a good amount of recent rain, the waterfall had a less than impressive flow. Even so, there still was some water coming over the edge.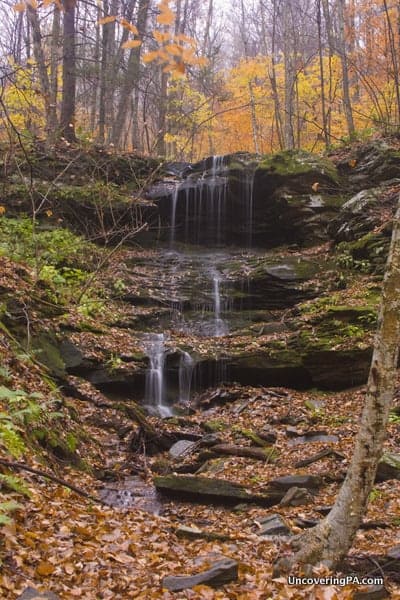 Since the stream this waterfall is on has no name, I have decided to call it Colley Falls, after the township the waterfall is in. The only other mention I've seen of this waterfall on PAWaterfalls.com lists is simply as "Smith Cabin Run Tributary."
Set back into a very quiet section of State Game Lands 66, Colley Falls is likely to remain hidden to all but the most intrepid. I would definitely love to visit this waterfall again in the spring as I think it really could be quite impressive once the spring rains come. However, outside of the spring season, I would only recommend a visit if it has rained very heavily, and even then, I'd only check it out if you happen to be in the Dushore area or traveling along Route 87 in western Sullivan County.
How to Get to Colley Falls
Colley Falls is located 0.8 miles off of Pennsylvania Route 87 in Colley Township, Sullivan County. Parking for the falls is at an official parking area for State Game Lands 66 along Saxer Road. The parking area is directly across from a small blue sign that says "999" and is located at the following coordinates: 41.523970, -76.290528. [Click here for information on how to use coordinates]
After parking, head along the tree line into the woods. Once into the woods, head to your right for about 100 feet until you come to the stream. From this point, head upstream about 200 yards to the waterfall.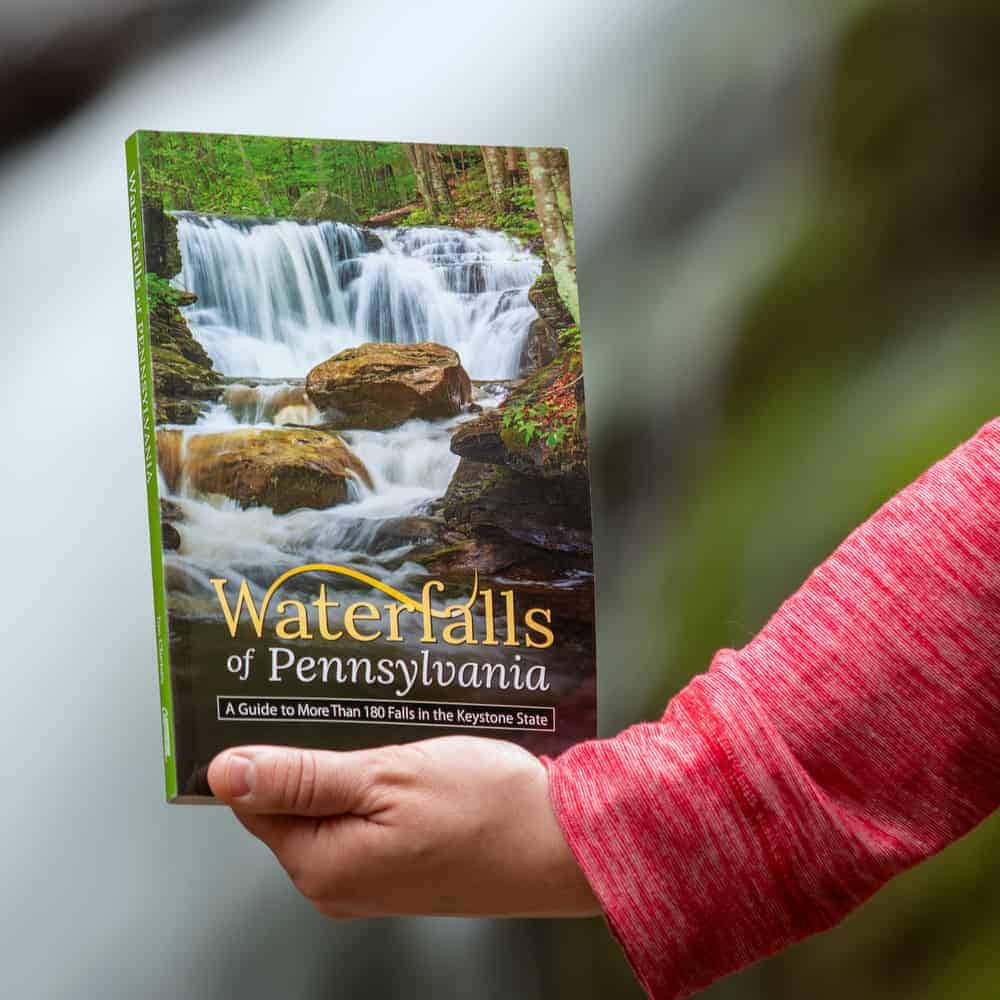 "Waterfalls of Pennsylvania" by Jim Cheney
If you love PA waterfalls, you won't want to miss this brand-new waterfall book from Jim Cheney, author of Uncovering PA, featuring more than 180 great waterfalls. Order it now on Bookshop.org or Amazon.
Use caution when exiting the woods as the lack of trails can make it difficult to find the parking area. In the event you can't find the opening in the woods to leave, follow downstream for several hundred yards until you reach Saxer Road.
If you're looking for more waterfalls in the area to explore, don't miss the Falls Trail at Ricketts Glen State Park, Sullivan Falls and the Heberly Run Waterfalls in State Game Lands 13, and Dutchman Falls.
See map for other area attractions.