Disclosure: This article may contain affiliate links. We will make a small commission from these links if you order something at no additional cost to you.
When most people head to the lake, they are looking for relaxation on the water, the opportunity to go fishing, or maybe for some fun sports on the water. However, some visitors to Raystown Lake don't even realize that there's a lake there. Instead, they are coming to ride one of the best mountain biking courses on the east coast.
The Allegrippis Trails were completed in 2009 and feature 36 miles of purpose-built mountain biking trails. Trails range from beginner trails to trails difficult enough for the most advanced rider.
Despite having never gone mountain biking in my life, I thought the Allegrippis Trails were the perfect place to give this popular sport a try.
To be honest, I was a bit nervous before heading out on the trails. While I feel very comfortable on a bike, my experience is solely on either roads or rail trails, such as the Great Allegheny Passage and Pine Creek Rail Trail. The thought of riding on a narrow trail at a decent rate of speed while dodging trees, rocks, and drop-offs was a bit daunting.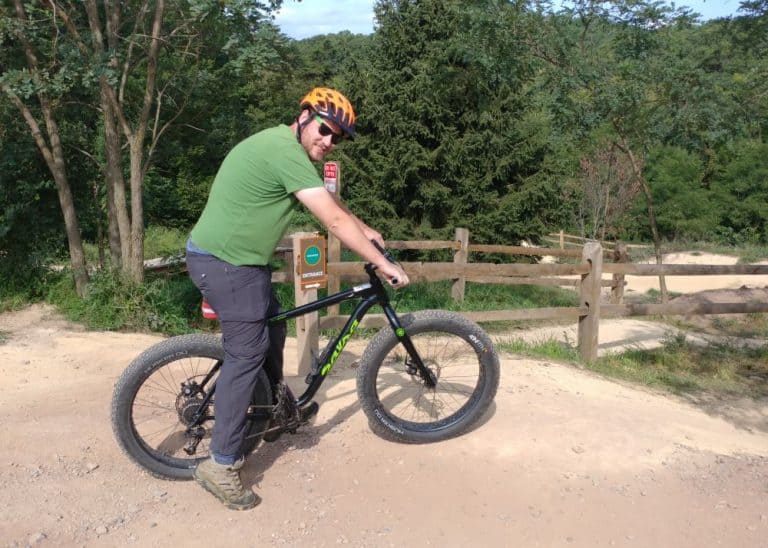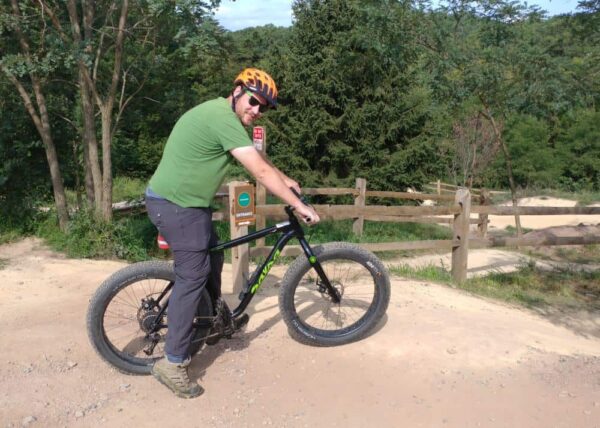 Since I don't own my own mountain bike, Rothrock Outfitters was kind enough to give me a free rental for the day. Rothrock Outfitters has offices in downtown Huntingdon and at Seven Points Marina, just down the hill from the Allegrippis Trail. In addition to renting bikes, like the fat bike I used for my ride, Rothrock also offers kayak, canoe, and paddleboard rentals.
After a brief introduction to my bike and getting my helmet fitted, I was ready to get riding.
I decided to start my ride at the Raystown Mountain Bike Skills Park, which is located directly across the road from the county visitor center. This five-acre park opened in July 2016 and has beginner, intermediate, and advanced routes.
These short courses offer a chance to get a feel for what the trails are like, and were a great way for me to build confidence and get accustomed to my bike. However, I found the actual trails I rode to be a bit easier and a lot more fun.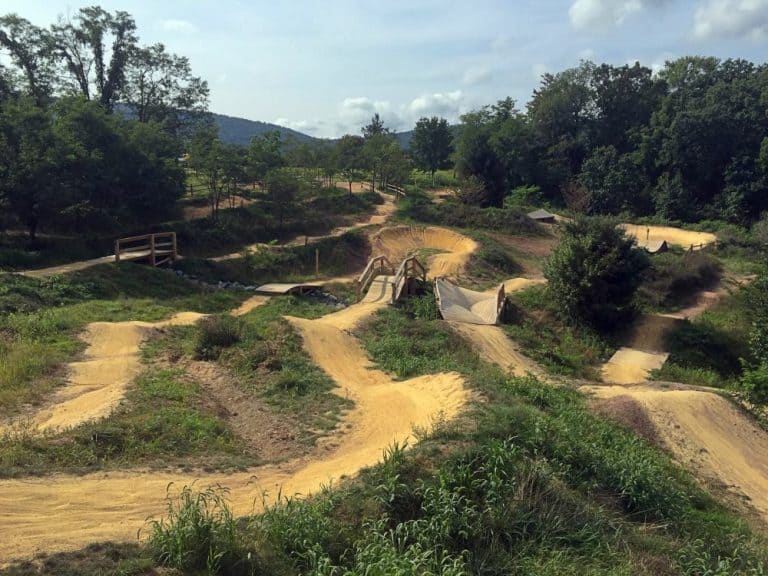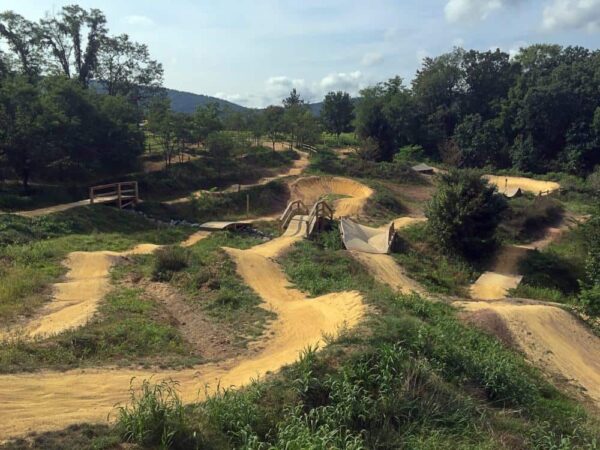 After a few trips around the skills park, I felt ready to tackle the actual trails themselves. I was joined on my ride by U.S. Army Corps of Engineers Park Ranger Allen Gwinn. Gwinn played a critical role in the development of the Allegrippis Trails and oversaw the design, layout, and construction of the trails.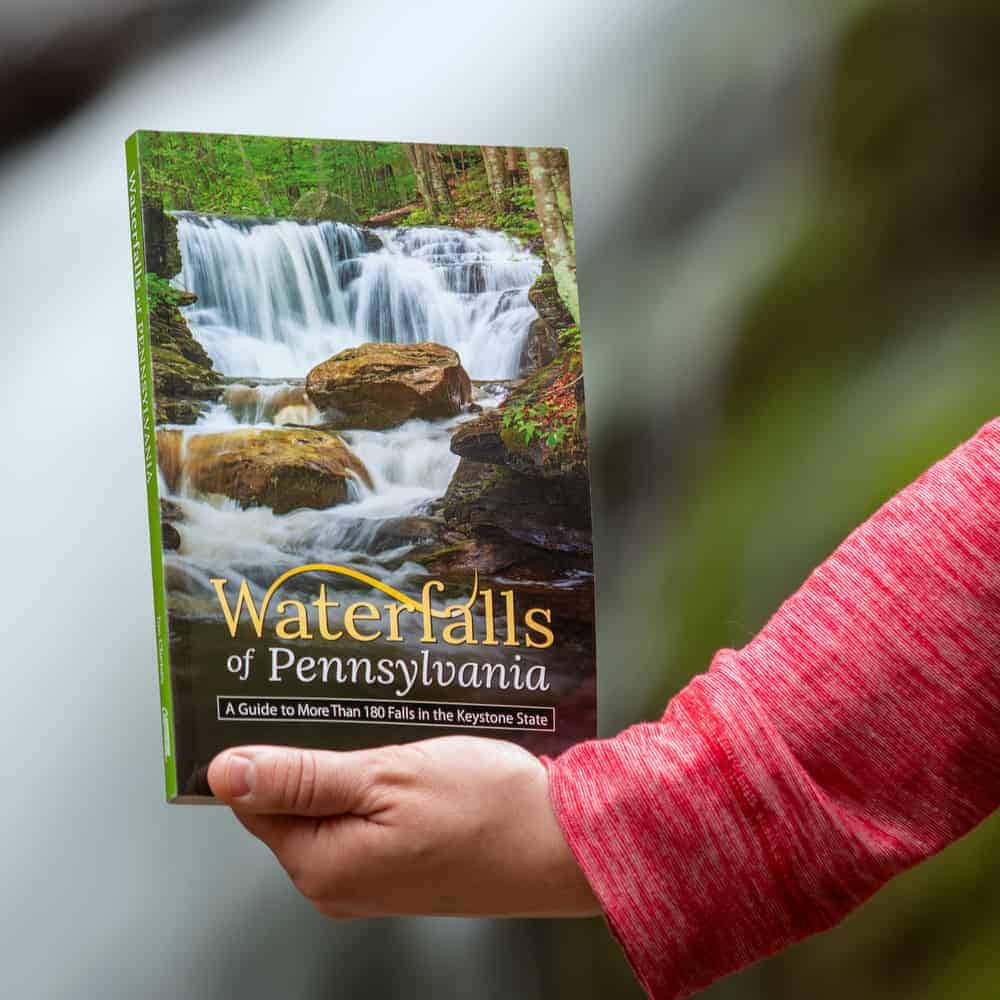 "Waterfalls of Pennsylvania" by Jim Cheney
If you love PA waterfalls, you won't want to miss this waterfall book from Jim Cheney, author of Uncovering PA, featuring more than 180 great waterfalls. Order it now on Bookshop.org or Amazon.
While the Army Corps of Engineers owns the land surrounding the trails, the maintenance of the trails is handled entirely by the volunteer groups the Friends of Raystown Lake and the Raystown Lake Mountain Bike Association.
Since I was a beginner, Gwinn and I rode the beginner loop. Known as the Deer Trails, the route did a clockwise loop on the Buck, Fawn, and Doe Trails, and is 3.5 miles in length. While it's only a small portion of the Allegrippis Trails, it gave me a great feel for the trails, and I definitely could have done the loop again if I'd had the time.
Heading down the Buck Trail, the trail started flat and wide, which was great as I continued to get accustomed to the bike. After about half a mile of biking, the fun really started. At this point, the trail started to descend down the mountain, twisting and turning past trees and boulders.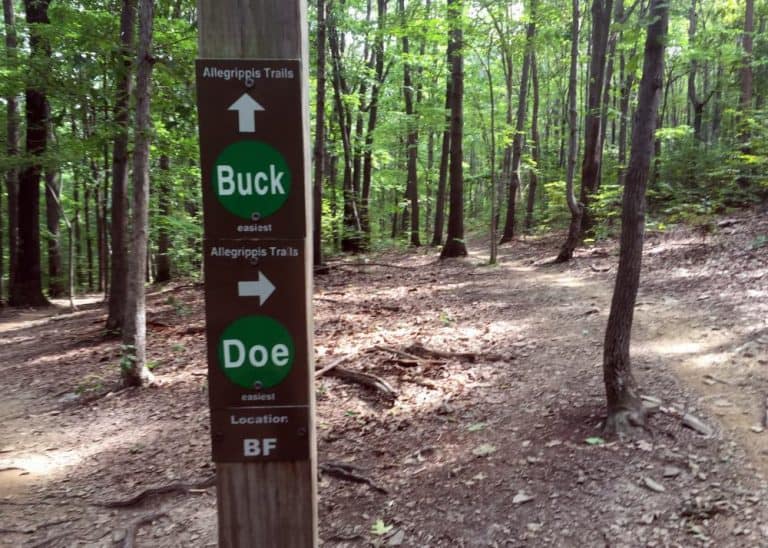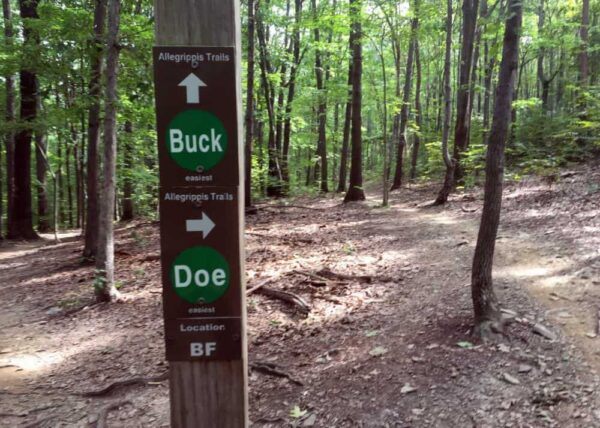 Gwinn had told me before I started that once I felt a bit comfortable on the bike, I'd pick up a lot more speed than I expected, and this was very true. While he still easily outpaced me, and I kept one hand near the brake, I soon was lost in the fun of the ride, and managed to pick up a good deal of speed.
Unlike many trails that allow bicycles, the Allegrippis Trails were built specifically for mountain biking. Because of this, the trails are very "flowy." This means that they are designed for speed and that the speed you pick up going downhill will flow easily through turns and allow you to make it up smaller hills without peddling.
This makes the trails much more fun than many other Pennsylvania trails that aren't built for bikes. The Allegrippis Trail System also features significantly fewer rocks and roots than most other PA mountain biking trails.
One of the great things about biking the Allegrippis Trails is how quickly you feel away from civilization, but are still close enough to roads and help should the need arise.
For those that venture out onto some of the trails with higher difficulty, there are great overlooks of Raystown Lake and even the chance to get down to lake level and explore some of the more isolated areas of the largest lake that's entirely within Pennsylvania.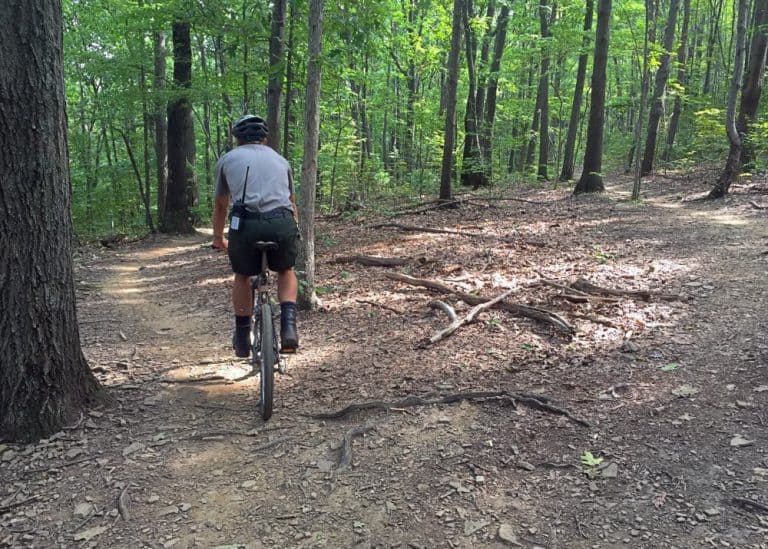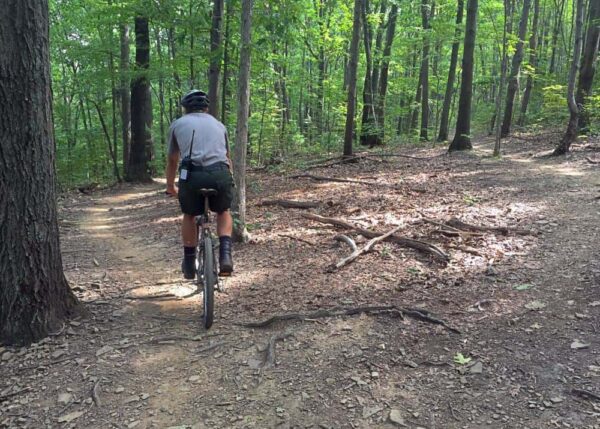 Overall, I highly recommend mountain biking on the Allegrippis Trails at Raystown Lake. I'm not an adventure junkie by any means, but I still had a great time and quickly felt comfortable on the beginner trails.
If you feel comfortable riding a bike and have a bit of an adventurous side, definitely give mountain biking a try during your Pennsylvania travels. The Allegrippis Trails are perfect for riders of all levels as these purpose-built trails make riding that much easier and more fun. Even better, the Raystown Mountain Bike Skills Park offers a chance to get comfortable on the bike before heading out on the actual trails.
If you do have a lot of experience, the mountain biking trails at Raystown Lake feature enough challenge and distance to keep you entertained during your visit.
Without a doubt, anyone that loves mountain biking or think that they would like to try it, should head to the Allegripis Trails at Raystown Lake in Huntingdon County, Pennsylvania. The chance to ride these purpose-built mountain biking trails along the shores of one of PA's most beautiful lakes is an experience not to be missed.
For more information, check out this Allegrippis Trail Map and information put out by the Army Corps of Engineers.
Note: My bike rental was provided courtesy of Rothrock Outfitters. However, the opinions expressed are my own.
Looking for other places to visit near Raystown Lake? Check out the Swigart Museum, Lincoln Caverns, and the Proud Mary Showboat.
See map below for other area attractions.