Disclosure: This article may contain affiliate links. We will make a small commission from these links if you order something at no additional cost to you.
The charming borough of Roaring Spring, PA is likely best known for its popular springwater. However, did you know that just outside of town there is a small but easy-to-reach waterfall?
That's right, hidden away in Shawnee Park you'll find a beautiful waterfall that I've dubbed Cabbage Creek Falls (in absence of another known name) for the waterway along which it sits. And, while this is an easy waterfall to visit, you won't, at the time of this article's publication, find any signs for it or even other directions on the internet.
I'd come across photos of this waterfall from time to time and had even received some very basic directions, but none of that really gave me much of a starting point for this waterfall beyond it being somewhere in Shawnee Park, and there being an unmarked trail that reached it.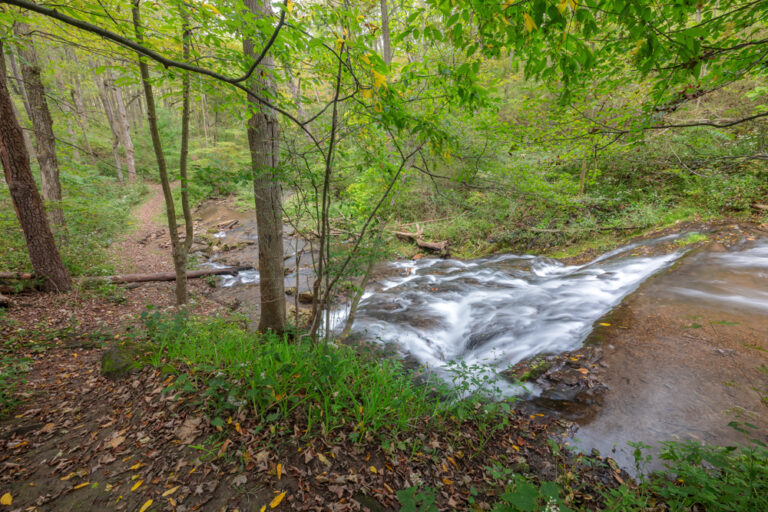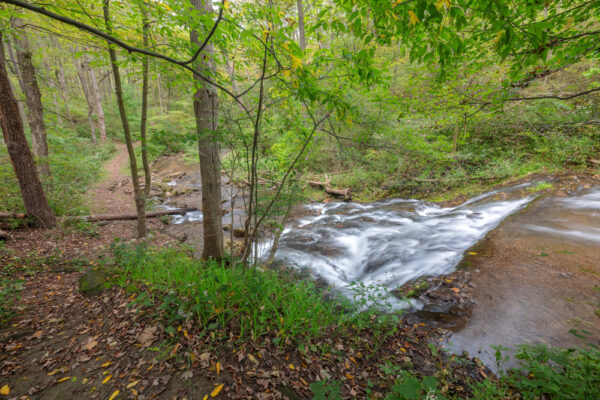 However, since there are only two waterways in the park according to Google Maps (Halter Creek and Cabbage Creek), I figured it couldn't be too difficult to track down.
It's worth noting that I can find no information on Shawnee Park online, and from looking at the satellite view on Google Maps, it appears that there is no infrastructure in this park other than the road that runs through it to several private properties. There are no ball fields, pavilions, play structures, or even marked trails as far as I can tell.
How to Get to Cabbage Creek Falls in Roaring Spring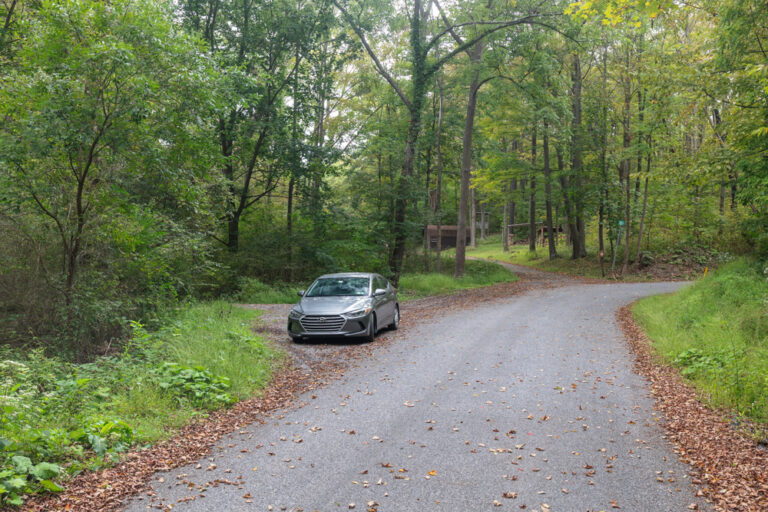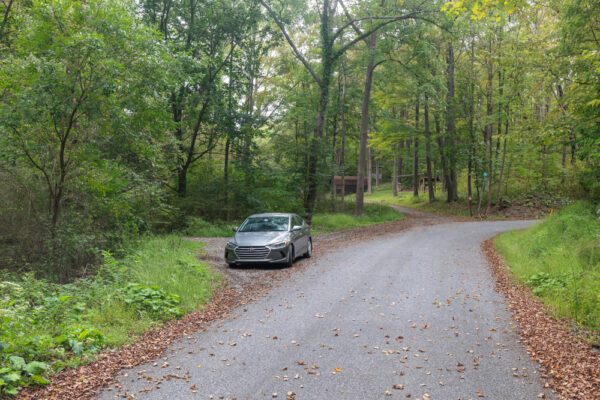 The entrance to Shawnee Park can be found behind a small area of residential homes just to the west of Spring Park Dam. Note that there is no sign indicating that this is a park.
The road that heads into the park is listed on Google Maps as Trail 33, though it's a road (not a trail) that in the summer of 2021 was in great shape at least as far as I drove it. It may also be a continuation of Mountain Street, which is how you access this road.
In case your GPS has trouble finding the road into the park, you can use these coordinates: 40.333553, -78.406144.
Once on this road, continue through the forest for a third of a mile. Right before the road makes a 90-degree turn to the right, you'll see an area where you can pull your car off onto the side of the road on the left side of the road next to the creek. Make sure to pull totally off of the road for any other vehicles that may need to get by.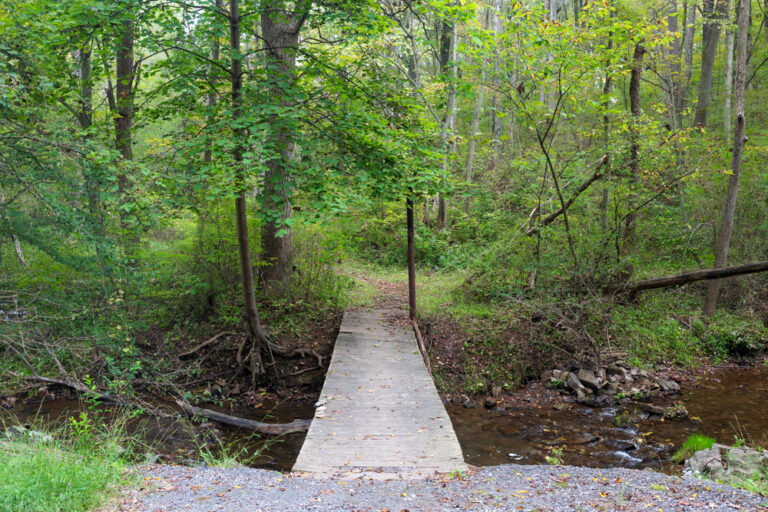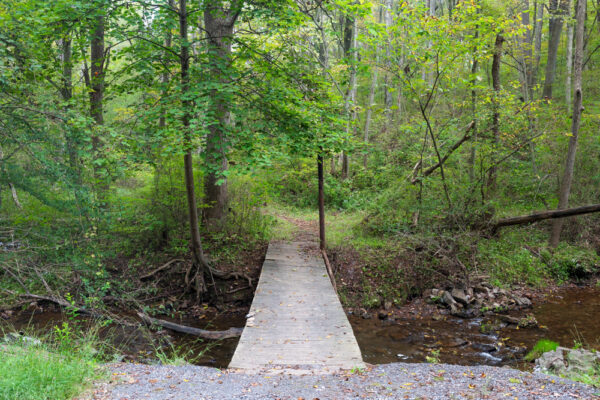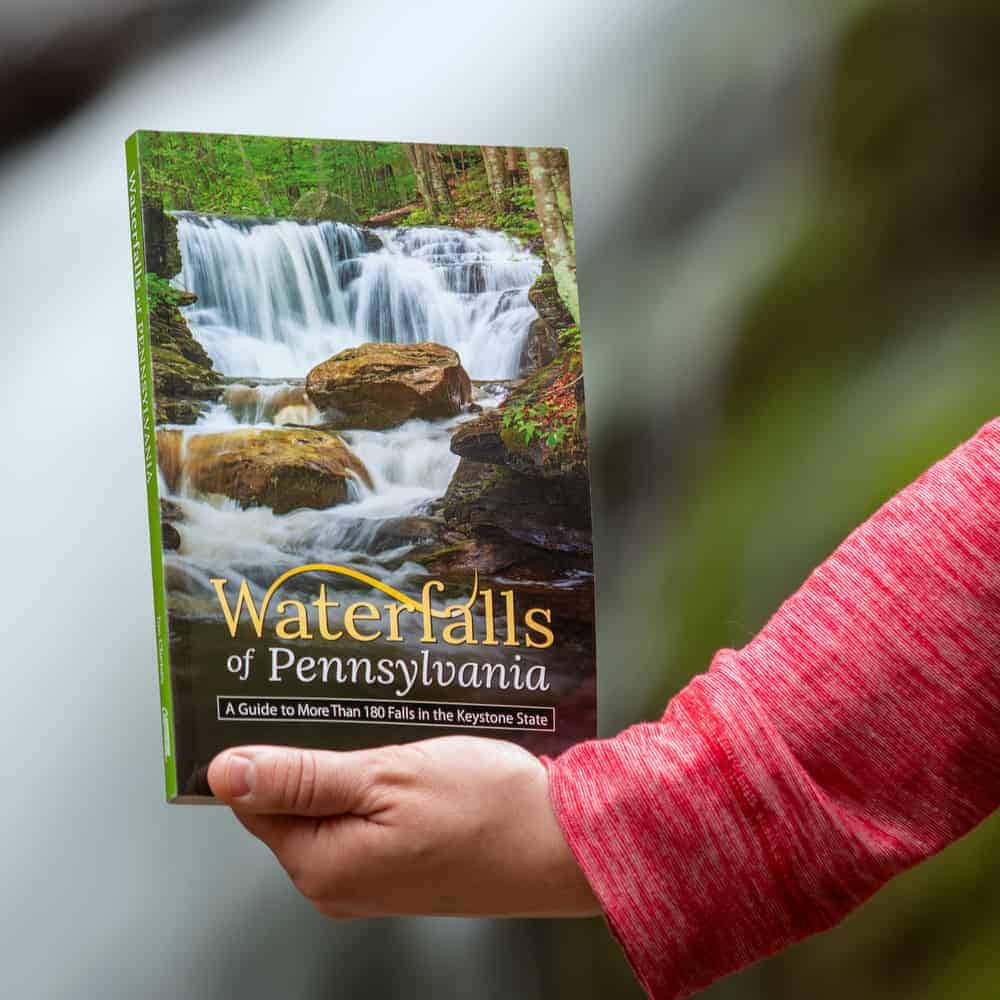 "Waterfalls of Pennsylvania" by Jim Cheney
If you love PA waterfalls, you won't want to miss this waterfall book from Jim Cheney, author of Uncovering PA, featuring more than 180 great waterfalls. Order it now on Bookshop.org or Amazon.
This parking area can be found at the following coordinates, which are the best ones to put into your GPS: 40.330214, -78.409440.
You should be parked directly next to an obvious but unmarked trail that starts on the far side of a small wooden bridge with no railings.
[Click here for information on how to use the coordinates in this article to find your destination.]
Hiking to Cabbage Creek Falls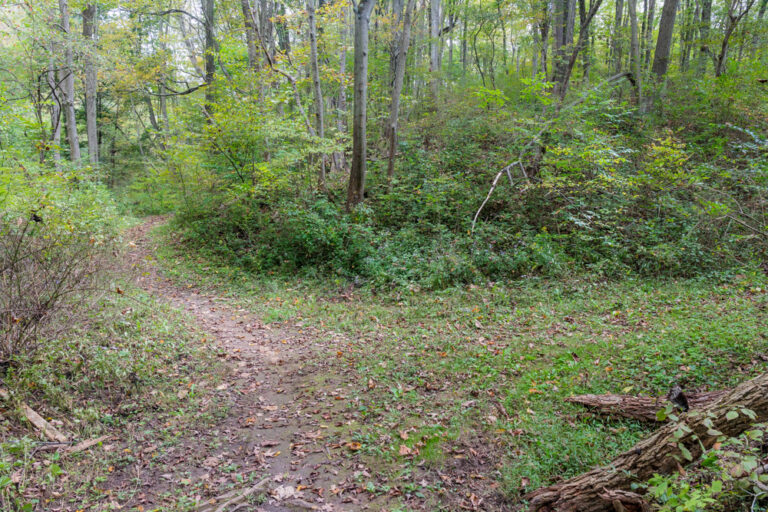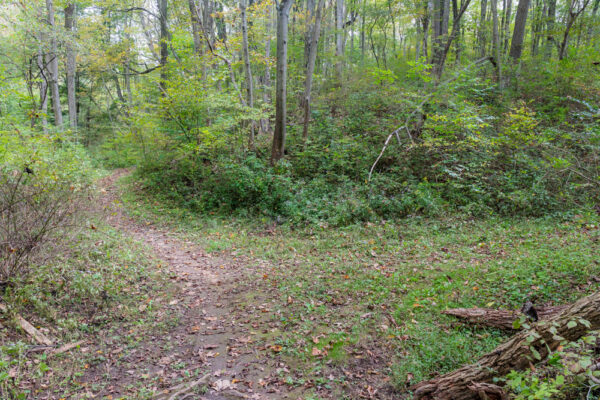 Start your hike by heading over the wooden bridge. While there are no railings, it's fairly wide and only a few feet above the narrow creek, so it's unlikely dangerous to cross.
Once on the far side of Halter Creek, the trail splits and heads both straight and to your right. To reach the waterfall, follow the trail straight and head upstream on Cabbage Creek.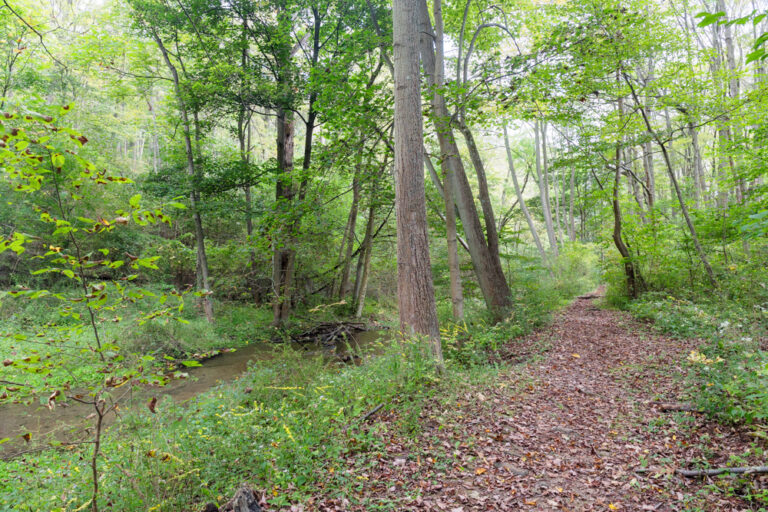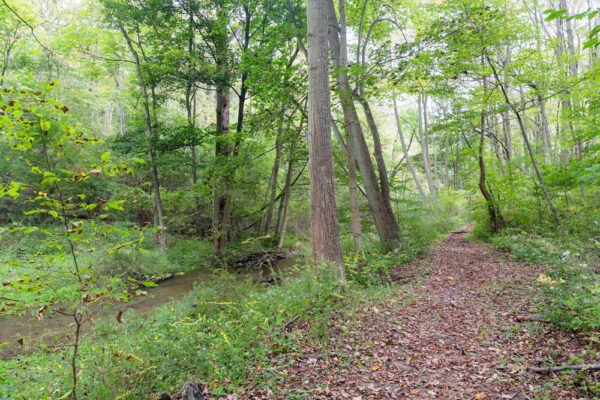 This trail is totally unmarked but is surprisingly well-trodden as this spot is known to at least some of the locals. The trail follows very closely to Cabbage Creek and is a one-tenth of a mile hike back to Cabbage Creek Falls.
For those that use a GPS for hiking, Cabbage Creek Falls can be found at the following coordinates: 40.329667, -78.407683.
Cabbage Creek Falls is roughly 12-feet in height and features a series of small drops as the water cascades down the waterfall. These small drops make this quite a beautiful waterfall despite it not being overly tall.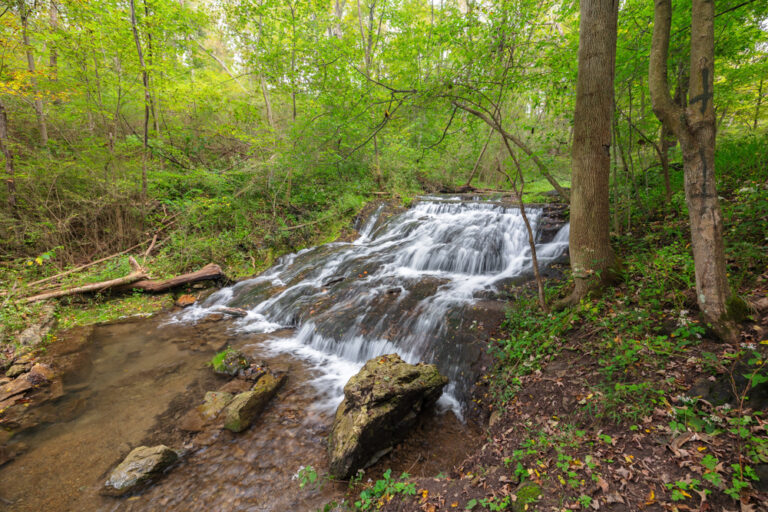 Its setting deep in the woods of Blair County also makes this quite a scenic waterfall to visit.
While it would be great to explore the creek further, the trail seems to end at the top of the waterfall. So, take some time to enjoy this scenic spot, and, once you are finished, simply retrace your steps back to your vehicle.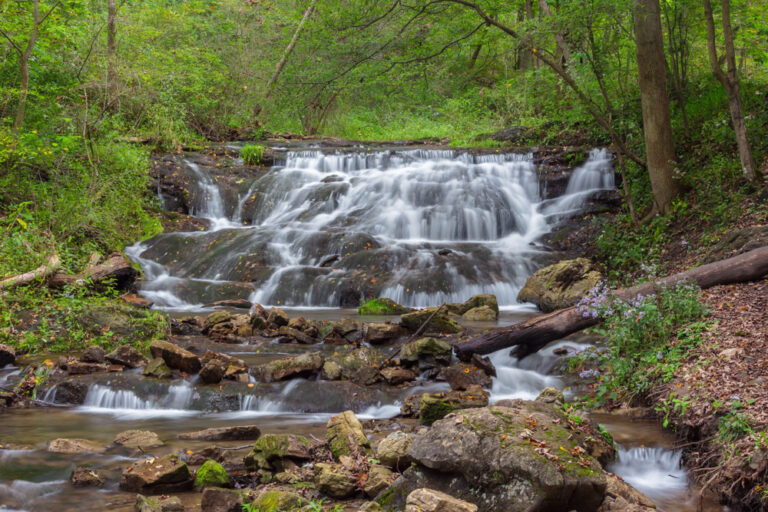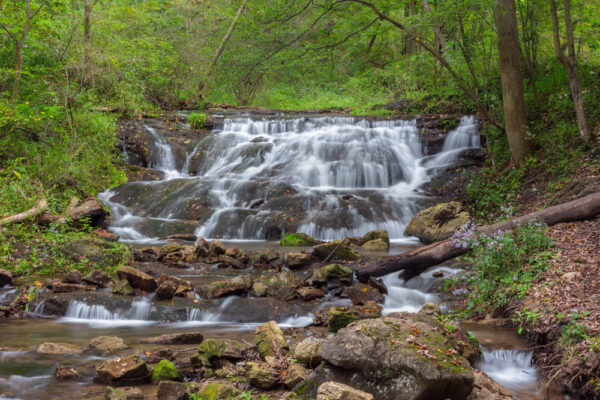 Overall, Cabbage Creek Falls in Roaring Spring is really a beautiful and quiet spot to check out. While its small size and the short hike to reach it mean that it's not a PA waterfall to go far out of your way to see, it's still a great spot to check out if you are looking for things to do near Altoona.
So, the next time you find yourself traveling through this corner of the Alleghenies, make sure to take a few minutes to swing by the beautiful Cabbage Creek Falls in Roaring Spring's Shawnee Park.
Looking for more places to visit nearby? Check out Chimney Rocks Park, Blue Knob, the Pavia Lookout Loop, and the best breweries near Altoona.