Disclosure: This article may contain affiliate links. We will make a small commission from these links if you order something at no additional cost to you.
I've done a lot of amazing things during my travels around Pennsylvania, but few have been more exciting and rewarding as biking the Great Allegheny Passage (GAP). This trail follows the route of the old Western Maryland Railroad and several other defunct railroad companies from Pittsburgh, Pennsylvania, to Cumberland, Maryland.
This 150-mile trail is the fourth-longest rail trail in the United States and offers stunning views of southwestern Pennsylvania and western Maryland. Of the trail's 150 miles, roughly 130 of them are in Pennsylvania, cutting through the Laurel Highlands, Allegheny County, and downtown Pittsburgh.
The Great Allegheny Passage took nearly 30 years to complete, with the first nine miles near Ohiopyle completed in 1986 and the last section, from West Homestead to downtown Pittsburgh, completed in June 2013. The trail is relatively flat, with a maximum grade of less than 2%, and, with the exception of a few blocks in downtown Pittsburgh, avoids motorized traffic.
I completed the Great Allegheny Passage in May 2016 with my wife and nearly two-year-old son. We are not avid bikers, having never biked more than 25 miles in a day. Nevertheless, we were able to complete the trail in six days, biking between 11 and 35 miles each day. Our success should prove that anyone in reasonable health can complete all or portions of this amazing trail.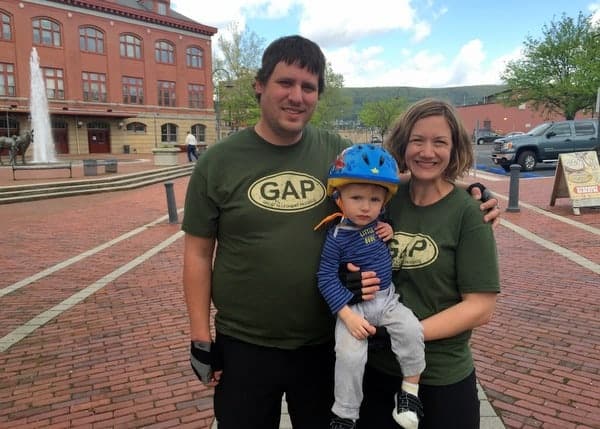 I put together three guides to the trail: Pittsburgh to Connellsville, Connellsville to Confluence, and Confluence to Cumberland. However, I decided that it was also important to put together a detailed guide to answer questions that I had when I was planning our trip along the trail, which was our first overnight bicycle trip ever.
I hope that my research and experiences can help you in the planning of your trip and make you realize that this is an amazing trail that anyone can ride.
Please note that this guide only covers the Great Allegheny Passage Trail between Pittsburgh and Cumberland. If you wish to also ride the C&O Canal from Cumberland, Maryland, to Washington, DC, a good place to start is this information page from the National Park Service. There are also many other great rail trails in Pennsylvania that you can use these tips to help you plan for as well.
If you have any additional questions or suggestions, feel free to comment below, and I may add them to the article in the future.
How long does it take to ride the GAP?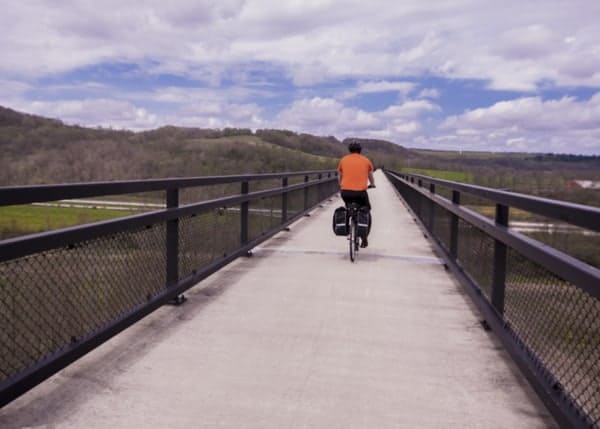 The Great Allegheny Passage is 150-miles long and relatively flat. Many experienced riders can do the trail in two or three days. Less experienced riders or those looking for a more leisurely trip usually complete the trail in four to six.
If you, like me, have never done a long bike ride, plan on the side of having too much time. While most of the communities along the trail are small, they all offer amenities such as restaurants and local parks. Some even have small museums. Taking your time on the trail will allow you to enjoy your trip more fully, allow you to rest your sore legs, and possibly avoid poor weather.
There is more information further down this page with my suggestions of where to stop along the trail.
Can I ride smaller sections of the GAP?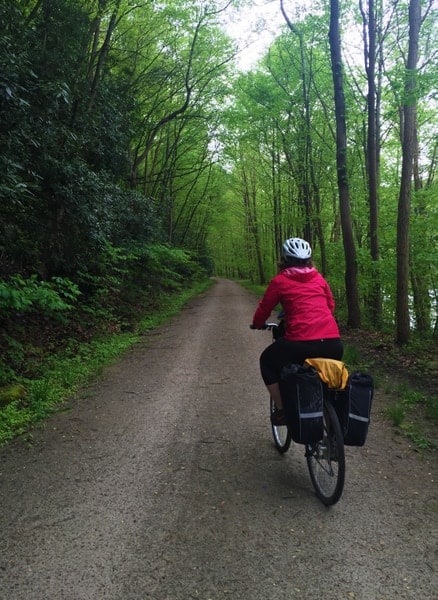 If the thought of riding 150 miles in one trip sounds a bit daunting, you're in luck. It is very possible to ride only small portions of the trail.
Trail towns are spaced between four and 25 miles apart, with several road crossing and parking areas between each of these. Whether you want to get out for a short bike ride or even walk along a portion of the trail, or want to do the entire trail in stages, doing smaller sections is a great way to get a taste for the trail.
While the entire trail is quite beautiful, in my opinion, the most beautiful portion of the trail is the roughly 30 miles from Connellsville to Confluence. Much of this portion of the trail is located in the very beautiful Ohiopyle State Park, with the small town of Ohiopyle being situated in the middle of the route. You'll also pass the beautiful Great Passage Falls.
No matter where you are along the trail, it is possible to ride one way and get a shuttle service back from one of the many bike shops along the trail.
Those on supported bike trips, like those from my trip partners at Golden Triangle Bike in Pittsburgh, can even ride portions of the trail on their bikes and skip others in the support van. This is a great option if the whole family wants to ride the trail but are at different biking skill levels.
When should I ride the GAP?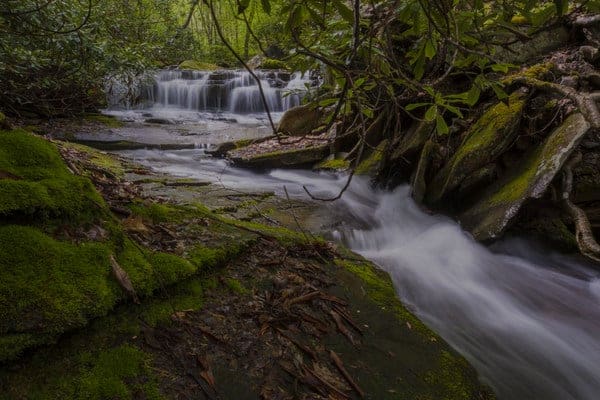 While it is possible to ride most of the GAP Trail any time of the year, assuming the trail isn't covered in snow and ice, the Great Allegheny Passage's season is considered mid-April through mid-November. In addition to weather, the main reason for this is the Big Savage Tunnel, which closes from roughly mid-December through mid-April. Unfortunately, there is no easy detour around this tunnel, effectively closing through-rides during this time, no matter the weather.
During the GAP's season, May is the rainiest month between Cumberland and Pittsburgh, while October is the driest. Riding in the rainy season, however, will let you best enjoy the many waterfalls along the side of the trail in their full glory. It is also much less crowded along the trail in the first half of May compared to the drier months of the year. On the other hand, riding during October means you not only get the best chance of dry weather, but you can also enjoy the fall foliage along the trail, which I can only imagine would be gorgeous.
Which direction should I ride on the GAP?
When planning a trip on the GAP, many first-time riders wonder which direction they should head. On your trip along the GAP, you'll likely encounter riders going in both directions, but it seems like the majority of riders completing the trail travel from Pittsburgh to Cumberland.
During my trail ride, I biked from Cumberland to Pittsburgh, against the advice of most trail experts that I talked to. However, I also heard from others than they prefer the direction that I chose, so it's hard to say that there is a single best direction to ride the trail.
Unlike many rail trails, where the trail is downhill in one direction, that isn't the case with the Great Allegheny Passage. While there are rolling hills in places throughout the trail, the two ends of the trail are at roughly the same elevation. The Eastern Continental Divide is located 23.5 miles outside of Cumberland, and the trail climbs in both directions to reach this point at an elevation of 2392 feet above sea level. This is nearly 1800 feet higher than Cumberland, MD and more than 1700 feet higher than Pittsburgh.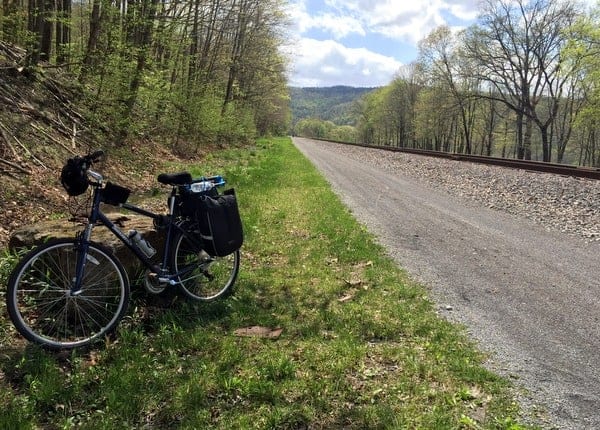 If traveling from Cumberland, the ride is a constant uphill for those first 23.5 miles. While a grade of roughly 1.75% might not sound like much, it is daunting for an inexperienced rider and should not be taken lightly. However, once you reach the Eastern Continental Divide, the trail has more downhill than uphill, with each trail town being at a lower elevation than the last.
Those riding from Pittsburgh don't have to deal nearly as much with the uphill climb, with the trail climbing 1,700 feet in roughly 125 miles. However, no matter how slight, you are traveling uphill for 125 miles, which can get tiring on the legs. On the plus side, the last 23.5 miles into Cumberland are an easy coast. I met some trail riders traveling in that direction, and they told me that they were approaching speeds of 20 miles an hour on the downhill from the continental divide.
Having only ridden one way, it's hard for me to say exactly which direction is best. However, as I said, most trail experts that I talked to recommended leaving from Pittsburgh. Given that advice, I would suggest that as the best route unless you have a compelling reason to start in Cumberland.
Where do you stay while riding the GAP?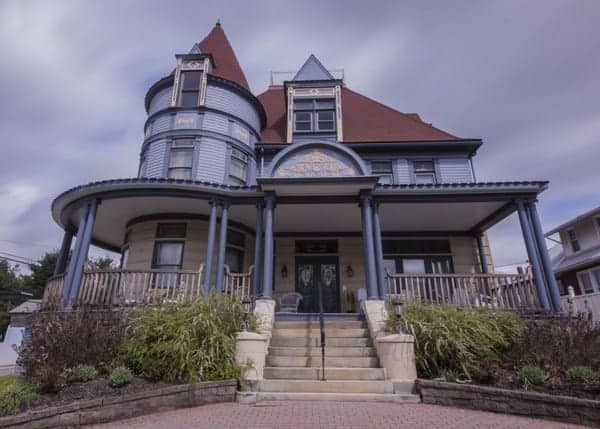 One of the great things about the Great Allegheny Passage is that there are trail towns evenly spaced along the path, meaning that you are never far from somewhere to stay or eat. While there are other places along the trail with amenities, there are 12 towns along the 150-mile trail that function as the primary stops. These communities are between four miles (McKeesport-Boston) and 25 miles (West Newton-Connellsville) apart.
During my six-day trip on the GAP, I had a chance to see at least a small portion of each of these communities and stayed in Meyersdale, Confluence, Ohiopyle, Connellsville, West Newton, and Pittsburgh. I enjoyed my brief time in each of these communities, and my recommendations for where to stay can be found in my trip guides (which are linked near the top and bottom of this article) Suffice to say, each community offers a nice place to rest while traveling along the trail.
For those who would rather camp than stay in a hotel or a bed and breakfast, there are also campgrounds along the trail. These range from KOAs with nice amenities to rustic campgrounds that lack running water. However, just as with the trail communities, these are spaced close enough together that bikers can go at their own pace while not having to worry about lacking a place to set up camp.
If planning the trip sounds daunting, consider using a trip planner such as Golden Triangle Bikes. They were kind enough to give me some complimentary assistance on my trip and really know their stuff.
What gear do I need to ride the GAP?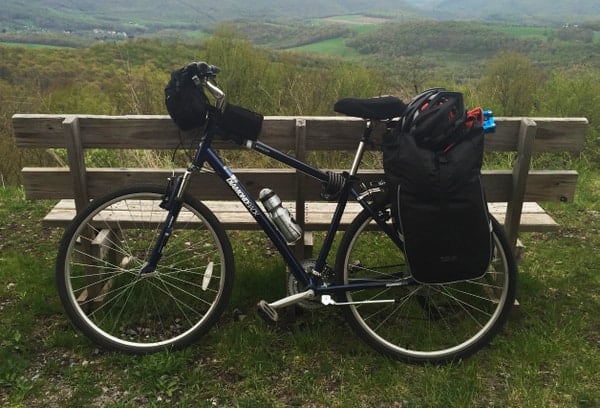 Planning a biking trip can be surprisingly different from planning a regular vacation. Despite all of the trips I've gone on, several of which involved living out of a small bag for long periods of time, I was still a bit unprepared for what to take on a bike touring trip.
One of the biggest questions that I had was whether I needed to buy completely new clothing and dress in tight fitting biking clothes. While there is a good chance that many of the trail riders that you see will be wearing clothes like this, it is honestly completely unnecessary. I found a pair of padded bike shorts useful, but I got a pair that was built in to a pair of regular shorts, and could even be removed to be used with other pants. I also found that a regular moisture-wicking shirt was perfectly adequate for the trip as well.
However, just because you might not need entirely new clothes for the trip, that doesn't mean that you don't need gear.
If you aren't planning to ride regularly, don't have the right kind of bicycle, or don't want to purchase the gear, renting a bike can be a good option. Bike rentals are available in most of the trail towns for both short and long-distance trail rides. If you are starting in Pittsburgh, my friends at Golden Triangle Bike offer bicycle and gear rentals, as well as the option for a one-way rental so you don't have to worry about how to get your bike back to Pittsburgh.
Should you want to purchase your own gear, you will need the following at a minimum for luggage: a hybrid bike, a rear rack, and panniers. Many also find a handlebar bag and a trunk bag to be great for additional storage (Affiliate links). As for gear, make sure you have a light for the dark tunnels along the trail, a tire repair kit, a first aid kit, and several containers for water.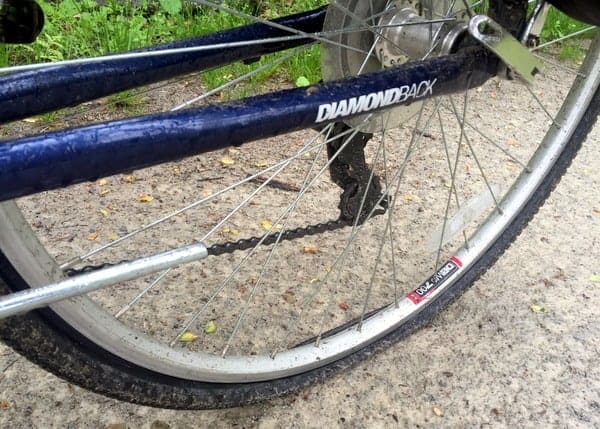 Beyond these key supplies, make sure that you pack lightly. The more weight you have on your bike, the harder the ride will be. I made the mistake of carrying extra water in a backpack, which made riding significantly more difficult, especially on the first day's uphill climb from Cumberland. Don't make the same mistake I did and make sure to leave ample room for water on your bike.
For clothing, pack something that will dry quickly. Not only will this make you more comfortable if it rains, but it will also allow you to do laundry more easily along the trail. It's also a great idea to have a set of clothes to change into after a long day of bike riding and rain gear just in case it rains.
Where do I park and how do I get back to my car after riding the GAP?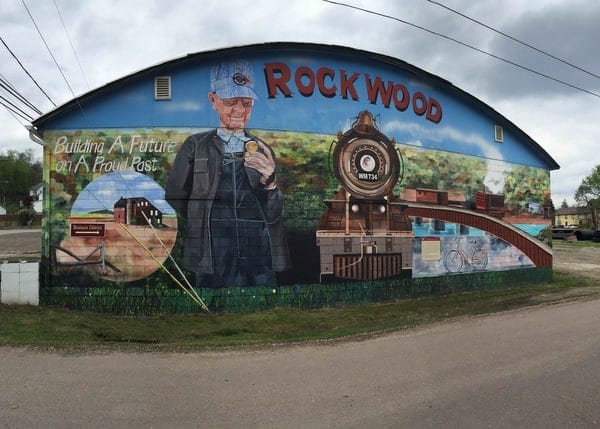 Two of the biggest concerns that riders have when planning their trip on the Great Allegheny Passage is where to leave their car and how to get back to it. Let me start with the first question.
There are many small parking lots that you'll encounter along the trail, most of which are marked on trail maps. If you plan to leave your car overnight, GAPTrail.org has put together a great list of parking lots in each trail town. Keep in mind that at some of these you need to register your car if leaving it overnight to avoid getting towed.
If you're doing a one-way ride, getting back to your car might seem to be a problem, but fortunately, there are several easy options to make this process simple.
Many of the bike shops along the trail offer shuttles for riders and their bikes, whether you book other services through them or not. This can be useful both for day-trips and for trips along the entire passage.
Another option is Amtrak. One train a day in each direction passes between Pittsburgh and Cumberland on the trains' journey between Washington, DC, and Chicago. Up to eight bikes per trip can be rolled onto the train and secured by the passenger. This service is available in Pittsburgh, Connellsville, and Cumberland (as well as at several stops along the C&O Canal).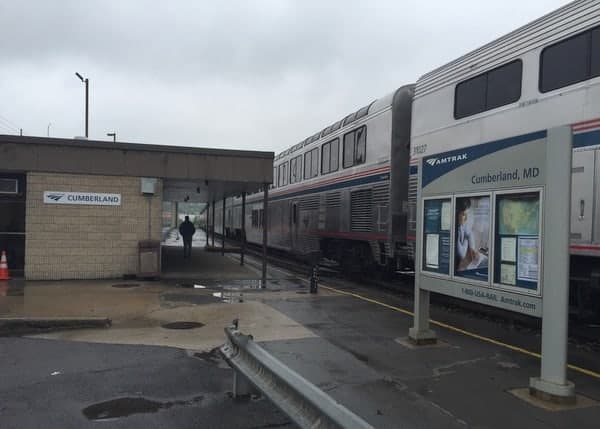 When I completed the GAP in May 2016, I opted to use this bicycle service. I was a bit nervous about getting on and off the train in a timely manner, as well as being able to secure my bike, but found that it was very simple. The train stops in Pittsburgh and Cumberland for several minutes, giving you ample time to unload your bike and gear.
If you want to use this service, you need to book your bicycle with your ticket. Train times are unfortunately not great along this route, meaning that you will miss most of the beautiful scenery (and some sleep) if your train is running on time. However, the ride is easy and provides a great option for getting back and forth along the trail.
(It's worth noting that the Pennsylvanian, which travels across PA to Pittsburgh from New York and Philadelphia, does not allow bicycles as of May 2016.)
Great Allegheny Passage Resources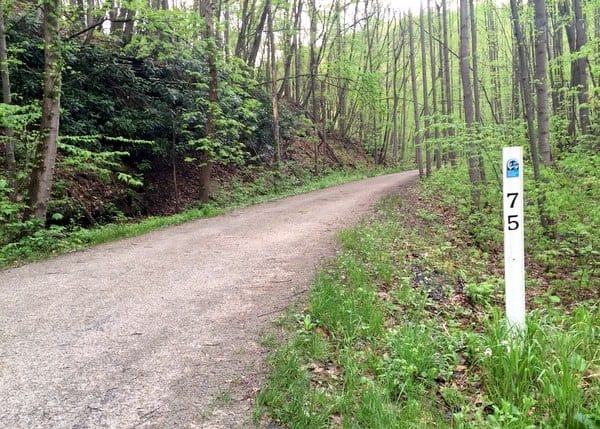 While I've done my best to make this guide a detailed resource for those planning a trip on the GAP, there is too much information to include in one article. Here are a few resources that can help you plan your trip that I've linked to throughout the article. Specific recommendations for trail towns will be included in the articles about those towns coming out later this week.
GAPTrail.org – The official website for the GAP Trail. Lots of great information on planning the trail. I'm a fan of their Trail book and their elevation and distance charts. Their t-shirts are pretty cool, too, and a fun souvenir.
Golden Triangle Bike – The website of Golden Triangle Bike in Pittsburgh. They are a full-service bike shop that offers trip planning, shuttles, and equipment rentals. Special thanks to Golden Triangle for providing some of the equipment that we used on the trip.
Amtrak – The page for Amtrak's Capitol Limited Trail. Bikes can be taken on this train between Pittsburgh and Cumberland (and on to Washington, DC).
Recommended Equipment List (Affiliate Link) – A list I made on Amazon with some of the equipment that I used while biking the trail. If you are looking to buy your own equipment, this is a good place to start.
Biking Guide from Pittsburgh to Connellsville: My guide covering the Great Allegheny Passage from Pittsburgh to Connellsville.
Biking Guide from Connellsville to Confluence: My guide covering the middle portion of the Great Allegheny Passage from Connellsville to Confluence.
Biking Guide from Confluence to Cumberland, MD: My guide covering the final third of Great Allegheny Passage from Confluence to Cumberland.
Looking for other biking adventuring in Pennsylvania? Check out the Pine Creek Rail Trail in Tioga County or go mountain biking on the Allegrippis Trails in Huntindgon County.