Disclosure: This article may contain affiliate links. We will make a small commission from these links if you order something at no additional cost to you.
Pennsylvania is home to many incredible roadside scenic overlooks, but one of the best and easiest to reach is Brady's Bend Overlook in Clarion County.
Brady's Bend Overlook offers an amazing view over the Allegheny River along several bends in the Allegheny River. At this point, the river is the line between Clarion County and Armstrong County, with the portion of Clarion County that this spot sits on jutting into Armstong County (which surrounds the area on three sides).
From this overlook, there is a great view of a 180-degree turn in the river that sits over 500 feet below you, as well as the small community of waterfront homes that sits alongside it.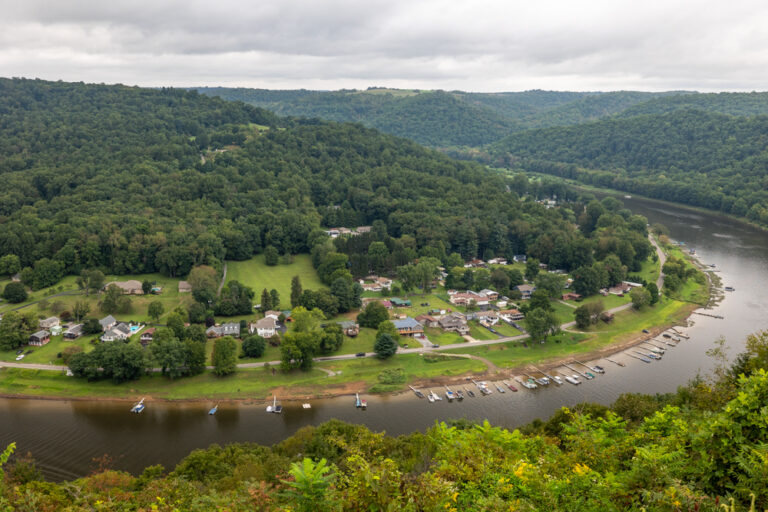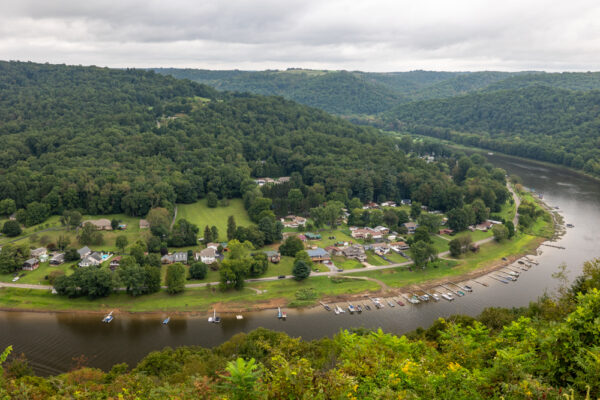 According to the historical marker next to the parking area, Brady's Bend Overlook takes its name from frontier scout Captain Samuel Brady.
In June 1779, Brady took a small band of men into what was, at the time, Seneca territory to rescue two children who were kidnapped when their mother and four siblings were killed by Native Americans. Near this spot, they surrounded the Native Americans and freed the children.
Over the years, this became a popular hang gliding spot, rivaling Hyner View Overlook in popularity. However, hang gliding is no longer allowed from the vista.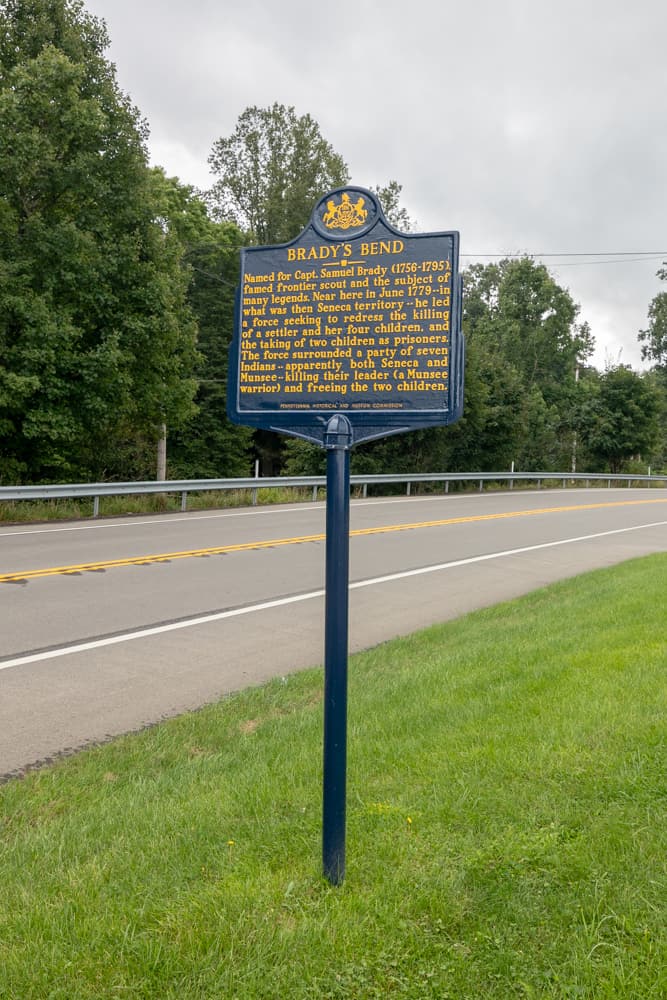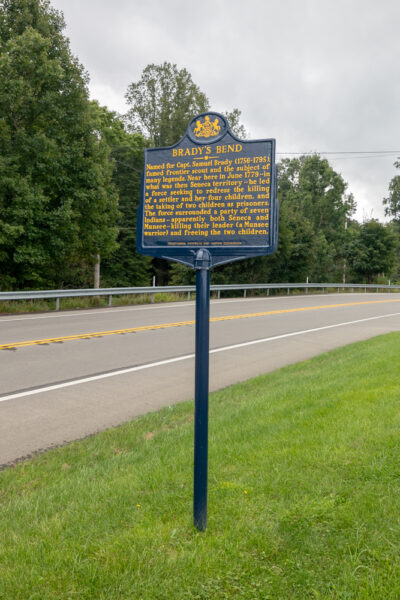 Today, this is a quiet spot along Route 68, sitting roughly halfway between the Butler and Clarion (approximately 30 minutes from each), and is one of PA's best scenic overlooks.
Brady's Bend Overlook can be found at the following coordinates: 40.988274, -79.582723. You can also use the address for the Outlook Inn, which sits directly adjacent to the parking area for the vista: 2417 PA-68, Rimersburg, PA 16248.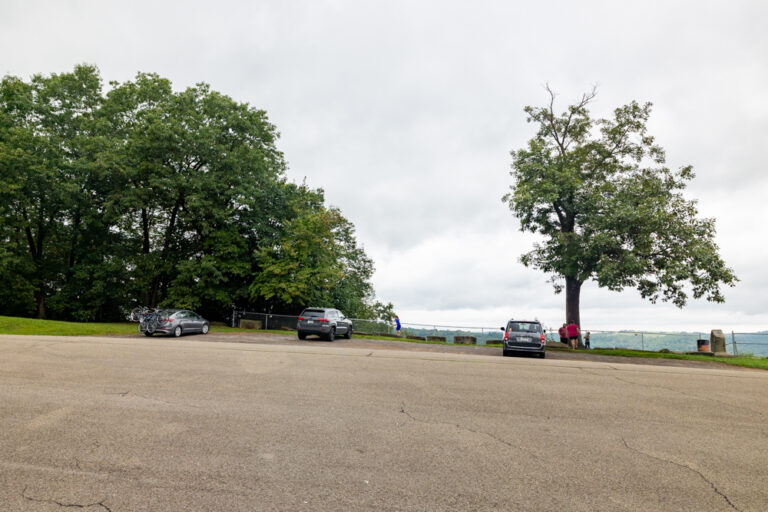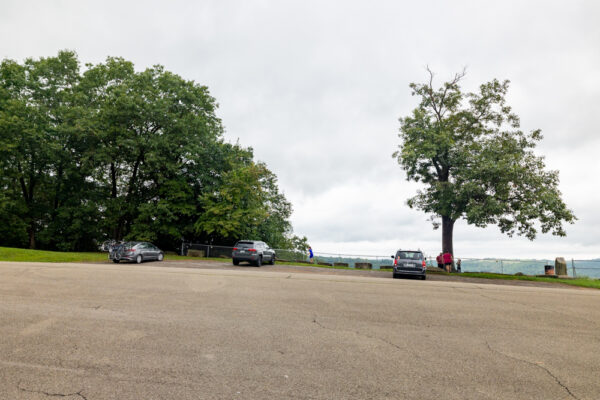 Aside from the large parking area and the historical marker, there isn't much to do here other than admiring the view. However, this eight-mile view is so good that it doesn't need anything else.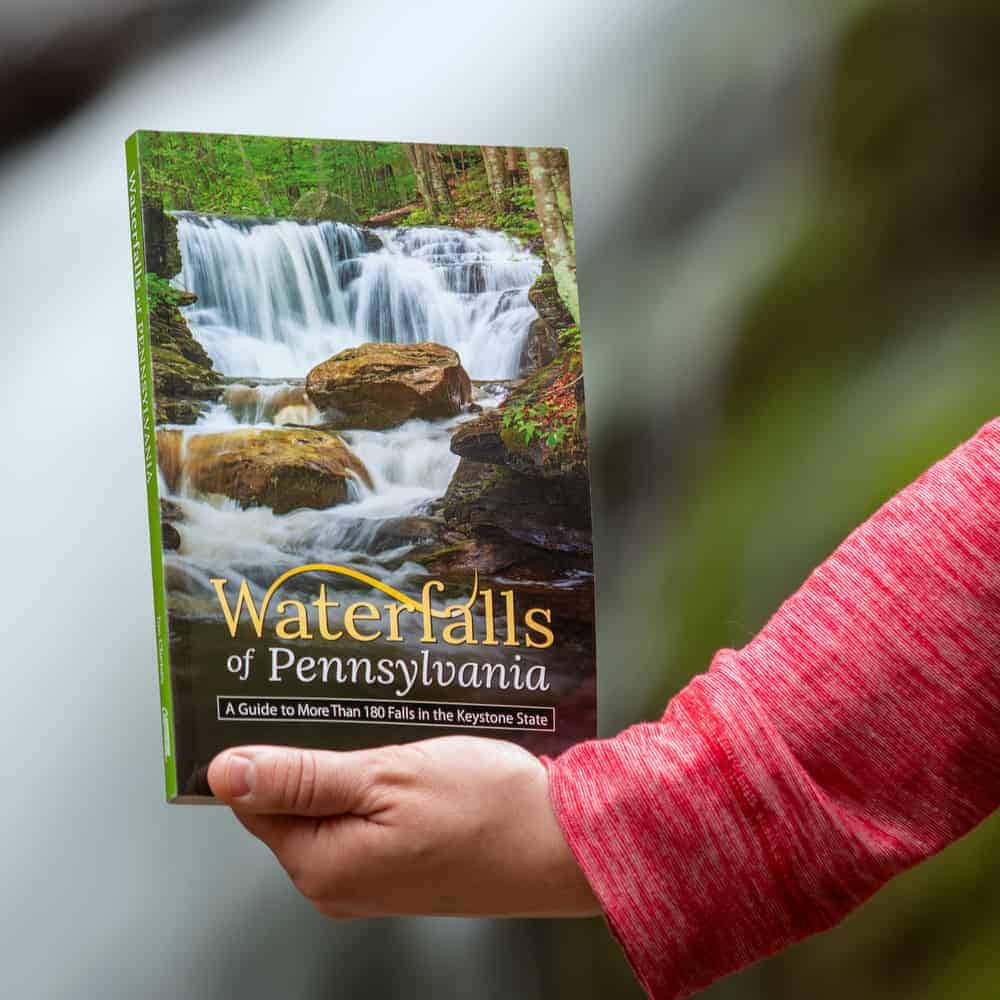 "Waterfalls of Pennsylvania" by Jim Cheney
If you love PA waterfalls, you won't want to miss this waterfall book from Jim Cheney, author of Uncovering PA, featuring more than 180 great waterfalls. Order it now on Bookshop.org or Amazon.
Aside from the small community opposite the overlook, the view from Brady's Bend Overlook is undeveloped as you look to the north over the small hills that line the Allegheny River. This is truly a spectacular vista.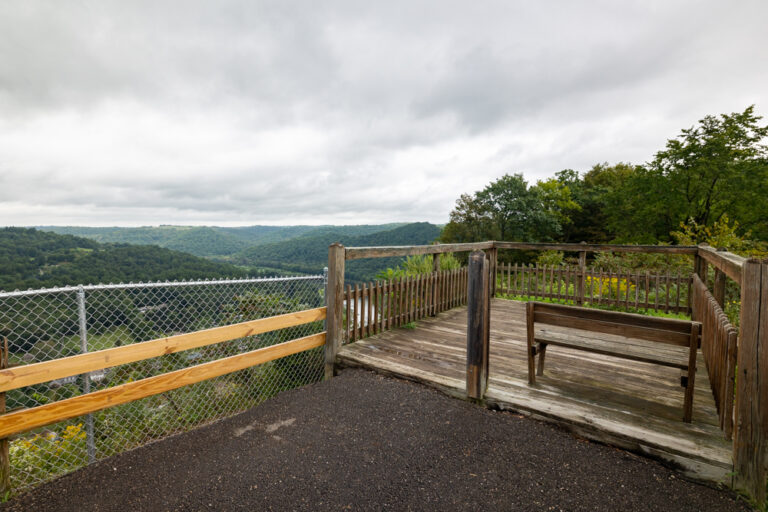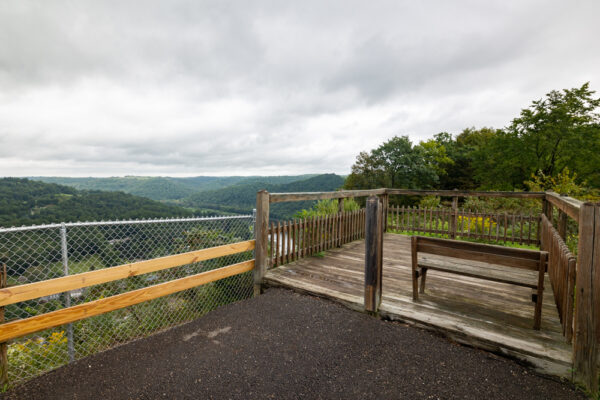 The entire overlook is about 100 yards long, and there are two wooden platforms set up to provide safe and easy access for those that want to get right to the edge of the hillside. There are also several picnic tables nearby that are nice places to relax for a bit, though they, unfortunately, don't have great views as they sit back a bit from the hillside.
Overall, Brady's Bend Overlook is a fantastic vista and one of the best roadside views in the western Pennsylvania Wilds. Whether you are simply passing through the area, planning to bike the fantastic Armstrong Trail (which is just below the overlook area), or just love great views, this is a spot not to miss.
Looking for more places to visit nearby? Check out Check's Radio Museum, the best breweries in Butler, and Cook Forest State Park.
[Click here for information on how to use the coordinates in this article to find your destination.]