Disclosure: This article may contain affiliate links. We will make a small commission from these links if you order something at no additional cost to you.
Throughout Pennsylvania, there are many fantastic vistas that provide amazing and unique views of the state.
During my travels, I've had a chance to visit many great scenic overlooks in PA and thought it was time to share a few of my favorites with you.
So, if you are looking for the best views in PA, here are a few in every corner of the state that are worth checking out.
Hyner View State Park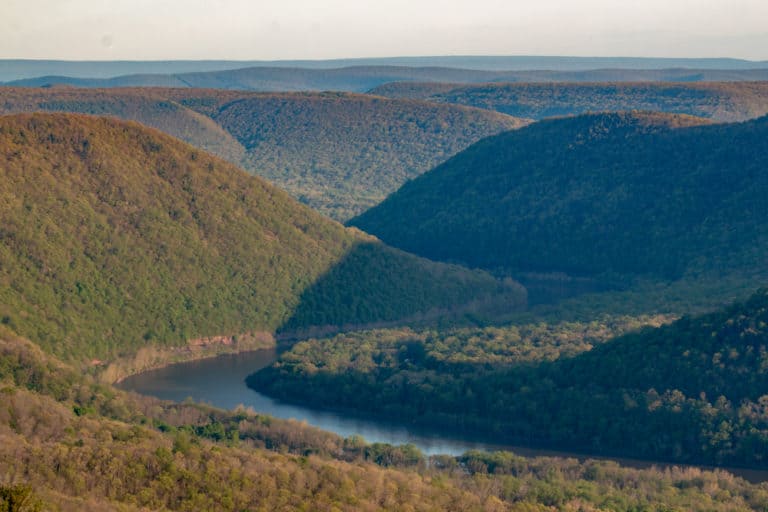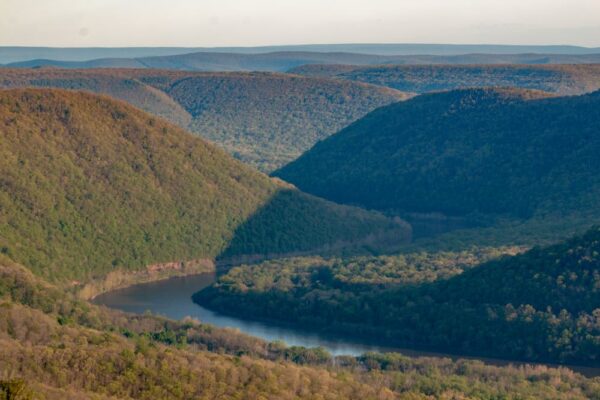 There are few better scenic overlooks in PA than the one at Hyner View State Park. In fact, the view is so good that an entire state park has been set up just so people can enjoy it.
Located in Clinton County, the vista at Hyner View State Park offers a great view over the West Branch of the Susquehanna River and the mountains that surround it. If you're lucky, you might even see hang gliders taking off from just below the overlook.
Hawn's Overlook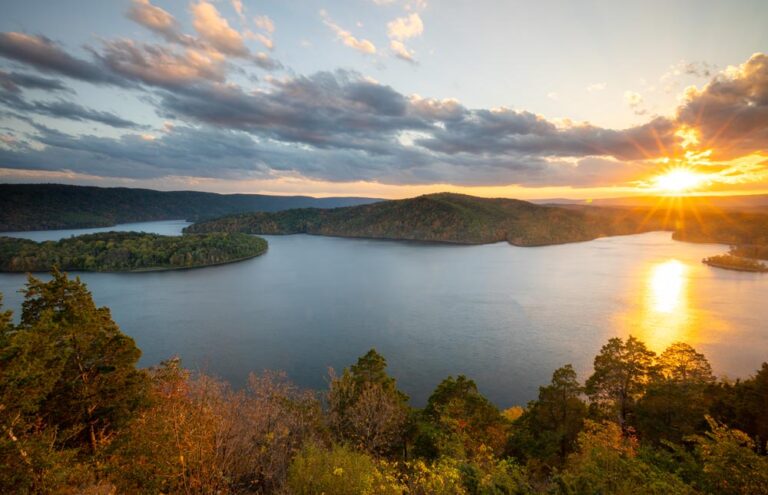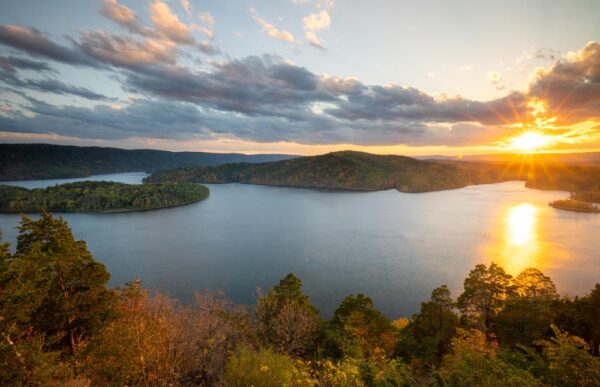 Located far above Raystown Lake in Huntingdon County, Hawn's Overlook offers an amazing view that is well worth seeing if you are exploring the area.
Hawn's Overlook is reached via a short and relatively easy hiking trail that starts at a separate overlook, Ridenour Overlook, which provides views of the dam on Raystown Lake. However, the view from Hawn's Overlook, which offers an unobstructed view over the lightly developed shoreline, is amazingly impressive and worth the short hike to reach.
Mount Washington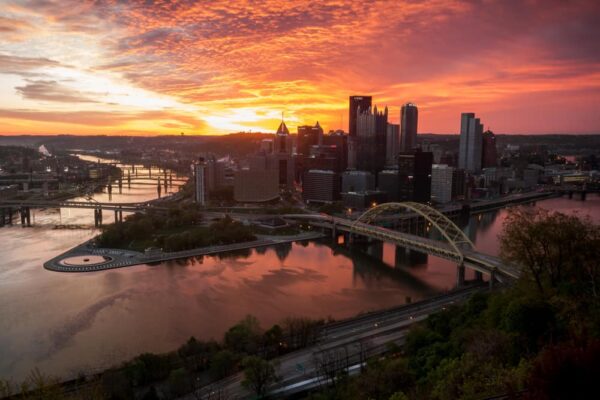 Located in the city of Pittsburgh, Mount Washington is the only totally urban vista on this list. However, what it lacks in relaxing nature, it more than makes up for with a seriously impressive view.
Mount Washington is separated from downtown Pittsburgh by the Monogahela River, and it's possible to drive or to take a historic funicular to the top. At the top of the hill, take time to walk the 1.25-mile Grandview Avenue and enjoy the amazing views of the city that is spread out before you.
Barbour Rock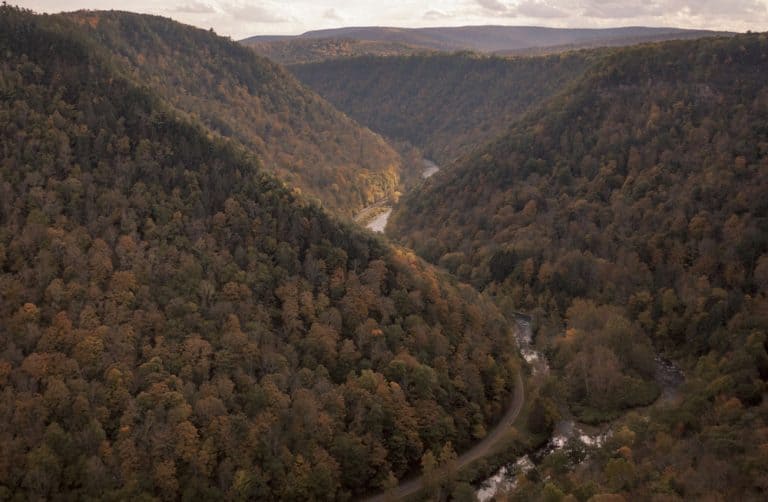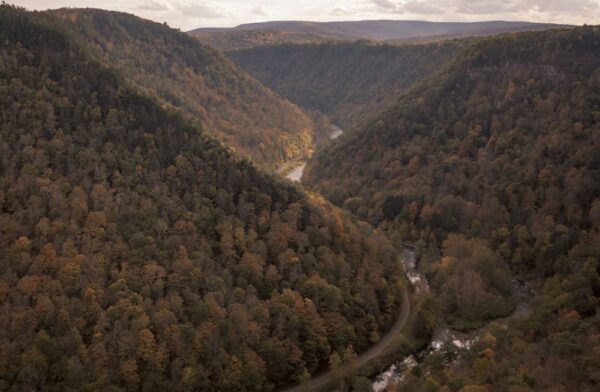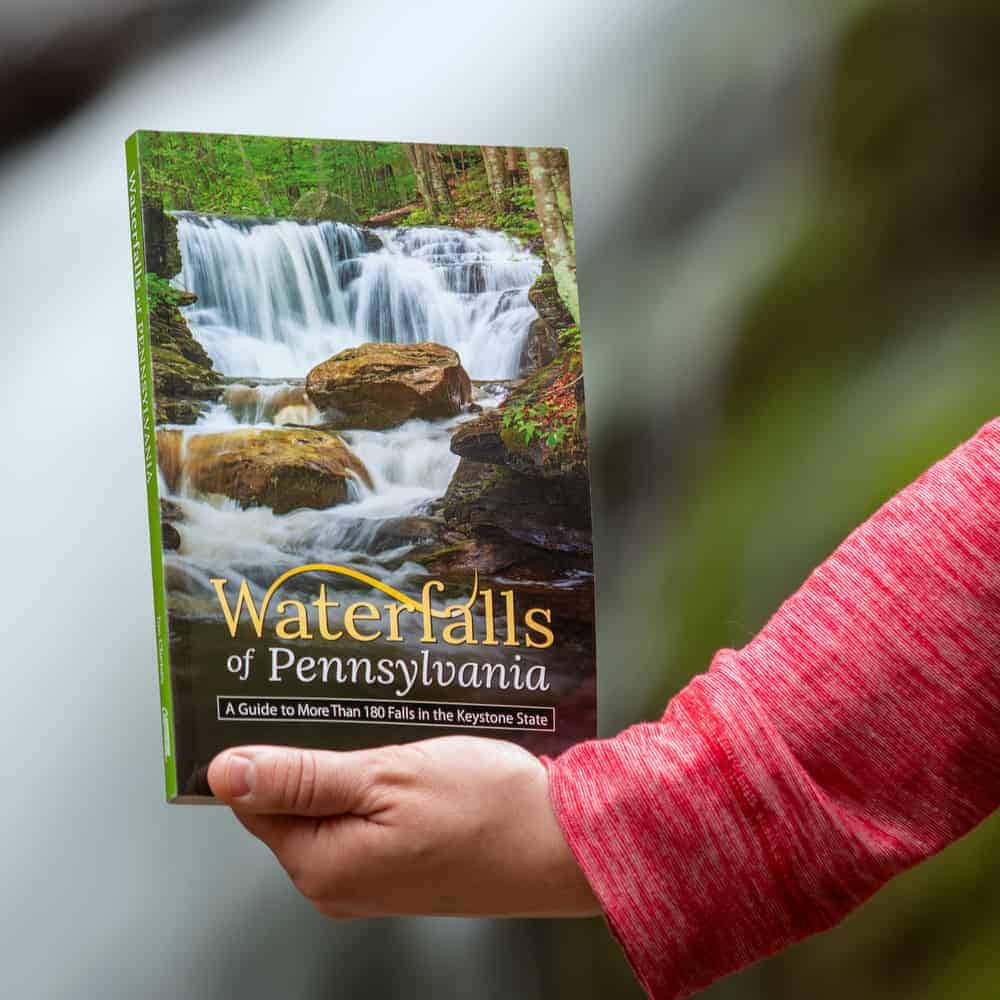 "Waterfalls of Pennsylvania" by Jim Cheney
If you love PA waterfalls, you won't want to miss this waterfall book from Jim Cheney, author of Uncovering PA, featuring more than 180 great waterfalls. Order it now on Bookshop.org or Amazon.
The Pennsylvania Grand Canyon is an amazing destination for outdoor lovers, and there are many great vistas from which to view this impressive site. Of the relatively easy to access vistas, my favorite is the view from Barbour Rock.
Barbour Rock is located at the end of a half-mile handicapped-accessible trail. From this spot, you have a clear view looking down the forested hillsides of the gorge. The scope of the vista is what truly makes this one of the best views in PA as it seems like you can see for miles in almost every direction.
Colerain Road Overlook

I've visited some incredible roadside vistas in PA, but I don't think any are more impressive than the view from Colerain Road Overlook in Rothrock State Forest.
Located 1,100 feet above the valley floor and roughly halfway between Huntingdon and State College, the view here is incredibly expansive and can be enjoyed without even leaving your car.
Of course, you'll probably want to get out of your car and enjoy this beautiful spot.
Hawk Rock Overlook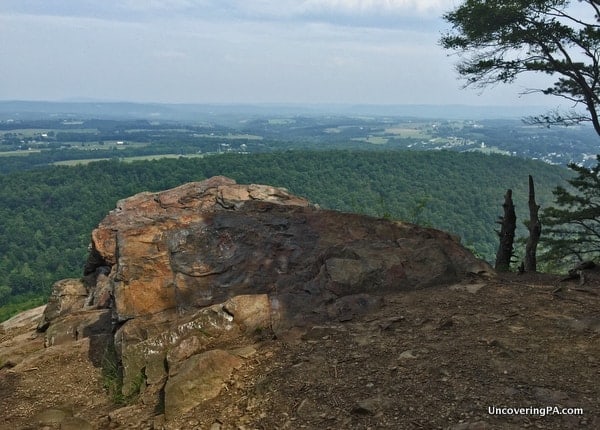 Hawk Rock Overlook is a great spot along the Appalachian Trail a short distance north of Harrisburg.
From the community of Duncannon, the Appalachian Trail winds steeply up the hillside for a mile. At the top of the ridge, Hawk Rock offers an expansive view over the town far below, the Susquehanna River, and the Juniata River.
Nearby, there's another great vista that provides even more great views.
Chimney Rocks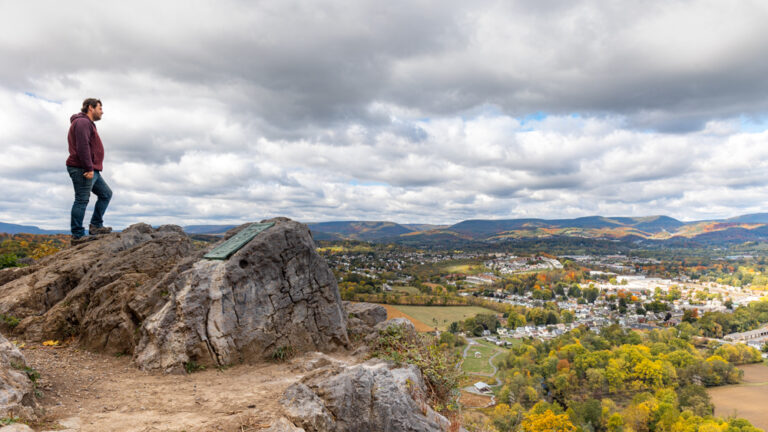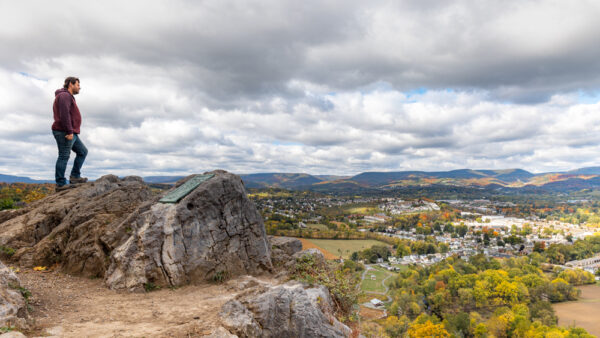 Located in Hollidaysburg, Chimney Rocks is easily among the most beautiful scenic overlooks in PA.
Depending on your preferences, you can simply walk across a maintained path to a great vista or you can continue along the steep and narrow trail for even more views further up the hillside.
From each of these vistas, you can see very nice views of downtown Hollidaysburg and the area surrounding it.
Before leaving the area, make sure to drive into town and look back at the cliffs to see why this is known as Chimney Rocks.
Brady's Bend Overlook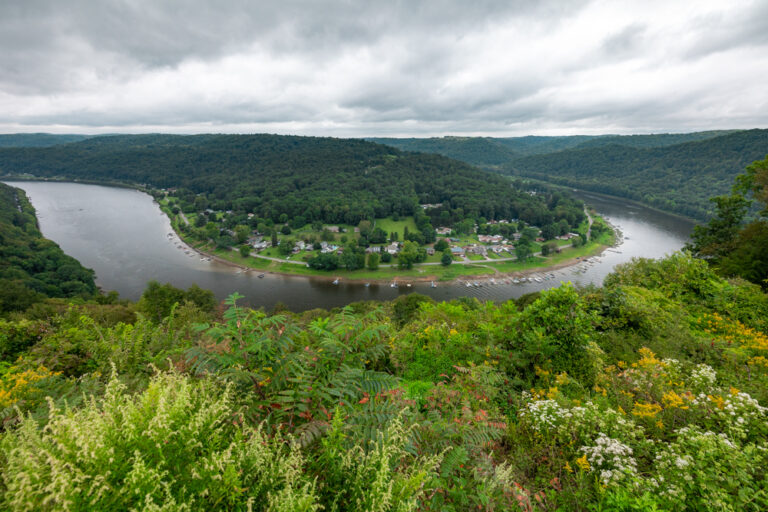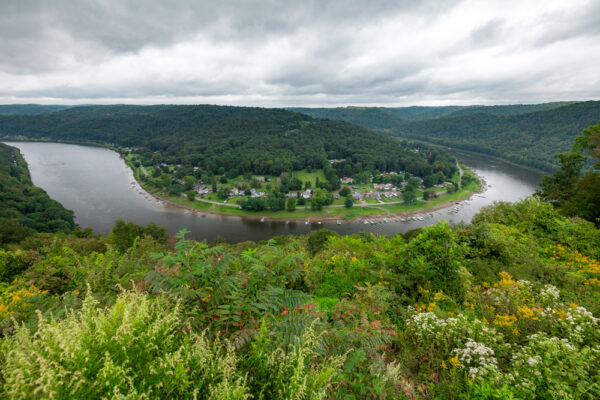 Located 500 feet above the Allegheny River in southwestern Clarion County, you'll find Brady's Bend Overlook.
This roadside overlook offers some of the best views in PA as you look to the north over a 180-degree turn in the river far below. Other than a small community of homes along the riverfront, this view is unspoiled and, on a clear day, it is said you can see for eight miles along the twists and turns of the Allegheny River.
There is ample parking here and even a few picnic tables for those wanting to rest for a bit.
Pinnacle Overlook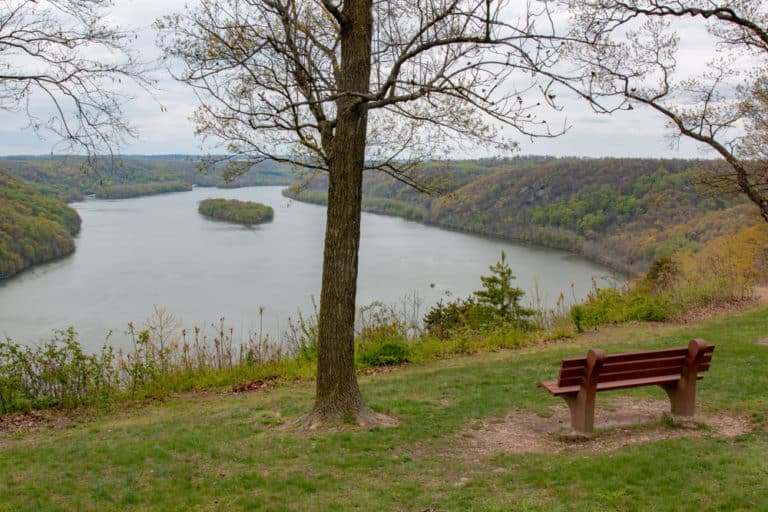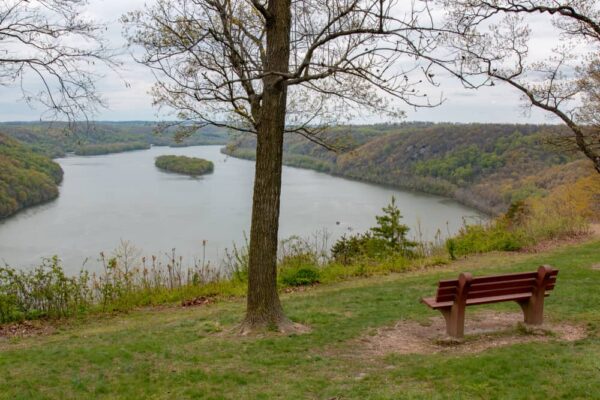 Pinnacle Overlook in southern Lancaster County is one of the best spots to view the Susquehanna River.
Sitting roughly 400 feet above the river, the views here are primarily to the north and include a nice look at Duncan Island in the middle of the Susquehanna.
Parking is only a short and flat walk from the main vista, but there are plenty of spots from which you can enjoy the views near the primary overlook. For those looking to go for a hike, the 60-mile Conestoga Trail runs right through the overlook and heads down towards Kelly Run and Tucquan Glen
High Knob Overlook


There are many great views in Pennsylvania's Loyalsock State Forest, but few can compete with High Knob Overlook.
Located in Sullivan County, this overlook offers incredible views over the state forest and this sparsely populated corner of northeastern PA. This vista can be reached via the Loyalsock Trail or you can drive to within steps of this great view.
Milford Knob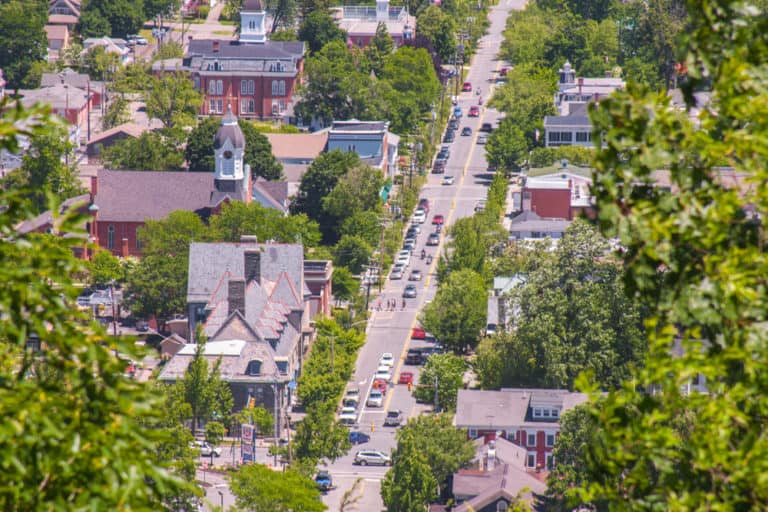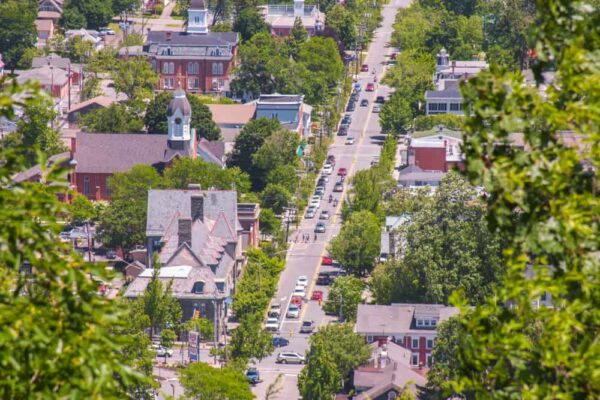 Milford Knob is one of several overlooks in the Cliff Park Trail System in the northern Delaware Water Gap National Recreation Area.
While the other overlooks nearby offer great views of the Delaware Valley, Milford Knob features an impressive overview of downtown Milford in addition to the northern reaches of the water gap.
This vista can be reached via a short, but steep hike from near Milford. You can also hike additional trails in the area to go past several other fantastic overlooks and a beautiful waterfall.
Big Mountain Overlook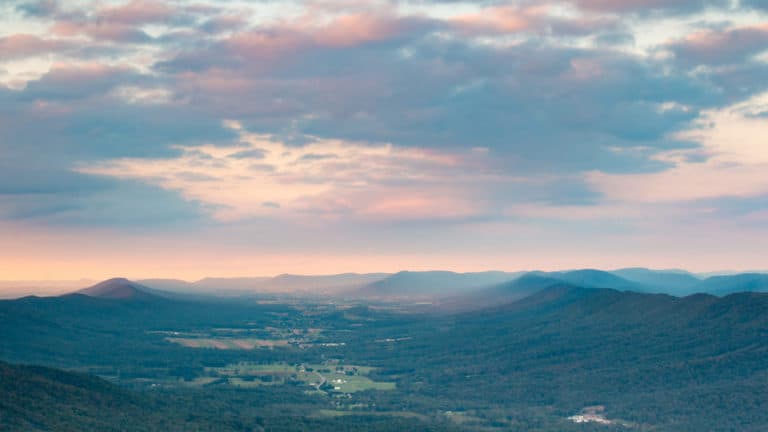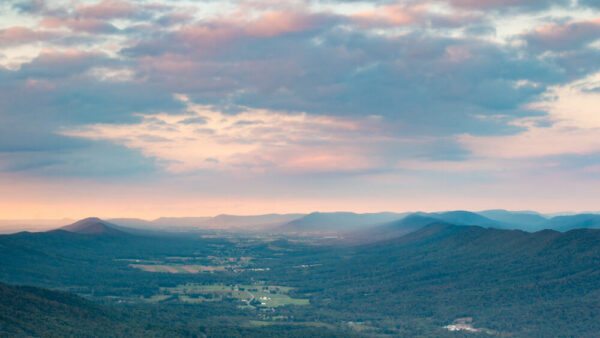 Of all the scenic overlooks in PA that I've visited, none may have a more expansive view than the one at Big Mountain Overlook.
Located in Buchanan State Forest on the dividing line between Franklin and Fulton Counties near McConnellsburg, Big Mountain Overlook offers sweeping views of rural Franklin County and Tuscarora Mountain. While there are hiking trails that crisscross the mountain, most opt to drive right up to this impressive vista via Tower Road.
Blue Knob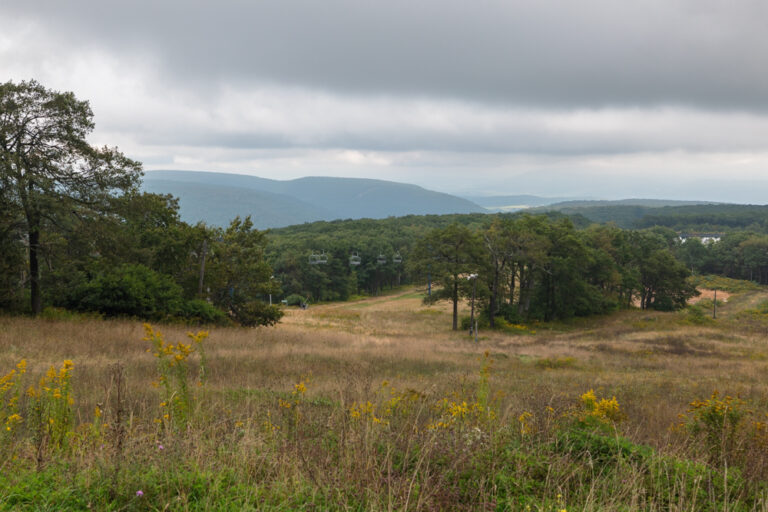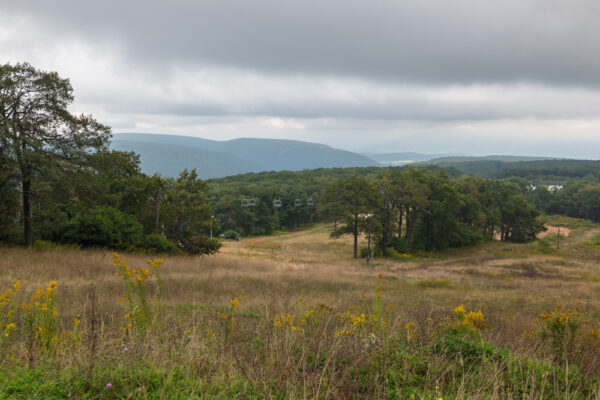 Blue Knob is located in Bedford County's Blue Knob State Park and is the second-highest point in the state. It is also the highest-elevation vista in PA since there are no views from the top of the highest point in PA, Mount Davis, without climbing the fire tower.
The views from Blue Knob are to the north and the east and overlook the incredibly rolling hills in the northern Allegheny Mountains. If you look closely, you might be able to see Altoona peaking out from between the mountains.
Blue Knob also serves as a ski resort, which means that you can visit this spot for some wintertime fun as well.
Tioga Reservoir Overlook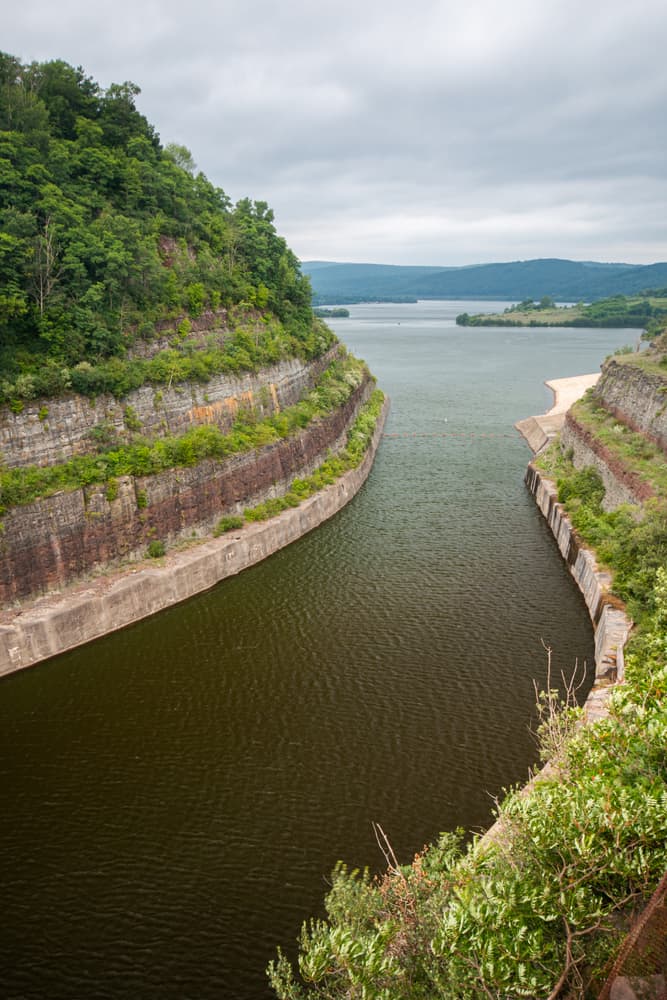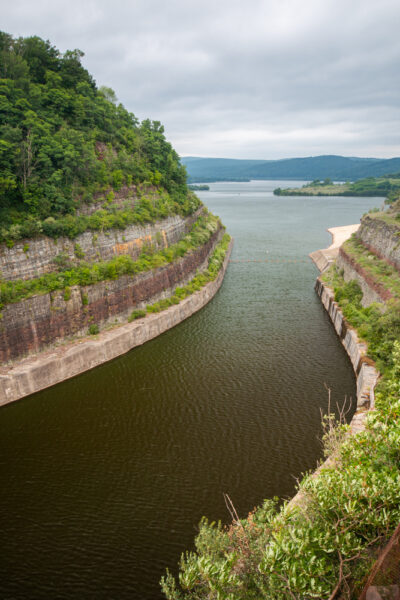 Tioga Reservoir Overlook is one of the most unique vistas in PA. That's because instead of a grand view over mountains or communities, this view actually overlooks two lakes and the channel cut between them.
These two lakes serve as reservoirs for the local area. The channel between them, which is the primary view from this spot, serves as an outlet for excess water to move between the lakes.
Jo Hays Vista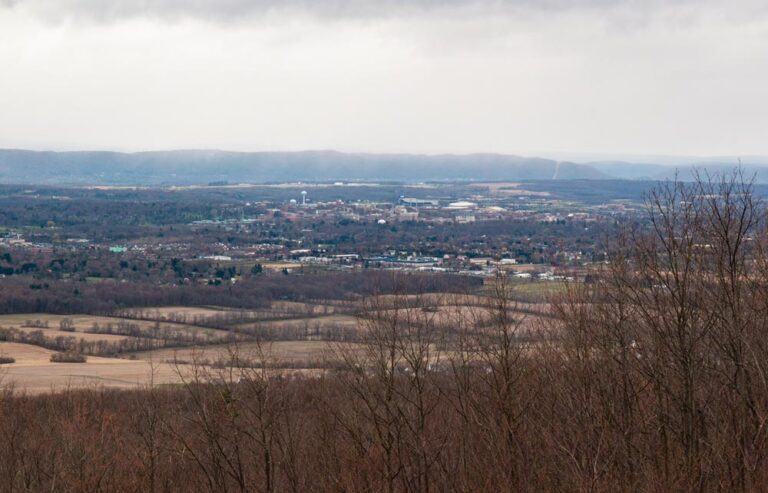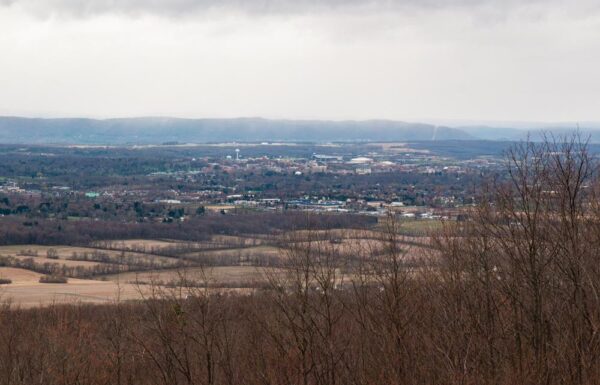 Jo Hays Vista is located along Route 26 on the border between Centre County and Huntingdon County, PA. It is part of Rothrock State Forest.
The views here look towards downtown State College, and this is among the best places from which to see Beaver Stadium, the football field for Penn State University.
For those that want to learn more about the area, there are several information signs at this roadside vista.
Rimrock Overlook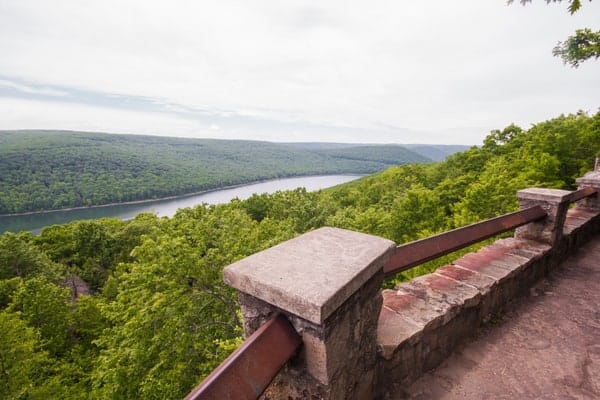 Rimrock Overlook is located within the Allegheny National Forest in Warren County, PA.
From this spot, there is a commanding view over the Allegheny Reservoir far below. The overlook here was built by the Civilian Conservation Corps in the 1930s and has a nice historic and natural look to it that compliments the landscape.
For those that enjoy exploring, follow the trail through a narrow chasm in the cliffs to the base of the rocks for even more adventure.
Baughman Rock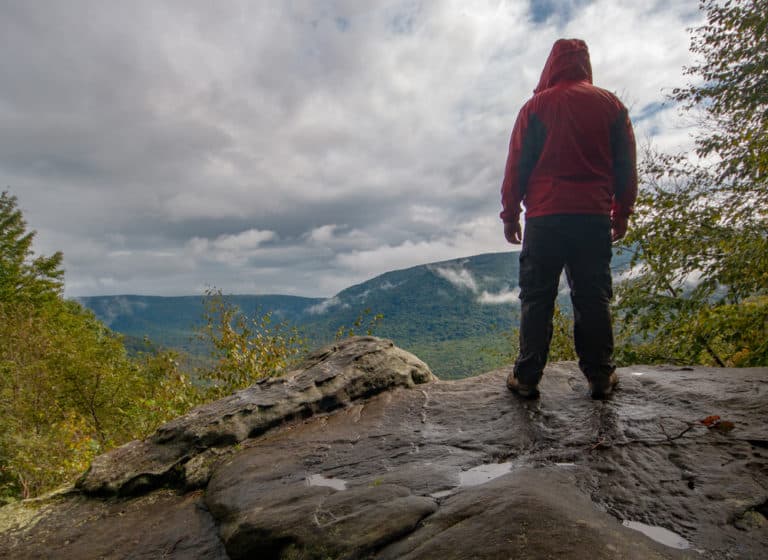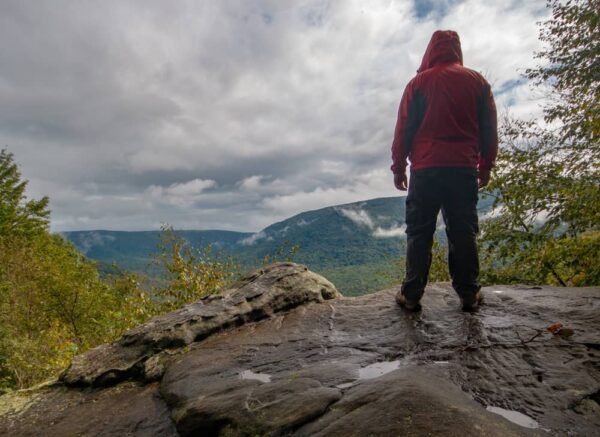 Ohiopyle State Park in southwestern PA is known more for its waterfalls and white water rafting than for its vistas. However, the impressive Baughman Rock is one overlook that is definitely worthy of inclusion on this list.
Baughman Rock is another overlook that can be seen either via a hiking trail or from a short walk after parking in the nearby parking lot.
From the viewing area, which is located on the edge of a slanted rock outcropping, there are excellent views across the Youghiogheny River Valley. This is an especially great spot to visit for sunrise.
Indian Lookout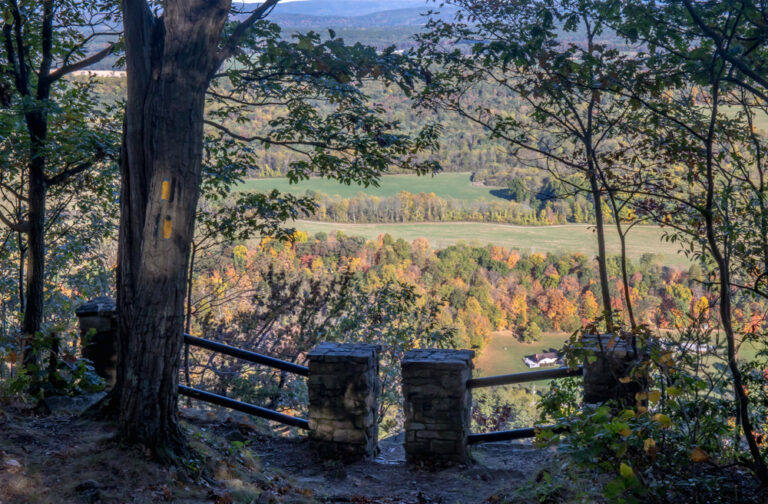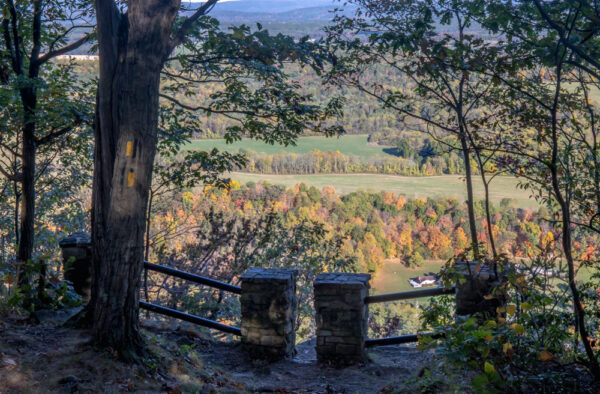 Indian Lookout is located in Huntingdon County's Rothrock State Forest.
This overlook offers great views of the Spruce Creek Valley and features a nearly 180-degree sightline. An old stone-pillar fence adds a lot of beauty to the overlook itself.
Indian Lookout is located along the Yellow Arrow Trail and can be reached either via a challenging hike from the valley floor or a fairly easy walk from the top of the hill.
Band Rock Vista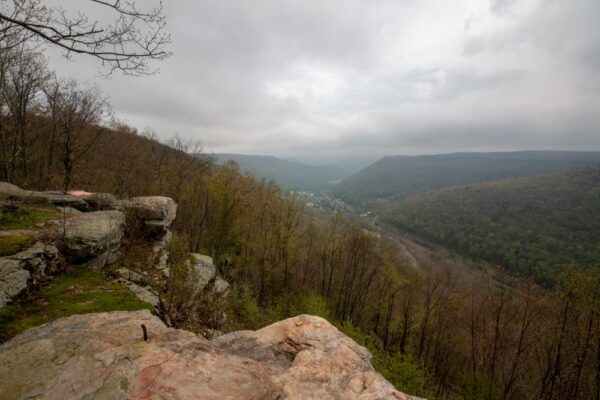 Band Rock Vista is located in the northern reaches of Loyalsock State Forest in Lycoming County, PA in an area known as the McIntyre Wild Area.
It is said that in years past, musicians would ascend to this vista and play music, filling the entire valley with their wondrous sounds. This is what gives the rock outcropping here its name.
Today, this is an isolated part of the forest that can be reached via a narrow and bumpy road (only high-clearance vehicles recommended) followed by an easy walk along a part of the road that is too rutted for nearly all vehicles.
From Band Rock Vista, there is a commanding view to the south over the Lycoming Creek Valley.
Boone Run Vista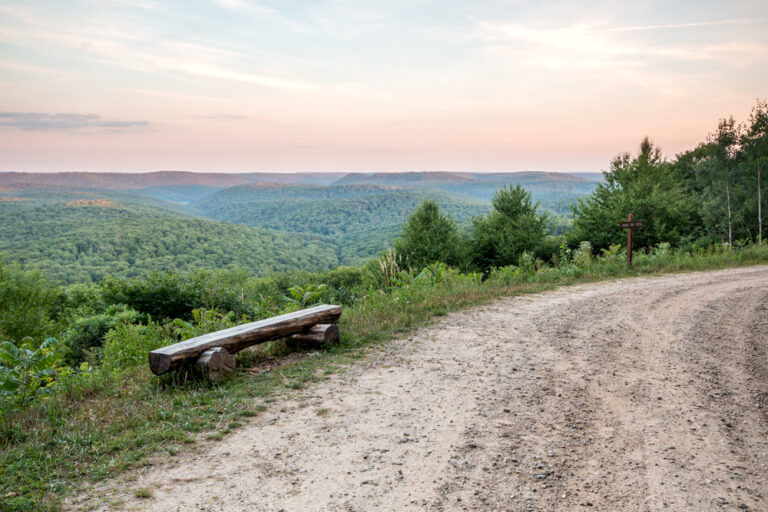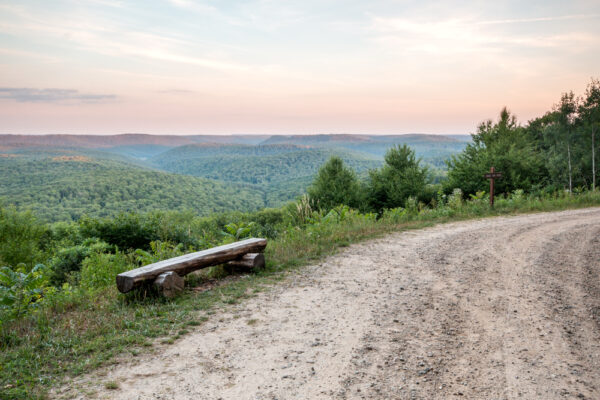 Located in Susquehannock State Forest, only a short drive from Cherry Springs State Park, you'll find Boone Run Vista.
This scenic overlook in PA's Potter County provides incredible views looking east. At this narrow roadside vista, there is little more than a sign and a single wooden bench. However, that's really all you need as the star here is the incredible view.
And, speaking of stars, this would also be a great spot to check out the nighttime sky if you are looking for somewhere other than Cherry Springs State Park to visit.
Shikellamy State Park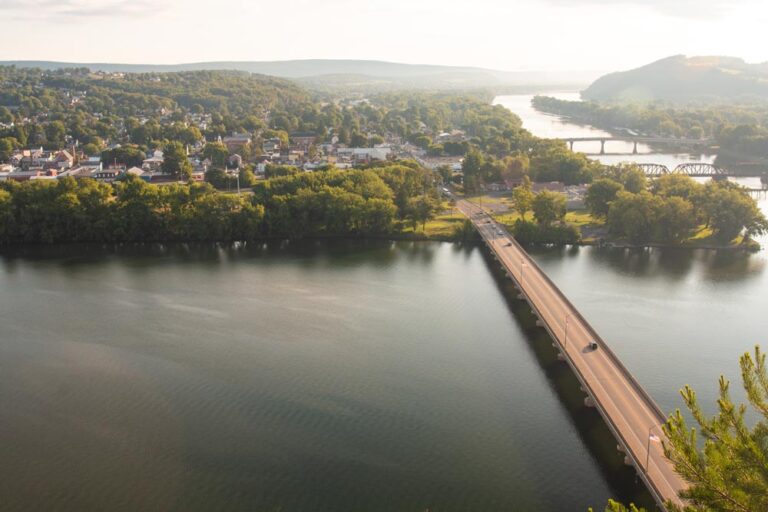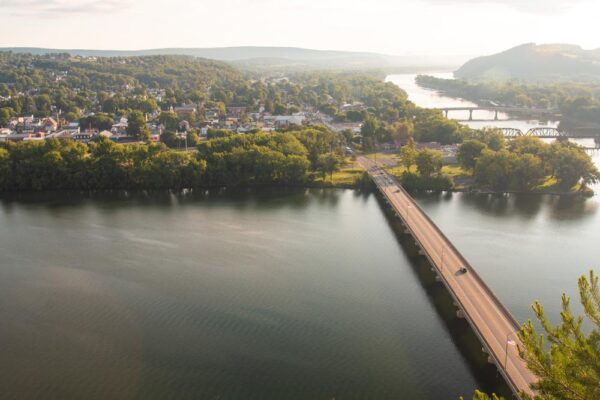 Shikellamy State Park is a small park located just across the Susquehanna River from Northumberland, PA.
This spot is most popular with locals who came here to enjoy a picnic or spend a bit of time outdoors. However, for locals and travelers alike, the views from this park are worth taking a few minutes to see.
There isn't just one vista in the park as there are great views for nearly the entire length of the park's edge overlooking the river. There are even a few spots here where you can enjoy a nice meal at a picnic table with a great view.
Hawk Mountain Sanctuary
Hawk Moutain Sanctuary is the only privately-owned spot on this list, but the view from the peak of the mountain is worthy of inclusion on this list.
Hawk Mountain is best known for its amazing raptor viewing during the fall migration, but the area offers great views throughout the year. While there are several overlooks at the sanctuary, including one that is handicapped accessible, the most popular is the North Overlook.
This spot offers an incredible 200-degree view of the valley far below and is located along a challenging but fun hiking trail.
Marie Antoinette Overlook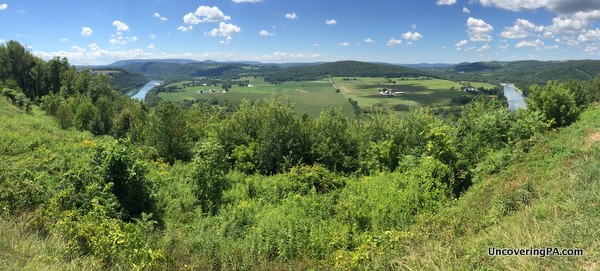 Located near Wyalusing in northeastern Pennsylvania, the Marie Antoinette Overlook is another spot that offers a great view over the Susquehanna River.
The name may jump out to some as odd, but the vista overlooks an area of land that was known as French Azilum. This spot served as a refuge for French aristocrats fleeing the French Revolution, and it's said that Marie Antoinette would have come here had she escaped the guillotine.
This overlook features a rather unique series of stone structures that were built in the 1930s. These add even more interesting history to this spot.
Kennerdell Overlook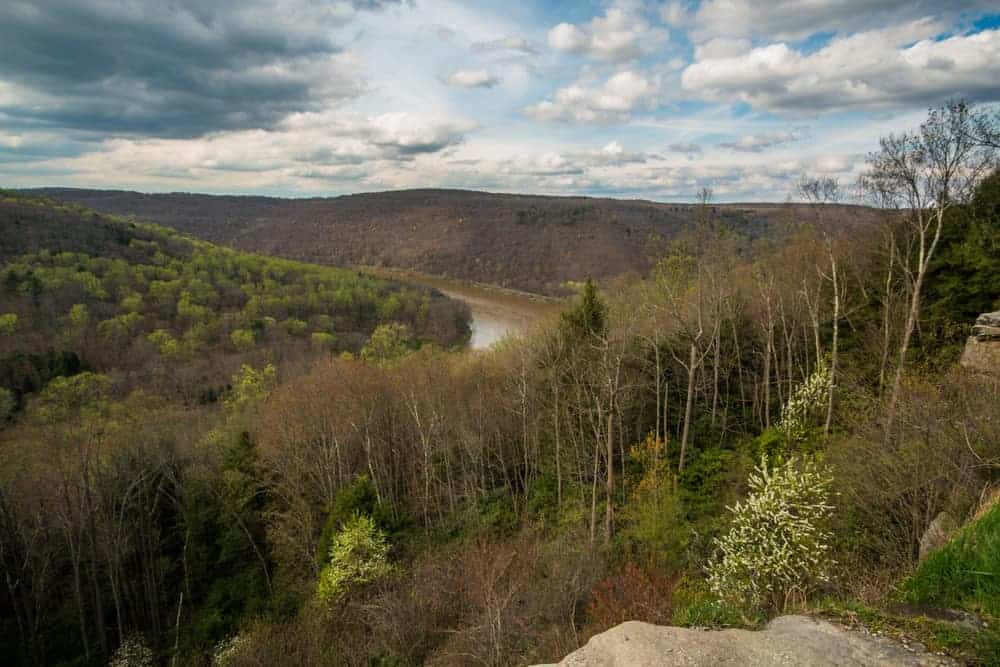 The Kennerdell Overlook in Venango County provides a fantastic view of the Allegheny River as it makes its way through northwestern Pennsylvania. If you are visiting this corner of the state, this is a spot you won't want to miss.
This overlook can be driven to and features signage that offers a bit of history about the area. Below the lookout, the Allegheny River snakes its way through Clear Creek State Forest. While there's really only one view here, it's quite an impressive one.
Jacks Mountain Overlook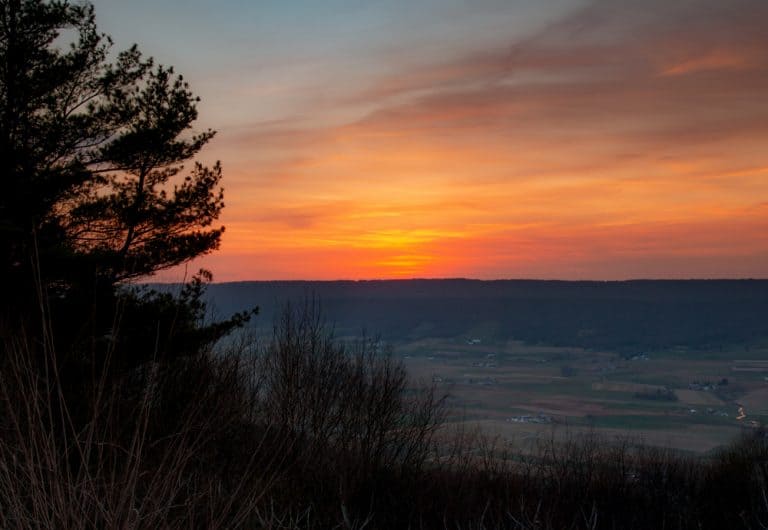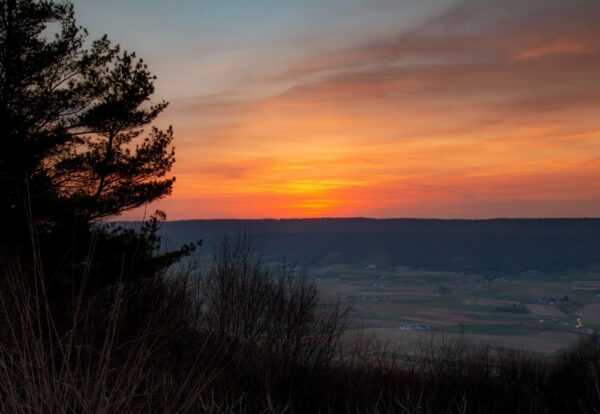 Jacks Mountain Overlook is located in Mifflin County and offers a commanding view over the Kishacoquillas Valley, known locally as Big Valley.
This overlook is located adjacent to a busy road, so it's not always the most peaceful. However, the views that it provides are well worth taking the time to see, especially at sunset. If you are lucky, you might even enjoy the lookout with some of the local Amish in their unique yellow buggies.
You can also (very carefully) cross Wills Road and check out a second overlook on the opposite side of the road.
West End Overlook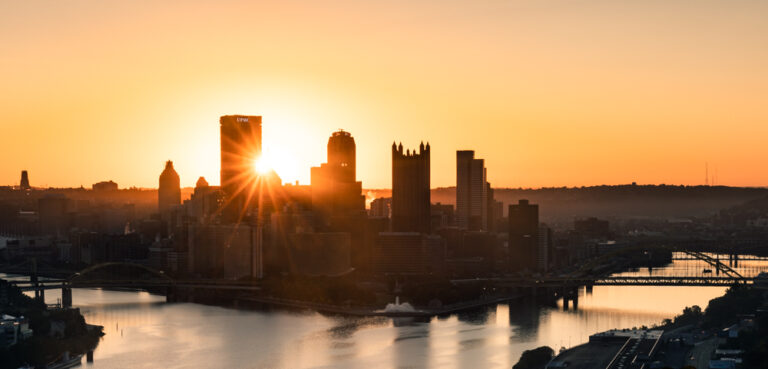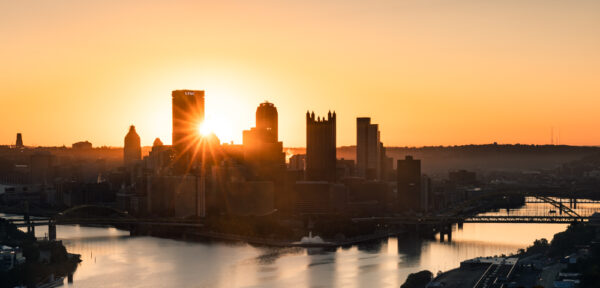 While it's not as popular as Mount Washington, the views from West End Overlook in Pittsburgh are just as good.
From this vantage point, you have a view looking due east over the Ohio River and towards the Point and downtown Pittsburgh. The views here make it an excellent spot for photos of Pittsburgh at sunrise and sunset, as well as a nice spot from which to view fireworks.
For those that just want to relax and enjoy the view, there is a nice park here that has room to sit down and rest for a spell.
Leonard Harrison State Park Overlook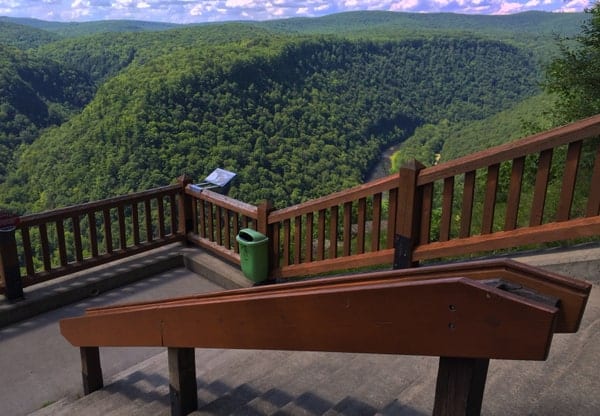 Leonard Harrison State Park is a great spot to go hiking, but its also home to a great overlook that is accessible to anyone.
Located just behind the park's building, this vista provides incredible views of the northern portion of the PA Grand Canyon looking to the west. There are a variety of viewpoints here, and even a few viewfinders for those that want a closer look.
In my opinion, the best views here can be found at the end of the overlook, near the start of the Overlook Trail. Here, the viewing area juts out a bit over the cliffs and features even better views to the north and the south.
Flagstaff Mountain Park Overlook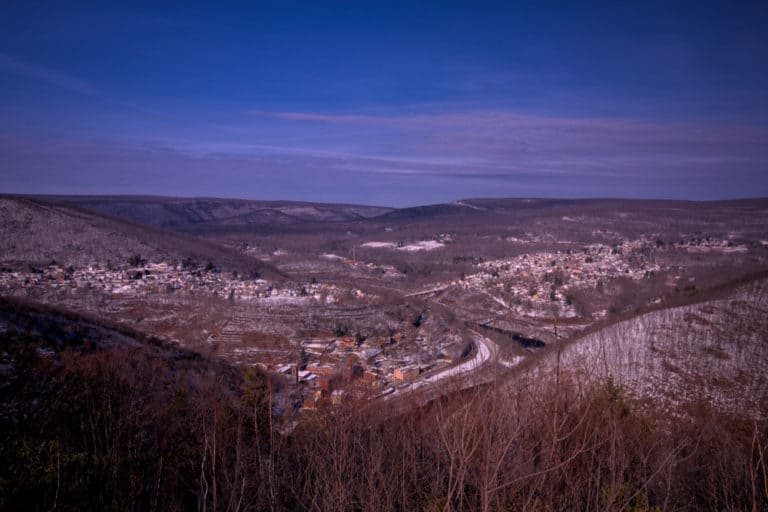 Flagstaff Mountain Park Overlook is located high above the Poconos community of Jim Thorpe.
From this vista, which is just a few steps from a parking area, you can see nearly all of this charming community, as well as the forested hillsides that surround it. You can also see the Lehigh River far below and the valleys that it has carved as it snakes its way through the Pocono Mountains.
Lebo Vista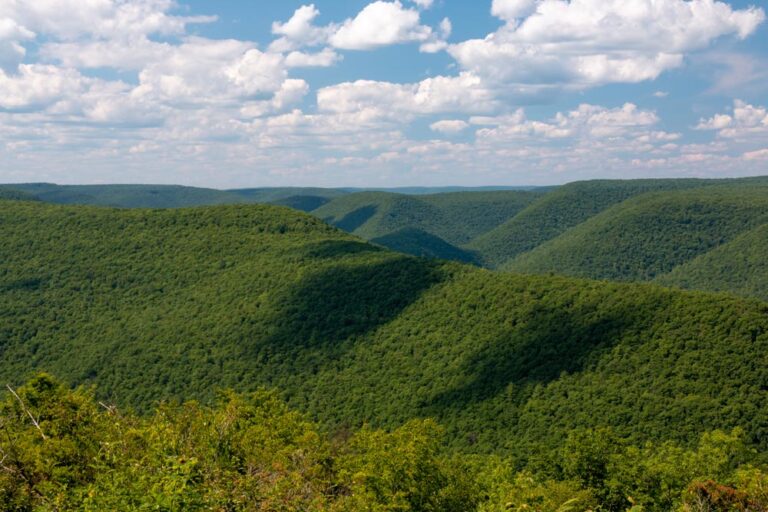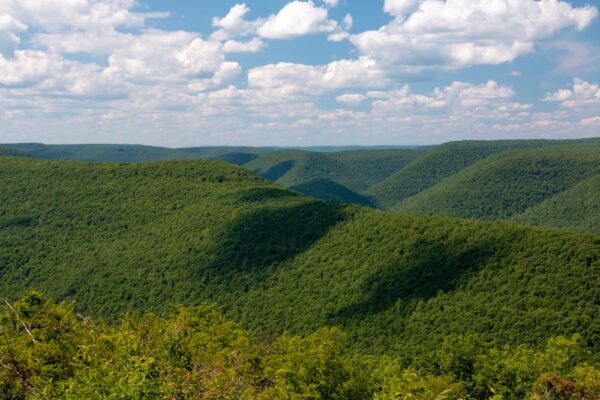 Lebo Vista is one of the most incredible of the easy-to-reach spots overlooking the PA Grand Canyon. Located near a bend at the end of the drivable portion of Lebo Vista Road, this spot provides incredible views of this corner of Lycoming County and nearby Tioga County.
While there are great 180-degree views here, spots are a bit overgrown. Because of this, the best views are looking at the peaks and valleys to the north and northeast.
And, if you look to the east, you can see Pine Creek and the community of Cammal, PA 1,300 feet below you.
Chickies Rock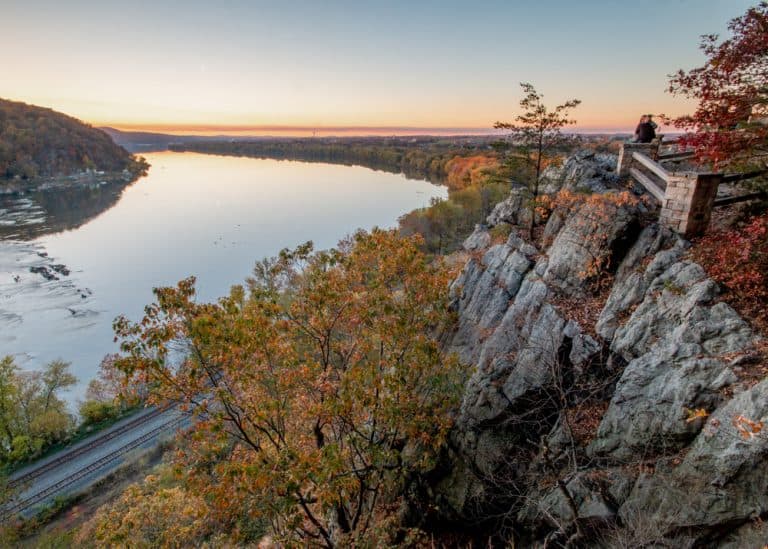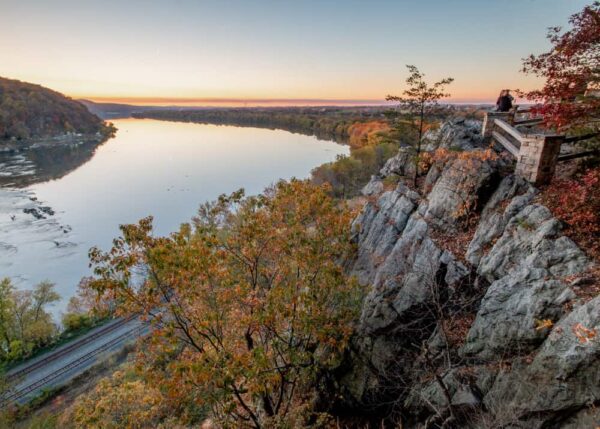 Chickies Rock is another spot where you can enjoy views of the Susquehanna River from Lancaster County.
Located just north of Columbia, PA, this rocky outcropping provides commanding views both up and down the river, as well as into York County on the opposite side of the water.
This spot has a lot of interesting history including the remains of an old trolley line that once served an amusement park that was located on this hillside. The outcropping was also used as a Union Army lookout during the Civil War.
Tidioute Overlook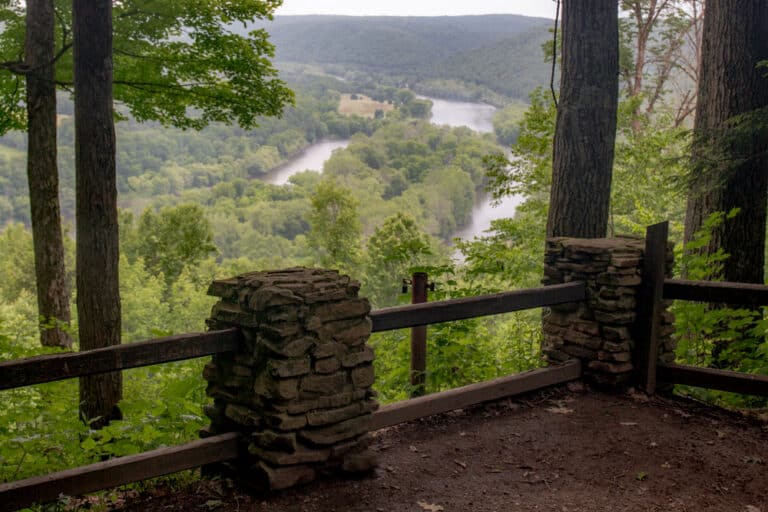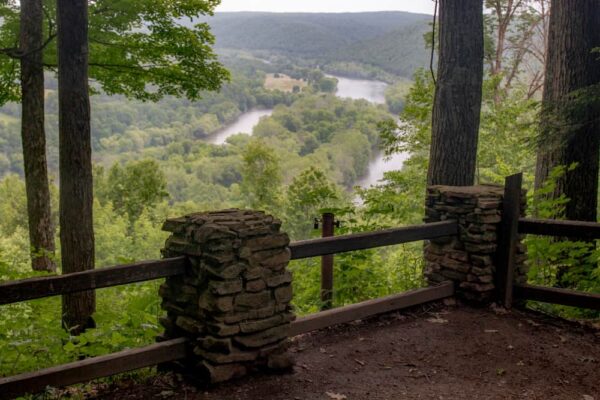 Located in southern Warren County, there are actually two views at Tidioute Overlook: one overlooking the Allegheny River and one overlooking the community of Tidioute.
Both of these views are accessible via a short and flat trail along the ridgeline.
While the River Overlook is a bit overgrown, the Town Overlook provides nice views over the community of Tidioute far below. There is even a bench and an information sign here for those that want to enjoy the view for a few minutes.
Canyon Vista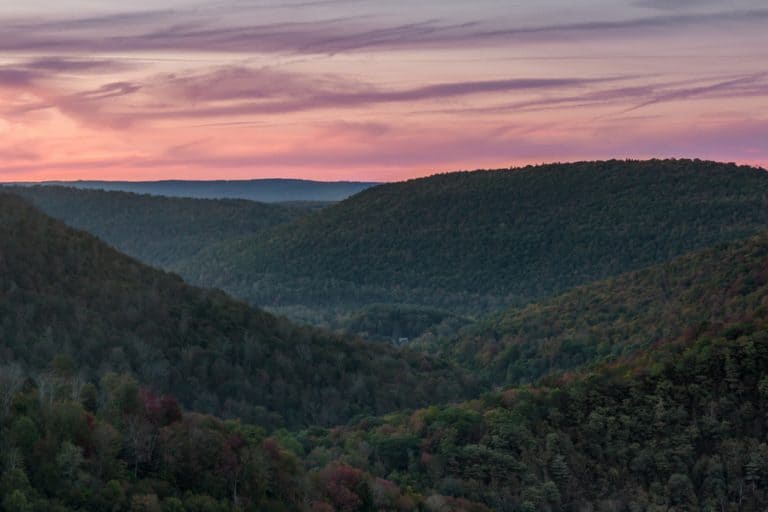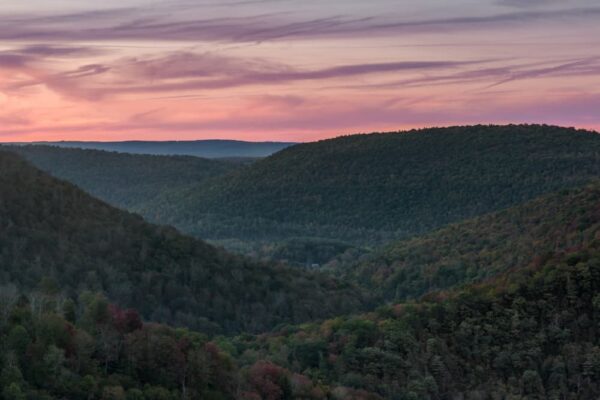 Canyon Vista is located in Sullivan County's Worlds End State Park. This vista can be accessed either via the Canyon Vista Trail or from a parking lot located steps from this great overlook. This parking lot is also the access point for the beautiful Rock Garden and the Cold Run Trail.
From here, there are suburb views of the undulating hillsides of PA's Endless Mountains, which are especially great at sunset.
Wyalusing Rocks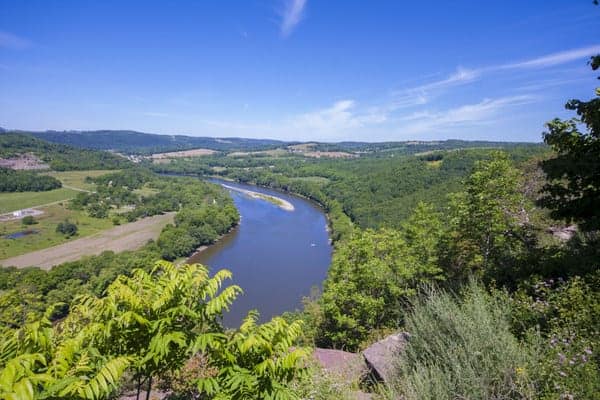 Wyalusing Rocks is one of several beautiful scenic overlooks in Pennsylvania's Bradford County. Located along the historic Route 6, this spot offers incredible views over the Susquehanna River only a short distance from Marie Antoinette Overlook.
The main difference here is that this area lacks a significant amount of infrastructure, so the rocks here don't have the railings and easy access trails that you'll find at other overlooks. However, this also gives you a chance to better enjoy the natural beauty of this spot.
Is one of your favorite scenic overlooks in PA not mentioned here? Let us know in the comments below.
Looking for more great things to do in PA? Check out our favorite places to enjoy fall foliage in PA, the best state parks for waterfall lovers, and our Pennsylvania Bucket List.