Disclosure: This article may contain affiliate links. We will make a small commission from these links if you order something at no additional cost to you.
I often travel long distances across Pennsylvania, and I always love finding spots close to the highway to explore and stretch my legs on my journey. This is what led me to explore Panther Rocks in Moshannon State Forest.
Panther Rocks is located in Clearfield County less than four miles off of Exit 111 on I-80 and requires only a short hike to reach. That makes this both an ideal stop for those traveling through the county and a nice option for those exploring the many fun things to do in and around Clearfield, PA.
Panther Rocks is a small rock outcropping located in an isolated but easy-to-reach corner of Moshannon State Forest (not to be confused with nearby Black Moshannon State Park in Centre County). It is near both S.B. Elliot State Park and Parker Dam State Park, meaning that there are many other nearby options for outdoor exploration.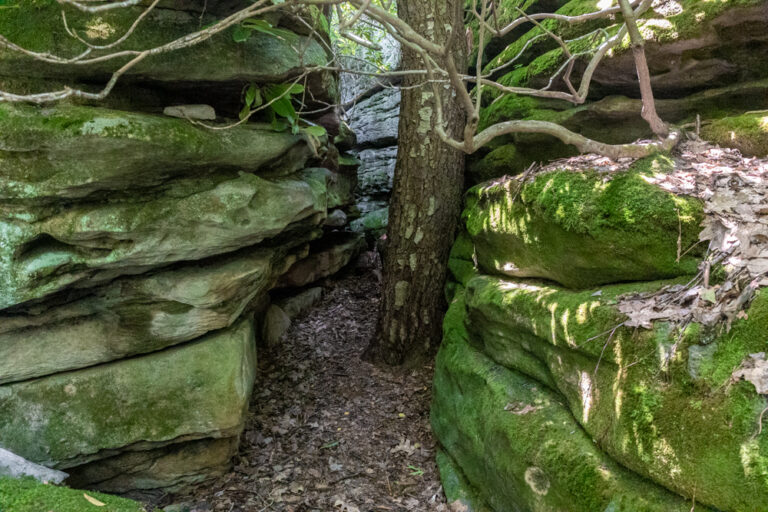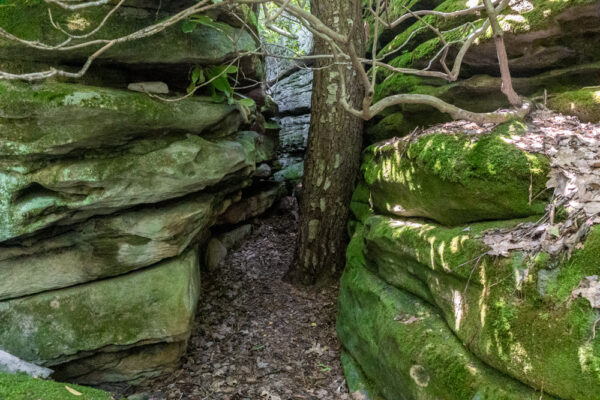 While it's much smaller than the nearby Bilger's Rocks, Panther Rocks is still a fun place to explore.
At this spot, you'll find several giant boulders that are made up of sandstone blocks. These blocks have been eroded over hundreds of millions of years, creating large gaps in the rocks where visitors can walk and explore.
Here's everything you need to know to visit Panther Rocks in Moshannon State Forest.
Where to Park for Panther Rocks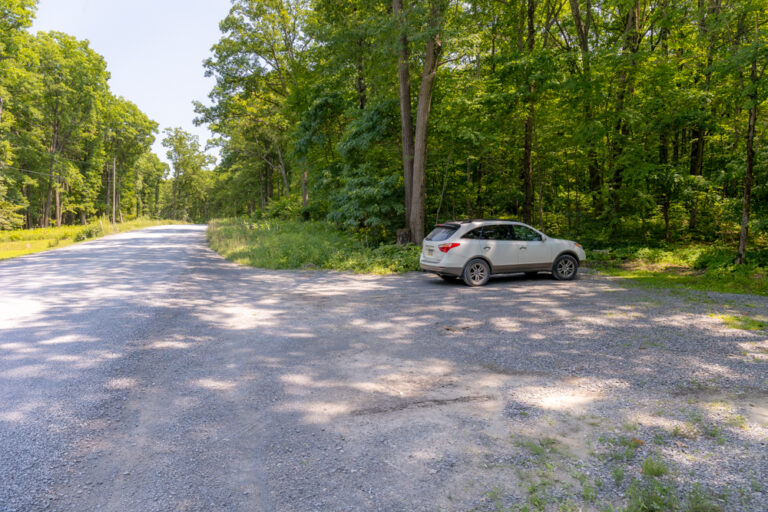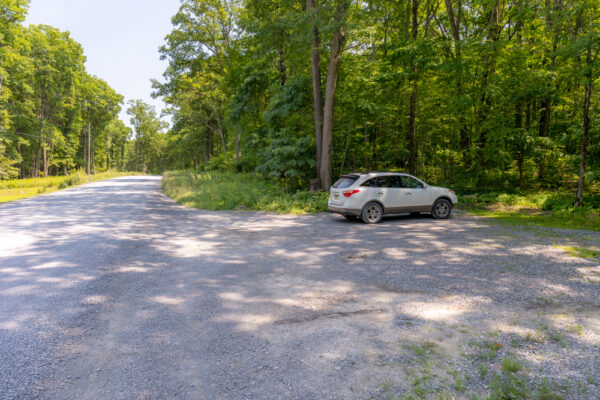 The parking area for Panther Rocks is located along 4 Mile Road, a few miles north of Interstate 80 in Clearfield County's Moshannon State Forest. This dirt road is in good condition and fairly easy to drive, but it is likely unmaintained during the winter months.
The parking area can be found exactly three miles from Route 153 at the following coordinates: 41.143396, -78.490096.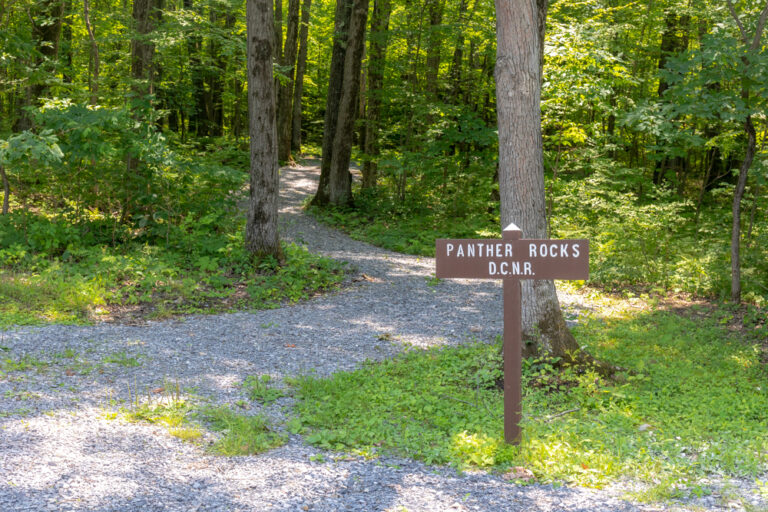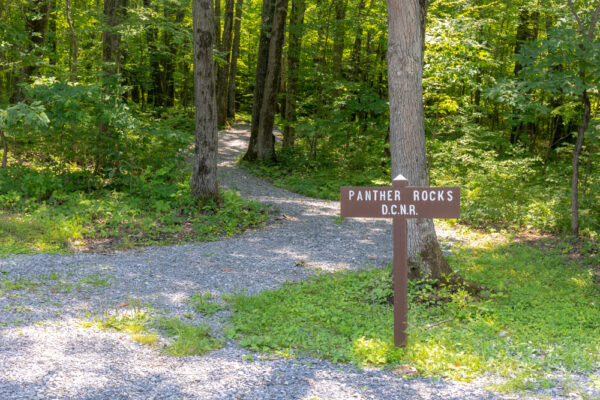 This parking area, which will be on your right if approaching from Route 153, is marked with a small wooden sign next to the trail and is big enough for a handful of cars.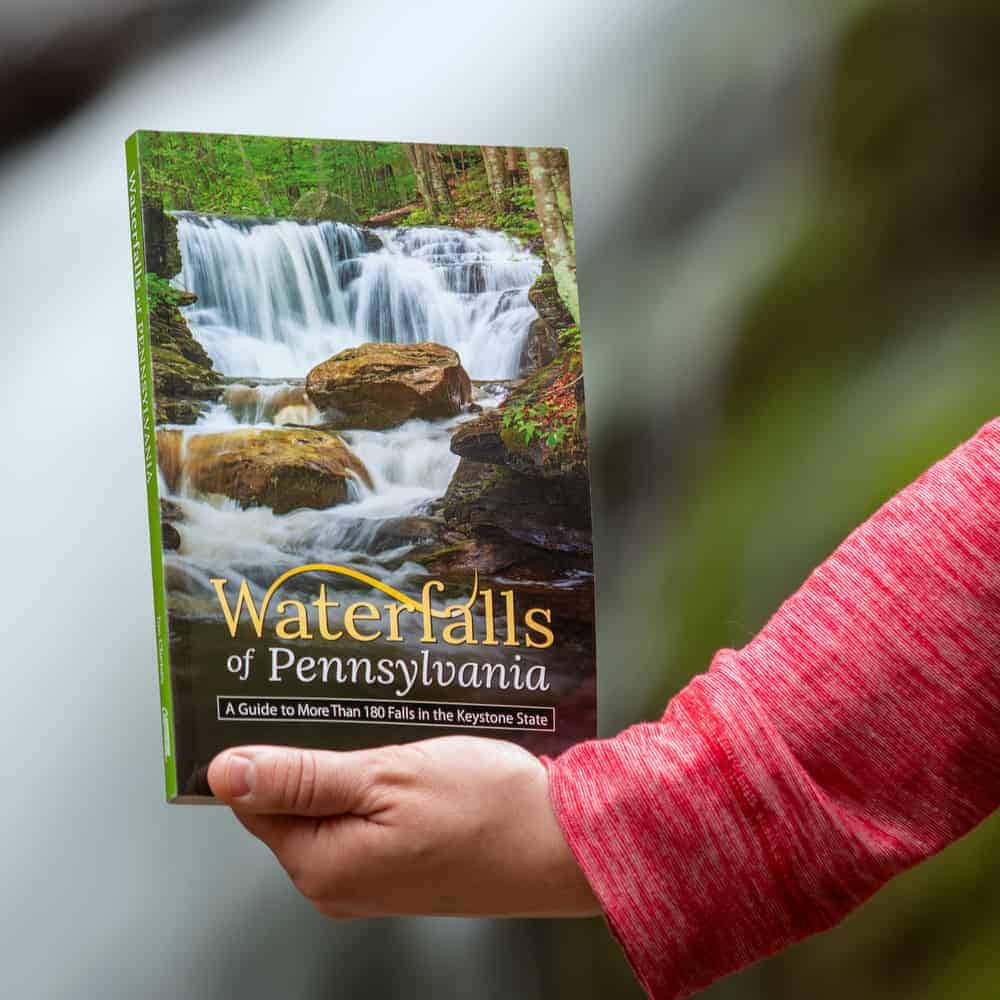 "Waterfalls of Pennsylvania" by Jim Cheney
If you love PA waterfalls, you won't want to miss this waterfall book from Jim Cheney, author of Uncovering PA, featuring more than 180 great waterfalls. Order it now on Bookshop.org or Amazon.
Note that there is a private residence on the opposite side of the road. Don't trespass on their property or block their driveway/gate when visiting the rocks.
[Click here for information on how to use the coordinates in this article to find your destination.]
Hiking to Panther Rocks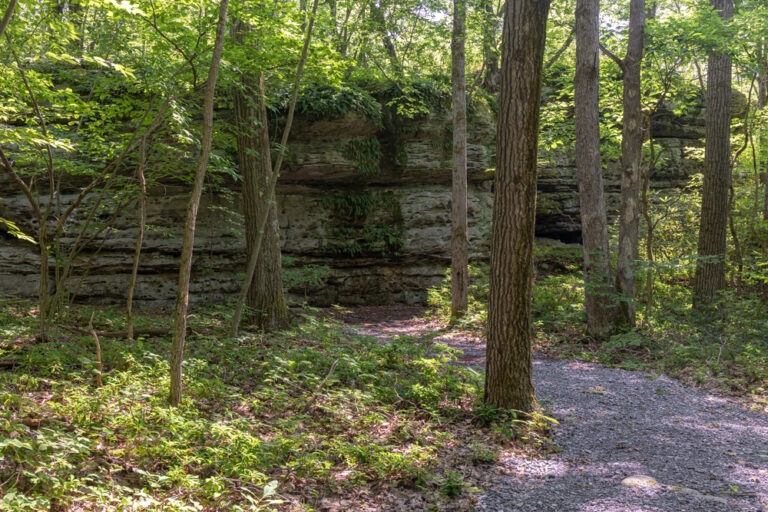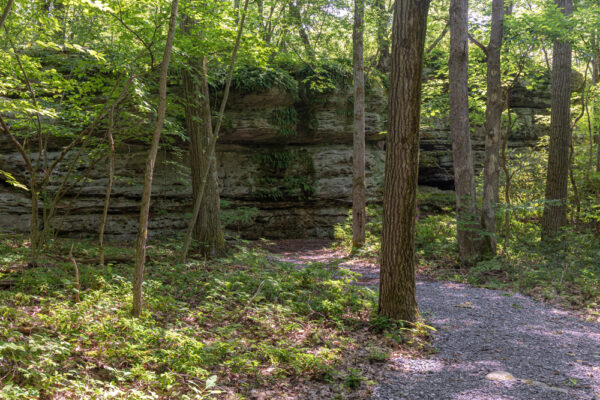 While Panther Rocks can't be seen from the road when there are leaves on the trees, it sits only about 200 yards back from the parking area and is located along a wide and flat gravel trail.
I was quite surprised to see a gravel path here, but it does make the walk back to the rocks quite easy, and it's simple to find the trail again when you are ready to return to your car.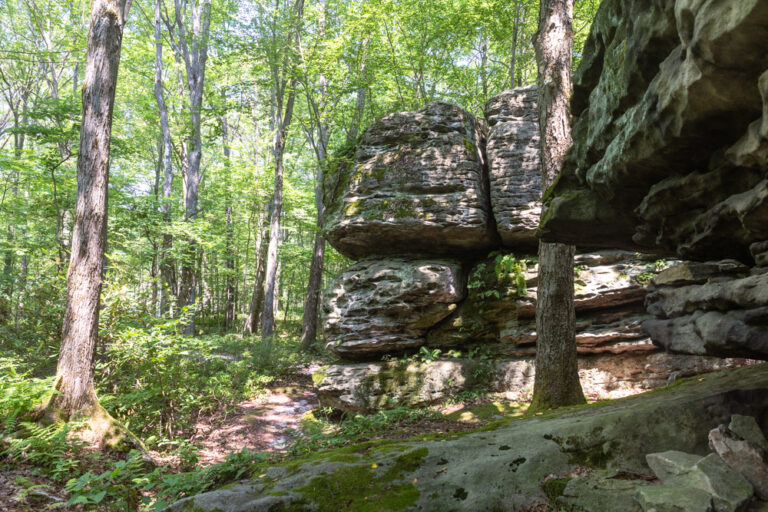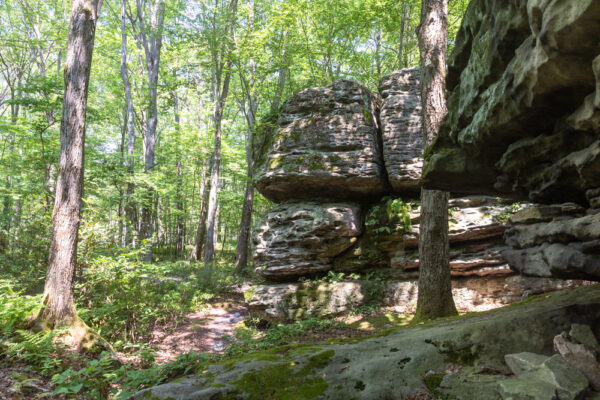 This gravel path runs all the way to a 20-30 foot rock face, with standard dirt paths leading you around and through Panther Rocks. There is no set path here, so simply take the time to explore the site and check out the many nooks and crannies that can be found amongst the boulders.
While doing so, make sure to keep an eye open for snakes. I only saw one small rattlesnake during my visit, but I've heard that there are a fair number of venomous ones present here, so make sure to use caution when exploring the site, especially if traveling with kids and pets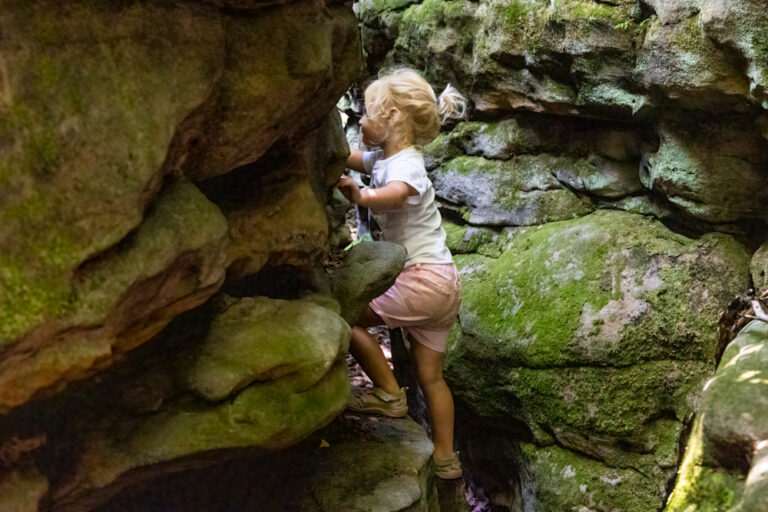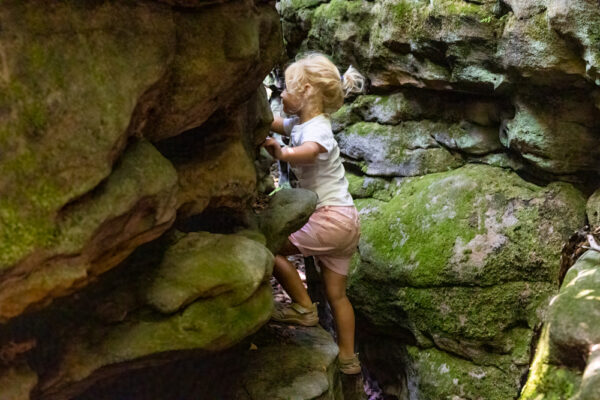 While exploring the giant boulders at Panther Rocks, I found narrow chasms, caves, and wide "streets" through the rock city. It's also a lot of fun to simply stare up at the rock walls and look at the many indentions and the details carved by water over the years.
It's also possible to relatively easily climb atop the boulders from the far side of the rocks. This upper area gives a whole different look to these mammoth rocks.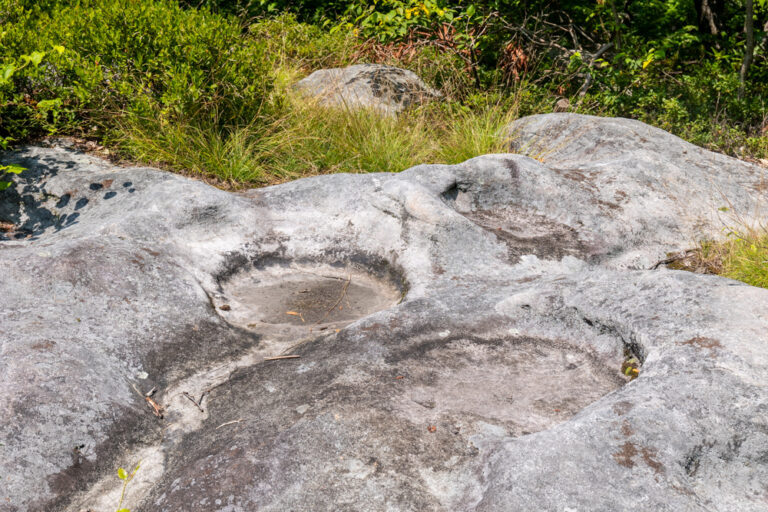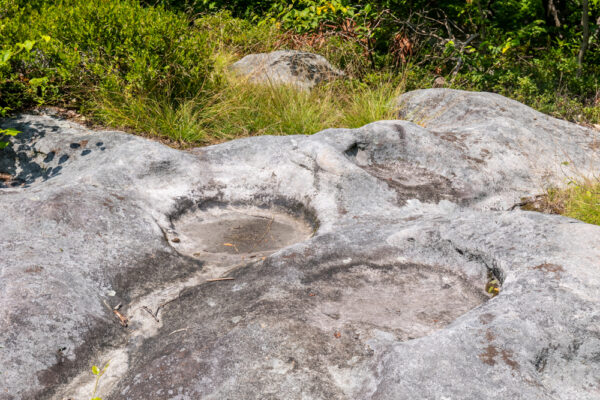 The upper area is covered with moss and grasses and there are even some interesting circular indentions that are worth checking out. However, be careful of the edges when exploring the upper reaches of Panther Rocks as you don't want to fall off.
Overall, Panther Rocks is a lot of fun to explore. It's not a huge site, and my family and I felt that we had seen it all in about 30 minutes.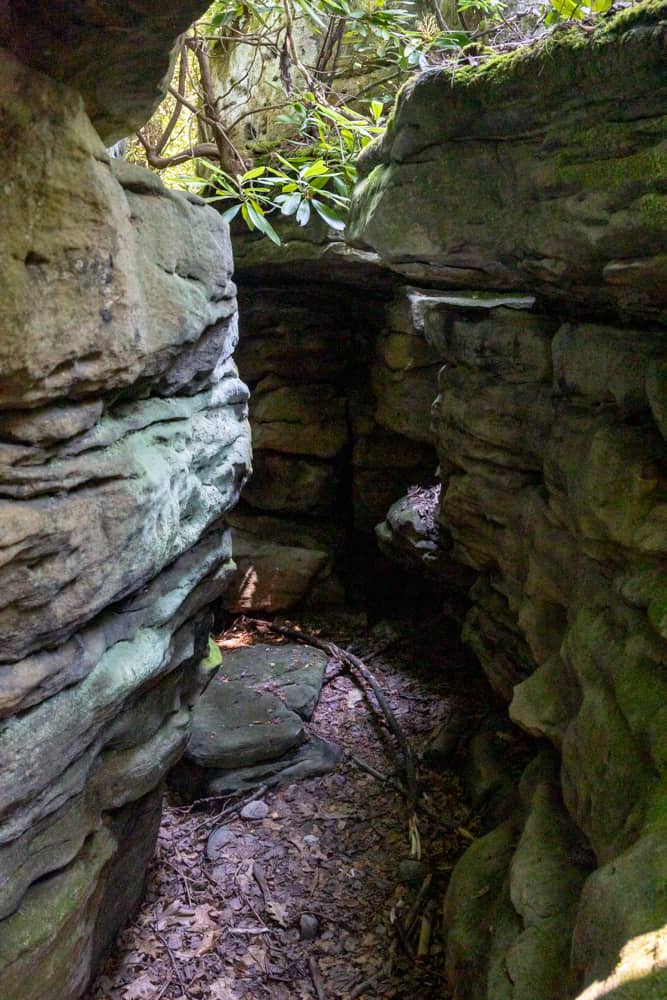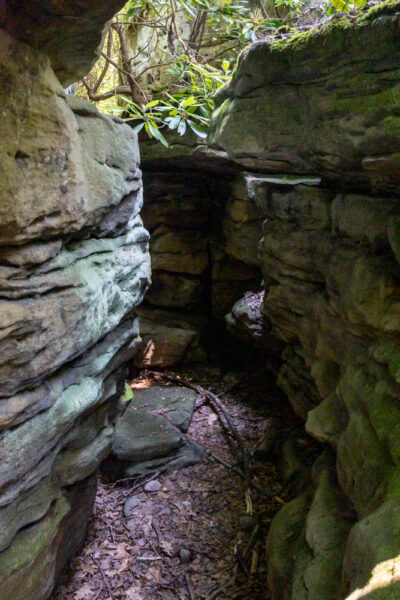 Because of this, I wouldn't recommend going far out of your way to visit this spot.
However, if you are exploring Clearfield County and the Pennsylvania Wilds, or simply find yourself passing through the region on I-80, this is a really fun place to spend a few minutes checking out.
Looking for even more places to visit nearby? Check out Fun Central, the Elk Country Visitor Center, and the Marion Brooks Natural Area.