Disclosure: This article may contain affiliate links. We will make a small commission from these links if you order something at no additional cost to you.
There are many amazing overlooks in Pennsylvania, but few are as spectacular as the vista at Hyner View State Park.
Hyner View State Park is located in Clinton County near the community of Hyner, PA. At only six acres in size, Hyner View is one of the smallest state parks in Pennsylvania (just slightly large than nearby Upper Pine Bottom State Park). However, unlike the other small parks that are primarily picnicking areas, Hyner View is visited for its fantastic overlook.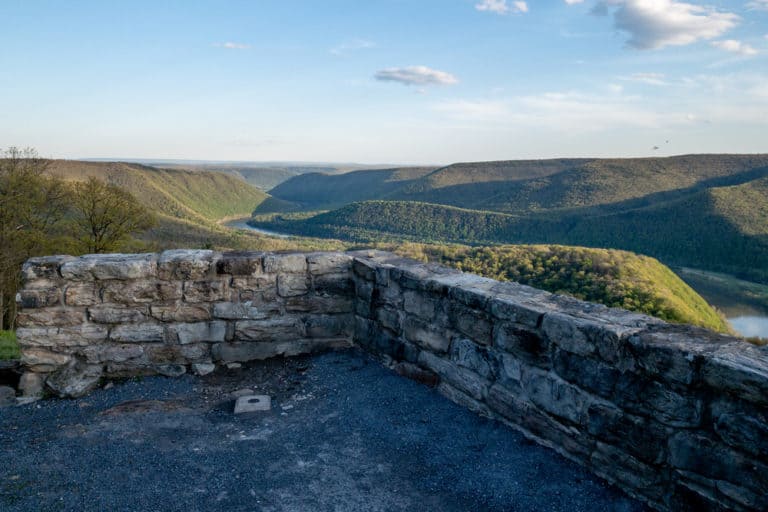 The overlook at Hyner View State Park is located on the edge of hillside 1,300 feet above the West Branch of the Susquehanna River. Other than the nearby hillsides, there's nothing to obstruct the view from the vista here meaning that you'll have more than a 180-degree view that stretches for miles in nearly every direction.
Aside from the small communities along the road and Route 120, the entire view is forested. Much of the view is part of Sproul State Forest, which completely encircles the park and ensures this view will remain pristine into the future.


The stone-walled overlook at Hyner View State Park was built by Civilian Conservation Corps workers in the 1930s. This historic wall is still standing and provides a great area from which to safely enjoy this amazing view.
Even better, unlike many of the other best views in PA, this one is totally handicapped accessible, so it can be enjoyed by all.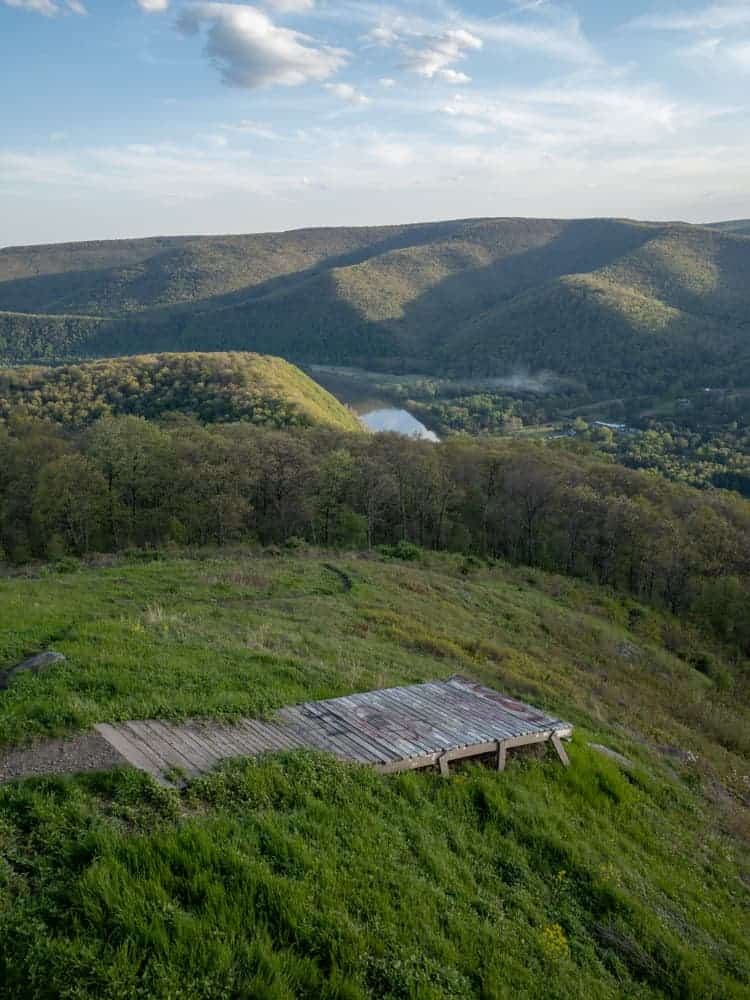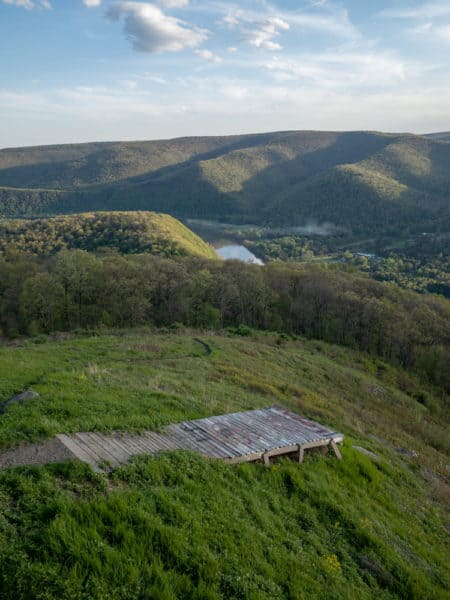 Just below the stone wall, you may notice a wooden platform. This is a popular spot for hang gliders and paragliders to take off from. If you are luckier than I was, you might even see a few people taking flight over the valley.
In 1949, the current road to the vista was completed. This 4.3-mile road snakes its way 1,200 feet up the mountainside from Hyner Run Road to a parking area adjacent to the vista.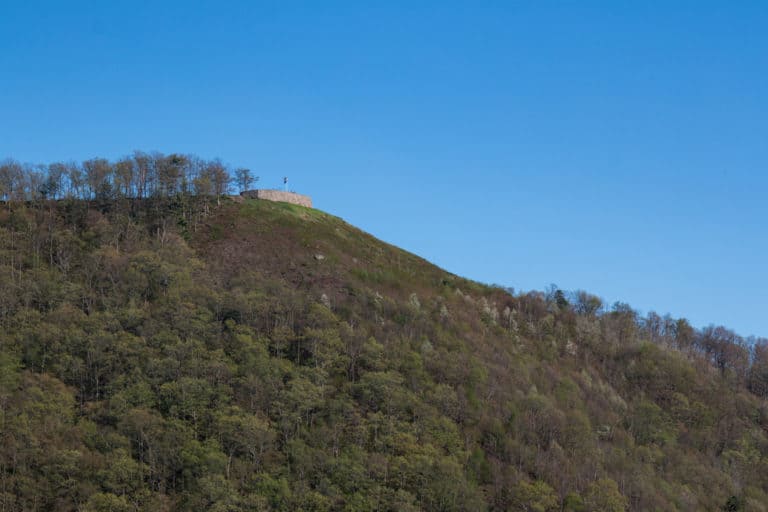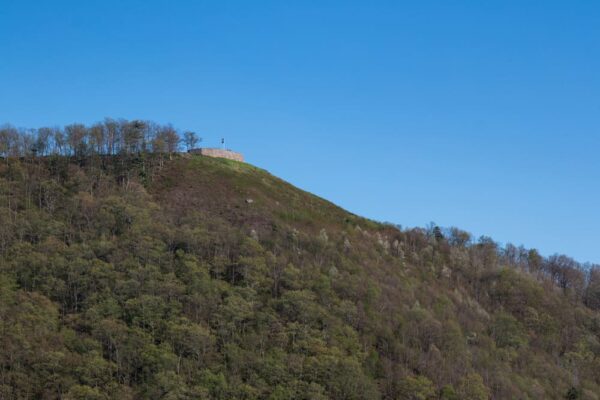 Along the way, there are some great views, and it's even possible to see the overlook itself from a distance while driving up the roadway.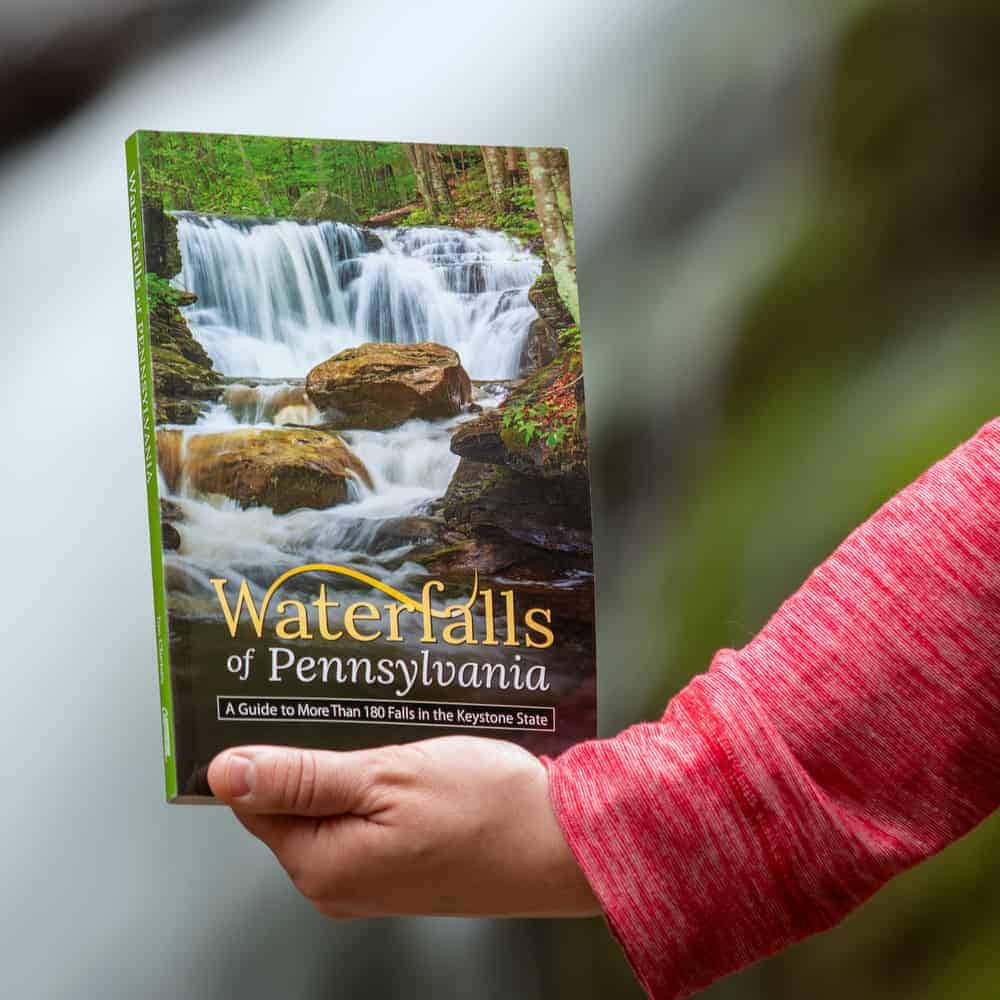 "Waterfalls of Pennsylvania" by Jim Cheney
If you love PA waterfalls, you won't want to miss this waterfall book from Jim Cheney, author of Uncovering PA, featuring more than 180 great waterfalls. Order it now on Bookshop.org or Amazon.
It should be noted that while there are several roads that connect to Hyner View State Park, I highly recommend taking Hyner View Road from Hyner Run Road as the other routes are rutted in places.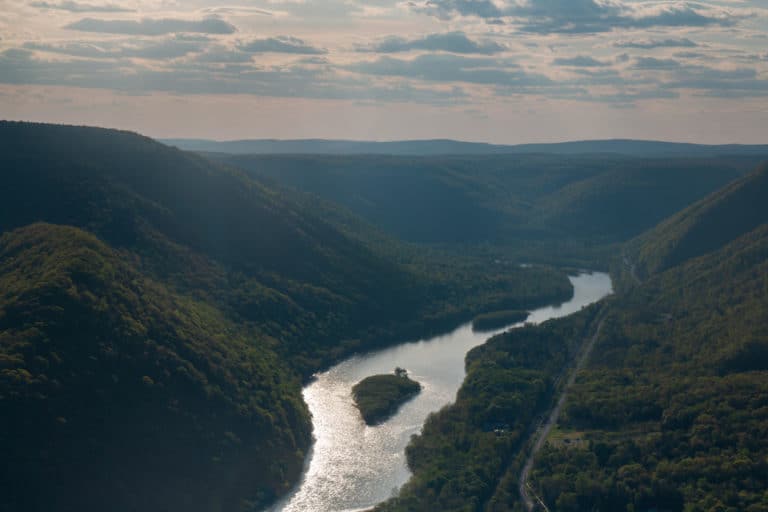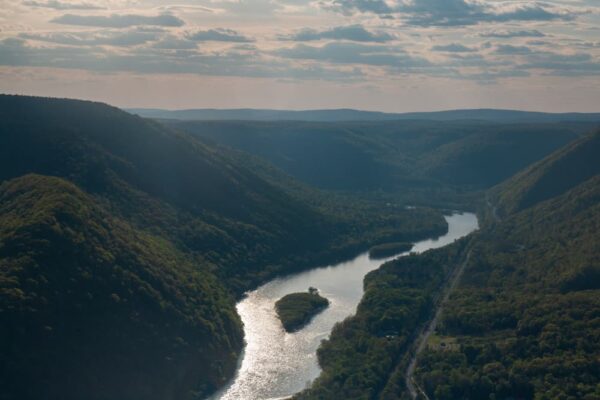 While there isn't much at the park beyond the incredible view, there are also two monuments that are worth spending a moment at.
The first is a monument known as "Iron Mike" which pays homage to the Civilian Conservation Corps employees that helped build the infrastructure at this park and many other state parks in Pennsylvania.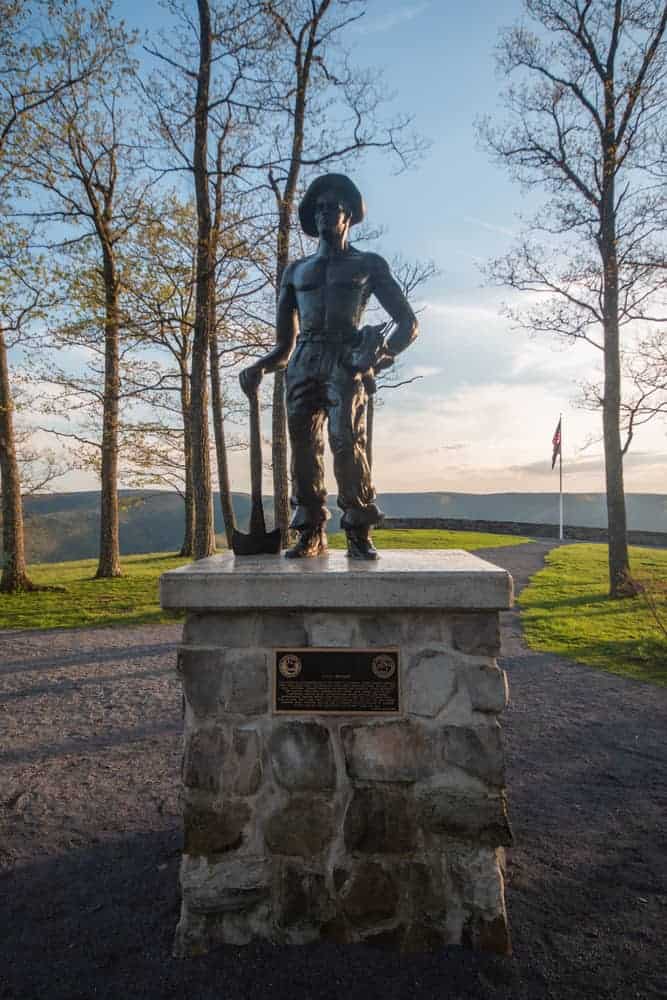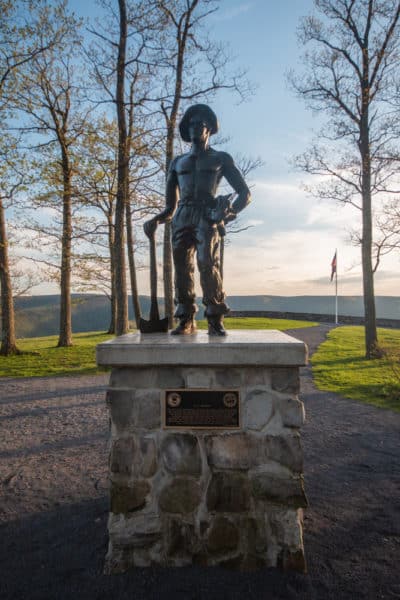 The second is dedicated to the fire wardens that have kept this area and the entire state safe from forest fires throughout PA history. This monument was dedicated in 1965 to mark the 50th year of the fire wardens program and includes a stone from each state forest in Pennsylvania.
Without a doubt, Hyner View State Park is one of Pennsylvania's must-visit parks.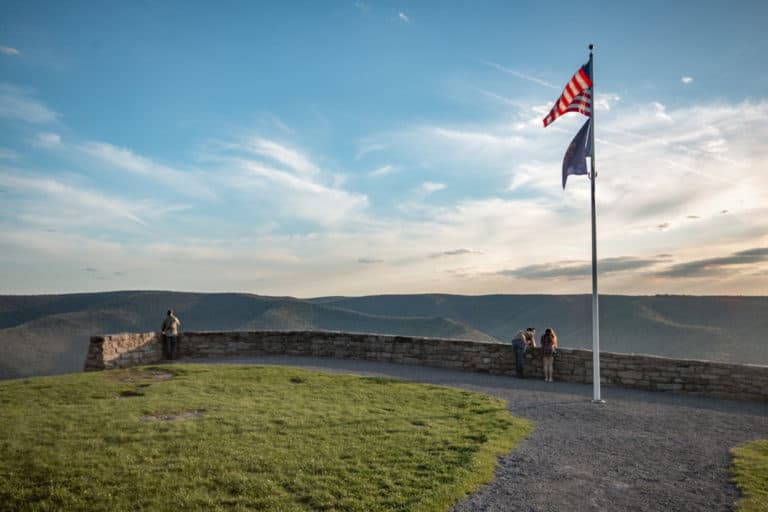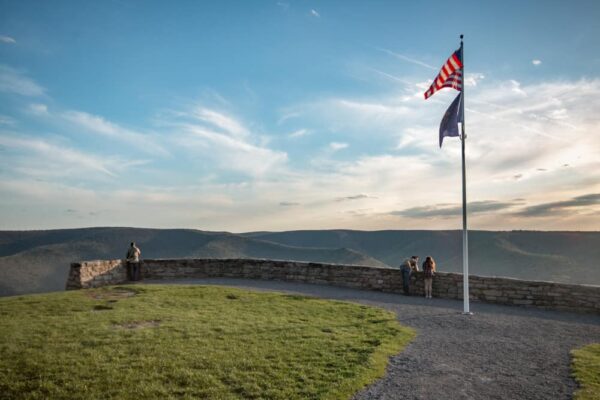 While it's true that there is little to do here besides enjoying the view, the view from here is incredibly spectacular, and it's worth taking a drive through this beautiful part of Pennsylvania to experience the amazing vista at Hyner View State Park.
Hyner View State Park can be found at the following coordinates in Clinton County, PA: 41.326659, -77.623723. As stated above, I recommend taking Hyner Run Road to Hyner View Road to access the overlook. Note that this road is not maintained in the winter.
Looking for more to do in the area? Check out Lebo Vista, Round Island Run Falls, the trails in Ole Bull State Park, and the Piper Aviation Museum.