Disclosure: This article may contain affiliate links. We will make a small commission from these links if you order something at no additional cost to you.
It started, as many great stories do, over a glass of wine.
Two friends and one stranger sat across from each other at a wine bar in Central Pennsylvania trying to decide if quality wine could actually be grown in the area. And, as many conversations over wine tend to do, the talking got more and more grandiose.
Eventually, they realized that they actually had a concrete plan in place to start what would become known as the Vineyard at Hershey.
From that conversation it took several long years of planning and planting before the vineyard would open in February 2012. However, what started as a wild idea over wine has now become one of the most well-known and frequently visited wineries in the Harrisburg area.
Fast forward to 2013.
Realizing that if they could make good wine, they could make good beer, the Vineyard at Hershey gave birth to their newest project, the Brewery at Hershey.
The first brewery/winery combination in Pennsylvania, the Vineyard at Hershey is a great place to visit for anyone who enjoys sipping some of the region's best wine and beer.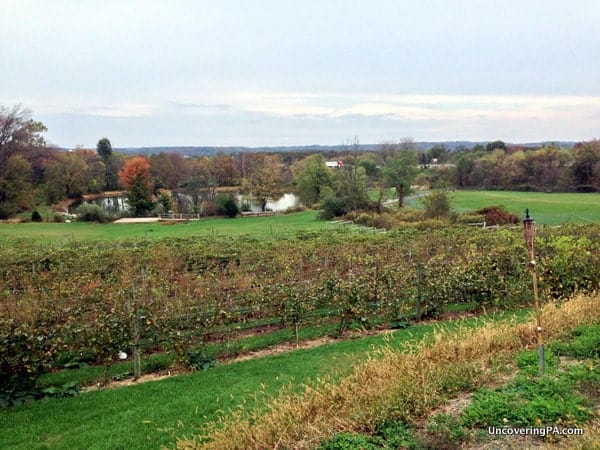 The Vineyard at Hershey
After the initial plans were laid for the Vineyard at Hershey, the first grapevines were planted in 2009 on a small farm just outside Hershey and Harrisburg.
Finally, in early 2012, the wine was ready to be released to the world. And, since opening their doors nearly two years ago, the Vineyard at Hershey has grown well beyond the wildest dreams of those wine-induced plans. And, what once was a small operation based in the cramped basement of the Vineyard's old farmhouse has already moved into a large and modern building next door.
While they offer a continually growing selection of wines, there were several that stood out to me.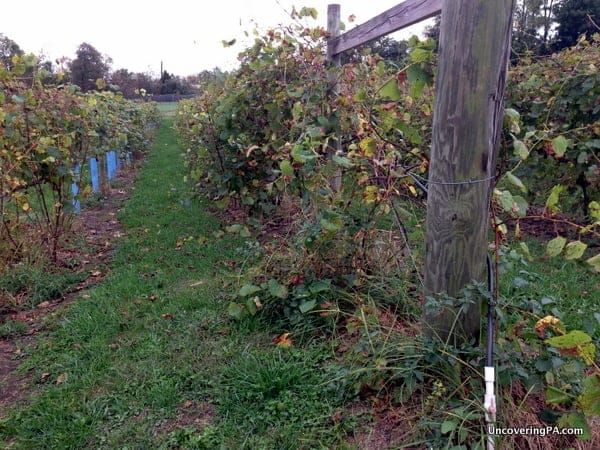 First was their Seyval Blanc. While I'm not usually a fan of dry wines, I found this dry white wine to have just enough fruity notes to provide a bit of the sweetness my palate is often looking for when I try dry wines. This is definitely one of my favorite dry wines I've ever tasted.
The Vineyard at Hershey also does a great job creating their own blends, including a pleasantly sweet wine called Twisted Kiss. Combining white Vidal Blanc and red Chambourcin grapes, Twisted Kiss starts off sweet, but fades to a dry finish, producing a wine that's not too sweet, but not too dry.
Lastly, I really enjoyed their sweet Blueberry wine, which combines blueberries and Niagara grapes to create a very sweet, but still quite pleasant dessert wine.
All of their wines can be tasted in their tasting room for $6 for five samples.
Currently, wine tastings run out of the Vineyard's farmhouse, which is a bit on the small side. However, despite being a bit cramped at times, the quaintness of the farmhouse makes up for the small size by providing a charming place to try wines.
The Brewery at Hershey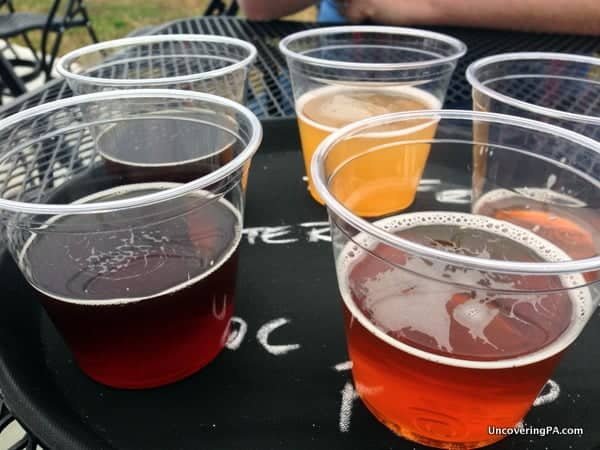 Opened since mid-2013, the Brewery at Hershey is already off to a great start. What I love about the Brewery at Hershey is that you really feel the same excitement and passion when sampling their beers as you do tasting their wines. Not that this should be too surprising though, since the only thing separating the two is a state mandated 4-foot tall wall.
The beers produced by the Brewery at Hershey are very smooth, and if you like hops, like I do, you might struggle to find exactly what you're looking for. However, for those that prefer their beers without a strong hoppy taste, you're sure to love the beers at the brewery.
However, despite my love of hoppy beers, I was able to find several that I enjoyed.
My favorite was the brewery's Chocolate Brown Ale. Brewed with actual chocolate, it almost tastes more like an alcoholic chocolate milk than a beer.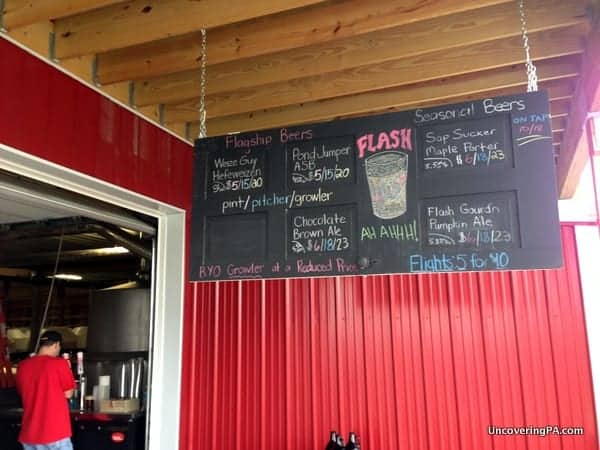 I also really enjoyed their seasonal Flash Gourd'n Pumpkin Ale. However, since it's a seasonal beer, you'll have to wait until the fall to try it.
Unfortunately, the Brewery at Hershey doesn't bottle or can any of their fantastic brews, so you'll have to either enjoy them on site or pick up a growler to go.
Live music is provided most weekends and is really good.
Note: My visits to the Brewery at Hershey and the Vineyard at Hershey were hosted by the Brewery and Vineyard at Hershey and the Hershey Harrisburg Tourism Office. However, all opinions expressed in the article are my own.
---
The Brewery and Vineyard at Hershey
Winery Hours: Daily: 12pm-5pm

Brewery and Patio Hours:
Saturday and Sunday: 12pm-6pm

Website: VineyardatHershey.com

Address: 598 Schoolhouse Rd
Middletown, PA 17057
See map below for other area attractions.
---