Disclosure: This article may contain affiliate links. We will make a small commission from these links if you order something at no additional cost to you.
Philadelphia's Old City is known for its amazing historical sites and museums that tell the story of American Independence. However, located just across the street from Carpenter's Hall, the site of the First Continental Congress, and the Museum of the American Revolution sits one of country's best historical science museums.
When you think "science museum," it's likely that something along the lines of the Franklin Institute is what pops into your head. However, the Science History Institute (formally known as the Chemical Heritage Foundation Museum) isn't your typical hands-on science museum. Instead, it focuses more on the history of chemistry than on what chemistry is.
Walking into the museum, I was instantly impressed with its size and look. Featuring a towering media column in the center of the room and a variety of displays around the edges, the museum's very high-tech look contrasts greatly with the historic buildings just outside its doors.
The docent inside offered me a quick overview of the museum and let me know that I could start anywhere I wanted, as the museum had no official order. While somewhat freeing, the lack of direction took a bit of getting used to. However, as she said, it really doesn't matter much where you start. Each section of displays features a few historical pieces and signage explaining what it is and how it relates to the history of chemistry.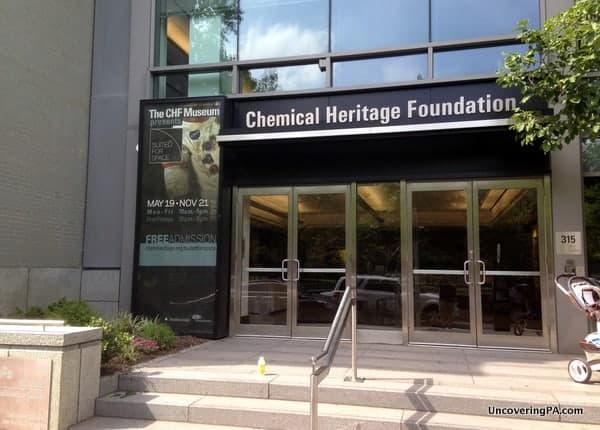 The over 600 items on display mostly tell the story about how recent advancements in chemistry have shaped our lives, covering everything from plastics to electronics.
Moving upstairs, the museum tells the story about how chemistry came to be. Chemistry started with alchemy, a science from the Middle Ages with a primary goal of turning ordinary metals into gold. While the pursuit of alchemy had more to do with magic than modern science, it led, over time, to the study of chemistry.
Overall, visiting the Science History Institute was an interesting way to spend a bit of time in Philadelphia. While it might seem a little out of place amidst all the sites of Independence National Historical Park, like the Benjamin Franklin Museum which is literally in its backyard, for those that love science and history, this is an excellent museum to visit.
---
Science History Institute
Hours: Wednesday-Saturday: 10am-5pm

*closes for a winter break, check website for details and dates

Cost: Free

Website: ScienceHistory.org

Address: 315 Chestnut Street
Philadelphia, PA 19106
See map below for other area attractions.
---