Disclosure: This article may contain affiliate links. We will make a small commission from these links if you order something at no additional cost to you.
Of all the Founding Fathers that strolled the 18th-century streets of Philadelphia, none is more synonymous with the city than Benjamin Franklin. Born in Boston, Franklin came to Philly at the age of 17 and considered it his home for the rest of his life.
Franklin's accomplishments are familiar to anyone who has studied American history but extend from politics to science and from writing to innovation.
I've already written about the science museum at Philadelphia's fantastic Franklin Institute, which does a fantastic job of carrying on his scientific legacy, but if you want an in-depth look at the life and work of Benjamin Franklin, Philadelphia's Benjamin Franklin exhibit is definitely worth a visit.
Located below Franklin Court, behind the National Liberty Museum and across the street from the Museum of the American Revolution, the Benjamin Franklin Museum is one of the most unique and well-done museums I've visited in Pennsylvania.
What I really loved about the museum was how it mixed humor with historical facts. Benjamin Franklin was known for his humorous storytelling and his many pseudonyms that he used to write humorous pieces for various newspapers.
This humor came through especially well in the many short cartoon videos that played throughout the museum. Using Franklin's head from the $100 bill, the videos told the story of Franklin's life in a way that would entertain even the most bored child.
My favorite story told about the time that Benjamin Franklin and John Adams had to share a bed at an inn, but I'll let you visit to hear the entire story.
In addition to the humorous videos, there were also many interactive games that were simple enough for children, but still interested my inner child, and many artifacts from Franklin's life.
Outside the museum stands a frame that represents where Franklin's home once stood. Franklin lived on the spot from 1775-1776 and again from 1785 until his death in 1790. Unfortunately, the original house was torn down in 1812 to make way for city improvements.
Several areas of the former home have been covered by glass panels, allowing you to peer down to see where the foundation and even Franklin's toilet pit were located.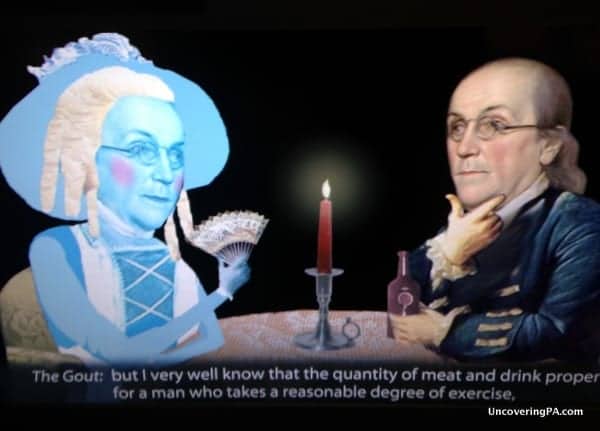 There is also a print office on site that still prints manuscripts in the same way that Benjamin Franklin would have over 200 years ago. In the shop, you can view the printers working on copies of famous documents like the Declaration of Independence. Once they have dried, you can even purchase these authentic copies.
Overall, I was really pleasantly surprised during my visit to the Benjamin Franklin Museum. Since it is run by the National Park Service, I was expecting a fairly traditional museum about Franklin's life. However, the museum does a great job combining the Park Service's excellent historical information with a levity that you don't often find in museums.
Despite the humor, or possibly because of it, the museum really was effective in teaching me about Benjamin Franklin. In fact, I think that if Benjamin Franklin had designed his own museum, it would have been quite similar. Whether you are visiting the city by yourself or are looking for fun places to visit with kids, don't miss this neat museum.
Note: My visit to the Benjamin Franklin Museum was hosted by Visit Philly. However, the opinions expressed in the article are my own and were not subject to review.
Looking for other places to visit nearby? Check out the Betsy Ross House, Christ Church, and Elfreth's Alley.
---
Benjamin Franklin Museum
Hours: Daily: 9am-5pm

Cost: Adults: $5, Children: $2

Website: NPS.gov

Address: 322 Market Street
Philadelphia, PA 19139
See map below for other area attractions.
---