Disclosure: This article may contain affiliate links. We will make a small commission from these links if you order something at no additional cost to you.
Walking down Philadelphia's South Street today, you'll notice many chic shops, restaurants, and bars. However, when artist Isaiah Zagar moved to the area nearly 50 years ago, South Street was a rundown area slated for demolition. Starting with the opening of an art gallery in 1968, Zagar transformed dozens of spots in South Philly into public art pieces, helping to revitalize the neighborhood in the process.
In 1998, Zagar started to work on two vacant lots next to his South Street studio.
After building a large fence to protect his work, he spent the next 14 years digging out passageways and decorating a 3,000-square foot space with what at first seems to be a random assortment of broken tiles and knickknacks. However, upon closer inspection, it becomes quite clear that there is a method to the apparent madness of the Magic Gardens.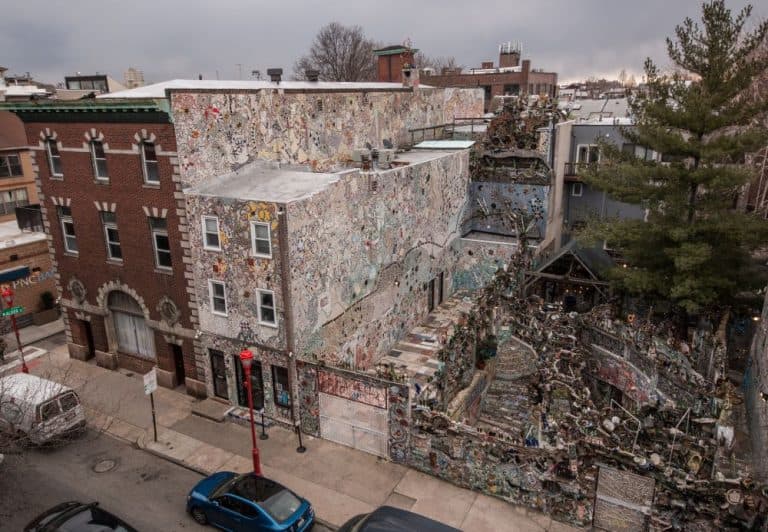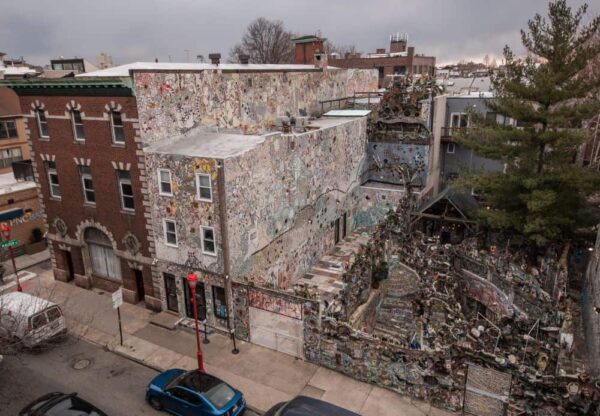 After working on the art project for 14 years, the owner of the land decided to sell it. Fortunately, the community rallied around Zagar and his art and purchased the lots. Today, the Magic Gardens are open to visitors wanting a closer look at this unusual piece of art.
I had passed by the Magic Gardens on several occasions before I finally visited. Since it's possible to see much of Zagar's work from the sidewalk along South Street, I never felt much of a need to go inside. However, on a recent visit to Philly, I finally decided to take a few minutes and see what it was like from the inside.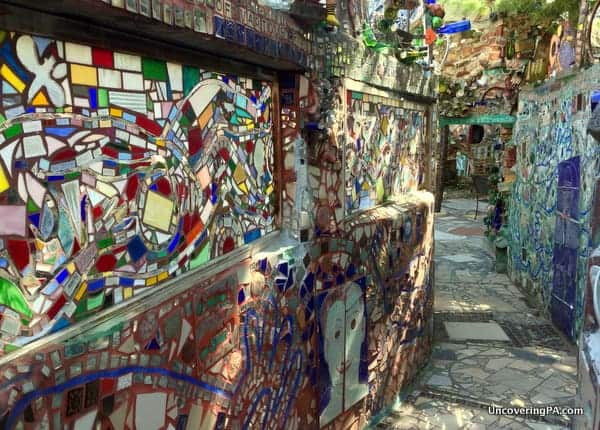 Walking out of the visitor center and into what used to be the vacant lots, I felt like I was seeing the work for the first time. While there's no denying that the work is impressive from the outside, it's even more so inside the ornate fence.
Being inside the gates allowed me to inspect the work up close and get a better feel for what the artist was trying to communicate with the pile of broken tiles and discarded household items. Sure, there's a bit of madness to it all, but that's part of what makes the Magic Gardens so charming and interesting to explore.
My favorite parts of the gardens was two areas that had been dug out by Zagar during his work. Climbing down the stairs, I was surrounded by his work, giving me a great feel for the dedication that he put into his art.
Outside of the pay part of the Magic Gardens, take some time to walk around the visitor center to see the other walls that Zagar has decorated with tiles. While not as impressive as what's inside, the walls offer another glimpse into the artist's mind.
If you're looking to see even more of Isaiah Zagar's mosaic work, the Magic Garden's website has a map of 64 different spots in South Philadelphia that have been decorated by the artist. Some spots are just are small murals, while others are full alleys decorated with his work. Overall, I doubt there is any artist that has more public art throughout the city.
I really enjoyed my experience at the Magic Gardens. While it is certainly possible to see much of Isaiah Zagar's work without paying admission, going inside the gates of the garden allows you to not only see some of his most impressive work, but also gives you the opportunity to learn more about the man behind the art.
Looking for other things to do in Philadelphia? Check out our list of free things to do in Philly and some of our favorite things to do in the Philadelphia suburbs.
Note: My visit to the Magic Gardens was hosted by Visit Philly. However, the opinions expressed are my own.
---
Magic Gardens
Hours: Wednesday-Monday: 11am-6pm
Closed Tuesdays

Cost: Adults: $15, Children: $8

Website: PhillyMagicGardens.org

Address: 1020 South Street
Philadelphia, PA 19147
See map for other area attractions.
---