Disclosure: This article may contain affiliate links. We will make a small commission from these links if you order something at no additional cost to you.
State Game Lands 13 in Sullivan County, Pennsylvania, has become an almost mythical destination for
waterfall lovers
. Located across Route 487 from
Ricketts Glen State Park and its 23 waterfalls
, State Game Lands 13 (SGL 13) lacks almost any of the infrastructure that makes the park such a popular destination.
However, thanks to the work of Jeff Mitchell and his book, "Hiking the Endless Mountains," this amazing area is finally becoming somewhat accessible to intrepid explorers.
I've previously showcased Sullivan Falls and Big Run Falls which are two waterfalls in State Game Lands 13 that are easy to access and can be visited by almost anyone.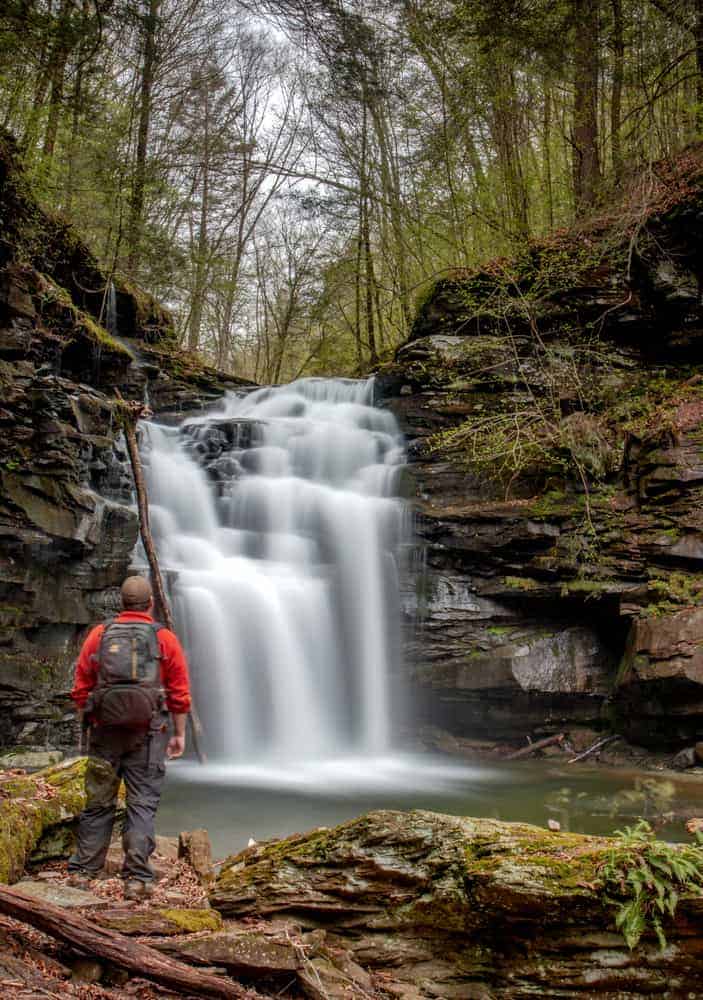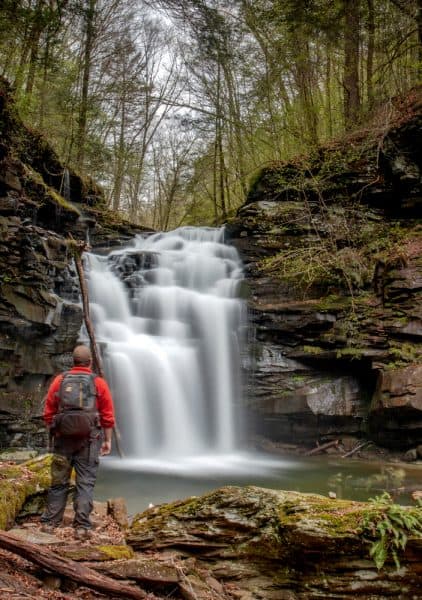 Recently, I had the chance to explore three more waterfalls in the game lands along Heberly Run: Big Falls, Twin Falls, and Lewis Falls. Depending on the time of year that you visit and which of the three waterfalls you are trying to see, visiting them ranges from fairly easy to quite difficult.
The ideal time to visit these waterfalls is during the month of May. Not only are water levels generally impressive this time of year, but it's also when Grassy Hollow Road is typically open. This rutted dirt road is only typically open during spring turkey season (roughly the month of May) and during the fall hunting season (roughly mid-September through the end of the year).
While it's certainly possible to visit these waterfalls when Grassy Hollow Road is closed, exploring the waterfalls of Heberly Run is easier when you can drive to the trailheads as opposed to walking a few miles up the roadway or the stream bed.
It's also worth noting that Grassy Hollow Road is not well maintained and thus a high-clearance vehicle is recommended. I felt fine doing it in my SUV (even without the four-wheel-drive engaged), but would not have wanted to tackle this road in my car. Scroll to the bottom for a bit more about driving on this road.
Big Falls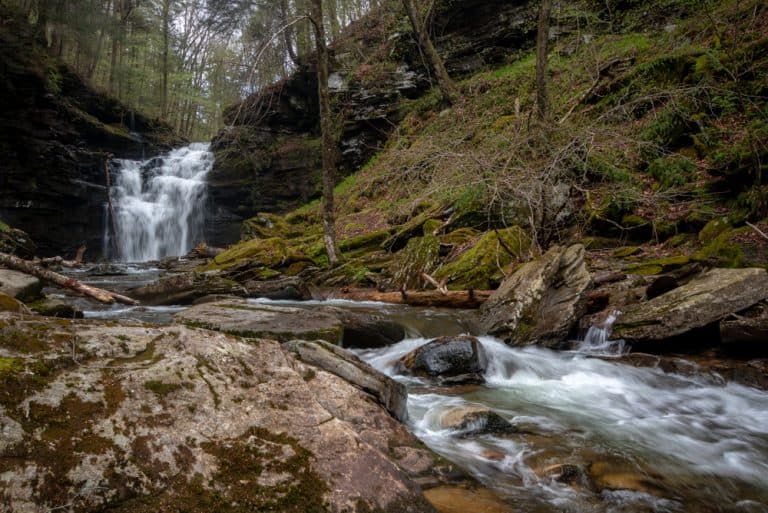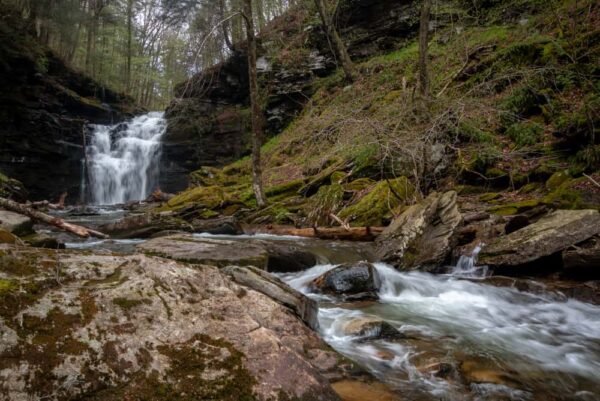 No matter how you access the falls, the first major waterfall you'll come to is Big Falls. Big Falls is approximately 30-35 feet in height and is the tallest waterfall on Heberly Run. It's also the hardest of the three to get to.
Parking for Big Falls is roughly 0.6 of a mile past the gate on Grassy Hollow Road. As of May 2018, there is a sign on the righthand side of the road that says Big Falls. Just beyond the sign is a small pull-off big enough for one car. If you park here, make sure you pull off of the road far enough so that cars can pass.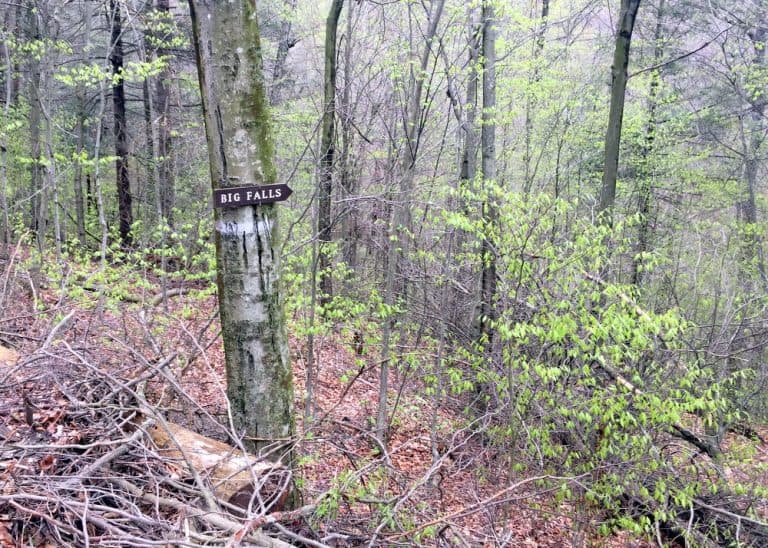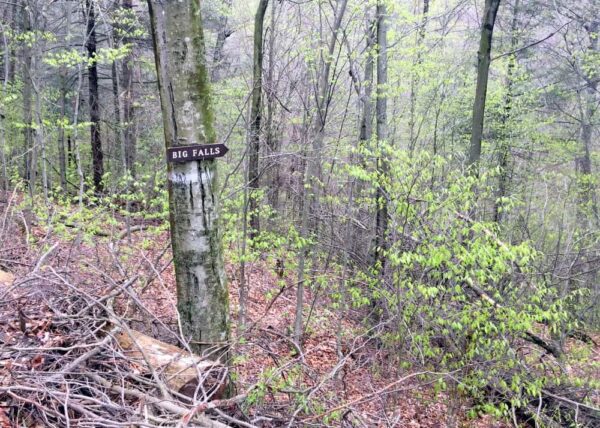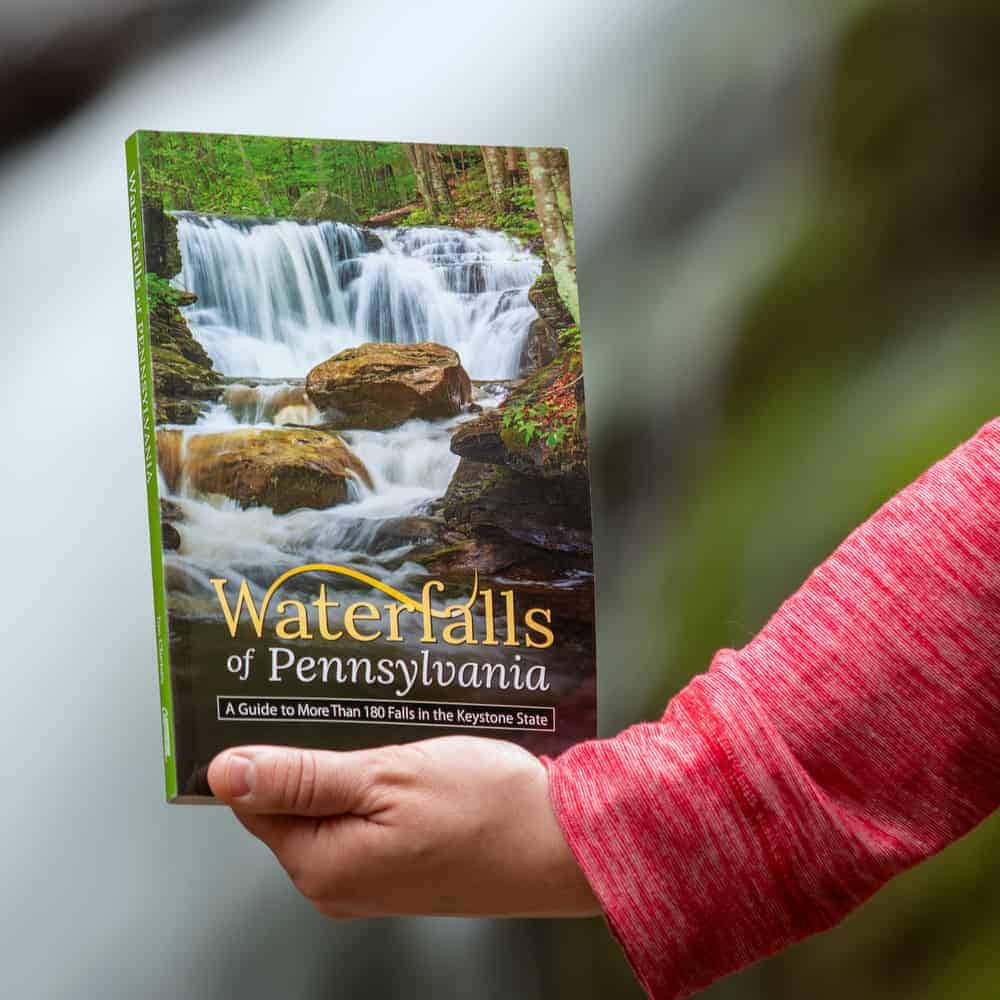 "Waterfalls of Pennsylvania" by Jim Cheney
If you love PA waterfalls, you won't want to miss this waterfall book from Jim Cheney, author of Uncovering PA, featuring more than 180 great waterfalls. Order it now on Bookshop.org or Amazon.
The parking area for Big Falls can be found at the following coordinates: 41.327683, -76.352117.
There's no defined trail or easy way to get down to Big Falls, which sits 150 below Grassy Hollow Road. If you are going to skip one of these three waterfalls, this is the one to skip as its by far the hardest to see.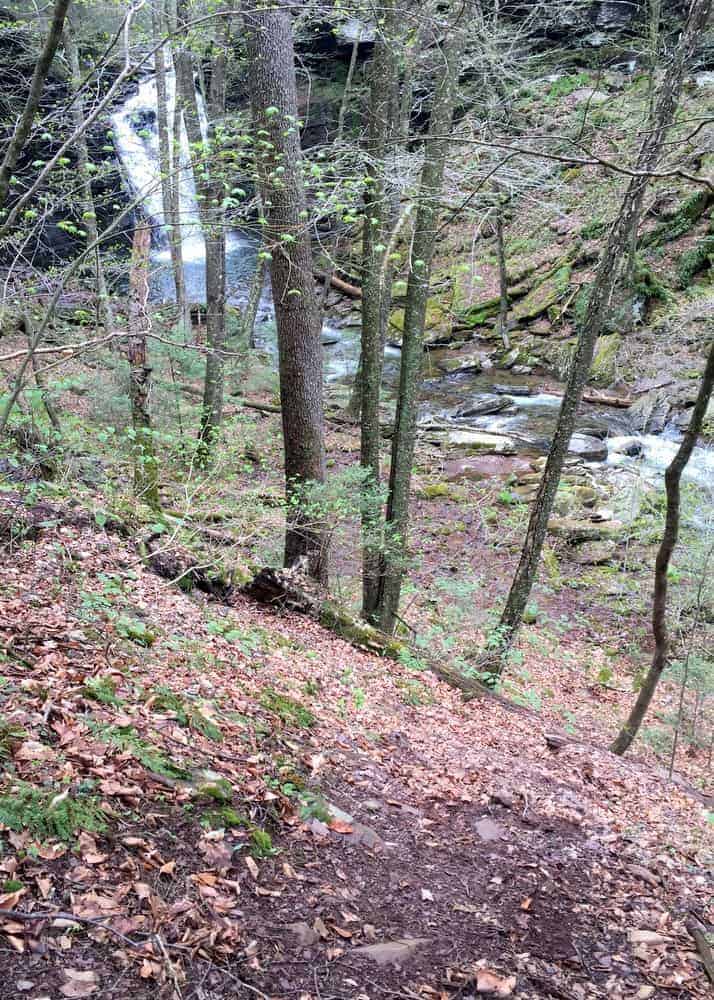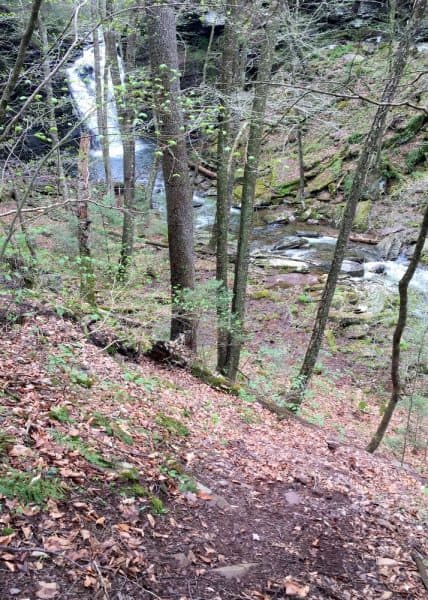 If you opt to reach it, simply find what seems like the best path down the hillside and carefully slide your way down. Keep in mind that you will also have to come back up this steep and slippery hillside. I do not recommend attempting to get to the bottom of Big Falls if you are especially young or old.
Big Falls is surrounded by towering cliffs and can be found at the following coordinates: 41.328572, -76.351908.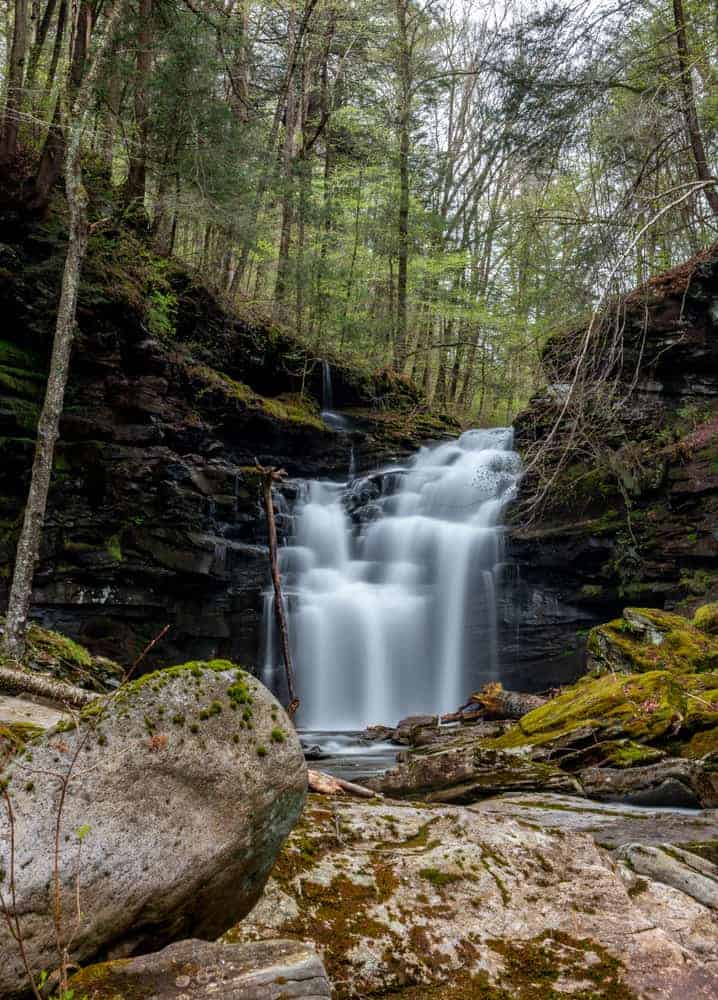 If water levels are high, there might even be two bonus waterfalls, including an impressive waterfall the flows 40 feet or so in a straight drop off of the cliff. This side waterfall reminded me of Alpha Falls in McConnells Mill State Park.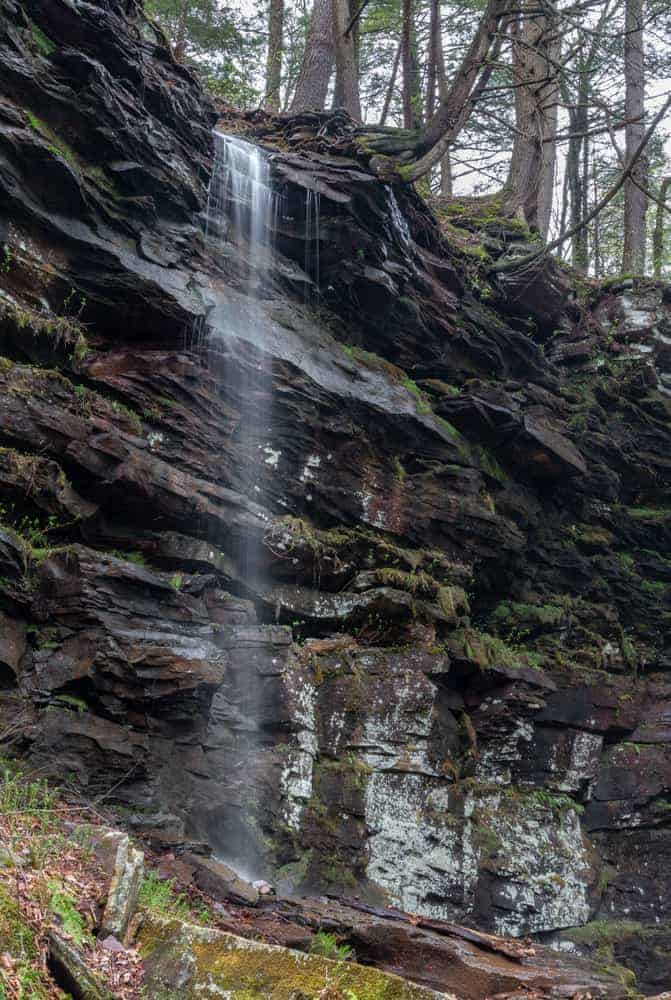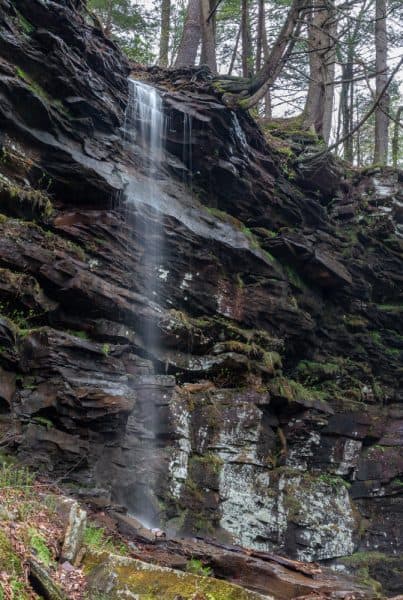 The main waterfall here is incredibly impressive and worth the difficulty to see, but make sure you use wise judgment as any help is a long way away.
Twin Falls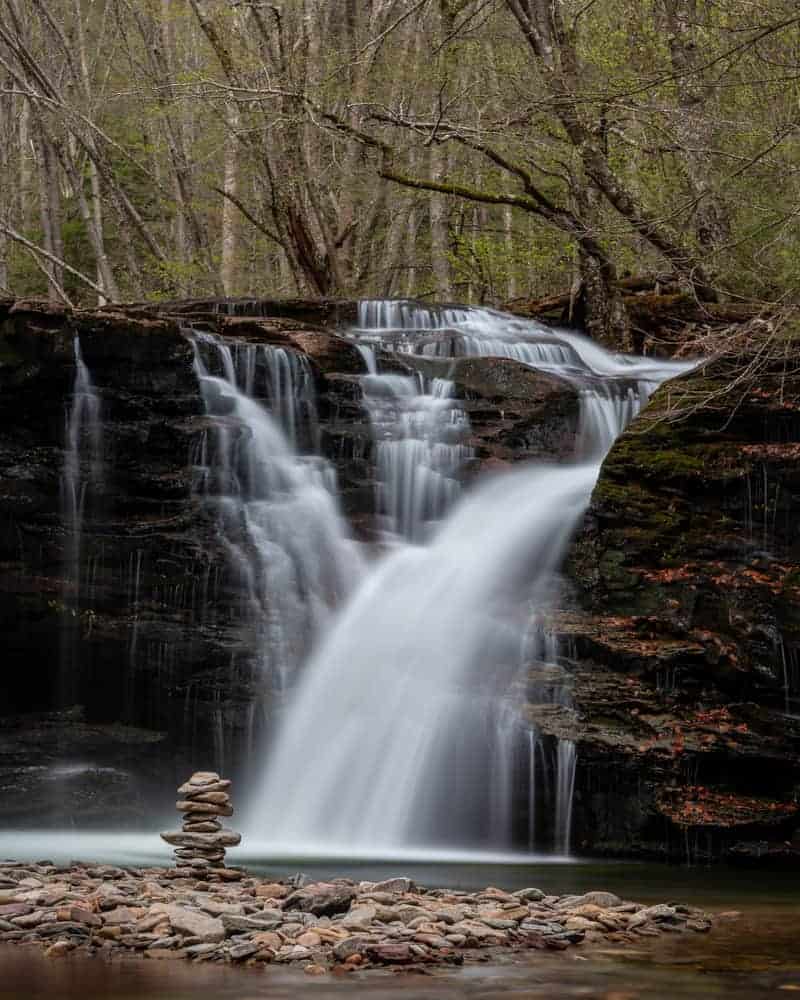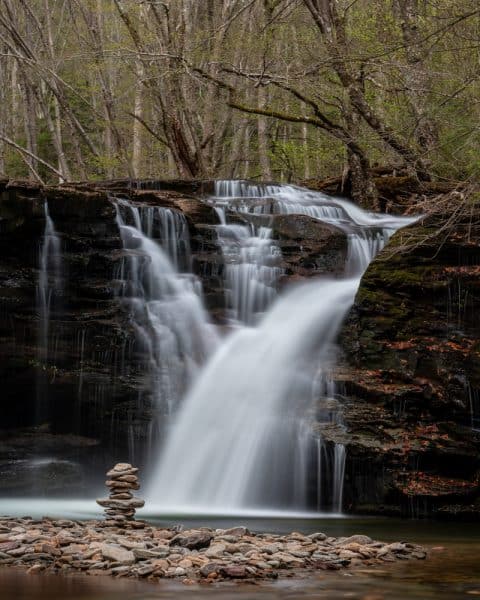 As the name implies, Twin Falls is actually two separate falls that are about 50 feet apart. Both tiers are around 12-15 feet in height and quite beautiful.
The upper falls can be seen from Grassy Hollow Road about half a mile up the road from the Big Falls parking area. However, don't stop here. Continue another tenth of a mile to a large grassy parking area. This parking area can be found at the following coordinates: 41.327683, -76.352117.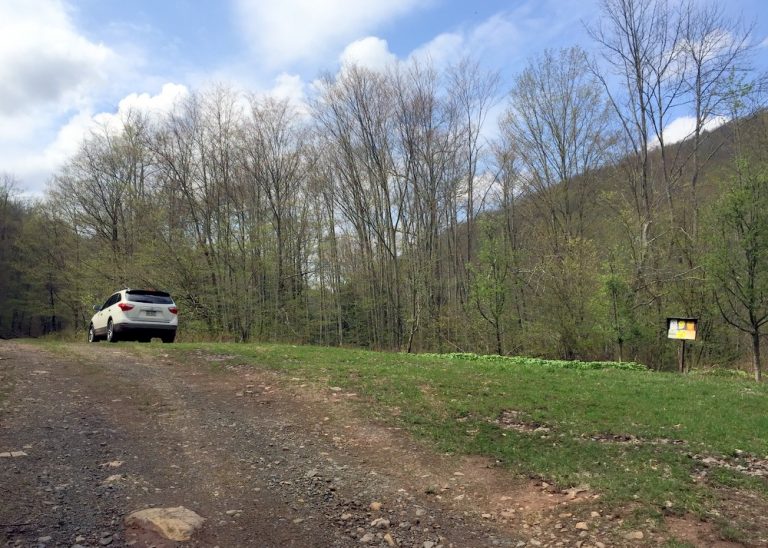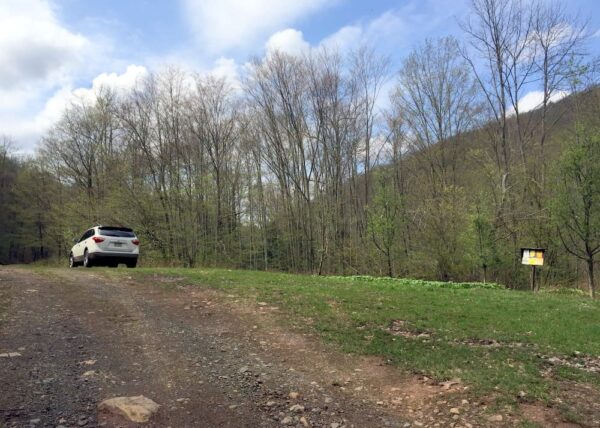 From the parking area, take the obvious trail from the back right corner of the parking lot (if you are facing away from the road). At the time of publication, there was a sign that said "Twin Falls" next to the trailhead.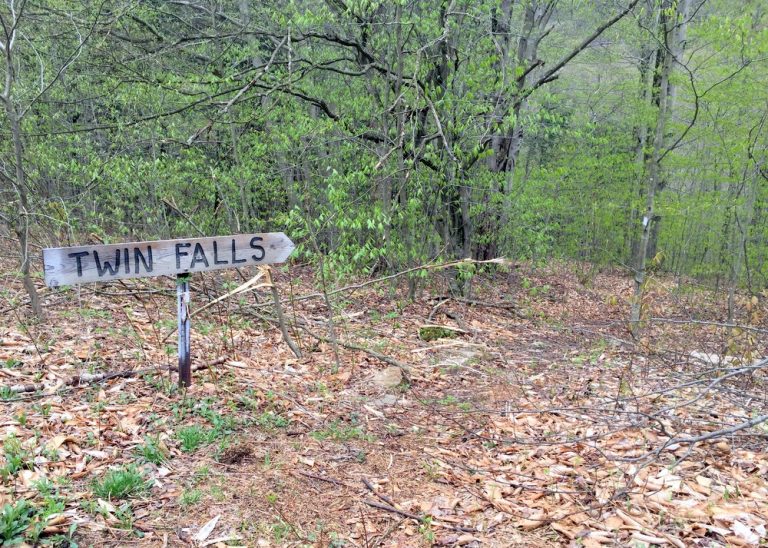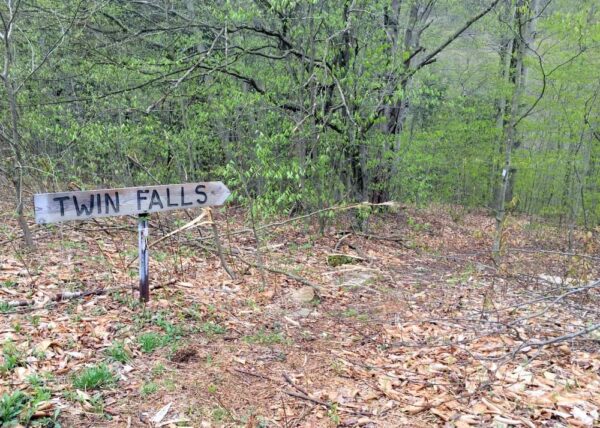 This trail descends easily through the woods back towards Twin Falls and is about a quarter-mile long. In places, it's a bit hard to follow, but the forest is fairly open, and as long as you are heading downstream on Heberly Run, you can't get lost.
On the way back, this is a little trickier, so make sure to pay close attention to the trail, which is intermittently blazed white.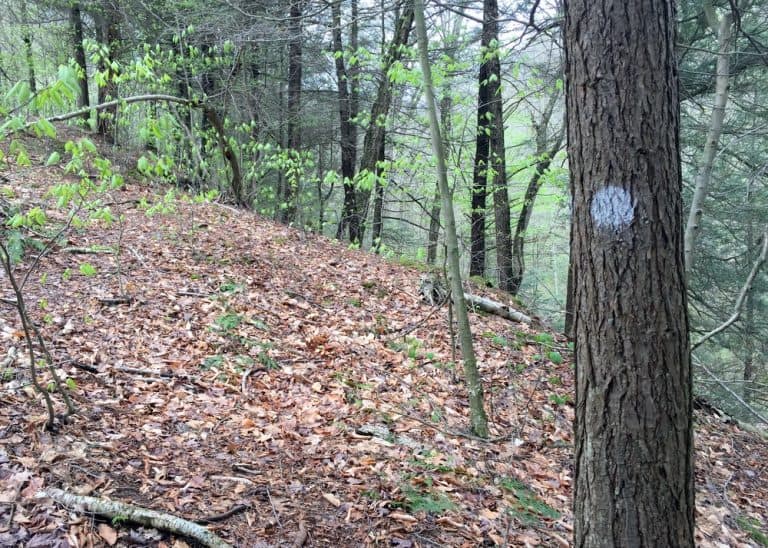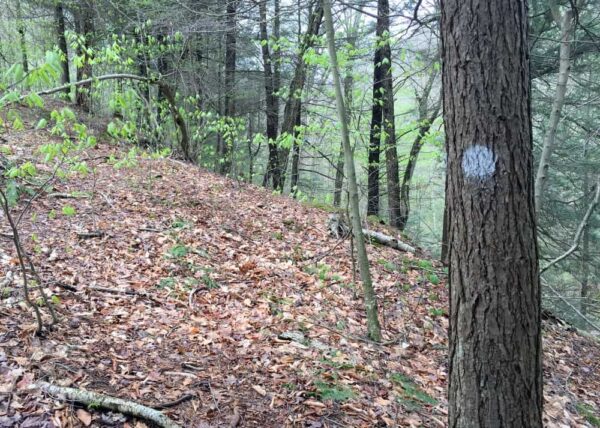 Both tiers of Twin Falls can be viewed from above, though only the upper portion is easy to reach the bottom of. If you opt to descend and get a closer look at the upper tier of Twin Falls, use extreme caution as the rocks here are flat and slippery.
Twin Falls can be found at the following coordinates: 41.333699, -76.356589.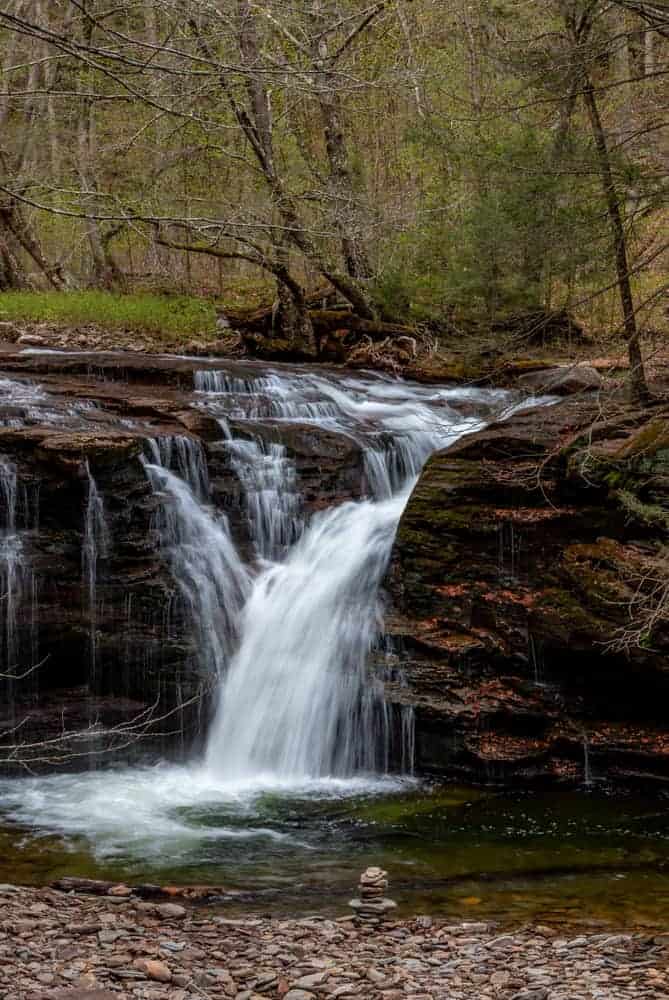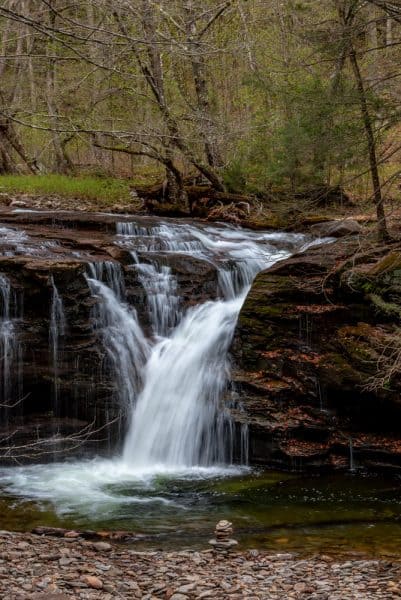 While in the area, don't miss another nearby waterfall on a side stream. To see it, simply follow Heberly Run upstream for about 100-150 yards and look across the creek.
This stream, which seems to be unnamed, features a waterfall that is 15 feet or so in height. This side waterfall can be found at these coordinates: 41.334883, -76.356467.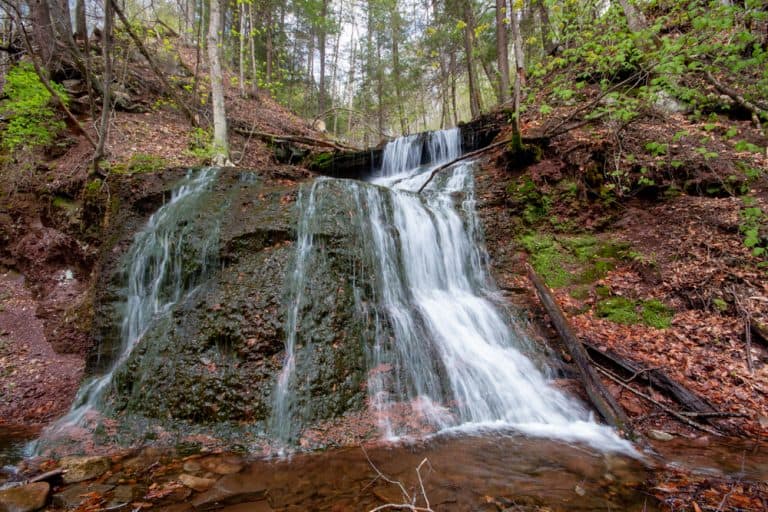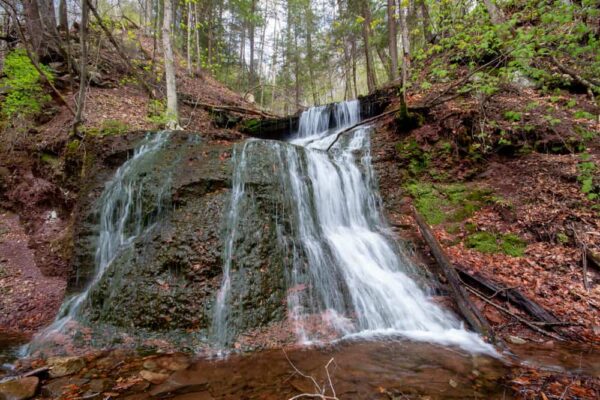 If you opt to cross Heberly Run to get a closer look, use great caution as it's a fast-flowing stream with a slick bottom in places.
Lewis Falls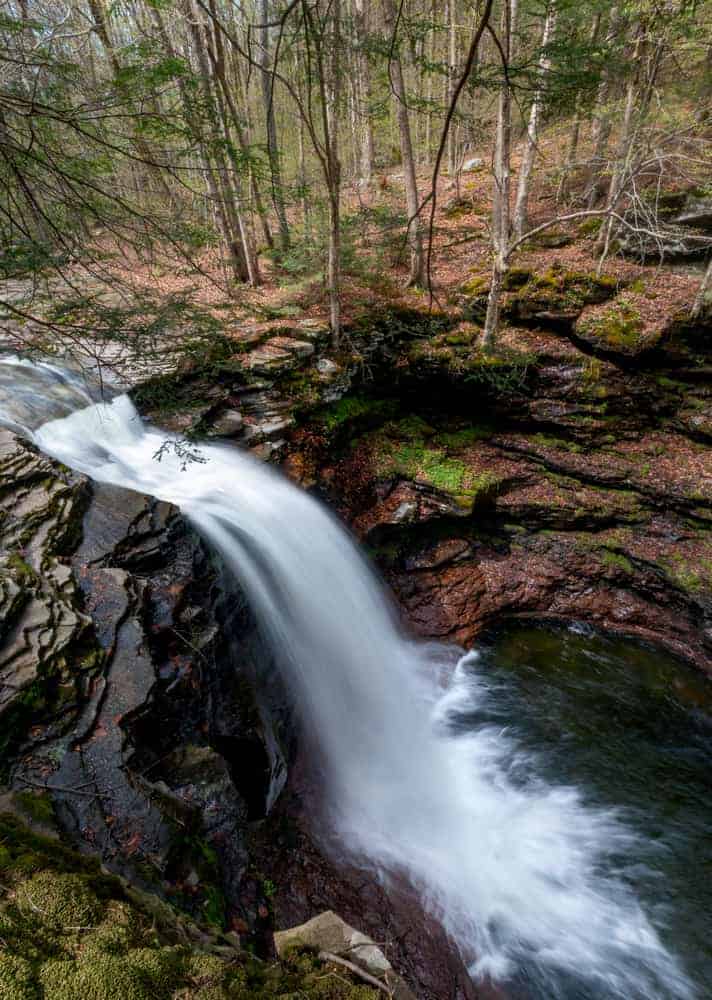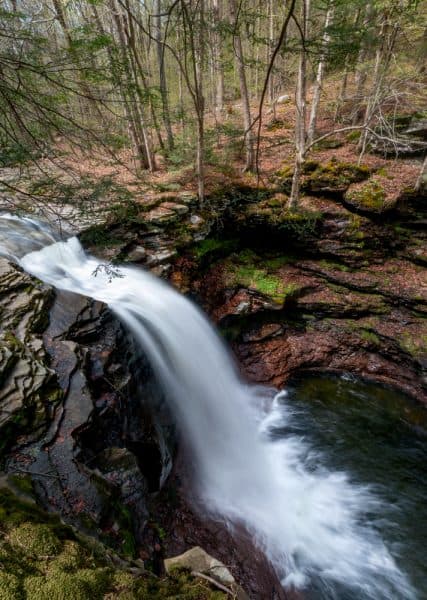 Lewis Falls is the last of the three major waterfalls on Heberly Run and is just before the stream's confluence with Quinn Run. While it is the easiest of the three waterfalls to see, it is the hardest to reach the bottom of.
The parking area for Lewis Falls is about 4/10 of a mile from the parking for Twin Falls. This was once the end of the road, but as of early 2020, the road continues about half a mile past this point. Park in the parking area adjacent to a state game land's sign that has a "Lewis Falls" sign on it.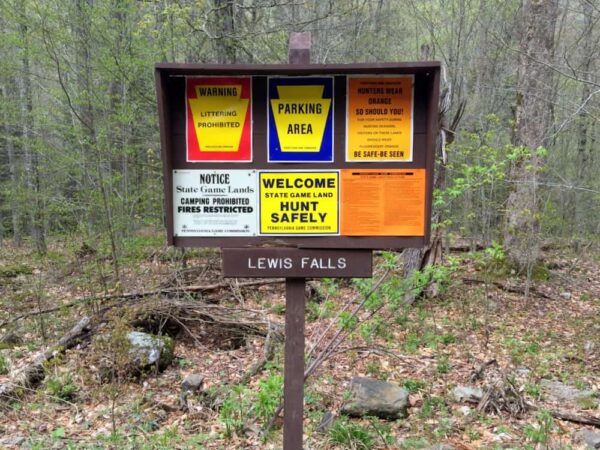 To reach Lewis Falls, follow the old dirt road that branches off of this parking area (not the continuation of Grassy Hollow Road). Within about 100 yards, you'll come to the top of Lewis Falls. This waterfall can be found at the following coordinates: 41.338217, -76.364083.
Lewis Falls is roughly 20-25 feet in height and is a very impressive and beautiful waterfall. Like Big Falls, it is completely surrounded by cliffs. However, these cliffs are even more difficult to descend than those at Big Falls.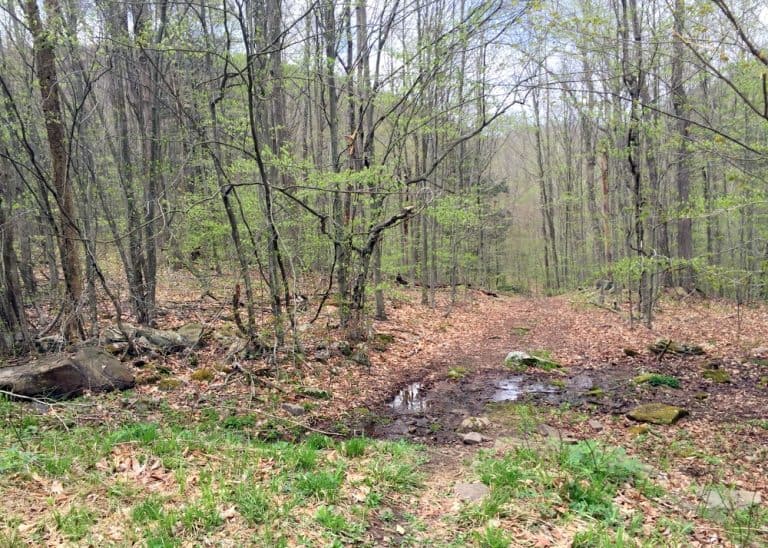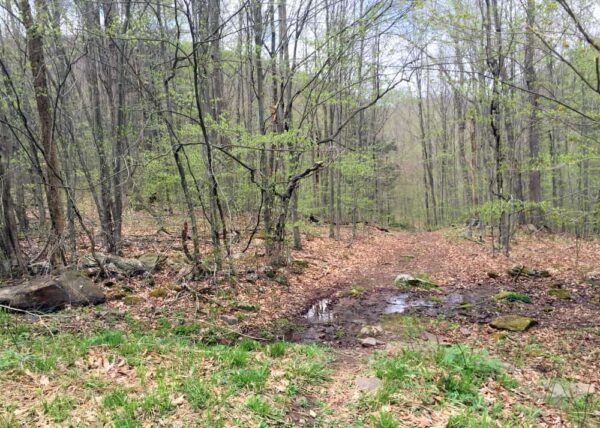 If you want to attempt to reach the bottom, head downstream for a few hundred feet and look for somewhere that the bank has been eroded. I attempted to get to the bottom but decided to abort my attempt as it looked too difficult to come back up.
If you do get to the bottom, a bit of walking in the creek will likely be required to get close to the base of the falls.
Since I didn't go to the bottom, I opted instead to enjoy Lewis Falls from above. This is also not without danger as the cliffs here are high and sheer. Be very cautious exploring the edges of the cliff.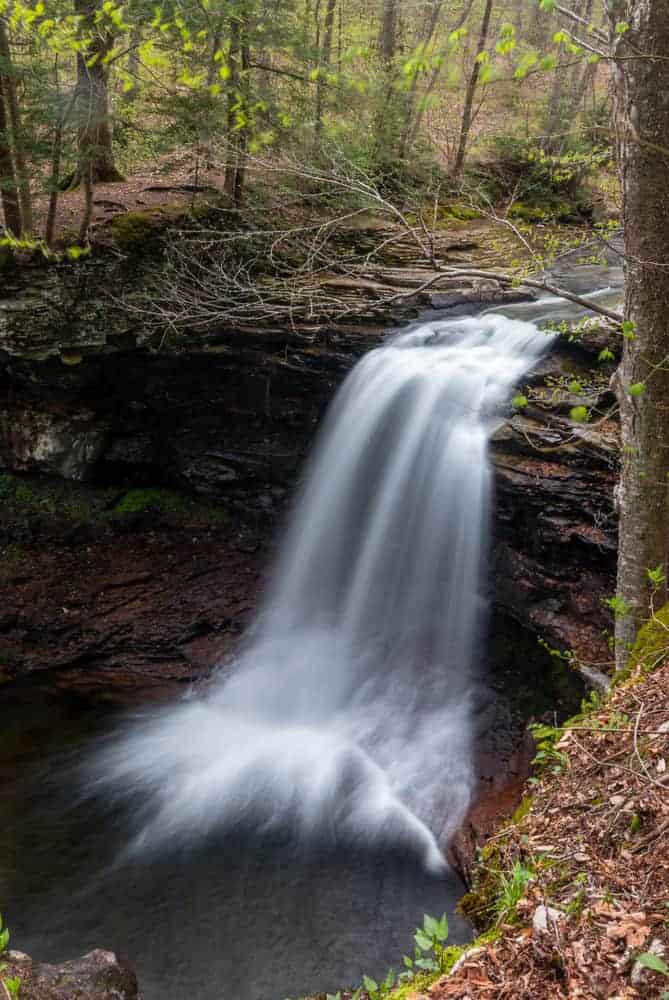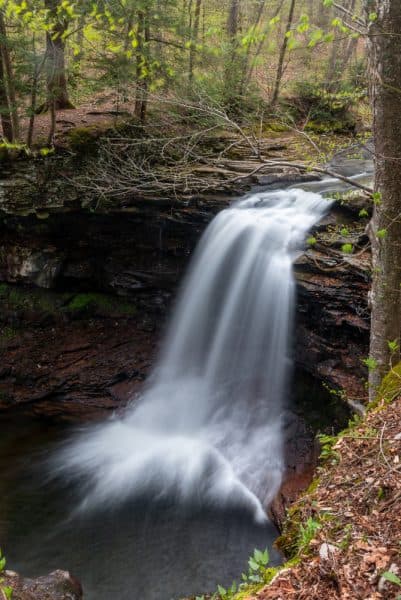 The opposite bank of Heberly Run provides the best views of Lewis Falls, but again be very cautious if attempting to cross the waterway. If you do cross, make sure to do so a bit upstream so as to decrease the risk of sliding over the falls. When I crossed, I ended up having to wade through water that was more than knee-deep.
On the opposite bank of Heberly Run, you'll notice an old forest road that climbs into the woods. This is the continuation of the loop hike described in Jeff Mitchell's "Hiking the Endless Mountains". I hope someday to complete this loop as it's one of Pennsylvania's best waterfall hikes but opted not to since I was hiking alone.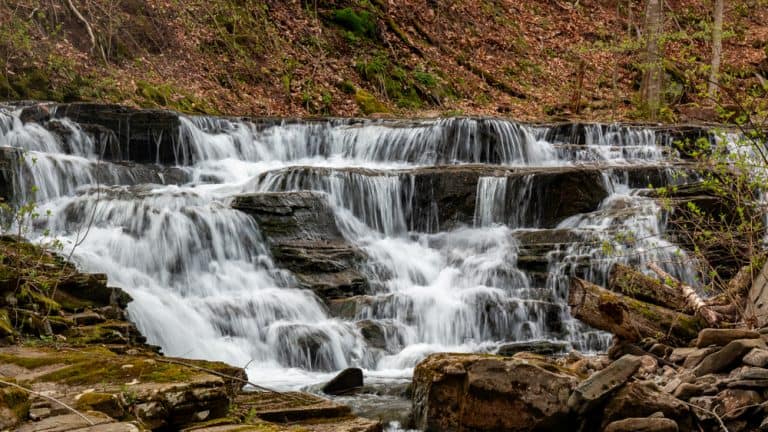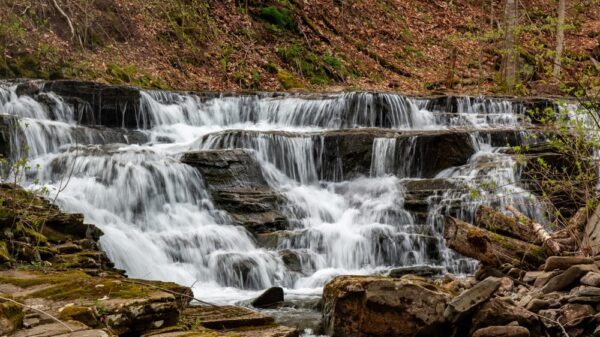 However, if you want to see another waterfall, you can follow this road up a short distance. Just past an old chimney, you'll see a small 8-foot waterfall on Quinn Run. More waterfalls exist further upstream, but those get harder and harder to find and see as you continue.
In fact, many of the streams in State Game Lands 13 have waterfalls including Sullivan Run, Pigeon Run, Blackberry Run, and the aforementioned Sullivan Falls.
Driving on Grassy Hollow Road in State Game Lands 13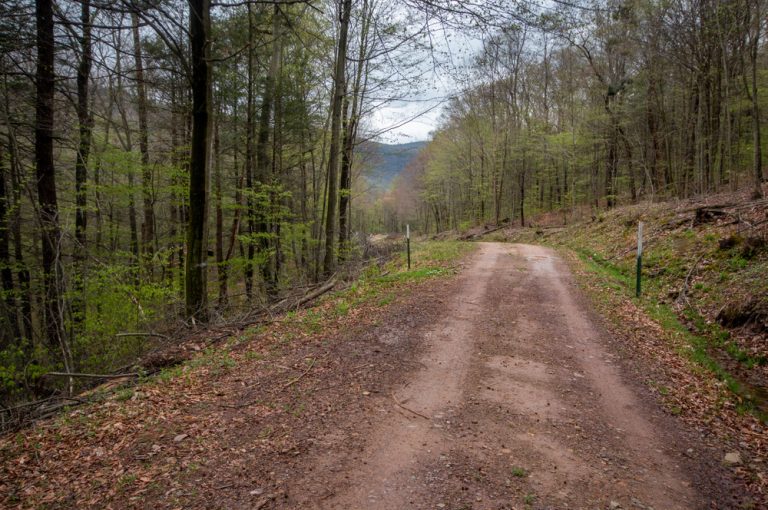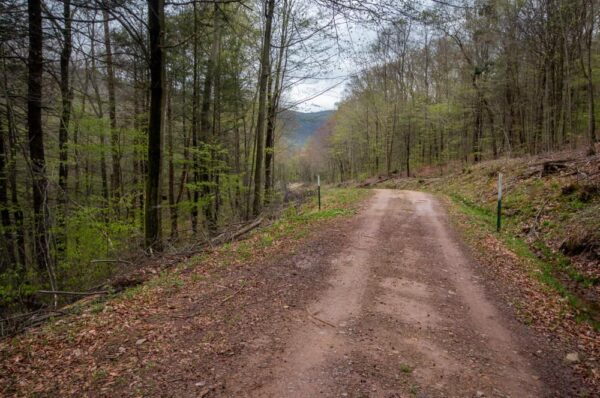 Grassy Hollow Road is open only for some of the spring and fall, but when it is open it cuts a large portion of the walking out of this hike while still allowing you to see all three waterfalls on Heberly Run in State Game Lands 13.
If you opt to drive on this road, make sure to bring a vehicle with a somewhat high clearance (a standard SUV should do just fine). I would not have felt comfortable driving this road in my car.
It's also worth noting that this road is very narrow and for most of it, coming upon another car would be a rather difficult situation as the road is not wide enough for two cars and there are steep drop-offs on one side.
Make sure you are comfortable with this type of driving prior to leaving home.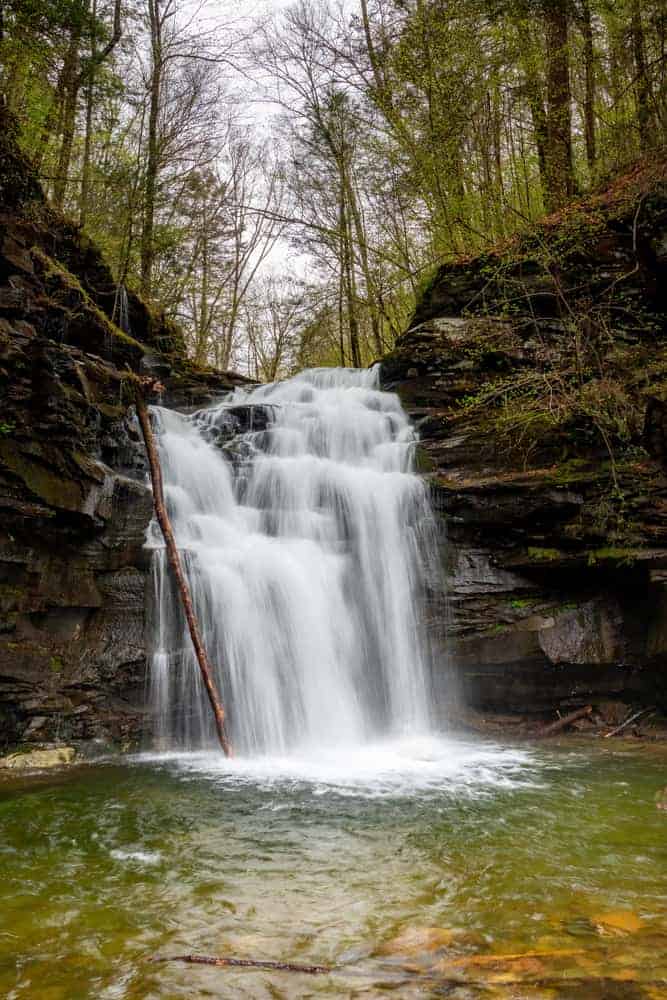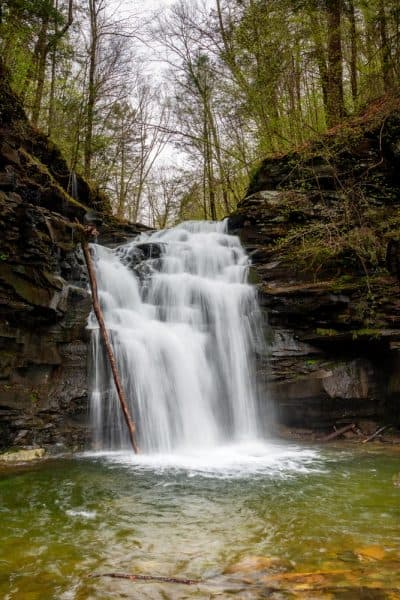 Another point to keep in mind is that online maps tend to show Grassy Hollow Road extending far beyond where it currently does.
While it's likely the road at one point connected through to Forest Road to the north, it no longer does. Instead, the road ends at Lewis Falls, though the forest grade continues beyond that for those wanting to hike further.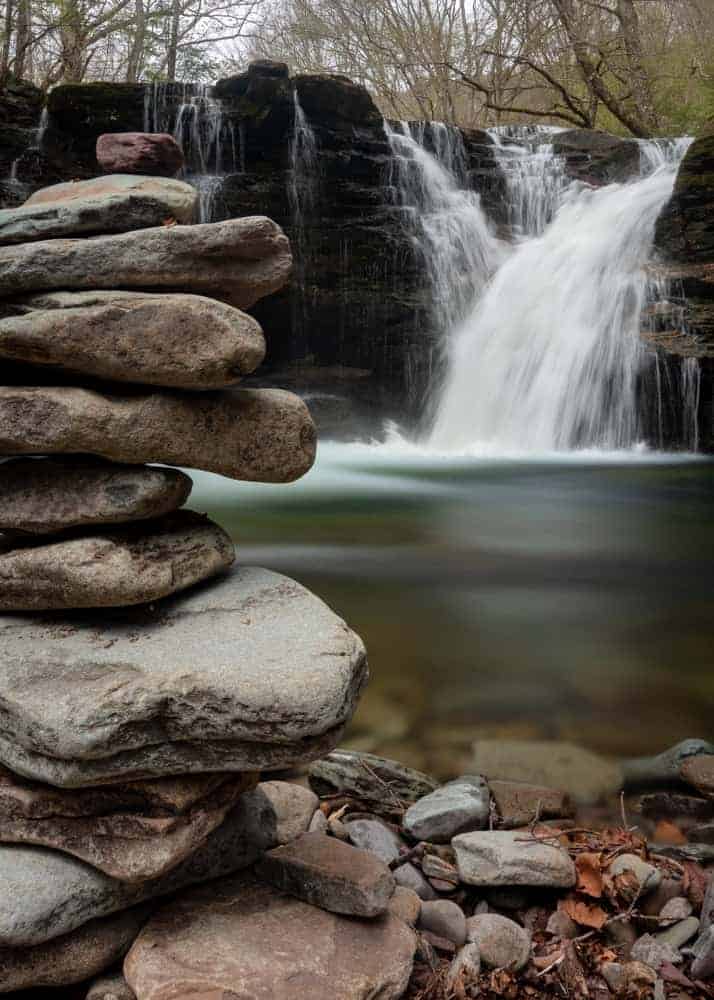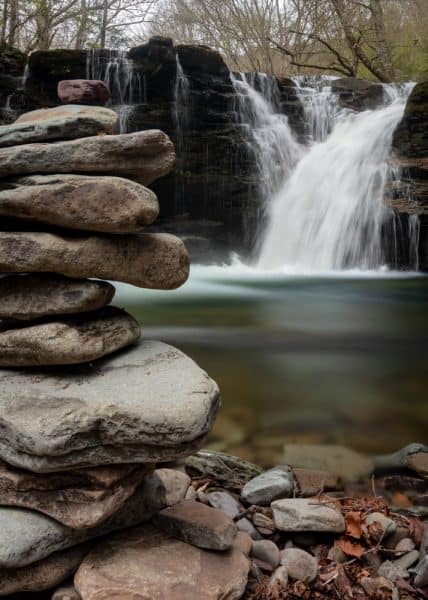 Google Maps also shows Grassy Hollow Road branching off of Sullivan Falls Road. It does not. The only access point to the road is by driving through Jamison City.
It also should be noted that this hike is on state game lands, and if you go when the gate is open, you'll be hiking during a popular hunting time. It is recommended that, if possible, you go on a Sunday when fewer hunters will be out. Also, wearing an appropriate amount of blaze orange is highly recommended.
Note that overnight camping is not allowed on state game lands, but there is a great campground at nearby Ricketts Glen State Park.
Looking for more waterfalls to visit in the area? Don't miss the Falls Trail at Ricketts Glen, Adams Falls, and Colley Falls.
[Click here for information on how to use the coordinates in this article to find your destination.]
Want to see more of Pennsylvania's best waterfalls? Visit our Pennsylvania Waterfalls page!
Need a hotel near Ricketts Glen?

Here are a few great options:
See map below for other area attractions.