Disclosure: This article may contain affiliate links. We will make a small commission from these links if you order something at no additional cost to you.
When most visitors travel to the Endless Mountains, they are thinking more about the area's fantastic outdoor attractions, and little about the history that surrounds them. However, if you take the time to learn more about the people and events that made this area so interesting, you're sure to uncover the area's great history.
And, on a recent visit to the area, that's exactly what I did when I visited the Wyoming County Historical Society Museum in Tunkhannock.
The Wyoming County Historical Society is located in Harrison Street School, a former primary school that was built in 1855. The school served the community through several additions and renovations until it was closed in 1970 and was given to the historical society in 1981.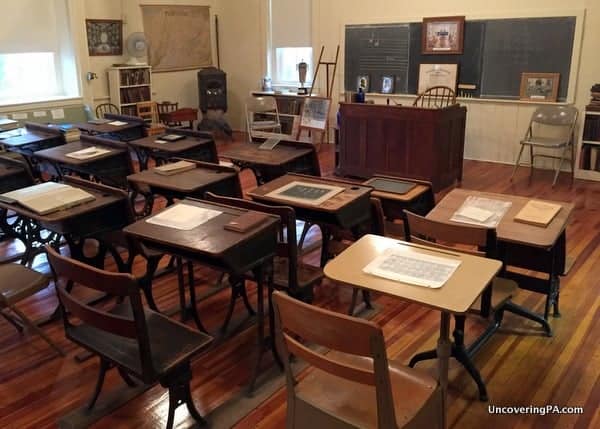 The fact that the historical society is located in a historic building isn't overly unique, but the fact that it used to be a school is much more rare. This gives the building an interesting history that differs greatly from a historic home. In fact, many visitors and volunteers, including my tour guide, were students at the school during their childhood. My guide was able to tell me stories about the building that really added a unique aspect to my tour.
The historical society's museum is located almost entirely on the second floor of the oldest portion of the school. It consists of several large rooms that contain a variety of items related to the history of Wyoming County and how it affected the world.
In the first room, there were hundreds of items related to life in Wyoming County. I was drawn especially to a case full of items related to local crime. In this case, there were interesting items such as a length of rope used in the last hanging in Wyoming County in 1893, as well as tickets to the execution. There were also several murder weapons and items from the local jail.
This room also had a display of information on Admiral Harold Stark, who frequented a cabin on Lake Carey. Admiral Stark was a naval commander in 1941 and is one of the most controversial figures in the events leading up to Pearl Harbor. His cabin still stands on the lake.
Another interesting piece in the first room was an Olympic medal won by local runner Walter Tewksbury in the 1900 Paris Olympics. Tewskbury won five track and field medals in the 1900 Olympics before retiring to become a dentist in Tunkhannock. The first room also contained a powder horn and bow and arrow that are said to have belonged to Pennsylvania native Daniel Boone.
In the second room was a very impressive collection of Native American artifacts. In fact, it's the largest collection of Native American artifacts that I've seen in any historical society so far. What was even more impressive was that every item in the collection was from local tribes.
The room contained several display cases full of arrowheads, spear points, and atlatl weights. Some of these items even dated back to 8,000-14,000 B.C., putting them in the same age range as those found at Meadowcroft Rockshelter in western Pennsylvania. Many of these items were found and donated by one local man.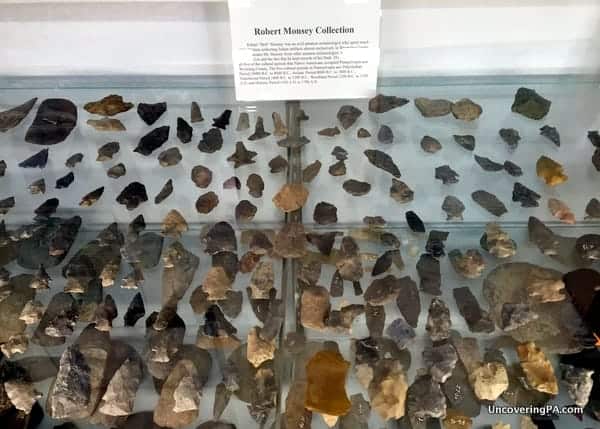 The last large room of the museum contained a large schoolhouse setup, which was a nice nod to the building's former use. The items here were from local schools and would be very recognizable to people who grew up in the area. Even if you aren't local, however, it's still interesting to see what an old school room was set up like, and what instruments were used to teach children in the mid-20th century.
The rest of the Wyoming County Historical Society Museum featured interesting displays that were similar to many other historical societies around Pennsylvania, such a local industries, period clothing, and other items of local historical interest.
I always love visiting local historical societies because I always find that they have displays that are interesting for anyone that loves history, and the Wyoming County Historical Society is no exception. Visits to the museum are by appointment only, but are worthwhile for any history lover visiting the Endless Mountains for the variety of well-done exhibits.
Looking to explore more? Check out the best things to do on Route 6, the Sullivan County Historical Society Museum, and the Bradford County Museum.
Note: My visit to the Wyoming County Historical Society Museum was hosted by the museum. However, the opinions expressed are my own.
---
Wyoming County Historical Society Museum
Hours: Tours currently by Appointment Only

Cost: See Website

Website: PAWCHS.org

Address: 7 East Harrison St
Tunkhannock, PA 18657
See map below for other area attractions.
---