Please do your best to limit your travels around PA during this time. If you decide to travel, please check the status of the places you are going. Some places around the state are temporarily closed or have changed their hours. We will not be updating individual articles to note these changes. Stay safe and wear a mask!


Located in northern Pennsylvania, along Interstate 81, Susquehanna County is often bypassed without much of a thought. However, for those looking to get off the highway and learn more about the history of the region, a stop at the Susquehanna County Historical Society Museum in Montrose is a great choice.
Located in an early 20th-century building in the heart of downtown Montrose, the Susquehanna County Historical Society Museum chronicles the history of the region. Taking up the entire second floor of the borough's library, the museum features items covering a wide variety of interests from the county's history.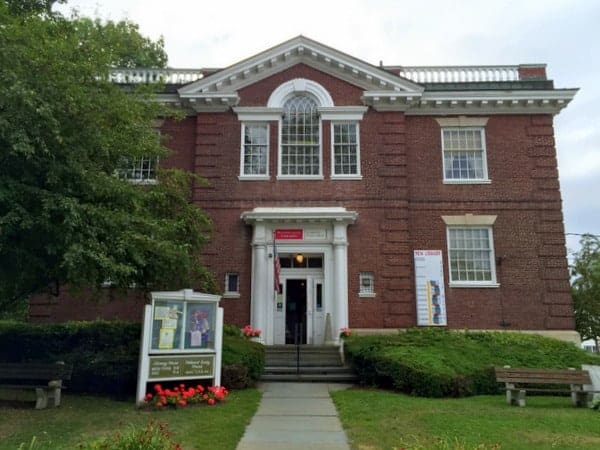 The museum portion of the historical society consists of two large and very cramped rooms.
Disclosure: This article may contain affiliate links. We will make a small commission from these links if you order something at no additional cost to you.
Truthfully, I was very impressed with how much they were able to put into these rooms, but there's no doubt that they would benefit from a larger space (which they will hopefully be getting some time in the near future). However, such a large collection ensures that anyone interested in the history of the region will find something to enjoy. Just make sure to take your time, as it can be difficult to see all of the items on display quickly without missing something interesting.
In addition to many of the typical things that you find at historical society museums in Pennsylvania, there were a few areas of the collection that stood out to me.
The first was the large number of high-quality paintings throughout the museum. They represent the work of several artists who spent time in Susquehanna County including George Caitlin, whose paintings of Native Americans are hanging in the Smithsonian, and Susan Waters, who is best known for her paintings of the Odd Fellows.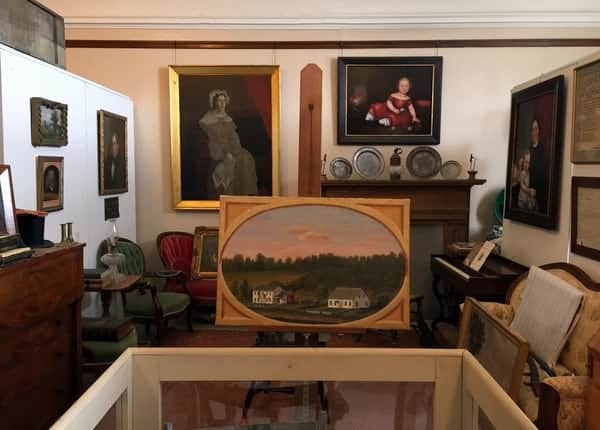 There is also a nice collection of Native American artifacts. While some of the pieces are from tribes from the US Southwest, many are pieces found in the local area and tell the story of the native tribes to the region.
The museum also features other types of work by local artists. A large collection of carved, wooden canes have to be seen to be believed, and there is even a beautiful dress that is trimmed in human hair. I've seen many art pieces made out of hair, but I can't recall another piece of clothing made from hair.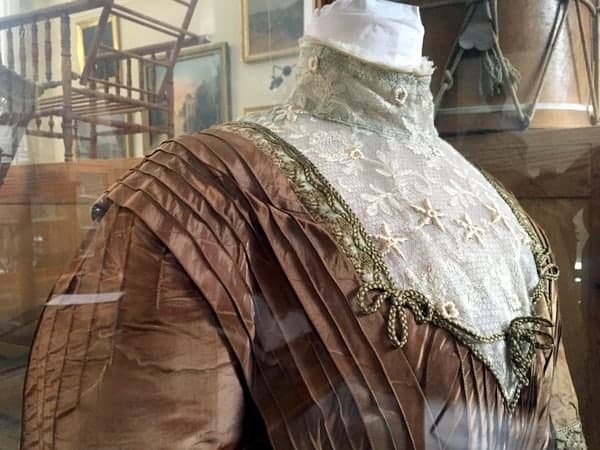 The Susquehanna County Historical Society Museum's collection of military artifacts is also quite well-done. They have a nice collection of Civil War items, including a few pieces that I haven't seen elsewhere. Their military collection also includes items dating back to the late 1700s through the present day.
If you're interested in the Civil War, don't miss the Civil War Monument on the grass outside of the museum building. The monument was constructed in 1887, making it one of the first Civil War monuments in the region.
Overall, I enjoyed visiting the Susquehanna County Historical Society Museum. If you want to learn more about this often-overlooked corner of the state, a visit to this museum in Montrose, Pennsylvania, is well worth your time.
Looking for more places to visit nearby? Check out Lost Falls, Salt Springs State Park, Endless Brewing, and the Tunkhannock Viaduct.
---
Susquehanna County Historical Society Museum
Hours: Monday-Thursday: 9am-5pm

Second Saturday of each month: 10am-2pm
**Hours pertain to Genealogy Department only

Cost:
Genealogical Library (DIY): $10/day

Website: SusqCoHistSoc.org

Address: 18 Monument Street
Montrose, PA 18801
See map for other area attractions.
---