Disclosure: This article may contain affiliate links. We will make a small commission from these links if you order something at no additional cost to you.
There are few more iconic brand names than Harley-Davidson. Founded in Milwaukee, Wisconsin, in 1903, the company has been making motorcycles for more than 100 years. While their headquarters are still located in this midwestern city, many of their motorcycles are produced in York County, Pennsylvania.
Harley-Davidson began manufacturing motorcycles in York in 1973. Today, the factory produces Touring class, Softail, and custom vehicles for the U.S. market. Visitors wanting to learn more about the classic American company or who just like to see how things are put together can take a tour of this impressive factory.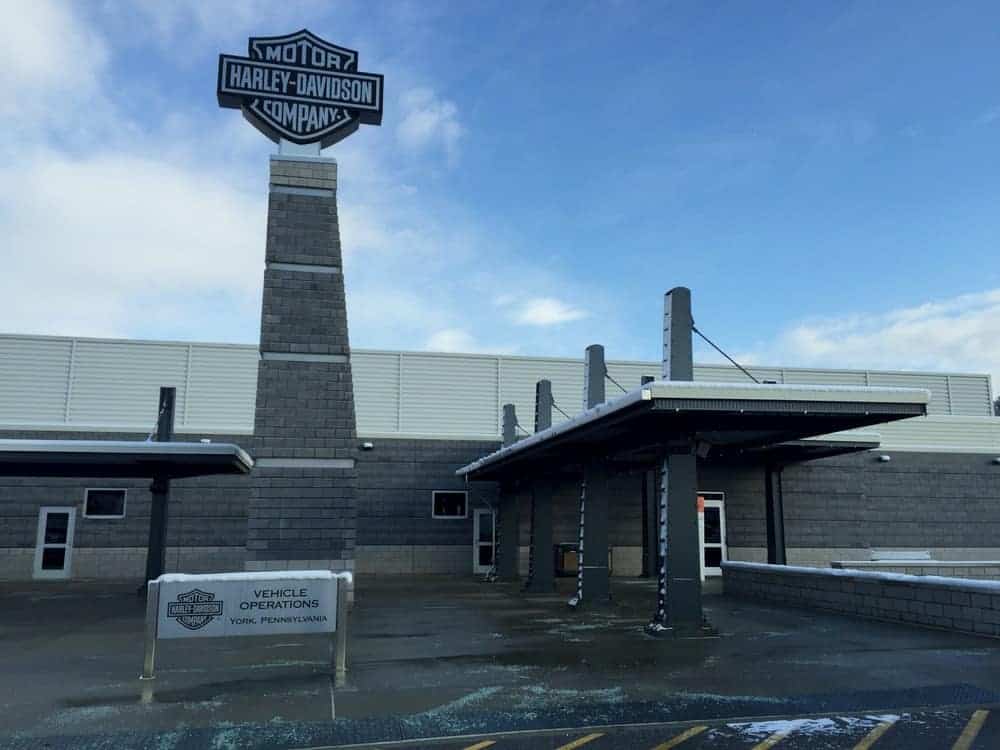 Tours of the Harley-Davidson Vehicle Operations Plant in York start from the visitor center. Here, you can sign up for a tour, visit the gift shop, or check out the small museum. If you do take a tour, make sure to arrive early enough to look at the collection of motorcycles and displays in the visitor center first. This will give you a good overview of what types of bikes are made in the factory and how they are made. There are also some simple kid's activities here (It should be noted that factory tours are limited to those 12 and over).
My favorite part of the visitor center, which you can visit without doing a tour of the factory, was the ability to sit on a motorcycle. As someone who has never ridden one before, it was fun to get a quick feel for them and to get a photo of myself riding one.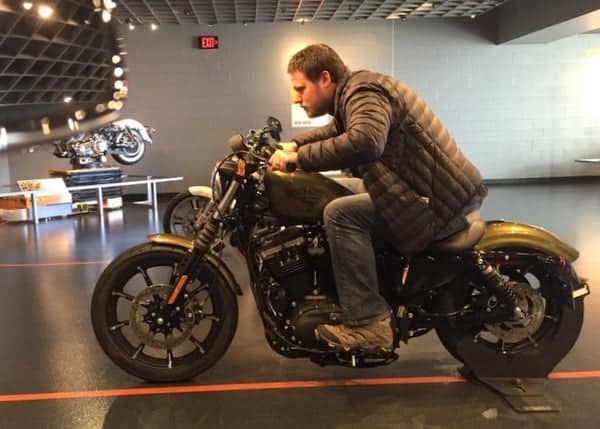 Free tours of the Harley-Davidson Factory in York start off with a 10-minute video. This video is half commercial and half company history, but does give a good overview of the the company for those who aren't familiar with the history of the company.
Before entering the factory, visitors are given eye protection and a headset. Even in small groups, the noise of the factory can make hearing the guide difficult, so the headsets come in especially handy to make sure that you can hear all of the information.
Tours of the factory last about one hour and walk you through all of the steps involved in the making of a motorcycle. The process is surprisingly labor-intensive, with robots assisting with most aspects, but actually completing very few of them. It was interesting to watch the factory workers complete the different aspects of bicycle assembly from welding to fitting motors into the bikes and even testing them.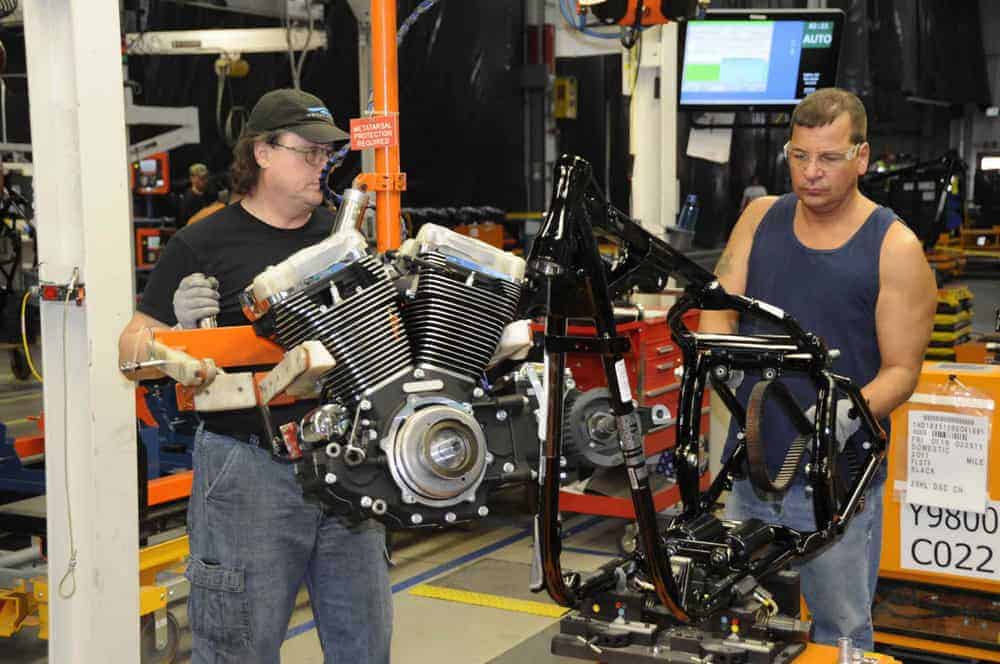 Along the way, guides explain what is happening at each station. There are even videos to show you parts of the process that can't be seen along the tour route, such as painting or the welding that is completed by robots.
The most interesting part of the tour was the assembly line. Here, workers are lined up along a central track that moves the motorcycles from station to station. At each stop, workers have 80 seconds to complete their jobs before the bike moves onto the next station.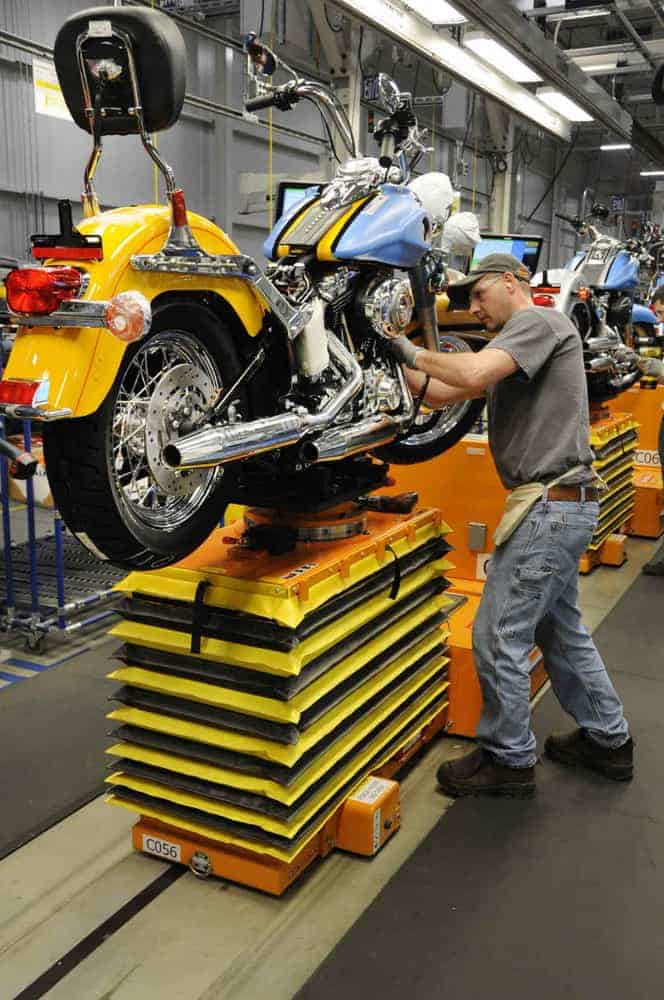 The Harley-Davidson motorcycles enter this assembly line as little more than frames and come out as fully assembled bikes, complete with any factory customizations. From there, they head to the testing area, where the luckiest workers in the factory get to sit on the brand new bikes and run them through a series of tests.
While the free tour offers a great look at the Harley-Davidson factory, there is also an in-depth tour that is offered twice daily. The Steel Toe Tours last twice as long and allow visitors to actually walk through the assembly line and get an even more detailed look at how motorcycles are made.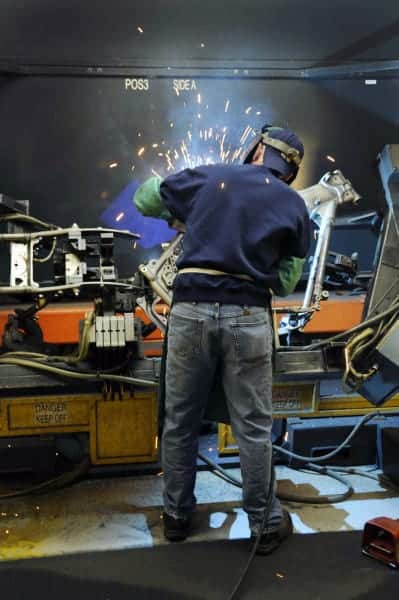 I'm not a motorcycle guy, have never ridden one, and despite enjoying sitting on one at the visitor center, probably never will ride one. However, I still enjoyed my tour of the Harley-Davidson Factory in York. It offered a great chance to see how these complicated machines are put together, which I always find interesting regardless of the product.
If you love motorcycles or simply enjoy seeing how things are made, the Harley-Davidson Factory Tour in York County should be on your list of things to do in Pennsylvania.
Note: Photos are not allowed inside of the factory. In fact, you aren't even allowed to bring cameras or cell phones on the tour. They can be left in your car or in the lockers inside the visitor center.
---
Harley-Davidson Factory Tour
Hours: Monday-Friday: 9am-2pm
Free tours leave regularly
Steel Toe Tours offered at 9:15am and 12pm

**Factory Tour Center is closed until 2024

Cost: Free
Steel Toe Tours: $38
Must be 12+ for tour.

Website: Harley-Davidson.com

Address: 1425 Eden Road
York, PA 17402
See map below for other area attractions.
---