Disclosure: This article may contain affiliate links. We will make a small commission from these links if you order something at no additional cost to you.
Given how popular pretzels are in Pennsylvania, it's hard to believe that there was a time when pretzels couldn't be found in basically any store. However, prior to 1861, there wasn't a single bakery dedicated to making pretzels in the entire country
That all changed in the small Lancaster County borough of Lititz when baker Julius Sturgis realized that his hard pretzels were more popular than his bread, and switched his production to the snack food after 11 years of making bread.
Sturgis didn't invent the pretzel. In fact, soft pretzels have been around for more than 1,400 years after being invented by European monks. However, until the mid-1800s, the only type of pretzels that existed were soft pretzels. Hard pretzels were created from time to time, but they were thrown out as mistakes created by cooking soft pretzels for too long.
And, initially, Sturgis did the same thing. However, one fateful day, he decided to taste his crispy pretzels and realized that they were quite good. Thus, while Sturgis didn't invent the pretzel, he was the first person in the world to commercially0produce hard pretzels.
Today, tours of factories like Snyder's of Hanover in York County take you behind the scenes of a modern pretzel manufacturer. However, a visit to the Julius Sturgis Pretzel Factory in downtown Lititz is a totally different experience.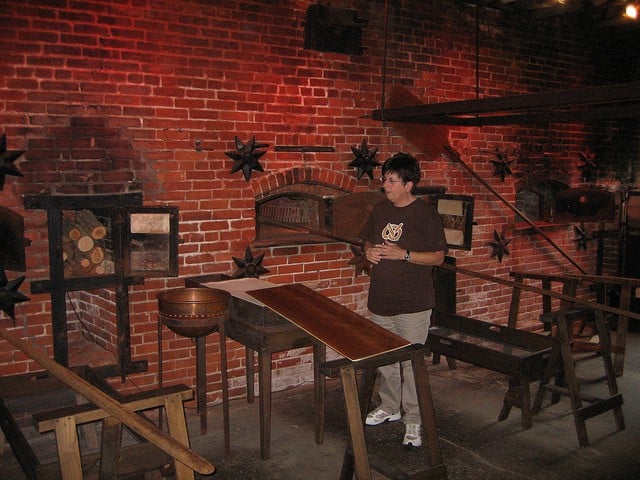 Sitting on the outskirts of the downtown area, the Sturgis factory is located in one of the oldest homes in Lititz. Built in 1784, the home is one of the original buildings in Lititz and still has slits for firing muskets in the event of an attack by Native Americans. The home's conversion to a bakery is still evident today through tours of the home.
It's worth noting that, while there are still a few pretzels made here every day, this is not a factory tour. Instead, it's a tour of an old-fashioned bakery that teaches you about the home history and how pretzels used to be made. Despite this, I was excited to learn a bit about the history of the facility and decided to take a tour.
After a brief introduction, I was led into the old bakery. Here, I was given a bit of dough and taught how to fold pretzels by hand. The instruction was quite good, and within a few minutes, I was able to twist my pretzel and felt confident that I could have a future as a pretzel twister should I decide to switch careers. (If you want to see a quick news clip about how to twist a pretzel, check this video out.)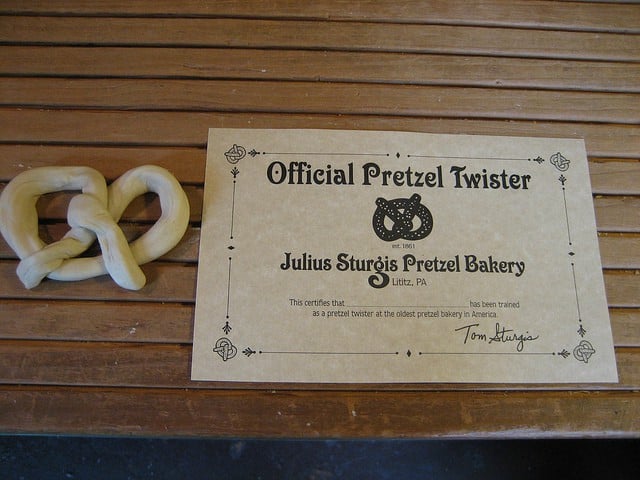 I was a bit disappointed to learn that the pretzel I twisted wouldn't be cooked up for me to eat, but it was still interesting to be able to learn how pretzels used to be twisted by hand instead of just being told.
From there, our group headed over to the old pretzel ovens and told a bit more about the baking process and how Sturgis came up with the first commercially sold hard pretzel. While I personally prefer soft pretzels, it's hard to believe that people used to just throw out the hard pretzels as mistakes.
The tour guide also gave us a bit of information about how pretzel making has changed over the last 150 years. On display is a working automatic pretzel twister from the 1950s. This invention significantly sped up the process of making pretzels and made a very tedious task much easier.
At the end of the tour, I was given a small bag of hard pretzels that were made at the nearby Tom Sturgis Pretzel Factory. Tom Sturgis was the grandson of Julius Sturgis, and he has kept the tradition alive at a modern pretzel-making facility near Reading.
Back in the gift shop, there is a large selection of Tom Sturgis Pretzels. However, if you want to try something made on site, they do often have soft pretzels that were made right there. Personally, I found it a bit strange that they make soft pretzels in a building known for its hard pretzels, but they were quite delicious, so I'll let it slide.
Overall, I enjoyed my tour of the Julius Sturgis Pretzel Factory in Lititz, Pennsylvania. The short tour gave me an opportunity to learn a bit about the history of Pennsylvania's favorite snack food and gave me the chance to try my hand as an official pretzel twister.
Looking to explore more of the food scene in Lititz? Read our review of touring Lititz with Lancaster County Food Tours. You can also check out nearby sites like the Wolf Sanctuary of PA and hike to the Governor Dick Observation Tower.
Note: The photo at the top of the page is used via Creative Commons License from Flickr.com user Dougtone.
---
Julius Sturgis Pretzel Bakery
Hours: Monday-Friday: Tours start at 11am
Saturdays: Tours start at 10:30am

Sundays: Tours started at 12pm
Closed January 1-MLK Weekend

Tours are by reservation only. Call ahead to schedule one.

Cost: Adults: $5, Children: $4

Website: JuliusSturgis.com

Address: 219 East Main Street
Lititz, PA 17543
See map for other area attractions.
---