Disclosure: This article may contain affiliate links. We will make a small commission from these links if you order something at no additional cost to you.
Pennsylvania is filled with many historic cemeteries and there are also many urban legends told throughout the state. Because of that, it makes sense that both would be combined together sometimes, which is how you get the "Haunted Quaker Church" near Perryopolis in Fayette County, PA.
Interestingly, the "Haunted Quaker Church" is not Quaker, not a church, and not haunted (at least in regards to the urban legends related to it). That being said, this is still an interesting and beautiful spot that does have connections to the Quakers that settled in western Pennsylvania.
In fact, this hilltop, which provides fantastic views over northern Fayette County, was the site of a Quaker Meeting House, known as the Providence Meeting House, from 1793 until it was decommissioned in 1870.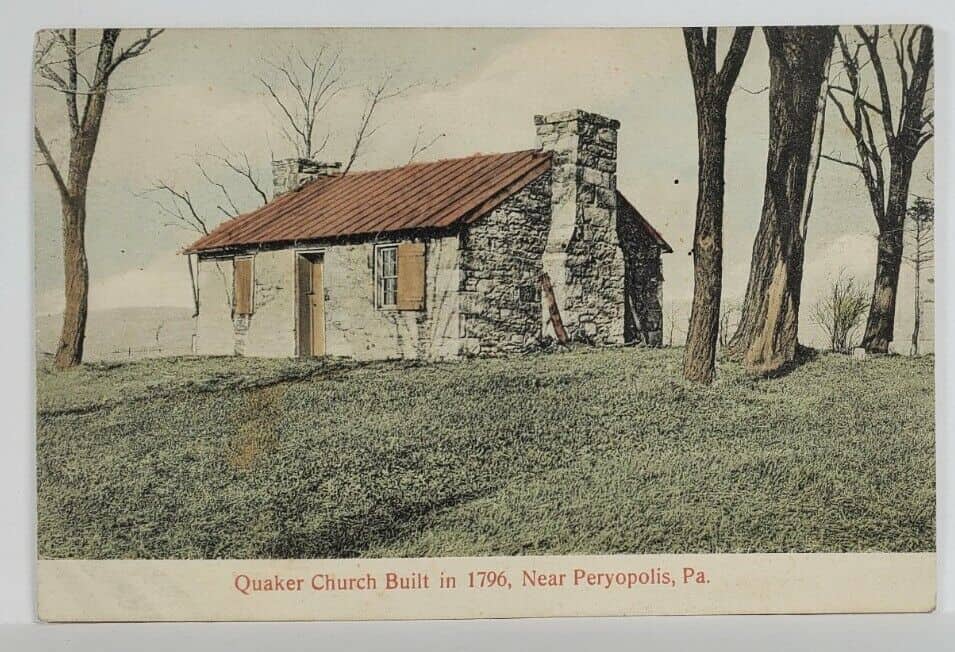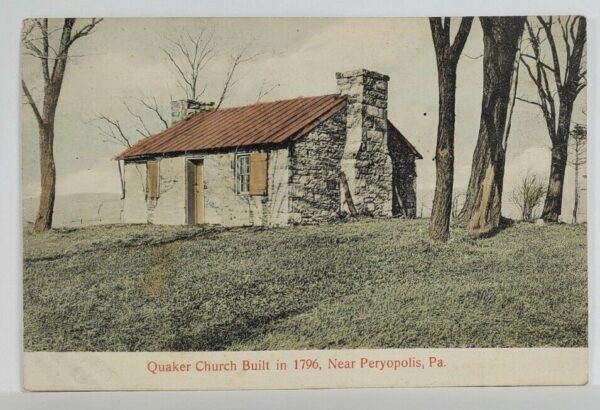 In 1895, the meeting house, which was by this time little more than a ruin in the middle of an active cemetery, was demolished, and the stones from the meeting house were reused in the construction of a small chapel. It is said that this chapel was used for funerals within the graveyard.
The building today lacks a door and the windows are open, though metal bars have been placed over both. This means that you can easily see into the building, though you can't go inside.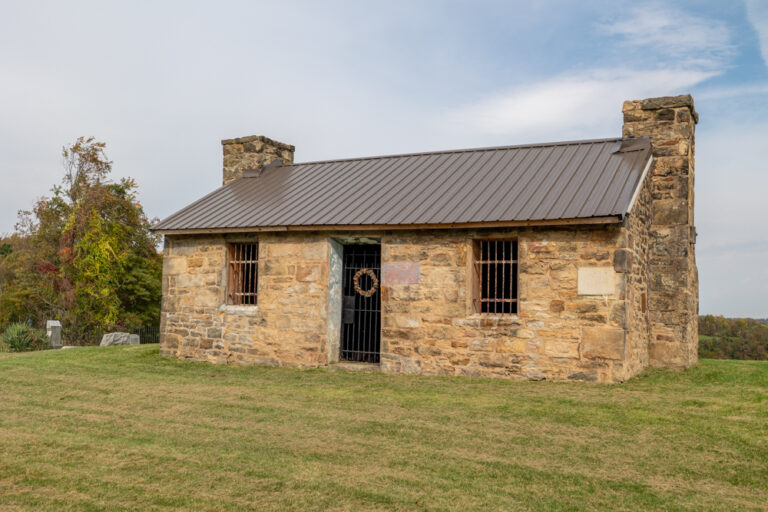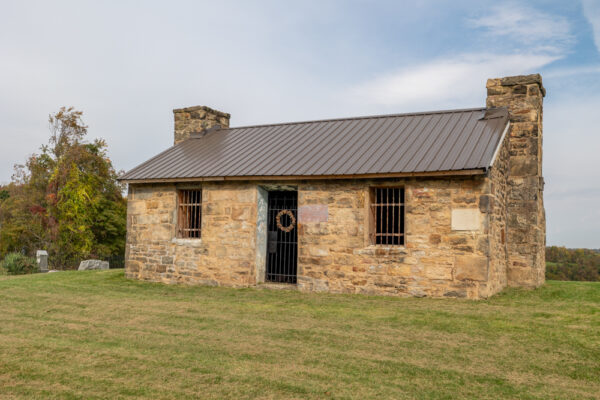 The interior has clearly not been used in many years and there isn't a whole lot to see inside of the structure aside from a handful of wooden benches and some other random items scattered around the floor. On either end of the structure, you'll notice an unadorned fireplace.
Local urban legend says that this building was used for a witch trial and execution in the 1800s, though that is unlikely for several reasons, most notably because the Quakers were fairly tolerant of other religions and didn't conduct witch trials. There is also no record of any witch trials ever occurring in western Pennsylvania.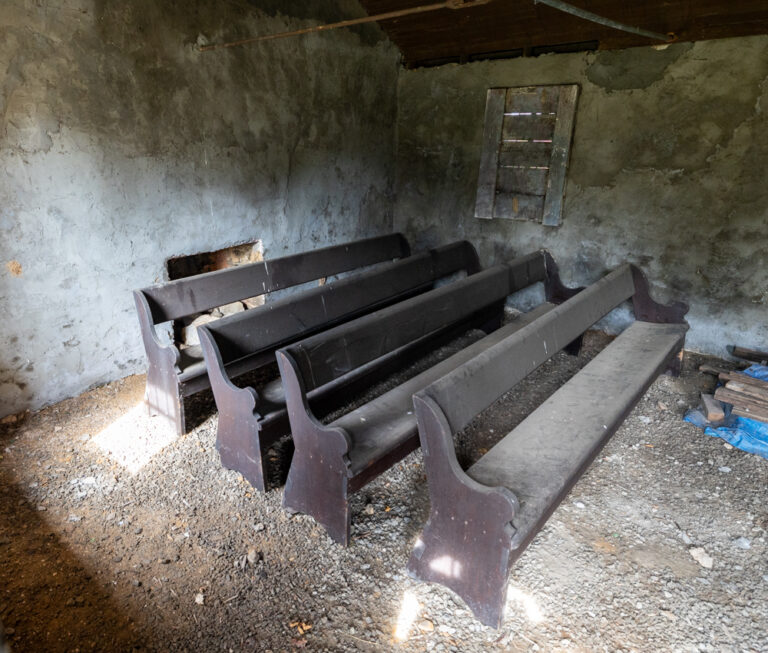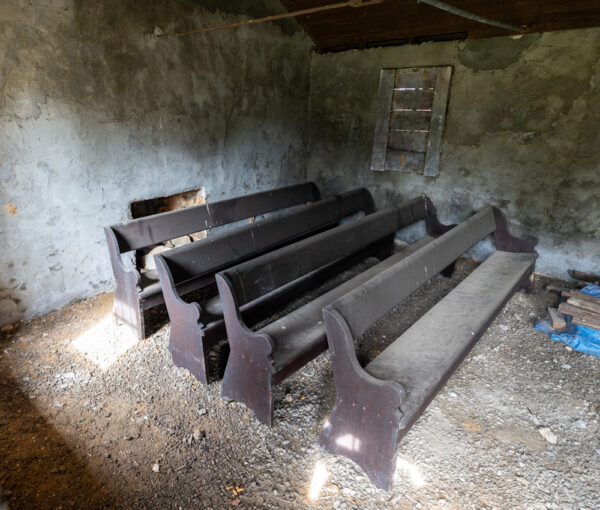 Nevertheless, the stories persisted at this beautiful cemetery to the point that the entire area is now surrounded by a barbed-wire fence. A sign on the gate indicates that visitors after dark will be prosecuted, so please only visit during the daytime.
It's also worth noting that the one entrance to the cemetery and church is through a gate that is frequently locked. In fact, on the day of my visit, it was still locked at 9 am when I arrived. I checked back in a few hours later after touring Buffalo Bill's House from "Silence of the Lambs", and it was open, but it's possible that it was only unlocked because there was someone cutting the grass.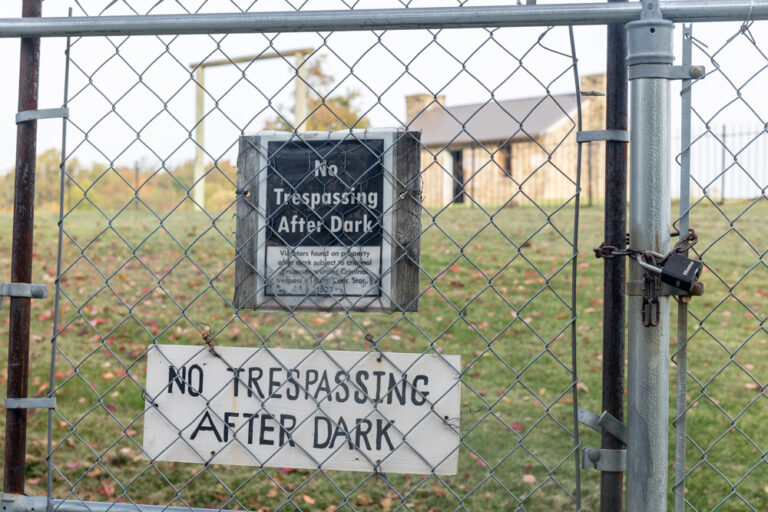 If you visit and the gate is locked during daylight hours, you can still see the building and the cemetery from the road. In fact, the photo at the top of this article was taken from the road.
If the gate is open, it's a short walk through the grass to the "Quaker Church", which is surrounded by graves dating back as far as 1805. There have even been a handful of burials here in the last two decades, though those are very few and far in between.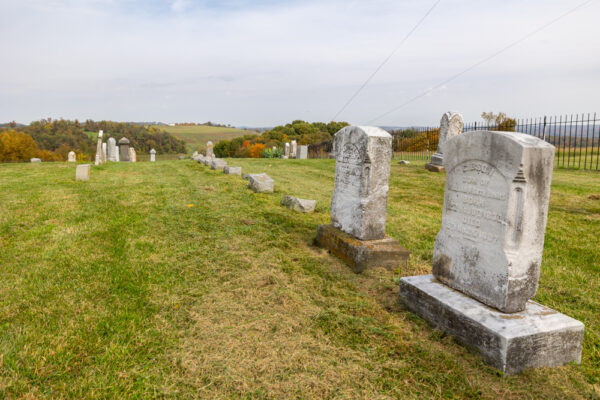 I personally found it most interesting to simply walk around the graveyard and look at the many tombstones dating back more than two centuries ago. That being said, Quakers often did not use tombstones, so while there are only a few dozen markers here, it is said that there are more than 500 buried in this area.
There are also great views from both the cemetery, as well as along Quaker Church Road when heading towards Route 51 and Perryopolis. This was especially evident during my mid-October visit thanks to the vibrant colors of the hillsides.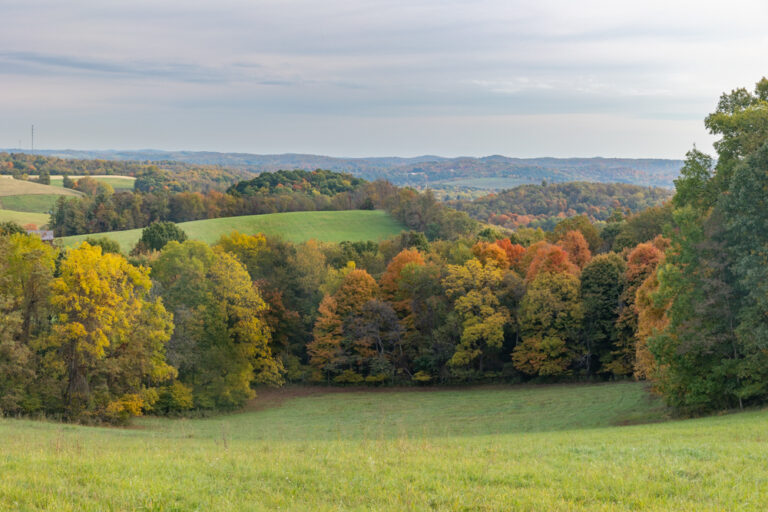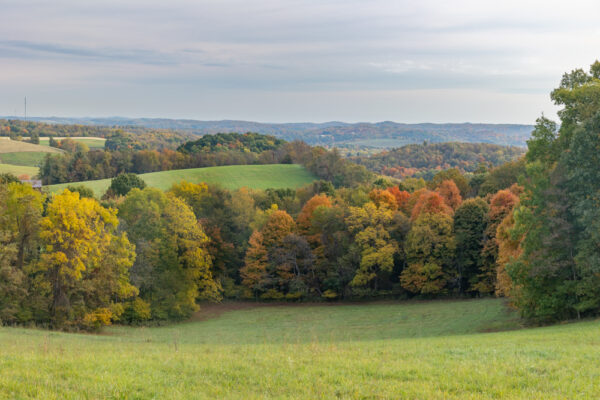 Overall, this site is interesting to visit. That's not because of the urban legends surrounding the "Haunted Quaker Church", but instead because of the beautiful old Quaker cemetery and the interesting recreation of the Providence Meeting House.
If you do visit, make sure to only visit during daylight hours and be respectful of this unique and beautiful spot in the Laurel Highlands.
Getting to the Haunted Quaker Church in Perryopolis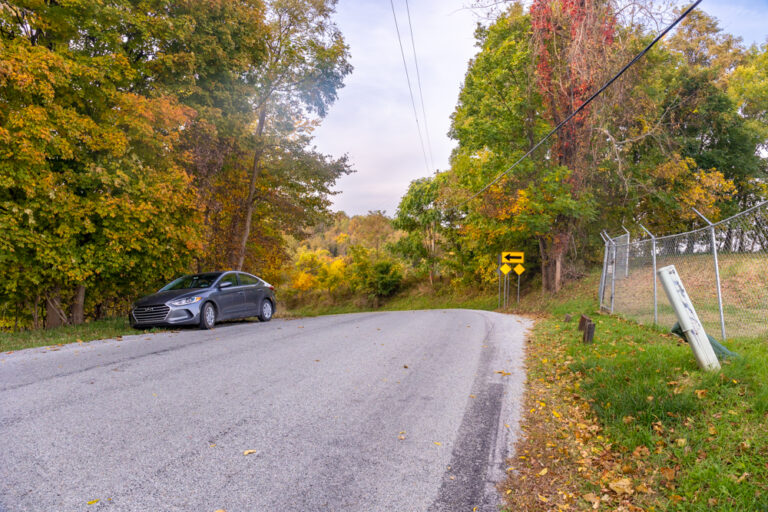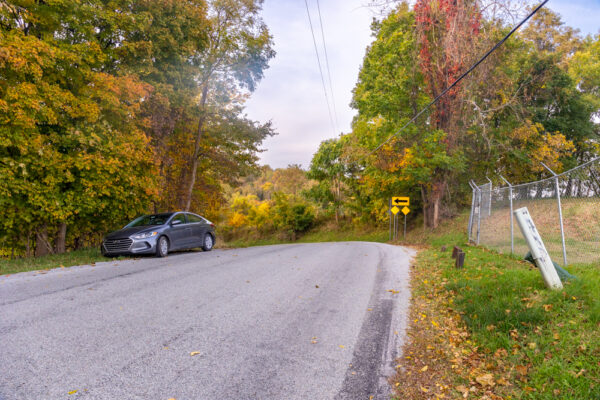 The Haunted Quaker Church and cemetery can be found a few miles southwest of Perryopolis, PA, and about an hour from downtown Pittsburgh. Quaker Church Road heads west from Route 51, and the main entrance to the cemetery and chapel lies along this road 1.8 miles from the main road.
It can be found at the following coordinates: 40.072480, -79.781733.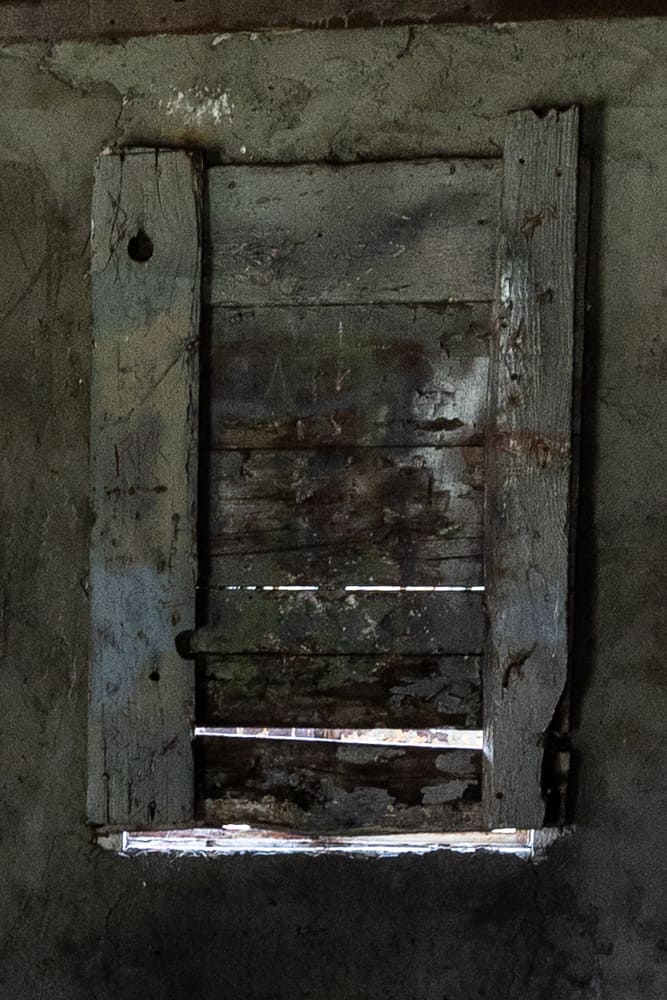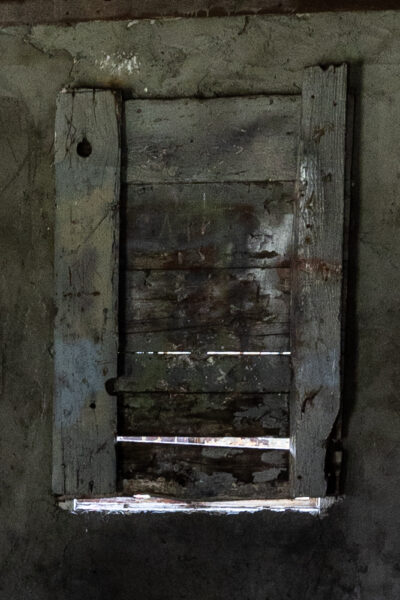 There is no real parking area for the cemetery, but there is room for a few cars to pull off of the road on either side of it. Be careful when doing so as this road does receive some traffic, so make sure you pull far enough off the road.
Again, please be respectful when you visit and only visit during daylight hours.
Looking for more places to visit nearby? Check out Nemacolin Castle, the Donora Smog Museum, and East Park Falls.
[Click here for information on how to use the coordinates in this article to find your destination.]