Disclosure: This article may contain affiliate links. We will make a small commission from these links if you order something at no additional cost to you.
Hidden throughout the Loyalsock State Forest in north-central Pennsylvania are many little-known creeks. Thanks to the topography of the land, many of these creeks harbor waterfalls that are known to only a few. One such creek is the East Branch of Mill Creek.
Located just a few miles northwest of Hillsgrove, Pennsylvania, the three waterfalls that collectively make up East Branch Falls are well worth the trip along the occasionally rutted roads outside of Hillsgrove.
The waterfalls are located less than 200 feet from the parking area near the Middle Branch Trail (which is a blazed trail just up the road from the large pull-off). While there is no specific trail to the top of the falls, the undergrowth is sparse enough that it isn't difficult to find your way to the waterfalls. And, even during periods of relatively low water, the waterfalls can be heard from the road.
Making your way to the bottom of the uppermost waterfall is a fairly easy task. This waterfall is a 10-12 foot tall slide that falls into a small notch in the rocks. During times of low water, crossing the creek here is easy enough and can lead to some interesting shots along the rock wall. However, I did find the rocks here to be very slippery, so I wouldn't attempt this if water levels are too high, as it would be easy to slip and get swept over the two waterfalls just downstream.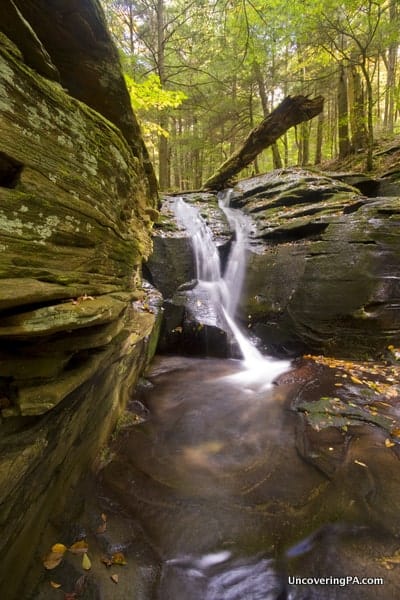 The middle waterfall at East Branch Falls is a six-foot waterfall that drops into a very small pool just above the main waterfall. Because of the steepness of the rock walls here, getting down to it seems impossible, but this is an interesting one to look at from above.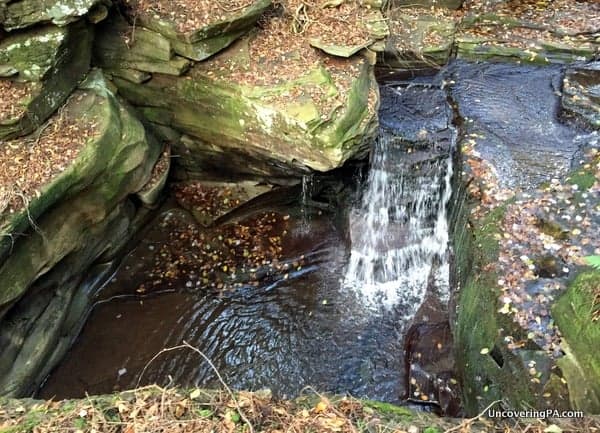 The main waterfall of East Branch Falls in the Loyalsock State Forest stands 20-25 feet tall and slides very beautifully down the rock face. This stream carries water even when most of the ones in the eastern half of the Loyalsock State Forest have no water, though, from photos I've seen, it looks even better with more water.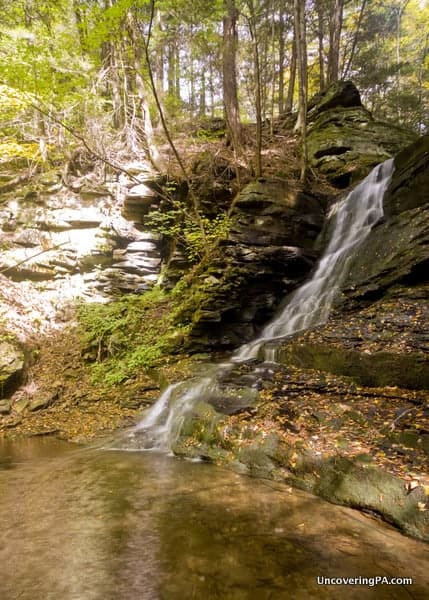 The waterfall can be viewed from above, and if you aren't experienced at narrow, slippery trails, this is probably where you should stop. If you decide to proceed, you should be able to make out a steep and narrow trail snaking its way to the bottom of the falls. Getting to the bottom of East Branch Falls is challenging, but not impossible (though I doubt I'd attempt it if the ground was too wet or icy).
Once at the bottom, the view of East Branch Falls is very impressive thanks to the gorge above it and the beautiful, undisturbed nature surrounding it. While the waterfall is located close to Walker Road, this road is so little used that you can't help but feel completely alone in the wilderness that is the Loyalsock State Forest.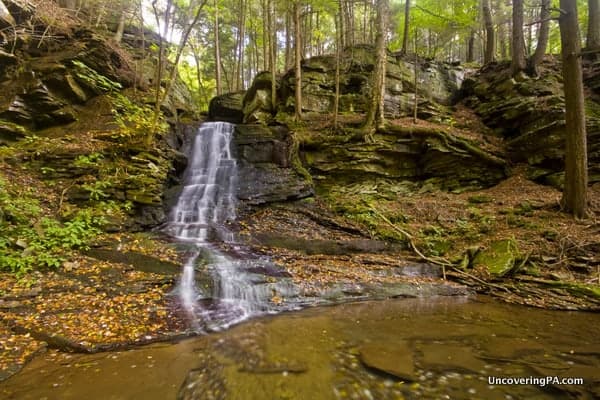 Without a doubt, East Branch Falls is one of the most peaceful waterfalls that I've visited in Pennsylvania. Despite being relatively easy to reach, it gives visitors a great opportunity to get out into a little-seen area of Loyalsock State Forest and enjoy the beauty that has been preserved here.
Getting to East Branch Falls in Loyalsock State Forest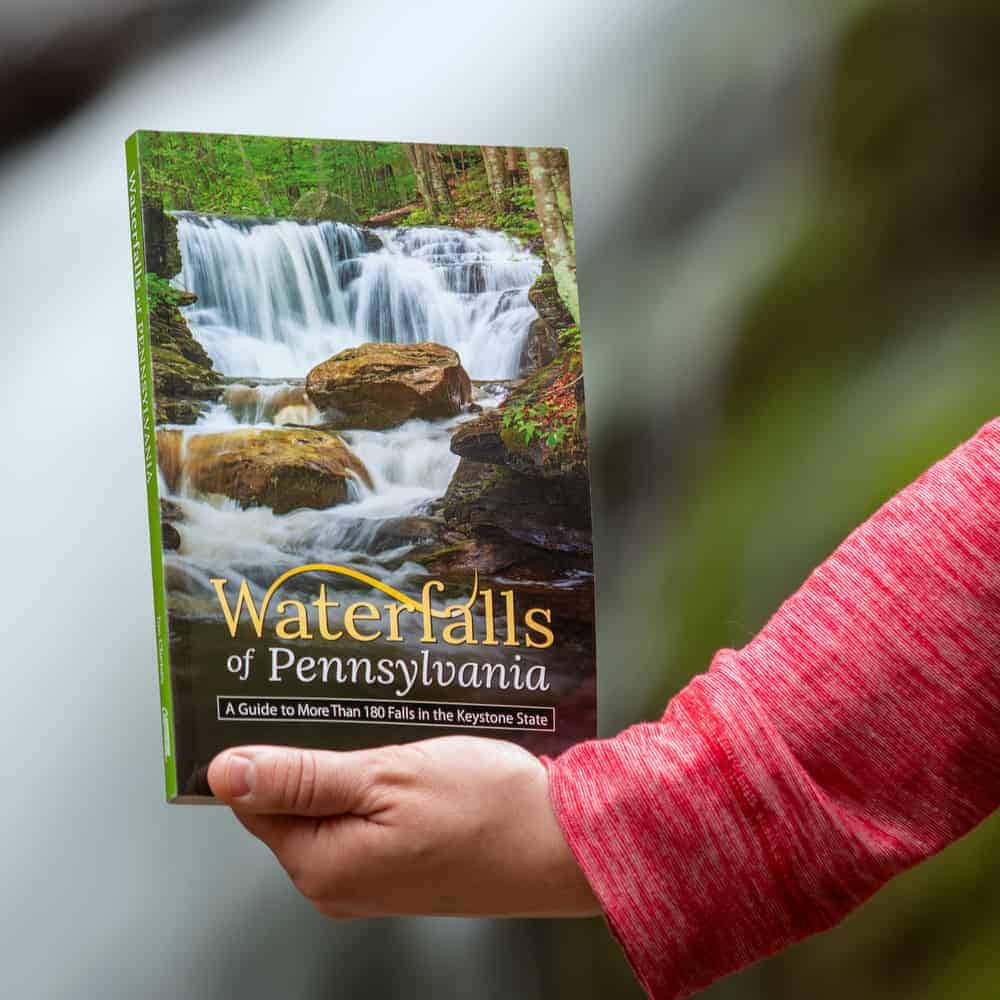 "Waterfalls of Pennsylvania" by Jim Cheney
If you love PA waterfalls, you won't want to miss this waterfall book from Jim Cheney, author of Uncovering PA, featuring more than 180 great waterfalls. Order it now on Bookshop.org or Amazon.
East Branch Falls is located roughly five miles northwest of Hillsgrove, Pennsylvania. Turning off of Route 87 at Mill Creek Road will take you up a dirt road through this little-visited area of Pennsylvania.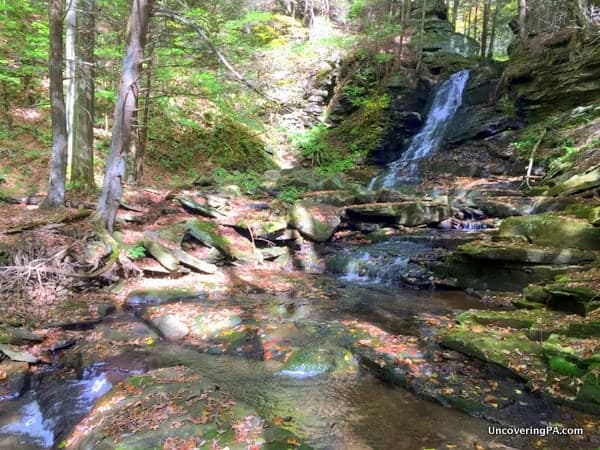 The dirt roads to East Branch Falls are rutted in places, but were easy enough to navigate in my car. However, I would definitely avoid this area in the winter unless you have a four-wheel drive vehicle that you are very comfortable driving on unmaintained, narrow roads with steep drop-offs.
From Mill Creek Road, East Branch Falls is accessed by taking the first right you come to onto Camels Road (4 miles from Route 87), and then an almost immediate left onto Walker Road. There is a large pull-off for parking roughly 0.8 miles up Walker Road, close to the following coordinates: 41.491034, -76.752112.
(Note that Camels Road and Walker Road are closed due to flood damage. If you'd like to visit the falls, you'll need to park where the road is closed and walk to the falls from there.)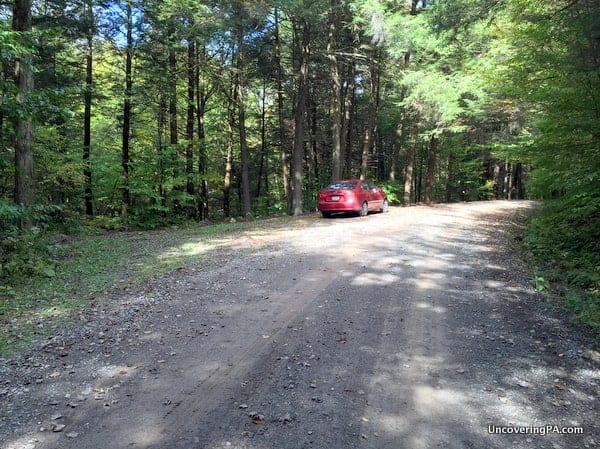 From here, you can hear, but not see the waterfalls. Simply make your way through the forest, and you'll soon be at the top of East Branch Falls.
[Click here for information on how to use coordinates to find your destination.]
Looking for more places to visit nearby? Check out the covered bridges of Sullivan County, Dry Run Falls, and Angel Falls.