Disclosure: This article may contain affiliate links. We will make a small commission from these links if you order something at no additional cost to you.
Wayne County, Pennsylvania, is home to many great waterfalls, but unfortunately, many of them are on private property. However, just a few miles north of Honesdale in State Game Lands 159 is one of Pennsylvania's most unique waterfalls: Tanners Falls.
Tanners Falls is unique for several reasons.
The most obvious is the old bridge built above the falls that crosses over Dyberry Creek. This bridge was built in 1885 and uses a unique combination of wood, metal, and stone to create the bridge. The bridge is no longer open to traffic, which isn't surprising once you have a chance to view it.
Truthfully, I even felt a little uneasy walking around the 131-foot long bridge, but I'm sure my nervousness was unfounded.
(Updated June 2016: I've been informed that the bridge over Tanners Falls is now closed to pedestrian traffic as well).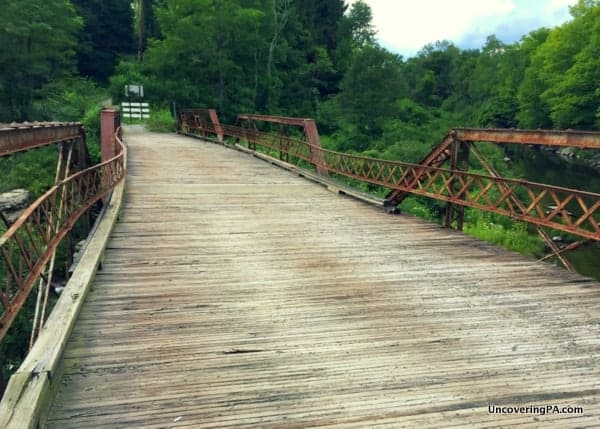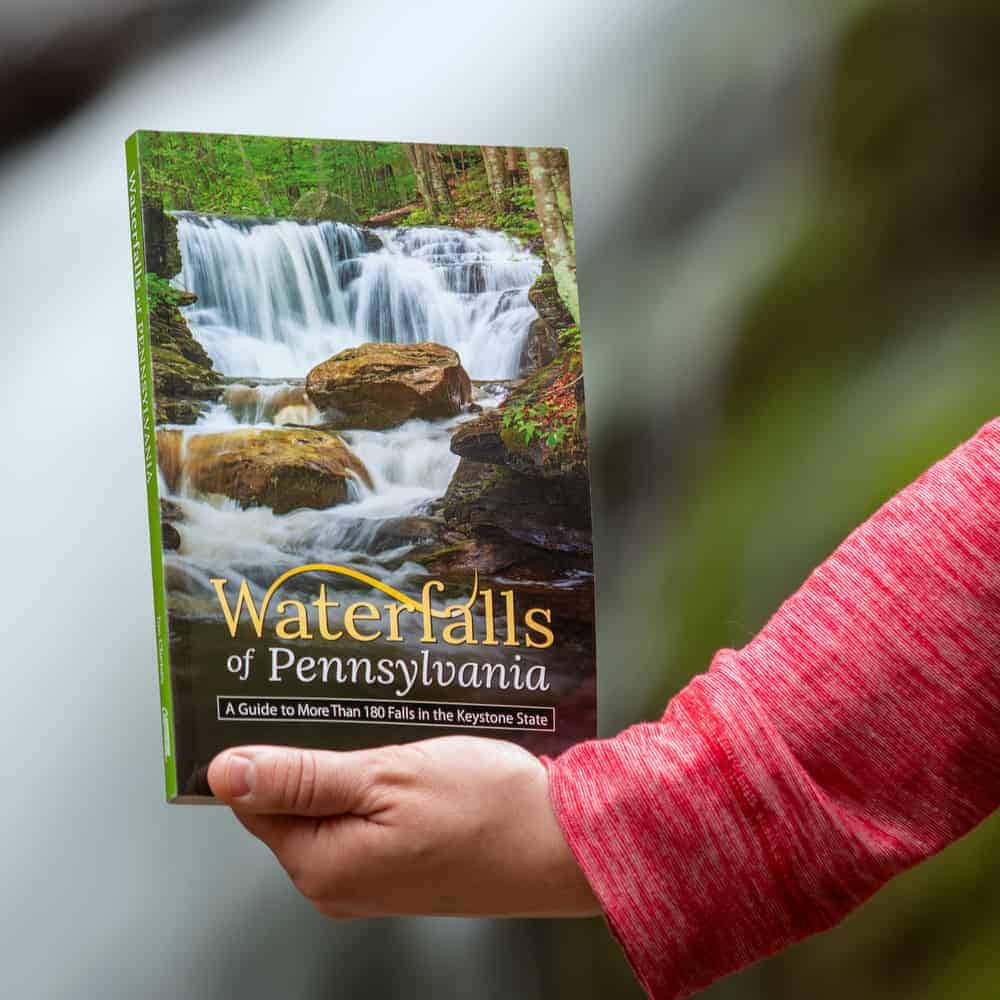 "Waterfalls of Pennsylvania" by Jim Cheney
If you love PA waterfalls, you won't want to miss this brand-new waterfall book from Jim Cheney, author of Uncovering PA, featuring more than 180 great waterfalls. Order it now on Bookshop.org or Amazon.
The second unique feature of the area surrounding Tanners Falls is the many stone ruins.
In the 1830s, this area was known as Dyberry Falls and was home to several mills. By the 1850s, tanning was very prevalent along the banks of the creek thanks to an abundant supply of hemlocks. Because of this, the waterfall and village became known as Tanners Falls.
If you look along the banks and edges of Dyberry Creek, you'll be able to easily notice the stone foundations of walls and buildings among the underbrush. I can't recall a waterfall in Pennsylvania that had more stone foundations than this one.
Make sure you take some time to explore the ruins before leaving the area.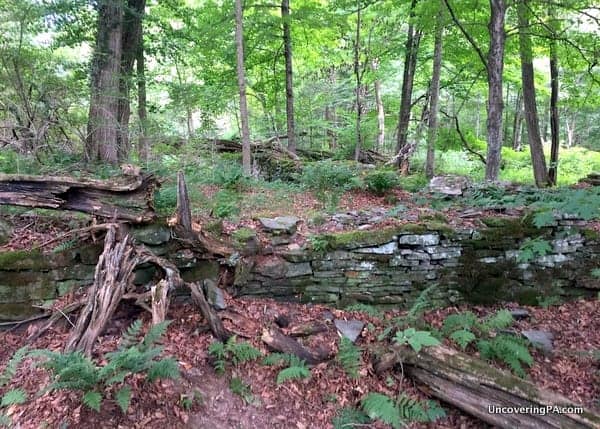 As much as I love history and crumbling ruins, I always visit a waterfall to see the falls themselves, and Tanners Falls certainly doesn't disappoint.
The waterfall is roughly 20 feet tall between its two tiers, with the top tier being the larger of the two. Even though I visited in mid-August, when many other waterfalls in the area were bone dry, Tanners Falls still had enough water flow to be quite enjoyable to view.
From the parking area, there is a narrow path leading down to a rocky outcrop just downstream of the top tier of the falls. This area provides a very nice view of the waterfall and the bridge above.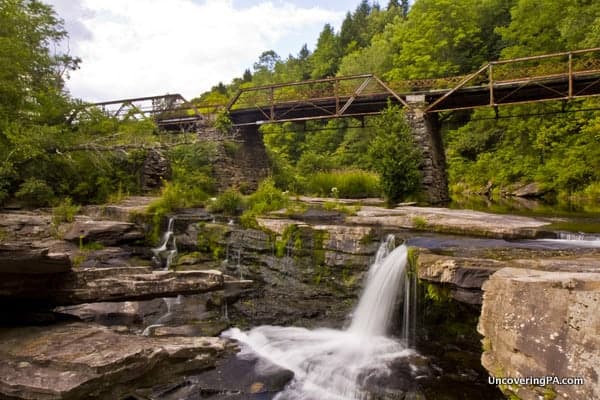 Getting to the bottom of the falls from here is a bit more difficult, even though it does follow along the same trail. You will likely need both of your hands to get up and down this trail, so I'd recommend carrying a bag if you are taking anything to the bottom of Tanners Falls.
At the bottom of the falls, ruins stretch out along the bank you descended, reaching the curving banks of Dyberry Creek a few hundred feet downstream.
The area around the base of the waterfall is relatively shallow and flat, but VERY slippery. Walking across the base of this waterfall is one of the few times I've almost fallen into a creek. Fortunately, I didn't, but definitely use caution here.
This area is popular with picnickers and fishermen. There is a nice pool a few yards beyond the bottom of Tanners Falls, which is where most of the activity happens, leaving the waterfall a bit easier to photograph without hordes of people.
Keep in mind that there are no trashcans in state game lands, so please carry out what you bring in so that others can enjoy this area without your trash.
I had seen pictures of Tanners Falls before visiting, but I really think that this is one of those places that is much more scenic in person. In my opinion, the beauty of Tanners Falls and the history of the area make this one of the best waterfalls in the Poconos and one of my favorite waterfalls in Pennsylvania.
How to Get to Tanners Falls
Tanners Falls is in Wayne County, Pennsylvania, part of the state's Poconos Region.
It's located a few miles north of Honesdale and the Wayne County Fairgrounds. The last few miles of the trip are especially scenic as you drive by dozens of small lakes on either side of a narrow road. The last half mile is on a dirt road in the state game lands.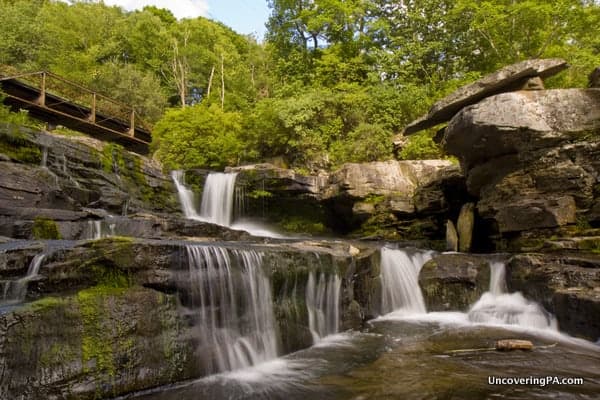 Parking is available on either side of the bridge, but most people come in from Honesdale and thus park on the eastern side of the falls. The parking area is located at the following coordinates: 41.662890, -75.297547.
From the parking area, which is big enough for 5-6 cars, there is a narrow path down to the two levels of the falls.
As a reminder, the rocks around Dyberry Creek and Tanners Falls are very, very slick. Use extreme caution while visiting.
Should you wish to drive to the opposite bank to explore that side of the creek, you can put these coordinates in your GPS: 41.663146, -75.298309. Just make sure that your GPS doesn't try to route you over the closed bridge before you follow these directions.
Should you wish to drive from one side of the creek to the other, expect a 30-minute trip.
[Click here for information on how to use coordinates to find your destination.]
Want to see more of Pennsylvania's best waterfalls? Check out our Pennsylvania Waterfalls page!
See map below for other area attractions.