Disclosure: This article may contain affiliate links. We will make a small commission from these links if you order something at no additional cost to you.
The snow is finally over, spring is here, the rains have started, and in Lancaster County, it's mud sale season!
What are mud sales you ask? Mud sales are the popular events held on weekends during the spring, February through June, and fall, August through October. You'll see hundreds of folks attending the sales—Amish, Mennonites, and "English."
Mud Sales, so called because of the frequent rainy, muddy condition of the ground, are popular and fun auctions that bring together locals and visitors alike to bid and buy items that are up for auction.
Quoting from The Official Mud Sale Guide (available at the Lancaster County Visitor's Center on Greenfield Rd.), you'll find items as: "building materials, horses, ponies, tack and feed, antiques, Amish-made furniture, craft items, buggies, carriages, tools, farming equipment and supplies, tractors and engines, groceries and produce, garden items, shrubbery, plants, sheds and gazebos, sporting goods, firewood, housewares, and some of the most amazing Amish quilts one could ever find."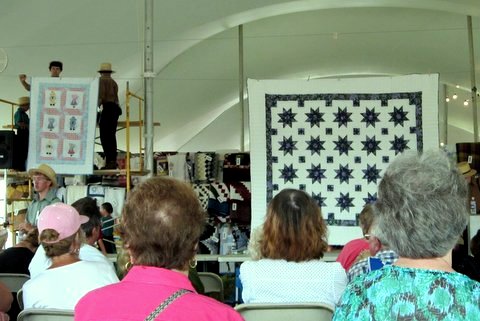 Some items are under tents or in buildings, and it's first-come on the seats provided, while other items such as horses, ponies, farm equipment, and garden items will be outside. When you arrive, be sure to find the registration area and register for your number, which allows you to officially bid on items. You will receive a sheet listing the times of the various auctions and their location on the auction grounds.
As there are usually several auctions going on at the same time, you may be hard-pressed to decide where to go—to the quilt auction, antique auction, or any of the many other areas—so be sure to study the location and times of the various auctions to be where you want to be at the right time.
Come hungry because there's plenty of food. Breakfast is served from usually about 7:30 am with fresh doughnuts, breakfast sandwiches, and coffee made by the Ladies Auxiliary, and lunch includes such popular Lancaster County traditions as chicken corn noodle soup, soft pretzels, barbecue chicken, sausage sandwiches, smoked meats, and delicious desserts as pies, cakes, cookies, and homemade ice cream. You won't go home hungry!!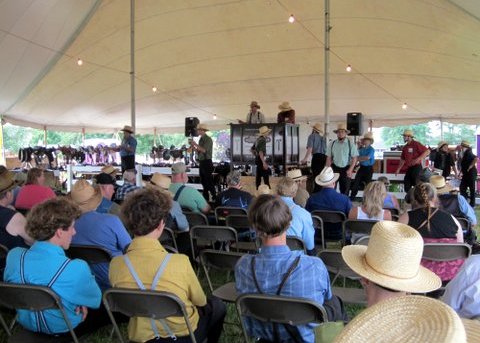 Sales start between 8:00-8:30 am and be prepared because the auction moves quickly. The auctioneer speaks at a fast pace and is often hard to understand, so listen carefully and watch his "spotters" as they will be pointing to the highest bidder while scanning the area for the next bid.
See something you want? Hold your number high so the spotter can see it, and, if you are the winning bidder, your item will be brought to you.
When you are ready to leave, you'll take your bidding number to the designated area to pay your bill. Visa and Master Card are the accepted credit cards. If you are the winning bidder on a quilt, you will receive your quilt once you have paid for it.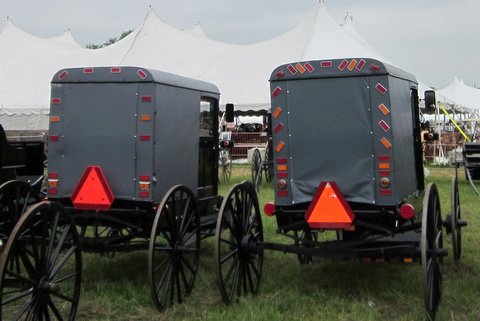 The mud sale tradition started in the 1960s as a way to help support the local volunteer fire companies. Now, 50 years later, monies from the mud sales have helped build firehouses, purchase equipment, and train First Responders. Your purchase will benefit these worthy causes.
Come to Lancaster County and have a fun day at the auction.
Here's a listing of some of 2023's mud sales in and around Lancaster County:
March 11-12 Gordonville Spring Mud Sale and Auction, Old Leacock Road, Gordonville
March 17-18: Penryn Volunteer Fire Company Sale, 1441 North Penryn Road, Manheim
March 18: Bart Township Auction and Mud Sale, 11 Furnace Road, Quarryville
March 18: Airville Volunteer Fire Company Mud Sale, 3576 Delta Road, Airville
March 18: West Earl Fire Company Quilt & Consignment Auction, 14 School Lane Avenue, Brownstown
March 24: Farmersville Volunteer Fire Co. Sale, 74 East Farmersville Road, Ephrata
March 24-25: Gap Fire Company Mud Sale & Auction, 802 Pequea Avenue, Gap
April 1: Robert Fulton Sale, 2271 Robert Fulton Hwy. (Routes 272 & 222), Peach Bottom
April 14-15: Rawlinsville Sale, 33 Martic Heights Drive, Holtwood
April 15: Schoeneck Fire Company Mud Sale and Quilt Auction, 125 North King Street, Denver
May 6: Fivepointville Auction, Fivepointville Fire Company, 1087 Dry Tavern Road, Denver
May 12-13: Honey Brook Fire Company Quilt Sale & Consignment Auction, 1841 Horseshoe Pike, Honey Brook
May 19-20: Weaverland Valley Sale, 1030 Precast Rd. New Holland
June 9-10: Kinzer Fire Co. Mud Sale, 3521 Lincoln Hwy. East (Rt. 30), Kinzer
June 23-24: Refton Fire Company Sale, 99 Church Street, Refton
June 29-30: Lancaster County Carriage and Antique Auction, 313 Enterprise Drive, Bird-in-Hand
August 11-12: Gap Relief Auction, Solanco Fairgrounds, 172 S. Lime Street, Quarryville
August 26: Bareville Fire Company Consignment Auction, 211 East Main Street, Leola
September 16: Gordonville Fall Sale & Auction, Old Leacock Road, Gordonville
October 28: Cochranville Fire Company Mud Sale, 3135 Limestone Road, Cochranville
Note: Please be respectful of our Amish neighbors as they do not wish to have their picture taken unless they have given you their permission.
Photo at the top of the article used courtesy of DiscoverLancaster.com.
Updated February 28, 2023 with Lancaster County mud sale dates for 2023.
Looking for more things to do in Lancaster County? Check out our guide to Lancaster County, our favorite free things to do in the county, and the best art galleries in Lancaster city.