Disclosure: This article may contain affiliate links. We will make a small commission from these links if you order something at no additional cost to you.
Until recently, I'd never heard of Swatara State Park. Despite it being less than an hour from my home in Harrisburg and right off of Interstate 81, a highway I frequently travel, it hadn't even crossed my radar. However, while doing some research for under-the-radar places to visit in Pennsylvania, I stumbled across this fascinating place and knew I had to check it out.
Swatara State Park was formed in 1987 with the idea of damming the Swatara Creek to create a lake at the park. However, for a variety of reasons, plans never materialized, and in 2012, the Pennsylvania Department of Conservation and Natural Resources (PA DCNR) started to create trails and other recreational areas in the park.
Fortunately, for those of us who like history, beautiful scenery, and waterfalls, the lack of a lake is a great thing.
Looking at the park map after my visit, I was surprised to find that the highlights of the park, Bordner Cabin and Aycrigg's Waterfall, didn't even make the official state park map.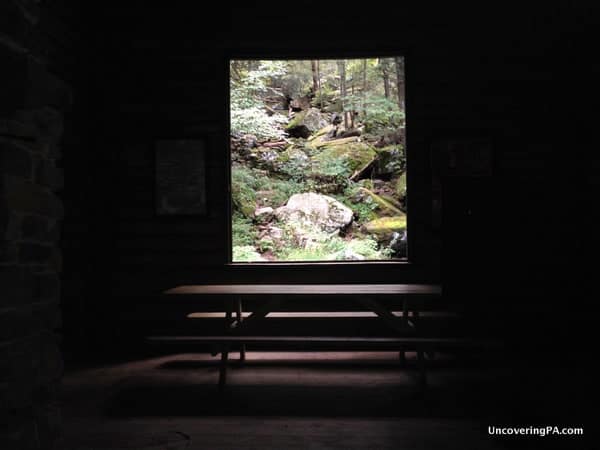 Bordner Cabin was hand-built in 1939 by local high school teacher, Armar Bordner, and some of his students. Because the cabin was built out of materials that they found nearby, it helped it blend into the woods next to Aycrigg's Falls.
Being next to the Swatara State Park waterfall, the cabin has drawn comparisons to Frank Lloyd Wright's Fallingwater. However, the comparison is a bit of a stretch given that we're comparing a rustic cabin to a high-end home. Nevertheless, Bordner Cabin is quite exquisite in its location.
When the area around the creek was designated a park, the state of Pennsylvania tried to seize the home under eminent domain. However, Bordner resisted and was allowed to stay in his home until his death. After his passing in 1994, the cabin was leased to the Boy Scouts for a few years before plans were again drawn up to tear down the cabin.
However, the cabin was again saved, this time by a group of local residents who repaired the cabin, but removed the windows and utilities to avoid potentially costly repairs. This local piece of history had finally been saved.
The area surrounding the cabin is equally beautiful. Aycrigg's Falls is 40+ feet high and runs directly outside the cabin's giant picture window. This waterfall comes down the hill in a series of 4-5 drops, with the top of the waterfall being a drainage pipe directly under Interstate 81.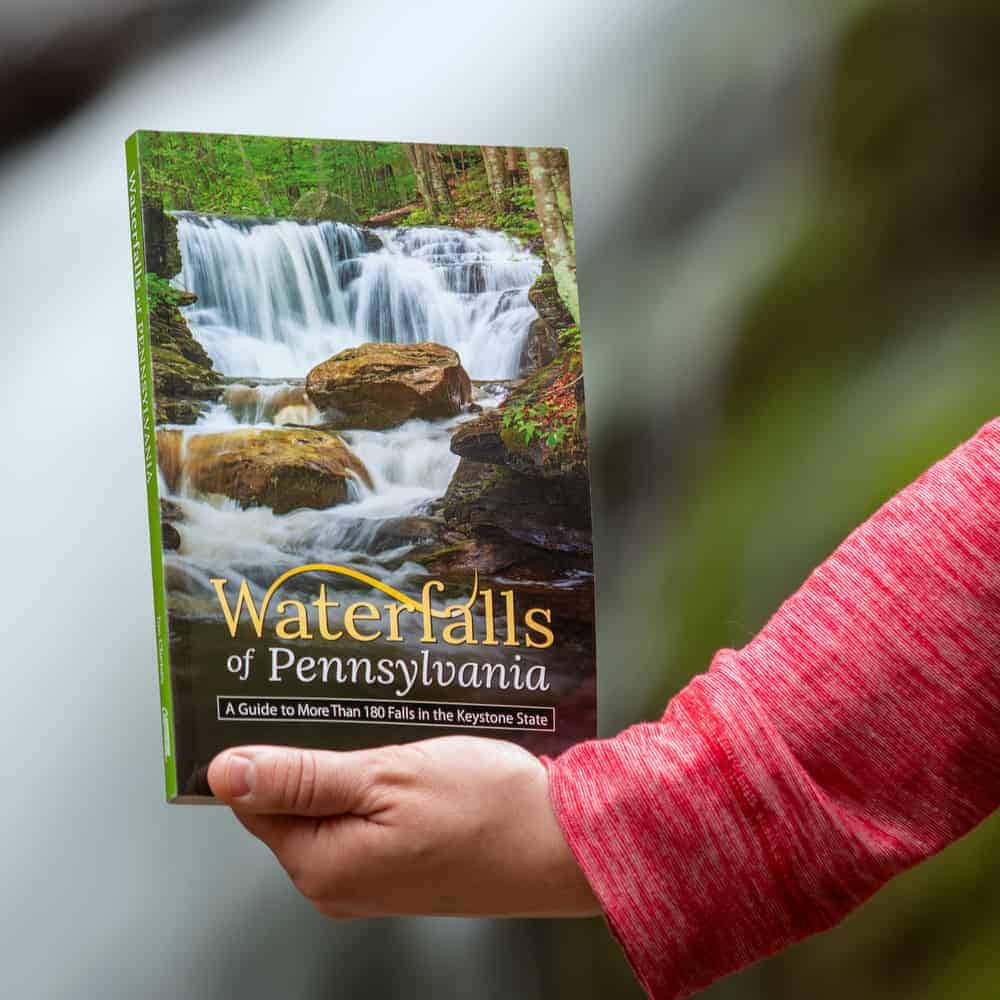 "Waterfalls of Pennsylvania" by Jim Cheney
If you love PA waterfalls, you won't want to miss this waterfall book from Jim Cheney, author of Uncovering PA, featuring more than 180 great waterfalls. Order it now on Bookshop.org or Amazon.
Aycrigg's Falls flows in all seasons, but is reduced to a trickle for most of the year, as it was when I visited in mid-September. However, when I visited during a late winter thaw, the waterfall was flowing very well, and the multiple drops made for a very nice waterfall that was well worth the long hike.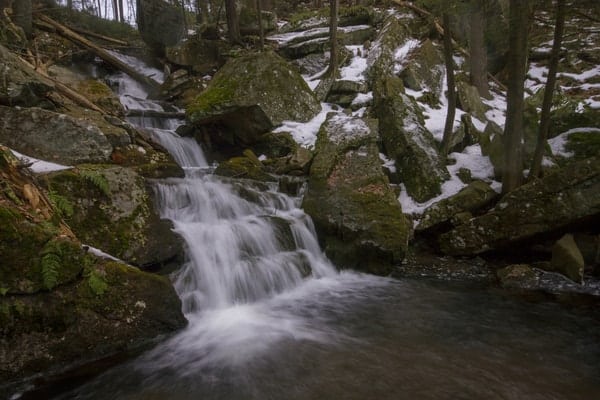 This park is known for a lot of things, from Swatara State Park fishing to hiking and mountain biking. However, it's the place that's not on the map that contains the most interest for me. If you get a chance, I would highly recommend a visit to Bordner Cabin and Aycrigg's Falls in Swatara State Park.
How to get to Bordner Cabin and Aycrigg's Falls in Swatara State Park
Swatara State Park is located in northwestern Lebanon County and runs several miles along Interstate 81. However, despite being so close to the interstate, it takes a few minutes to reach the parking area from the nearest exit.
When I visited the park, I parked at a small parking area adjacent to Waterville Bridge, a historic structure that carries the Appalachian Trail over Swatara Creek.
From the parking area, hike along Bear Hole Trail for about 2.5 miles to reach the cabin. Bear Hole Trail was formerly known as Old State Road, but, despite what Apple Maps might say, the road has been closed for over 20 years.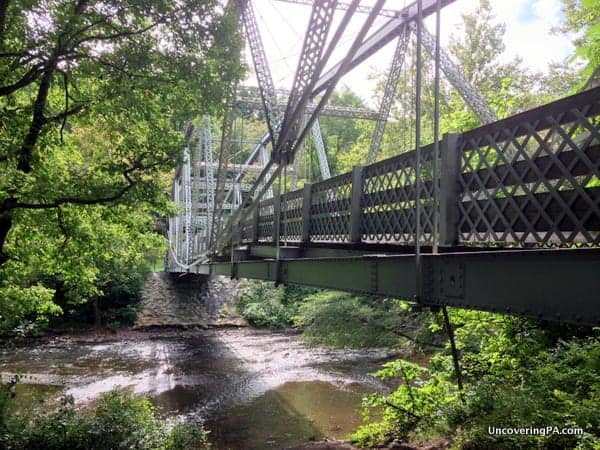 Unfortunately, as you hike, there is the nearly constant sound of traffic from the interstate on the ridgeline above, but the walk is scenic nonetheless, including passing some ruins from the Union Canal. The cabin is located about 100 yards off the trail to your right.
Coming back, you can go back the way you came, or cross over Swatara Creek using the Sand Siding Trail, which you passed about half a mile before reaching the cabin.
When you reach the end of Sand Siding Trail, turn left for the roughly 3-mile hike back to the parking area. It's worth noting that the trail is half a peaceful walk through the woods and half along the pothole-ridden remains of an old road.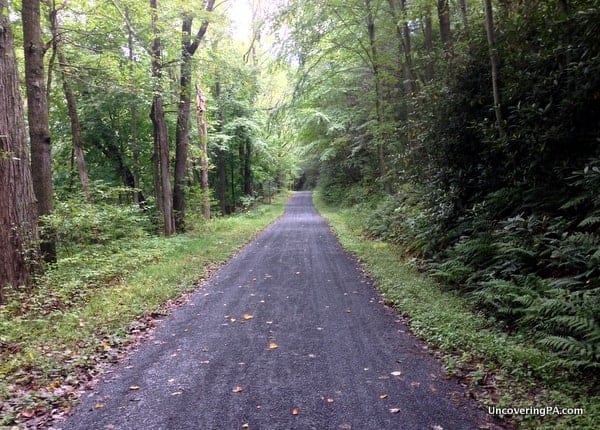 For those looking for the shortest route to the cabin and falls, there is another parking area at the end of Sand Siding Road, which should cut your hike down to approximately 1.5 miles each way.
For more information, check out the park map for Swatara State Park. However, be aware that Bordner Cabin and Aycrigg's Falls are not on the map. Because of that, it might be best to refer to the map below, which shows the location of the cabin and waterfall (red pin), along with the primary parking area (blue pin) and secondary parking area (yellow pin).
Looking for other places to visit in the area? Check out Sweet Arrow Lake Park and Memorial Lake State Park. You can also kayak through the area with Cocoa Kayaks.
See map below for other area attractions.