Please do your best to limit your travels around PA during this time. If you decide to travel, please check the status of the places you are going. Some places around the state are temporarily closed or have changed their hours. We will not be updating individual articles to note these changes. Stay safe and wear a mask!


When I'm traveling, I always love finding quick but worthwhile trails to hike. One such trail is the Marilla Bridges Trail.
The Marilla Bridges Trail is located in McKean County, only a 10-minute drive west of downtown Bradford and about three miles from the New York border as a bird flies.
The Marilla Bridges Trail is only a mile long and is a relatively easy hike. However, it's also an incredibly beautiful trail that loops around the Marilla Reservoir and crosses over three bridges, including one covered bridge.
Disclosure: This article may contain affiliate links. We will make a small commission from these links if you order something at no additional cost to you.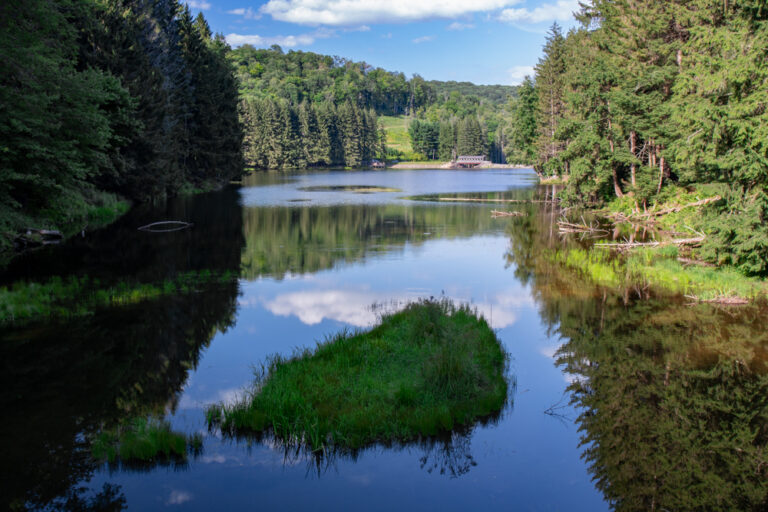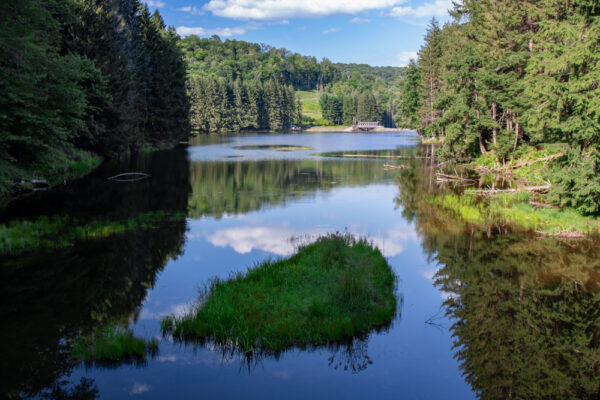 The Marilla Reservoir was constructed in 1898 and provides water for Bradford and the surrounding communities. It is said that this reservoir can hold 120 million gallons of water!
The trail starts along Route 346 (West Washington Street), one of the roads that run from Bradford to the Allegheny Reservoir. There is no parking lot for this trail, but there is plenty of room for cars to pull off on the eastbound side of the road.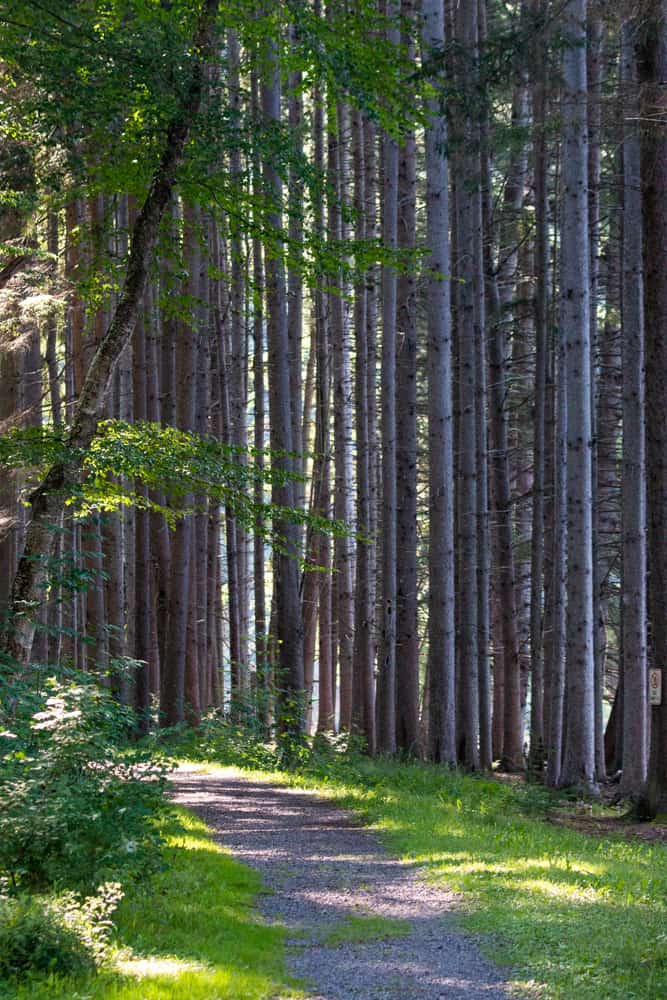 Parking for the hike and the trailhead can be found at the following coordinates: 41.954529, -78.740271.
When I've hiked this trail, I've always done it in a clockwise direction, though there's really no reason you couldn't do it the other way. However, since going in a clockwise direction has you crossing the covered bridge earlier, I'll cover the trail in that direction.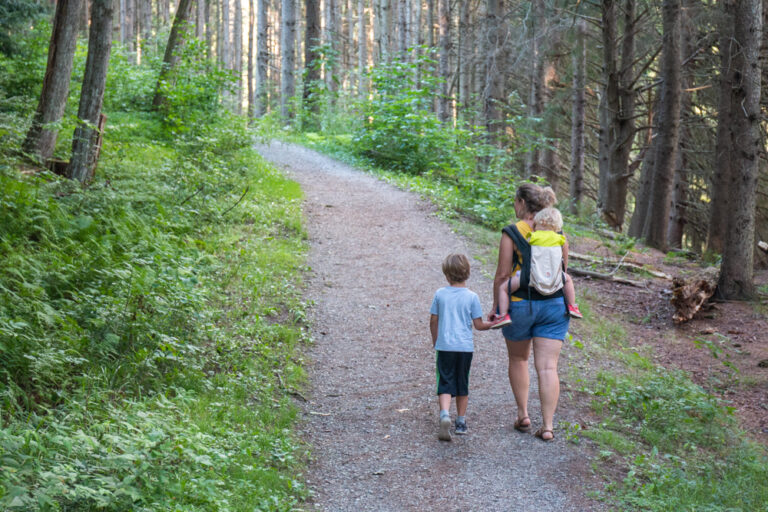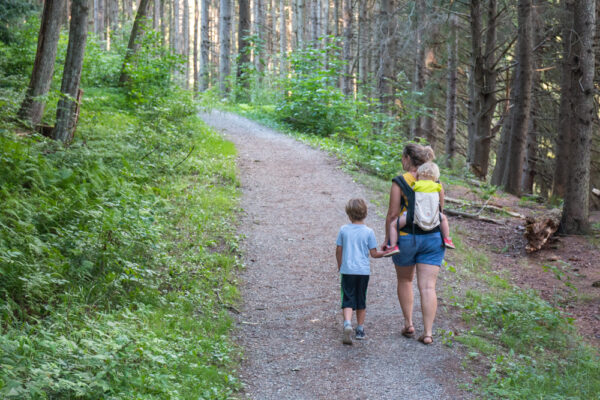 From your parking spot along the road, make your way towards the covered bridge.
This is not one of Pennsylvania's historic covered bridges. In fact, this bridge was built in 2004 and doesn't demonstrate any of the traditional covered bridge trusses. Nevertheless, this is an incredibly beautiful bridge.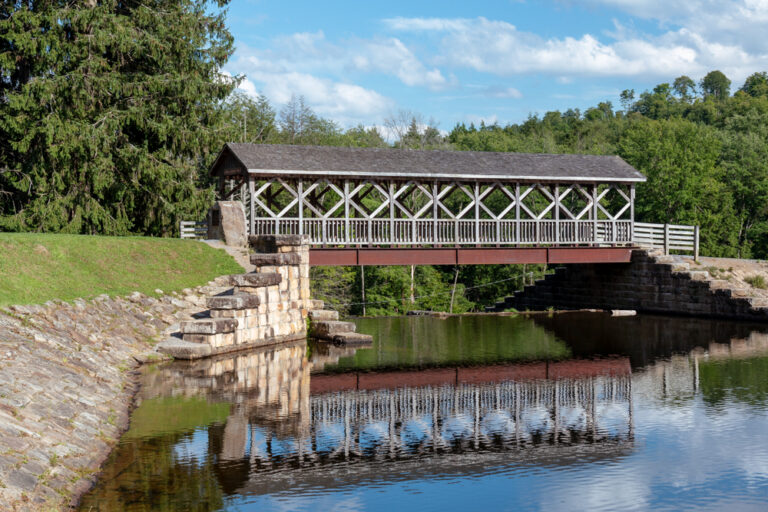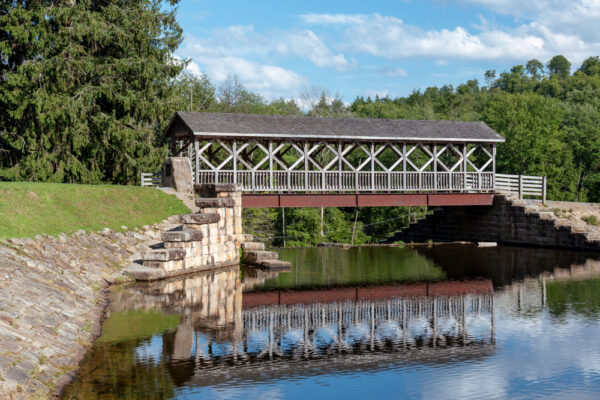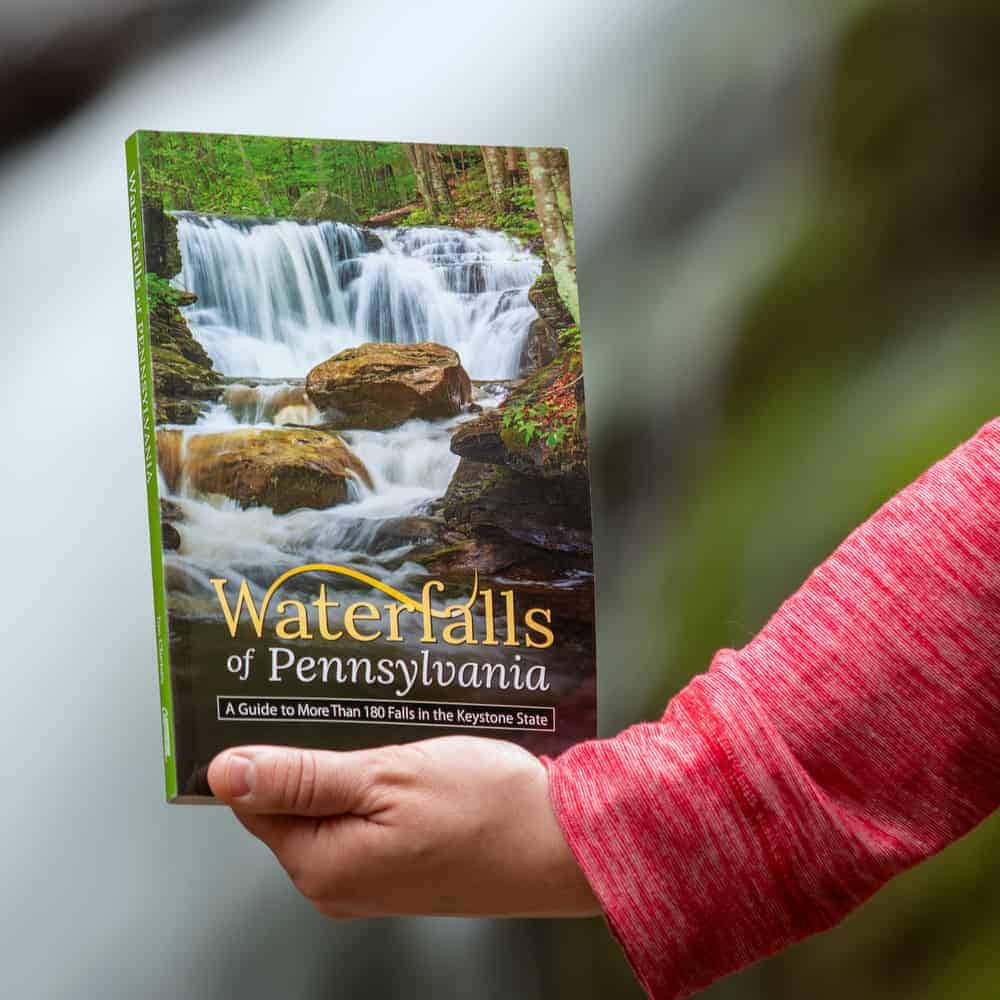 "Waterfalls of Pennsylvania" by Jim Cheney
If you love PA waterfalls, you won't want to miss this brand-new waterfall book from Jim Cheney, author of Uncovering PA, featuring more than 180 great waterfalls. Order it now on Bookshop.org or Amazon.
The Eric Benjamin Covered Bridge, as it's known, is 65 feet long and spans the spillway at the end of the reservoir. This creates a quite unique scene as looking over one side of the bridge allows you to peer down over the top of the spillway.
Once across the bridge, the trail proceeds a short distance over the open land of the lake's dam. While the trail itself isn't interesting at this point, it does provide very beautiful views of the lake.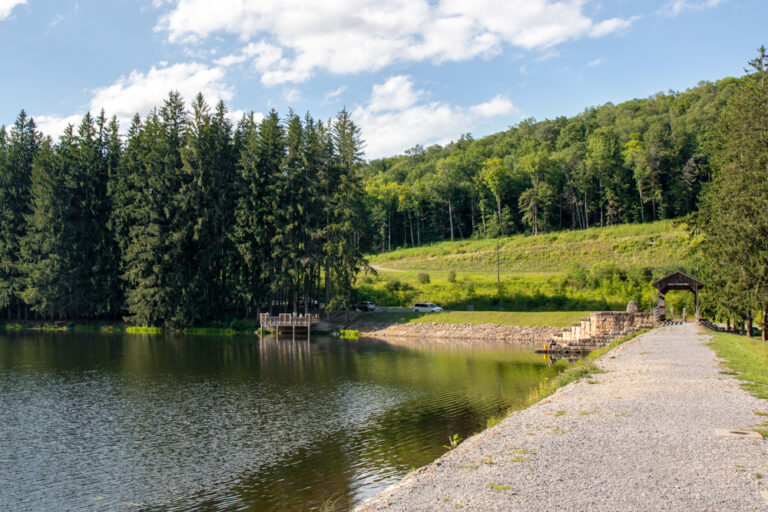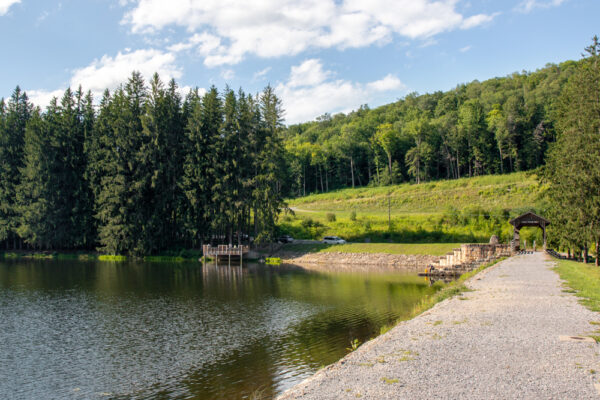 Once you reach the other side of the lake, the trail meanders to the right and enters a beautiful forest. Here, there are very tall and slender evergreen trees lining the trail on both sides.
To your right, there are great views of the lake and more than a few spots that are popular with fishermen. In fact, both times I've hiked this trail, there have been many more people fishing than walking the trail. So, if you are looking for somewhere to go fishing in McKean County, this would appear to be a great spot.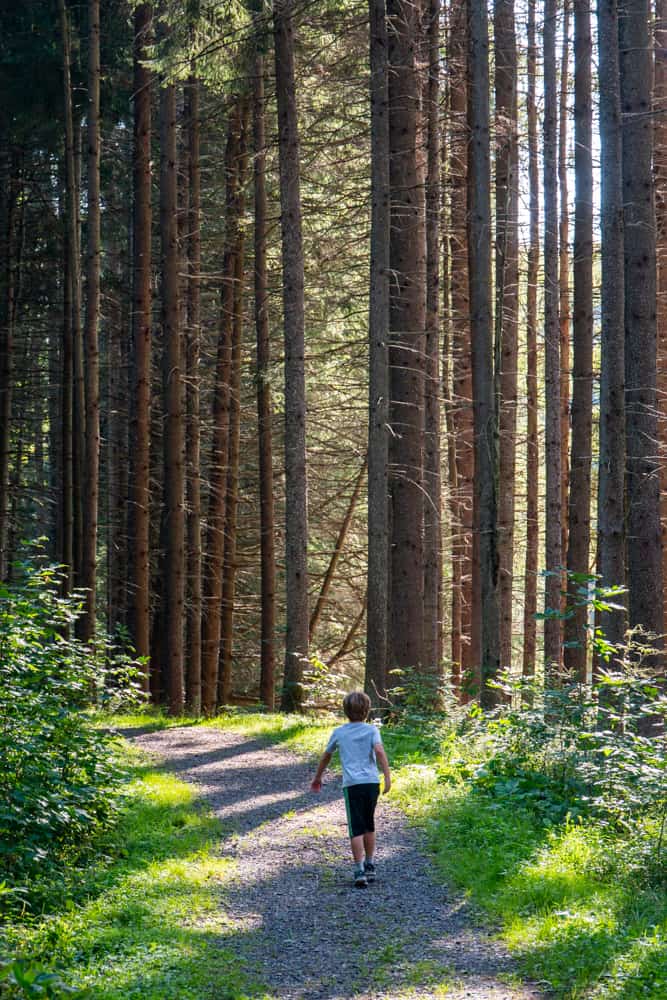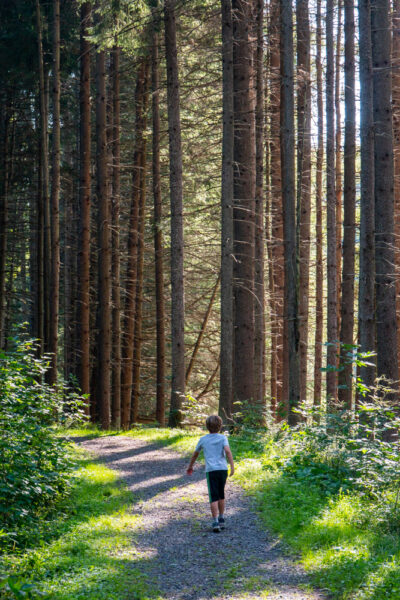 The trail continues for about a third of a mile along the southern shores of the Marilla Reservoir. This part of the trail is both wide and flat, making for a great hike for nearly anyone.
Eventually, the trail reaches the end of the lake, where Marilla Brook flows into the lake. At this spot, there is a nice gazebo, as well as information on other trails that branch off from this spot.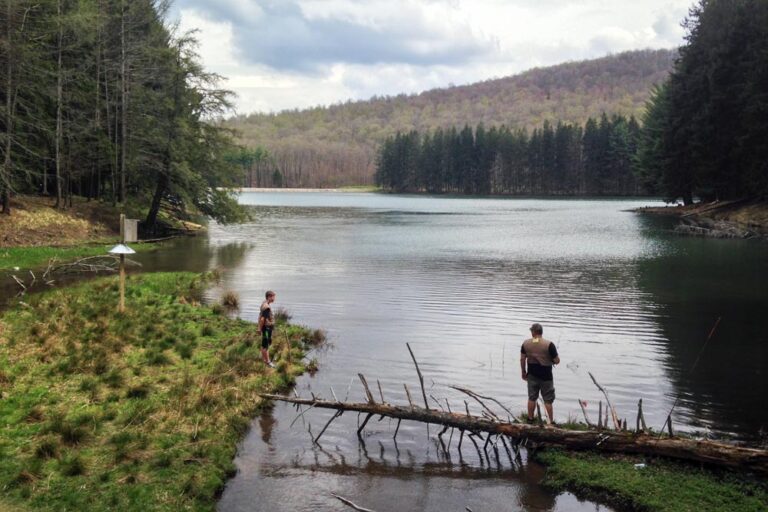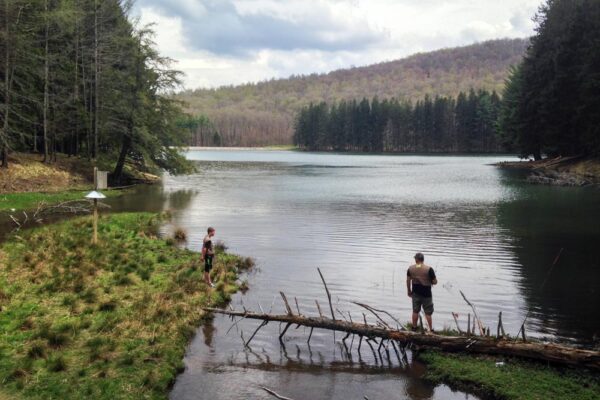 If you are looking for a longer and/or more challenging hike, there are several trails that branch off from the Marilla Bridges Trail at this point. These trails have been added in recent years, and it's great to see an expansion of the hiking options here. You can find out more about those trails here.
From the gazebo, the trail crosses a beautiful bridge over Marilla Brook. This wooden bridge is unique in that it has a turn on the bridge. While crossing the bridge, take a moment to enjoy the great views of both the reservoir and the creek that feeds it.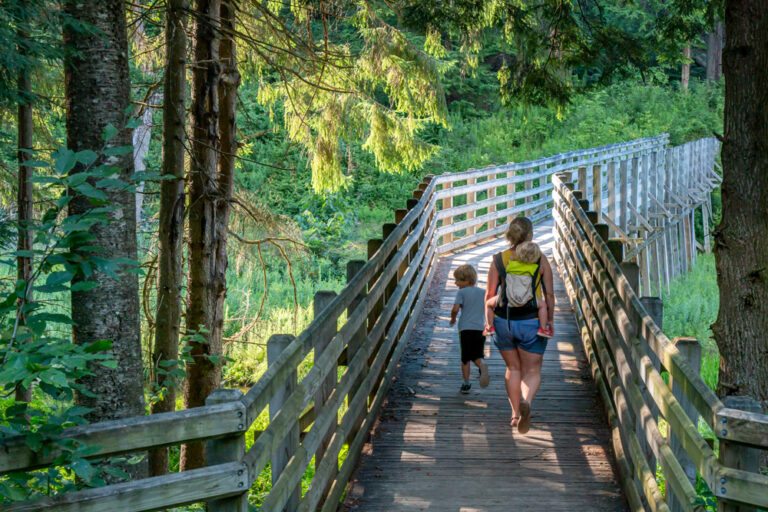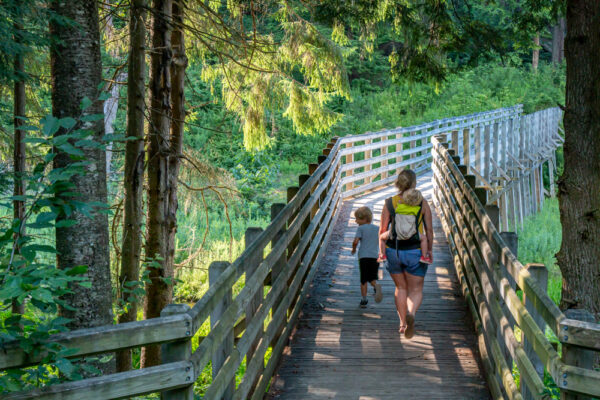 After crossing Marilla Brook, the trail has a few very small hills. Nevertheless, it shouldn't be a challenge for most hikers. My six-year-old son was able to hike it without any difficulty at all.
After another three-tenths of a mile, the trail crosses another wooden bridge before returning back to Route 346. Simply turn right along the trail for the short walk back to your car.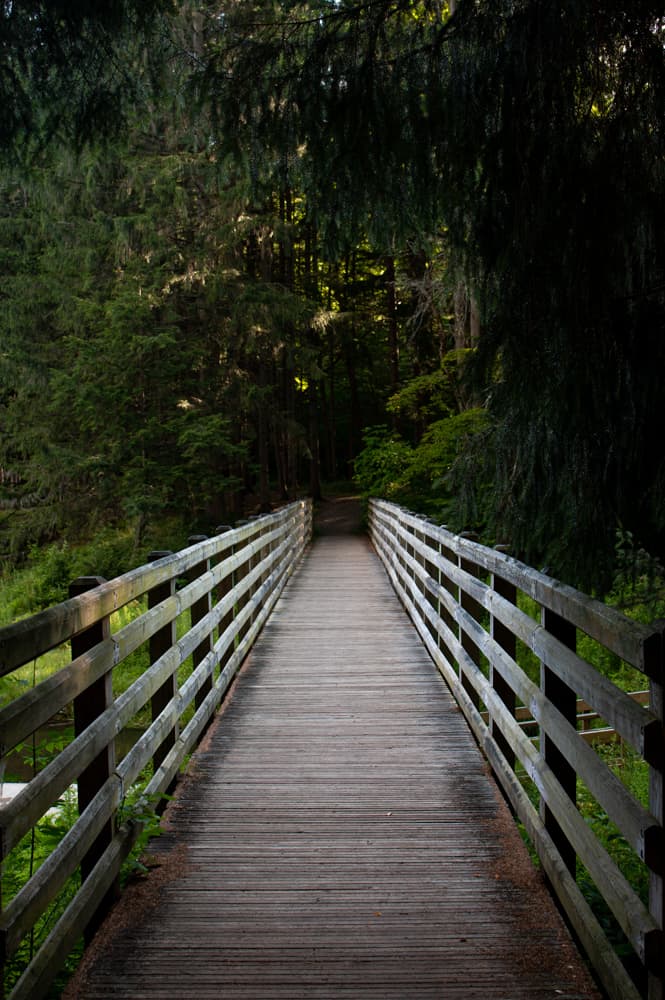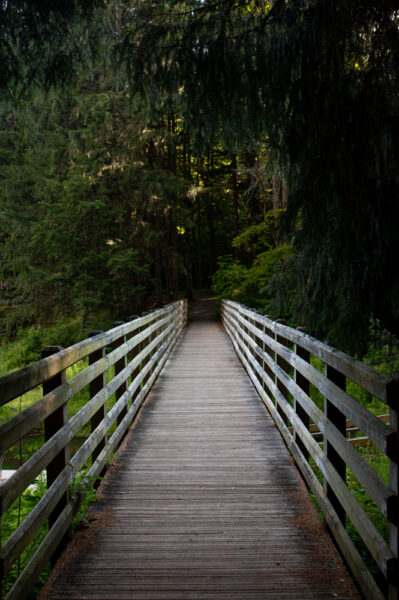 Without a doubt, the Marilla Bridges Trail is a hidden Gem of McKean County and the entire Pennsylvania Wilds. While it might not be worth a long drive simply to hike this trail, it's a great spot for those exploring the Bradford, PA area, especially if you're looking for a beautiful and easy hike, great fishing, or a scenic covered bridge.
Looking for more great places to visit nearby? Check out the Zippo/Case Museum, Kinzua Bridge State Park, the Penn-Brad Oil Museum, and Rock City Park.
[Click here for information about how to use the coordinates in this article to find your destination.]