Disclosure: This article may contain affiliate links. We will make a small commission from these links if you order something at no additional cost to you.
Maybe I've been living under a rock, but until I started planning my trip to McKean County in the Pennsylvania Wilds, I had no idea that Zippo was headquartered in Bradford, Pennsylvania.
Zippo, the maker of the world's most recognizable lighters was started in 1933 by Bradford, Pennsylvania, resident George G. Blaisdell. Blaisdell wanted to make a lighter that worked in the wind, but was easy to use with one hand.
From his first lighters, the company quickly became successful, becoming one of the most sought after items by World War 2 soldiers.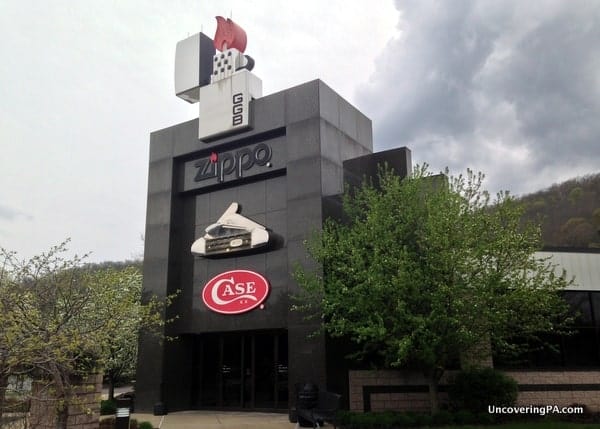 Today, the company is still headquartered in the small town of Bradford, just a few miles from the New York border. Near their factory, where Zippo makes all of their lighters, is the Zippo/Case Museum. Inside the museum, visitors can learn the story behind Zippo Lighters and their sister company, Case Cutlery.
As a nonsmoker, I don't think I've ever owned more than a $1 plastic lighter that you can pick up at gas stations. However, I can still appreciate a beautiful piece of art, even if it is rather utilitarian. And, the Zippo lighters on display at the museum really are quite beautiful works of art.
The museum is located at the back of a gift shop containing every piece of Zippo memorabilia imaginable. When you first enter the museum, the first thing you'll notice is a giant American flag known as "Zips and Clicks Forever." This flag is made from 3,393 different lighters and is quite impressive to look at.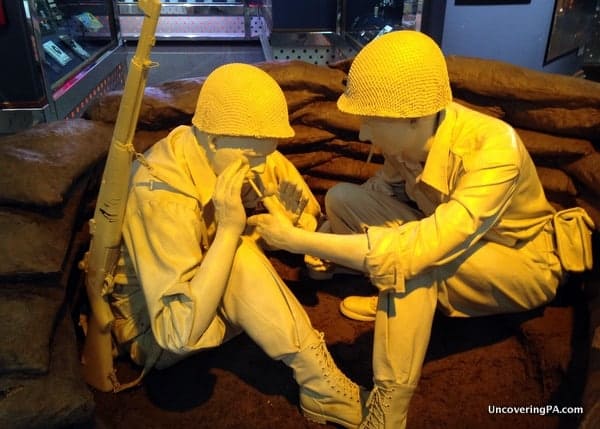 Next to the flag is an eight-minute video telling the history of the Zippo Company. Like most videos in corporate museums, it's a bit promotional at times, but the video is worth seeing because it does provide some interesting information.
Walking through the rest of the museum takes you through the history of Zippo lighters. The museum features one of the world's best collections of Zippos, including many folk art pieces that were customized by soldiers during World War 2.
About halfway through the museum is a large window that looks out over the Zippo repair area. Since the lighters come with a lifetime warranty, many people send their lighters back to Zippo to be repaired. Inside the area, workers still hand-repair each lighter that is sent in. It's worth noting that this area is only in operation during normal business hours, so if you want to see the workers in operation, don't visit the museum on the weekend.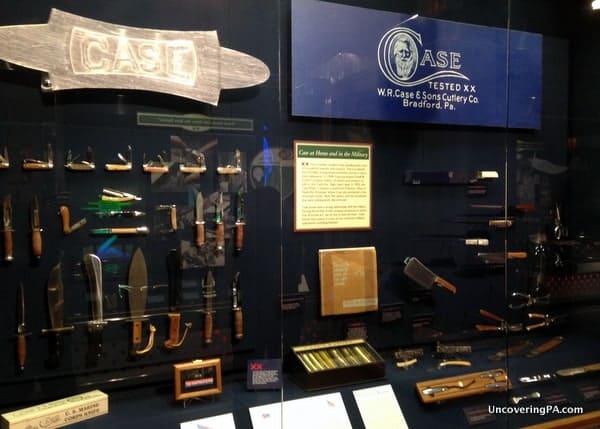 The museum also includes a small section with information about Case and Sons Cutlery Company. Case has been making a wide variety of knives since 1889 and has been headquartered in Bradford since 1905. In 1993, Zippo purchased Case, combining the two utilitarian, but collectible, companies into one.
If you are one of the nearly 20,000 collectors of Case knives, you might be a bit disappointed, however, as the area devoted to the knives takes up only a small section of the museum. (If you want to see a great selection of military knives, don't miss the American Military Edged Weaponry Museum in Lancaster County, PA.)
Overall, I enjoyed visiting the Zippo Museum. Even as a nonsmoker who's never owned a Zippo lighter, I can appreciate their craftsmanship, history, and artistic sensibilities. If you are looking for an interesting, and offbeat place to visit in McKean County, Pennsylvania, the Zippo/Case Museum is certainly worth checking out.
Looking for more places to visit nearby? Check out the Marilla Bridges Trail, the Penn-Brad Oil Museum, and Kinzua Bridge State Park.
---
Zippo/Case Museum
Hours: Monday-Saturday: 9am-5pm
Sunday: 11am-4pm

Cost: Free

Website: Zippo.com

Address: 1932 Zippo Drive
Bradford, PA 16701
See map for other area attractions.
---