Disclosure: This article may contain affiliate links. We will make a small commission from these links if you order something at no additional cost to you.
When I first visited Clearfield County, I was told over and over again that I needed to come back and visit Bilger's Rocks. Honestly, I wasn't entirely sure what all the fuss was about.
Sure, giant boulder outcroppings are fun to check out, but there are so many different ones around the state (including Panther Rocks only a short drive away) that I couldn't see Bilger's Rocks being anything special.
Fortunately, I took their advice and visited this incredible spot several times in the ensuing years.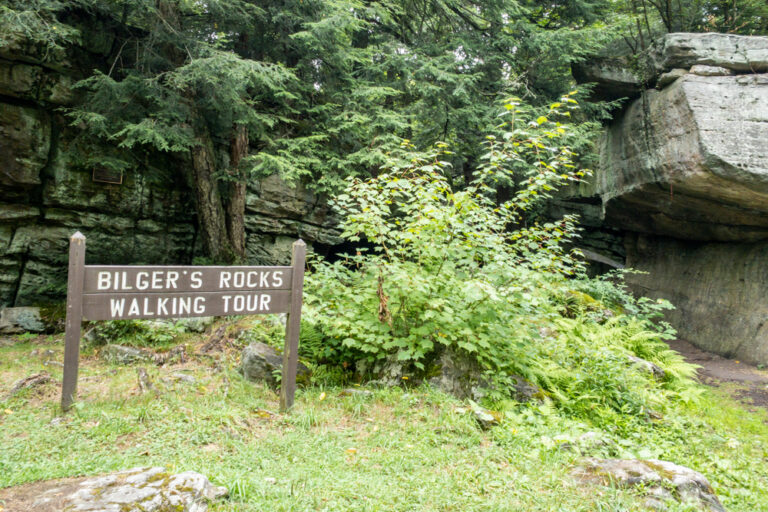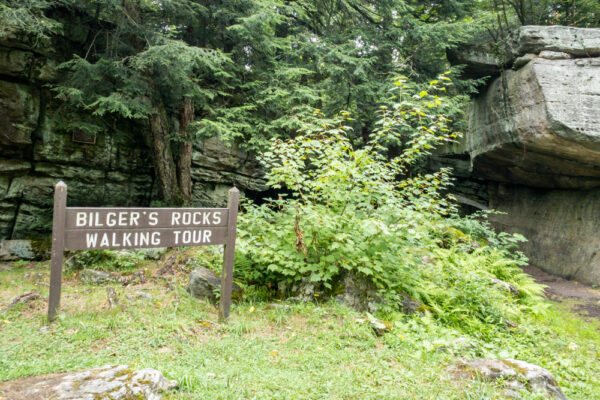 As soon as I pulled up to Bilger's Rocks for the first time, I knew that they had been hyped up for a reason. In fact, I would go so far as to say that Bilger's Rocks is the most interesting rock outcropping in Pennsylvania save possibly Devil's Den at the Gettysburg Battlefield (which gets extra points for its historical significance).
Set amongst the woods outside the tiny borough of Grampian, the rocks here have attracted visitors for more than 10,000 years, when Paleo-Indians used the outcroppings for shelter.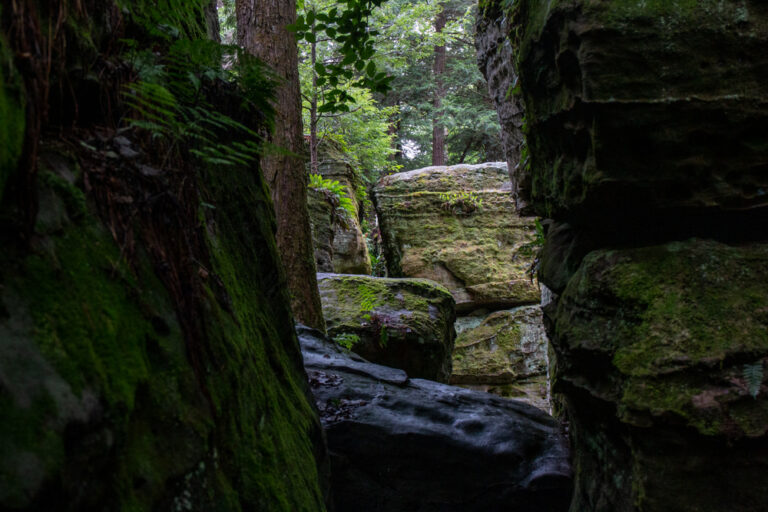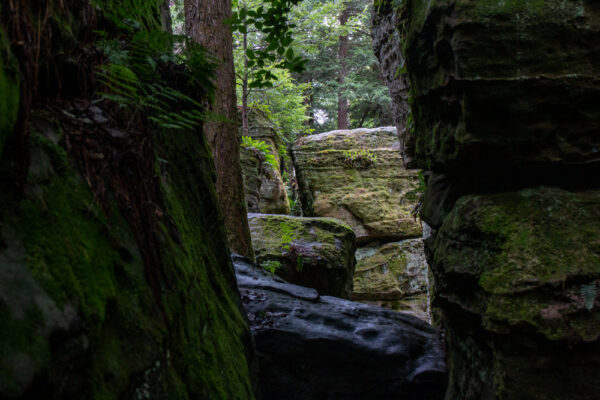 Today, the area is managed by the Bilger's Rocks Association which maintains the area, hosts events, and runs tours through the rocks.
Parking for Bilger's Rocks is located near the top of the outcropping. While you can't actually see any of the boulders from the parking area, it's a short walk to both the top and the bottom of the rocks.
To start your visit, head across the small field and into the woods near the parking lot. This leads directly to the top of Bilger's Rocks.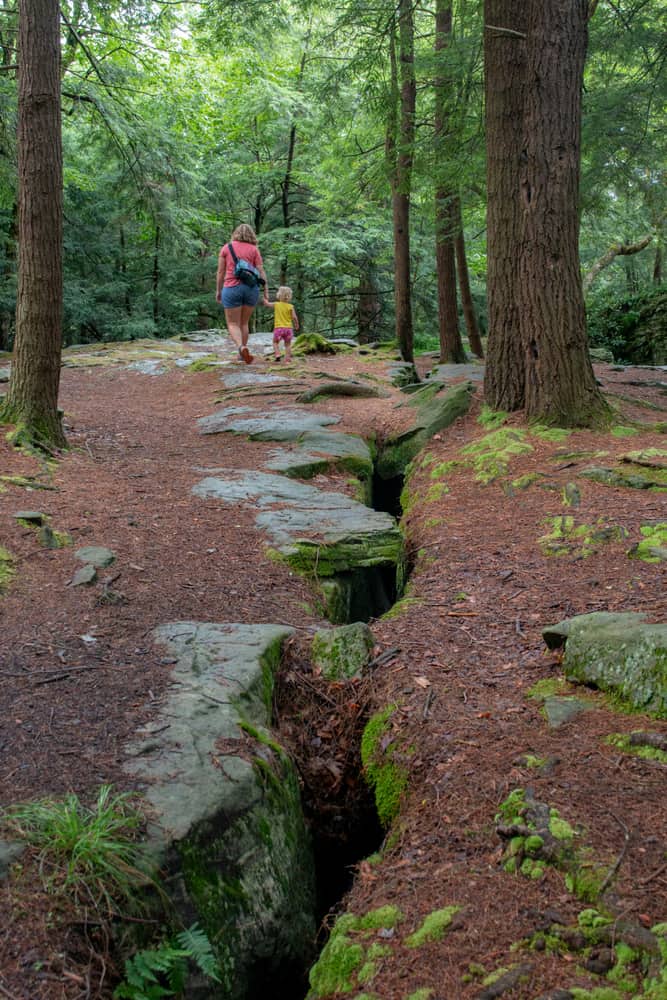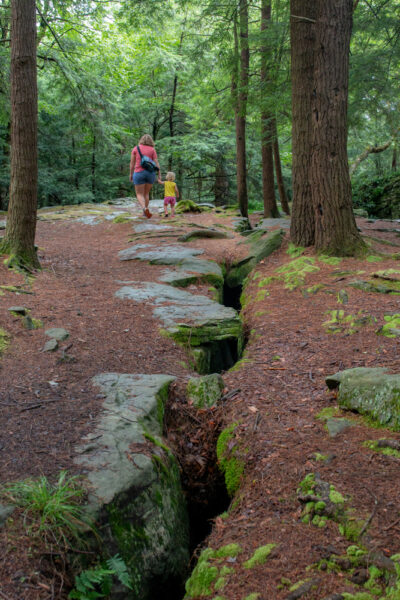 This is an amazing place to explore with the many cracks offering incredible views over this outcropping and really showcasing how large and impressive this site is.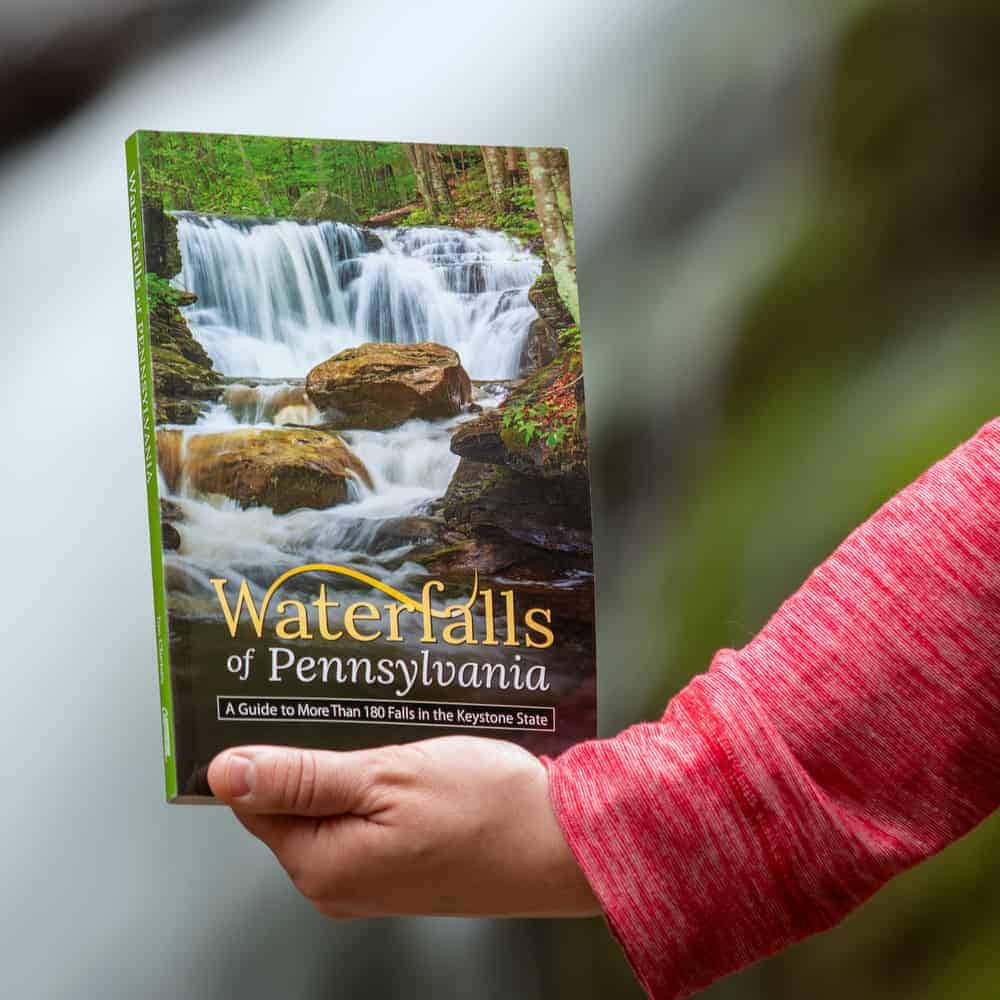 "Waterfalls of Pennsylvania" by Jim Cheney
If you love PA waterfalls, you won't want to miss this waterfall book from Jim Cheney, author of Uncovering PA, featuring more than 180 great waterfalls. Order it now on Bookshop.org or Amazon.
While exploring here, use extreme caution. These are fairly large cracks that, in some cases, could lead to a fall of upwards of 50 feet. This is doubly true of younger children who might not fully grasp the dangers here.
Nevertheless, I definitely recommend walking around this upper area for at least a few minutes to get a better sense of Bilger's Rocks before heading into the heart of them.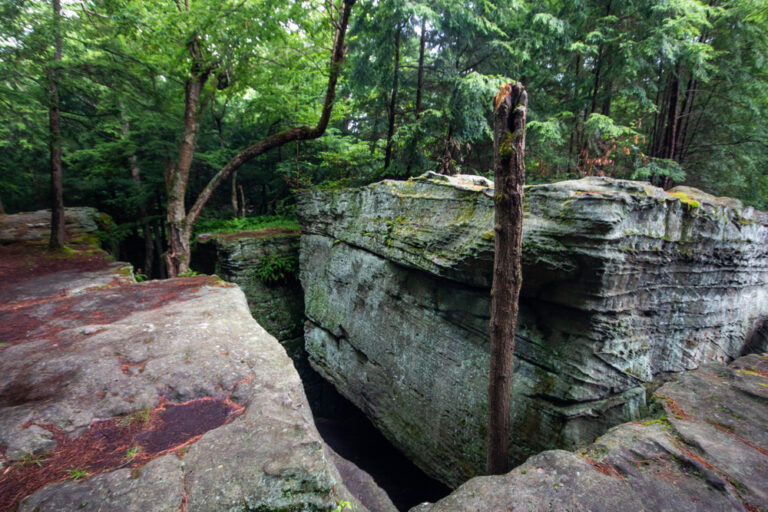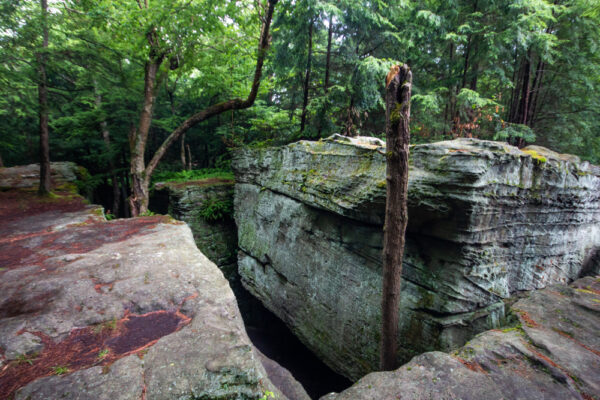 While there are several ways down to the base of the rocks from the top, they are all a bit sketchy. Instead, I'd recommend retracing your steps back to the parking area. Once you get to the road, turn left and head down the small hill to the entrance sign and the start of the trail through the rocks.
Note that this road is narrow and has a bit of blind turn, so be careful while walking on the road (and while driving on it).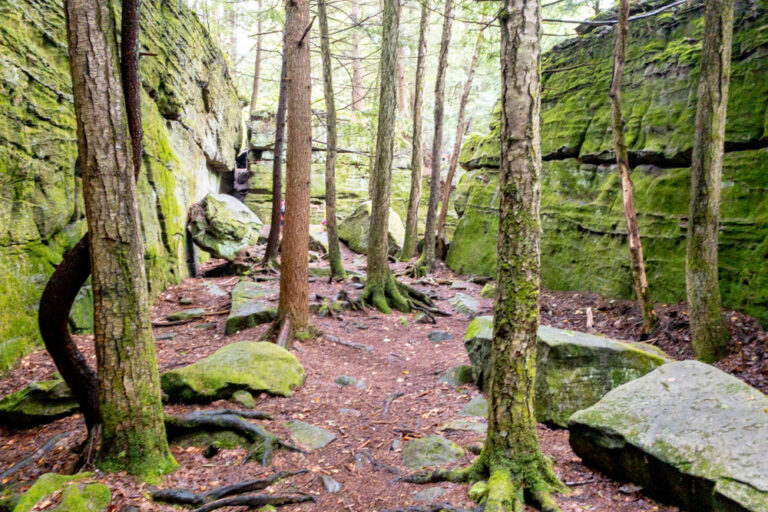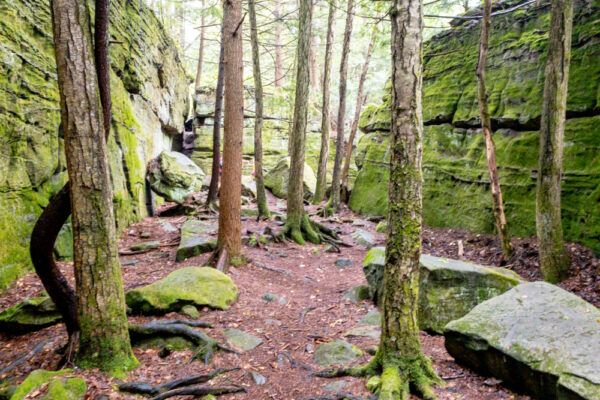 Stepping into Bilger's Rocks is a bit like stepping into a lost world. The rock walls here tower above you, trees cling to rocks in very unusual ways, and small passages filled with moss lead to hidden chambers.
While there is a path that leads through the rocks, it's not well marked and following it would skip many of the most fun spots to explore here.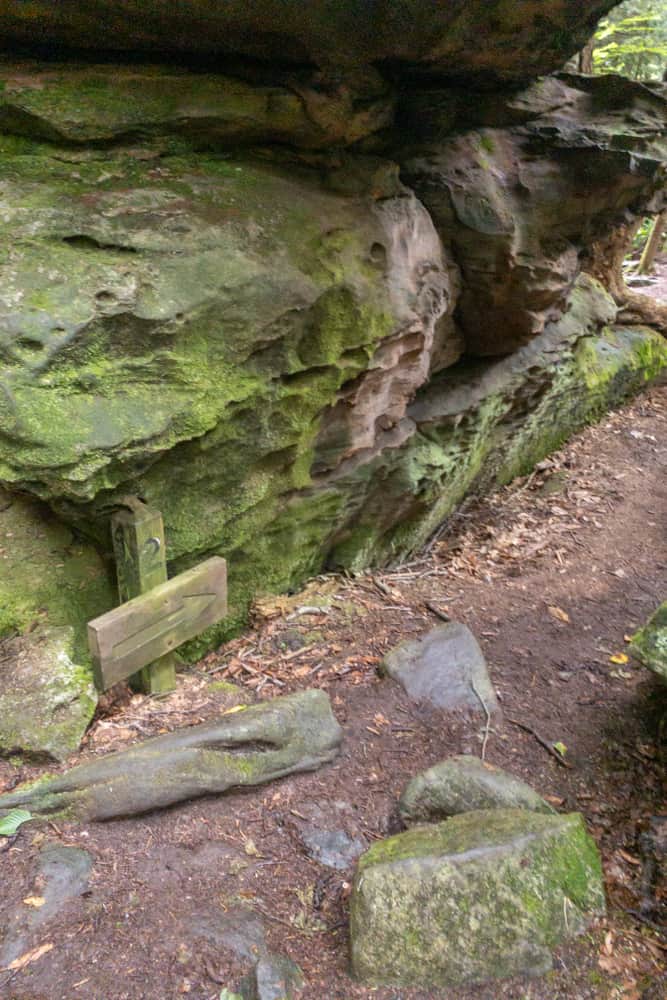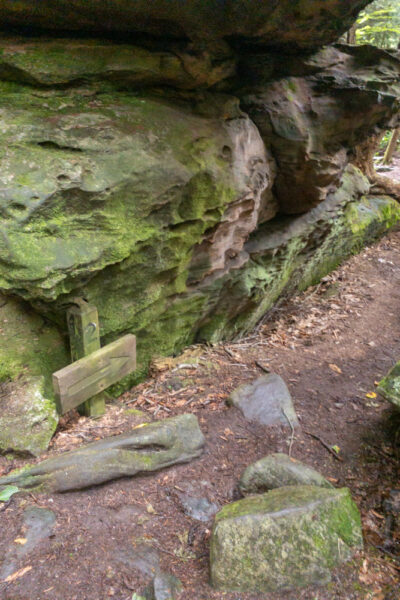 So, instead of trying to follow the marked path, I'd recommend exploring these rocks as much as you physically can. Head into the narrow paths and back into the hidden chambers. Just keep in mind that in many cases you'll have to return the way you came, so don't get yourself stuck somewhere.
Walking through the towering boulders and outcroppings that make up Bilger's Rocks, I started to have a sense of déjà vu. It took me a minute to figure out what the area reminded me of until it finally hit me; the area reminded me of the Temples of Angkor in Siem Reap, Cambodia.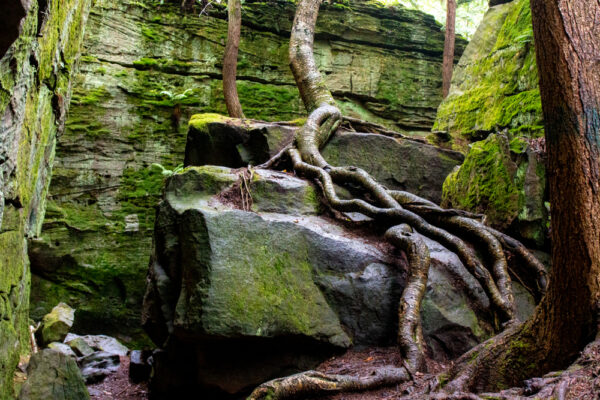 I think it was because of the trees that somehow grew up around the rocks with their roots wrapped around large boulders that reminded me of the root-wrapped temples in Southeast Asia.
There are many nooks and crannies to explore at Bilger's Rocks. Some are large enough for just about anyone to go through while others are passable only for those that are rather small or skinny.
Squeezing through areas is a ton of fun and its amazing the many great spots you can discover hidden through these cracks in the rocks.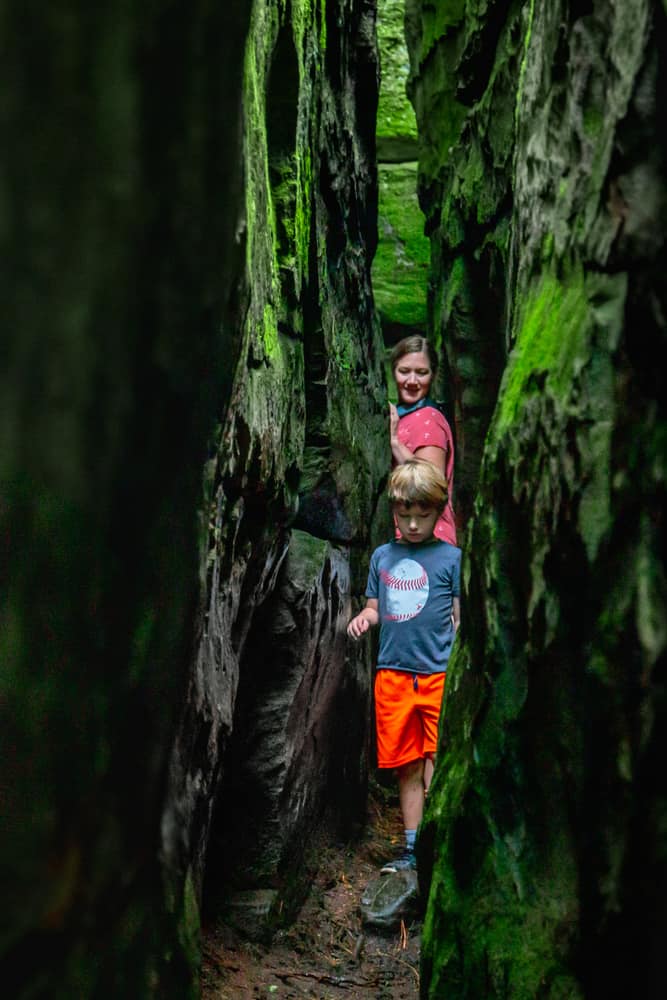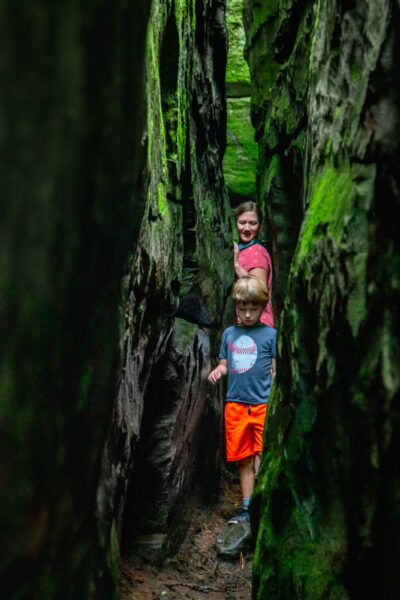 One unique area is nicknamed the "Ice Cave" because of how late in the year the ice stays. While more passage than cave, the Ice Cave actually passes underground for about 25 feet, leaving you in pitch black until you can exit through the narrow crack on the other side.
While exploring, keep your eye out for a few of the old carvings that can be found at Bilger's Rock, some of which date back more than 100 years. A favorite of mine is near the entrance and features a carved map of the Americas with the words "The world is looking to us."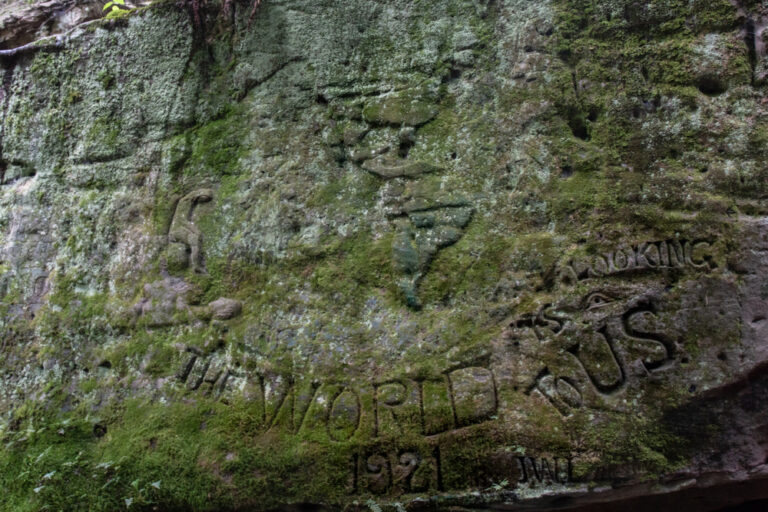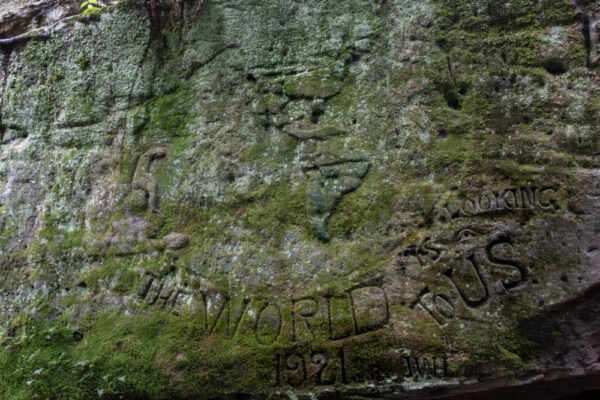 While the star attraction of the land is the rock outcropping, the property is also a great place for a bit of hiking. There is actually a total of 10 miles of hiking trails within the property here, only a small portion of which actually pass through the rocks.
The site also features a campground, a playground for kids, and the ruins of an old mill along the banks of Bilger Run. This is also one of the few hiking areas in PA where dogs are actually allowed to be off-leash, ensuring that your furry friend will have a great time as well.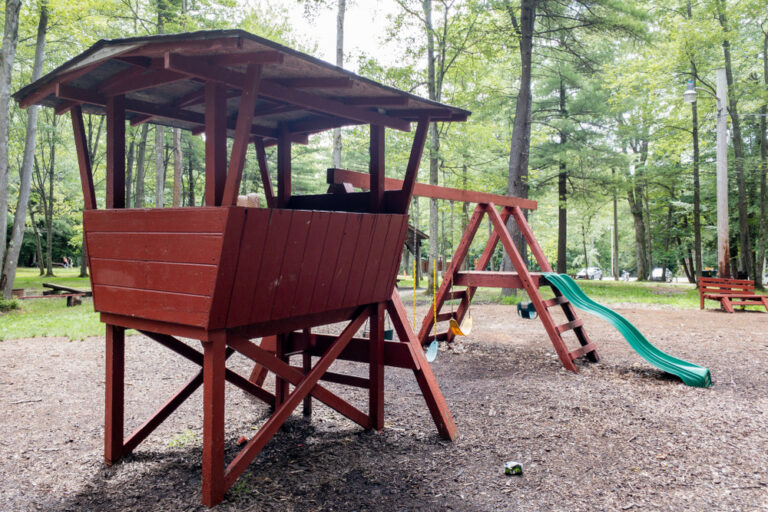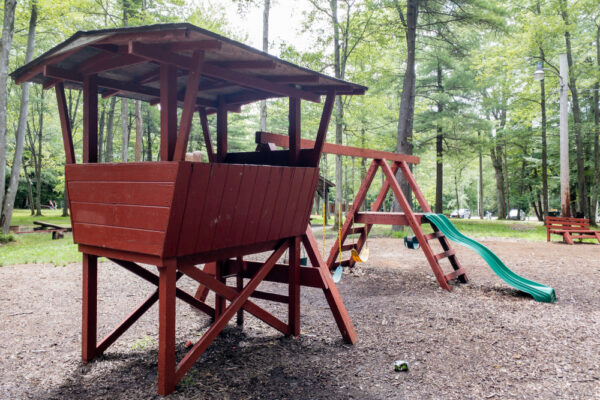 Overall, Bilger's Rocks is a great area to visit. Whether you are exploring Clearfield County, the southern Pennsylvania Wilds, or simply looking for a diversion while crossing Pennsylvania on Interstate 80, Bilger's Rocks is a fantastic place to explore.
Looking for more to do in the area? Check out Beartown Rocks, Scripture Rocks Heritage Park, the Coalport Area Coal Museum, and the last covered bridge in Clearfield County.
---
Bilger's Rocks
Hours: Daily from dawn to dusk

Cost: Free

Website: BilgersRocks

Address: 1921 Bilgers Rocks Road
Grampian, PA 16838