Disclosure: This article may contain affiliate links. We will make a small commission from these links if you order something at no additional cost to you.
When I first visited Clearfield County in February 2014, I was told over and over again that I needed to come back and visit Bilger's Rocks. Honestly, I wasn't entirely sure what all the fuss was about.
Sure, giant boulder outcroppings are fun to check out, but there are so many different ones around the state that I couldn't see Bilger's Rocks being anything special.
However, given the hype, I made a point of stopping by Bilger's Rocks on my way through Clearfield County a few months later.
As soon as I pulled up to Bilger's Rocks, I knew that they had been hyped up for a reason. In fact, I would go so far as to say that Bilger's Rocks is the most interesting rock outcropping in Pennsylvania save possibly Devil's Den at the Gettysburg Battlefield (which gets extra points for its historical significance).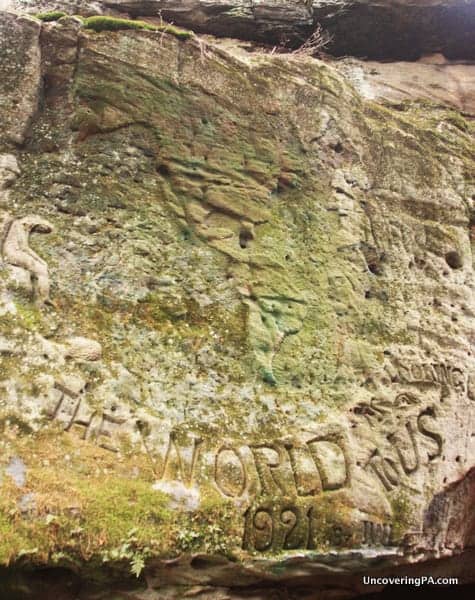 Set amongst the woods outside of the tiny borough of Grampian, the rocks have attracted visitors for more than 10,000 years, when Paleo-Indians used the outcroppings for shelter.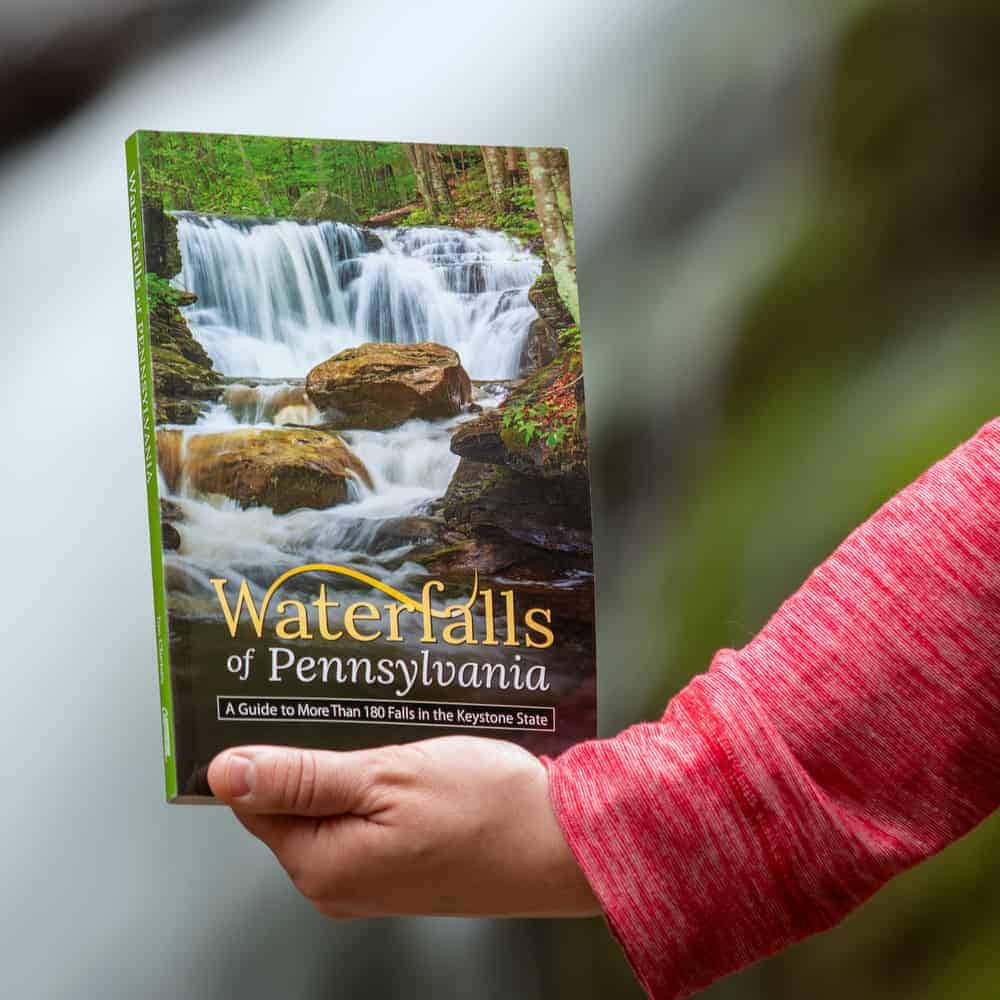 "Waterfalls of Pennsylvania" by Jim Cheney
If you love PA waterfalls, you won't want to miss this brand-new waterfall book from Jim Cheney, author of Uncovering PA, featuring more than 180 great waterfalls. Order it now on Bookshop.org or Amazon.
Today, the area is managed by the Bilger's Rocks Association which maintains the area, hosts events, and runs tours through the rocks.
As I walked through the area with my guide, several areas of rock carvings were pointed out. While none were of significant age, several were quite interesting including a dog, woman's head, and lion. However, the most interesting carving had to be the map of the Americas that was carved shortly after World War 1.
Walking through the towering boulders and outcroppings that make up Bilger's Rocks, I started to have a sense of déjà vu. It took me a minute to figure out what the area reminded me of until it finally hit me; the area reminded me of the Temples of Angkor in Siem Reap, Cambodia.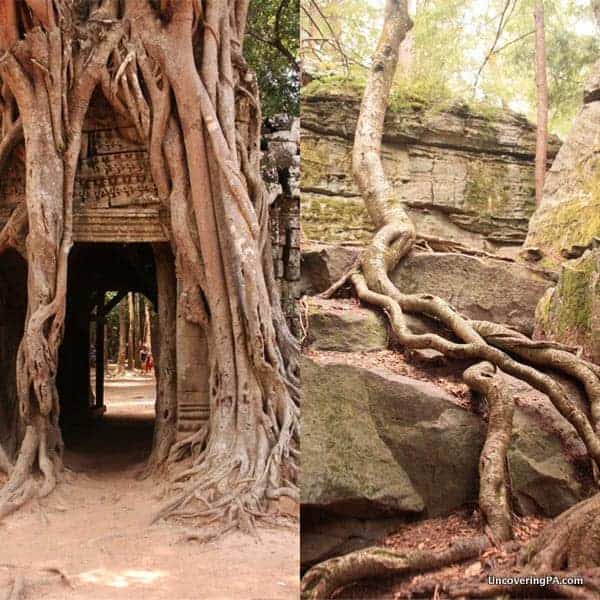 Even if you haven't been to Cambodia, you likely know the image of the ancient temples with trees sprouting out of them from movies like Tomb Raider or nearly any list of must-see places in the world.
If seeing these amazing temples in person is on your travel bucket list, a visit to Bilger's Rocks might tide you over until you can visit (which, I can say from personal experience you should definitely do).
One way that Bilger's Rocks definitely differs from Angkor Wat in Cambodia is temperature. While the weather in Cambodia is quite hot all year long, the area around Bilger's Rocks is actually cooler than the surrounding forest. Because of this, ice and snow stick around much later in the year.
In fact, one area is nicknamed the "Ice Cave" because of how late in the year the ice stays. While more passage than cave, the Ice Cave actually passes underground for about 25 feet, leaving you in pitch black until you can exit through the narrow crack on the other side.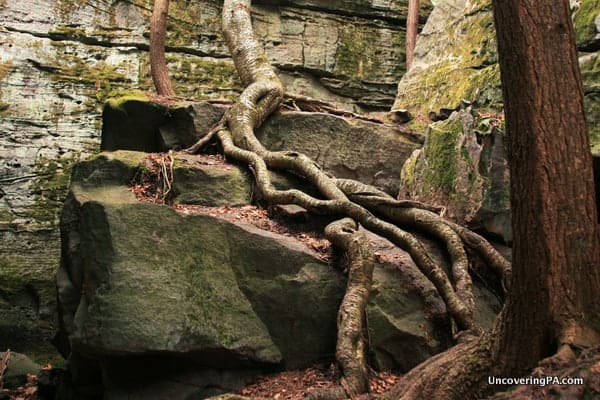 While the star attraction of the area is Bilger's Rocks, the property is also a great place for a bit of easy hiking or inexpensive camping. It's also one of the few hiking areas where dogs are actually allowed to be off leash, ensuring that your furry friend will have a great time as well.
Overall, Bilger's Rocks is a great area to visit. I won't go so far as to say that it's worth driving a long distance just to visit the rocks, but it's definitely worth checking out if you are in the nearby area.
Looking for more to do in the area? Check out Beartown Rocks, Scripture Rocks County Park, and the last covered bridge in Clearfield County.
---
Bilger's Rocks
See map below for other area attractions.
---