Disclosure: This article may contain affiliate links. We will make a small commission from these links if you order something at no additional cost to you.
Hidden away in a back alley in downtown Lancaster is Wacker Brewing Company, one of the newest breweries in Lancaster County. However, despite having opened its doors in late 2014, Wacker Brewing Company draws on history over 150 years in the making.
In the year 1853, Eagle Brewing Company was founded in downtown Lancaster by the Sprenger family. Thanks to the area's significant population of German immigrants, Eagle Brewing Company was one of several large breweries supplying beer all along the east coast. In fact, by the late 1860s, Lancaster was considered the "Munich of the United States."
In 1870, Eagle Brewing Company was sold to Joseph Wacker, and the company was renamed Wacker Brewing Company. For the next 86 years, Wacker Brewing Company was one of the region's largest breweries, outlasting many others that came and went during that time. However, despite surviving prohibition, Wacker Brewing couldn't compete with some of the larger breweries in the Midwest and stopped brewing beer in 1956.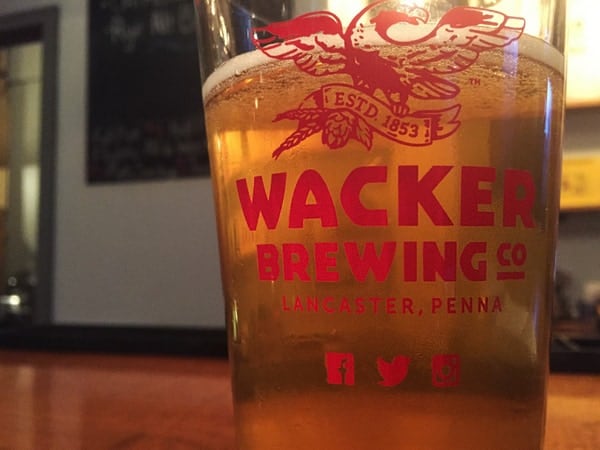 When the new Wacker Brewing Company started brewing beer in 2014, they decided to honor Lancaster's brewing tradition by choosing this historic name. And, if you're choosing a historic name for your brewery, it makes perfect sense to house yourself in a historic building as well. Unfortunately, the Wacker Brewery was torn down decades ago to make room for a parking lot. So instead, Wacker Brewing Company decided to house their brewery in a warehouse that was once part of another large Lancaster industry: tobacco.
Wacker Brewing Company runs both their production and a taproom out of this early 20th-century tobacco warehouse. Production is done in the basement of the building on a 10-barrel system. Brewer Michael Spychalski had nearly a decade of home-brewing experience prior to starting at Wacker Brewing in 2014, but had never worked in the industry.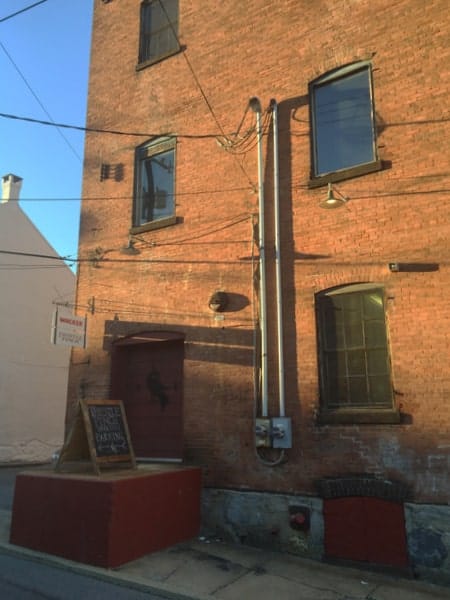 Spychalski told me that while they don't follow the German beer purity laws, they use a significant amount of German-grown ingredients in their beer, including German yeasts and hops. Wacker Brewing Company strives to make great drinking beers that still have a great amount of flavor.
Wacker Brewing Company shares its building with Thistle Finch Distillery. While the production facilities are located in separate areas of the building, the tasting rooms are both located within the Little Dutch Taproom, which opened in May 2015. The taproom isn't large, but has a very cozy feel, with several TVs hung on the wall, board games on the shelves, and a dartboard in one corner. Visitors are welcome to sit at either bar and try a sample or get a beverage to enjoy with food.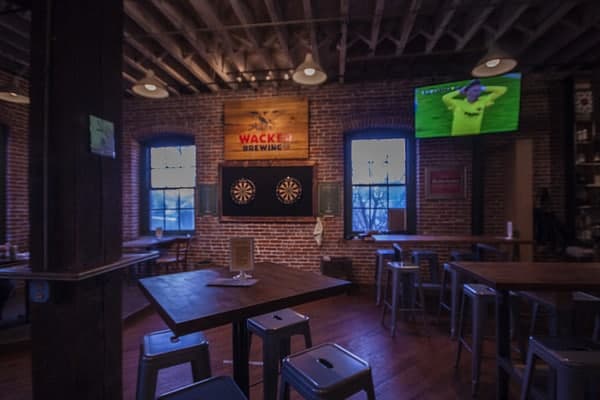 The food menu in the Little Dutch Taproom is small, featuring mainly sandwiches and snacks, but the quality of the food is quite good. During my visit, I ordered the grilled cheese and a beef taco. I enjoyed both items, and while neither was a hearty meal, they would both do well for those looking for a light bite to eat or a small dinner.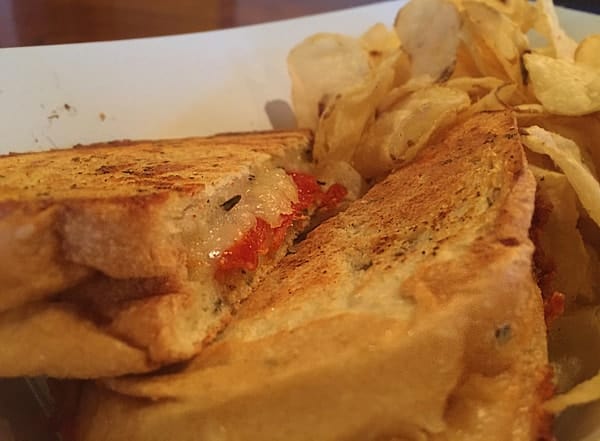 While the food was good, the main highlight of any taproom visit is the beer. I decided to opt for a sampler so that I could try a variety of the beers on tap. At the time of my visit, Wacker Brewing Company had six beers on tap. The beers on tap were a mixture of flagship and seasonal beers, giving me a chance to try a good variety of styles.
While I thought all of the beers that I tried were good, my two favorites were the kolsch and the Belgian double. I was also quite impressed with the oatmeal stout, which I found to be very good despite the fact that I don't usually prefer that style of beer. In many respects, I would say that Wacker Brewing has very much achieved the goal of having great beers for everyday drinking. While I don't know that any of their beers will ever become favorites of mine, I enjoyed each of their beers and would definitely be interested in drinking them again in the future.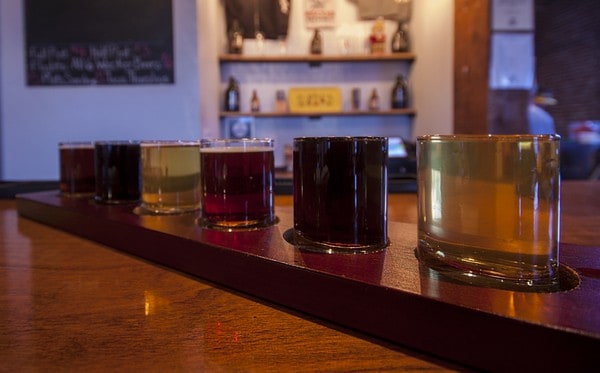 Without a doubt, the combination of good beer, tasty food, and inviting taproom will likely bring me back to Wacker Brewing Company and their Little Dutch Taproom. If you're looking for a good brewery in Lancaster County with a bit of something for every beer lover (and cocktail lover), you can't go wrong with a visit to Wacker Brewing Company.
Note: My visit to Wacker Brewing Company was hosted by the brewery. However, the opinions expressed are my own.
Looking for a different kind of beverage in Lancaster? Check out our favorite coffee shops in Lancaster, PA, and our reviews of Mean Cup Coffee and Passenger Coffee. And don't miss our great guide to downtown Lancaster, PA.
---
Wacker Brewing Company
See map for other area attractions.
---