Disclosure: This article may contain affiliate links. We will make a small commission from these links if you order something at no additional cost to you.
When I moved to Harrisburg in the fall of 2012, I had no idea that the city's food scene was so awesome. However, amidst all the wonderful restaurants and breweries that are scattered around the city, there is only one that I crave on a regular basis: Mexico Lindo Taco Truck.
While food trucks have caught on in many major cities, they are few and far between in Harrisburg. Of course, Mexico Lindo probably isn't exactly what comes to mind when you think "food truck". After all, not only does the Mexico Lindo Taco Truck seem incapable of moving, but it's also parked along one the roughest streets in the entire city.
However, if you are willing to brave the distinct lack of high-end ambiance, you'll be rewarded with some of the most authentic and best tasting Mexican food in Pennsylvania.
The menu offered at Mexico Lindo Taco Truck is rather simple, likely due to their small cooking space. Tacos are offered in beef, pork, chicken, and tongue and they also frequently have tortas and tamales on the menu as well.
When I visit, which is quite frequently, I typically order one each of the beef, pork, and chicken tacos. Tacos come with toppings like onions, cilantro, and lettuce. A lime, as well as spicy, homemade salsa is provided on the side to drizzle on top of your tacos.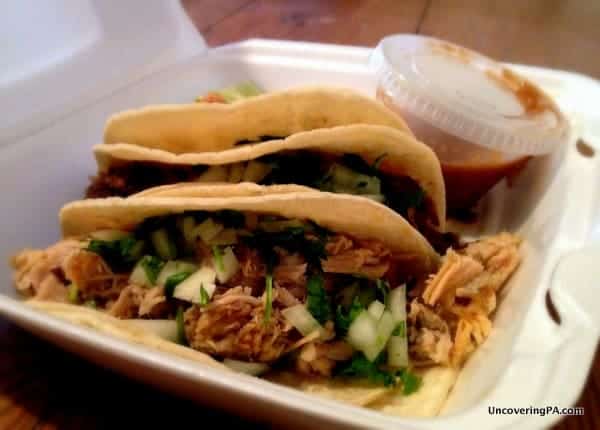 And let me tell you, each taco is amazing. From the dry corn tortilla to the succulent meat, fresh vegetables, and spicy salsa, it's easily one of the most authentic and best tasting tacos you've ever had. Don't trust me? Check out their page on Yelp. There are many reviews, even from those who live in places with great Mexican food trucks, that rave about the quality of the tacos at Mexico Lindo.
With their small size, Mexico Lindo basically does one thing and does it really, really well. They don't have toppings like sour cream or tomatoes, but I can't imagine that you would miss them when you're eating your insanely amazing tacos.
So, the next time you're looking for Harrisburg's most authentic Mexican food, take a trip over to Mexico Lindo Taco Truck. It might not be 5-star dining, but it's definitely 5-star food.
Visiting Mexico Lindo Taco Truck
The Mexico Lindo Taco Truck is located on Market Street in the Allison Hill section of Harrisburg. Allison Hill is one of the poorer and more violent areas of the city, and I definitely wouldn't recommend visiting after dark. However, during the day, I've never heard of there being a problem, and I feel safe walking around.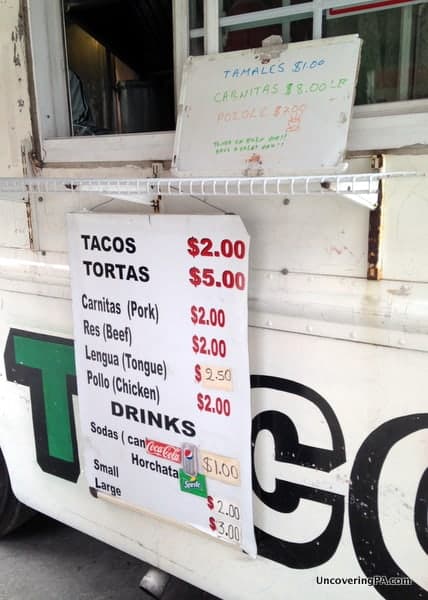 Mexico Lindo is open Tuesday to Saturday from 10am to 6pm and on Sundays from 10am to 4pm (They are closed on Mondays). The truck is open from, roughly, late March through sometime in October, and completely disappears during the winter months. They only accept cash, so make sure you have enough with you. They do offer a bit of outdoor seating, but I've always opted to take my tacos to go.
Check out my map below to see their exact location.
See map for other area attractions.