Disclosure: This article may contain affiliate links. We will make a small commission from these links if you order something at no additional cost to you.
Pennsylvania is home to many beautiful caverns that you can tour, but only one of those is accessed through the basement of a private home after being closed to the public for nearly 70 years.
Black-Coffey Caverns, which was once known as Baker Caverns, is located in the small Franklin County community Williamson, roughly halfway between Greencastle and Mercersburg, PA. The cave was open to the public from 1932 to 1954 but was closed to all (save for a few researchers and the owner's family) until early 2021.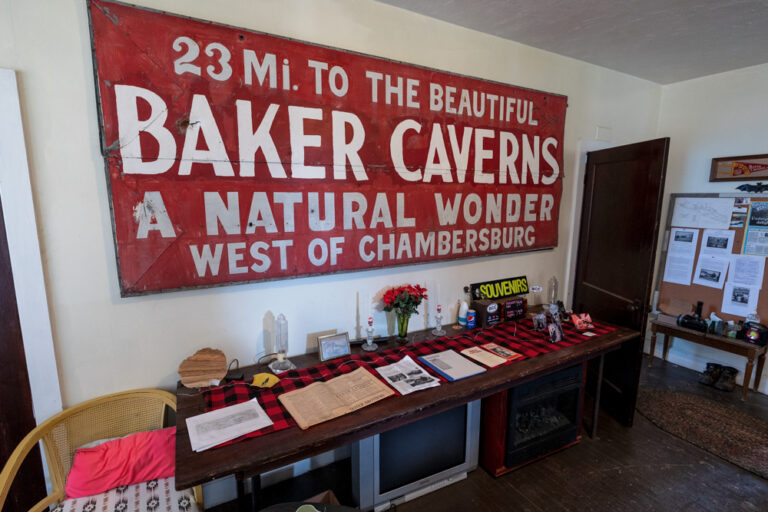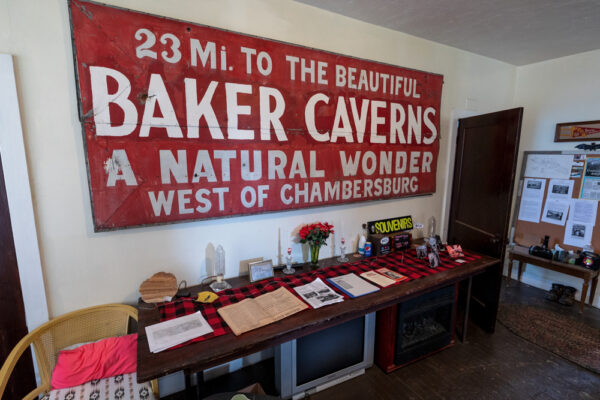 When the cave was first opened for tours in the 1930s, a small structure was built over the entrance. Over the years, this structure was expanded into an entire home, which is privately owned. It is the current owner who opens her house for these tours.
Today, the cave is still not fully open with regular operating hours. Instead, visitors can check out the newly-named Black-Coffey Caverns during one of the open houses scheduled typically one weekend a month, as well as through private tours (Information on open houses can be found on the caverns' Facebook page). And, because this is just an open house, tours are by donation, so you only have to pay what you can afford to visit.
(Please only visit Black-Coffey Caverns if you have a confirmed tour. They are not open for regular hours or impromptu tours.)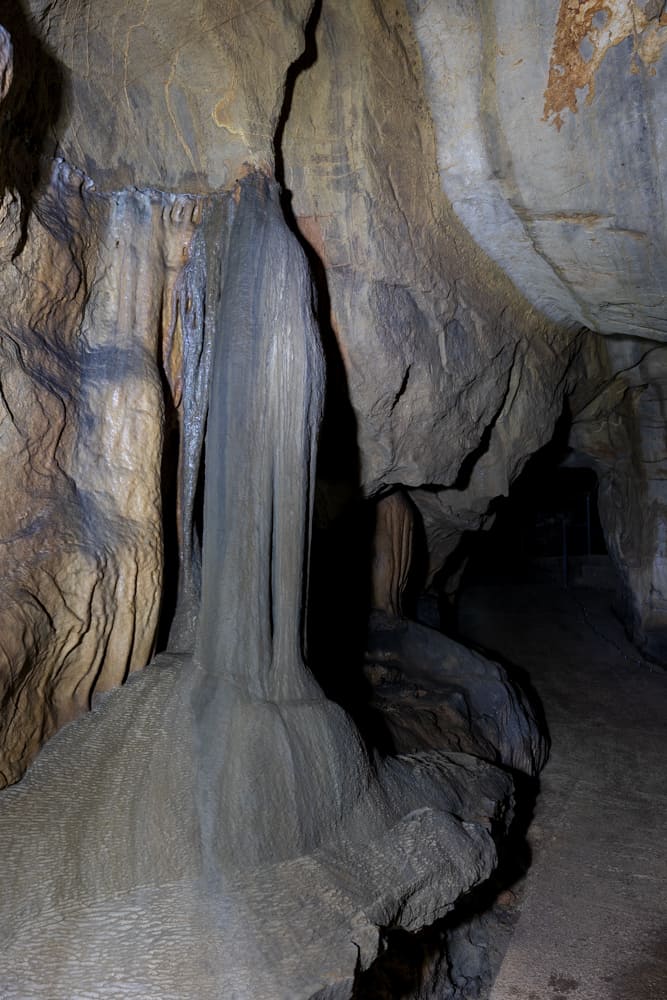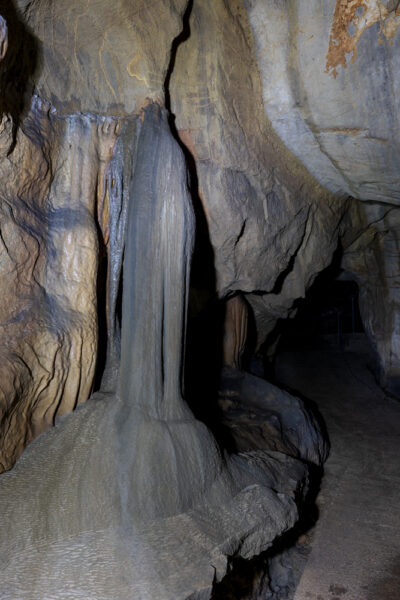 Tours start in the front room of the home, which was part of the original structure built over the cave.
In addition to serving as a waiting room for tours, there are also some pieces of the cave's history that you can check out, including one of two giant wooden signs that pointed people towards Baker Caverns.
History of Black-Coffey Caverns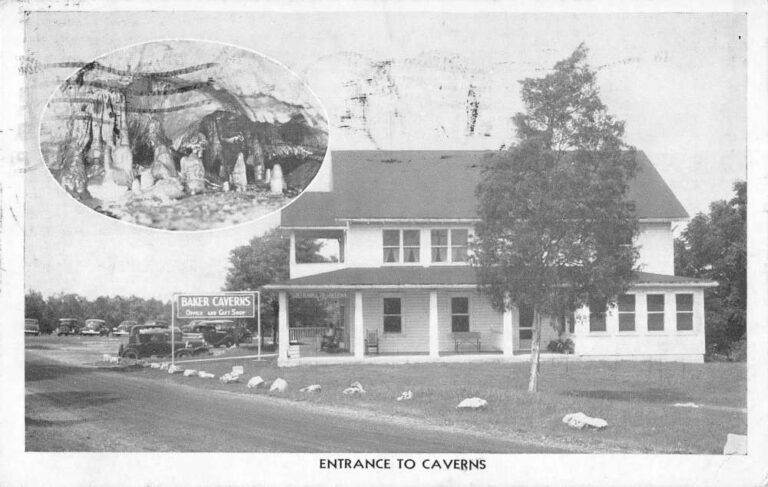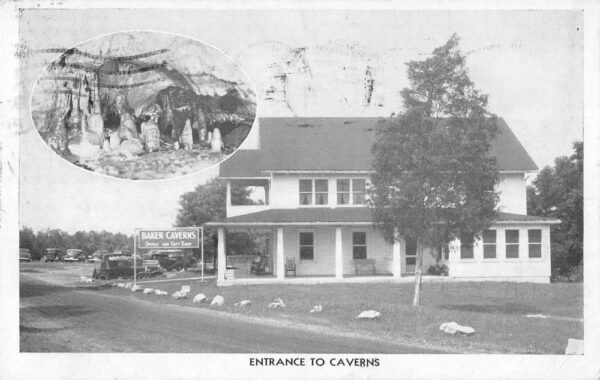 The cavern was discovered in 1830, though the exact nature of the find is up for debate. Some sources say that it was discovered when a horse fell into a sinkhole that created an opening to the cave. Other sources say that it was found after being blasted during nearby quarrying operations.
Regardless of how it was found, the cavern remained roughly unchanged for 100 years on the land of John Coffey. Over the years, people would venture down into the caverns to explore, many carving their names and the date into the walls (dates going back to the mid-19th century are still quite visible in parts of the cave).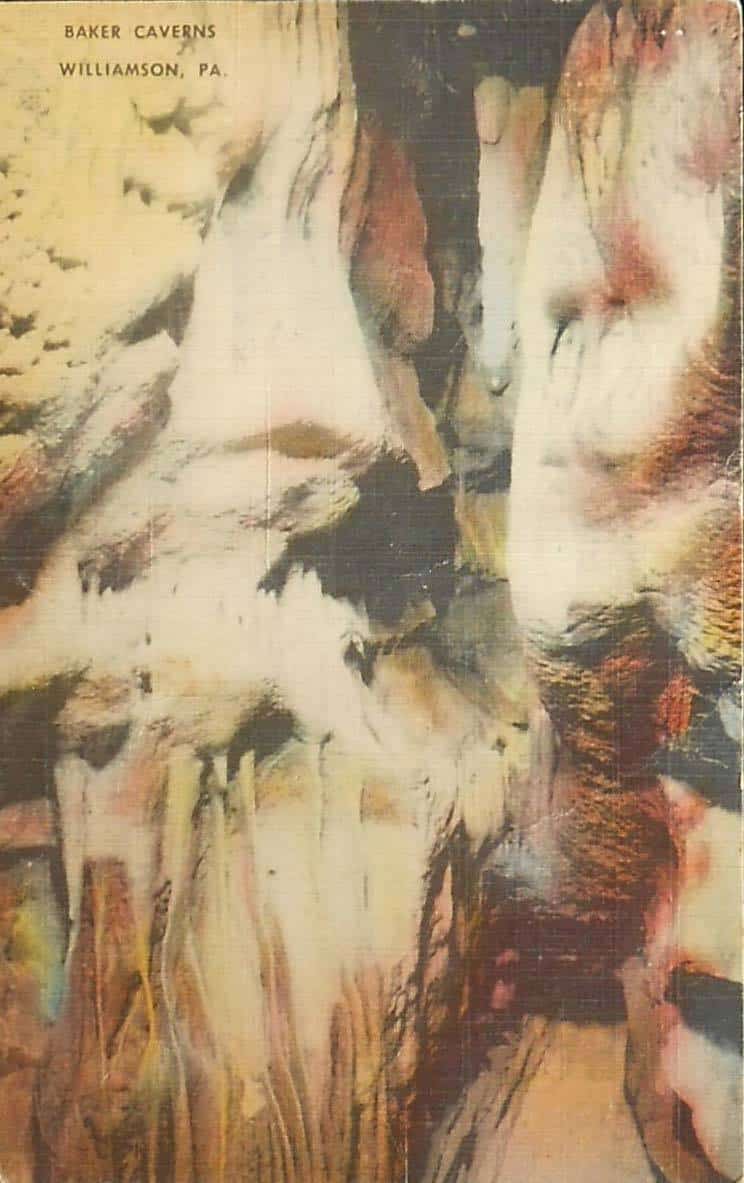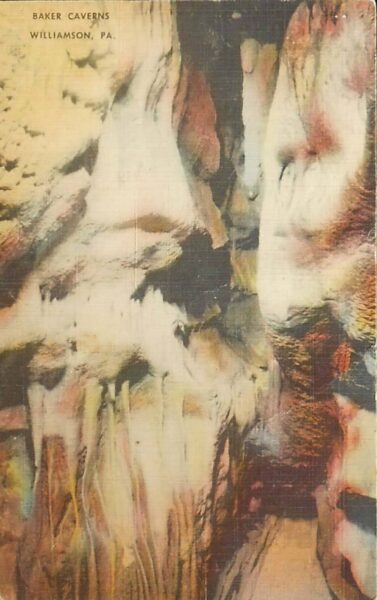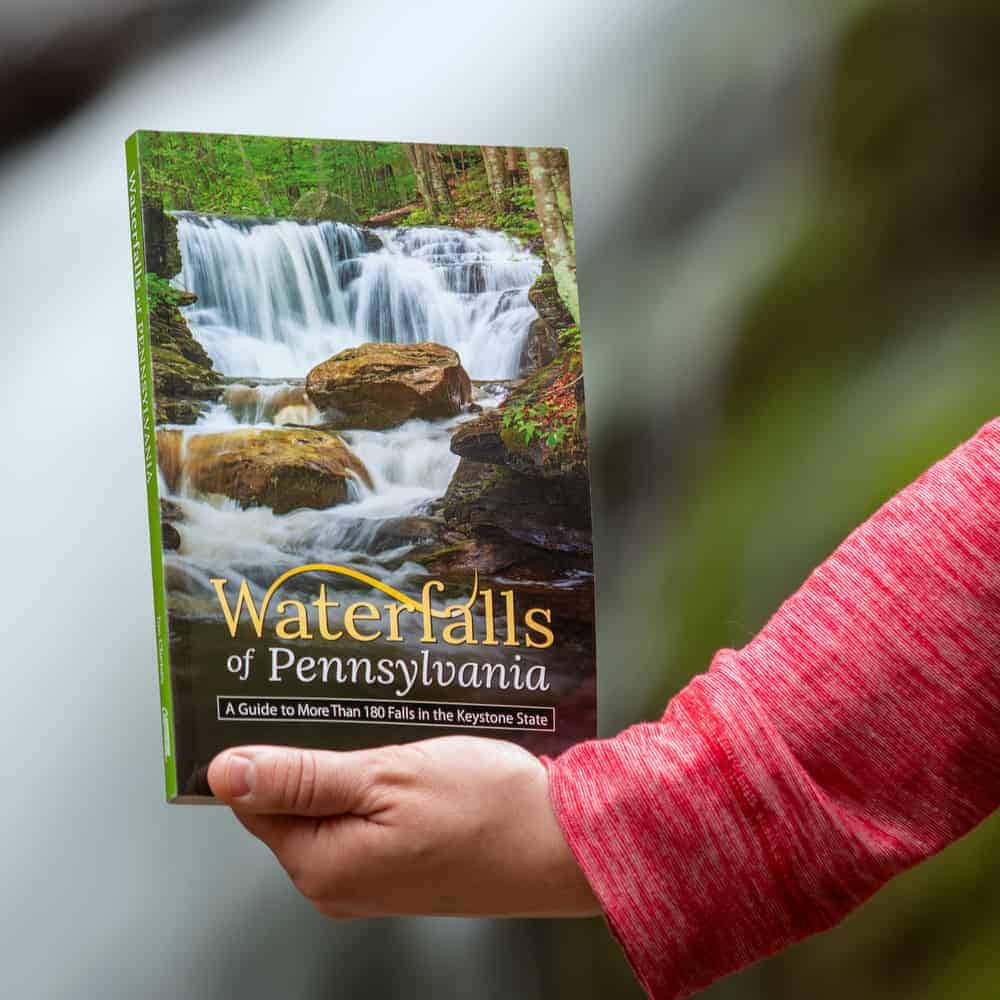 "Waterfalls of Pennsylvania" by Jim Cheney
If you love PA waterfalls, you won't want to miss this waterfall book from Jim Cheney, author of Uncovering PA, featuring more than 180 great waterfalls. Order it now on Bookshop.org or Amazon.
In the early 1930s, M.L. Burgan came to Franklin County specifically looking for a cave that he could manage as a tourist attraction. Over the next two years, he built a small structure over the entrance and added infrastructure to the cave to make it accessible to visitors.
The name Baker Caverns came from the name of the mining company that Burgan leased the land from, the J. Baker Limestone Company.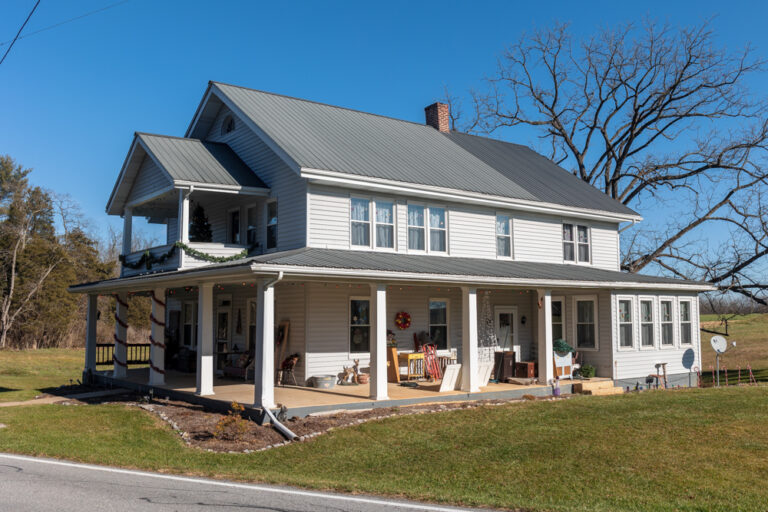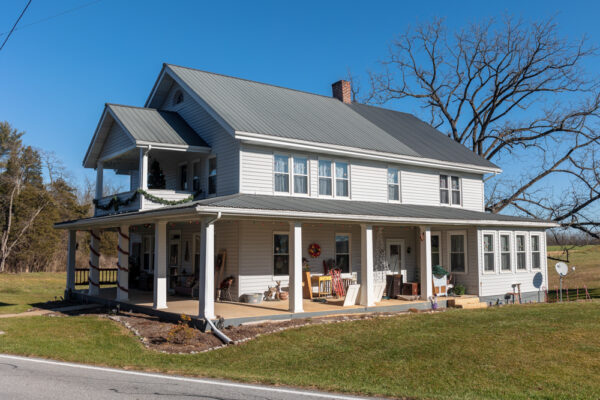 The caverns were open for visitors until Labor Day in 1954. At this time, Bethlehem Steel, who had purchased thousands of acres in the area for limestone mining, closed the cave to the public. From then until 2021, the cave remained nearly entirely closed off to visitors.
However, in early 2021, the current owner of the home decided to open the cave, now renamed the Black-Coffey Caverns, for limited open house tours.
Touring Black-Coffey Caverns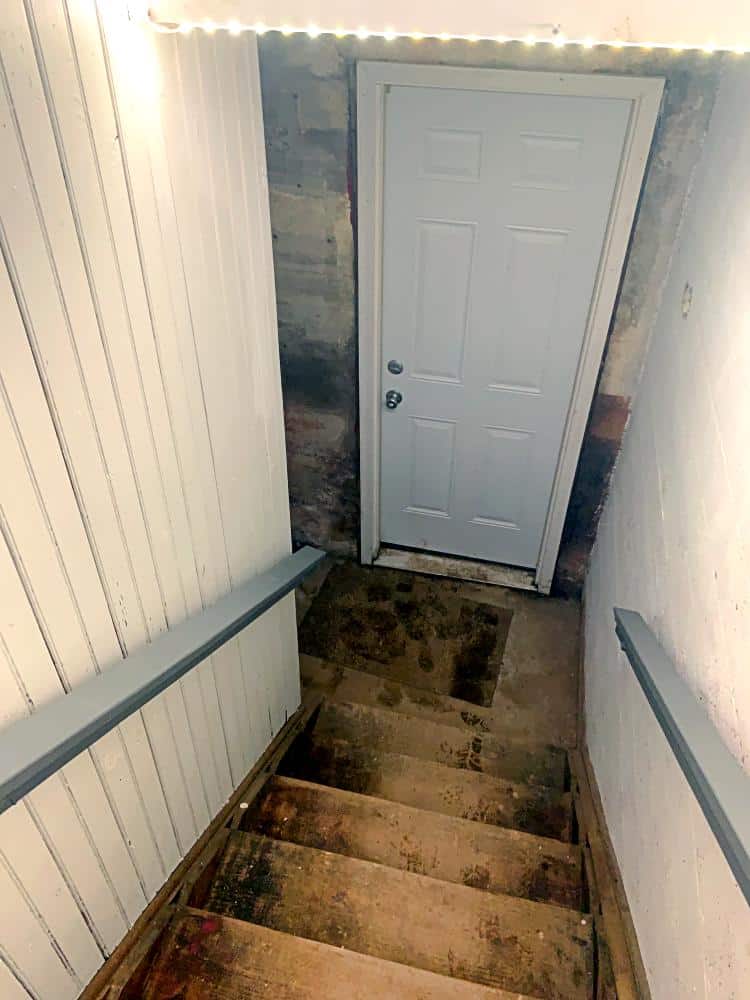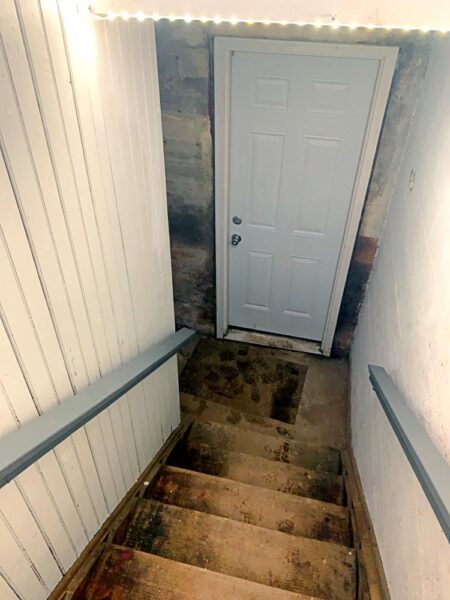 Tours of the cave take about 45 minutes and explore a good portion of the 3,000 feet of passageways that have been found to date. The part of the cave that you tour is shaped like a balloon. Visitors are guided down a long passageway, retrace their steps, and then go around a circular portion of the cavern.
Uniquely, the entrance to the cavern is through a regular-looking door in the basement of the home. It's quite amazing to see the door swing open, revealing solid rock walls and a concrete set of stairs down into an underground world.
As a child of the 80s and 90s, it reminded me a big of Fraggle Rock (though, I sadly did not see any Fraggles during my tour).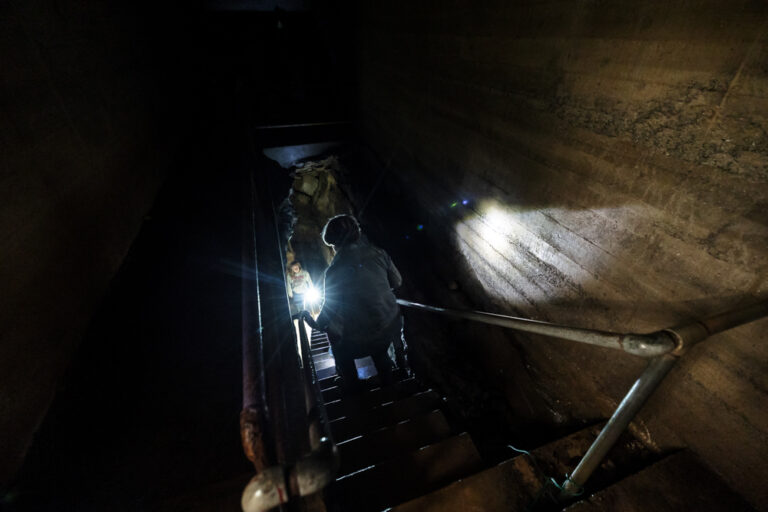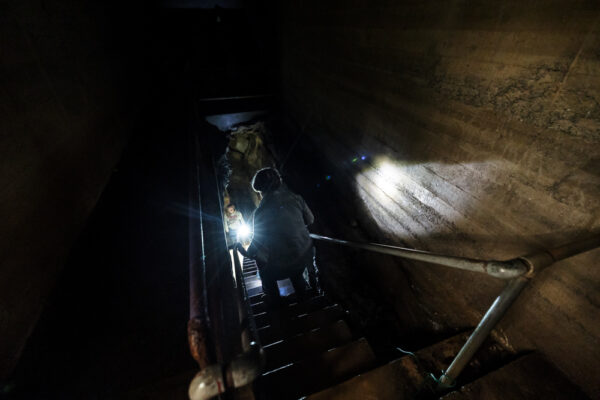 One of the unique parts about Black-Coffey Caverns is that there are no working lights within the cave. Instead, guides use flashlights to show you around this underground world. Visitors are also encouraged to bring their own lights, though there are a small number available to borrow should you need one.
Not having any lights set up really adds to the feeling of exploration in the cavern and makes this a really unique spot among Pennsylvania caves comparable only to spots like Tytoona Cave near Altoona.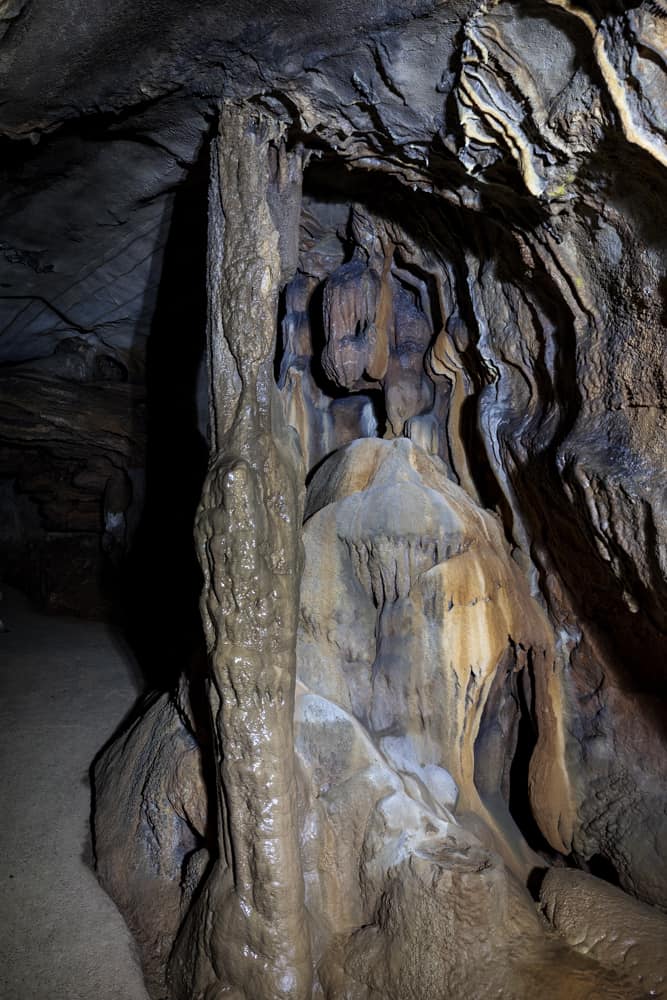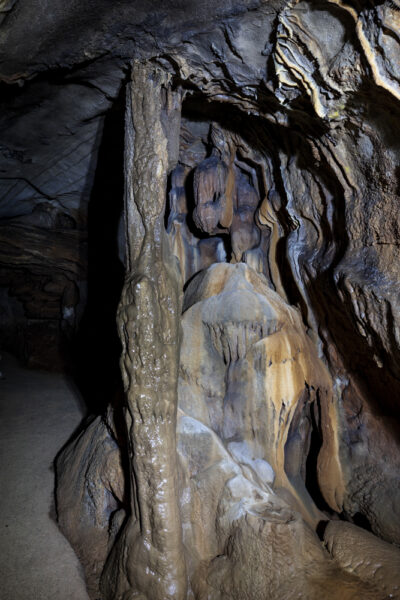 Another unique aspect of Black-Coffey Caverns is the many fluorescent rocks throughout the space.
During my tour, the guide had us turn off our flashlights as she shined a blacklight through the space. It was pretty amazing seeing the beautiful bright colors that were visible on the rocks in places. My kids especially enjoyed this hidden wonder.
While this may be something present in other caves in Pennsylvania, I can only recall it ever being shown on the tour at Lost River Caverns in the Lehigh Valley.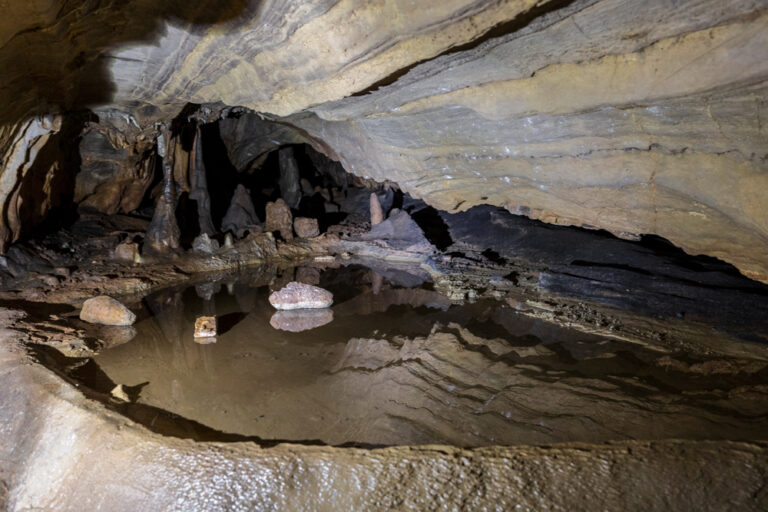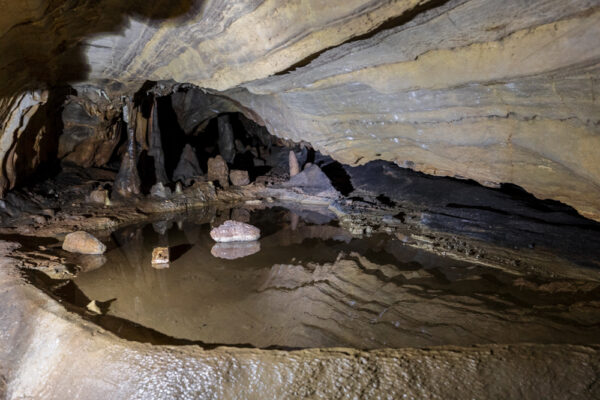 Black-Coffey Caverns is also filled with many cave formations, some of which are quite large. These really add a lot to the space and make for a really beautiful tour.
As with most caves, some of these formations had names based on what they looked like, including a rather large overhang that looked just like the mouth of an alligator.
While it's not a formation per se, one spot I especially enjoyed was an area where tree roots extended down into the cave deep underground from the forest above. Some of these even managed to find one of the small pools of water in the cave, ensuring that they hadn't dug through the hard rock in vain.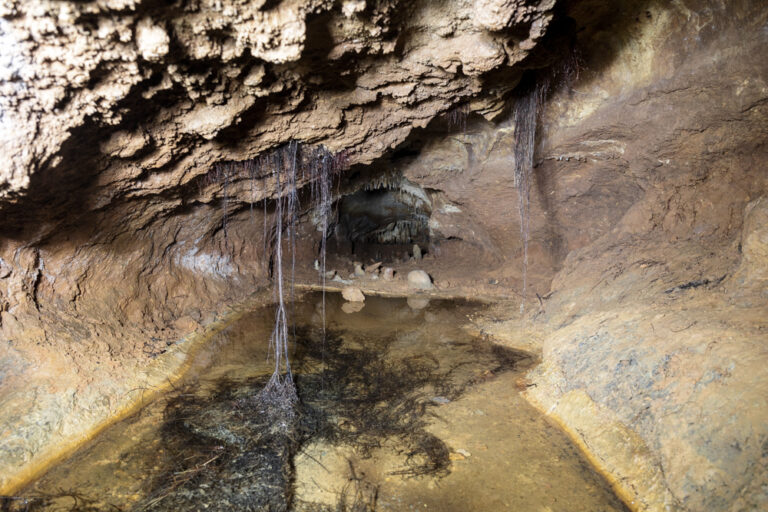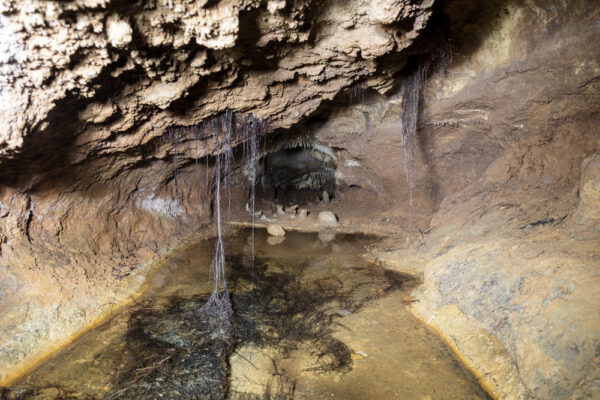 Another aspect of the cave that is both a positive and a negative, depending on how you look at it, is the infrastructure throughout the space.
When walking through the cave, the pathways and stairs that you walk on were all constructed during the cave's days as a tourist site, meaning that they are between 70 and 90 years old. This means that some staircases are a bit narrow and the walkways can be somewhat slippery in spots.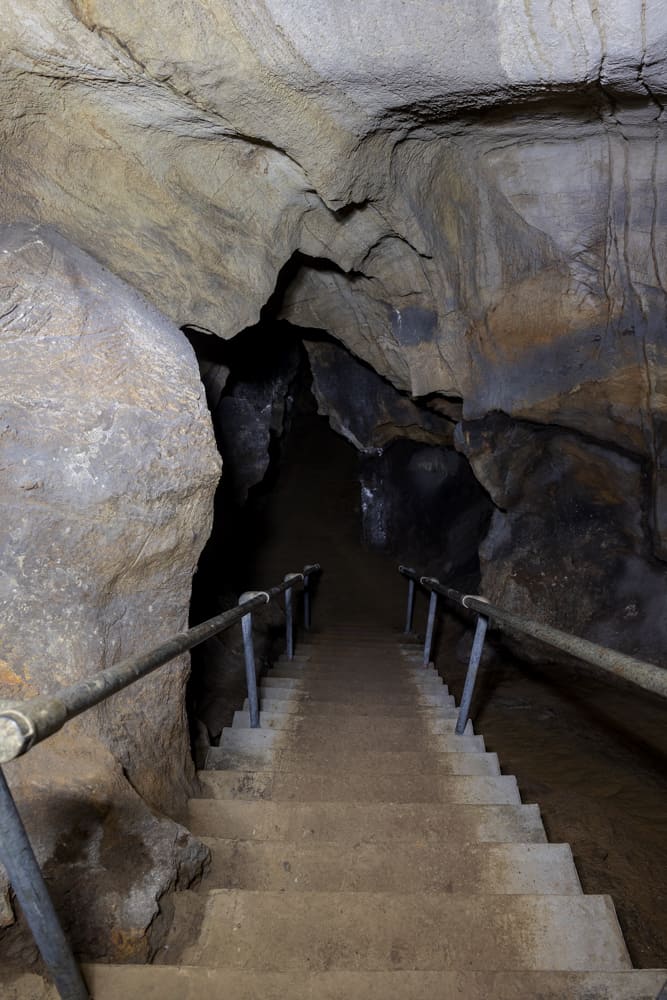 While I wouldn't consider it unsafe, care does need to be taken while walking through the caverns to make sure you don't slip. If you have trouble with steep steps or uneven terrain, this might not be the tour for you.
On the positive side, this infrastructure is in surprisingly good shape and shouldn't pose too much of a challenge for most. Even my three-year-old was able to tackle it with minimal issues (though there were several spots where we definitely needed to hold her hand).
The plus side of this older infrastructure is that it really does make it feel like you are exploring the cavern and not just walking through a modern underground world.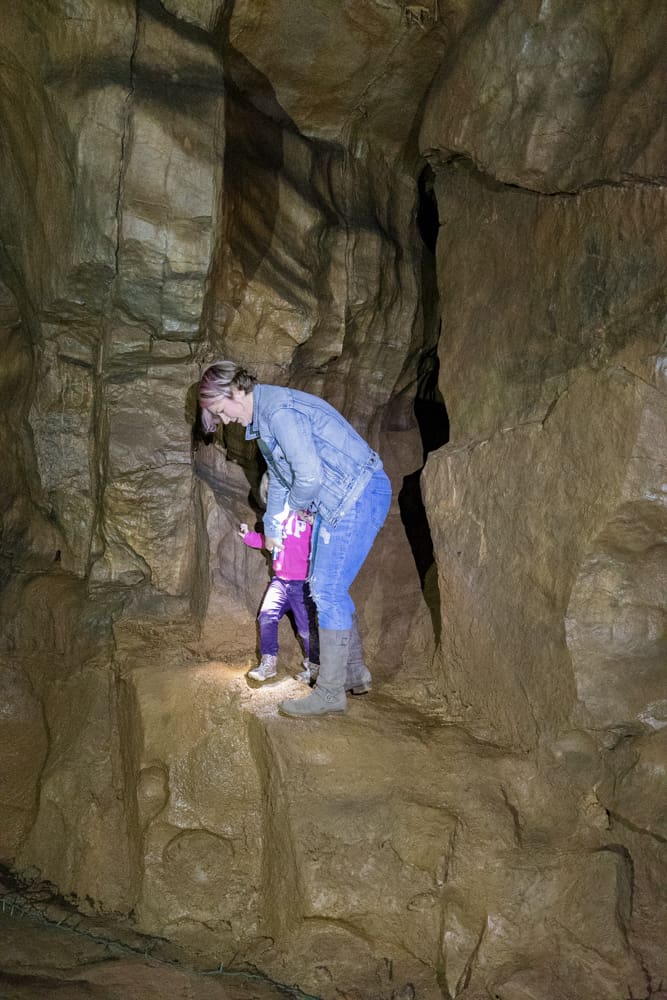 There is also a bit of mud in places, so when you visit, I recommend shoes with good traction and clothes that you don't mind getting a bit dirty. My whole family ended up with a bit of dirt on our pants from exploring some of the nooks and crannies that they let you check out while on the tour.
Overall, Black-Coffey Caverns was a ton of fun to visit, something that my wife and two young children all agreed with me on.
While tours of other caves in PA might offer more in the way of history, geology, and modern walkways, Black-Coffey Caverns offers the chance to really feel like you are exploring a hidden underground world.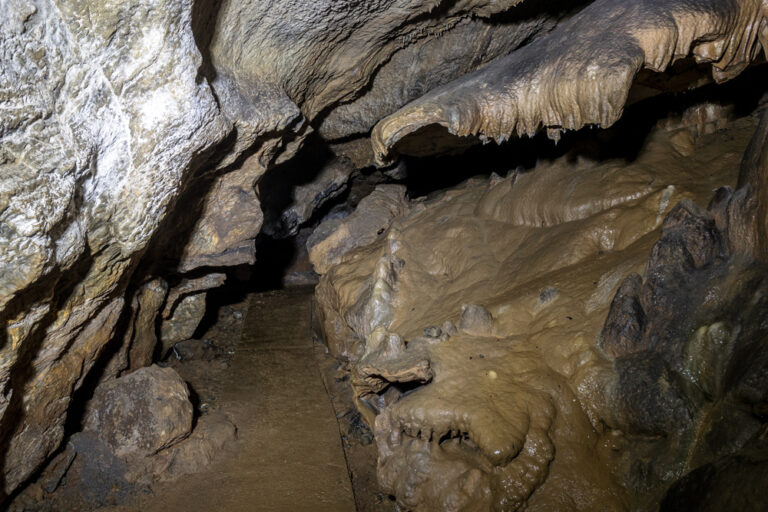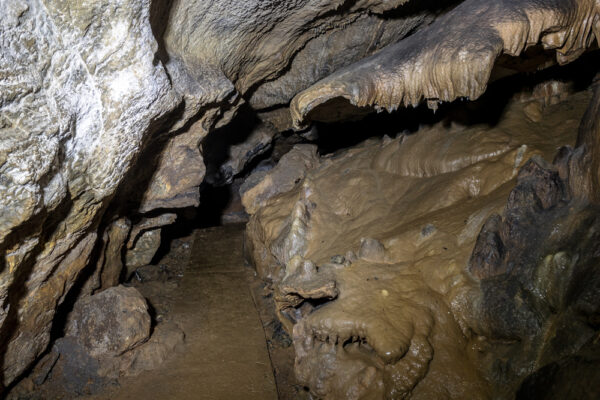 For that reason, I definitely recommend visiting this hidden gem of Franklin County, PA.
Note: If you'd rather do a more conventional cave tour both Indian Echo Caverns near Harrisburg and Coral Caverns in Bedford County are about 90 minutes from Black-Coffey Caverns.
How to Tour Black-Coffey Caverns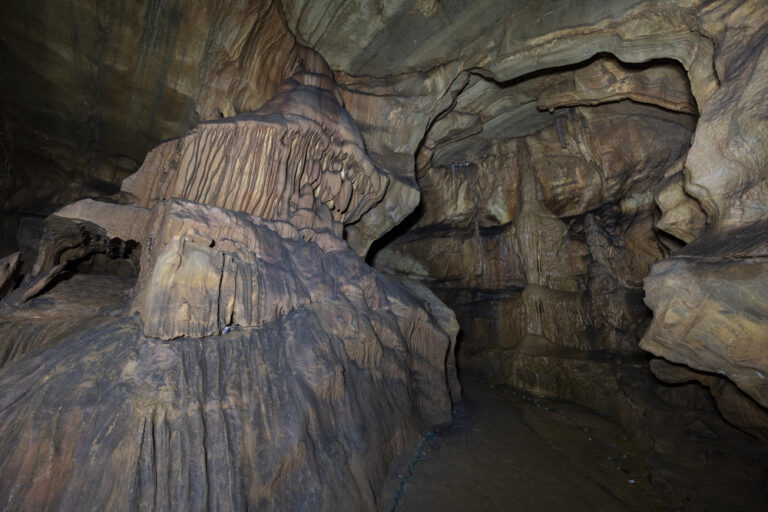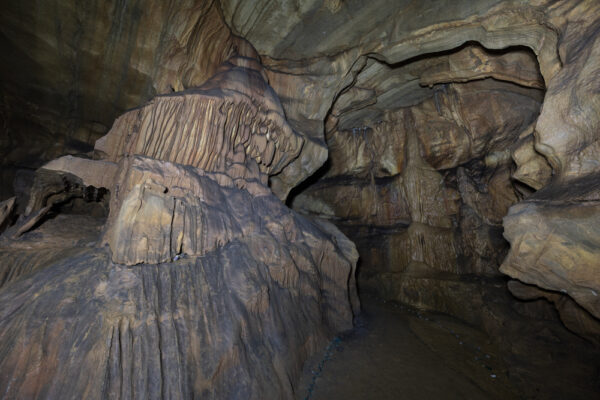 As stated above, Black-Coffey Caverns is not open for regularly scheduled tours. Instead, they offer open houses roughly one weekend a month. All open houses are announced on their Facebook page.
The caverns are also open by appointment if you are unable to make it to an open house or have a larger group.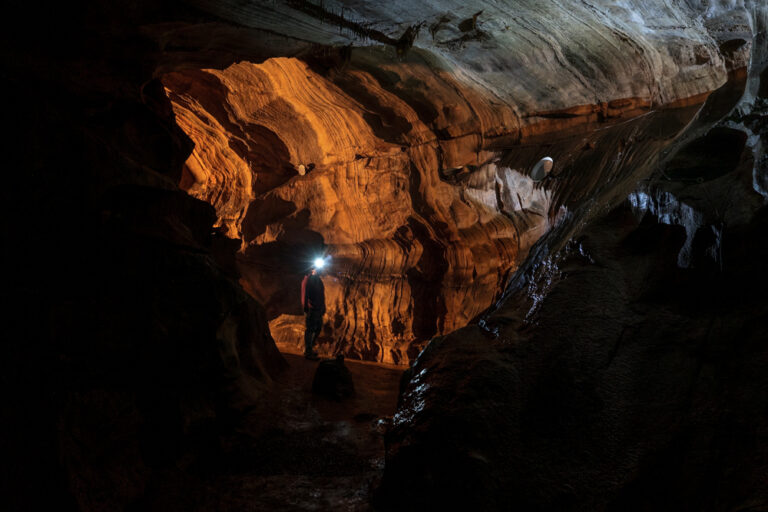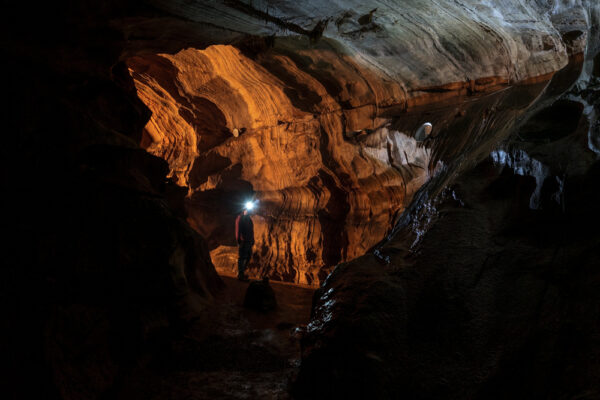 Tours of Black-Coffey Caverns are free of charge, though I definitely recommend bringing some cash with you so that you can provide a donation to keep the caverns open (though you are under no obligation to do so). A waiver must be signed prior to starting the tour.
Looking for more places to visit nearby? Check out the covered bridges of Franklin County, the John Brown House, Caledonia Falls, and the birthplace of President James Buchanan.