Disclosure: This article may contain affiliate links. We will make a small commission from these links if you order something at no additional cost to you.
When I was a child, one of my favorite things to do was to break apart rocks looking for gold. And while I was never going to find gold, there is a spot in the middle of Pennsylvania where you can break apart rocks and have a great chance of finding something really neat: the Montour Preserve Fossil Pit.
The Montour Preserve Fossil Pit is located in a rural corner of Montour County, approximately 10 miles north of Danville. And, while this isn't a spot that you are likely to just happen upon thanks to its isolated location, it's definitely a neat spot to check out.
Visiting this spot had been on my radar for a while, so I was excited when I had a chance to visit it with my family in the summer of 2022.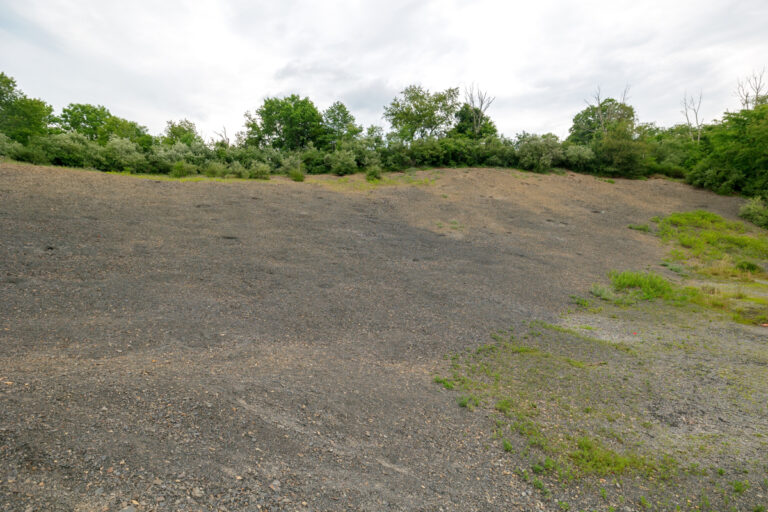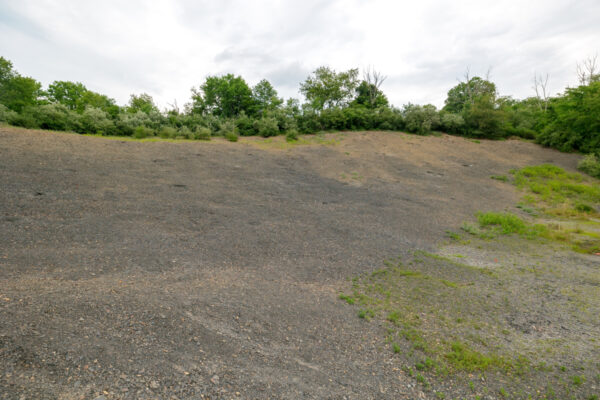 The fossil pit is in the eastern corner of the 650-acre preserve and is totally free to visit and open year-round. And while this is a very cool spot to visit, the Montour Preserve is probably best known for its 165-acre Lake Chillisquaque, which serves as both a water source for a nearby power plant and as a great spot for recreation.
Like the lake and the rest of the preserve, the fossil pit at the Montour Preserve was first opened to the public in 1972. It was actually discovered when the hillside was used as fill for the area's parking lots. Even today, portions are still dug out from time to time to use around the area, which helps to expose new fossils for visitors to find.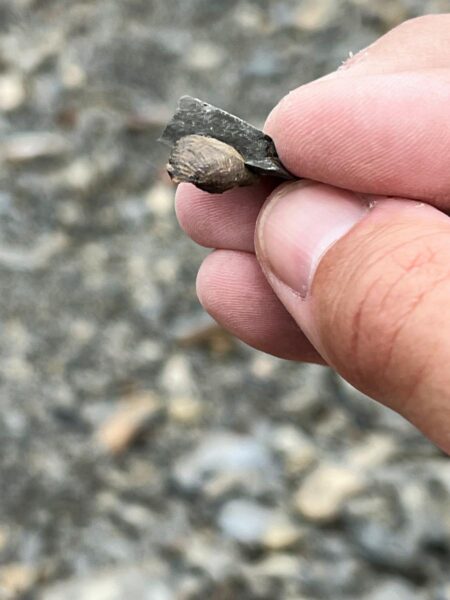 Fossils from the Devonian Period, roughly 395 million years ago, are found in a one-acre outcropping on Mahantango Formation shale. Unfortunately, this era is far too old for dinosaur fossils, but if you are lucky, you might find fossils that resemble modern seashells or other simple life forms that were common in the era.
In fact, in only a short visit, we found several small fossilized shells hidden away in these pieces of shale through nothing more than carefully breaking the pieces apart.
Even better, this is one of the few places in Pennsylvania where you are encouraged to take rocks and fossils that you find. So, you can keep anything that you find.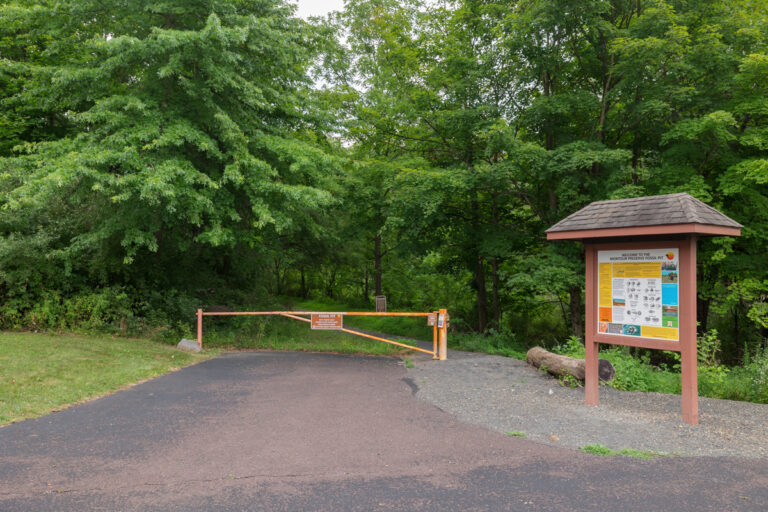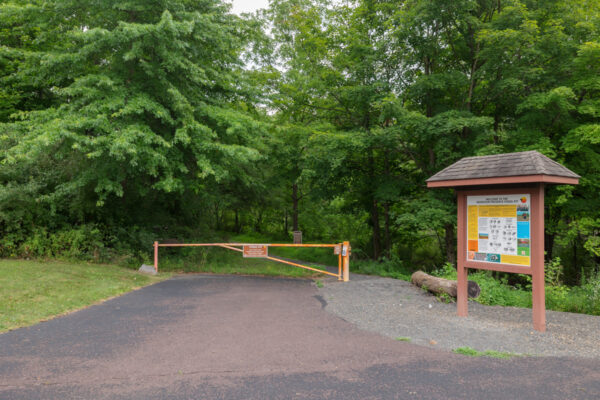 The entrance to the fossil pit can be found along Sportsman Road at the following coordinates: 41.110398, -76.648858.
There is a paved parking lot on both sides of the road but park in the lot on the eastern side of the road if you can as this is the side of the road with the trailhead.
From the parking, look for the information sign and the obvious gravel trail that heads the 400 feet through the woods to the base of the fossil pit.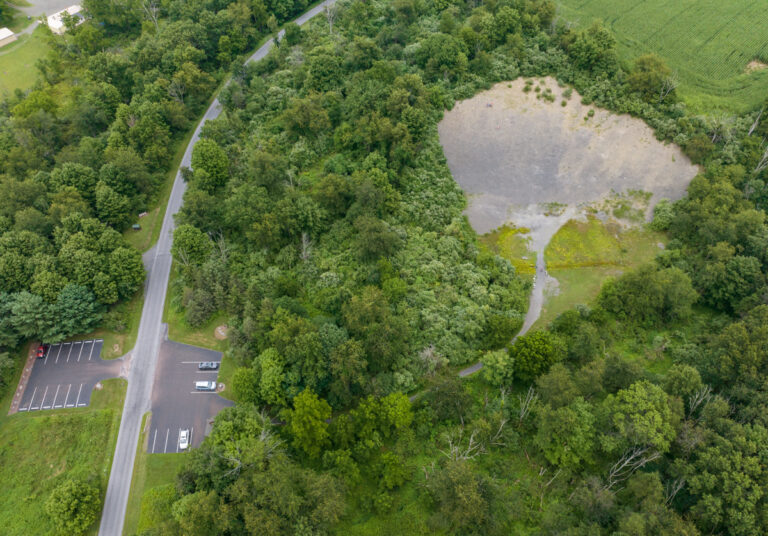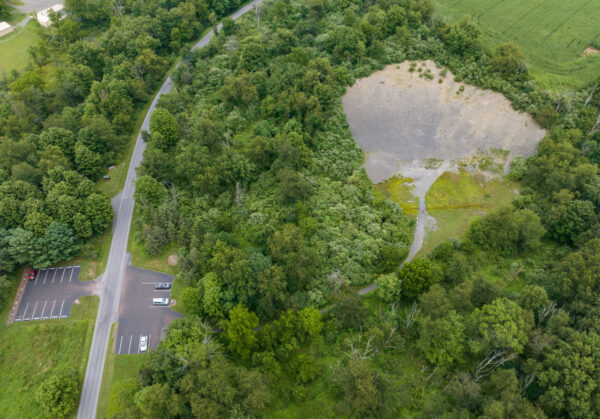 The pit itself resembles an amphitheater, with a flat area surrounded by a semi-circular-shaped hill that is made up of primarily shale rocks. Around the pit area is a beautiful forested woodland that makes you feel like you are further from the road than you actually are.
When looking for fossils, you can opt to work through any area of this pit and can stay both at the starting level or climb the hill to look for more undisturbed areas to look for fossils. If you are lucky, you might even see fossils just sitting on top of the rock pile.
However, to find the best fossils, you'll want to carefully break apart the shale, looking for the hidden seashells and other fossils that lie within them. While a small hammer would be helpful here (If you use a hammer, I highly recommend wearing some sort of eye protection.), I actually just used my hands as many of the rocks will break apart with just a bit of pressure, though this method does require care so you don't cut your hand on the sharp rocks (Gloves would be another great thing to bring with you.)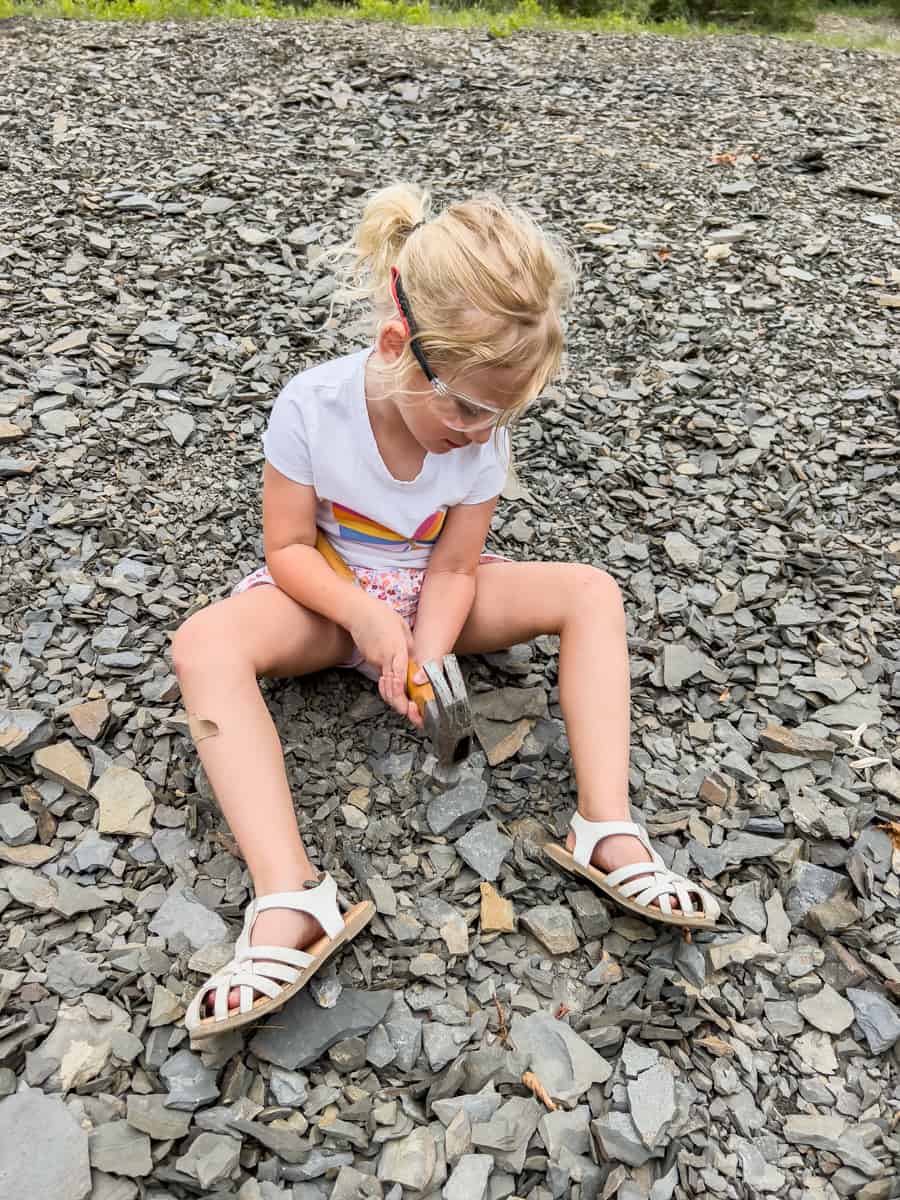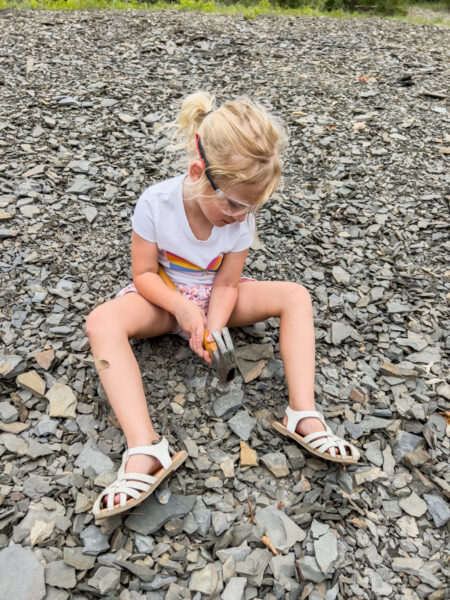 When breaking the rocks apart, make sure that you look carefully at the pieces. While the oyster-like pelecypods often stand out quite well, others can be a bit trickier to notice, especially when it's just an imprint from an animal or plant that has long ago decayed.
Honestly, this is one of those spots where you could sit for hours, exploring the huge field and looking for fossils both laying out in the open and those still hidden behind a layer of shale.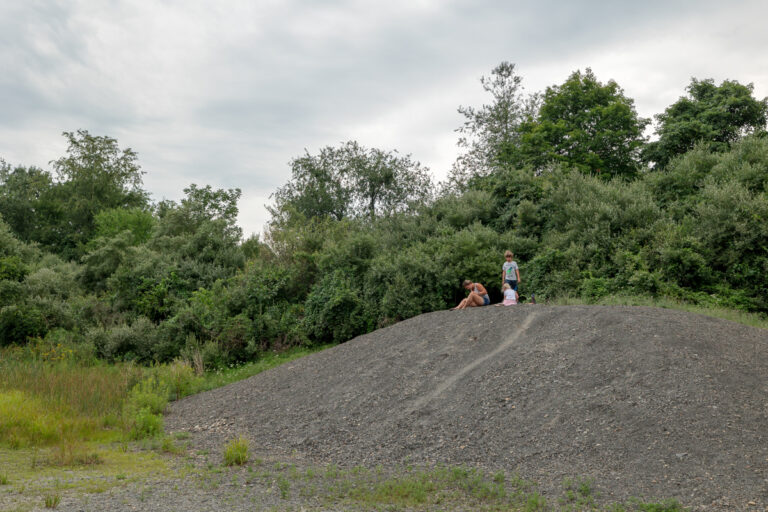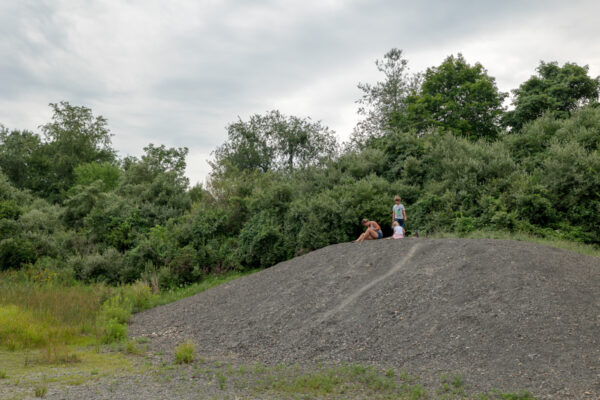 It's worth noting, however, that if you visit on a sunny day, there is no shade in the fossil pit. Also, the rocks here can get quite warm if it's hot out, so you might want to visit in the morning on a warm summer day. As stated above, a small hammer, eye protection, and gloves are also recommended.
If you are looking for more to do here once you are done digging for fossils, the Montour Preserve features several miles of trails (some of which start from the trailhead across the street), a free nature center, and the aforementioned lake. While I personally didn't have a chance to explore these spots during my visit to the fossil pit, I definitely want to visit again in the future to check them out.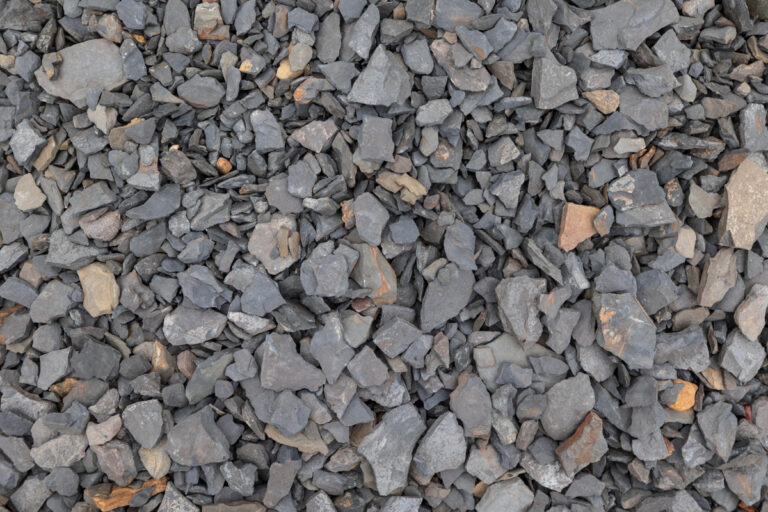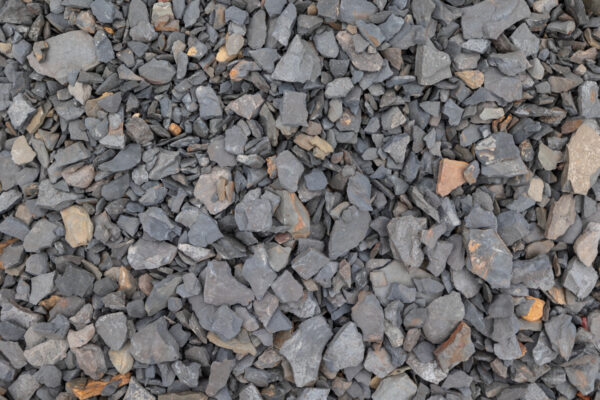 And, ultimately, even if you only have time to visit the Fossil Pit at the Montour Preserve, it's still a worthwhile destination and a great way to spend a bit of time.
Find out more about the fossil pit on the Montour Preserve's website.
Looking for more great spots to visit nearby? Check out Keefer Mills Covered Bridge, the Muncy Historical Society, and the Alvira Bunkers.
[Click here for information on how to use coordinates to find your destination.]