Disclosure: This article may contain affiliate links. We will make a small commission from these links if you order something at no additional cost to you.
In my continuing quest to visit all the covered bridges in Pennsylvania, I recently took the time to visit Montour County. Montour County is the smallest in Pennsylvania, even smaller than Philadelphia County which comprises little more than the city itself.
The diminutive size means that it's quite easy to visit the county's remaining covered bridges, both of which are located within a few miles of I-80.
Many websites only list one covered bridge for Montour County. However, since one covered bridge crosses the border between Montour and Northumberland Counties, I thought it was good to include it here as well. After all, their close proximity makes them a logical pair to visit.
The July evening on which I visited these bridges was quite beautiful, but I was racing the setting sun to get to both of these bridges in at the end of a busy day. While it's not ideal for photos, dusk is a great time to visit covered bridges. You not only get beautiful light but there is also a peacefulness that sets over you as you watch the sun set over the bridge.
The bridges below are listed north to south and can be easily visited together, as Mexico Road runs most of the way between them. Both bridges cross Chillisquaque Creek, as does Rishel Covered Bridge in Northumberland County.
Keefer Mills Covered Bridge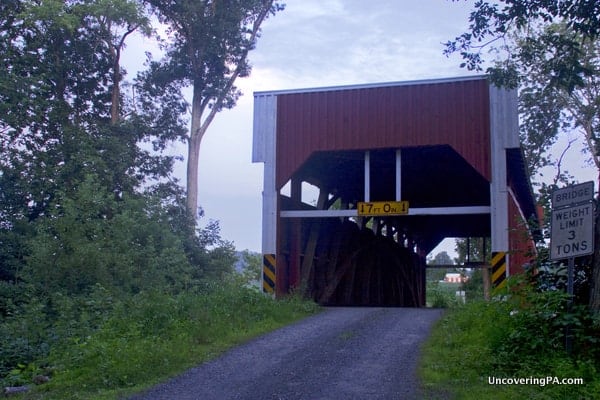 Keefer Mills Covered Bridge is the only remaining bridge that's entirely within Montour County. The bridge was built in 1853 and spans 78 feet over Chillisquaque Creek.
Keefer Mills Covered Bridge is set on a quiet road. There are a couple of pull-offs near the bridge small enough for a single car. The area surrounding the bridge is mostly farmland, except for a narrow grouping of trees along the creek. While beautiful, these trees make it quite difficult to get photos of the bridge.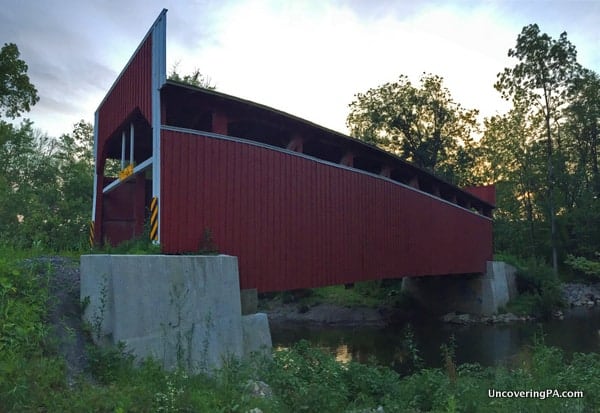 Getting There: Keefer Mills Covered Bridge is located in Liberty Township, just a few miles outside of Washingtonville. It is located at the following coordinates: 41.033236, -76.691515.
There isn't much room for cars, but you shouldn't have trouble finding somewhere to pull off near the bridge.
Sam Wagner Covered Bridge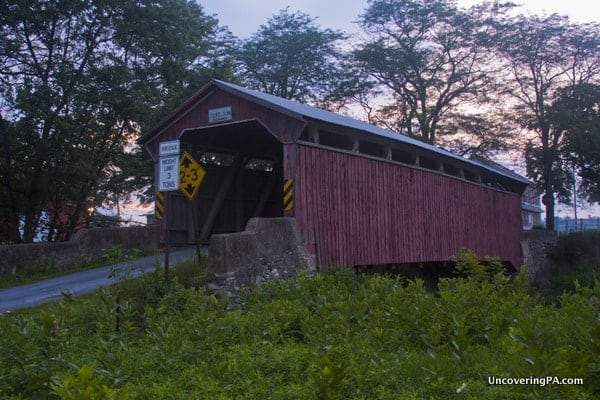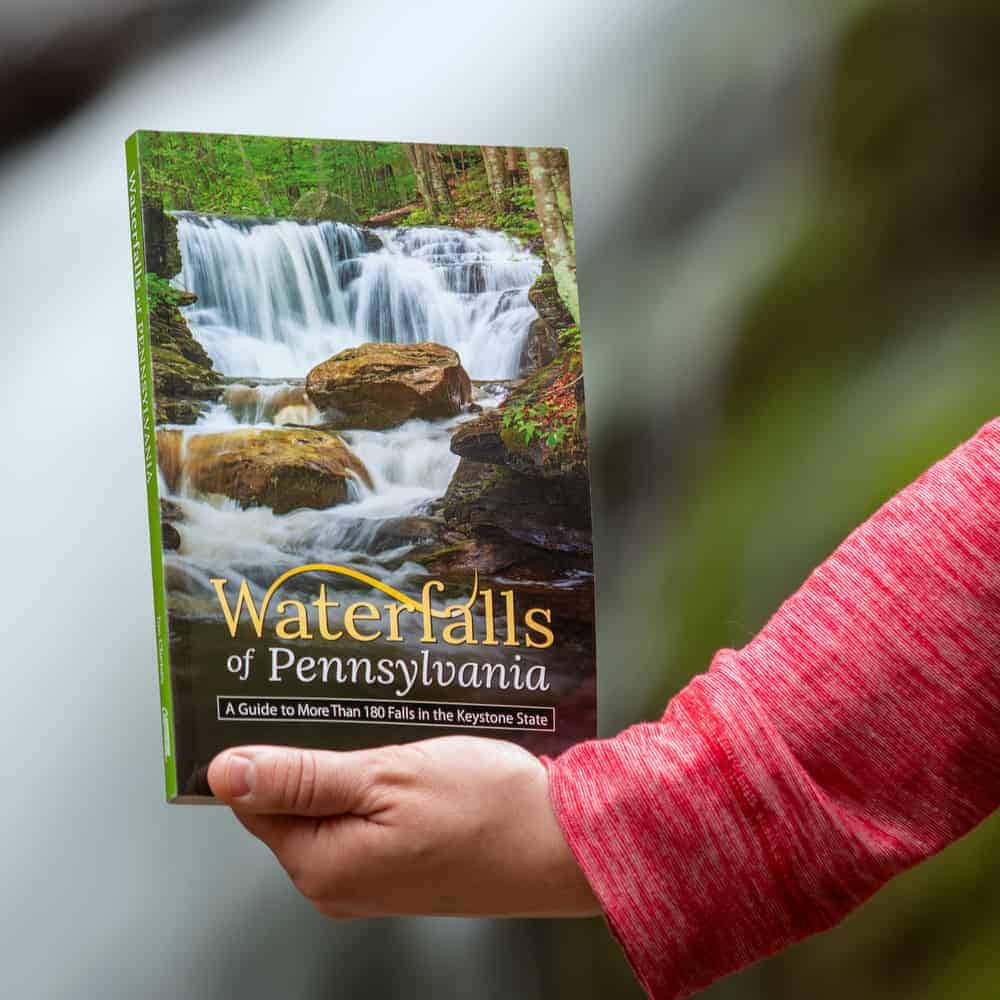 "Waterfalls of Pennsylvania" by Jim Cheney
If you love PA waterfalls, you won't want to miss this waterfall book from Jim Cheney, author of Uncovering PA, featuring more than 180 great waterfalls. Order it now on Bookshop.org or Amazon.
Sam Wagner Covered Bridge (also known as Gottlieb Brown Covered Bridge) spans the border between Montour and Northumberland Counties and crosses Chillisquaque Creek. The bridge was built in 1881 and is 86 feet long.
Despite its close proximity to I-80, Sam Wagner Covered Bridge is in a very scenic location. The Montour side of the bridge features a few homes along the roadside, while the Northumberland side of the bridge is farmland as far as the eye can see.
I visited at dusk and really enjoyed my time at this bridge. The lightning bugs put on quite a show over the adjacent field, making the scene even more picturesque. While I'd love to visit this bridge again during daylight hours, I'm really glad I got here when I did.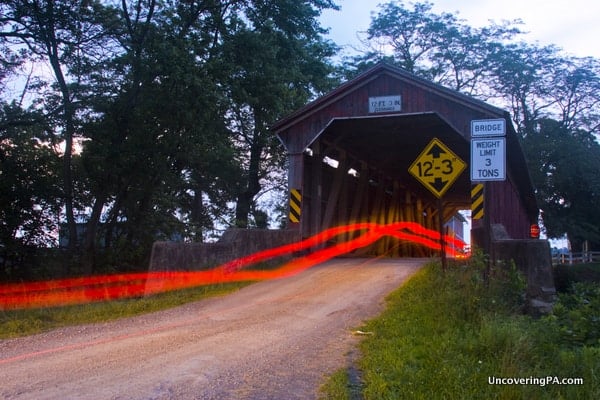 Getting There: Sam Wagner Covered Bridge is located less than half a mile from I-80, near the small town of Potts Grove. It is located at the following coordinates: 41.002096, -76.773680.
There is nowhere to park on the Montour County side of the bridge, but there is ample space to park on the Northumberland side. Some of the land is posted, but getting good angles of this bridge, at least from the Northumberland side, is quite easy.
From Sam Wagner Bridge, it is very easy to continue on to the other three covered bridges in Northumberland County. The covered bridges in Columbia County, PA are also only a short drive away.
If you're traveling in the area, the Montour Preserve Fossil Pit is also a fantastic spot to check out.
[Click here for information on how to use coordinates to find your destination.]
See map below for other area attractions.