Disclosure: This article may contain affiliate links. We will make a small commission from these links if you order something at no additional cost to you.
There are many great waterfalls in northeastern Pennsylvania, but few are as easy to reach or as impressive as Nay Aug Falls in Scranton.
Nay Aug Falls is located within the aptly named Nay Aug Park a short distance southeast of downtown Scranton. This ease of access makes this a popular spot, but that shouldn't deter you from visiting this beautiful waterfall.
Nay Aug Falls is approximately 20 feet in height and is located along Roaring Brook. This is an impressive waterway that has cut a deep rock chasm around the falls that is known as Nay Aug Gorge.
Nay Aug Falls sits at the northern end of the gorge with the water falling away as the rock walls jut upward. This is truly an impressive scene that's worth taking a few minutes to enjoy.
Just downstream of the waterfall, there is a train crossing that is used by some excursions from the Electric City Trolley Museum and Steamtown National Historic Site. If you can't hike to see Nay Aug Gorge, these tours are a great way to at least get a small glimpse of this incredible spot.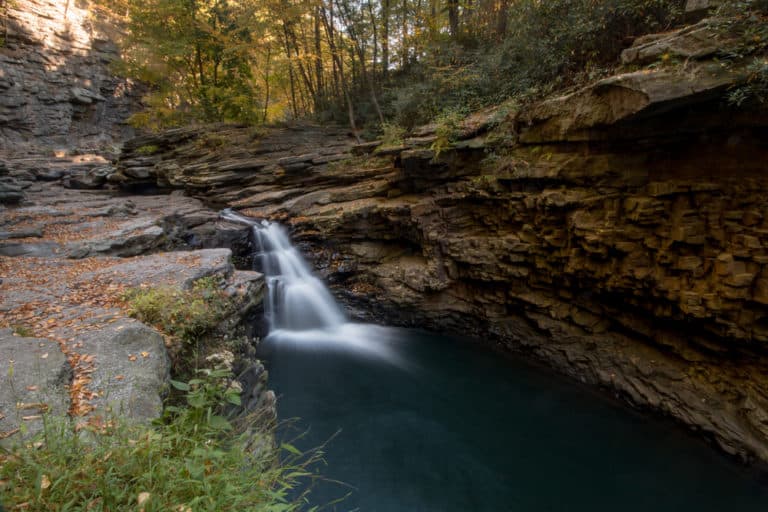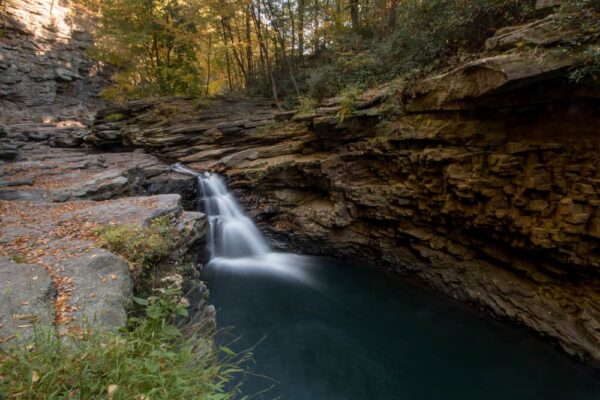 The primary viewing area for Nay Aug Falls is located along the western side of Roaring Brook. While only a short hike is required to reach this spot, the uneven terrain can make it a bit of a challenge to get to the overlook.
At the end of the trail (full directions below), there is a railing that keeps you from getting too close to the falls. While some may cross this spot, I recommend staying behind the railing as the rocks near the top of Nay Aug Falls can be quite slippery. People have been seriously injured or even died here when not respecting the power of this beautiful spot.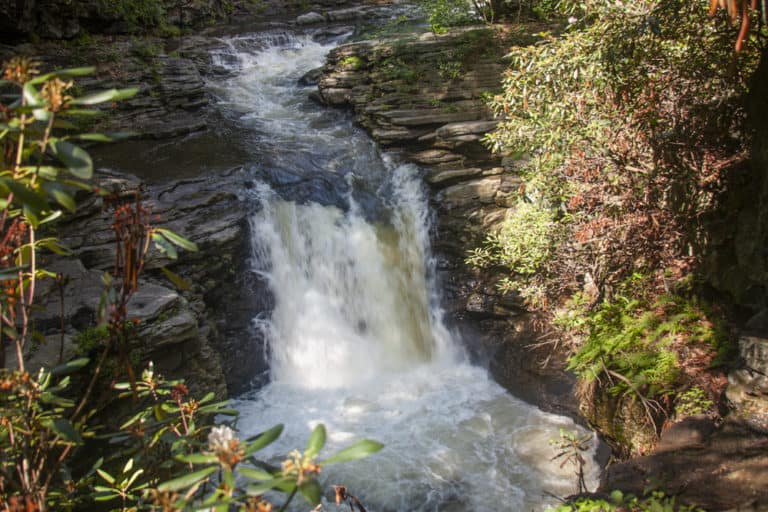 There is a secondary viewing spot on the far side of the gorge that can be reached via other trails in the park. This path is longer, but is a bit easier, and crosses Roaring Brook on a modern and beautiful covered bridge.
If you have the time, I recommend checking out both viewing areas while you are in Nay Aug Park.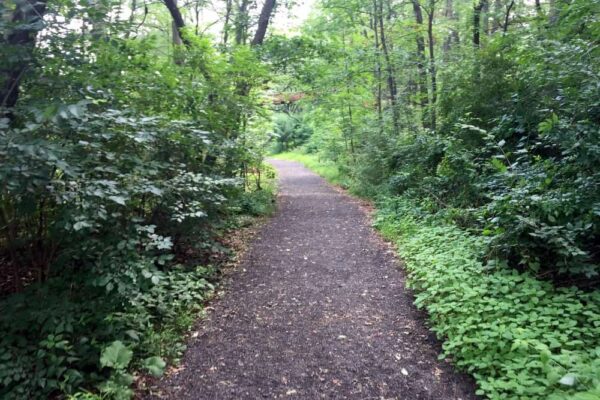 However, whether you only have a few short minutes to check out one spot or spend a while exploring the entire gorge, this is definitely one of the best things to do in Scranton, so don't miss it on your next visit to the city.
How to Get to Nay Aug Falls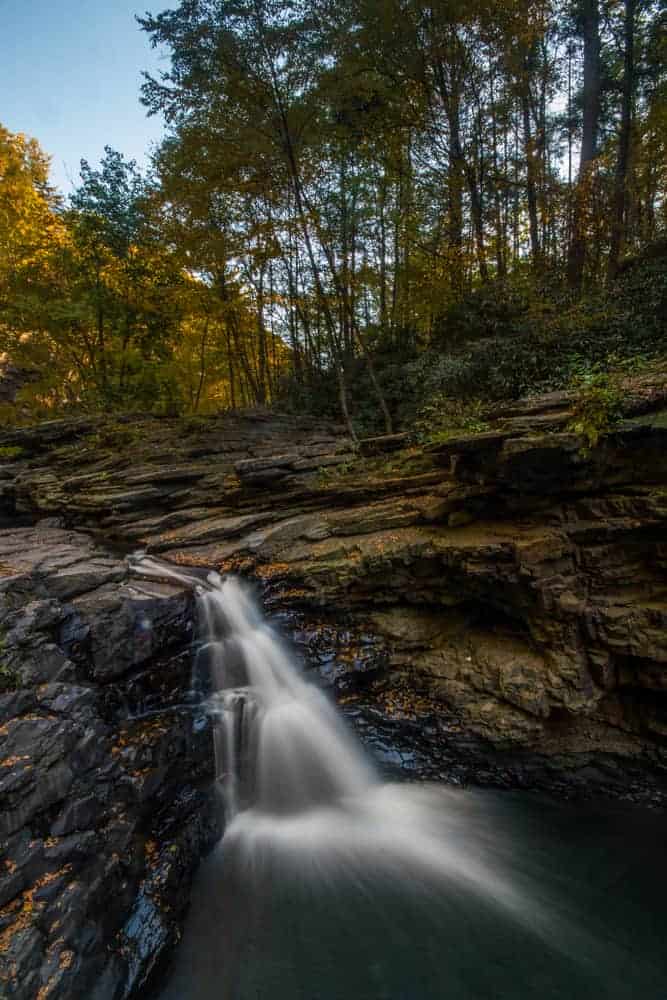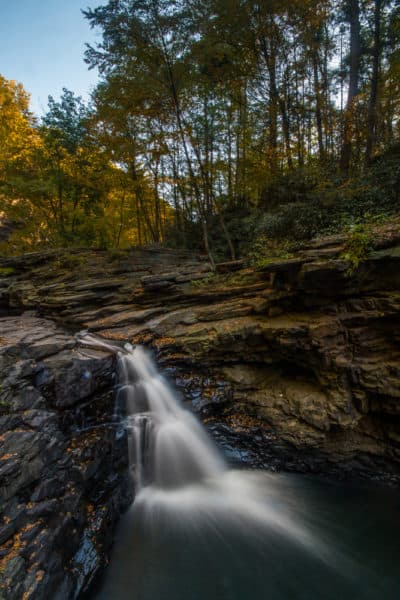 Nay Aug Falls is located in the middle of Nay Aug Park, the largest park in Scranton, PA. The park is only about a mile and a half southeast of the city.
When visiting Nay Aug Falls, park in the lot located just past the impressive Everhart Museum, which is another spot worth visiting if you have time. The parking area can be found at the following coordinates: 41.399138, -75.641398.
From the parking area, access the Davis Trail which runs adjacent to the far end of the lot, and follow it until you reach the overlook trail which will branch of to the right. This trail will head down into the impressive gorge to a viewing platform for Nay Aug Falls. This is a short hike of around a quarter-mile roundtrip, but does have a few tricky spots.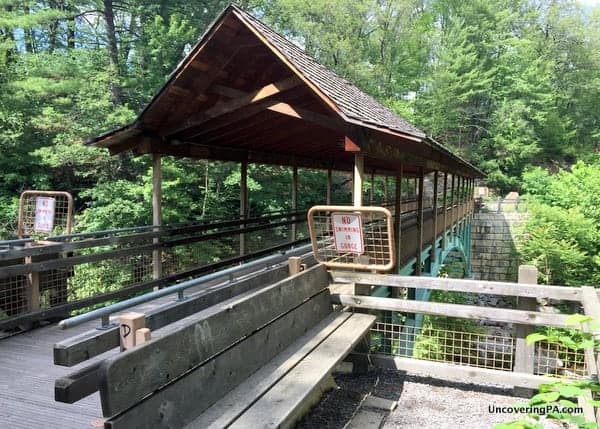 To reach the other viewing area atop of the cliff on the opposite bank of Roaring Brook, return to the Davis Trail and turn right. After a short distance, turn right onto the Rodman Trail. Follow this across a covered bridge and up to a viewing area overlooking the falls.
This second viewing area requires a roughly one-mile round-trip hike.
For those that use coordinates, Nay Aug Falls can be found at the following coordinates: 41.401472, -75.639611.
Looking for more great spots to visit nearby? Check out the Lackawanna Historical Society Museum, the Lackawanna Coal Mine Tour, the "Scranton Welcomes You" Sign from "The Office", and Choke Creek Falls.