Disclosure: This article may contain affiliate links. We will make a small commission from these links if you order something at no additional cost to you.
The Poconos are filled with many great waterfalls, and while some of these are very popular, others generally offer the chance for visitors to enjoy them without throngs of other visitors. Savantine Falls and Sawkill Falls are two such waterfalls that aren't very well known.
The reason that these two waterfalls aren't commonly visited is that they aren't easy to reach, even though they are located relatively close to Route 6 just a short distance west of Milford and near the incredible Shohola Falls.
Since Savantine Falls and Sawkill Falls are hidden away in Delaware State Forest just a few hundred yards from each other, which is why I've opted to include them in one guide.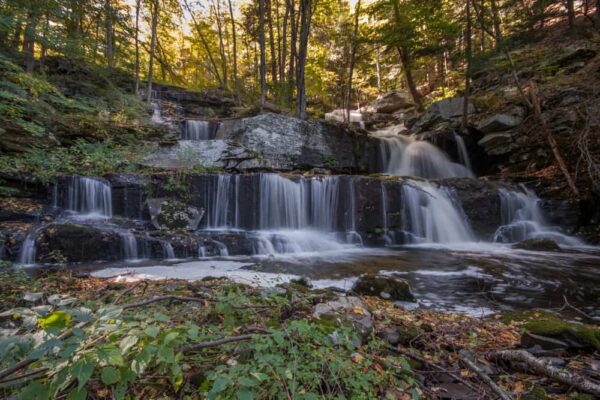 There are two possible ways to reach these waterfalls, both of which require some off-trail hiking, so I highly recommend bringing along a GPS of some sort to make sure you don't get turned around while trying to find these beautiful waterfalls.
The first is the way that will be described below and requires a busy road crossing, 100% off-trail hiking, and several stream crossings.
The second way is one that I haven't tried. However, if you look at a map of Delaware State Forest, you'll notice that the Huckleberry Trail appears to end nearly at Sawkill Falls.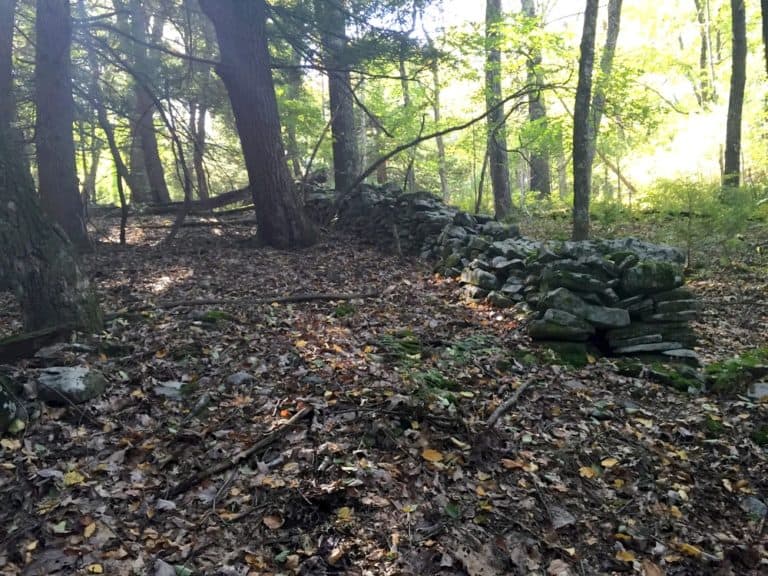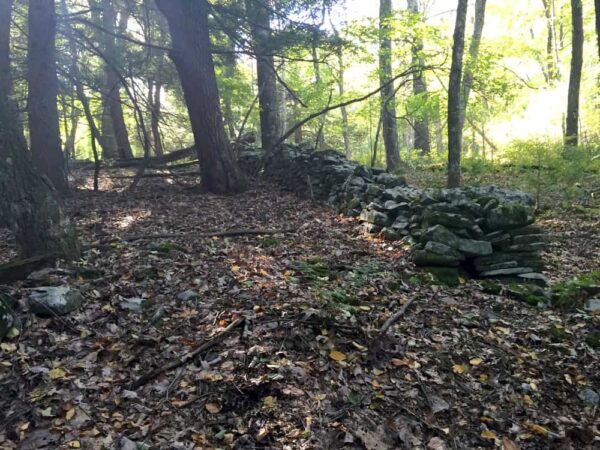 Given that I can't find any information on this trail (even a length for it), I'm assuming that it is likely at least somewhat overgrown and might be poorly marked. I wouldn't assume that this is an easier route, though it may be.
Because of these factors, I still recommend the route that I have taken to these two waterfalls in the past.
The parking area is just after the quarry on the left side of Route 6 about four miles west of downtown Milford, PA. There is room to park along Old Town Road at the following coordinates: 41.350260, -74.866606.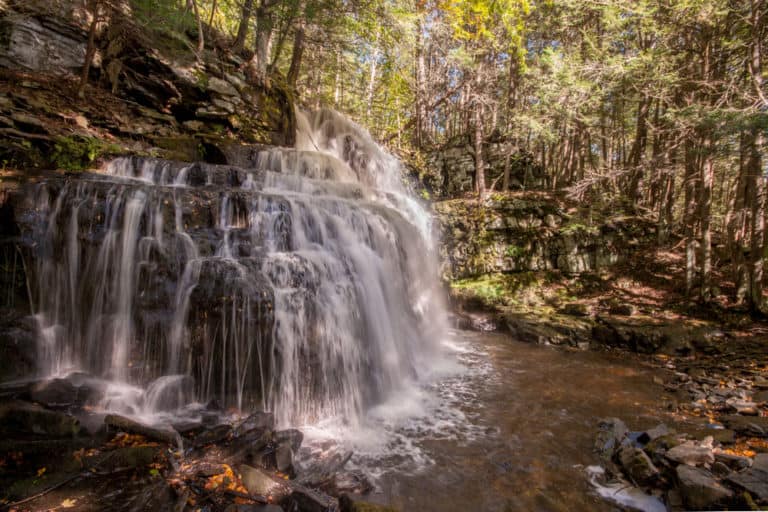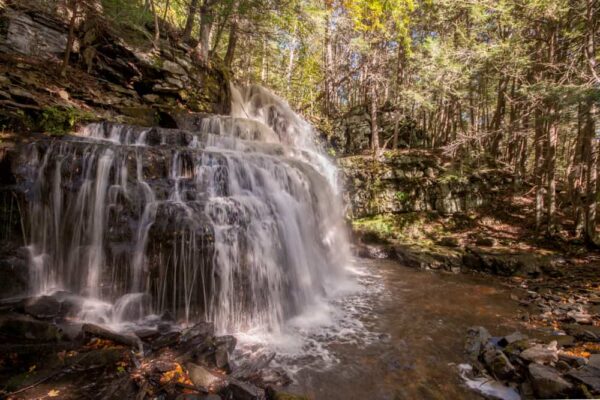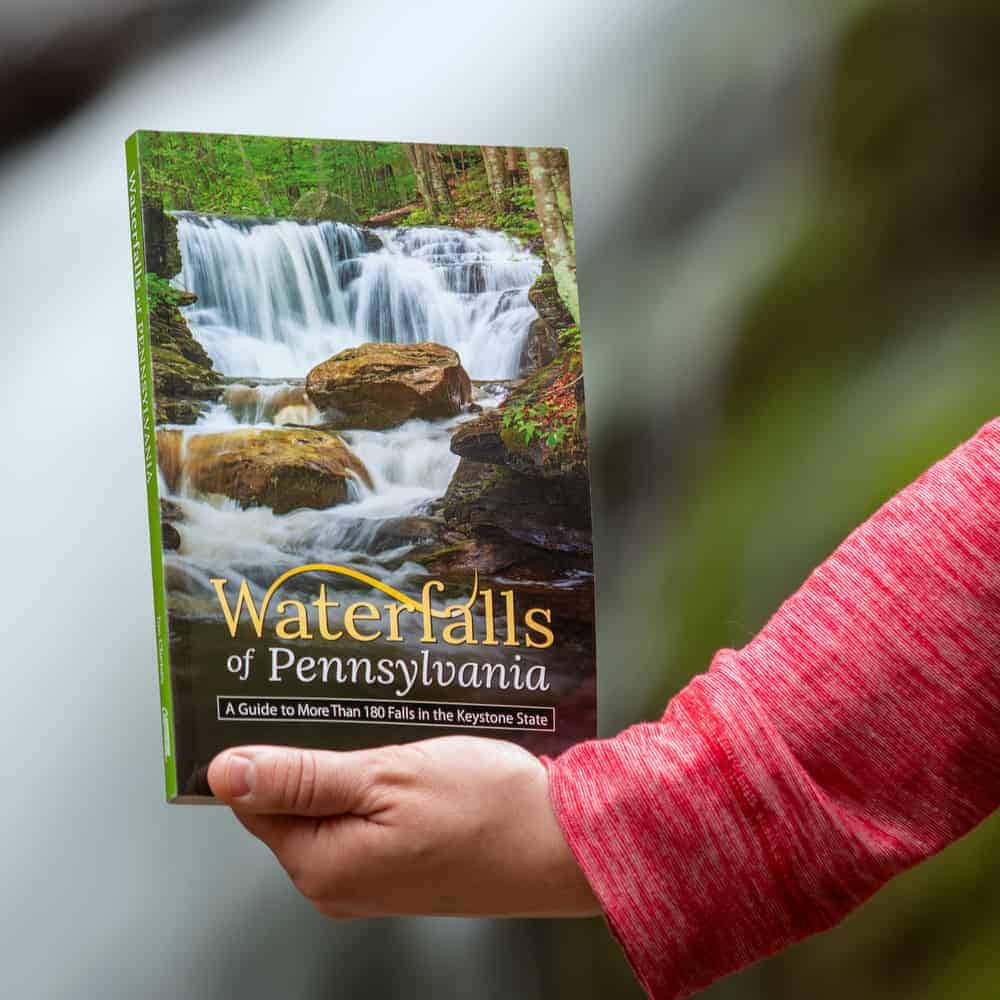 "Waterfalls of Pennsylvania" by Jim Cheney
If you love PA waterfalls, you won't want to miss this waterfall book from Jim Cheney, author of Uncovering PA, featuring more than 180 great waterfalls. Order it now on Bookshop.org or Amazon.
Note that at this point, Old Town Road looks more like a gravel driveway than a road, but it is a public roadway and there is room for a couple of cars to pull off of it near the stop sign.
From Old Town Road, very carefully cross the busy Route 6 and turn left (heading west) for a few hundred feet until the guardrail ends. Cross over the guardrail and head into the woods of Delaware State Forest.
From here, the rest of the hike will be off-trail.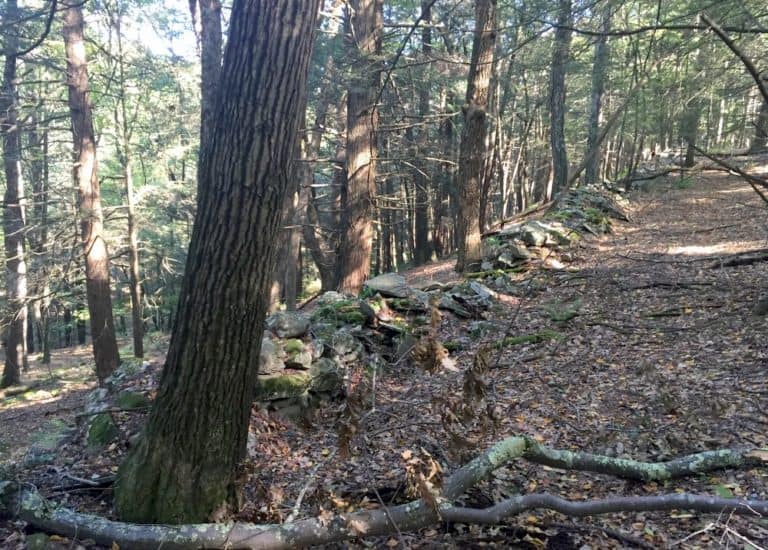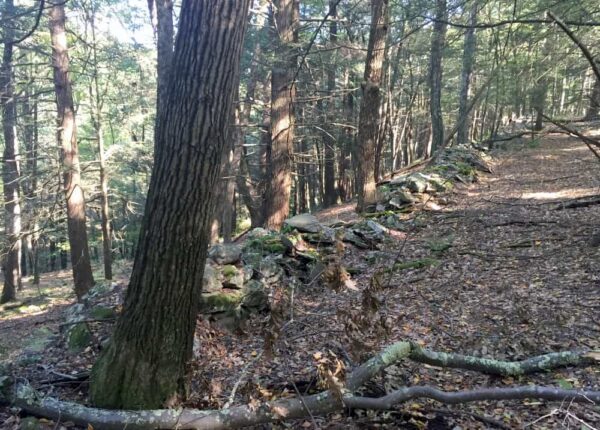 Once in the woods, head straight down the hill. Along the way, you'll see the remnants of old stone walls that can be kind of fun to check out.
At the bottom of the hill, you'll come to Sawkill Creek. While Sawkill Falls is along this waterway, it's easiest to first check out Savantine Falls.
To continue the hike, you'll need to figure out the best spot to cross the waterway. This can be a bit treacherous, especially if water levels are up, so be careful when doing so.
After crossing the creek, walk a few feet to a second stream. This is Savantine Creek. Don't cross this creek, but instead turn right and head upstream on it for a few hundred yards until you reach the 15-20 foot Savantine Falls.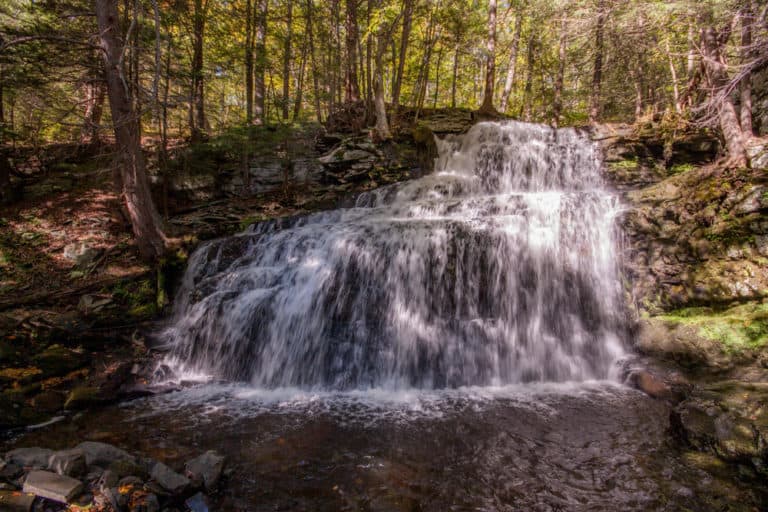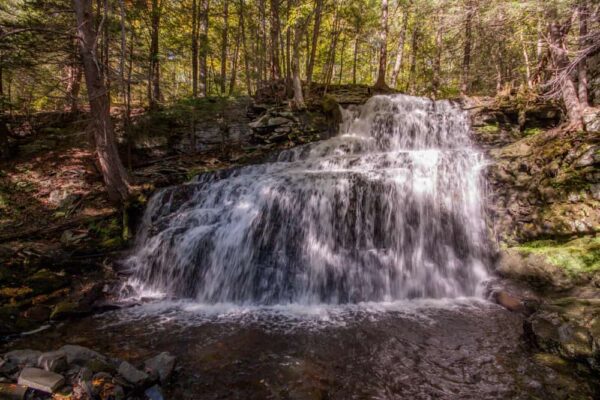 If you are using a GPS, Savantine Falls can be found at approximately these coordinates: 41.353694, -74.868139.
Savantine Falls is a beautiful waterfall that fans out from a narrow crest to a wider bottom. Since the creek makes a 90-degree turn just after the waterfall, there are some nice views to be had of this waterfall from straight on, as well as from the sides.
Once you've had your fill of this waterfall, walk away from it back towards Sawkill Creek.
When you reach Sawkill Creek, follow this waterway upstream for a few hundred yards until you reach the base of the 30-foot Sawkill Falls.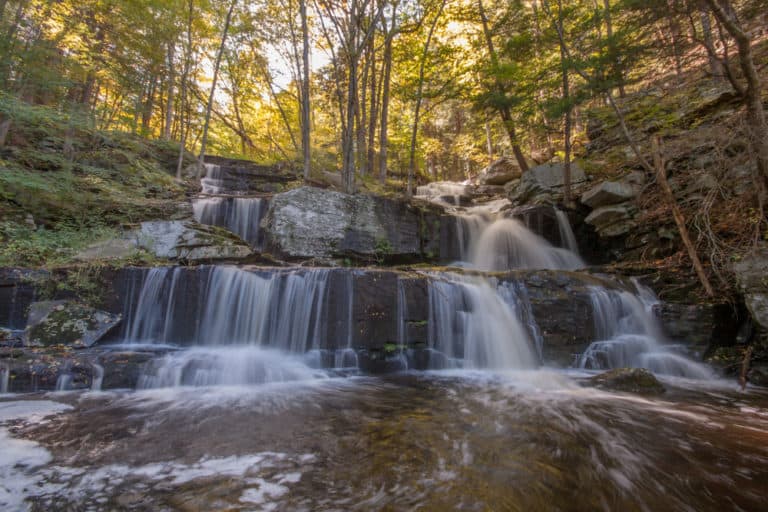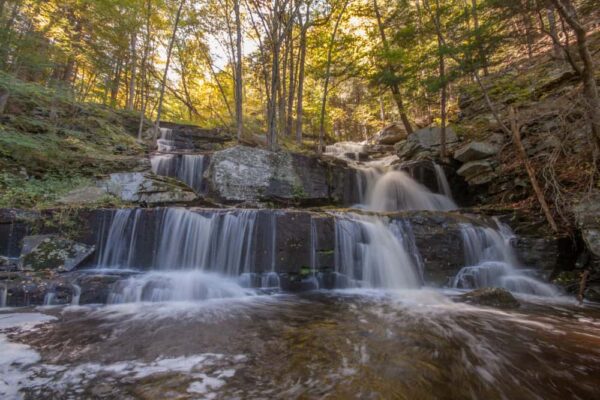 Sawkill Falls can be found at the following coordinates: 41.353528, -74.872222.
Sawkill Falls is an interesting waterfall because it features large slabs of rock over which the water cascades down in several drops as it falls down the hillside. This really is a quite beautiful waterfall when water levels are higher and one of the more unique waterfalls in the region.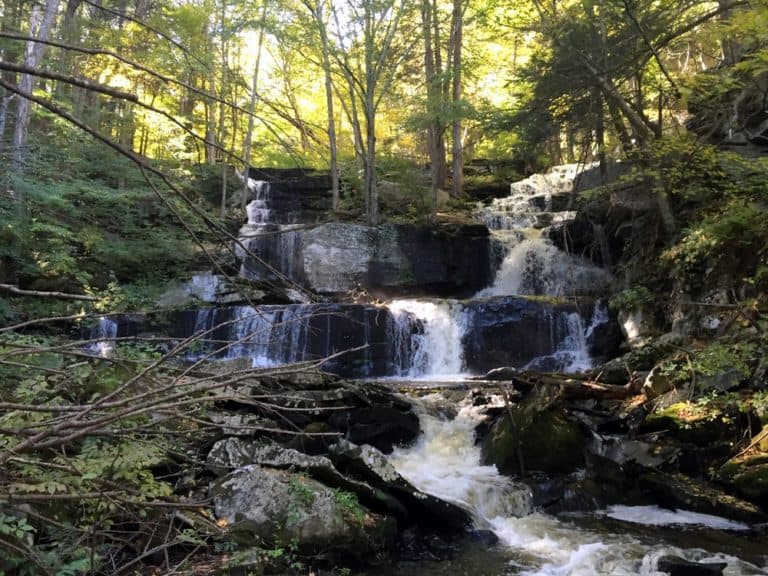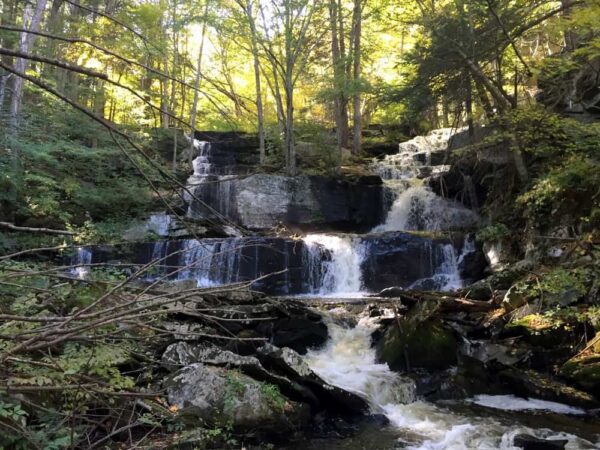 When you are done enjoying the beauty of Sawkill Falls, follow Sawkill Creek back downstream for about half a mile and then head back up the hillside to reach your vehicle just off of Route 6.
Again, having a GPS for the return portion of your hike is very helpful to make sure you don't get lost.
Savantine Falls and Sawkill Falls are two beautiful and rarely-visited waterfalls in Pike County, Pennsylvania. While they are worthwhile to see, make sure that you are capable of doing a couple of miles of off-trail hiking to reach them and of crossing several streams without a bridge (you will get your feet wet).
However, for those that are capable of making this hike, you'll be rewarded with the chance to see two little-seen waterfalls in the Pocono Mountains.
Looking for more places to visit nearby? Check out the Cliff Park Trail System, the Shuman Point Natural Area, and Raymondskill Falls.