Disclosure: This article may contain affiliate links. We will make a small commission from these links if you order something at no additional cost to you.
Located along a busy street in downtown York is Sunrise Soap Company. Founded in 2005, Sunrise Soap Company is on the forefront of the trend towards more natural soaps. And, while their York shop is certainly worth visiting for a variety of reasons, I was attracted by their visitor-friendly soap kitchen.
I was greeted by a very energetic Chris Clarke, owner of Sunrise Soaps. Clarke has been making soap for 16 years and opened her first shop 11 years ago. Sunrise Soaps now runs three shops, including one in downtown Gettysburg and one in York's Eastern Market. However, all of their soaps are made out of their kitchen in the York store.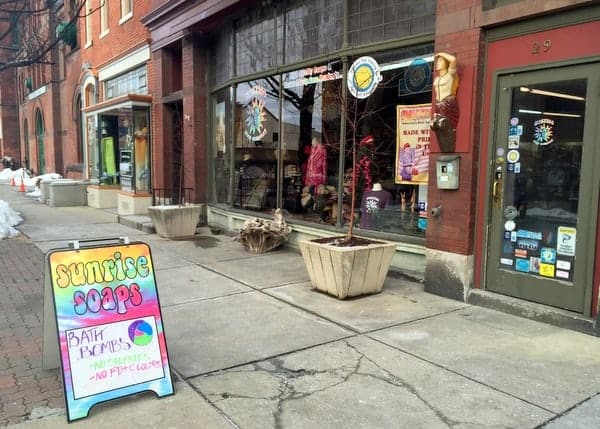 To call Sunrise Soaps a factory tour is a bit misleading. Their entire production facility is a small kitchen located at the back of the store. However, this isn't a small operation. In fact, Sunrise Soaps Co. produces upwards of 750 pounds of soap a week during the busy season.
Clarke is eager to show me how she makes soaps and quickly begins to explain the process. Along the way, she takes the time to explain to me why natural soaps are better. The soaps at Sunrise Soap Co. use no artificial ingredients, and nearly all of her soaps are both vegan and gluten-free.
As she's whipping up a batch of her latest soap, Clarke tells me that she was once described as a "hippie Martha Stewart" by the Washington Post. Personally, I think that description hits the nail on the head.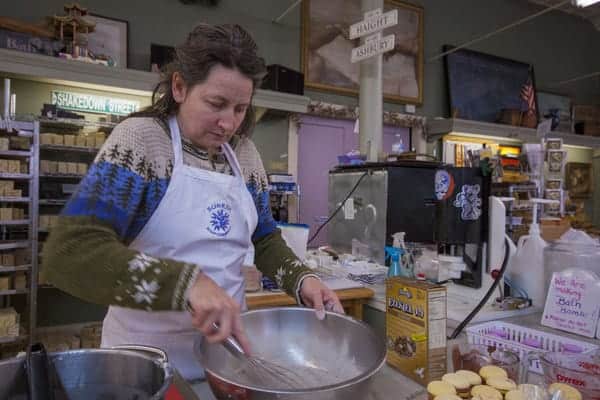 Exactly which part of the soap making process you see when visiting depends entirely on what needs to be done in the kitchen. For example, during my visit, I had the chance to see Clarke combine the ingredients and pour out an experimental soap featuring oats from a cereal box. Unfortunately, no soaps were ready to cut, so I wasn't able to try their 125-year-old, European soap cutter. However, when they are, visitors are invited to help with the process.
For those looking for even more, Sunrise Soaps also offers soap-making parties, and anyone with the time can make their own bath fizzy for a small fee. No matter when you visit, however, Sunrise Soap Company is happy to take a few minutes to explain the process of making soaps and show you a bit of the process.
After seeing how the soap was made, I took the time to look around the store. Sunrise Soaps features 120 different types of soap in a variety of scents and colors. They also make lotions, deodorants, and shampoo bars.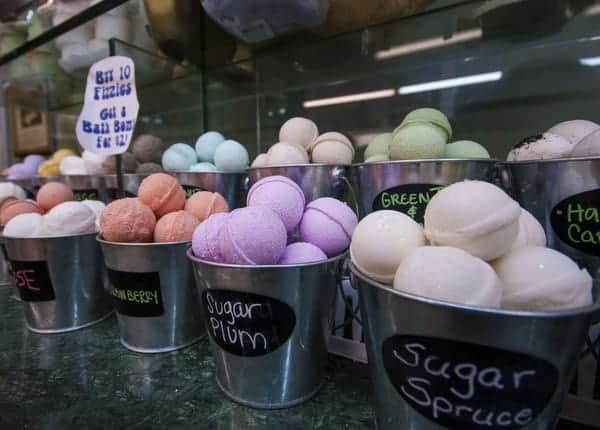 Having seen how it was made, I was eager to try some of the soaps. Clarke was nice enough to give me a couple of samples to try at home.
To be honest, I'm not much of an expert when it comes to soap, but I was impressed with the products. Even more importantly, my wife, who has used many different types of handmade soaps, was very impressed with the quality of the products.
I'm not sure when I'll be in York or Gettysburg again, but I definitely plan to stop and get some more soap when I'm in the area.
However, even if you are perfectly happy with the soap you use at home, a visit to Sunrise Soap Company in downtown York is worth your time. I found it very interesting to learn how soap is made and found this to be one of the most fun and personable factory tours in York County.
Looking for more to do in the area? Check out our favorite breweries in York, the York Colonial Complex, and Bluett Bros. Violin tours.
---
Sunrise Soap Company Factory Tour
Hours: During store hours. See website.
Soap-making parties by appointment

Cost: Free

Website: SunriseSoapCo.com

Address: 29 N Beaver St
York, PA 17401
See map for other area attractions.
---