Please do your best to limit your travels around PA during this time. If you decide to travel, please check the status of the places you are going. Some places around the state are temporarily closed or have changed their hours. We will not be updating individual articles to note these changes. Stay safe and wear a mask!


Located just a few miles south of Reading, PA, you'll find the 600-acre Nolde Forest Environmental Education Center.
This area is one of four state parks to be designated an environmental education center. That means that the main purpose of the land is to provide, not surprisingly, environmental education. However, that doesn't mean that this isn't a great spot for those wanting to simply hike the park's trails.
There are a total of 10 miles of hiking trails in Nolde Forest. For the most part, these trails are quite easy and there are many great loops you can do through the park depending on the length of hike you are looking for.
Disclosure: This article may contain affiliate links. We will make a small commission from these links if you order something at no additional cost to you.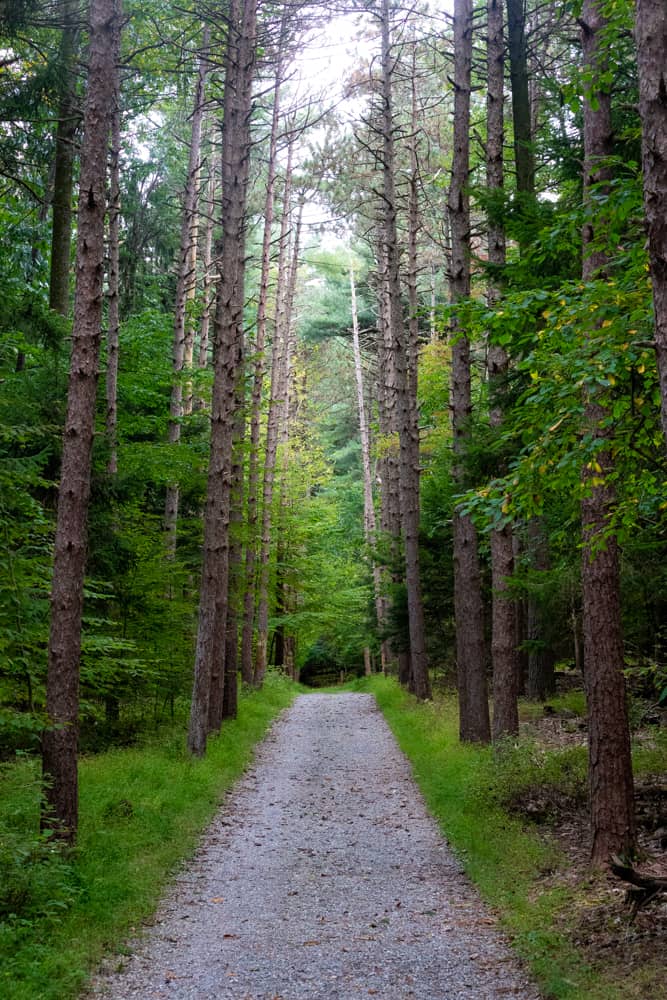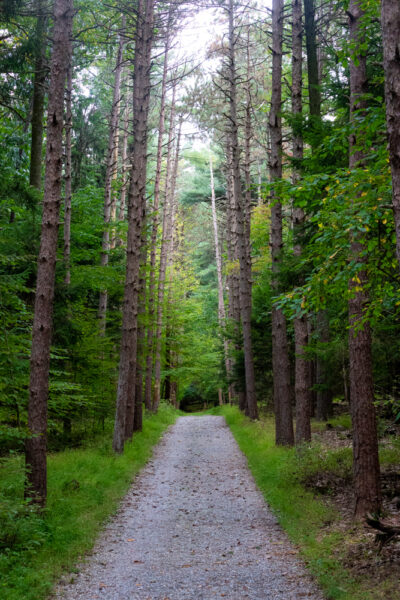 Nolde Forest was started in 1904 by environmentalist Jacob Nolde, a German immigrant. When Nolde purchased the first acres of this land, it contained a single white pine tree. The rest of the land had been clearcut, primarily for making charcoal to fuel the iron and steel industries.
From that single tree, an entire forest sprang up from the seeds and management of Jacob Nolde. In the 1960s, the land was acquired by the state and turned into PA's first environmental education center.
Today, the park is a great spot to go for a casual hike in this corner of Berks County, Pennsylvania. The trails here lack any significant climbs, so they are quite easy for almost anyone to hike.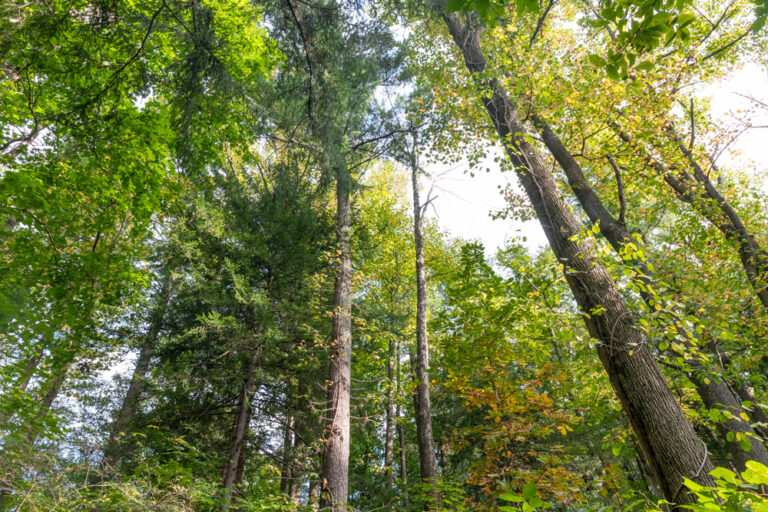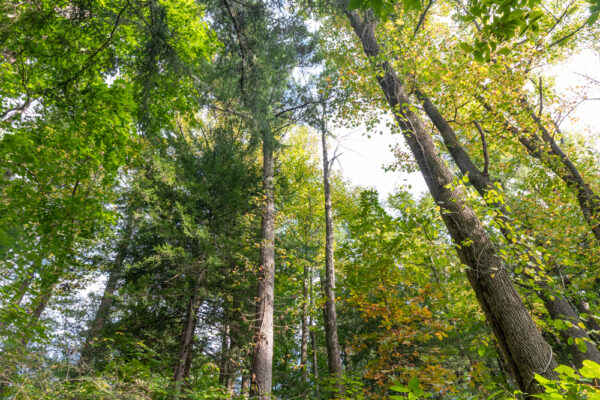 Don't visit Nolde Forest expecting sweeping views or beautiful waterfalls. The star attraction here is this gorgeous forest. However, a tree-lined portion of the Middle Road Trail, the historic mansion, the ruins of a sawmill dam, and the pond are all spots that are worth seeing.
The largest parking area and the one with the closest access to the popular Middle Road Trail is located adjacent to the park office at the following coordinates: 40.275682, -75.949177.
You can also use the following address: 2910 New Holland Rd, Reading, PA 19607. If you do, note that the long driveway up to the park office and the parking lot is not included in these directions, so make sure to look for the turn-off for that.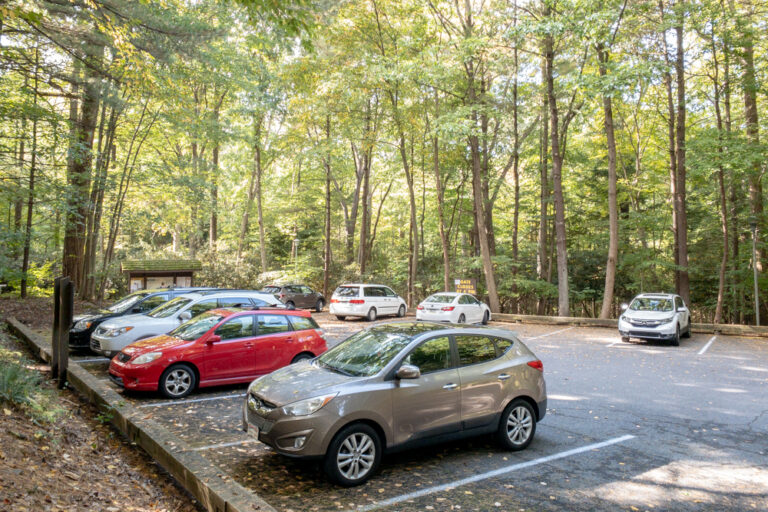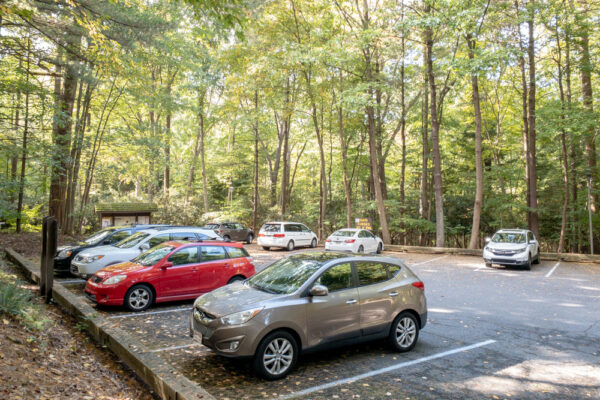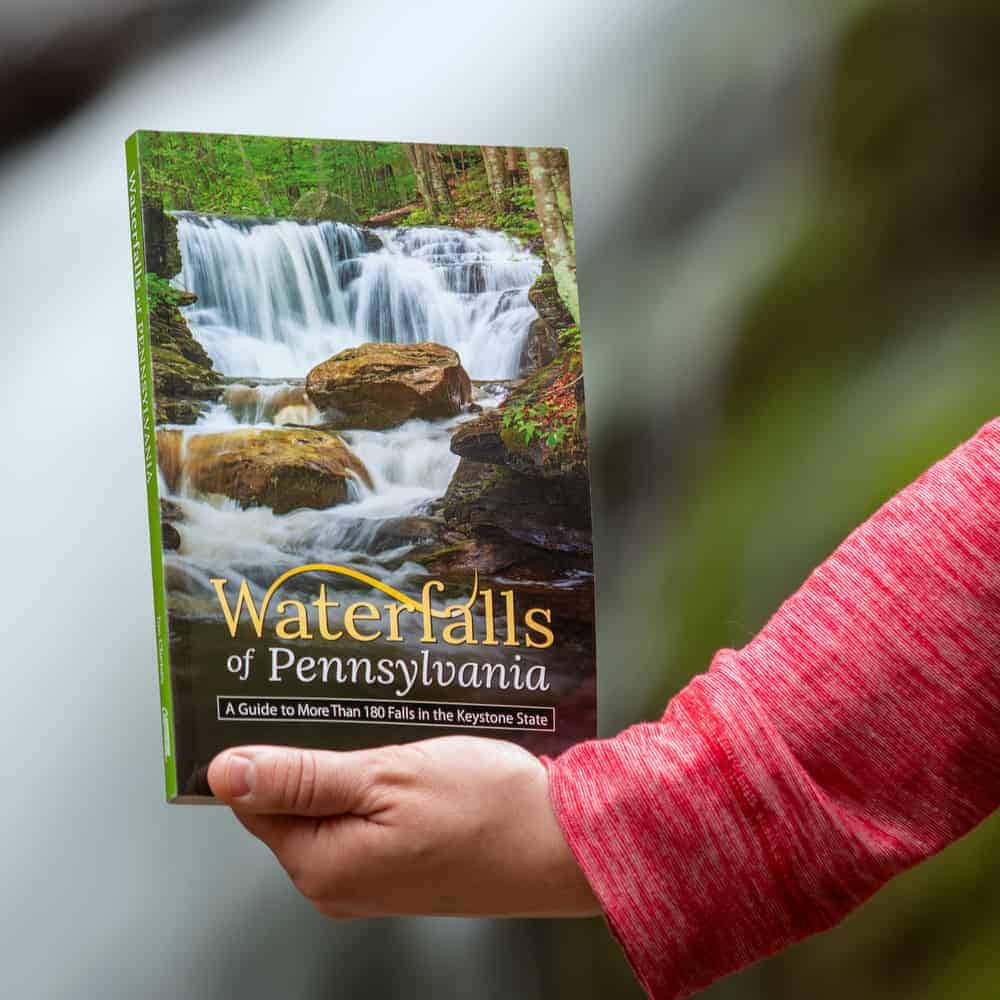 "Waterfalls of Pennsylvania" by Jim Cheney
If you love PA waterfalls, you won't want to miss this brand-new waterfall book from Jim Cheney, author of Uncovering PA, featuring more than 180 great waterfalls. Order it now on Bookshop.org or Amazon.
It should be noted that, for some strange reason, the gate on this road is closed at 4pm each day. I can't say this is something I've ever seen at a Pennsylvania State Park, but it's worth being aware that you'll want to be back at your car before then. (While it requires a longer hike, the trails mentioned here can be reached from other parking lots in the center, so you can still access them even if you arrive later in the day.)
In my opinion, possibly the most beautiful spot in all of Nolde Forest is a section of the Middle Road Trail.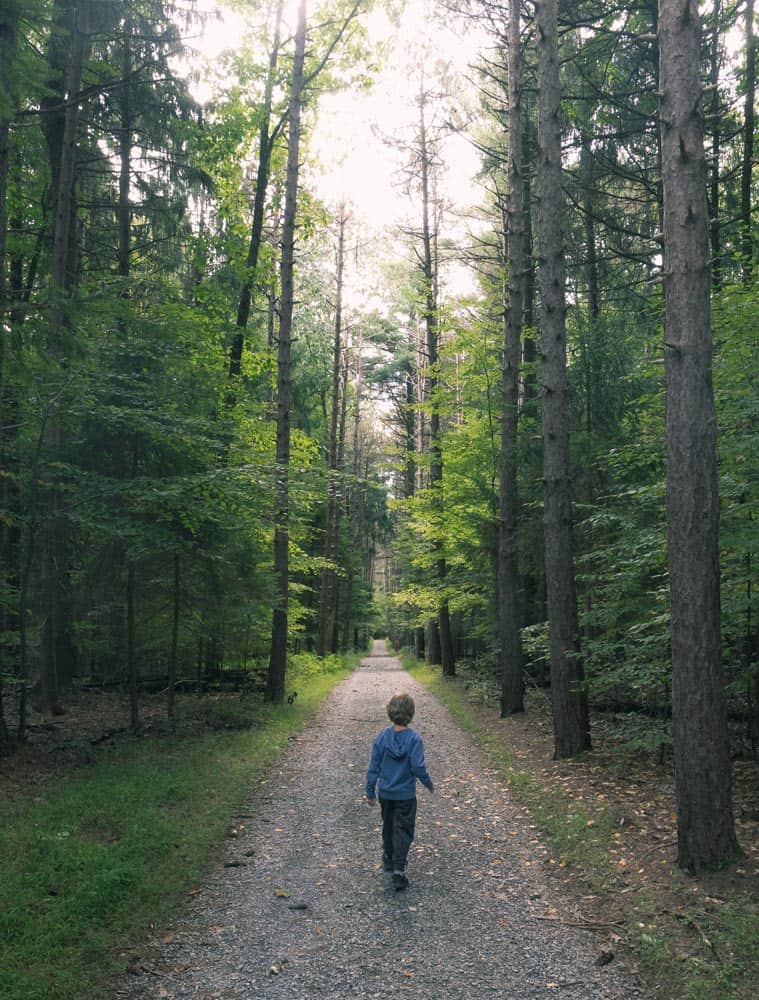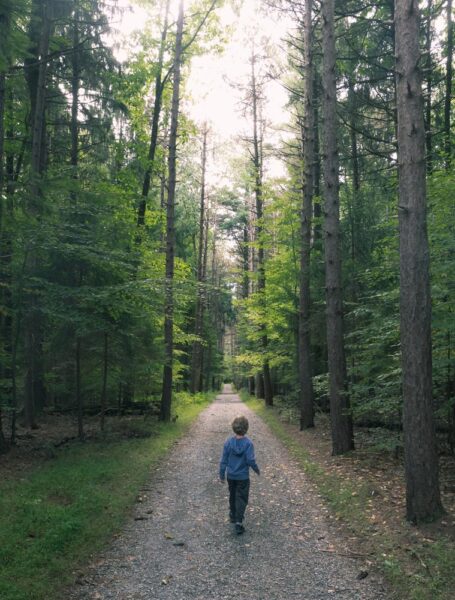 In this spot, the wide gravel path is lined by towering trees that create an incredibly impressive sight. Walking along this portion of the trail, it's almost impossible to not feel overwhelmed by the beauty of the forest Nolde created here.
It's also impossible not to be awe-struck by the size of some of these trees. Despite all of these trees being less than 120 years old, they are some of the largest trees I've ever seen in Pennsylvania, and that includes the old-growth forests in places like Cook Forest State Park.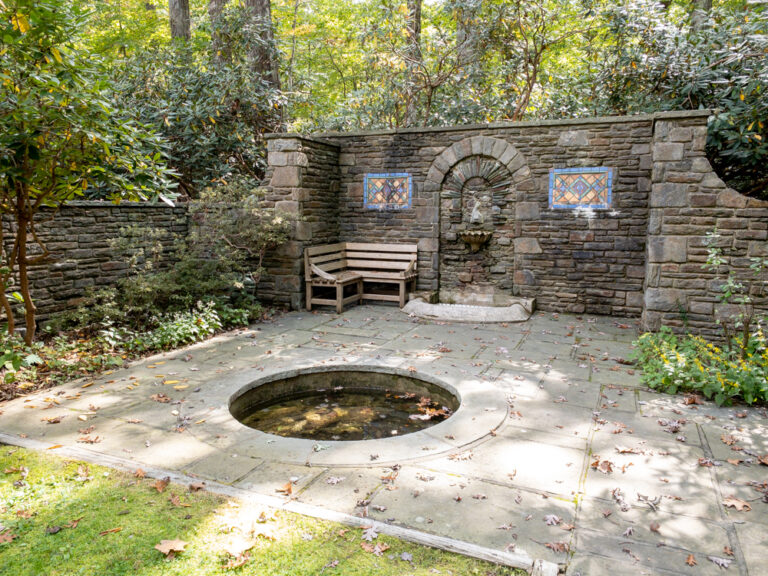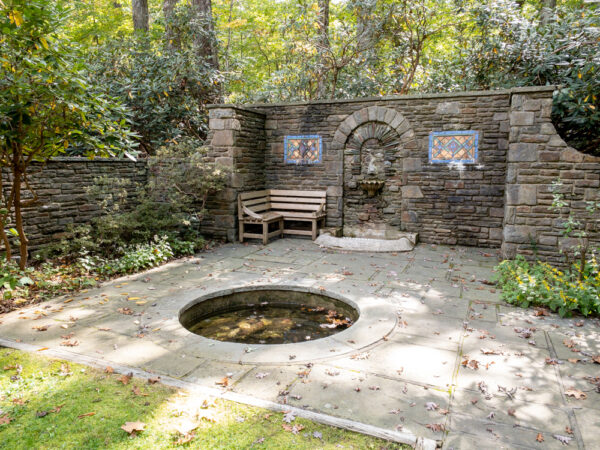 The Middle Road Trail starts at the picnic area near the park's mansion/office.
The trail takes a couple of turns that aren't super well marked, but if you pay attention, it's not too difficult to follow this trail. However, grabbing a map at the information sign before you start your hike is a great idea to make sure you don't get turned around.
After a few minutes of hiking the trail passes a large water tower, and then almost immediately enters the most beautiful section of the trail. This is an easy hike, with the entire trail listed at only 0.6 miles and with the path being fairly flat and even.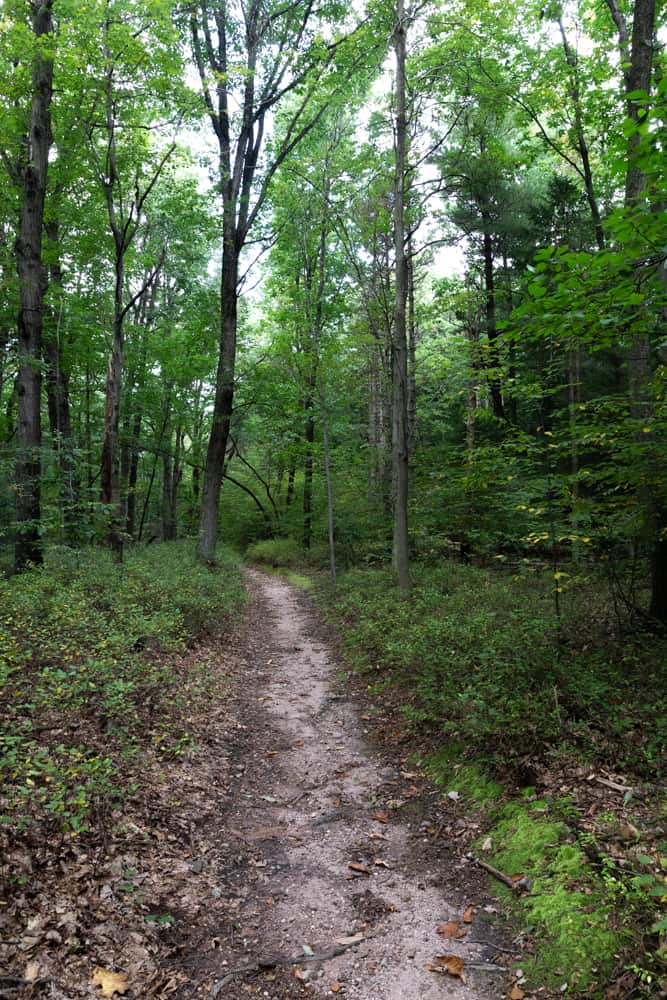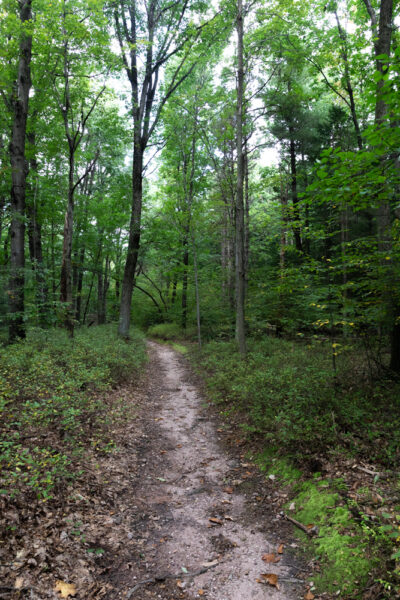 When hiking this trail, I recommend doing a loop that's combined with the Owl Trail and the Laurel Path. This will give you a nice hike of about a mile through Nolde Forest and allow you to walk the entire stretch of tree-lined trail.
On the return trip along the Owl Trail and the Laurel Path, the trail is a bit more narrow and uneven but is still incredibly scenic and well worth hiking.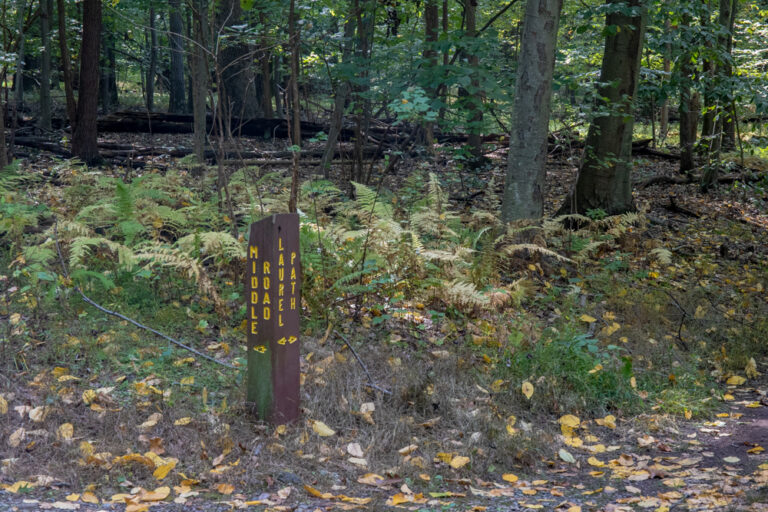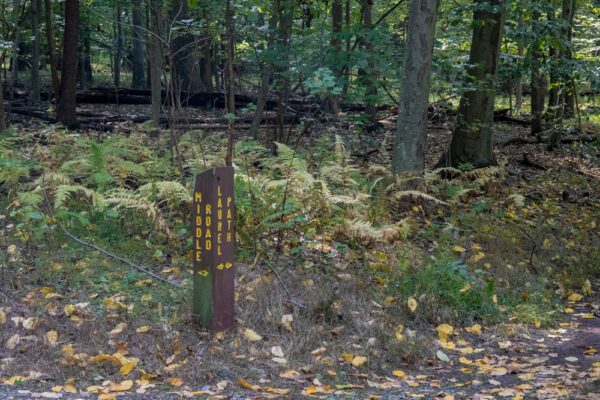 Another great hike in the Nolde Forest Environmental Education Center starts at the historic sawmill site and follows several trails to the pond. The parking area for this hike can be found at the following coordinates: 40.281385, -75.948377.
This parking lot, unlike the one at the park office, is open from dawn to dusk, so this is also a great spot to park if you are worried about completing your hike before 4pm and getting locked in the other lot.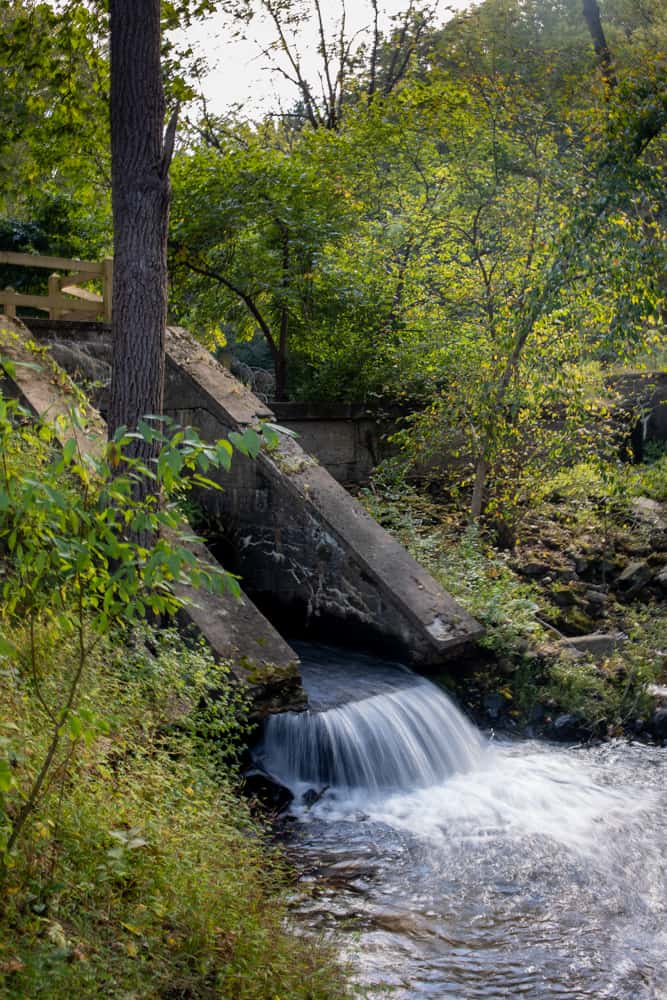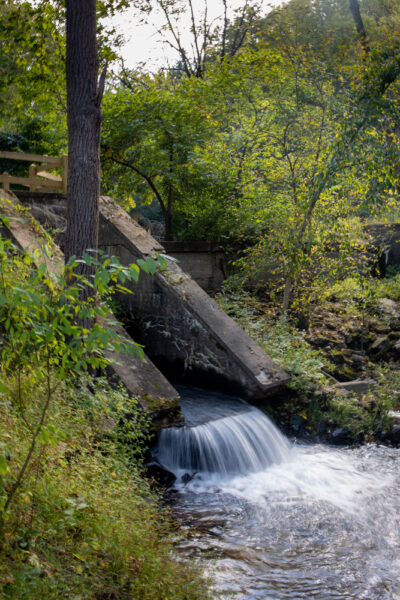 While there is no sawmill here anymore, you can still see the ruins of the dam that once powered a mill here. When water levels are high, there is a small man-made waterfall that flows out from this historic structure.
While there are a myriad of trails from this parking area, I really like the short hike to the pond. There are several ways to reach this area, but I like to start along the Kohout Trail.
It's worth noting that the park map makes it a bit difficult to find the start of the Kohout Trail. To reach it, don't cross Angelica Creek on the dam. Instead, cross it on the wide bridge for cars adjacent to the parking lot.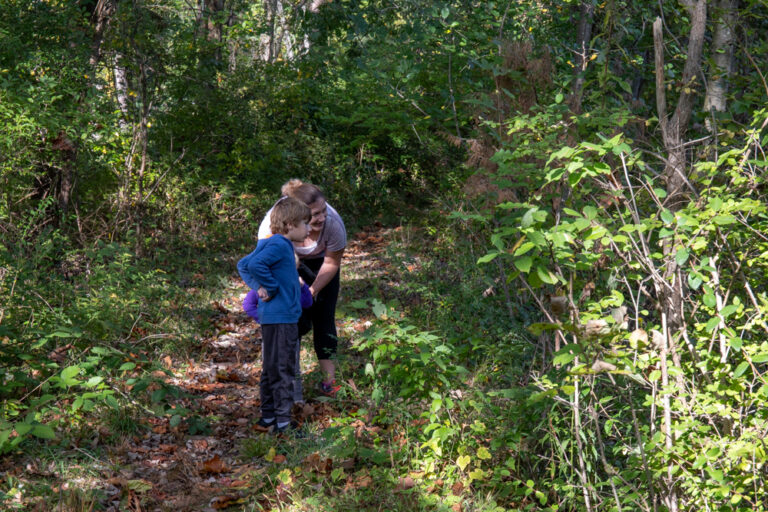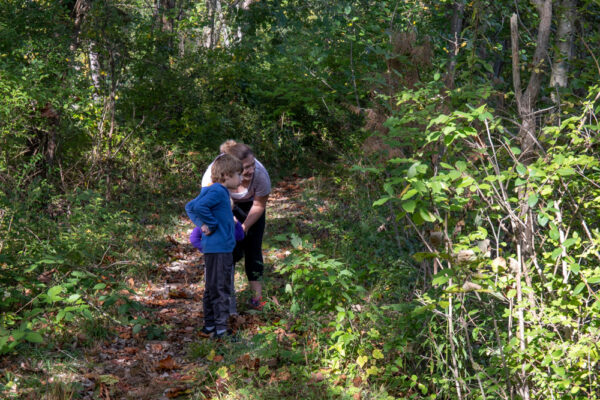 Just beyond this bridge, on your right, you'll see a marker for the Kohout Trail.
This trail is 0.3 miles long and, for some reason, is listed as "more difficult" on the park map, even though it's a very easy trail to hike.
This trail climbs very gradually uphill before ending at the Beech Trail. Turn right on this trail and follow it gradually downhill to the small pond.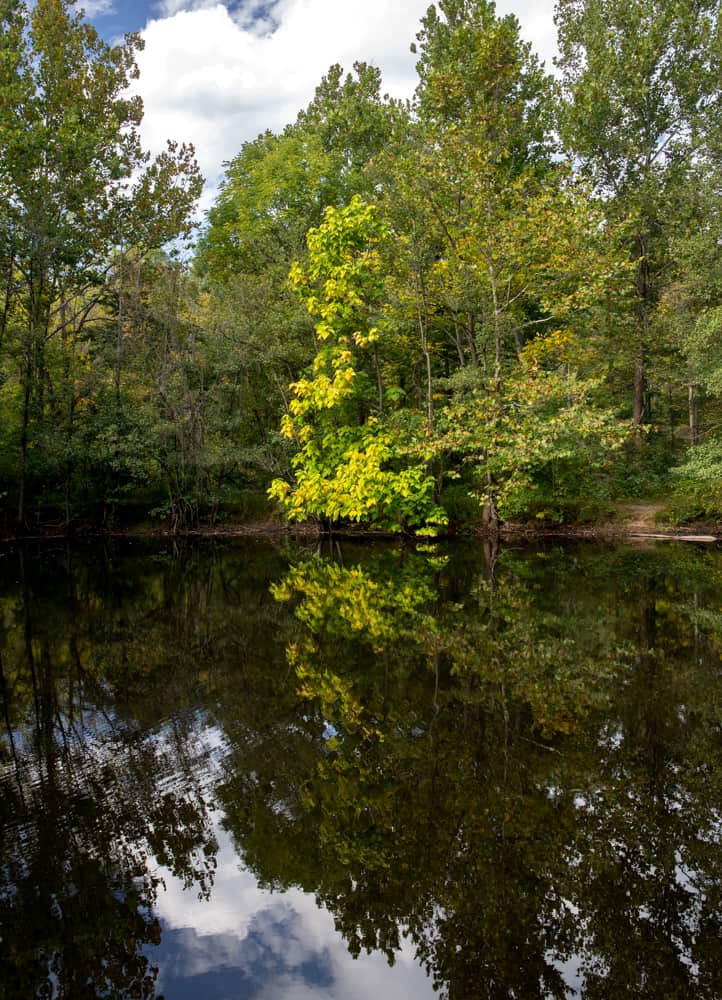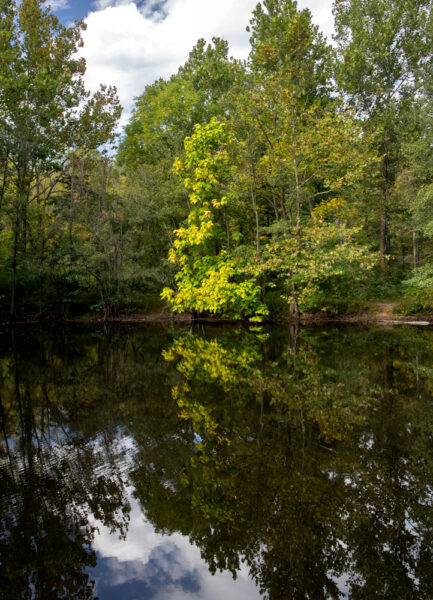 This pond is small but quite beautiful. There is a nice little dock where you can stop briefly and enjoy the scenery. A narrow and slightly overgrown trail encircles the pond if you want to fully enjoy this area.
When you are done, you can simply retrace your steps back to your car or you can take the first trail split to your left onto the Sheerlund Trail and then, at the bottom of the hill, a right onto the Watershed Trail to take a different path back to your car.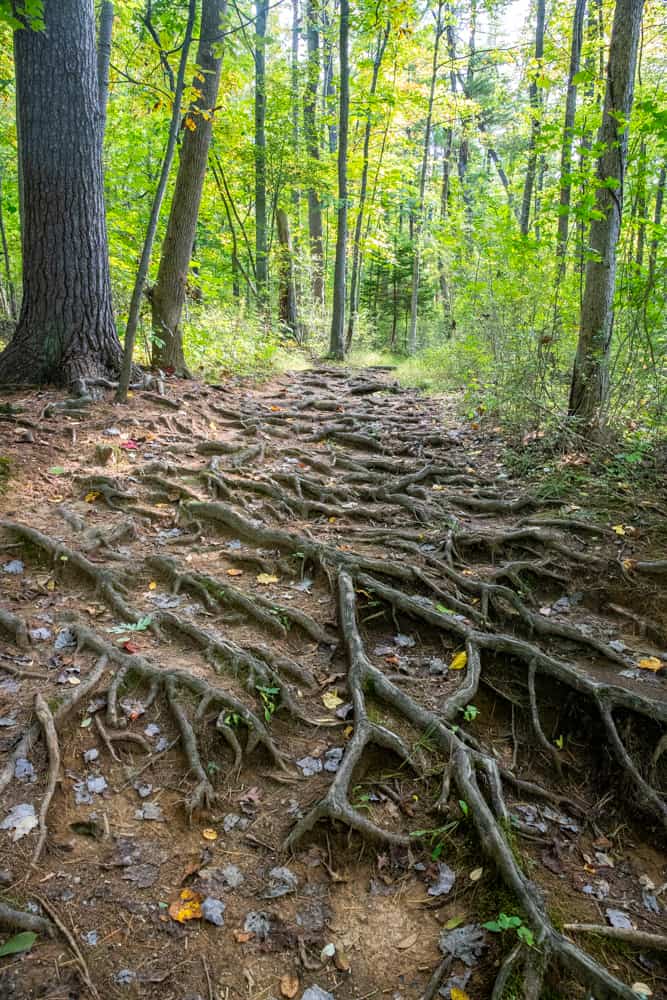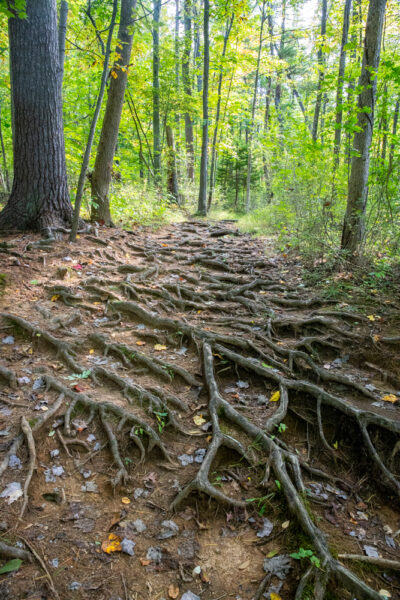 All in all, the hike to the pond and back to your car is roughly a mile to a mile and a quarter in length, and while slightly more difficult than the Middle Road/Laurel Path loop, shouldn't be challenging for most.
Overall, Nolde Forest Environmental Education Center is a great spot for an easy hike that the whole family can do without issue. While it might lack some of the awe-inspiring scenery that you can find at other state parks in PA, the trails here pass through one of the most beautiful outdoor areas I've explored in Pennsylvania Dutch Country.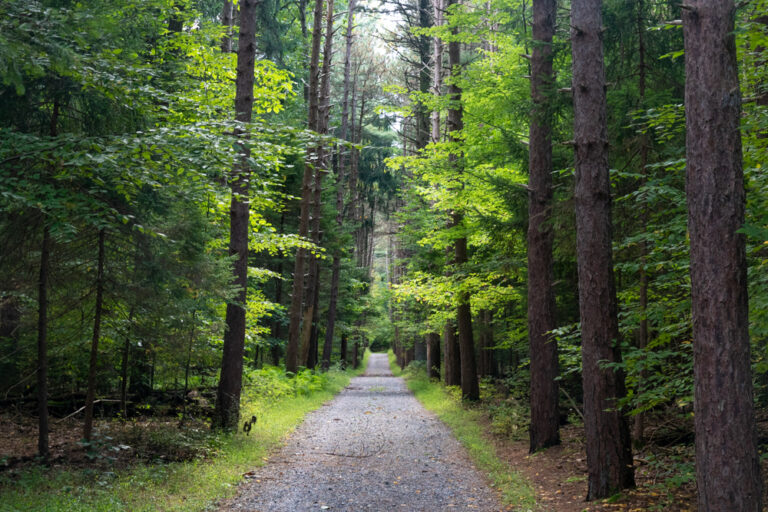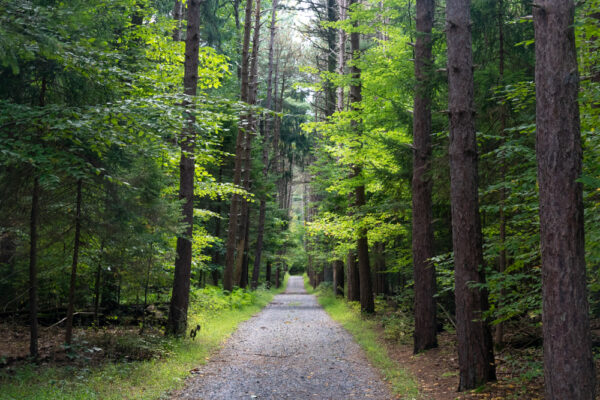 If you find yourself looking for a nice spot to go hiking near Reading or northern Lancaster County, Nolde Forest offers some fantastic trails to choose from.
Looking for more places to visit nearby? Check out the Reading Pagoda, the Reading Public Museum, and the covered bridges of Lancaster County.
[Click here for information on how to use coordinates to find your destination.]