Disclosure: This article may contain affiliate links. We will make a small commission from these links if you order something at no additional cost to you.
While some people hate them, I always love a good swinging bridge. And, during my travels, I've found some really cool swinging bridges in PA.
Swinging bridges are a type of suspension bridge and work under the same concepts that larger bridges like the Brooklyn Bridge and Golden Gate Bridge use. However, this type of bridge is also one of the easiest and cheapest to set up, making it a popular choice when a pedestrian bridge is needed cheaply and quickly.
What makes them unique is that, as you walk across them, the bridges sway (or swing) back and forth, some more than others. This creates either a fun or terrifying experience for those crossing them, though the structure of the bridge is not compromised at all by the movement.
So, whether you love them or hate them, here are a few of my favorite swinging bridges in Pennsylvania.
Cook Forest State Park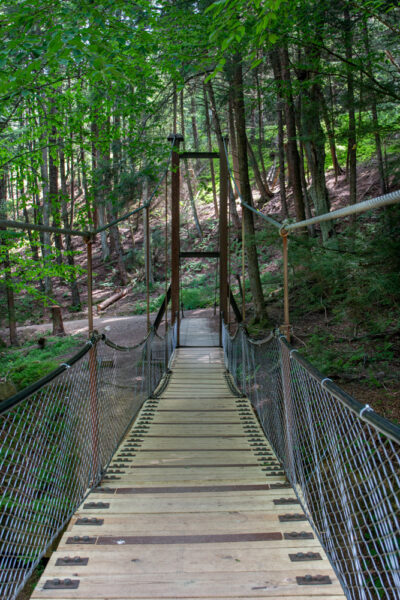 One of my favorite swinging bridges in PA can be found in Cook Forest State Park in the Pennsylvania Wilds.
This swinging bridge can be accessed via several different trails, which means there are a lot of loop hikes that can be done to include it. Its location near both the park office and the Forest Cathedral makes it easily accessible for most.
It's worth noting that while there are sides to this bridge, the bottom portions are a bit open, so you'll want to use a bit of caution if crossing this bridge with younger children or dogs.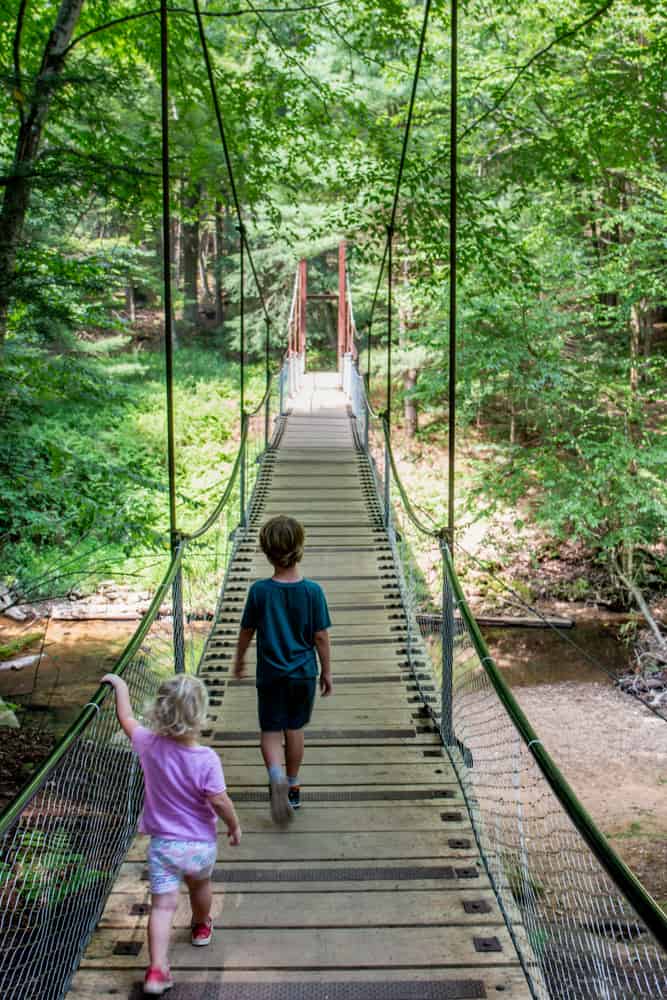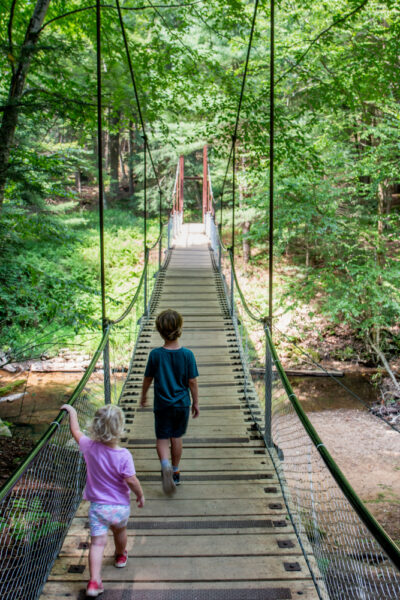 The swinging bridge in Cook Forest State Park can be found along both the Toms Run Trail and the Birch Trail at the following coordinates: 41.335329, -79.211148.
Messiah University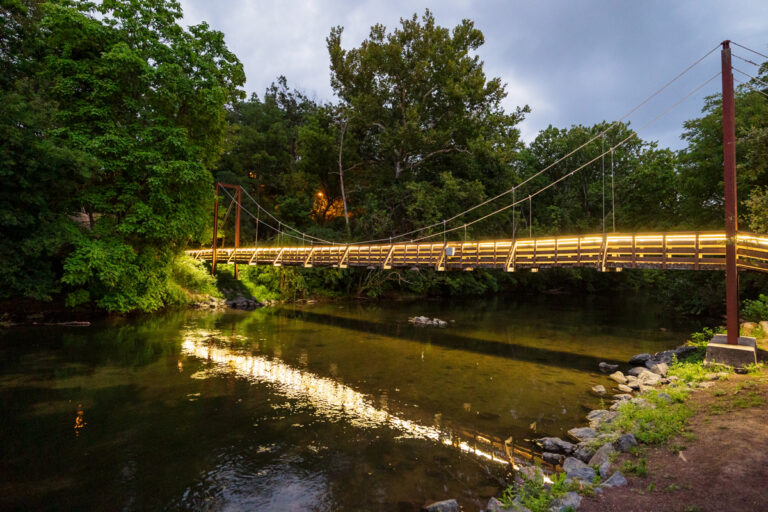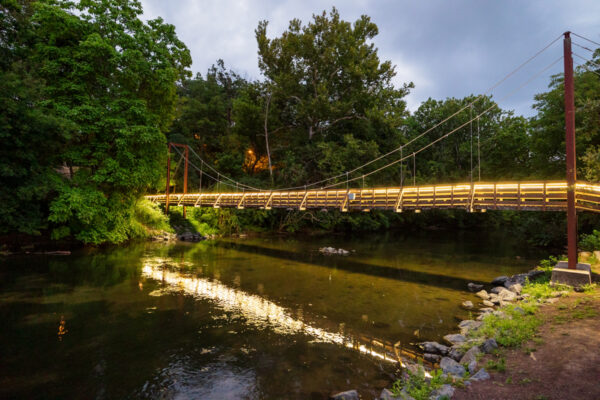 This swinging bridge on the campus of Messiah University in Mechanicsburg stretches across the Yellow Breeches Creek from Cumberland County to York County. It is just downstream from Bowmandales Covered Bridge, which can be seen from the bridge.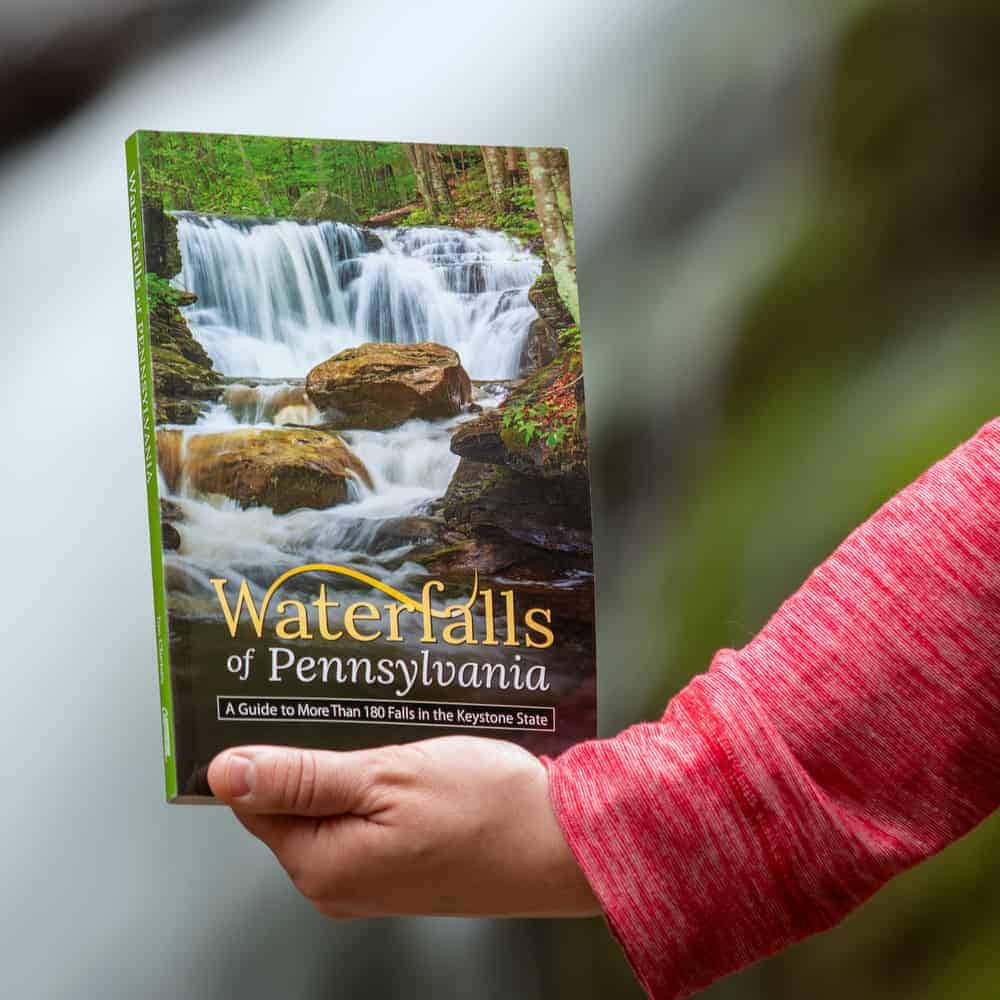 "Waterfalls of Pennsylvania" by Jim Cheney
If you love PA waterfalls, you won't want to miss this waterfall book from Jim Cheney, author of Uncovering PA, featuring more than 180 great waterfalls. Order it now on Bookshop.org or Amazon.
A swinging bridge has been here since at least the early 1970s, though the current one is at least the third that has been in this spot. This bridge is about 100 feet long and really swings back and forth a good amount. As a graduate of Messiah University (then Messiah College), I've crossed this bridge more times than I can count over the years.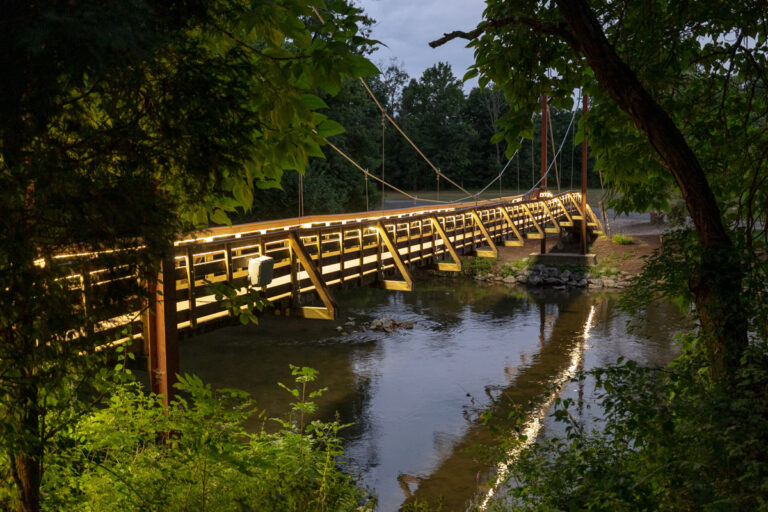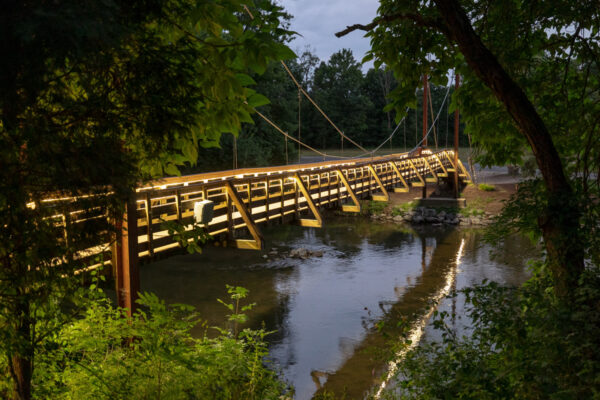 The waterway under the bridge is popular both for trout fishing and for floating on tubes, kayaks, and canoes, so this is a great spot to check out while enjoying other outdoor activities.
Even better, if you visit in the early evening, this bridge is lit up and looks incredibly unique.
This swinging bridge can be found at the following coordinates: 40.155313, -76.988423. Parking is typically available along both Creekside Drive and at the Starry Athletic Field parking area.
Little Toby Rail Trail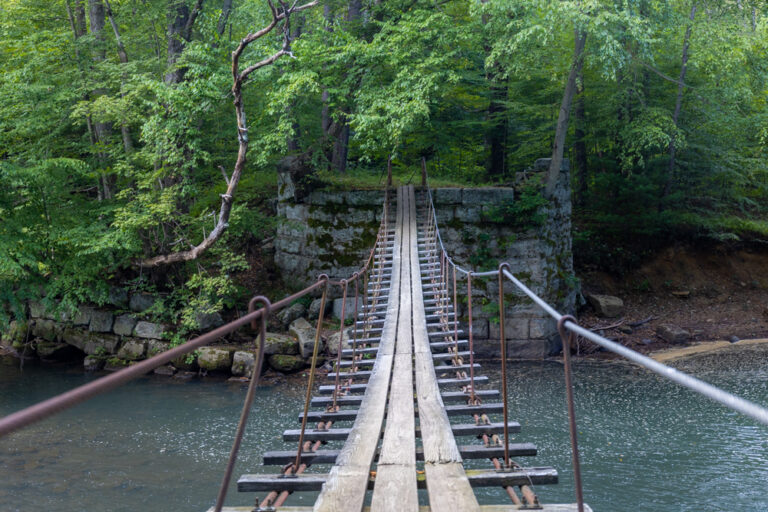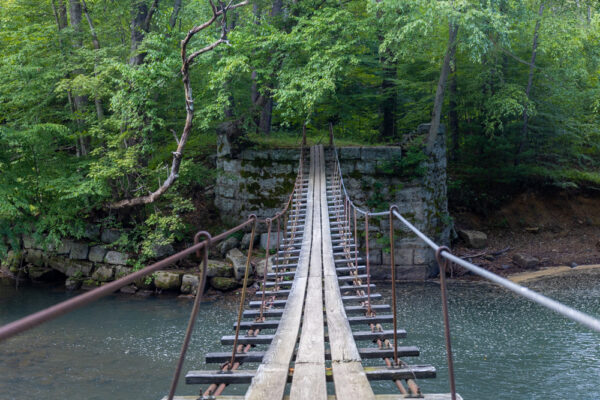 The swinging bridge along the Little Toby Rail Trail in Jefferson County, PA is definitely one of the most unique bridges in PA.
This swinging bridge was built in the 1990s around the same time that the rail trail opened (though it's not part of the rail trail and is simply adjacent to it). The bridge spans Little Toby Creek and uses two historic bridge supports on either end.
While this bridge seems to be sturdy and in very good shape, this is definitely the most precarious to cross. That's because there are no side rails here aside from two wire strands that support the bridge. This bridge also swings more than most of the others on this list.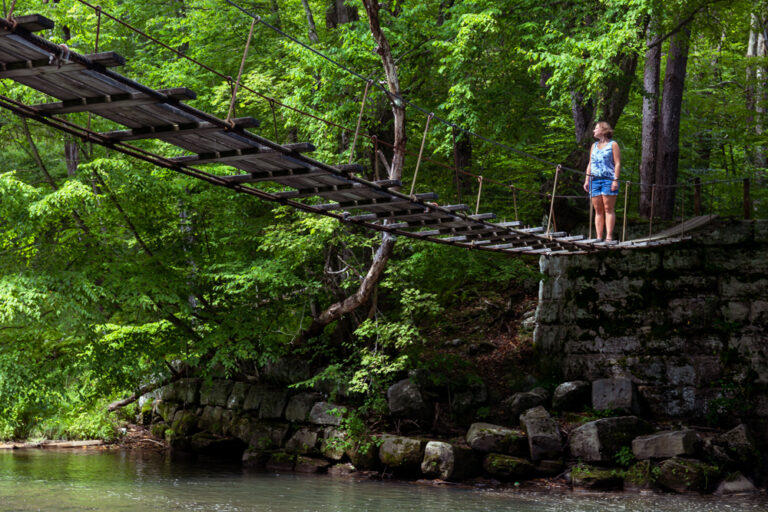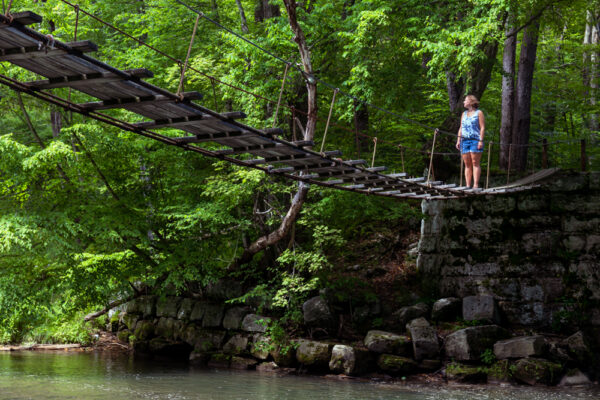 Because of this, I definitely don't recommend this spot for young children and even some adults may opt to skip actually crossing this one. That being said, I think it's a really fun little adventure.
The swinging bridge on the Little Toby Rail Trail can be found at the following coordinates several miles from the closest parking area: 41.315286, -78.839715. Because of the distance, a bicycle is the best way to reach this bridge.
Talleyrand Park in Bellefonte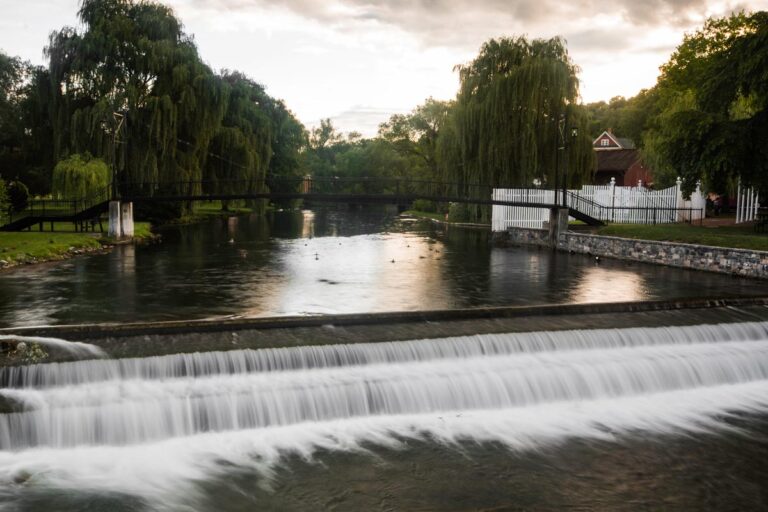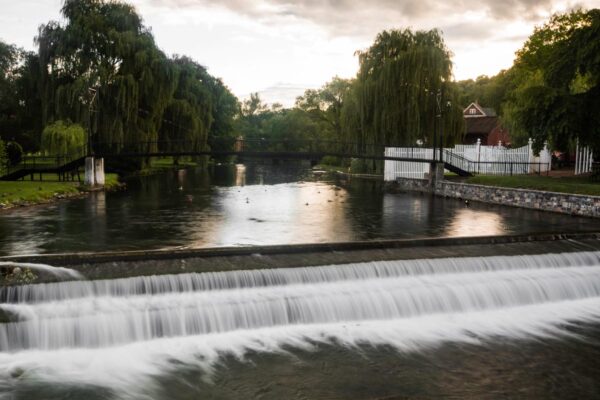 The swinging bridge in Bellefonte's Talleyrand Park is a bit easy to overlook simply because there is a lot going on here, but it's definitely a neat spot to check out.
This park, which was formally an industrial area and almost became the site of a K-Mart in the 1970s, is one of the most beautiful parks in Centre County. The swinging bridge here spans Spring Creek just a few feet upstream of its confluence with Big Spring Run.
The bridge, which was built in 1986, is the most ornate of all of the bridges on this list. It also sways the least, making it a great option for those that are a bit nervous about crossing a swinging bridge.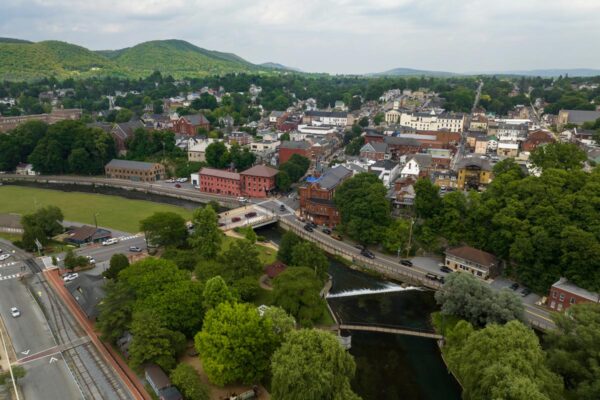 While in the park, make sure to enjoy the beauty of this area or try your hand at fishing, which is quite popular downstream of the park's dam.
The swinging bridge in Talleyrand Park can be found at the following coordinates: 40.910647, -77.781330. You can also use the address for the local chamber of commerce, whose offices sit on the edge of the park: 320 W High St, Bellefonte, PA 16823.
Hyde Park Walking Bridge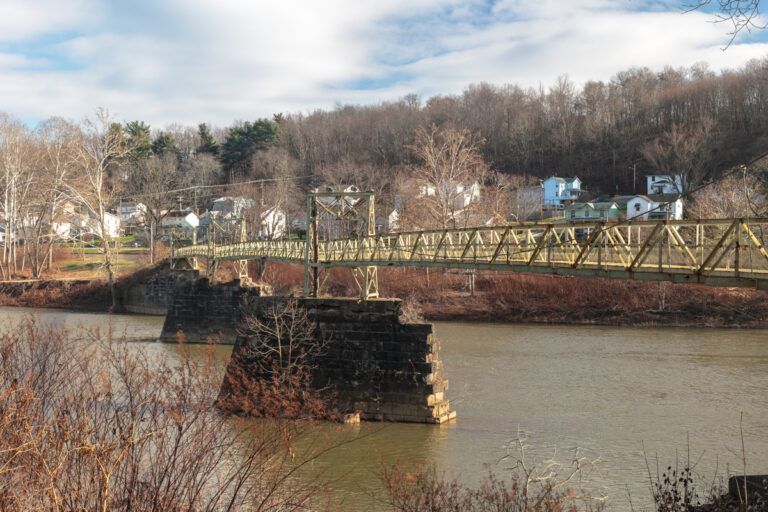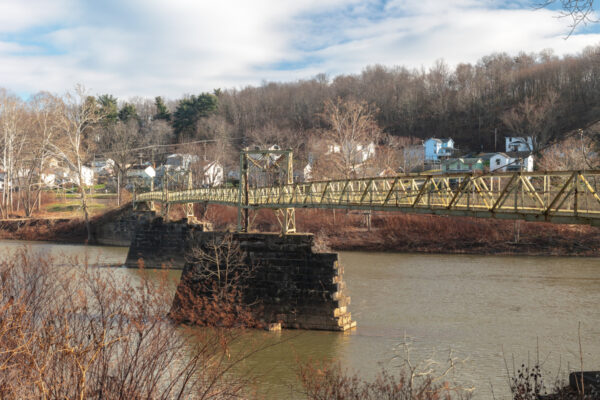 The Hyde Park Walking Bridge has to be one of the most unique bridges in all of Pennsylvania. And while some may argue whether it's a swinging bridge or just a suspension bridge, it moves around enough, especially near the banks that it's unquestionably worth including on this list.
The Hyde Park Walking Bridge spans the Kiskiminetas River (Known locally as simply the Kiski River). At this point, the river is very wide, and there are actually two piers in the middle of the river that break this bridge into four segments.
While the bridge is very sturdy and in great shape, the movement, height above the river (20-25 feet), and sheer length make this bridge feel a bit daunting to cross.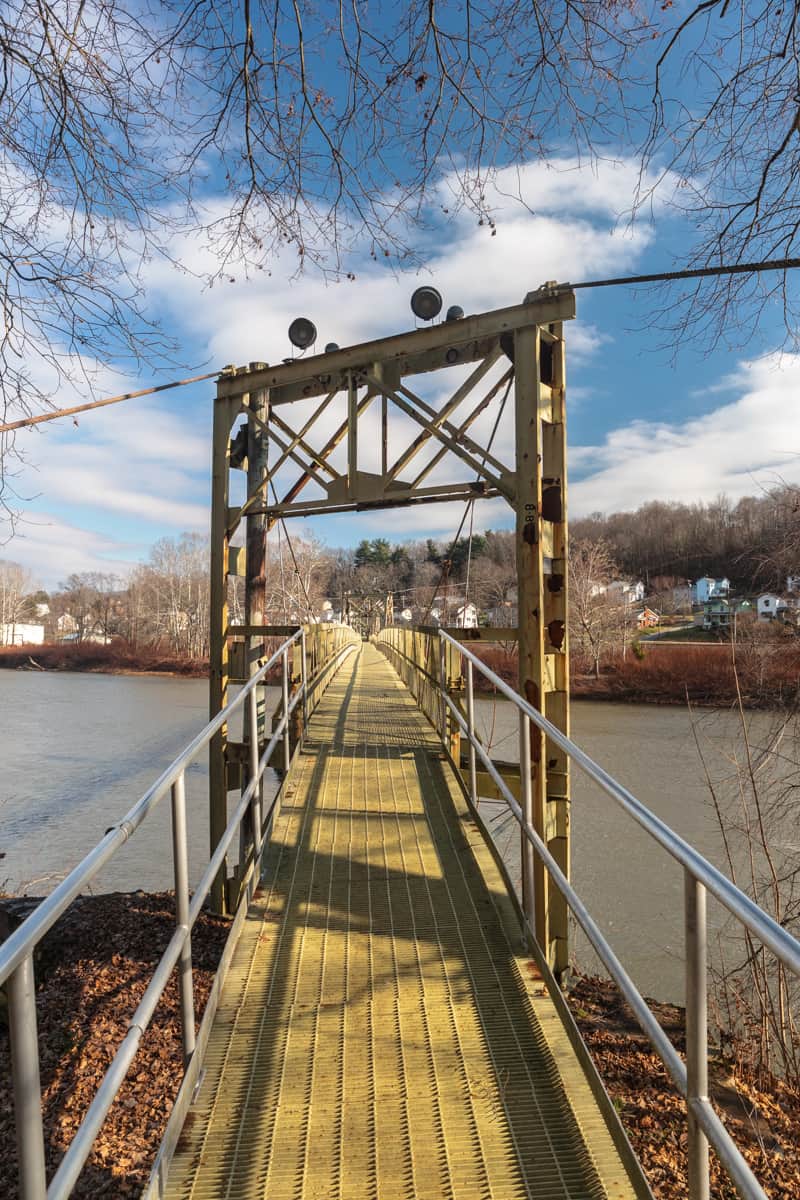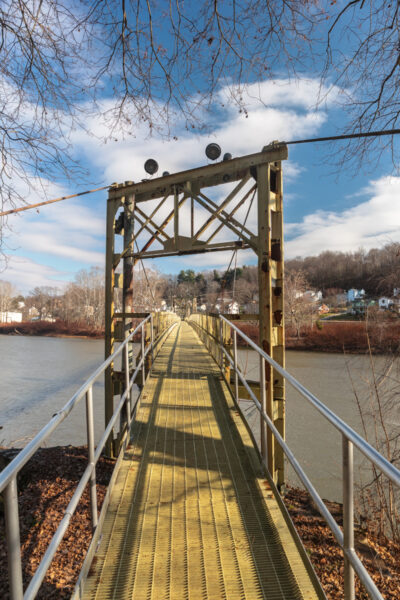 While it spans both sides of the river, there is only room to park on the Hyde Park side in Armstrong County at the following coordinates: 40.627821, -79.596665.
Note that you have to cross train tracks to reach the bridge, but there is an obvious crossing spot, though without any protection from on-coming trains, so use caution.
Trough Creek State Park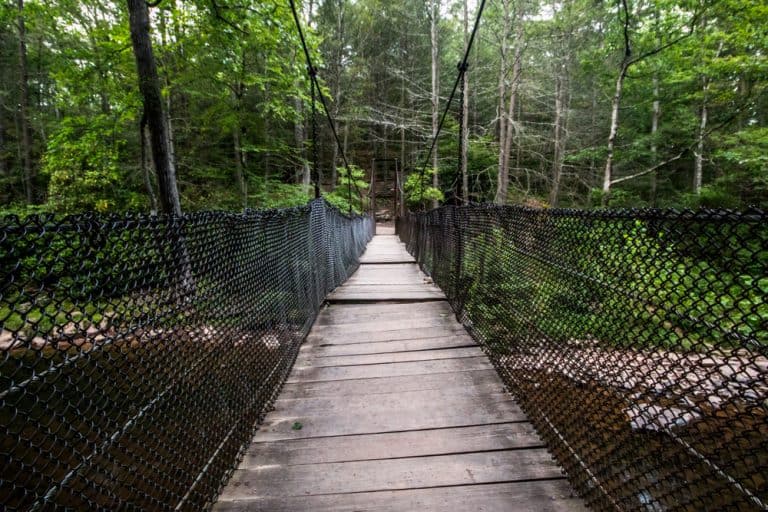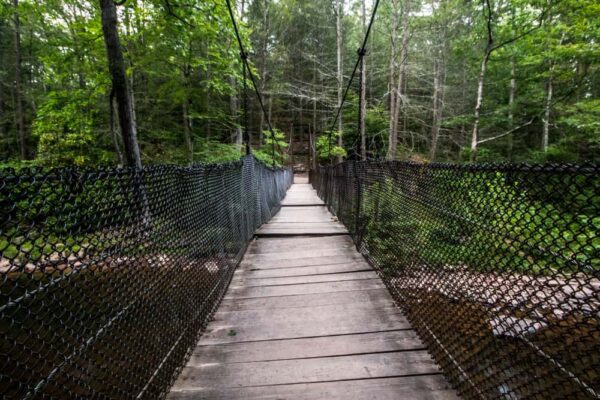 Trough Creek State Park in Huntingdon County is home to another fantastic swinging bridge in PA.
This bridge is located on the Balanced Rock Trail, which is one of the most attraction-packed trails in PA. That's because, in about two-tenths of a mile, the trail crosses this swinging bridge, passes Rainbow Falls, and ends at an incredible Balanced Rock on the edge of a cliff.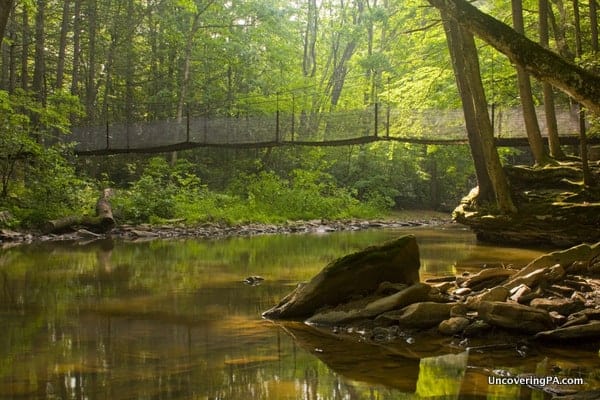 This swinging bridge moves around a lot when you cross it, but the secure sides make it safe for the whole family. This bridge is definitely a ton of fun to cross, and somewhere you shouldn't miss when exploring the Raystown Lake area.
The swinging bridge in Trough Creek State Park crosses Great Trough Creek and can be found at the following coordinates: 40.321332, -78.129611.
Cedar Creek Park in Belle Vernon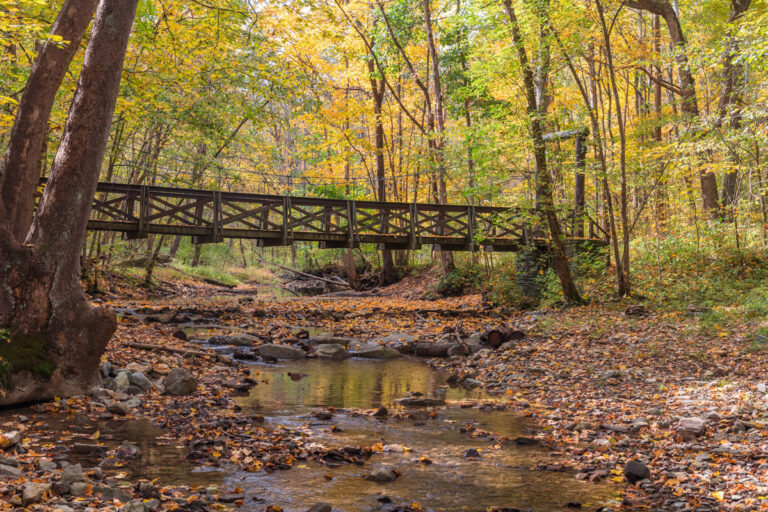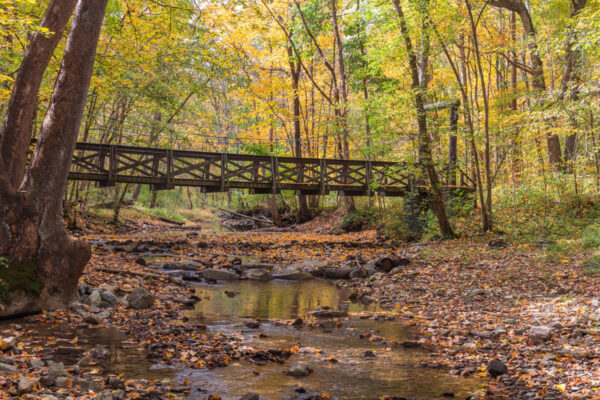 Cedar Creek Park is a nearly 500-acre park in Westmoreland County that is probably best known for its access to the Youghiogheny River and the Great Allegheny Passage. However, within the park, there is a beautiful hiking trail that features two swinging bridges.
These two bridges are located at either end of the Cedar Creek Gorge Trail and both cross Cedar Creek. A trail runs between that is quite a beautiful hike and definitely worth checking out in its own right.
That being said, if you aren't interested in a hike, the most downstream of the two suspension bridges is located only a few yards from the parking area and is very easy to reach. This is also the longer of the two bridges.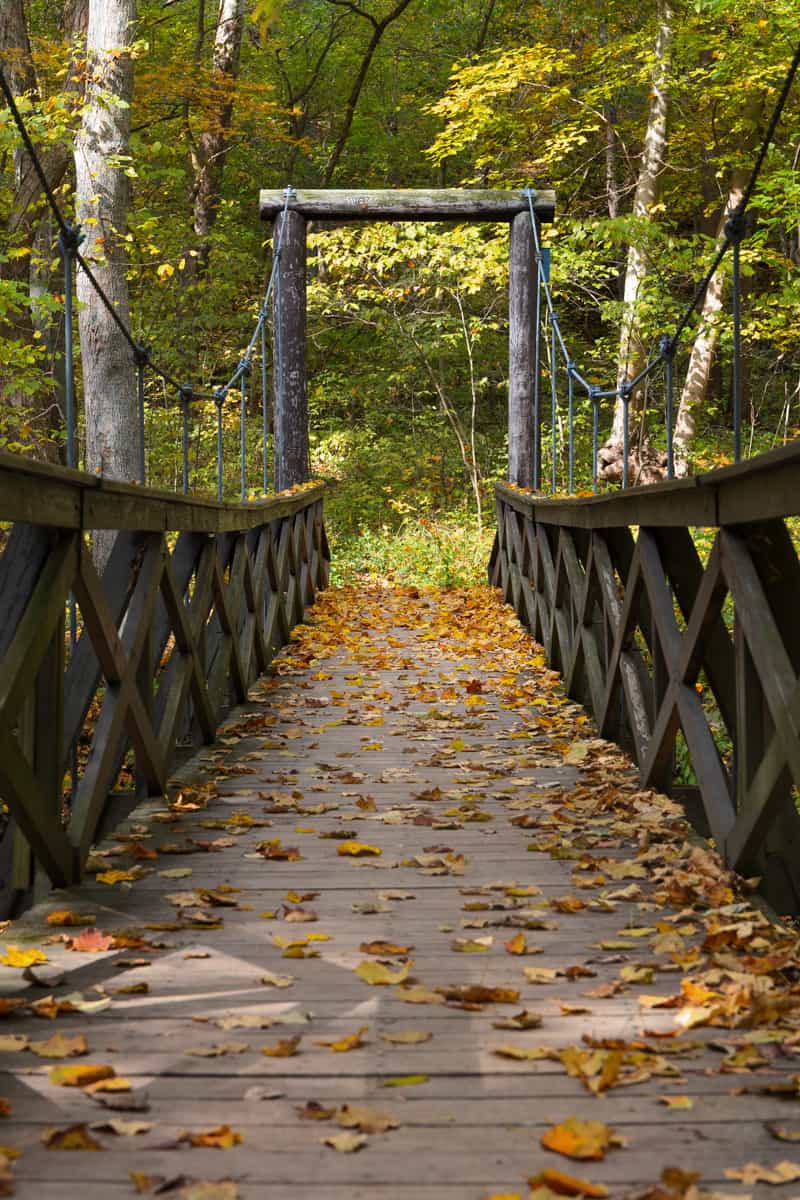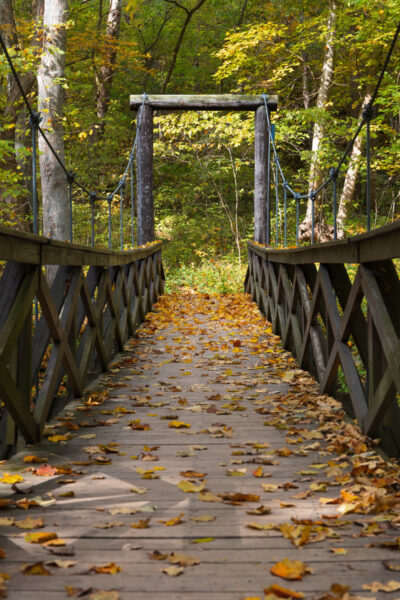 While these bridges don't swing as much as some, you can definitely get them swaying well with just a bit of effort.
The entrance to the trail to reach these bridges can be found near the park's Youghiogheny River access at the following coordinates: 40.178742, -79.779062.
Myo Park in Millersburg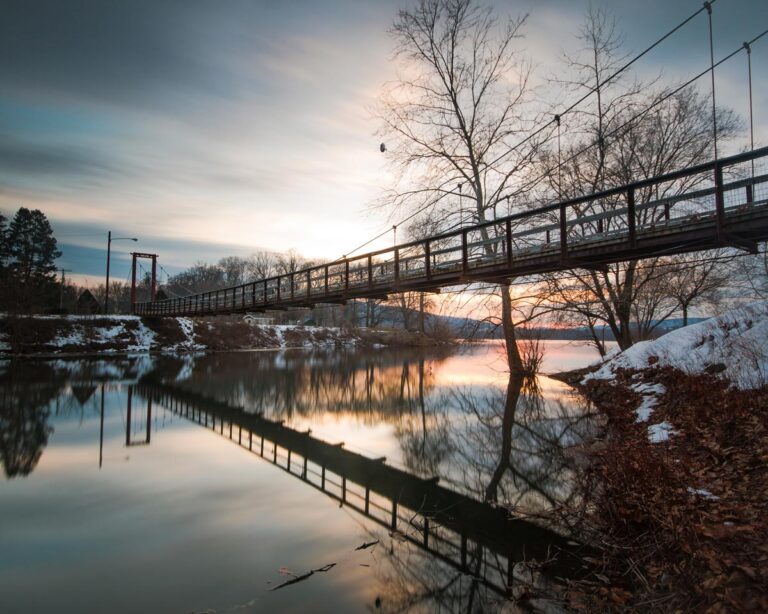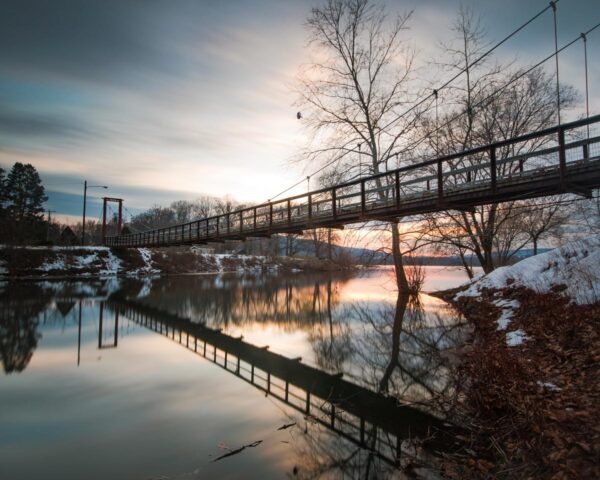 The next PA swinging bridge on this list can be found in Millersburg in northern Dauphin County. The bridge spans Wiconsico Creek and goes from Riverfront Park to Myo Park.
This bridge was completed in the mid-1990s to replace a 1920s swinging bridge that was destroyed during Hurricane Agnes in 1972. At approximately 180 feet in length, it's the longest swinging bridge on this list.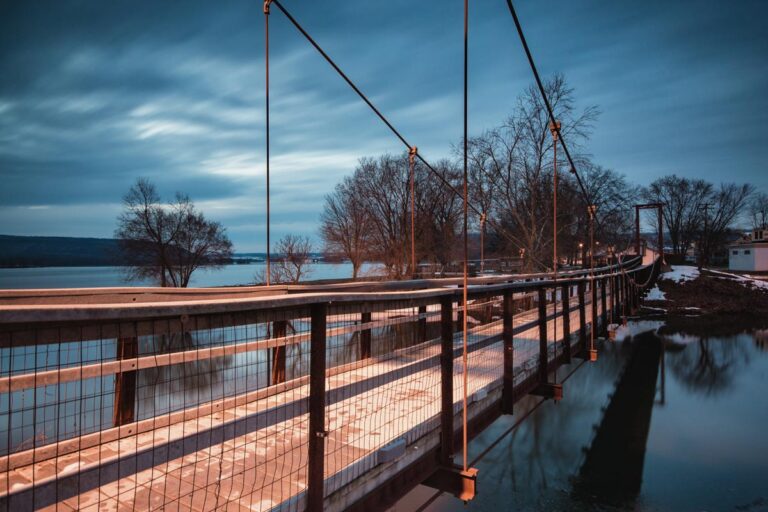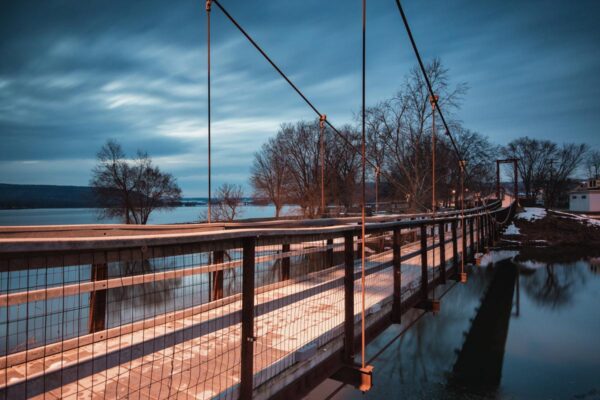 The bridge is located just before the Wiconsico Creek flows into the Susquehanna River, and provides incredible views of both waterways. If you're lucky, you might even be able to see the Millersburg Ferry, the last-known wooden double stern-wheel paddle boat in the US, crossing the river.
The swinging bridge in Millersburg can be found along River Street at the following coordinates: 40.536210, -76.964754.
Butler Swinging Bridge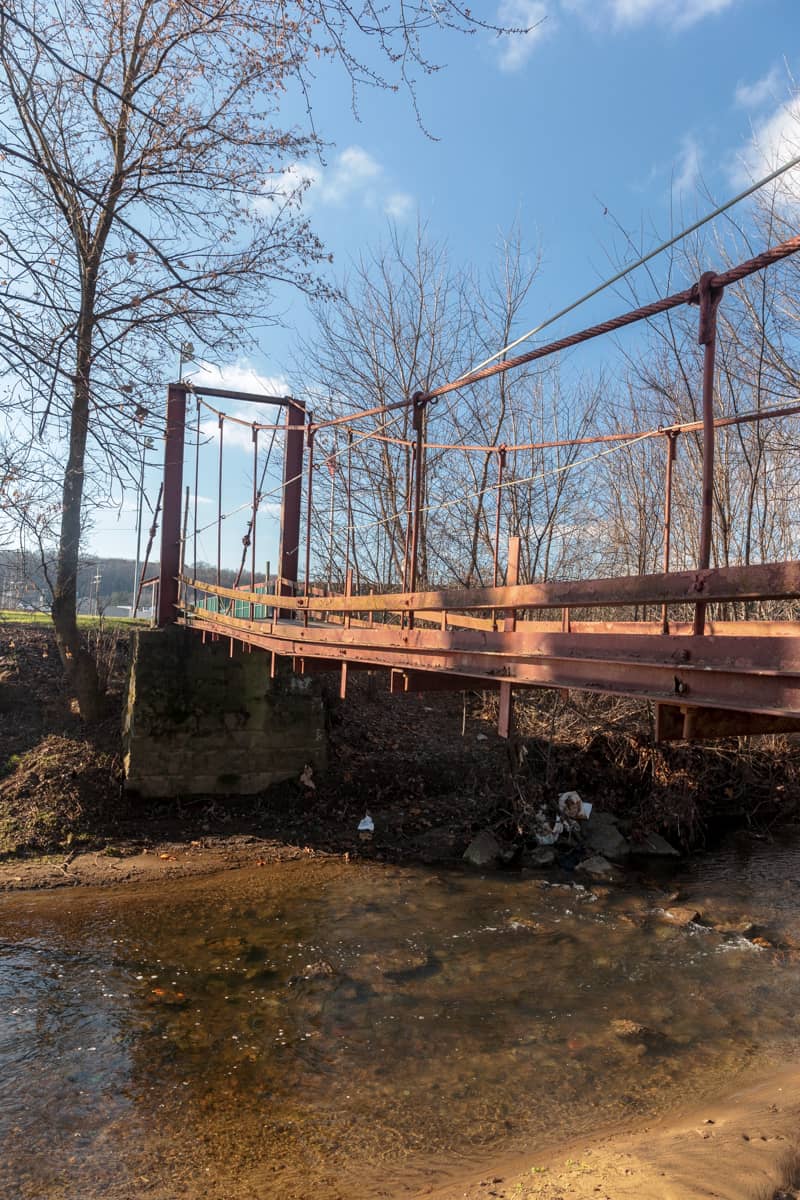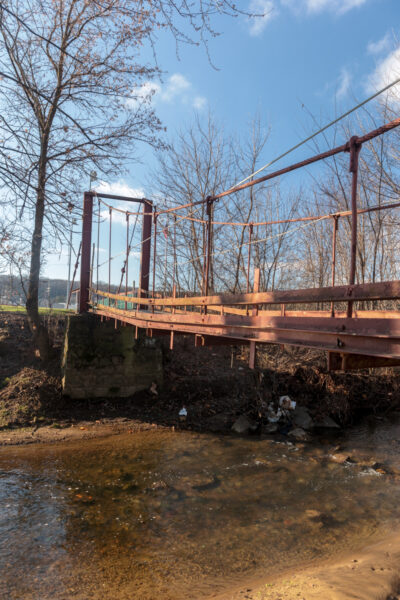 Of all the Pennsylvania swinging bridges on this list, I don't think any are shorter than this unnamed one in the city of Butler. However, if you find yourself exploring this corner of western PA, it's definitely worth checking out.
This bridge is located at the backside of Pullman Park behind the historic baseball field and spans the narrow Sullivan Run between that park and Rotary Park.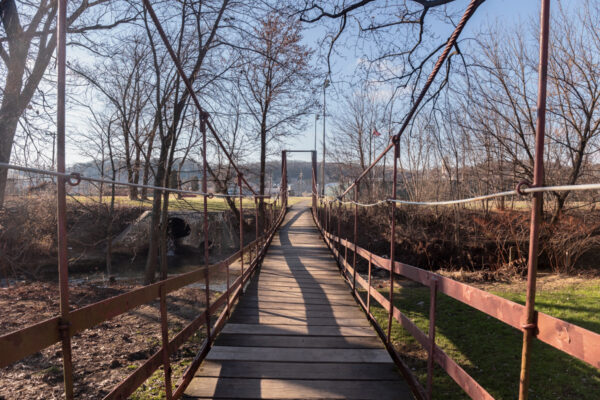 This bridge isn't quite as nice as some on this list, but it does really get swinging, so it's a lot of fun to cross.
It can be found at the following coordinates: 40.858614, -79.904833.
What is your favorite swinging bridge in Pennsylvania? Let me know in the comments below.
[Click here for information on how to use the coordinates in this article to find your destination.]
Looking for more fun things to do in PA? Check out the best waterfalls in PA, Pennsylvania's longest covered bridges, and the best PA counties for outdoor adventure.