Disclosure: This article may contain affiliate links. We will make a small commission from these links if you order something at no additional cost to you.
In this modern era of megachurches featuring giant video screens, house bands, and a rock-concert-like atmosphere, the Old Log Church stands in sharp contrast. Located along the historic Lincoln Highway nine miles west of Bedford, Pennsylvania and a short drive from the Bedford Coffee Pot, it is a poignant reminder of days gone by.
Built in 1806 (a fact emblazoned prominently on the exterior), it was constructed on land donated by John Schell, the founder of the nearby village of Schellsburg. It stands at 25 feet wide and 30 feet long, with galleries on three sides of the two-story structure.
It also features a unique wine glass pulpit (an architectural detail probably related to the Eucharistic cup).
Inside and out, the church is a no-frills testament to a time when function took precedence over fancy design on the frontiers of Pennsylvania. The log and chinking construction is a fine representation of building methods typical of the post-Revolutionary War era.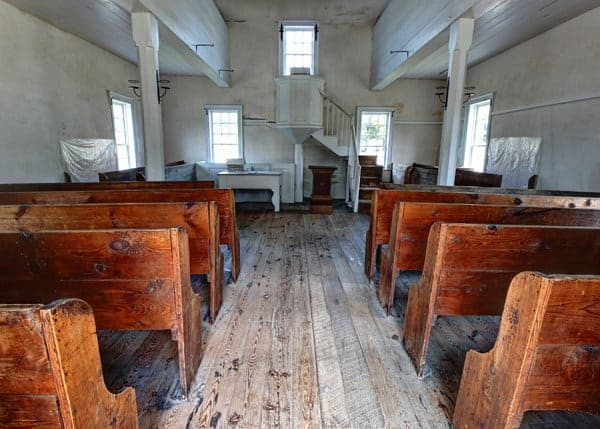 Inside, you will find very few of the creature comforts common to modern houses of worship. Straight-back pine pews have replaced the logs that the original church-goers sat on (though having sat on the pews it is doubtful they are much more comfortable).
A pot-bellied stove (currently removed) was installed in 1809 – prior to that, it is said worshippers brought their dogs along to keep their feet warm!
A gallery wraps around three sides of the upper story (accessed by a narrow wooden staircase), and the previously mentioned wine glass pulpit (also accessed by wooden stairs) would have given the minister a commanding view of his flock.
The church was last used for worship in late 1851, but the cemetery is still in use to this day. Veterans of every American conflict are buried here.
One of the more interesting gravesites is that of William Hinson (the great, great, great grandfather of the author).
Born Oliver Niley in Yazoo City, Mississippi, in 1842, he enlisted in the Confederate Army at age 19. He was captured at Vicksburg, Mississippi, on October 21, 1863, sent to a Union prison camp in Alton, Illinois, and then was to be transferred to a prison camp in Delaware in February 1864.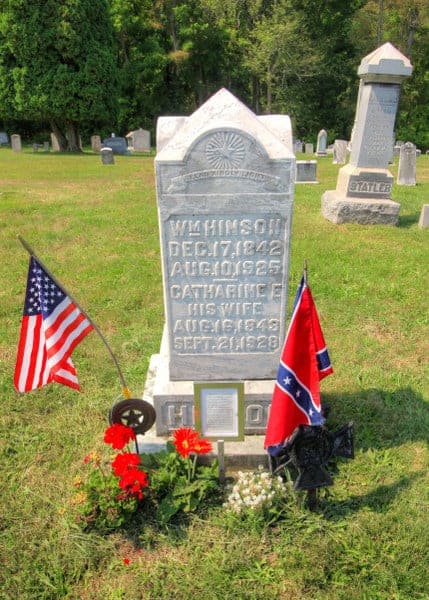 He escaped from Union custody by jumping off the transport train in the mountains of Cambria County, made his way into neighboring Somerset County, and was eventually taken in by a family there. Aware that authorities may be looking for him, he assumed the name of William Hinson, his maternal grandfather's name.
His grave is easily identified as it is the only one in the cemetery decorated with a Confederate States of America plaque and flag.
The Old Log Church has no tour guides, nor is there an admission fee (there is a donation box if you would like to contribute to the upkeep). The structure is unlocked daily from dawn til dusk between Memorial Day and Labor Day. From April 1 until Memorial Day and from Labor Day until October 31, the church is open on weekends from 9am-6pm. More details are available on the church's website.
Take a trip back in time and experience the Old Log Church the next time you are passing through Bedford County. It will give you a much better appreciation for frontier practicality and faith in the early 1800s.
While in the area, don't miss The Fifties Place Museum, the covered bridges of Bedford County, the Fort Bedford Museum, and Gravity Hill.
---
Old Log Church
Hours: Vary

Cost: Free

Website: OldLogChurch.com

Address: No Address
Coordinates: 40.048411, -78.655537
See map below for other area attractions.
---