Disclosure: This article may contain affiliate links. We will make a small commission from these links if you order something at no additional cost to you.
Imagine pulling up to a replica of a 1950's service station, walking inside, and being transported into an episode of "American Pickers". That's the experience I had recently while visiting The Fifties Place and Mini Museum in Manns Choice, PA, just west of Bedford on the historic Lincoln Highway (and close to Coral Caverns and the Bedford Coffee Pot).
Outside the museum, you have all the trappings of a vintage service station: a large Atlantic gasoline sign and two matching pumps, an old-time tire inflator, and of course the classic Coke and Pepsi machines near the front entrance. You can almost picture a '57 Chevy pulling in and hearing the driver call out "Fill'er up!".
Upon entering the museum (which resembles a small log cabin) you are met with a floor-to-ceiling wall of electronics history. Vintage radios of all sizes, makes, and models, as well as several early black-and-white televisions, surround you on three sides as you make your way inside.
Museum owner/curator Ron Miller has a small desk and chair in one corner, from where he narrates the details of each piece (currently 70-plus radios/TV's) in his ever-evolving collection. When it was made, where it was made, where he got it from – Ron's depth of knowledge regarding each device gives you a sense for his passion for tinkering and for history.
Once we got to talking about his past (he once owned a TV/electronics store and spent 20-plus years restoring antique automobiles) everything about the museum started to make sense.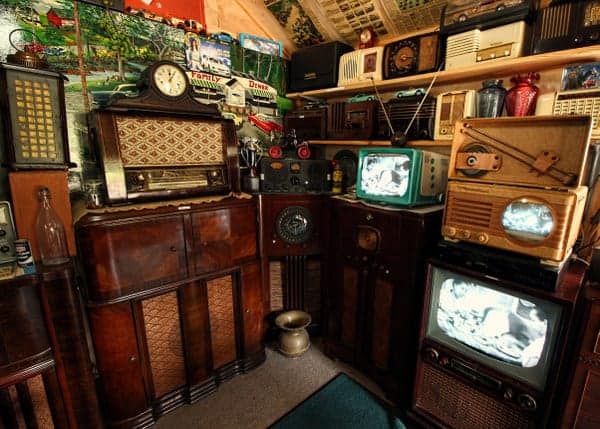 The oldest radio on display the day I visited was a 1924 RCA Radiola, which was designed to be used with headphones (as were most early radios – something I learned that day). Another unique piece was one of the first clock radios, which happened to be a grandfather clock with a built-in radio.
Crystal radios, tube radios, transistor radios – Ron has a way of guiding you through the evolution of the technology and is able to demonstrate it in a unique way. All of the radios on display are functional and are tuned into Ron's own low-powered radio signal that streams period-correct oldies music.
So not only can you appreciate the artistry and craftsmanship that went into building these early devices, but you can hear what they sounded like as well.
Ron has also "hot-rodded" the old televisions on display, adapting them so that he can play DVDs of the old black-and-white classics on them. Again, for those that are too young to have lived through that time period, it gives you a chance to experience history first-hand.
I spent roughly 90 minutes at the museum getting to know Ron and his collection of memorabilia – I could have spent much longer and still been entertained. To me, Ron was every bit as interesting as his collection. It's hard not to admire and respect a man who has spent a lifetime restoring vintage cars and electronics, then in his retirement shares his time and that knowledge freely with anyone who stops by.
What appears to be a quaint little roadside attraction along an old highway is, in fact, a tremendous destination for anyone with an interest in vintage electronics, and you can't beat the admission price (FREE!). Make it a point to visit The Fifties Place and Mini Museum next time you are traveling in southwestern Pennsylvania. You'll be glad you did.
Looking for more places to visit in the area? Check out the covered bridges of Bedford County, the Old Log Church, and the Isett Heritage Museum. If you love antique radios, you also won't want to miss Check's Radio Museum in northwestern PA.
---
The Fifties Place and Mini Museum
Hours: Monday-Friday: 6am-6pm, Saturday: 8am-5pm, Sunday: 2:00-5:30pm

Cost: Free

Website: http://www.antiqueradiomuseum.net/

Address: 5719 Lincoln Highway
Manns Choice, PA 15550
See map for other area attractions.
---