Disclosure: This article may contain affiliate links. We will make a small commission from these links if you order something at no additional cost to you.
It appears that the Vertical Trek is no longer operating. This article is being left up for posterity.
Here's a question that I'm sure many of you have never considered (I know I hadn't): what do you do with a ski resort in the summer?
At Roundtop Mountain Resort in York County, Pennsylvania, they have come up with a great answer that provides unique summer fun. With a ropes course, bumper boats, OGO Balls, a zip line course, and many other great activities, there is something for everyone at Roundtop during the summer.
Recently, I was invited to try out Roundtop's Vertical Trek. This guided course consists of 10 zip lines and several other rope elements and is a great answer to the question "What's the most exciting way to get down a hill in the summer?".
The Vertical Trek started off with a brief safety talk while we put on our harnesses, helmets, and gloves. Next, we hopped on the ski lifts for our ride 600 feet up to the start of the Vertical Trek at the top of the mountain. Even if you aren't a big skier, this is a great chance to get an overview of Roundtop's hardest ski slopes, something I'm sure I'll never work up the courage to do while on skis.
Once atop the hill, we walked the short distance to the first zip line platform, where we were given more safety instructions. The guides did a great job explaining the rules and procedures, calming the nerves of several nervous participants.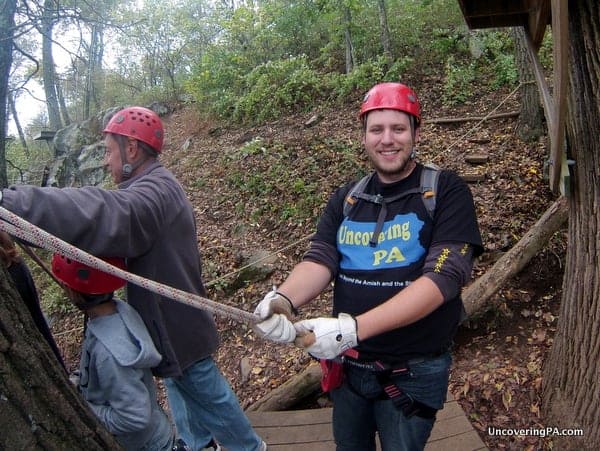 By the time the safety briefing was over, I was excited to get zipping!
The first zip line is a great introductory one, especially for anyone who might be nervous or has never zip lined before. While longer than many of the other zip lines, the first zip line starts off very low to the ground and doesn't reach a high height or a high rate of speed.
However, that doesn't mean that there weren't some thrills along the other nine zip lines scattered over the mountain. With heights of up to 40 feet above the leaf-strewn ground below and zip lines 400 feet long, there are definitely some fantastic rides in the Vertical Trek.
Interspersed between the many zip lines are several short downhill hikes, rope elements, bridges, and cargo nets. There's even a Tarzan Swing where you're encouraged to let out your best yell while swinging through the air to a waiting cargo net.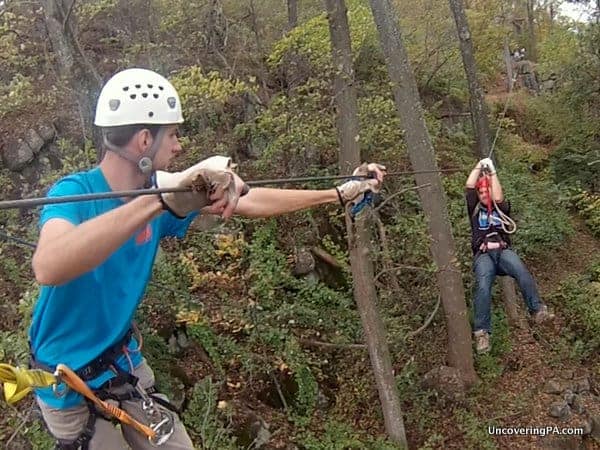 I'll be honest, having done some pretty awesome zip lining in Thailand, I was expecting to be a bit underwhelmed by the Vertical Trek at Roundtop. However, I had a really great time. Even if you've done an amazing zip line course in the rain forests of Thailand or Costa Rica, the Vertical Trek is still a fantastic experience.
While it may lack some of the heart-pounding adventure of the rain forest, I dare you to not have fun while zip lining with Roundtop Mountain Resort!
Note: In exchange for writing this review, Roundtop Mountain Resort sponsored my Vertical Trek. However, all opinions expressed in this post are my own.
Looking for more places to visit nearby? Check out Gravity Hill in Lewisberry and Paulus Orchard.
---
Vertical Trek at Ski Roundtop
Hours: Early June-Early November
See websites for days and hours.

Cost: $69

Website: SkiRoundtop.com/Vertical-Trek

Address: 925 Roundtop Rd
Lewisberry, PA 17339
See map below for other area attractions.
---