Disclosure: This article may contain affiliate links. We will make a small commission from these links if you order something at no additional cost to you.
I'm always on the lookout for fun things to do in Pennsylvania at Christmas, and if they are near my home in Cumberland County, that's even better. So, when I recently learned about the Trail of Lights at Country Creek Produce Farm near Chambersburg, I knew I had to check it out.
Trail of Lights first opened to the public in 2020, though Country Creek has been running popular seasonal events for longer than that. The farm is located about four miles south of Chambersburg in Franklin County and is just a short distance west of I-81, making it easy to access for just about anyone in the region.
Trail of Lights is located on roughly 14 acres of this 60-acre farm and features many different attractions, including some that are rare to find among Christmas light displays in PA. In addition to a walk-through light show, there is a petting zoo, giant slides, ziplines, and more.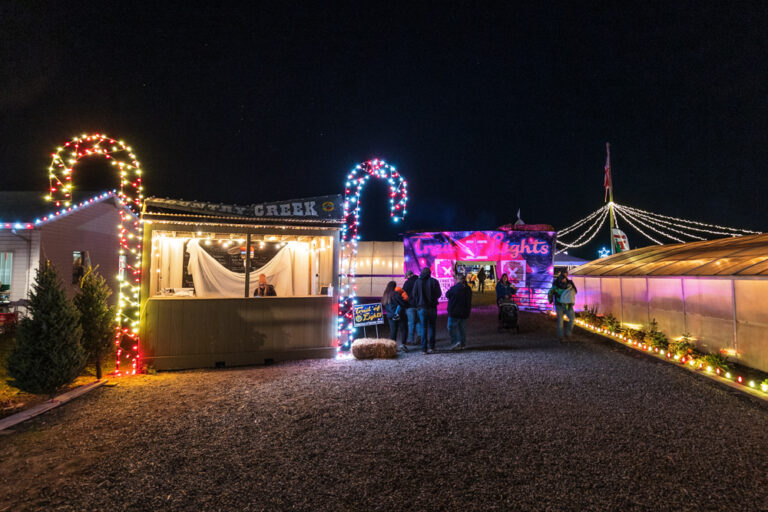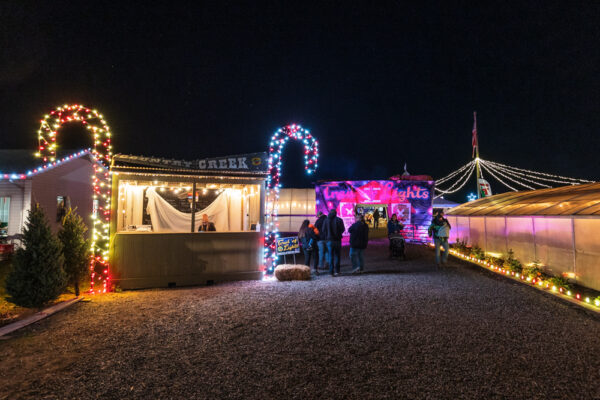 Interestingly, upon pulling up to the grounds shortly after their 4:30 opening time, I was prepared to be a bit disappointed. Arriving at that time, we not only didn't get the full effect of the lights, but some of the other attractions are hard to see from the road.
Fortunately, once I got in and started looking around, it quickly became apparent how much there was to do at Trail of Lights and how much fun my family was about to have.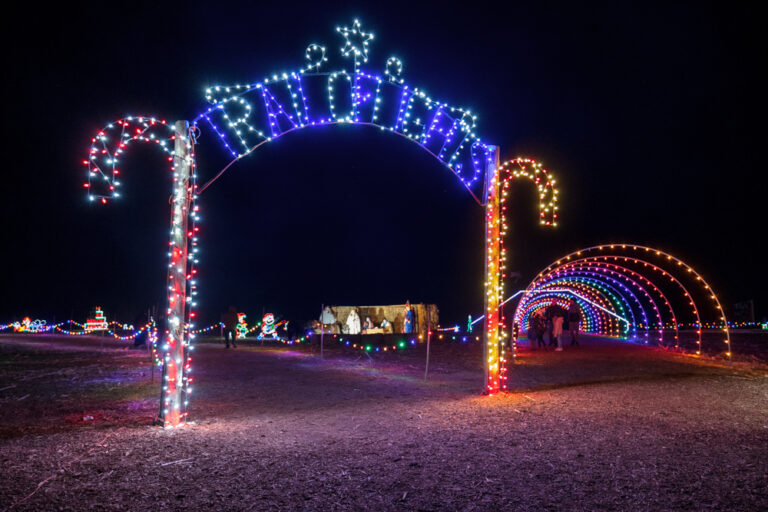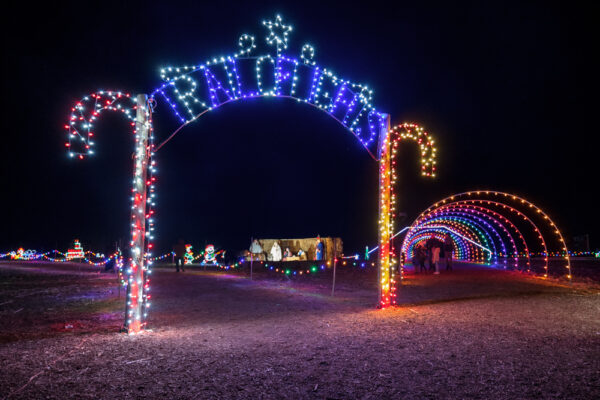 The most obvious and popular attraction during the holiday season at Country Creek Farm is the Trail of Lights.
This is a roughly half-mile walking trail on the fields that are used for the corn maze during the fall events at the farm. Along this route, you'll find approximately 75 light displays ranging from pyramids and tunnels to nativity scenes and humorous holiday vignettes. There's even a live nativity on display on select evenings.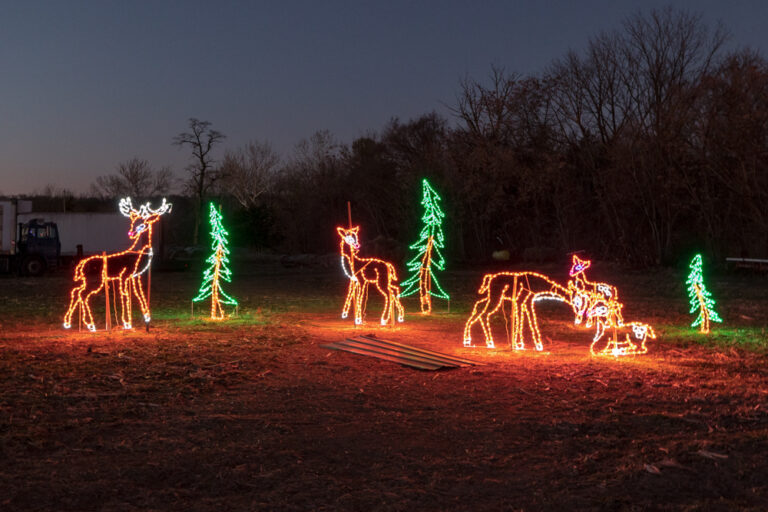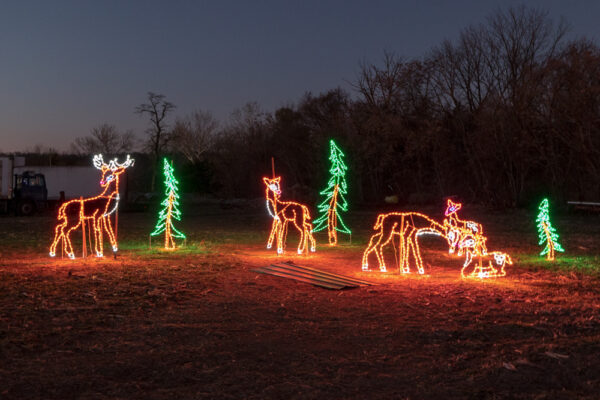 There really is something for everyone along this trail, and it reminded me of the types of lights you often see at the many drive-through lights displays in Pennsylvania.
My favorite part of the Trail of Lights was the viewing platform in the middle of the route that offered a bird's-eye view of the farm and the lights. It really was a great view from the top. (Note that you have the option of skipping the stairs if you prefer.)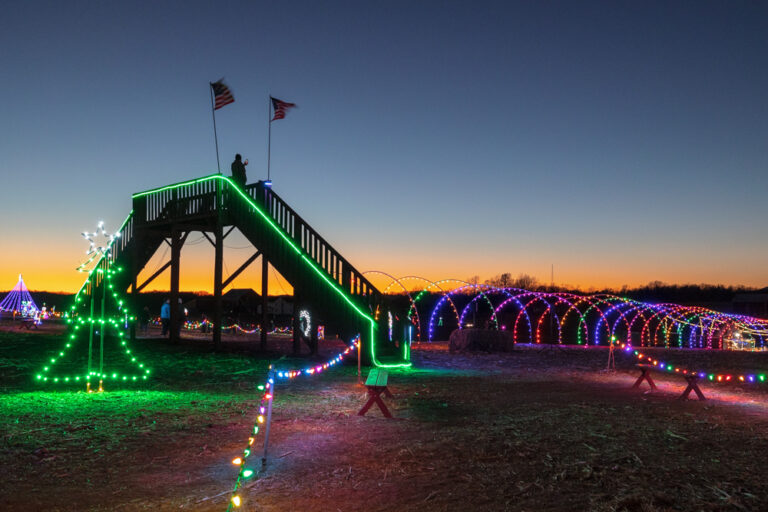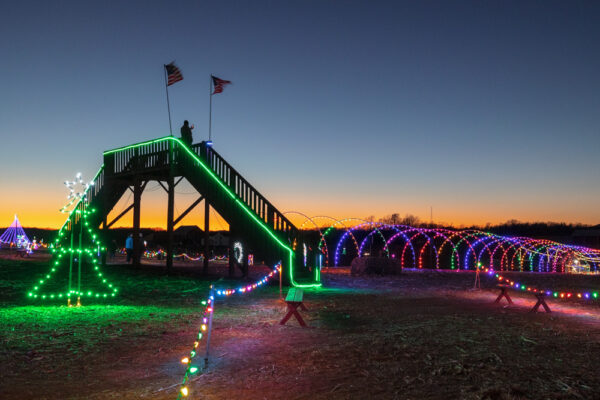 Past the viewing area, the trail winds its way through the open fields towards the play area passing many more great displays. It's worth noting that the Trail of Lights is located in the middle of a field. If it's rained recently, I can imagine that it could be a bit muddy, so make sure you were good shows for walking in dirt.
It's also worth noting that the path is a bit rough in spots, and even pushing a jogging stroller with larger wheels was a bit of a challenge. Those with wheelchairs or smaller strollers might have significant difficulties on the trail.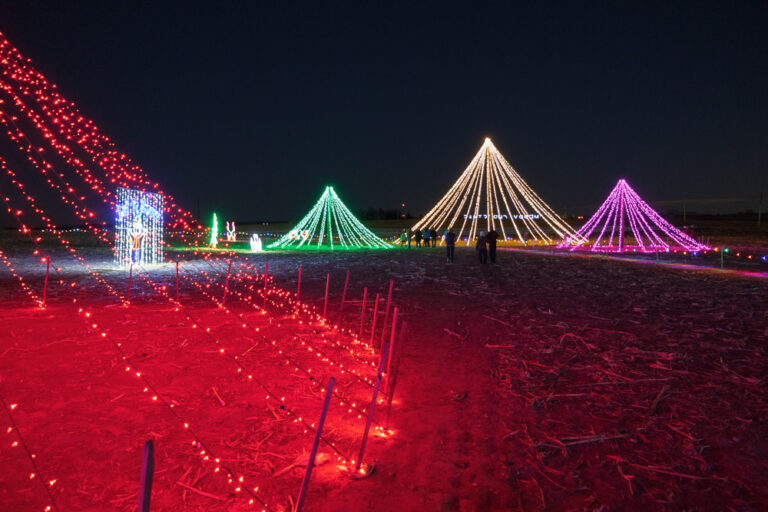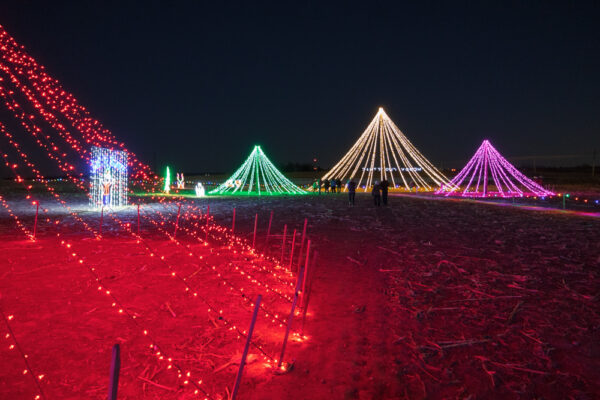 Nevertheless, for those that can walk half a mile through a field, the Trail of Lights is very festive, and it was fun to be able to take my time enjoying the display instead of having to drive quickly past them.
Another neat feature at Country Creek's Trail of Lights is the firepits that are scattered throughout the property. These are a great way to warm up on a cold night and add a lot of charm to the space.
There is also festive Christmas music playing over speakers throughout the grounds. However, there were areas where the music couldn't be heard at all, so a few more speakers would be a great addition in the future.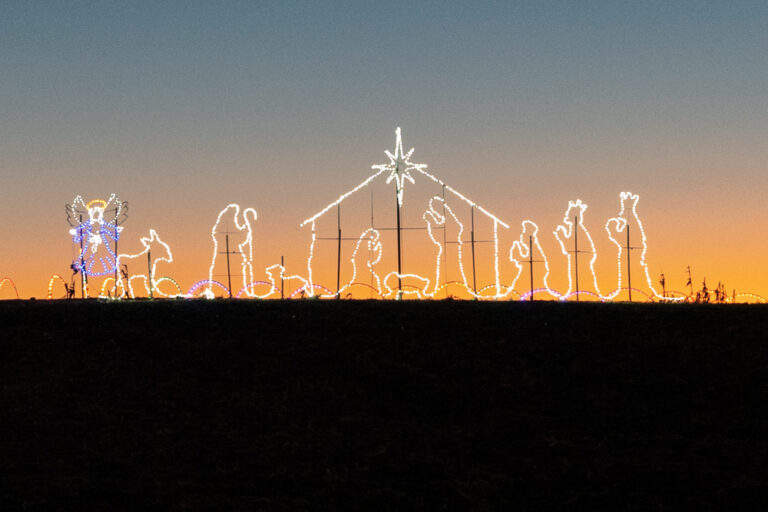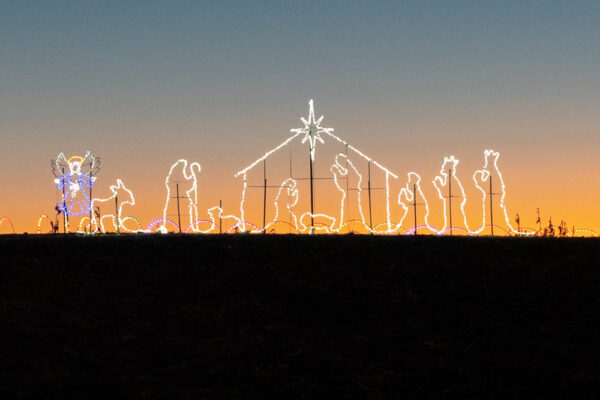 At the end of the Trail of Lights, you'll find yourself in the large play area.
While some of the attractions here can accommodate adults, this area is primarily geared toward children. My three and seven-year-old kids both had a great time here, but I also saw older kids having a blast as well, so it seems like a good fit for most kids.
The activities here include large slides built into hills (so they go underground), a giant jumping pad, short and low to the ground zip lines, and much more. A giant spotlight lights up the area after dark, though there are some darker areas, so you'll want to be careful as you play.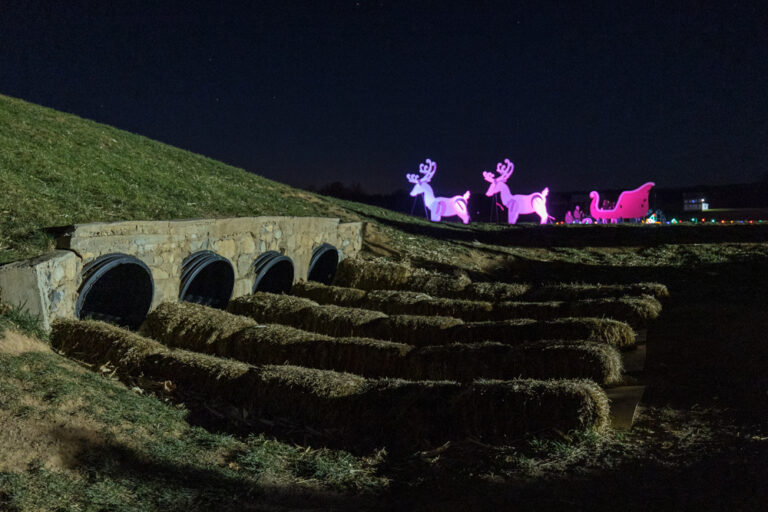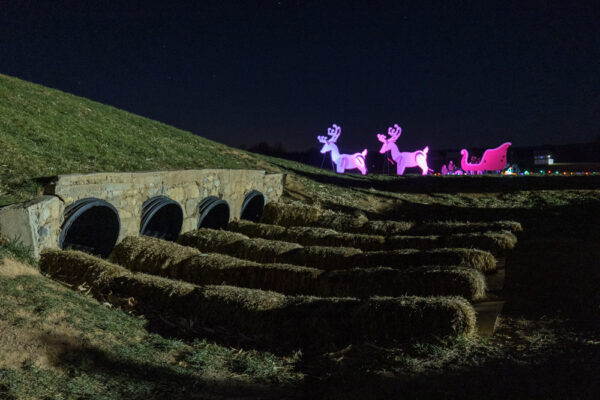 My family and I had done some similar activities at Paulus Orchard, which is located only a short drive away in Dillsburg, in the fall, but I've never seen such attractions at a holiday season display during my travels.
This play area really added a lot of fun to the farm, and I think my kids spent more time here than they did walking through the actual Christmas lights.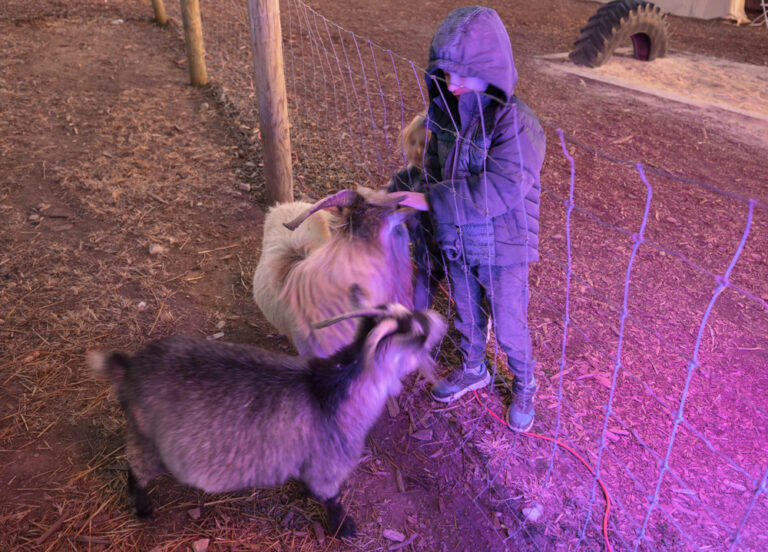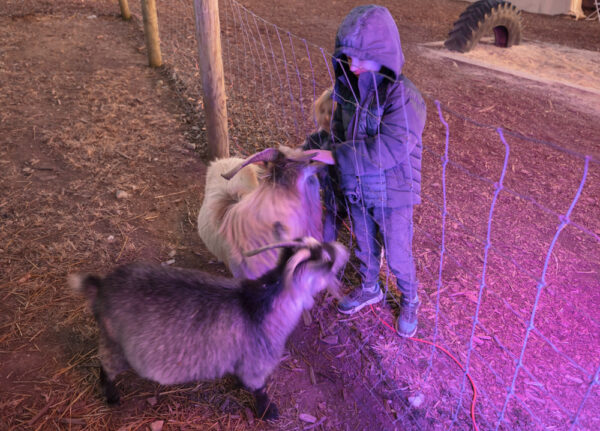 Back near the entrance, there are other activities as well, including a fun petting zoo with goats, cows, chickens, and more for kids to enjoy. There are small vending machines near the animals if you want to buy some food to feed them.
Inside a greenhouse adjacent to the animals, there is a very large box filled with corn kernels that acts like a sandbox and tricycles for kids to ride.
It's in the area near the entrance that you'll also find the concession stands for those looking for a snack or drink during their visit. My family and I opted to eat dinner during our visit, so I was able to try the hamburgers, hot dogs, french fries, apple cider donuts, and hot chocolate.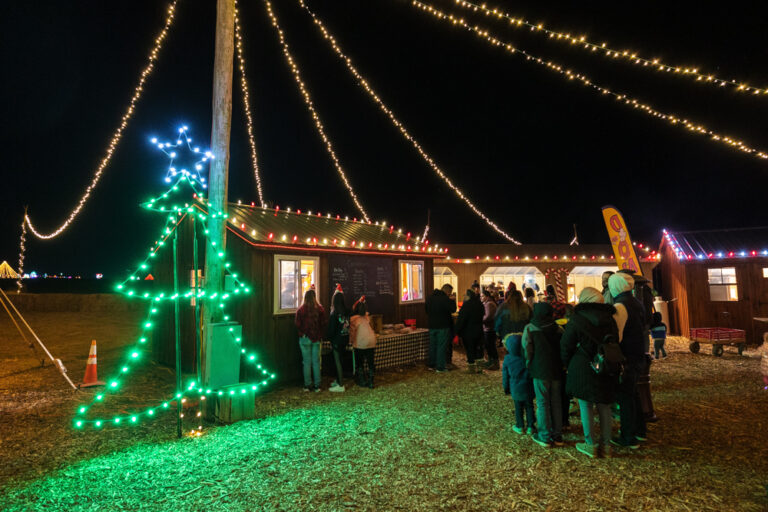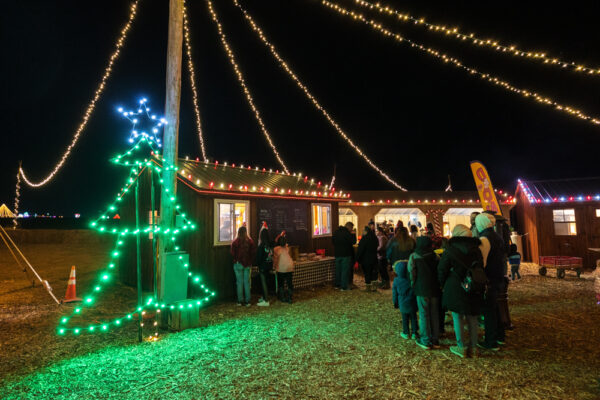 The best item I had was the apple cider donuts, which were incredibly moist and full of flavor. They were definitely some of the best apple cider donuts I'd ever eat.
The rest of the food was of good quality, and the prices seemed fair, especially given that you were inside an area where no outside food is allowed.
If you plan to eat here, it might be best to eat on the earlier side. When we first arrived, lines were very short, but by the time we came back to eat around 6:30, the line was fairly long at the concession stands.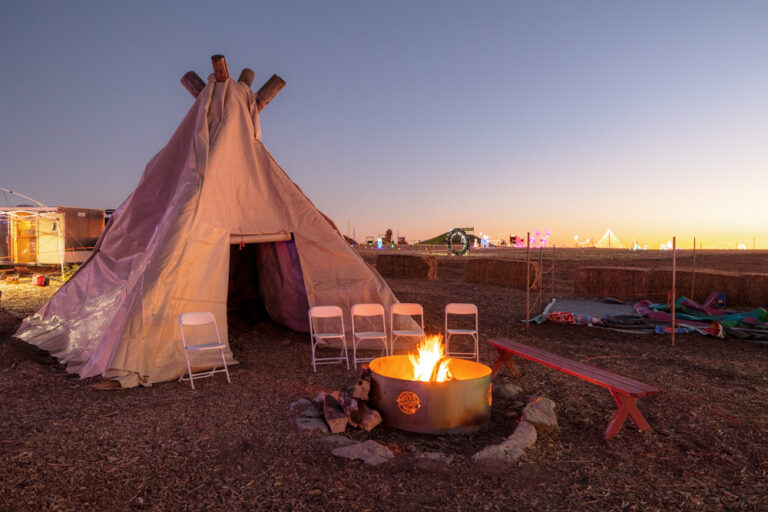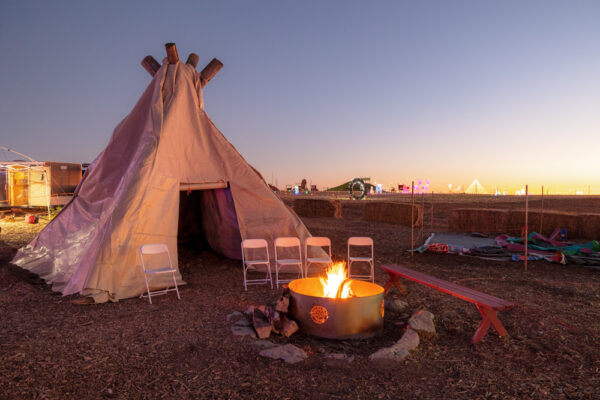 Overall, my family and I had a fantastic time exploring the Trail of Lights at Country Creek Farm in Chambersburg, PA. It was definitely a great combination of holiday lights and kid's activities, which is something you don't often see at lights displays around the state.
If you hadn't gathered yet from my review, families visiting with children will definitely enjoy this attraction more than others as many of the highlights here are geared towards kids, who could easily spend hours enjoying all the attractions.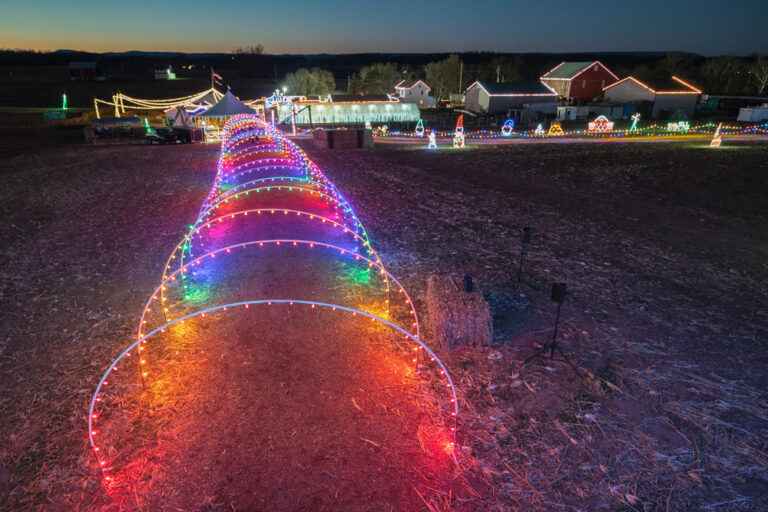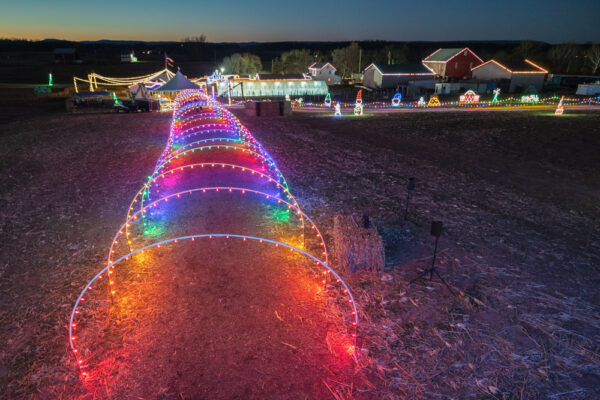 Adults visiting without kids will still likely enjoy the lights, especially since other area displays, like Christmas Magic in York and Koziar's Christmas Village in Berks County, are over an hour away. If you are visiting just to walk through the light trail, this isn't an attraction that will take you a ton of time to see, so consider that before visiting.
Ultimately, I give Trail of Lights a ringing endorsement for families, as well as recommending it for adults near Chambersburg who want to see lights without driving a long distance.
In 2023, Trail of Lights at Country Creek Farm is open from November 24 through January 6, 2024. It is open Friday-Sunday evenings from 5:00-9:30 pm (It is open the same hours nightly the week before and after Christmas.) The entrance fee is $13 per person for everyone over the age of two.
Looking for more places to visit nearby? Check out Black-Coffey Caverns, the covered bridges of Franklin County, Big Mountain Overlook, and Mr. Ed's Elephant Museum.