Disclosure: This article may contain affiliate links. We will make a small commission from these links if you order something at no additional cost to you.
There are few more odd places in Pennsylvania that I have visited than the state's Gravity Hills.
In the past, I've visited the Gravity Hill in Bedford County (the most well known of the three), as well as the Gravity Hill in Pittsburgh's North Park. However, while those are both really good spots, they pale in comparison to the Gravity Hill in Lewisberry, PA.
The Gravity Hill in Lewisberry is located in a rural area of the York County suburbs of Harrisburg a short distance off I-83. At this spot, your car appears to roll uphill if you put it in neutral. While it's undoubtedly an optical illusion, it's still a really odd sensation.
Of course, if you are looking for a story to tell those in your vehicle, there is an urban legend that a school bus crashed at this spot. It is said that your car will roll uphill because the children that died in the accident are trying to keep you from having a similar fate but pushing your car uphill and away from the busy road.
Gravity Hill is located along Pleasant View Road where it meets Wyndamere Road. It can be found at the following coordinates: 40.153134, -76.839794. It is only a little over a mile from Exit 35 on Interstate 83.
Unfortunately, while the other two Gravity Hills I've visited are located along relatively quiet roads, both of the roadways at this one are quite busy.
However, while it's located along a busy road, unless you're headed somewhere like Roundtop Mountain Resort or Gifford Pinchot State Park, you are unlikely to drive past it. And, even if you did, you would have no idea it's there if you didn't know it was there because it's totally unmarked.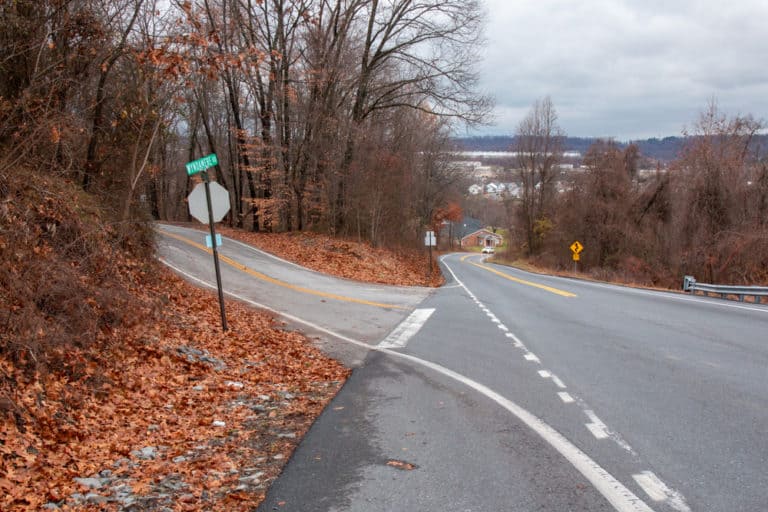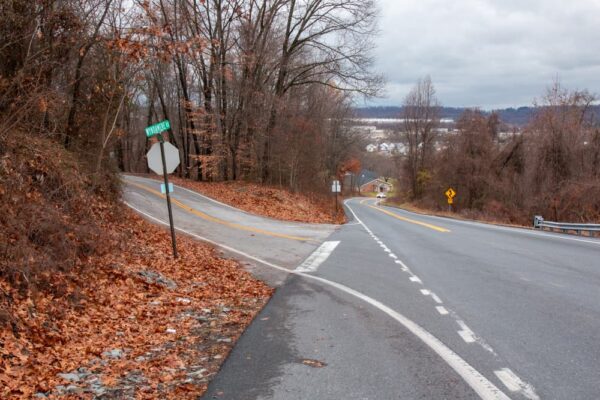 If you opt to try the Gravity Hill here, use an abundance of caution and be respectful of other cars on Pleasant View Road. This road is narrow enough that the cars likely won't be able to go around you as they approach Wyndamere Road. You'll also want to use your flashers to make any approaching cars aware that you aren't simply sitting at the stop sign.
When I visited with my family, my wife and I took turns standing on the shoulder outside of the car watching for cars approaching the stop sign at the end of Pleasant View Road. When a car came, we had to turn onto the main road and circle back to the Gravity Hill.
Your best bet if you have to make way for another car is to turn left on Wyndamere Road, head downhill and turn around in the parking lot of the church at the bottom of the hill.
Once traffic is clear, you'll want to sit at the stop sign along Pleasant View Road where it ends at Wyndamere Road (with your flashers on, and, if possible, someone watching for traffic coming up behind you).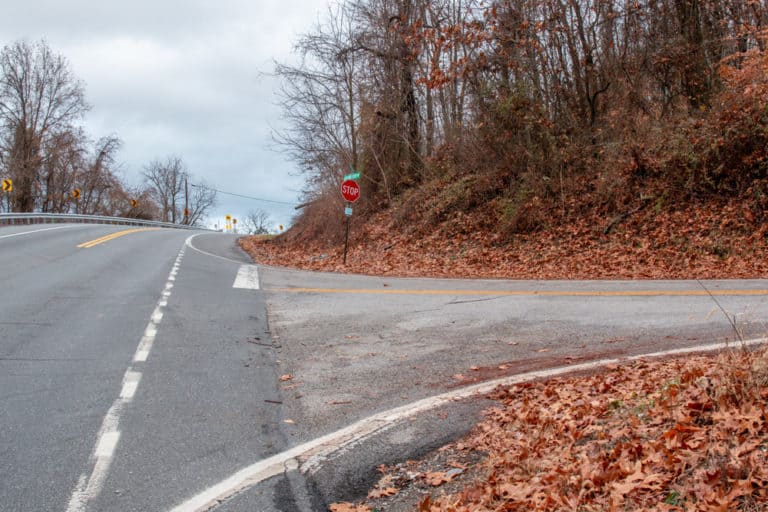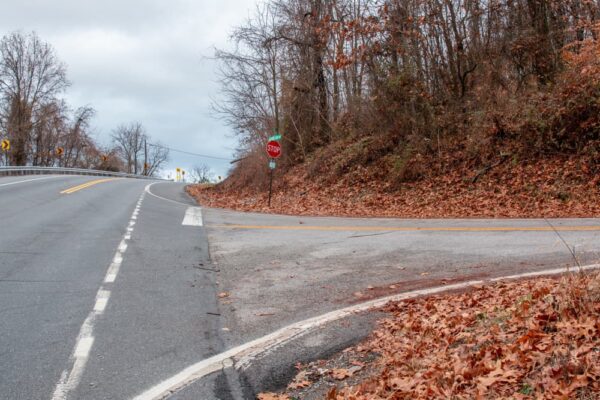 Note that if you are coming from I-83 along Wyndamere Road, you'll need to turn around on Pleasant View Road to get to the stop sign. There is a wide enough shoulder just after you turn onto the road that this shouldn't be too difficult, but again, watch for traffic.
At the stop sign, put your car into neutral and take your foot off of the brake. You will slowly begin to roll backward and seemingly uphill. Again, yes, it is an optical illusion, but it really does look and feel like you are rolling uphill.
While this was the third Gravity Hill I've visited in Pennsylvania, it was my wife's first, and she was quite weirded out by the sensation even though she knew it was an illusion.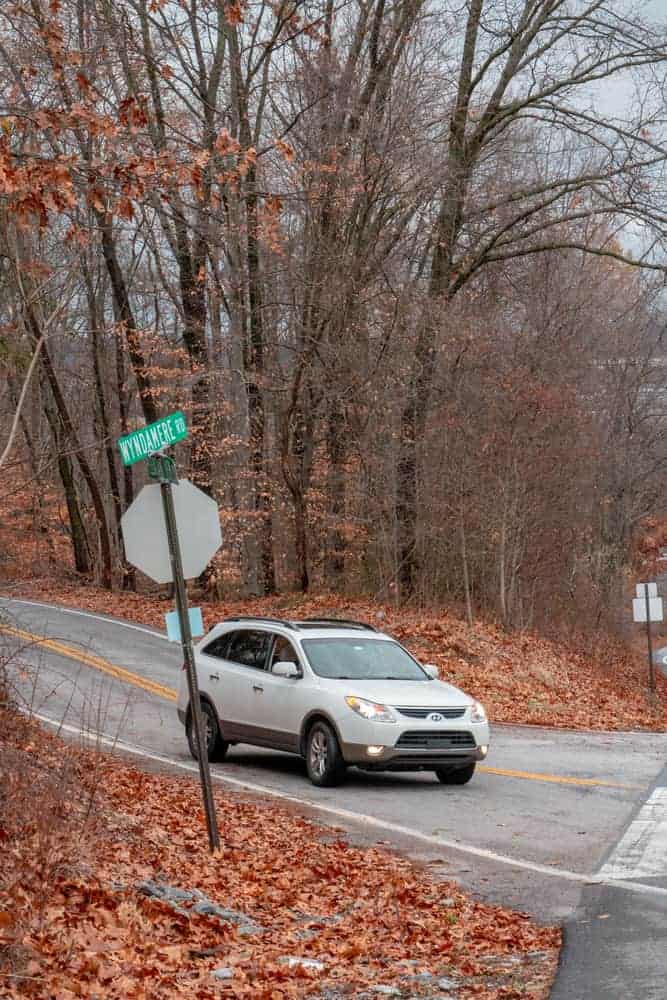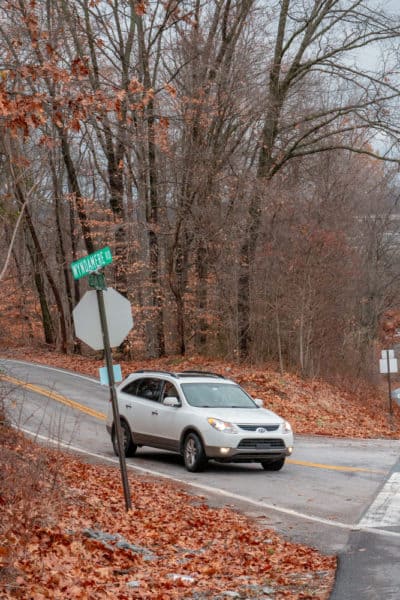 To be perfectly honest, it's a really good illusion at this spot. While at the other two Gravity Hills, I was able to get out of the car and, after a bit of looking, see how the road was a slight downhill grade, I was unable to do that at this spot.
It really does look and feel like you are defying gravity and rolling uphill.
Ultimately, while I've enjoyed all three Gravity Hills I've done in PA, the Gravity Hill near Harrisburg is easily the most impressive, but also the most challenging to complete due to the amount of traffic on the road. It's also one of my favorite free things to do near Harrisburg.
Again, if you opt to try this, please be extremely careful and give way to any cars simply traveling along Pleasant View Road.
Looking for more places to visit nearby? Check out Paulus Orchard, the Harley-Davidson Factory Tour, and the covered bridges of Cumberland County.
[Click here for information on how to use coordinates to find your destination.]