Disclosure: This article may contain affiliate links. We will make a small commission from these links if you order something at no additional cost to you.
Without a doubt, one of my favorite events of the year in Pennsylvania is Groundhog Day. However, did you know that you can visit Gobbler's Knob, the site of the festivities, even if you aren't in Punxsutawney on February 2nd?
That's right, while I highly recommend checking out the Groundhog Day festivities in February, visitors are welcome to explore the site any time that they can make their way to Punxsutawney.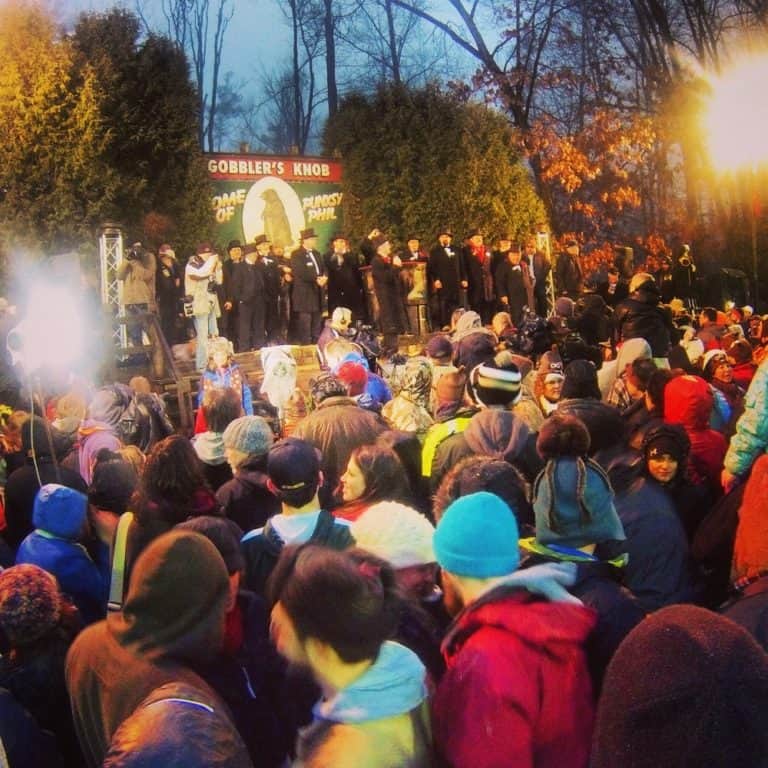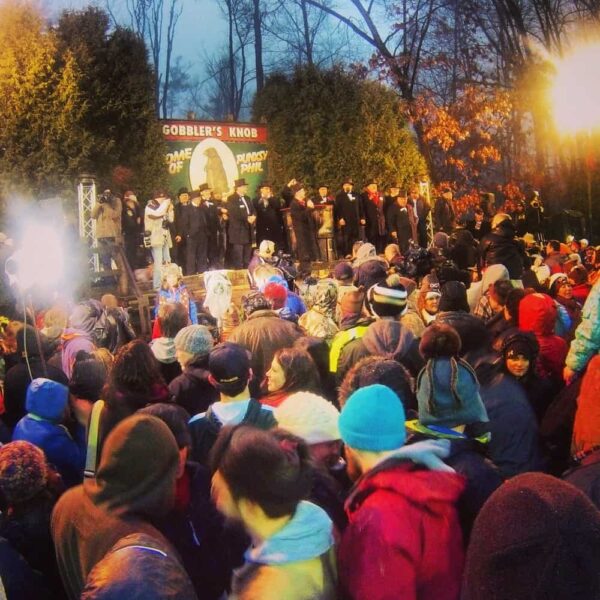 And, in addition to Gobbler's Knob, you can also visit Phil's Burrow at the community's library, check out the Punxsutawney Weather Discovery Center (which features some Phil-related displays), and explore the Phil statues around town.
Gobbler's Knob is located about two miles southeast of downtown Punxsutawney and is the focal point of each year's festivities.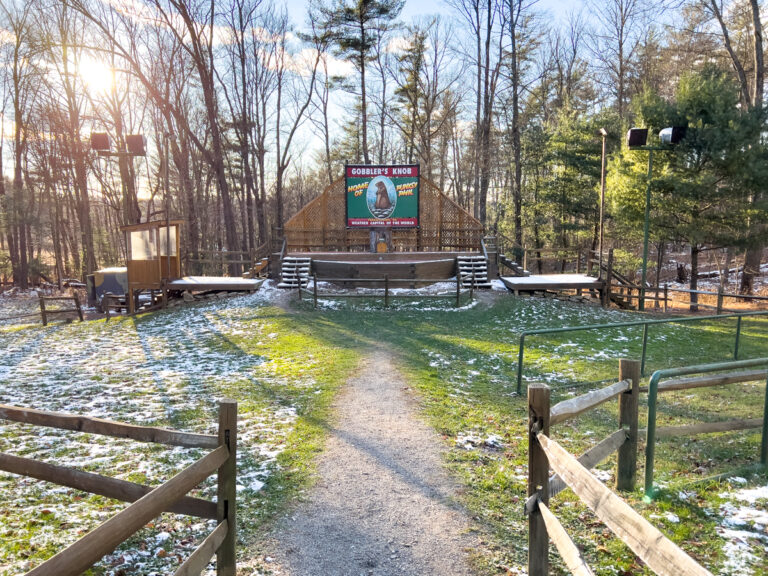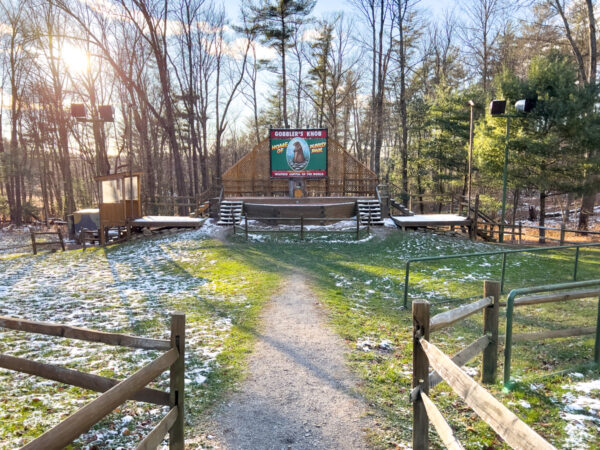 If you visit on a day other than February 2, you'll have the opportunty to explore the grounds (during daylight hours) and even go up onto the famous stage and get your photo next to Phil's burrow (which he's never actually in).
Being a big fan of the event and having even visited on Groundhog Day to experience it for myself, it was a really fun experience being able to stand up on the stage and pretend to be a member of the Inner Ciricle.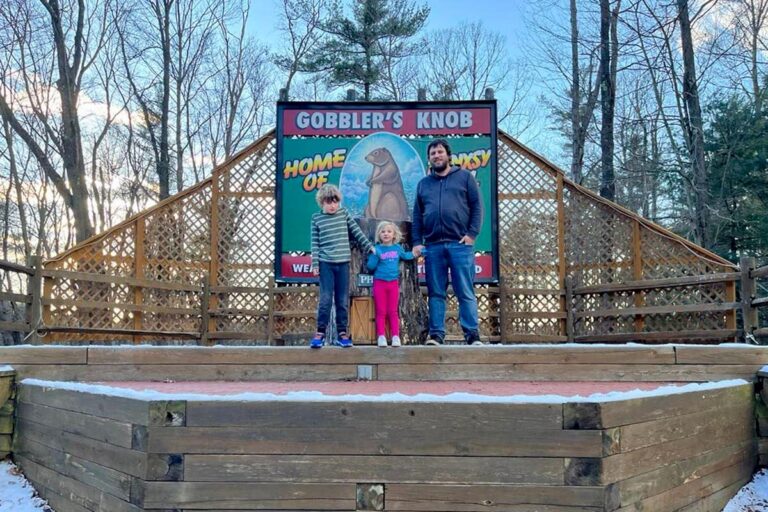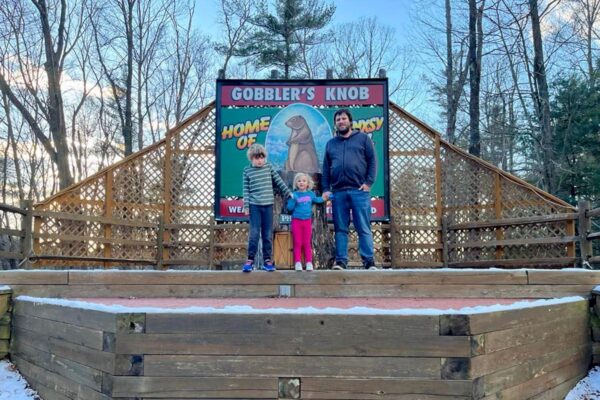 Of course, you can also get photos of the stage without having to worry about pesky things like tens of thousands of other revelers, which is a great opportunity in and of itself.
Atop the small hill, just a few steps away from the stage, you'll find the Gobbler's Knob Visitor Center. The visitor center is open from 10a-4p Wednesday-Sunday, though is likely opened extended hours around Groundhog Day itself.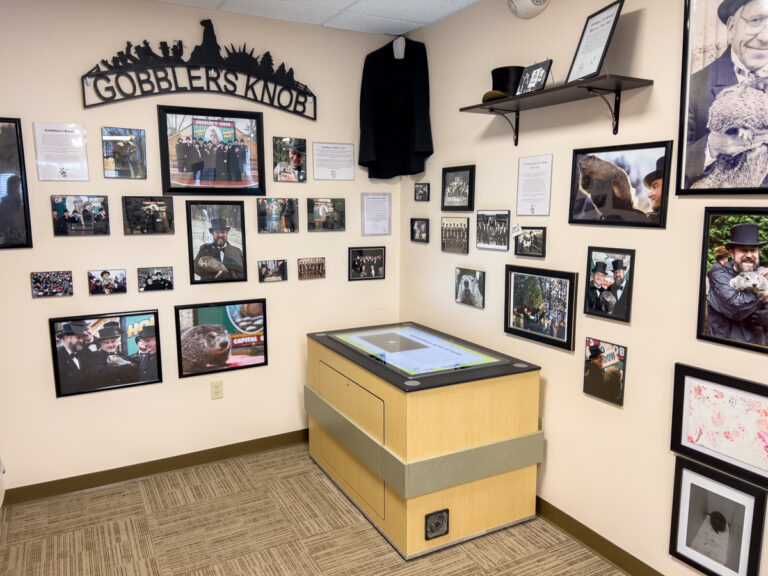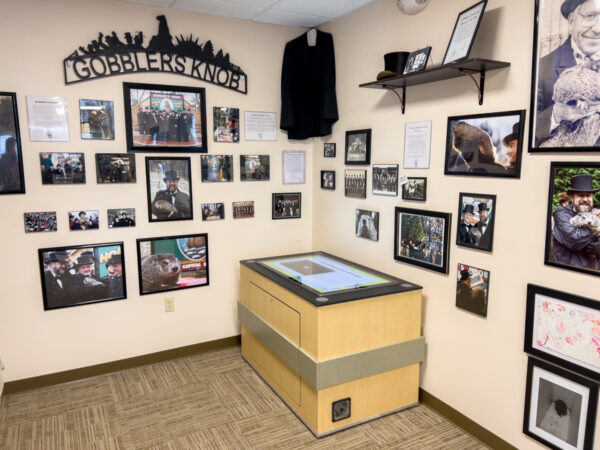 This visitor center is part gift shop and part Groundhog Day museum, which makes it a really fun spot to visit both to learn about the history and culture of this fun event and to purchase souvenirs from your time in the area.
The collection of items on display was a lot of fun to browse and included some items from Groundhog Days past. There is also a lot of information about how this ridiculous event came to being, about the movie "Groundhog Day" (which wasn't filmed in town but propelled Punxsutawney into the national conscious), and groundhogs in general.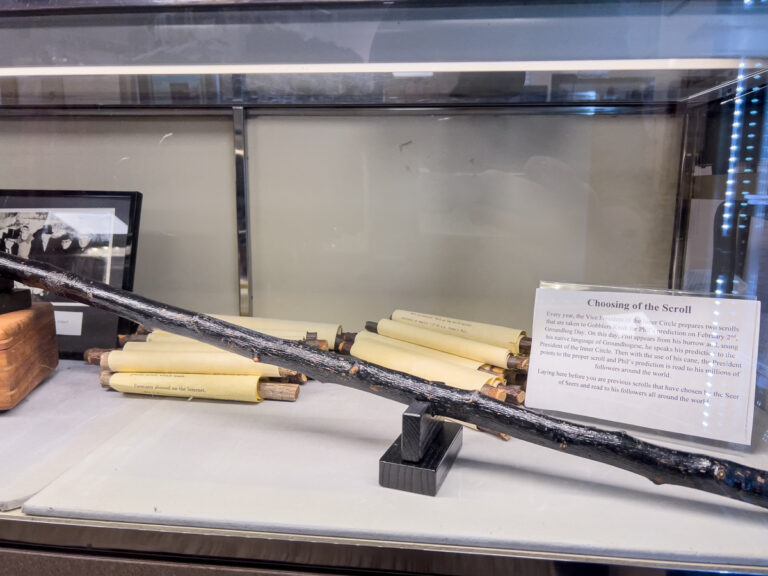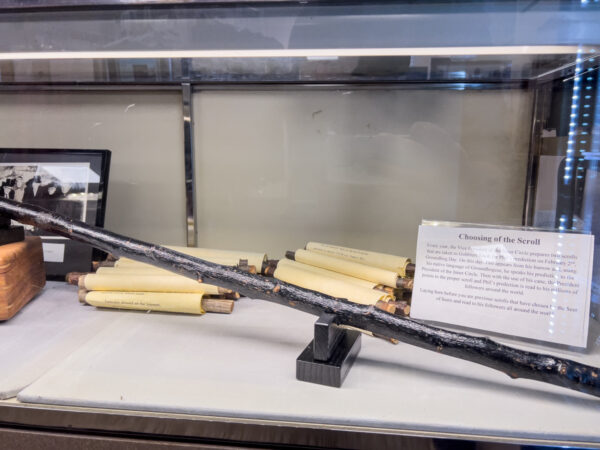 There is also a fun machine that allows you to cast your shadow briefly on the wall. My kids had a ton of fun with this and probably could have stayed all day creating various poses on the wall.
In addition to the displays, there is all manner of Groundhog Day souvenirs that you can buy, ranging from serious to quite humorous. If you love this crazy event, there's nowhere better to find some great mementos than at the Gobbler's Knob Visitor Center.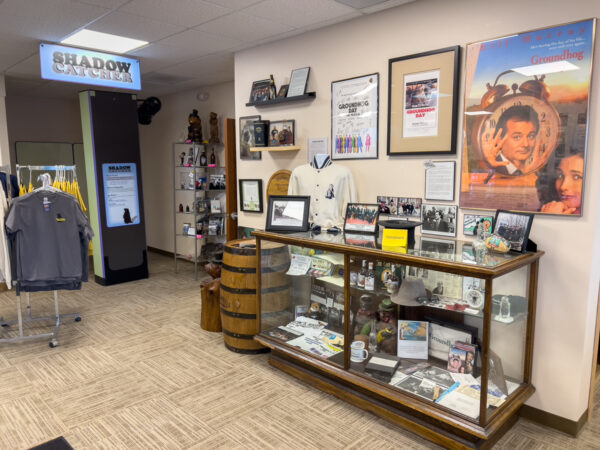 In addition to visiting Gobbler's Knob, make sure to head into downtown Punxsutawney. Not only is this a cute little town with some nice shops, restaurants, and architecture, but there are also some interesting sites to see here.
Most notably is Phil's Burrow, which is located within the Punxsutawney Memorial Library and adjacent to Barclays Square.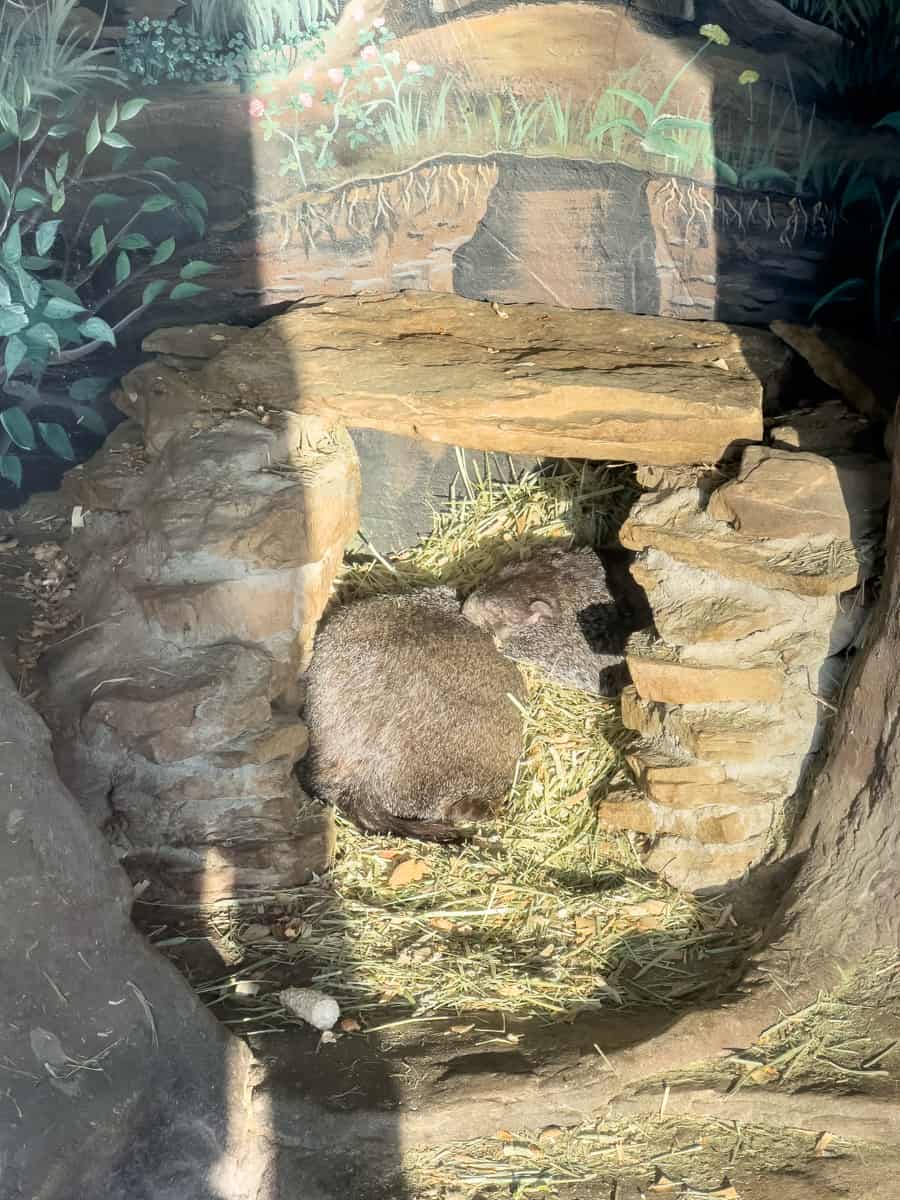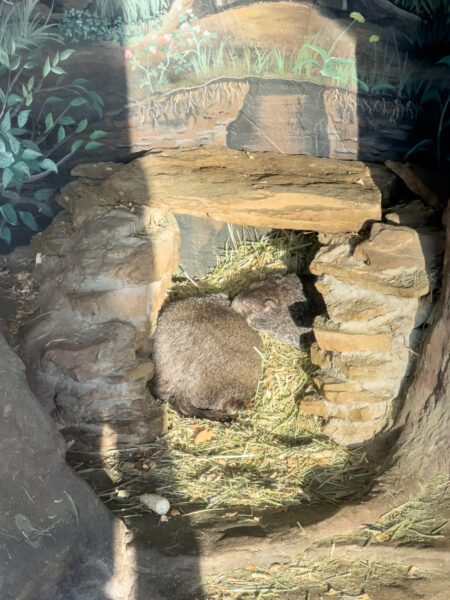 There is a large window facing out into the square, as well as one facing into the children's section of the library. This is great because even when the library is closed (like it has been during my several visits), you can still see into the burrow.
Phil lives in this burrow with his "wife" Phyllis, and they can often be seen lounging within this space. And, while sightings of Phil aren't guaranteed (and there's really no way to tell him and Phyllis apart), I've seen them both on both occasions that I've visited this spot.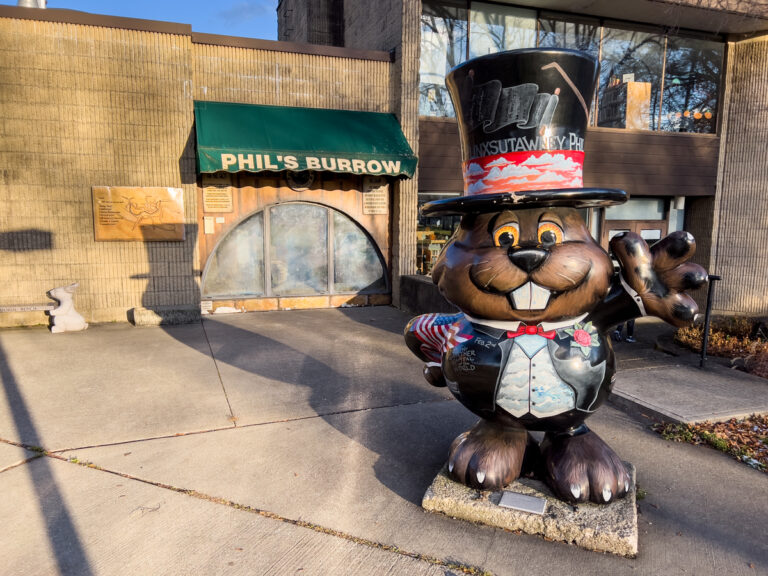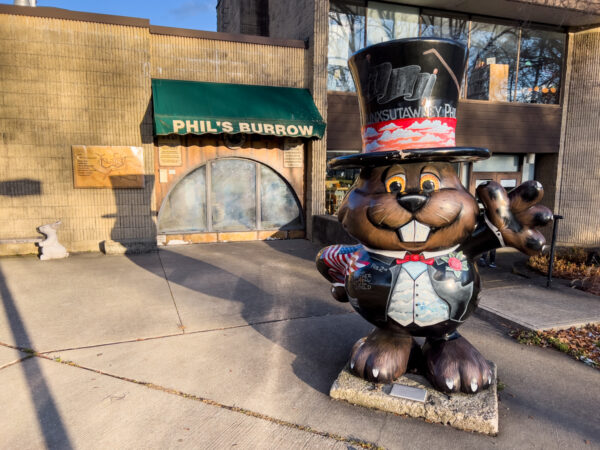 Next to Phil's Burrow, you'll notice one of the 32 Phantastic Phil statues that are scattered throughout Punxsutawney.
These six-foot tall statues are decorated with various fun designs from Phil dressed as a member of his Inner Circle to Phil as the Statue of Liberty. Walking around finding these Phils is a ton of fun and there is a map of them that you can use to help you in your quest.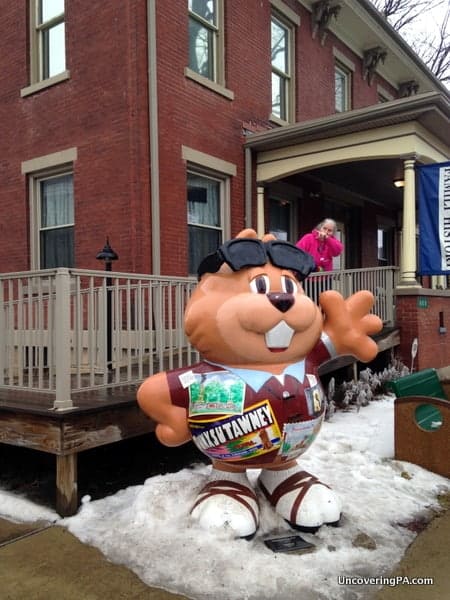 If you are traveling with kids and want to experience even more of Punxsutawney's weather-related history, a visit to the Punxsutawney Weather Discovery Center (Open Thursday-Sunday from 11a-3p) is a must.
Located inside the community's former post office, this museum has a lot of great weather displays, including a large replica of Phil's burrow. Here, you'll find a lot of great information on the science of weather, Groundhog Day, other weather-related myths, and the National Meteorological Hall of Fame.
This is definitely a great spot to not only make a visit to Punxsutawney fun but also educational for kids.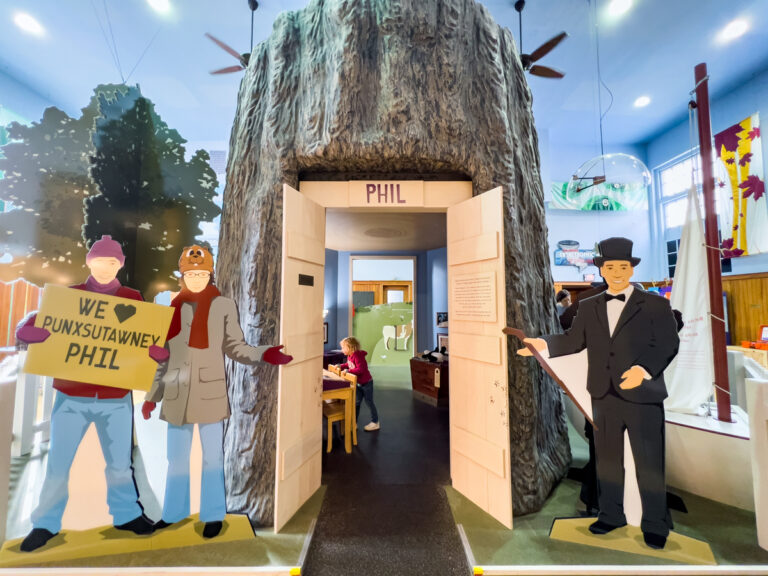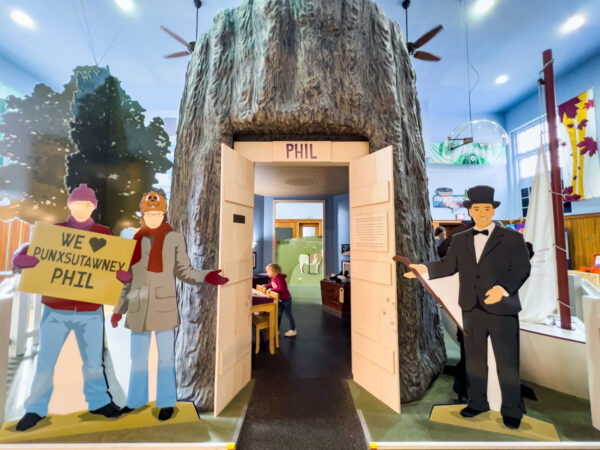 Overall, while I highly recommend visiting Punxsutawney on February 2 for Groundhog Day, if you can't, it's still a lot of fun to check out Gobbler's Knob and the rest of the Phil attractions around Punxsutawney at another time of the year.
If you love this quirky event, make sure to add a visit to Gobbler's Knob to your Pennsylvania bucket list.
The Gobbler's Knob Visitor Center can be found at 1548 Woodland Avenue Ext in Punxsutawney. Phil's Burrow can be found at 300 East Mahoning Street in Punxsutawney. The Punxsutawney Weather Discovery Center is located at 201 North Findlay Street.
Looking for even more things to do nearby? Check out the Greenberg Cadillac Museum, Scripture Rocks Heritage Park, Blackbird Distillery, and Cook Forest State Park.