Disclosure: This article may contain affiliate links. We will make a small commission from these links if you order something at no additional cost to you.
For 2.5 years before moving to Pennsylvania, I lived, worked, and traveled throughout Asia. It was these travels that got me into travel writing, and I still really enjoy learning about Asian culture. So, when I found out that Butler, Pennsylvania had a museum filled with amazing Asian art, I knew I had to visit.
The Maridon Museum is located in a quiet town and on an even quieter residential street. In fact, it couldn't be further away from the hustle and bustle of an Asian metropolis. Instead, it recalls the feel of a quiet Buddhist temple. Standing outside the museum, I could almost hear the wind rustling through serene bamboo wind chimes and smell the sweet smell of burning incense.
Despite the building's distinct lack of Asian flair, I knew before I entered the Maridon Museum that this was going to be a fantastic Asian art museum. And I certainly wasn't disappointed.
Mary Hulton Philips didn't start out to amass one of America's best personal collections of Asian art. In fact, it all started on a whim with a diminutive ivory figurine. The Butler County native quickly discovered that she not only loved Asian art, but also had a knack for picking out high quality pieces.
The focus of her collection was on Chinese and Japanese jade and ivory carvings from 1890-1950. However, since Philips purchased the art that she enjoyed, the collection also includes items from other Asian countries as well as several paintings and ink stamps.
The first pieces of art you see when you enter the museum are some of the museum's most impressive. This includes a very impressive set of carved ivory tusks that flank a beautifully carved woman made from another large piece of ivory. If you've never seen a piece of carved ivory, it's worth the price of admission alone. The sheer beauty makes it obvious why ivory continues to be such a prized piece of art. Speaking of ivory, it's worth noting that all of the ivory pieces in the collection were imported legally before the importation of ivory into America was banned.
The Asian art collection is one of the most beautiful I've seen in the world. The quality of the pieces is at least as good as the Asian art area of the Philadelphia Museum of Art, though the collection is smaller. However, despite the museum's focus on Asian art, that isn't all that they have at the Maridon Museum.
In fact, they actually have a fantastic collection of Meissen porcelain statues from 18th and 19th century, including some of the very first ones made in the early 18th century in present-day Germany. These pieces include both figurines and more practical pieces like bowls.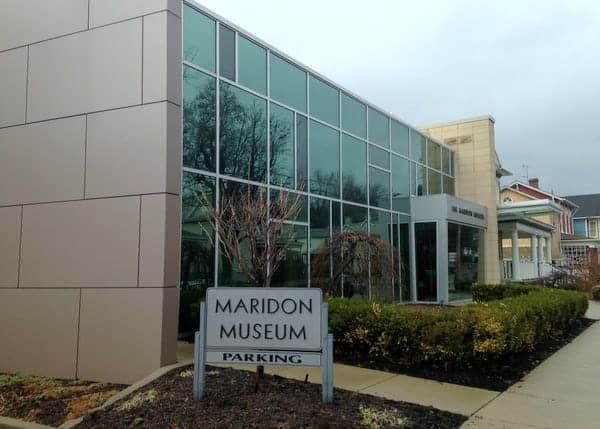 While it may see a stark contrast to the Asian art, I found it quite interesting to compare the porcelain statues with the ivory and jade statues that were being produced at the same time halfway around the world. It really is a great way to begin to understand the different cultures during this time period.
Overall, I throughly enjoyed my visit to the Maridon Museum in Butler County, and I think that anyone with an interest in art or Asian culture would fall in love with this delightful little museum. However, even if you don't consider yourself to be an art lover, the magnificent ivory and jade sculptures are worth the trip in and of themselves because of their delicate beauty.
Consider this, along with nearby Playthings, Etc. one of the top must-see hidden gems in western Pennsylvania.
And, before you leave the area, don't miss the delicious breweries in downtown Butler and the Harmony Historic District.
Note: My visit to the Maridon Museum was hosted by the Butler County Visitors Bureau. However, the opinions expressed in this article are my own and were not subject to review.
Want to visit other museums in PA based on personal collections? Check out Check's Radio Museum, the Antique Ice Tool Museum, and the Isett Heritage Museum.
---
Maridon Museum
Hours: Wednesday-Saturday 11am-4pm

Cost: Adults: $4, Children 8 & under: Free

Website: Maridon.org

Address: 322 North McKean Street
Butler, PA 16001
See map below for other area attractions.
---